Accessory. Although it's a word that simply means "a thing which can be added to something else in order to make it more useful, versatile, or attractive," over time, the term's become increasingly effeminate in its connotations. In fact, it's gotten to the point that, these days, many men are hesitant to keep anything of the sort on their person for the fear that it could be considered unnecessary, even superfluous. But let's set the record straight. A chain is only as strong as its weakest link, and it's not for nothing that people say the devil is in the details. In other words, without the right accessories, chances are good that your outfit will be sorely lacking.
That being said, finding which accessories properly accent your style can prove to be quite a challenging endeavor. Of course, most guys have a handle on what they want in a hat or a pair of sunglasses; however, come time to buy a bracelet, a bag, or even a pair of socks, they're like a deer in headlights without an idea of where to start. With this in mind, we've put together an exhaustive list of stylish men's accessories, curating the best pens, wallets, and bandanas the market has to offer. No matter if you're making your first foray into the world of fashion or you're someone who's well-steeped with stylish insight, we're confident that our guide can help you get off on the right foot. So read on to see what we've picked for the best style accessories for men.
Tools Of The Trade
Aesthetically-Inclined Utility
Just because your everyday carry should be functional doesn't mean that it has to be an unsightly, brutalist eyesore. On the contrary, since these are items that you'll have with you more often than not, you should take extra care to ensure that they jive with your signature style. Thus, we'd recommend that you spend more on things like keychains and pens where you can; they'll not only look much better than cheaper imitations but also last for far longer too.
Craighill Offset Keyring
Between bulky bi-fold wallets and tablet-sized smartphones, our pockets already have enough to handle; adding a cumbersome clutter of keys is nothing but a recipe for lost carry. Instead, do yourself a favor and pick up this sleek stainless steel keychain from Craighill. It's essentially a minimalist take on the traditional carabiner, making your EDC set up that much more streamlined.
Bellroy Card Sleeve
And, by the same token, Bellroy's Card Sleeve is one accessory that's sure to scale down your wallet without compromising on its utility. For despite its compact size, it comes with two quick-access slots and a spacious main compartment, allowing you to hold up to 6 cards at a time or an assortment of folded bills. Made from premium, environmentally friendly leather, it even offers a pull-tab for rapid card removal.
APC Leather Logo Keyring
If the above keyring from Craighill isn't really in line with your particular tastes, we'd suggest you take a look at this leather option from APC — it could be just what you need. With its calfskin construction, embossed logo lettering, and polished metal hardware, it makes for an easy way to add a subtle touch of sophistication to any outfit.
Paul Smith Silver Tone And Enamel Money Clip
In times when nothing but the most unobtrusive wallet setup will do, a money clip is easily the best option for you. We especially like this one from Paul Smith because it features a slim shape and a classy combination of watercolor enamel set in silver-tone metal.
Taylor Stitch The Minimalist Billfold
Taylor Stitch may consider itself a shirtmaker first and foremost, but the brand can actually outfit you with style from head to toe. Just take this Minimalist Billfold, for example. Crafted from 100% full-grain Spanish cowhide, it comes with six card slots and an interior cash pocket, all the while being slimmer than traditional bi-fold alternatives.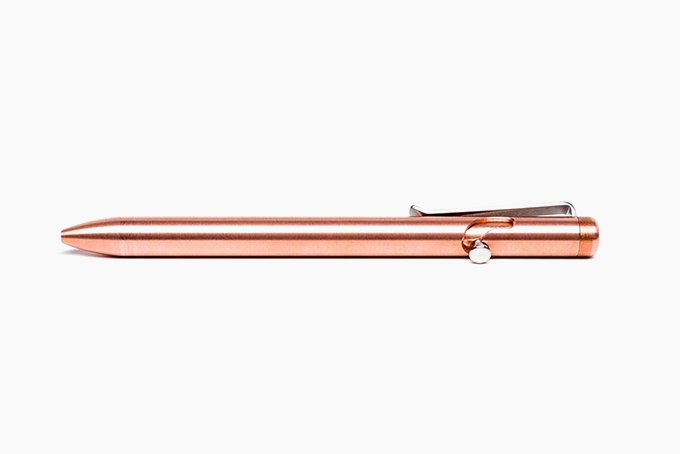 Tactile Turn Standard Bolt Action Pen
Equal parts elegant design piece and rugged writing instrument, this Bolt Action Pen from Tactile Turn makes for an essential component of any fashion-minded everyday carry. In addition to a precision-machined copper construction, it also offers a unique rifle-inspired deployment mechanism, allowing for effortless operation with just a single fluid flick.
The James Brand The Pike
While we're not all fortunate enough to have an heirloom-worthy pocket knife to pass down for generations to come, The Pike is easily the next best thing. A modern reimagination of the classic non-locking slip-joint, it balances a sleek design with a set of warm Rosewood scales and a durable Sandvik 12c27 steel blade.
Red Wing Trucker Wallet
Up until this point, our wallet picks have been pretty spartan in silhouette, limiting their capacity to just a few cards. If find yourself in need of more storage, we'd recommend this compact carry-all from Red Wing. As befitting of its name, the Trucker Wallet is built to be tough, combining a hard-wearing leather hide with a set of robust brass buttons.
The Finishing Touch
Polished Peripherals
Sure, watches are one of the most obvious additions you can make to your outfit, but they're hardly the only accessory worth consideration. As such, we've put together a small sampling of jewelry that proves decorative adornments aren't just for women. Be it a ring, a bracelet, or a necklace, even the subtlest hint of silver can be enough to give you that stylistic edge.
Bexar Goods S Curve Cuff
With smartphones making the watch increasingly obsolescent, most men now go without anything on their wrist. However, a simple bracelet can take your outfit over the top, giving you that little bit of extra "something" needed to make your fit more complete. Inspired by snare hunting traps, Bexar Goods' leather S Curve Cuff is one piece of jewelry that actually manages to makes the masculine look work.
Craighill Radial Cuff Stainless Steel
This svelte stainless steel cuff pairs with practically anything, be it shorts and a tee or slacks and a dress shirt. Precision-machined with a radial shape for comfortable wear, it comes in five different sizes so you can easily find your fit. While you're more than welcome to rock it solo, we'd recommend grabbing a second and giving them a stack.
Miansai Nexus Leather Bracelet
Wrapping up our bracelet recommendations is this little leather number from Miansai. Made with genuine Italian hide and a small sterling silver button closure, it's simple, understated, and classically minimal. As an added bonus, it makes for an excellent accompaniment to a wide variety of watches.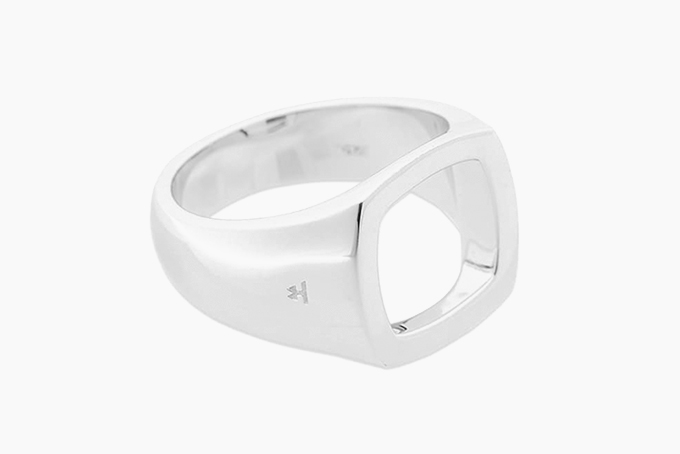 Tom Wood Cushion Open Ring
Most men limit their ring wearing to wedding bands, but in doing so, they're only hindering their accessory potential. If you're not sure about rocking a piece with a stone, try this one from Tom Wood on for size. Offering a refreshing interpretation of the iconic signet, it features a fully open face and comes crafted from 925 sterling silver.
Maria Black Carlo Sterling Silver Chain
Chains are so inoffensive a piece of jewelry they'll never go out of style, meaning they're a pretty safe bet if you're working with a limited wardrobe. For those who want something with a slightly smaller profile, Maria Black's 'Carlo' mariner-link necklace should do just the ticket.
Secondary clothing elements like hats and sunglasses can be pretty impactful when it comes to your outward presentation. After all, they're what those around you are likely to notice first — even before your shirt and shoes. Whether you want to keep it cool with a pair of Ray-Ban shades or you're looking to make a statement with a Stetson hat, we have no doubt that you'll find something to your liking in the following section.
Vans Bruckner Cuff Beanie
When the temperature takes a dive, throwing on a hat makes for a great way to keep your head feeling warm and your outfit looking sharp. Ever the authority when it comes to street-ready style, Vans has no shortage of headwear that's up to the task. However, we'd suggest the Bruckner Cuff Beanie because of its timeless 'Dried Tobacco' color and workwear woven label.
Rototo Ribbed Old School Crew
Even a humble pair of socks can give your outfit an added sense of style — especially if it happens to be some of these retro-inspired crews from Rototo. A true cut above anything else on the market, they come with a premium cotton blend, a chunky ribbed cuff, and a retro-inspired sports aesthetic. Treat your feet and ditch those mismatched gym socks once and for all.
Howler Brothers Posse Badge Strapback
Austin-based Howler Brothers is one of the best in the biz when it comes to making long-lasting outdoor gear that actually looks good, too. Their Posse Badge Strapback is a case in point, combining an unstructured five-panel build with a low-height crown for a silhouette that's oozing with classic "dad hat" style.
Original Madras Trading Company Bandana
Even as our days of donning masks come to a close, there's still ample cause to carry a bandana. Pack it in your pocket or rock it around your neck, regardless of how you choose to wear this one from Madras Trading Company, it's sure to come in handy with any one of its endless applications. Oh, and as is to be expected of an authentic Madras garment, this one's been hand-loomed, cut, and stitched in the cloth's birthplace of Chennai, India.
Tanner Goods Standard Belt
Fighting to keep your pants from falling down is never a good look, so skip the struggle and pick up this belt from Tanner Goods instead. Cut from 10oz English bridle leather, it comes in at a versatile 1.5-inch width, with a roller-bar buckle, hand-stamping, and a waxed finish that'll only improve with age. And because there are five different hardware colors to choose from, you can even match it with the rest of your metal accessories.
Ray-Ban Caravan Sunglasses
If you feel that the classic Aviator shape seems a bit too played out, Ray-Ban's Caravan sunglasses make for an excellent alternative. With their streamlined silhouette and geometric, square-shaped lenses, they sit a bit smaller on the face while still giving off that old-school cool. Left up to us, we'd go for the classic green-on-gold combo, but any of the six colorways will have you looking sharp.
Stetson The Rawlins Cowboy Hat
While not everyone's cut out for the cowboy aesthetic, Stetson hats are subtle enough that they can be worn on a much more frequent basis. Exclusively available at Huckberry, 'The Rawlins' is a custom style that features a braided leather band, a firm, wool felt construction, and a silk liner complete with its own unique illustration. Giddyup and give one a shot — it could very well be the kick that your wardrobe needs.
Moscot Lemtosh Sunglasses
Moscot is a name that needs no introduction, founded all the way back in 1915 and still managing to stay relevant even today. If you're after a pair of acetate-framed shades, trust us when we say that the Lemtosh is one option well worth a look. Between the accommodating profile and the wide variety of available colors, it makes for a silhouette that should work for practically anyone, independent of personal style.
Bags
Informed Carry Solutions
On those days when you're dressed to the nines, the last thing you want is for a bulky bag to throw off your outfit. Rather than sifting through the countless options on the market, save yourself the hassle and consider one of the options that we've included below. From Aer's ultra-modern Day Pack to Filson's tough twill duffle, we've covered a range of styles so that there's bound to be something right for you.
Aer Day Pack 2
Although backpacks aren't usually considered stylish, per se, this sleek option from Aer makes for a welcome exception to the rule. As thoughtful in design as it is rugged in construction, it features a soft woven inner lining with a padded laptop pocket, a burly 1680D Cordura ballistic nylon outer shell, as well as a water-resistant coating thrown in for good measure.
Standard Issue Leather Messenger
This Standard Issue messenger from Huckberry is as classic as they come, pairing a time-tested design with a no-nonsense full-grain leather construction. Inside, you'll find 15L of carrying capacity, with helpful organizational details like quick-access zipper pockets, a latched laptop pouch, and even an integrated bottle sleeve to keep drinks from drenching your things.
Hard Graft Refresh Dopp Kit
Dopp kits are essential carry for anyone who travels; they're bags that not only keep your toiletries together but also prevent them from making a mess of your clothes. Were it up to us, we'd go for the Refresh from Hard Graft. It offers an unconventional vertical format, standing upright rather than laying on its side so that you can rest assured knowing that shampoo isn't going anywhere.
Filson Large Rugged Twill Duffle Bag
If you're after some luggage that looks the part and is built to last, you can't go wrong with Filson's twill duffle. Made from a twill fabric that's water-repellent, abrasion-resistant, and as tough as they come, it features saddle-grade bridle leather carry straps and a set of hardy brass fittings.
The 20 Best Men's Style Basics
Now that you have your accessories in check, it's time to turn your attention to the rest of your outfit. If you're looking for a good place to start, we'd recommend you check out our guide to the best men's style basics. It takes a deep dive into the fundamentals so that you can start dressing sharp for yourself.