The words "made in America" don't just convey a product's country of origin, but instead speak to an overall level of quality and craftsmanship that can't be replicated through corner-cutting and cheap, bottom-of-the-barrel labor. On top of also affording a sense of pride and patriotism, USA-made items tend to be built to higher standards, and by trained craftsmen and laborers that are fairly compensated for their expertise and hard work. And while a great many of today's industries have been outsourced to countries overseas, there are still certain segments that feature a decent number of products that are designed and manufactured in the United States.
One such segment is the backpack space. Whether it be from a fledgling startup brand or an established player continuing a long-held tradition of American manufacturing, USA-made backpacks often represent some of the finest bags on the planet. With so many packs currently being constructed in the States, it can, however, be difficult to hone in on the best bags this sector has to offer. So, with this in mind, we've thoroughly scoured the product space to deliver this curated guide to the best American-made backpacks. Whether you're after a military-style rucksack, a hiking daypack, or a modern everyday carry backpack, this buyer's guide is sure to include a bag that will resonate with you, regardless of your wants, needs, and personal taste.
Mystery Ranch Urban Assault 21
Mystery Ranch's Urban Assault 21 is an award-winning pack that offers incredible value, with 21 liters of storage space in a sub-$140 package. Produced in ten solid and camo color options, this 2.1lb bag is crafted from a 500-denier CORDURA fabric and equipped with water-resistant YKK zippers and fixed harnessing. The Urban Assault 21 also boasts a laptop sleeve that can accommodate notebooks as large as 15", a key clip-equipped lid pocket, and a pair of internal zippered accessory pockets. As far as overall quality and bang for your buck, it really is hard to beat this Mystery Ranch pack.
Primary Construction: 500D CORDURA
Volume: 21 Liters
MIS Roll Up Backpack
Offered in a dozen different solid and camo color choices, MIS's Roll Up Backpack is a modern-day take on classic military-style roll-ups. Measuring 13.5" W x 19" H x 7" D and affording 30 liters of internal storage space, the Roll Up Backpack is made in America from a water-resistant urethane-coated 1,000-denier CORDURA nylon and features heavy-duty YKK self-repairing nylon coil zippers, dual full-length PALS webbing rows, a top haul loop, adjustable and padded shoulder straps outfitted with gear loops and D-rings, and a laptop compartment that can fit models of up to 13".
Primary Construction: Urethane-Coated 1,000D CORDURA
Volume: 30 Liters
Topo Designs Rover Pack Heritage Canvas
Made in Colorado, the Topo Designs Rover Pack Heritage Canvas retains the regular Rover Pack's immense versatility while boasting a more premium construction — in this case, a DWR-finished 12oz cotton canvas paired with a 210-denier nylon pack cloth liner. The backpack features a cinch- and storm flap-protected main compartment with a bevy of organizers and a 15" internal laptop sleeve, as well as a pair of side water bottle pockets, dual side compression straps, spacer mesh shoulder straps, heavy-duty YKK zippers with paracord zipper pulls throughout, and Topo's patented PackFast Travel Bag attachment loops. Also offered in a light and dark brown version as well as in a fully blacked-out variant, this bag comes backed by Topo's MAP Guarantee, too.
Primary Construction: DWR-Coated 12oz Cotton Canvas
Volume: 20 Liters
Arktype Dashpack Special Edition Waxed Canvas
Made by hand in America from materials sourced in the USA, this backpack is a special-edition, waxed canvas version of Arktype's best-selling bag. Now on its second generation, the pack is made from a 10oz Army Duck waxed canvas — a construction that's been paired with YKK AquaGuard #8 water-repellent zippers and a 210-denier double-walled ripstop nylon liner. Separating this bag from other offerings on the market are a unique shoulder harness design that's made with four-panel seatbelt webbing and Duraflex Sliplok buckles, Evazote high-density closed-cell EV50 foam shoulder and pack panels, a padded 15" laptop sleeve supplemented via a secondary 14" tablet or notebook sleeve, front ladder-stitched webbing made from 4000lb critical use Class 1 Mil-Spec webbing, and dual external water bottle holders, amongst numerous other amenities.
Primary Construction: 10oz Army Duck Waxed Canvas
Volume: 15 Liters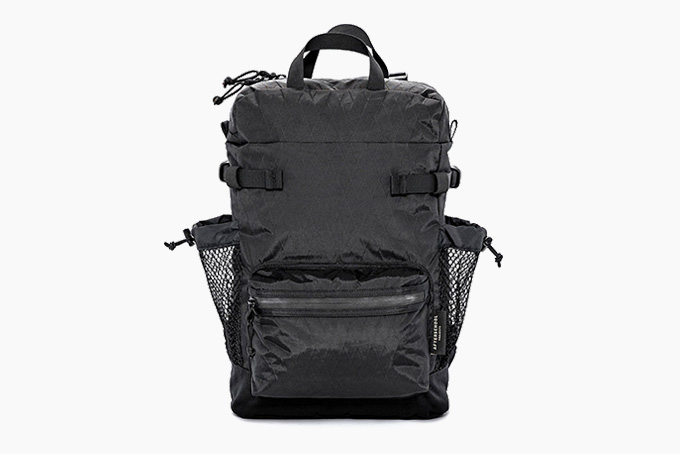 Afterschool Projects ASP Ruck 18L
Designed, cut, sewn, and manufactured in Los Angeles, Afterschool Projects' ASP Ruck 18L puts a modern spin on traditional military rucks, arming the classic design with an ultra-hardwearing and fully weatherproof X-Pac VX nylon sailcloth construction and a myriad of genuinely useful, utility-bolstering features such as dual water bottle pockets, external compression straps, weatherproof zippers, a padded notebook sleeve that can fit laptops of up to 16", a key loop-equipped internal divider, and an external weatherproof quick-access pocket. Affording 18 liters of storage space, this bag is sold in all-black or camo color options.
Primary Construction: X-Pac VX Nylon
Volume: 18 Liters
DSPTCH Ruckpack Ballistic Nylon
The DSPTCH Ruckpack Ballistic Nylon is a 25-liter bag that's largely characterized by its simplicity, spartan nature, and incredible durability. Made entirely in America and weighing only 3.15lbs, this backpack is cut from a 1,680-denier ballistic-grade nylon with a DWR coating and boasts a full-length clamshell-style opening that provides access to the entirety of the pack's interior — which is lined with a DWR-coated 410-denier nylon packcloth. DPSTCH also produces a wide range of accessories and add-ons for this modern-day rucksack such as a sunglasses case, a FIDLOCK keychain attachment, a luggage strap, a camera insert, gated D-rings, and shoe straps, just to name a few.
Primary Construction: DWR-Coated 1,680D Ballistic Nylon
Volume: 25 Liters
The Brown Buffalo ConcealPack 26L
Any time you're shopping for a backpack, we'd always suggest checking out the latest available offerings from the renowned outfit that is The Brown Buffalo. Crafted in America from a DWR-treated ballistic-grade CORDURA nylon, the 26-liter ConcealPack is made for both travel and everyday carry use, and as such sports a generous range of useful features and amenities. This includes two webbing patch points, a removable sternum strap and quick-release shoulder strap buckles, ultra-beefy reinforced grab handles, YKK AquaGuard zippers, a luggage handle pass-through, and reinforcements at all key stress areas, ensuring years if not decades of regular use.
Primary Construction: DWR-Coated 1,050D CORDURA
Volume: 26 Liters
DEFY Menace Backpack 2.0
DEFY Bags' second-generation Menace Backpack is an incredibly well-designed, feature-laden pack that's made in the U.S. exclusively using top-shelf materials and hardware. Affording 18 liters of internal real estate, the Menace Backpack 2.0 is made from a DWR-coated VX-21 sailcloth and features 2″ AustriAlpin COBRA buckle closures, a handle made from 1" mil-spec webbing, exterior pockets that can fit oversized 32oz Nalgene bottles, YKK VISLON AquaGuard Zippers, closed-cell foam that's used for the bag's laptop sleeve, shoulder straps, and back panel, a laptop compartment that can house a 16" MacBook Pro, and an antimicrobial 500-denier Silver CORDURA liner.
Primary Construction: DWR-Coated X-Pac VX-21
Volume: 18 Liters
Bradley Mountain The Biographer
Offering between 15 and 20 liters of storage space, Bradley Mountain's The Biographer is a vintage-inspired bag that lends itself to use in the city as well as off-grid locales. The bag's robust 18oz waxed duck canvas primary construction is supplemented via genuine American-sourced 9oz harness leather and features antiqued brass zippers, solid brass and copper hardware, wool-padded straps, a rolltop closure, and a laptop compartment that can house notebooks of up to 13".
Primary Construction: 18oz Waxed Duck Canvas
Volume: 15 – 20 Liters
Tom Bihn Techonaut 30
Produced in more than a dozen different material and color choices, Tom Bihn's Techonaut 30 is a versatile three-way bag that can be worn as a backpack, used as a crossbody bag, or carried like a standard duffle bag. Equipped with #10 YKK Raquet-coil water-repellent zippers with lockable metal sliders, this bag is offered with primary constructions consisting of either bluesign and OEKO-TEX-certified 400-denier nylon ripstop, 525-denier 2×2 Ballistic nylon, 1,000-denier CORDURA, or 1,050-denier ballistic nylon. This bag is also offered in a larger 45-liter size.
Primary Construction: 400D Halcyon/420D Nylon Ripstop, 525D 2×2 Ballistic Nylon, 1,000D CORDURA, or 1050D Ballistic Nylon
Volume: 30 Liters
GORUCK Heritage GR1 26L
Taking inspiration from Special Forces Medical Rucks with a flat lay, full-length clamshell opening, GORUCK's GR1 has long been one of our favorite backpacks in existence, though there's even more to like about this limited-edition variant of the bag from Huckberry that's made with a military-grade duck canvas that's been fortified with a Martexin Wax finish. Compliant with carry-on sizing requirements for air travel, the bottom panel and handle of this special-edition waxed canvas bag are also crafted from full-grain leather sourced from Red Wing, Minnesota's S.B Foot Tannery. This bag also gets three rows of MOLLE webbing, a literally bombproof laptop sleeve, 550 paracord zipper pulls, and heavily padded shoulder straps that evenly distribute weight across the wearer's body. On top of being sold with a custom removable leather "See You Out There" morale patch, this backpack is also backed by GORUCK's lifetime guarantee.
Primary Construction: Waxed Duck Canvas & Red Wing Leather
Volume: 26 Liters
Mission Workshop Rhake : VX
Produced by hand in small batches, Mission Workshop's American-made VX-spec Rhake backpack is undeniably one of the most capable, utilitarian, and high-end bags currently on the market. Cut from Dimension Polyant VX-21 and boasting a dual-layer construction with water-resistant zippers, this weatherproof bag also sports a slew of organizers and pockets, heavily-padded dedicated laptop and tablet compartments, a hidden zip-away water bottle pocket, a pair of FIDLOCK magnetic buckles (non-removable), a luggage handle pass-through, a ventilation-bolstering perforated foam back panel, and shoulder straps with Arkiv rails for accommodating Mission Workshop's optional Arkiv accessories.
Primary Construction: X-Pac VX-21
Volume: 22 Liters
Triple Aught Design Fast Pack EDC SE
Triple Aught Design's Fast Pack EDC was already an absolutely stellar outdoor and everyday carry backpack, though the tactically-focused company has now taken things one step further with the debut of the even more hardwearing VX-42 construction version of this bag. Covered in rows of PALS webbing for accommodating MOLLE accessories, this bag also features numerous anchor points for externally securing gear, aerated closed-cell foam made using a high-pressure nitrogen process, removable compression straps, ventilation-boosting nylon and polyester mesh panels, and an advanced suspension system with an HDPE frame sheet and load lifters. TAD also produces a number of accessories and add-ons that are compatible with the Fast Pack EDC SE.
Primary Construction: X-Pac VX-42 or X-42
Volume: 31 Liters
KILLSPENCER Utility Backpack
KILLSPENCER's Utility Backpack doesn't contain any particularly novel or innovative features but instead is simply an incredibly well-crafted, high-end take on an American-made leather backpack. Tipping the scales at around 5lbs, this pack is crafted from high-end full-grain leather and accented with genuine bull hide leather straps, flap, and trim. The bag's 21.3 liters of storage is protected via a pair of Riri Aquazip water-resistant zippers while its grab handles are composed of mil-spec webbing rated to withstand 4,000lbs of force. Other highlights include a foam-padded and nylon-lined external laptop compartment that can house a 16″ MacBook Pro, a fire-retardant and waterproof nylon lining, a pair of interior mesh zip pockets for cables and cords, and an internal hidden stash pocket for valuables and other small essentials.
Primary Construction: Premium Full-Grain Leather
Volume: 21.3 Liters
The Best Waxed Canvas Bags
Want to check out an additional list of bags with an unmistakably sense of old-school style and craftsmanship? Then be sure to head over to our guide to the best waxed canvas backpacks for more of the finest packs currently available — a decent number of which are also made right here in the USA.