Of all the things you might carry with you, perhaps the most ubiquitous and immediately important is your wallet. After all, we live in a capitalist society where, metaphorically speaking, cash is king — or cards, now that so much has gone digital. So unless you're completely off the grid and living off the land, whatever it is that hauls around your plastic or paper money is probably going to be your number one go-to piece of gear.
Despite the fact that the purpose is, for the most part, universally the same, there are a lot of different types of wallets — including bifolds, trifolds, card cases, money clips, and more. And while there isn't a single one that works best for everyone, we're pretty confident that we've narrowed down the top options on our list of the best wallets for men. If you're in dire need of a new cash and card carrier, you've come to the right place.
The Best Men's Wallets Breakdown
Best Money Clip Wallet

American Bench Craft Caliber Clip

Best Bifold Wallet

Distil Union Wally Bifold 5.0

Best Weather-Proof Wallet

Bellroy All Condition Card Pocket

Best Wallet Deployment

Ekster Parliament Wallet

Best Leather Cardholder

Tanner Goods Journeyman Wallet

Most Secure Wallet

Bellroy Flip Case

Best Technical Wallet

Pioneer Division Billfold

Best Metal Wallet

The Ridge Wallet

Best Classic Leather Wallet

Buck Mason Countryman Full-Grain Leather Wallet

Best Biker Wallet

Billy Kirk No. 262 Small Trucker Wallet
Segments & Sub-Sectors
The Different Types Of Men's Wallets That Exist
There are literally thousands of available men's wallets currently on the market, though almost all of them will fall under the umbrella of one of eight main categories. Below, we'll briefly be outlining the main genres of men's wallets that currently comprise the market.
Bi-Fold Wallets: Not to be confused with a bill-fold, a bi-fold wallet is a classic style that consists of two folding halves connected at a spine — not unlike a book. Bi-folds almost always features a horizontally-running, full-length compartment for housing paper bills, while vertical card slots typically occupy the interior side of these items.
Card Holders: Like the name suggests, card holders are a type of minimalist wallet designed specifically for housing one or more credit cards, and little to nothing else.
Slim Folding Wallets: Slim folding wallets are something of a hybrid between classic bi-folds and modern card holders, as these items do feature a folding setup, though are usually much more low profile than normal bi-folds thanks to an emphasis on housing cards over cash.
Tri-Fold Wallets: Tri-fold wallets are similar to bi-folds, only this style of wallet features a third folding section. This means tri-fold wallets offer more storage space for both cards and cash, though they're also a bit more bulky.
Travel Wallets: Also called "passport wallets," travel wallets are a larger style of wallet that are designed to house and protect a passport, along with the carrier's cash, cards, boarding passes, and other vital paperwork and travel documents.
Trucker Wallets: Also referred to as "biker wallets," trucker wallets are a classically-styled type of wallet that often come attached to a chain or anchor. Also often secured via a snap closure, trucker wallets tend to be larger than normal bi-folds and tri-folds and offer more storage space for cards, paper bills, and whatever else you're carrying.
Phone Wallets: The newest style of wallet on this list, phone wallets — also called "smartphone wallets" or iPhone wallets" — are a type of wallet designed to pair with your smartphone. Phone wallets either consist of phone cases with built-in card slots on the rear-side of the device, or standalone wallets — typically of the card holder variety — that magnetically-couple with an iPhone's magnetic MagSafe system.
Zippered Wallets: Typically employing a bi-fold-style setup, this style of wallet simply features a zipper-secured main closure that ensures that a wallet's contents won't fall out. In addition to being RFID-protected, a great many of today's zippered wallets are also weatherproof or waterproof — typically thanks to the use of AquaGuard-style zippers.
Wallet Shopping 101
The Most Important Areas To Consider When Buying A Men's Wallet
Though men's wallets tend to be fairly straightforward products, there are a handful of finer points that one should be privy to when shopping. Below, we've outlined some of the most crucial areas to consider when shopping for a new wallet.
Video Guide: Best Men's Wallets
While wallets may seem pretty straightforward, pictures still only tell part of the story. So, with this in mind, be sure to check out our YouTube channel to see an in-depth 4K video breakdown of our favorite men's EDC wallets.
Wallet Type: As touched on above, today's men's wallet segment can largely be broken down into one of eight different categories, each of which has its own unique strengths and weaknesses.
Materials: Just like any other carry solution or piece of EDC gear, the materials used to construct a wallet will have an enormous impact on its overall quality. What's more, the materials used will not only play a substantial role in the look and feel of a given wallet, but will also largely determine a given wallet's durability and much of its overall quality. On modern wallets, these construction range from everything from leather and textile constructions to alloy models to wallets crafted from proprietary constructions like Dyneema and CORDURA.
Construction Technique(s): Not only are you going to want to pay attention to the materials that comprise a wallet, but you'll also want to focus on the construction technique — or techniques — that were used to be said material together, as this will also play a pivotal role in its overall durability. Today's best men's wallets employ a myriad of different construction techniques, from traditional stitching to laser-welds.
Closure: This factor only applies to certain types of wallets, as most card holders and bifold wallets are devoid of closure systems. With that said, a wallet's closure can have a huge impact on its overall performance and user experience. Most contemporary men's wallets of this variety employ closure setups such as aluminum G-hooks, Velcro, zippers, or magnets, just to name a few.
Amenities & Organization: Modern wallets can also vary pretty significantly in terms of the organizational amenities that they offer, as this element also plays a pivotal role in the overall user experience. Aspects to keep an eye out for in this area includes pockets and organizers for stashing things like credit cards and paper bills, as well as pen loops, key leashes, and holders for Airtags and tracking devices. RFID protection has also become an increasingly common amenity on modern men's wallets.
Style: Modern men's wallets come in a huge variety of different styles and looks, practically guaranteeing that there's a wallet out there that willl resonate with you and your personal taste. So, while it's true that we do subscribe to the belief that factors like materials and amenities should serve as the main guiding forces in your search, there's still nothing wrong with factoring your personal aesthetic taste into the equation when shopping around for a new wallet.
Price & Value: Wallets can vary pretty massively in terms of both price and level of value — i.e. bang for your buck. It is true that more expensive wallets tend to be made from higher-quality materials and feature better amenities, though they undeniably lack the value of some of their cheaper counterparts — making this another crucial area to explore when shopping, especially if you're on a budget.
Selection & Testing Process
How & Why We Got Hands-On With These Particular Wallets
When we first set out to compile a list of the best men's wallets, we began by first making a shortlist of our three favorite wallets from each of the eight main categories. Each category's trio of choices were selected based on a number of key criteria including their material selection, overall design, utility and organization, and general build quality. With our list complete, we then proceeded to get hands-on with all two-dozen of these wallets, as materials and features do play a major role in overall quality and performance, though it isn't until actually physically testing each model that you start to get a much better sense of their real-world performance, as well as their overall value and worth.
This testing phase of our process saw each and every wallet used and carried by our staff for several days in an effort to glean an objective sense of performance, utility, and durability. After getting a chance to get hands-on with each and every one of these wallets, we were ultimately able to narrow our more than 20 initial picks down to just 10 in total — decisions that were also made by factoring-in each wallet's price, value, and bang for your buck. Using this aforementioned criteria, we were then able to generate a final list of what we found to be the best of the best in the men's wallet space.
American Bench Craft Caliber Clip
Pros
Manufactured in America from premium leather & titanium
Designed to fit in a front pocket
Uses brass riveted construction in lieu of stitching
Made to break-in & mold-around its contents
Cons
Storage not as robust or secure as bi-folds & card holders
Best Money Clip Wallet: There's no rule that dictates that a wallet made from traditional materials has to be bulky and cumbersome — which is why American Bench Craft built their Caliber Clip Wallet. Super slim, yet still made from premium leather and titanium, this cash and card carrier is perfect for EDC enthusiasts who appreciate timeless styling in a modern package.
In addition to also being offered in a black leather version, American Benchcraft also offers a customizable three-letter monogram to further personalize this already unique wallet. And it certainly helps that this wallet comes backed by a forever warranty, guaranteeing a lifetime of daily use.
Category: Card Holder
Material(s): Titanium & Leather
Card Capacity: 1-4
Distil Union Wally Bifold 5.0
Pros
Ultra-streamlined 5th-generation design
Features unique Pull-Tab card access system w/ MagLock card pockets
Color-coded pull tabs makes accessing cards a breeze
High-quality materials & fit & finish
Cons
RFID-blocking version costs extra (albeit only $6 more)
Best Bifold Wallet: An updated fifth-gen take on an already fantastic wallet, the Distil Union Wally Bifold 5.0 features a slimmer profile, deeper pockets, the brand's new MagLock system, and a custom money clip that's machined from a single piece of stainless steel. Stitched from rich full-grain leather, the Wally Bifold 5.0 is built with two handy interior slots for instant access to IDs and other important carry, plus boasts storage for as many as 14 cards (plus up to 30 folded bills).
Also of note is this wallet's convenient color-coded pull-tabs and squeeze-to-open functionality, which makes retrieving cards a breeze, no matter how loaded the wallet is. At the end of the day, it's probably best to think of the Wally 5.0 as a bifold made for the modern-day, as it combines everything we love about the classic style — spacious storage, security, etc — in a compact, pocket-friendly package.
Category: Bi-fold
Material(s): Leather
Card Capacity: 1- 14
Bellroy All Condition Card Pocket
Pros
Crafted around pre-molded leather shell
Sustainably made from eco-friendly materials
Equipped w/ all-weather YKK AquaGuard zipper
Has raised key pocket w/ key leash
Sold w/ included Paracord zipper pull
Cons
Warranty limited to only 3 years
Best Weather-Proof Wallet: While everything Bellroy makes is superb, outdoorsmen will likely find themselves drawn to their All-Conditions collection. And this wallet highlights why, as it's crafted around a soft yet rugged remolded leather shell that's largely impervious to the elements. Additionally, the ACCP wallet also features a water-resistant YKK AquaGuard zipper closure plus can hold a whopping 15 cards and cash.
Also included is a pair of internal stretch pockets and a raised coin and key pocket with a tethered key loop. If you're worried about your wallet contents getting soggy, pick up this carrier and put those stresses to bed. Whether being used in the city or out on the trails, the Bellroy All Condition Card Pocket is just a fantastic little vessel.
Category: Zippered Wallet
Material(s): Waterproof Leather
Card Capacity: 1-15
Ekster Parliament Wallet
Pros
Made from environmentally-certified leather wrapped around aluminum frame
Has unique push-button fanning card deployment mechanism
Offers RFID-blocking
Can be upgraded w/ onboard GPS tracker
Sold in 12 different leather color options
Cons
Tracker not included/costs extra
Rectangular shape can be awkward in back pockets
Best Wallet Deployment: Though it may resemble a large bi-fold or travel wallet, the Ekster Parliament Wallet conceals a few unique tricks up its sleeve in the form of a quick-access card deployment button that fans out all of the wallet's cards, making it incredibly easy to quickly grab whichever one you need.
Produced in a dozen color options, Ekster's Parliament Wallet is built around an aluminum frame with RFID protection that comes cloaked in a LWG hide leather exterior cover. Sustainably manufactured, this wallet can also be fitted with an optional Chipolo GPS tracker so you can always keep tabs on it should it get stolen or misplaced. The ability to receive a solar-powered charge also enables it to last 2 to 3 months before needing to be juiced up again.
Category: Deployment Bi-Fold
Material(s): Leather & Aluminum
Card Capacity: 1 – 12
Tanner Goods Journeyman Wallet
Pros
Handcrafted in Minnesota
Cut from 3.5oz Tooling leather
Excellent materials & build quality
Offered w/ optional monogram
Cons
Expensive price for a card holder
Best Leather Cardholder: A handsome blend of traditional craftsmanship, premium materials, and modern expectations, the Tanner Good Journeyman card holder wallet is as beautiful as your grandfather's old handmade bifold, but in a much more manageable package. It's built from English bridle leather, has numerous card slots — plus a center stash for cash.
Made in America, the Journeyman Wallet also benefits from Tanner Goods' usual top-notch construction and build quality, with this minimalist design meticulously being brought to life in small batches with a careful eye for quality control. Best of all, for an upcharge, you can get it monogrammed for a bit of custom uniqueness.
Category: Card Holder
Material(s): Leather
Card Capacity: 1-8
Bellroy Flip Case
Pros
Made from polymer & eco-friendly leather
Ultra-secure & compact molded hardshell design
Features dual magnetic trapdoors & quick-access priority card section
Offers RFID protection
Boasts unmistakably premium feel & appearance
Cons
Warranty limited to 3 years
Most Secure Wallet: The Bellroy Flip Case is a super contemporary take on a minimalist men's wallet that's constructed around a molded hardshell design made from a rugged combination of polymer and leather. The Flip Case is equipped with room for half a dozen cards plus a few bills, or it can house up to eight cards in total — two of which can be accessed via a quick-draw compartment.
Utilizing a magnetic closure, the wallet boasts a dual trapdoor design with an interior divider for card and cash organization. Measuring just 4.1" x 2.75" x 0.39", this incredibly compact wallet also features RFID protection. Despite its overall quality and materials, this wallet is priced at below $100, too.
Category: Hard Shell
Material(s): Molded Leather & Polymer
Card Capacity: 1-8
Pioneer Division Billfold
Pros
Made from rugged yet lightweight 10XD construction that's 10-times stronger than steel
Is 100% waterproof
Boasts sleek matte finish & minimal branding
Is legitimately made for a lifetime of daily use
Cons
Very stiff before being broken in
Best Technical Wallet: Built from high-density 3PN DWR nylon, this is one of the toughest synthetic bifold wallets available on the market, with this ultra-high-molecular-weight-polyethylene yarn-based fabric being a whopping ten-times stronger than steel. And it's made even better by the inclusion of the brand's FutureForm technology — which will allow it to break in and shape to your needs the longer you use it.
The wallet also features heavily-reinforced stitching and eliminated seams for an even more solid construction. It's also waterproof, sweat-roof, washable, can hold up to 12+ cards and cash, and has eight different organizational slots. A lot of wallets claim to offer a lifetime of use, but with Pioneer's Division Billfold, this statement couldn't be more true.
Category: Bifold
Material(s): 3PN DWR Nylon
Card Capacity: 1-12+
The Ridge Wallet
Pros
Offers RFID-protected room for up to a dozen cards
Sold in wide variety of top-shelf materials & finishes
Wallet comes paired w/ money clip, cash strap, or both
Can be personalized/decorated w/ optional custom image
Backed by lifetime warranty
Cons
Screws/hardware in frame require occasional tightening
Can be uncomfortable to sit on in back pocket for long periods
Best Metal Wallet: When The Ridge first unveiled their game-changing wallet, it set the new standard for minimalist cash and card carriers. As it turns out, a few minor improvements and some new options have kept it firmly at the top of the pile to this day. Now, these wallets come in a number of different materials — ranging from aluminum to carbon fiber and even titanium — a bunch of different colorways, and more.
But they're all stupendous, RFID-blocking, 12-card-capacity carriers that are a tremendous addition to any EDC loadout. This might be the closest to perfect a minimalist wallet has ever gotten. The wealth of similar Ridge-style wallets that have popped up since this model's debut also speaks volumes about this calculated minimalist design.
Category: Card Holder
Material(s): Aluminum, Carbon Fiber, or Titanium
Card Capacity: 1-12
Buck Mason Countryman Full-Grain Leather Wallet
Pros
Outstanding craftsmanship
Inspired by vintage hotel key fobs
Leather benefits from dual-tanning process & hand-burnishing
Best Classic Leather Wallet: TheBuck Mason Countryman Full-Grain Leather Wallet takes ample inspiration from vintage bi-folds, with an old-school minimalist design that's been brought to life using semi-vegetable-tanned and semi-chromed-tanned full-grain cowhide leather that's burnished and stitched together by hand using contrasting threading.
While it may not sport any clever or innovative features, the Countryman Full-Grain Leather Wallet is simply a beautiful retro-style wallet with a robust construction that allows for a legitimate lifetime of use. Furthering its traditional feel is a simple Buck Mason logo in gold comprising the only text or branding on the entire wallet.
Category: Bi-fold

Material(s): Leather
Card Capacity: 1 – 6
Billy Kirk No. 262 Small Trucker Wallet
Pros
Made by hand in Pennsylvania
Features hand-burnished and edged leather
Accented w/ custom brass snaps
Includes quick-access rear pocket & interior zippered compartment
Cons
Chain costs extra
Expensive price
Best Biker Wallet: A high-end interpretation of a classic trucker-style wallet, the Billy Kirk No. 262 Small Trucker Wallet is a robust classically-styled vessel that's made in America from premium vegetable-tanned full-grain cowhide leather. Equipped with an optional 17.25" chain made from either solid brass or stainless steel, this wallet features a double snap-secured main closure that opens to reveal a card slot, a paper bill slot, and a zipper-secured compartment for coins and other small valuables.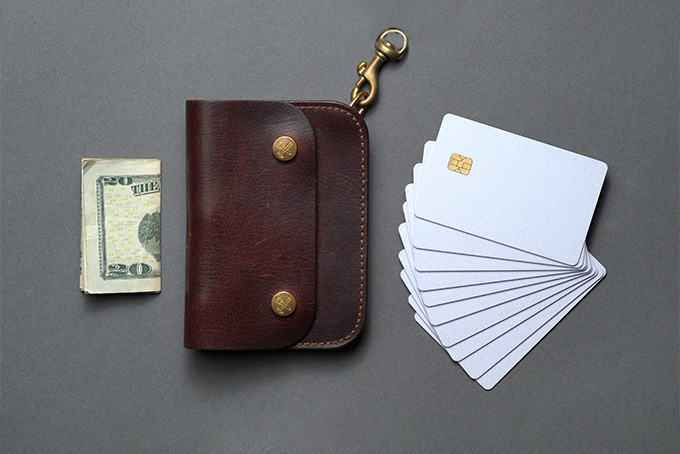 The backside of the wallet also boasts a quick-access card pocket. The small details on this wallet also help to massively elevate it, including matte nickel or brass snaps with custom debossed Hammer and Maul logos. It's also worth mentioning that the entire wallet is hand-burnished and edged, giving it a broken in appearance right out of the box — though its leather shell will also form its now unique patina over time.
Category: Trucker Wallet
Material(s): Leather & Brass
Card Capacity: 1 – 10
The Best Minimalist Wallets
Interested in a more spartan carrying experience? Then be sure to head over to our guide to the best minimalist wallets for a curated selection of today's best no-fuss bi-folds and card holders.