While Buck Knives, Inc. was officially founded in 1961, this now-iconic company has origins dating back nearly six decades earlier to 1902. Deeply rooted in a tradition of innovation, Buck now stands as an undisputed leader in the knife space. As such, we felt it appropriate to carve out some time to shine a light on this company and take a deep dive into its history and what makes it unique, along with our picks for the best Buck knives for everyday carry currently win production.
The Best Buck Knife Breakdown
Best Value Knife

Buck Nobleman

Best Multi-Blade Knife

Buck Stockman

Best Value Knife

Buck Spitfire

Best Classic Knife

Buck 110 Folding Hunter

Best Neo-Retro Knife

Buck Vantage Select Large

Best Compact Knife

Buck Budgie

Best Auto Knife

Buck 838 Deploy Auto Blackout Pro

Best Premium Knife

Buck 843 Sprint Ops
From Apprentice To Innovator
A Condensed History Of Buck Knives
The story of Buck Knives is one of ingenuity, grit, and innovation — and one that's told over four generations of the same family. It all started with a young, 13-year-old Hoyt Buck, who began apprenticing as a blacksmith in Kansas as a teenager. After only a few months of apprenticing, Hoyt became convinced that there was a better way to temper steel that would allow it to better retain an edge. With access to a massive amount of worn-out and discarded file blades to use as his raw material, Hoyt began experimenting with different tempering processes and heat treatments.
This eventually lead to Hoyt discovering that by making sure the temperature of a blade was consistent across its entire construction just prior to quenching, dead spots in the blade could be eliminated — an absolute game-changer in the knife industry. Using his revolutionary tempering and heat-treating process, Hoyt started producing his own knives by hand, which quickly gained a large following, including with American soldiers during World War II. After WW2's conclusion, these soldiers returned home with an even greater proclivity for Hoyt's blades.
In 1908 Hoyt met Daisy Louise Green — a young and wealthy Seattle socialite whose father did not approve of her relationship with Buck. Nonetheless, the two married the following year, and then had their first child — Alfred Charles Buck — the year after. Fast forward to 1945, and Hoyt and Daisy would end up moving in with a now-adult Alfred in San Diego where, after more than 40 years of making knives, Hoyt would partner with his firstborn to found H.H. Buck and Son. For the next four years, Hoyt crafted 25 knives every week, though in 1949 he would sadly pass away, leaving the company to Al — who by this time had his own son, Chuck, who too had gotten involved in the multi-generational family business.
In 1961, everything changed. Up until that point HHB&S had operated as a small, boutique, custom knifemaker, though that year Al incorporated Buck Knives, Inc. at which time production was massively ramped up. A few short years later in 1964, Al introduced the world to what's unequivocally the brand's most iconic knife to date, the Buck 110 Folding Hunter. The massive success of the 110 would forever change the trajectory of the business, and would cement Buck Knives as a key player in the segment — a position the brand still maintains today.
While Al ran things, his son Chuck slowly rose through the ranks of the company before eventually reaching the position of President and CEO. Continuing the family tradition, Chuck's son CJ had grown up working at the company, and in 1999 the keys to the kingdom were passed down to CJ. Though he continued to serve as a chairman on the company's board, Chuck too would sadly pass away in 2015. This essentially brings us to today.
Innovation & Tradition
What Exactly Makes Buck Knives Special Or Unique?
A major part of Buck's identity is rooted in its more than century-long history. And while it's true that Buck is best known for classic heritage models like the 110 Folding Hunter, innovation has also played a key role in shaping its image and identity. Balancing a spirit of both history and innovation, Buck continues to craft its classically-styled knives with the same impressive levels of craftsmanship that made it popular with soldiers during WW2. Combining both these pieces of its identity, Buck also makes a great many of its old-school models using the original designs, though bringing them to life with modern materials — as well as reconfiguring modern versions of age-old classics, such as the automatic version of the 110.
Buck's catalog isn't merely limited to its retro reproductions and vintage-inspired knives, however, as it's also become a major player in the modern everyday carry knife segment. As an outfit that prides itself on its innovation, it's frankly unsurprising that Buck has managed to deliver a myriad of modern EDC models that push the edge-tool envelop just as much today as Hoyt's original knives did more than a century ago. Buck's more eminent contemporary EDC knives include its popular Sprint blades, its automatic Deploy series, its Spitfire lineup, and its Paradigm models, just to name a few.
Whether classically styled or modern, all of the knives that Buck makes today still benefit from sophisticated tempering and heat-treating processes that help to ensure high-performance, high-quality blades that do an excellent job of holding their edge. What's more, since 1902, Buck still produces the vast majority of its knives right here in America and stands behind these products with a generous lifetime warranty — the latter of which no doubt speaks volumes about the craftsmanship and longevity of its knives. With one foot planted firmly in tradition and the other standing squarely in more modern times, Buck has developed a unique identity in the knife space that's only made all the more idiosyncratic by the brand's commitment to quality.
The Best Buck Pocket Knives For EDC
Buck Nobleman
Pros
Equipped w/ frame-locking carbon fiber (or stainless steel) handle
Offers solid bang for your buck
Compact 2.625" 440A blade is titanium-coated
Handle measures an ultra-slim 0.34″
Cons
Low price made possible through outsourcing production to China
Best Value Knife: When a gentleman leaves his domicile, he should be prepared for any circumstance to befall him. That means a quality EDC knife that's not overbearing. Made out of 440A steel and using a traditional drop point blade, the Nobleman is coated in titanium for a less reflective look that is still as dashing and debonair as the knife itself. The handle is stainless steel with a carbon fiber print, giving it a respectable look that also avoids inflating the price. One side of the grip is rubberized so you can choose how you grab it.
Blade Steel: 440A
Blade Length: 2.625″
Handle Material: Carbon Fiber (or Stainless Steel)
Overall Length: 6.375″
Lock: Framelock
Buck Stockman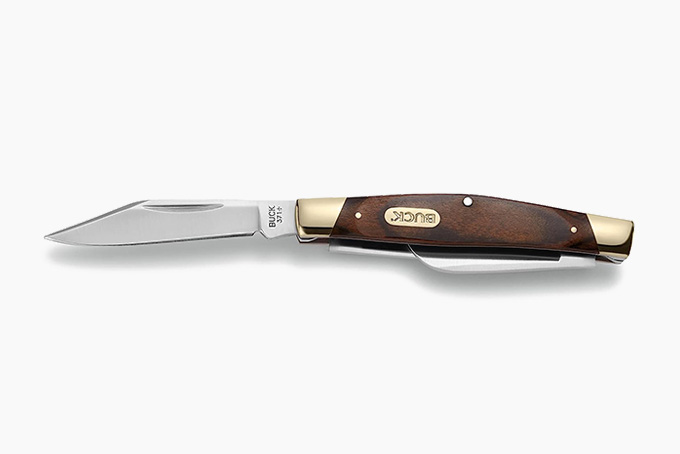 Pros
Modern take on '60s era multi-blade knife
Buck's largest 3-blade knife
Now made w/ modern 420J2 blade steel
Offered w/ woodgrain or top-shelf Burlwood handles
Cons
Blades are of the non-locking slip joint variety
Not made in America
Best Multi-Blade Knife: First debuting in 1966, the Buck Stockman was a classically-styled knife that come loaded with a trio of differently-shaped and sized modified clip point, spey, and sheepsfoot blades, each meant for taking on different outdoor and hunting tasks. Offered with woodgrain or top-shelf Burlwood scales — both of which come paired with nickel silver bolsters — the Stockman has been recreated with more modern 420J2 steel. Just like the original model from '66, the modern Stockman reissue is devoid of any pocket clip or fasteners, and was designed to simply be carried in its user's pocket.
Blade Steel: 420J2
Blade Length: 2.75"
Handle Material: Woodgrain (or Burlwood)
Overall Length: 6.875″
Lock: Slip Joint
Buck Spitfire
Pros
Offers outstanding value
American-made knife designed for EDC
Blade deployed via ambidextrous thumb-hole opener
Has outstanding build quality & durability for its price
Crafted around anodized aluminum handle
Cons
Not the most ergonomic handle shape
Best Value Knife: Just 3 oz in heft, this is a lot of bloody-minded cutting ability for such a small blade. Reminiscent of SpyderCo's knives, the Spitfire is part of Buck's rebirth. It's leaner, lighter, and more vicious than the workaday pocket pieces that one expects from the giant. It uses the same 420HC as many Bucks, but when put into an anodized aluminum handle, trimmed down for concealment, and given an aggressive drop-point, it becomes something far less friendly. The Spitfire stands up admirably when compared with knives many times more expensive, and has greater longevity than many of its peers.
Blade Steel: 420HC
Blade Length: 2.75"
Handle Material: Aluminum
Overall Length: 6.50"
Lock: Lockback
Buck 110 Folding Hunter
Pros
Iconic design that's gone unchanged for 60 years
Sports ethically-sourced Crelicam ebony wood scales
Handle features brass pins and bolsters
Will form patina over time
420HC blade benefits from Paul Bos heat treatment
Cons
Lacks utility & ergonomics compared to modern pocket knife designs
Best Classic Knife: If you don't own one of these, then we aren't sure why you're reading this list. The 110 was Al's vision, and the 420HC steel legend that put Buck on the cultural map. Often imitated, never duplicated, the 110 has the same brass bolsters as always, paired with a Dymondwood handle, and Buck's Forever warranty. A belt sheath of genuine leather gives you a place to stash this everyday, or you can slide it into your pocket for a little easy-going, old school action. It might not be fast, but Buck wrote the book on long-lasting. As mentioned earlier, Buck also makes an automatic version of its thoroughly iconic 110 Folder, as well as a slimmer 112 model that's also a stellar choice for everyday carry.
Blade Steel: 420HC
Blade Length: 3.75″
Handle Material: Ebony & Brass
Overall Length: 8.50"
Lock: Lockback
Buck Vantage Select Large
Pros
Combines modern & retro design elements
420HC blade deployed via flipper tab or thumb-hole
Made in America & backed by lifetime warranty
Handle made from modern injection-molded nylon w/ CNC'd Dymalux Redwood inlays
Cons
Handle would benefit from grip-bolstering texturing or pattern
Best Neo-Retro Knife: The Vantage Select comes in your choice of large or slightly less large. No matter which path you take, you'll be treated to a glass-reinforced nylon handle, an ovular finger hole for quick flipping, and a reversible stainless steel clip for carrying it tip-up or tip-down. Easy to open with one hand, the TM locking mechanism works with steel liners in the handle to reduce weight but increase safety, so the razor-sharp 420HC blade doesn't come crashing down on your digits. The knife is constructed around an injection-molded nylon handle overlaid with CNC-machined Dymalux Redwood inlays.
Blade Steel: 420HC
Blade Length: 3.25″
Handle Material: Injection-Molded Nylon & Dymalux Redwood
Overall Length: 7.625″
Lock: Liner Lock
Buck Budgie
Pros
Packs ample utility for its small size
Made in America
Has premium S35VN blade
Great attention to detail & build quality
Cons
Smaller handle size limits grip during hard use
Best Compact Knife: The Buck Budgie is a compact American-made everyday carry knife that punches well above its weight thanks to a compact yet utilitarian blade mated to a rugged, ultra-sturdy steel frame-locking handle sporting a G-10 scale on its show side. Spanning 5.25" overall, the Budgie's 2.00" blade is composed of CPM S35VN steel that benefits from Buck's proprietary heat treating process — plus comes backed by the brand's lifetime warranty. The attention to detail on the Budgie is also objectively impressive, with subtle but important elements such as studs and drilled-out holes that massively bolster traction, a red accent backspacer fitted with a lanyard hole, and a stainless steel pocket clip with a cutout of Buck's classic anvil logo.
Blade Steel: CPM S35VN
Blade Length: 2.00"
Handle Material: G-10 & Stainless Steel
Overall Length: 5.25"
Lock: Framelock
Buck 838 Deploy Auto Blackout Pro
Pros
Upgraded, S35VN-steeled version of popular full-sized auto knife
Made in America
Outstanding top-shelf build quality
Aluminum handle fortified via Cerakote finish
Makes for excellent tactical knife
Cons
Not legal to carry in some regions
Best Auto Knife: From EDC enthusiasts to law enforcement to active military personnel, Buck Knives' Deploy Series or automatic knives perfectly exemplifies the brand's ability to craft modern, top-shelf blades just as well as it does old-school 110-style items. Constructed around a Cerakoted aluminum handle, the Buck 838 Deploy Auto Blackout Pro is an incredibly versatile knife that boasts rugged materials backed by a stellar build quality. In addition to a completely blacked-out, monochrome finish, the Blackout Pro-spec of the 838 Deploy Auto also features an upgraded CPM S35VN blade — a major step up over the standard model's 154CM construction — that uses Buck's special heat treating process. And, in typical Buck fashion, this 838 variant is made in America and backed by the brand's lifetime warranty.
Blade Steel: CPM S35VN
Blade Length: 3.25"
Handle Material: Aluminum
Overall Length: 8.25″
Lock: Button Lock
Buck 843 Sprint Ops
Pros
Super top-shelf tactically-inspired EDC knife
S45VN blade set on ball-bearing pivot
Outstanding top-shelf build quality
Made in America & backed by lifetime warranty
Best Premium Knife: Just as conducive to tactical use as it is everyday carry applications, the Buck 843 Sprint Ops is a fantastic knife with an ergonomic Micarta handle and a workhorse of a 3.00" CPM S30V blade that clocks in at 0.12" thick. For its more discerning customers, however, Buck has proved that it can go toe-to-toe with more premium outfits in the space — like Spyderco and Benchmade — with this top-shelf version of the 843 Sprint Ops that sees its Micarta and S30V constructions jettisoned in favor of more high-end forged carbon fiber and equally-premium CPM S45VN steel that's been hit with Buck's patented Paul Bos heat treatment process. And, as you'd expect from a top-shelf knife from Buck, the 843 Sprint Ops is handcrafted in America and is protected by Buck's lifetime warranty.
Blade Steel: CPM S45VN
Blade Length: 3.00"
Handle Material: Forged Carbon Fiber
Overall Length: 7.50"
Lock: Liner Lock
The Best Gerber Pocket Knives For EDC
Want to learn more about another iconic American knife maker? Then be sure to check out our guide to the best Gerber knives for a deep dive into the Portland-based bladesmith where we explore its history, what makes it special, and its best EDC blades currently on the market.