It's easy to feel like some of the best everyday carry knives on the market are out of the average person's price range. After all, some of the most exclusive, top tier options can have price tags sometimes in the thousands, or at least several hundred. The fact of the matter, however, is that you can actually find a superb folding blade that will suit all your daily needs for a good deal less than that. In fact, some of our favorite knives of all time cost the equivalent of pocket change by comparison. Whether you're just looking for a simple cutting tool you won't feel guilty using to cut open packages or you want to try out some new brands with which you are otherwise unfamiliar, that's a manageable prospect for very little cash. To prove that, we've rounded up the best budget pocket knives you can get for $30 or less.
The Best Budget EDC Knives Breakdown
Best Value Knife

Gerber Paraframe Mini

Best Work Knife

Svord Mini Peasant Knife

Best Classically-Styled Knife

Boker Magnum Jewel

Best Outdoor Knife

Opinel No.08 Folding Knife

Best Multi-Tool

Victorinox Classic SD

Best Full-Sized Knife

Kershaw Oso Sweet

Best Multi-Blade Knife

Buck 382 Trapper

Best Mini Knife

Spyderco Bug

Best Overall Knife

CRKT Pilar
Can You Get A Good EDC Knife On A Budget (Under $30)?
With everyday carry items, good gear is seldom cheap, and cheap gear is seldom good. One of the few exceptions to this general rule, however, is budget-focused pocket knives. Often mass-produced overseas, a growing number of super-affordable EDC knives offer outstanding bang for your buck, punching well above their weight relative to their price and performance. This does typically mean making a few sacrifices or concessions, which we'll touch on more below.
For the sake of this article, we've limited our list to knives priced at or below the $30 mark. This particular amount was chosen as the $20 to $30 price range is just about the least you can spend while still getting a decent pocket knife. Unless on sale or marked down, any knives sold for below this amount will typically exhibit super cheap materials, performance, and build quality.
What To Look For In An Affordable Pocket Knife
While there are a handful of elements one should always consider when buying any blade, there are also a plethora of finer points that are unique to budget-focused knives — the most important of which we'll be breaking down directly below.
Knife Type: Though one can get a solid everyday carry knife without spending much, this is only possible when opting for certain types of knives — with simplicity being something of the key here. While you won't be able to find any quality automatic or OTF knives for below the $30 mark, there are plenty of basic manual folders that can be manufactured for cheap — and thus sold at accessible prices.
Blade Steel: Blade steel is always of monumental importance when looking at any group of knives — and cheap pocket knives are no exception. At this particular price point, you won't find any EDC knives with cutting-edge powder metallurgy blade steels — like CPM S30V or Bohler M390 — though there are still solid constructions available within this price range such as 7Cr17MoV, 8Cr13MoV, 420HC, AUS-8, Sandvik 12C27, and VG-10, just to name a few. And, while these more budget blade steels don't retain an edge as well as their pricier counterparts, it is worth mentioning that most cheaper blade steels are actually much easier to sharpen.
Size: When shopping for a sub-$30 knife, you'll quickly notice that many of your best options all happen to be on the smaller side of the spectrum. By utilizing less materials, manufacturers are able to deliver lower prices. Because a pocket knife's size can have such a major impact on its overall performance and utility, we recommend always reviewing this area when shopping for a budget-friendly knife — or any knife for that matter.
Handle Material: Another massively important area to take into account is the construction of a knife's handle. While you won't find any carbon fiber or titanium-scaled models for below the $30 mark, there are plenty of knives in this space that feature hardwearing handle materials such as G-10, polymer, aluminum, and Micarta. Additionally, you'll also want to pay attention to a handle's design and ergonomics, as these areas will also play a major role in the knife's overall performance.
Locking Mechanism: One more pivotal aspect to review when shopping, an EDC knife's locking mechanism is also of monumental importance. Because of the price point, you won't find many proprietary mechanisms, though there are still some sturdy locks in this segment, namely liner locks and back locks. Non-locking slip joint mechanisms are also fairly common at this price.
Manufacturer: A great way to ensure that you're getting your hands on a quality budget pocket knife is to buy from a reputable brand with a proven history of delivering solid blades. While there are exceptions, most manufacturers will be fairly consistent when it comes to overall build quality.
Gerber Paraframe Mini
Pros
Offers outstanding value
Features ultra-sturdy frame-lock mechanism
Super lightweight at only 1.6oz
Backed by a limited lifetime warranty
Cons
Very thin blade
Regular Paraframe knife can often be found on sale for less than price of Paraframe Mini
Best Value Knife: Thanks to the fact that it offers some truly incredible performance for its price, the Gerber Paraframe has long been an immensely popular budget-focused EDC knife, though the normal model's little sibling — the Paraframe Mini — manages to deliver even better value. Only slightly smaller than the regular version — at 5.25" overall versus the full-size item's 6.875" overall measurement — the Gerber Paraframe Mini features a 2.125" clip point blade that's been mated to a skeletonized, frame-locking stainless steel handle with a pressed steel pocket clip.
Blade Steel: Stainless Steel
Blade Length: 2.125″
Handle: Stainless Steel
Overall Length: 5.25"
Lock: Framelock
Svord Mini Peasant Knife
Pros
Inspired by Bavarian peasant knives from 300 years ago
Combines classic design w/ contemporary constructions
Features modern Zytel handle & high-carbon steel blade
Made in New Zealand
Best Work Knife: Peasant knives date back as far as hundreds of years and, while the Svord Mini Peasant mimics those throwback blades, this one is actually made with modern materials and craftsmanship. It's a friction folder, meaning it doesn't have a locking mechanism, but that has allowed Svord to pay more attention to the rest of the knife. It has a tough carbon steel blade mated to a durable polypropylene handle and it's both compact and handsome enough that you might find yourself carrying it in your loadout every single day.
Blade Steel: Carbon Steel
Blade Length: 2.50"
Handle: Zytel
Overall Length: 6.75"
Lock: Friction Folder
Boker Magnum Jewel
Pros
Boasts appearance of markedly more expensive knife
Has rosewood handle inlays & polished steel bolsters
Features outstanding build quality for the price
Cons
Very thin 0.07" blade
Nail-nick opening requires two hands
Best Classically-Styled Knife: With classic, iconic styling that mimics old-school hunting folders, Boker's Jewel is a shocking value. That's all the truer when you consider that it's actually well-made from 440 stainless steel and rosewood. Better still, this ultra-inexpensive folder still has a sturdy back lock to ensure it will stay safely and securely deployed during use. To put a cherry on top of the cake, it even comes with a limited lifetime warranty.
Blade Steel: 440A
Blade Length: 2.17"
Handle: Rosewood
Overall Length: 5.31"
Lock: Backlock
Opinel No.08 Folding Knife
Pros
Made in Savoie, France
Design dates back to 1890
Great blade steel (12C27) considering the price
Offered in wide variety of handle materials & colors
Cons
Lacks ergonomics & grip of more modern knives
Best Outdoor Knife: The French family behind Opinel has been making knives for more than a century at this point — and that should be a huge vote of confidence for you. But even if you didn't know that, the No. 8 Trekking knife would still be a superb budget-friendly folder. It boasts a durable and reliable Sandvik steel blade, which is mated to a beautiful hornbeam, or beechwood handle and finished off with the brand's signature Virobloc locking mechanism. To round it all out, this budget pocket knife comes with a simple leather lanyard for easy attachment to a belt loop or backpack and can be used to extract the knife from your pocket more easily.
Blade Steel: Sandvik 12C27
Blade Length: 3.28"
Handle: Hornbeam Or Beechwood
Overall Length: 7.59"
Lock: Virobloc Safety Ring
Victorinox Classic SD
Pros
Legendary SAK design dating back to 1935
Offers great value
Sold in huge variety of colors & patterns
Great addition to any EDC keychain
Cons
Limited utility compared to other SAKS & multi-tools
Small size hugely limits grip
Best Multi-Tool: A long-running, much-beloved EDC staple, the Victorinox Classic SD is an ultra-pocketable seven-function Swiss Army knife that includes a non-locking blade, folding scissors, a file, a toothpick, and tweezers, all sandwiched between a classic set of red cellidor scales. Made in Switzerland, this SAK weighs less than 1oz and is available in a wide variety of additional color options and patterns, plus can be upgraded using any number of aftermarket scales and accessories.
Blade Steel: Stainless Steel
Blade Length: 1.50"
Handle: Cellidor
Overall Length: 3.78"
Lock: Slipjoint
Kershaw Oso Sweet
Pros
Designed by Ken Onion
Spans 7.25" overall
Offers great value & performance for its size
Has decent 0.11″ blade thickness
Best Full-Sized Knife: Another affordable pocket knife offering some truly exceptional value, Kershaw Oso Sweet is a full-sized folder that spans 7.25" overall and features an assisted-opening satin-finished 8Cr13MoV blade. Backed by a limited lifetime warranty, this Kershaw knife was penned by industry legend Ken Onion and includes a glass-filled nylon handle that's been bestowed with a stainless steel liner lock mechanism and a special scale pattern to bolster grip. As far as dollar for dollar utility goes, it really is hard to bear the Oso Sweet.
Blade Steel: 8Cr13MoV
Blade Length: 3.125"
Handle: Polymer
Overall Length: 7.25"
Lock: Liner Lock
Buck 382 Trapper
Pros
Rosewood or Burlwood inlays complemented via nickel silver bolsters
Backed by Buck's Forever Warranty
420J2 blades benefit from modern heat treatment
Great for hunting
Cons
Not made in America
Lacks ergonomics, performance, & grip of more modern knives
Best Multi-Blade Knife: Buck Knives is a true American knifemaking company that's been in operation for generations. And everything they make is worth your time and hard-earned cash — including their take on the classic cowboy-style Trapper knife. Boasting two blades instead of one, this pocket knife is plenty versatile. And it's also endowed with top-notch styling, thanks to its handsome wood handle. Obviously, this heritage-style blade isn't for everyone, but if you appreciate timeless designs, this one will rank high.
Blade Steel: 420J2
Blade Lengths: 3.5"
Handle: Rosewood Or Burlwood W/ Nickel Silver Bolsters
Overall Length: 6.1378"
Lock: Slipjoint
Spyderco Bug
Pros
Great performance & utility for its size (and price)
Weighs less than 0.5oz
Sports numerous Spyderco design hallmarks
Also makes for a solid keychain knife
Best Mini Knife: Designed to be a fully-functional EDC knife despite its diminutive size, the Spyderco Bug is a stainless steel-handled mini slipjoint knife that sports a myriad of the Colorado knife maker's signature design elements including a leaf-shaped blade, classic handle profile, and hallmark round thumbhole opener. The smallest folder currently made by Spyderco, the Bug packs a 1.27" 3Cr13 blade with a full flat grind. The whole pocket knife weighs in at just 0.4oz, too.
Blade Steel: 3Cr13
Blade Length: 1.27"
Handle: Stainless Steel
Overall Length: 2.90"
Lock: Slipjoint
CRKT Pilar
Pros
Modern Jesper Voxnaes-designed EDC knife offering fantastic value
Features ultra-beefy, 0.15" thick workhorse of a blade
Equipped w/ frame lock mechanism
Slips in & out of pockets very easily
Offered in several different generations & sizes
Cons
Would benefit from jimping at blade spine & coil
Best Overall Knife: Named after Ernest Hemingway's fishing boat — the same one he used during WWII to hunt for German U-Boats — this stout folder is just as beautiful and reliable, albeit in very different ways. Designed by Jesper Voxnaes, this frame lock pocket knife has a full-metal handle with a robust-yet-tiny modified Wharncliffe blade that's perfect for hard-use cutting tasks. Of course, if you like the cleaver-like design but not this format, it's also available with a G10 handle or there's a larger version (which also comes in all-black).
Blade Steel: 8Cr13MoV
Blade Length: 2.402″
Handle: Stainless Steel
Overall Length: 5.938"
Lock: Framelock
The Best EDC Pocket Knives Under $100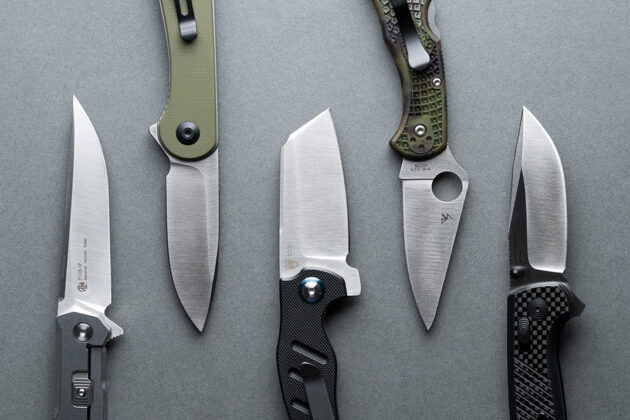 Got a bit more to spend but still aren't interested in breaking the bank? Then be sure to head over to our guide to the best EDC pocket knives under $100 for a major step up in quality and performance without too big a step up in price.