While it's highly unlikely that most of us will ever be required to skin game or gut a fish, there's still plenty of cause to keep a knife on your person — even for the city-dwelling urbanite. After all, you never know when you'll need a tool for breaking down boxes, cleaning up loose strands of clothing, or cutting food (and those are just a small fraction of the many potential uses). As is so often the case with everyday carry gear, then, it's better to be overly prepared than it is to find yourself wanting a tool that you're without. In other words, you may only need a knife in certain, occasional applications, but it'll be of little help to you if it's left sitting at home.
With that being said, choosing the right blade for you is a decidedly intimate process, as there's no such thing as an all-purpose everyday carry knife that's ideal for everyone. Because let's face it: every EDC enthusiast has their own personal requirements regarding what they need from their setup, and what works for someone else may not necessarily work for you. To make matters worse, the EDC knife space has only grown increasingly competitive over the years, with more and more blade-makers looking to get a piece of the action for themselves. It's created an ever-crowded environment in which there are specialized cutting tools fit for every kind of enthusiast, be it a certified tactical aficionado or a rough and tough, adventure-going outdoorsman.
Ultimately, however, there have to be blades that are more approachable in their appeal and more wide-ranging in their capabilities. With this in mind, we've looked to find the best EDC knives on the market today, giving special consideration to things like materials, construction, and design. What follows is the fruit of our labors: the best all-around everyday carry knives for just about any budget. Below, we break down our choices for 'good,' 'better,' and 'best' blades, followed by an editor's pick and an honorable mention.
The Best EDC Knives Roundup
The Good Knife Pick

Kershaw Cryo

The Better Knife Pick

Spyderco Para Military 2

The Best Knife Pick

Chris Reeve Sebenza 31

Editor's Pick

Benchmade Bugout 535

Honorable Mention

The James Brand The Carter
What To Look For When Buying An EDC Knife
The process of picking the perfect everyday carry knife is an incredibly personal experience that changes, sometimes vastly, from person to person. No two people are the same and, similarly, no two blades offer the same exact features, benefits, and drawbacks. That being said, there are some things you can keep an eye out for that will make the process a good deal more manageable and effective, so long as you keep yourself focused on the end goal. We've outlined a few of the most important things below:
Video Guide: The 5 Best Pocket Knives for Everyday Carry

Want to take a deeper dive into our picks for today's best blades? Then be sure to head over to our 4K video guide to the best pocket knives for EDC.
Price: Regardless of the gear type for which you are searching, you should always set a budget. Knives can range from as little as a few dollars to as much as literal thousands, so it's best you decide well ahead of time how much you feel comfortable spending. Just remember, the price you set for yourself will also somewhat determine your range of available options. Luckily, there are superb knives for just about any budget.
Functionality: The number one thing you should consider when choosing a knife is what you'll use it for. Some folks need a rugged blade that can handle the punishments of outdoor living. Other, more urbanite people might only need something that can open packages and cut loose strings off of clothing. Figure out the kinds of hurdles your life throws at you and cater your search accordingly.
Style: Definitely on a lower tier than functionality, at least when it comes to importance, style is no-less a determining factor in your search. After all, if you're going to carry and use a knife, it helps to find that blade appealing at which to look. Thankfully, we live in a world where the options for styling are just as wide-ranging as the functionality or more. So you shouldn't have a problem finding one you like to look at that suits your needs.
Longevity: Ideally, the knife you choose will last for years and years — with some having the potential to be passed down to the next generation or more. Of course, that's going to largely depend on your willingness to care for your knife — including required maintenance, like sharpening and cleaning your blade. If you're not willing to do these things, the longevity of your knife will shorten and, therefore, you might be more well-suited to a pocket knife that can be easily replaced. However, we suggest you simply take the time to learn what to do to keep your blade working and you might find you never need to replace it.
Testing & Selection
How & Why We Picked These Particular EDC Knives
There's absolutely no shortage of stellar knives that can be used for everyday carry duties. With such an expansive number of options, it can sometimes be tricky knowing where to look. In a bid to shine a light on the best the segment has to offer, we began our search by first generating a list of criteria that we'd using to judge each knife. This includes factors such as each knife's design, dimensions, locking mechanism, deployment method, blade steel, handle construction, hardware, value, and bang for your buck. With these areas guiding our search, we were then able to come up wit a shortlist of EDCC knives that we suspected may stand as the best of the best.
As important as material selection and design are, these factors only tell a small part of a larger story. So, in an effort to get a more comprehensive sense of each knife's overall quality and performance, we managed to get our hands on each of the blades from our shortlist — all of which were carried and used by our team for an extended period. This allowed us to achieve a more complete understanding of each knife's capabilities, along with its build quality and fit and finish. Factors such as ergonomics were also closely considered during testing. Using the information gleaned during our hands-on testing phase, we were then able to narrow our original shortlist down to a final selection of picks that are now comprising our list of the best EDC knives.
The Best EDC Knives On The Market
Now that you've got some idea of what your needs, budget, and personal preferences are, it's time to take a deeper dive into the options out there. Remember, there are literally thousands of everyday carry knives available — meaning, one way or another, there's the perfect one out there somewhere for you. The following picks, however, are what we believe to be the best all-around pocket-friendly blades you can get your hands on right now.
Kershaw Cryo
Pros
Inexpensive Rick Hinderer design
Good heft/heavy weight feel in hand
Best bang for buck knife
Cons
Quality control can be a bit spotty
Counterfeits run rampant on Amazon
Assisted opening has a shelf life (albeit a long one)
The Good Knife Pick: If you look around the web at the dozens of different "best EDC knives" articles, you're very quickly going to notice something interesting: Kershaw's Cryo knife is on just about all of them. No, that is definitely not a coincidence. You see, since it was first envisioned by Rick Hinderer and produced by Kershaw, it has remained one of the greatest everyday carry tools in the world. This is because of its unique combination of relative affordability, remarkably durable materials, and a timeless silhouette that looks as good to us now as it did the first time we laid eyes upon it.
Unencumbered by flashy accoutrements, the Cryo manages to remain eye-catching thanks to its versatile drop point blade, ergonomic stainless steel handle (with a sturdy frame lock), and all-gray colorway. And it is those same features that will keep this in your everyday carry loadout day-in and day-out. Simple yet beautiful, scrappy yet elegant, the Kershaw Cryo is a knife that should be in every EDC enthusiast's repertoire.
Blade Length: 2.75″
Blade Steel: 8Cr13MoV
Handle Material: Stainless Steel
Overall Length: 6.50"
Lock Type: Frame Lock
Spyderco Para Military 2
Pros
Made in the USA
Incredibly ergonomic while cutting
Made in America
Huge array of available aftermarket upgrades
Cons
Can come off as overly tactical
Feels a bit large in hand for EDC
The Better Knife Pick: Undoubtedly the most tactical of the everyday carry knives on our list, Spyderco's Para Military 2 is an aggressive powerhouse of a folder. Also known as the PM2, this knife has all the makings of a legendary cutting tool — from its high-quality construction to its iconic silhouette and everything in-between. It's also definitely a contender for the best EDC knife ever to be built. It's worth noting, however, that the PM2 is not for those looking to slim down their carry, as it measures up at a whopping 8.3 inches when deployed.
That being said, the blade is actually quite stout at just 3.4 inches. What that means to the end-user is that the handle offers plenty of grip and torque for hard-use cutting tasks, but the signature leaf blade shape (with its deadly-sharp point) still allows for plenty of precision. On top of that, this knife also comes with a proprietary compression lock that just might be the toughest and most reliable to ever be equipped on a folding knife. All things considered, this pocket blade is nothing shy of legendary.
Blade Length: 3.438″
Blade Steel: CPM S45VN
Handle Material: G10
Overall Length: 8.25"
Lock Type: Compression Lock
Chris Reeve Sebenza 31
Pros
This is THE grail EDC knife – often imitated, never duplicated
Beautifully minimalist design
Carefully crafted by hand from super premium materials
Cons
It's expensive, but it's well worth the price
Can be difficult to get your hands on
The Best Knife Pick: It took a decade, but the folks at Chris Reeve Knives finally revamped their absolutely legendary Sebenza folding knife. Now called the Sebenza 31 — the previous edition was 21 — this EDC redux takes everything that was great about its predecessor and makes some subtle improvements. The strange thing is, we didn't even think the Sebenza needed improving until we saw what they did to it.
Now, this grail item features a Ceramic Ball Interface to improve the detent and stabilization of the Reeve Integral Lock, a shifted pocket clip to improve the overall longevity of said lock, and new single-piece inlays as an extra option. Of course, it's still crafted from gorgeous titanium and S45VN or MaganaCut steel as standard options, with additions that include beautiful hardwoods and Micarta. Obviously, this knife is a bit outside of the price range of most everyday carry enthusiasts, but that's the price you pay for near-perfection.
Blade Length: 2.99″ or 3.61″
Blade Steel: CPM MagnaCut, CPM S45VN, or Damascus
Handle Material: Titanium
Overall Length: 6.98" or 8.40"
Lock Type: Reeve Integral Lock (Frame Lock)
Benchmade Bugout 535
Pros
Benchmade is arguably the best mass market knife market
Made by hand in America
Extremely lightweight
Available in countless color combinations
Very sharp out of the box
Huge array of available aftermarket upgrades
Cons
The handle can feel a bit cheap in hand
Editor's Pick: While the Bugout couldn't cut it amongst the top three, it's nevertheless worthy of your consideration. A true cult classic amongst the EDC community, the knife has overtaken the Griptillian as Benchmade's best-selling blade. And it's for good reason. Incredibly lightweight (1.85oz) yet also strong and hard-wearing, it combines a 3.24-inch CPM S30V steel blade with a 4.22-inch handle. In real-world applications, then, this means that the Bugout is as versatile as it is pocketable — a compact, dependable daily workhorse.
For us, the highlight of the knife has to be its AXIS lock, a mechanism that's secure, self-regulating, and completely ambidextrous in operation. If you're ever undecided as to which knife is right for you, do yourself a favor and just buy one of these. Benchmade, being headquartered in the country's cutting tool capital (the PNW) is a brand that routinely delivers when it comes to price, quality, and overall level of execution. And, given that the Bugout is available in a wide range of finishes, grips, and blade shapes, chances are pretty good that there's a knife that's right for you.
Blade Length: 3.24″
Blade Steel: CPM S90V, S30V, or Bohler M390
Handle Material: Grivory, Aluminum, CF Elite, Carbon Fiber, or Titanium
Overall Length: 7.46"
Lock Type: AXIS Lock
The James Brand The Carter
Pros
Beautifully designed
Ergonomic in hand
Perfect size and weight for EDC
Cons
The price is expensive considering materials and overseas manufacturing
Honorable Mention: Okay, let's face it: we had to include The James Brand on here somewhere, as the Portland-based blade outfit has challenged the EDC status quo ever since it launched back in 2011. That is to say, in an ever-crowded market of tactical, overtly militaristic knives, those from The James Brand are refreshingly sleek and simple. We especially like The Carter for this reason; it balances clean lines and an understated aesthetic with a good dose of utilitarian functionality.
Crafted using a robust 2.8-inch VG-10 steel blade and a grippy G-10 handle, it's made only better by its trademark neon green thumb disc and simple drop point shape. What's more, The Carter is an incredibly convenient knife to carry, coming in at a pocketable 6.5 inches tip to butt and folding down to a compact 3.7 inches when closed. So, while it's hardly the most exotic blade you can buy, it's an option that's perfect for newer EDC enthusiasts and anyone who wants an attractive-looking knife.
Blade Length: 2.8″
Blade Steel: VG-10 or Damascus
Handle Material: G-10 or Micarta
Overall Length: 6.50"
Lock Type: Slide-Lock
The Rest Of The Pack
Close But No Cigar
Even though these picks didn't make our good-better-best list, they're still very much worth a look. Each an exceptional option in its own right; they're all merely a bit more specialized when it comes to their application. Assuming one of the above choices wasn't right for you, any of these knives is bound to serve you well.
Opinel No. 8 Folding Knife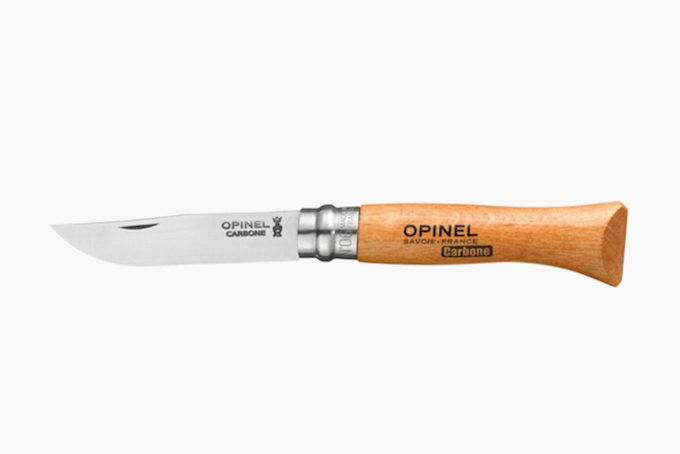 If ever there has been an everyday carry knife that proves a low price doesn't necessarily mean a cheap or useless product, it's Opinel. Not only are these knives remarkably handy and durable, but they're also iconic, classic, and have the potential to outlast a wide range of competitors despite their low entry fee. Dating back to 1897, these knives are still made by the same French family of expert craftsmen — albeit the descendants of the founders — since the brand was first launched. And they all still come with the same instantly recognizable silhouette as those made a century ago. If, as they say, variety is the spice of life, then Opinel's offerings are as versatile as salt — available as simple workhorse blades, high-end stylish cutters, and even survival-focused outdoor knives. Truly, if you want a collection of knives to suit your every need, this brand has got you covered. And they're so inexpensive that, if they do happen to break down after years of hard service, replacing them is hardly an imposition.
Blade Length: 3.28″
Blade Steel: 12C27 Sandvik Or XC90 Carbon
Handle Material: Wood or Fiberglass-Reinforced Polyamide
Overall Length: 7.59"
Lock Type: Virobloc Safety Ring
Nagao Higonokami Friction Folding Knife
Perhaps no folding knife better exemplifies the Bauhaus tenet of "less, but better" than the Nagao Higonokami out of Seki, Japan. Crafted virtually the same way since as far back as 1896, this absolutely stunning everyday carry knife is, to this day, crafted by the same bladesmiths who served the ancient samurai — or at least their descendants. What's probably most important to note about this knife is that it features no lock of which to speak — just a blade, a handle, and a pivot. Thankfully, the blade has an integrated handle at the end of the tang so you can use the friction of your grip to keep the knife open when in use. That being said, this isn't a knife for the uneducated or careless — but, to be honest, that makes it even more desirable from an EDC standpoint. It isn't a knife for novices; it's for those who are in the know. And that becomes all the more apparent when you take into account its construction: a simple single-piece handle made from your choice of brass or iron (of which both will age beautifully and uniquely) and a reverse-tanto blade crafted from legendary blue paper steel. Rife with history, beauty, and elegance, the Higonokami is a legendary folder for some extremely good reasons.
Blade Length: 3.5″
Blade Steel: Blue Paper
Handle Material: Brass or Iron
Overall Length: 5.0"
Lock Type: Friction Folder (Non-Locking)
Victorinox Cadet Swiss Army Knife
Truly, no "best of everyday carry knives" post would be complete without at least one Swiss Army Knife. Honestly, you could fill an entire collection just with SAKs and it would still be insanely impressive from both versatility and stylistic standpoints. But if we had to pick one of their folding multi-tool knives that trumps the rest, it might just be their Cadet. This isn't because it's the most functional, durable, or drop-dead gorgeous. Rather, it's because this knife is about as close as you can get to the original blade that was first issued to Swiss troops back in the late 1800s. Of course, that alone isn't enough to rank it on this list. It also happens to have a stupendous construction with reliable stainless steel tools and textured alox scales that are as beautiful to look at as they are enjoyable to hold. Pair that with a stout slipjoint blade and eight other built-in tools and you start to get a clearer picture as to what makes this one of the best inventions of man, bar none. And yes, we mean of all inventions, not just folding knives. If you call yourself an EDC enthusiast and you don't own a SAK, it's time to change that.
Blade Length: 2.5″
Blade Steel: Stainless
Handle Material: Textured Alox
Overall Length: N/A
Lock Type: Slip Joint
Buck Knives 110 Folding Hunter
The original Buck Knives 110 Folding Hunter knife was introduced way back in 1964. And it speaks to the quality of the knife that it has remained largely the same in its design since that time. There's a good reason it hasn't needed changing, as well. You see, back when it was first introduced, it was one of the few lockback folding blades that was built tough enough to survive through the same kinds of rigorous work a fixed blade might — like skinning and dressing game. And it can still stand up to those same types of punishment today. Mate that with the benefits of folding down small enough to fit into your pocket and it's easy to see why this is one of the best EDC knives ever conceived. It certainly doesn't hurt, either, that it's so timelessly beautiful in its design. From tip to tail, this blade is damn near perfect whether you're an urban dweller or backcountry bushcraft survivalist. It's likely there won't come a day that this knife doesn't rank amongst the greatest cutting tools of any generation.
Blade Length: 3.75″
Blade Steel: 420HC
Handle Material: Crelicam Ebony & Brass
Overall Length: 8.50"
Lock Type: Lock-Back
CRKT Homefront
Honestly, any of CRKT's cutting tools will serve you well, but we particularly like the Homefront. For one, it's made with the brand's patented Field Strip construction, an industry-first technology that allows the knife to be completely dismantled and reassembled without any tools at all. Beyond offering easy, on-the-go cleaning, this means that the Homefront is super intuitive for performing routine maintenance. And that's not all; while it may look like an old-school WWII knife, the Homefront was actually designed by Ken Onion. Along with offering a clean tactical aesthetic, the Homefront also boasts a selection of top-notch materials. Spanning some 8.25″ long when open, it features a 3.5″ brushed AUS 8 blade and a 4.73″ 6061 aluminum handle. So, even though it comes in slightly heavier than some of our other options — 4.8oz — it provides a pleasant heft that makes it incredibly confident in-hand — especially with its bayonet lug-style hinge and modified drop point blade.
Blade Length: 3.43″, 3.47″, 3.50″ or 3.54″
Blade Steel: AUS 8, 1.4116, or Böhler M390
Handle Material: Aluminum, Glass Reinforced Nylon, or 6AL4V Titanium
Overall Length: 8.125″
Lock Type: Liner Lock
Boker Kwaiken Air
If you're looking for a knife that'll help you stand apart from the crowd, you can't go wrong with the Boker Kwaiken Air. Conceived by knife design legend Lucas Burnley, the super-sleek silhouette draws inspiration from Japanese heritage and samurai sword design. What's more, the knife is so lightweight that it barely even feels like it's on your person, coming in at just 2.96oz in spite of its 8.39″ length. In practice, this is because Boker has continually optimized the knife for uncompromising weight reduction, shaving away absolutely any excess material from its 4.85″ handle. However, because of its linerlock locking mechanism and ball-bearing blade, the Kwaiken is still highly secure in its deployment. Here, we've gone for the ultra-svelte Air model with a black-coated VG-10 steel blade and some durable G10 scales, though there are countless options from which to choose. As such, no matter your intended use, chances are pretty good that there's a Kwaiken that's right for you. Make it loud with some micarta or tone it down with some titanium — in each case, Boker has delivered a gentleman's folder that's as classy as it is capable.
Blade Length: 3.07″ or 3.54″
Blade Steel: VG-10, D2, Titanium, or Aluminum
Handle Material: G10, Micarta Carbon Fibre, Wood,
Overall Length: 8.39"
Lock Type: Liner Lock
Gerber Fastball
Last but certainly not least, we have the Fastball, arguably the best all-around knife that Gerber has ever made. Perfectly sized for pocketable daily carry, it comes in at a scant 2.7oz with a 3.0″ S30V blade and a 4.1″ aircraft-grade aluminum handle. In addition to being polished in its presentation, such a combination is also highly practical in its utility. When coupled with Gerber's B.O.S.S. Tech ball bearing-based locking system and precision detent, for instance, the result is a knife that's quick, smooth, and consistent in its deployment flick after flick. But here's the best part: the Fastball comes in a grip of colors, blade shapes, and materials, allowing you to pick one that's perfectly suited to your EDC requirements. Left up to us, we'd have it in black with the Wharncliffe blade shape; however, we'll readily admit that the Coyote Brown cleaver is an option that's too cool to pass up. Made right here in the USA, the Fastball even comes backed by a limited lifetime warranty.
Blade Length: 3.0″
Blade Steel: 20CV or 30CV
Handle Material: Aluminum
Overall Length: 7.10"
Lock Type: Liner Lock
The Complete Guide TO EDC Knife Steel
With the many varieties of blade materials that are popular today, finding the right cutting tool can prove a tricky proposition. Demystify the market with our guide to the best EDC knife steel.