Even if you've never heard of the concept before, there's a pretty solid chance you've got an everyday carry loadout you rely on to get you through your days. This could be as simple as just a wallet, keychain, and smartphone. Or it could be far more comprehensive — comprised of a bevy of tools, devices, a blade or two, etc. The greater point is this: EDC is pretty damn ubiquitous, even for those not in the know. And that probably explains why there are so many options out there for good everyday carry gear.
The thing is, like every piece of gear we rely on, over time we may need to replace said gear, be that because it's outlasted its usefulness, it has broken, our tastes have changed, we've become able to afford pricier equipment, or some combination therein. If you're on the hunt for a new loadout, it would certainly help to have a healthy knowledge of some of the most exciting players in the industry. And that's exactly what we have for you today. The following encapsulates 20 significant, interesting, and unique brands presently shaping the future of everyday carry itself.
What Makes For A Noteworthy EDC Brand?
That Special Spark
Obviously, this is not an exhaustive list of all the everyday carry brands out there right now — not by a long shot. In fact, it only focuses on brands that build their own gear and not retail operations. So, how did we decide which brands deserved recognition here? Well, we're glad you asked. Below, we've outlined a portion of our criteria, in order to help you better understand our selection process and how we focused our search. Keep in mind that this is not an end-all-be-all list. There may be other brands out there that deserve recognition; these are just some of our favorite movers, shakers, and tastemakers we've come across thus far.
Style: Crafting a unique brand identity is paramount to standing out from the crowd. For example, there are legions of brands that make wallets, but those that are eye-catching have to be, in a word, different. We recognize that this is difficult to pin down, but we firmly believe that all the brands on the following list qualify as having their own style — meaning you could recognize their work should you encounter it out and about in the world, so long as you're familiar with what they do. More than that, these brands have mastered that style identity in a way that is often imitated but rarely (if ever) replicated.
Innovation: Looks aren't everything; there, we said it. While a sleek piece of gear is certainly a strong starting point, we also like to see brands try and do something new or at least expand and expound upon existing ideas in ways we've not typically seen. This can be as simple as creating a new format for a class of gear or as complicated and time-consuming as creating an entirely new category, manufacturing process, proprietary material, etc.
Evolution: Stagnation, in many cases, can be the coffin nail of a dying brand in any industry. It's simply not enough anymore to create one or even a few good products; brands need to be versatile, mobile, and agile. In the world of EDC, that means a nigh-constant pursuit of the next game-changing piece of gear. Perhaps we can put it thusly: if a company rests on their laurels and does nothing to continue growing as an operation in some form or another, they have no place amongst the brands on our list.
Non-Ubiquitousness: To best explain this point, we'll use an example from the real world. Gerber Gear is an excellent brand that makes some spectacular EDC gear, especially in the realm of knives. But they're also extremely well-known, to the point that their products are even sold inside Walmart. It's not a knock against Gerber, per se, but this list was intended to illuminate brands that perhaps aren't quite as widely-known, in the hopes that we can turn some folks onto exciting, lesser-known ventures.
Aer
Started back in 2014 as a crowdfunding project, Aer started with the intention of streamlining the bags used by people on the go — with the specific goal of combining a gym and office bag into one simple, unified design. And to say that they succeeded is perhaps a massive understatement, as they've now become a massively influential staple of the bag industry. Now, the brand has a deep catalog of backpacks, slings, duffels, totes, briefcases, and more — all hinging on the same sleek, minimalist design language, superior materials, and exceptional usefulness. If you need an everyday carry bag that can do it all while looking spectacular, go no further than Aer.
Founded: 2014
Headquartered: San Francisco, CA
Specialty: Bags
Bellroy
If there were a dictionary that had the phrase "apex EDC brand" inside of it, it might just be accompanied by a photo of a Bellroy product. Yes, this Australian brand is that influential and outstanding. And while they offer a wide variety of gear — ranging from wallets (the brand's bread-and-butter) to bags (one of their ever-expanding categories) and more — the brand's clean, minimalist design language is unmistakable and its overall quality is nigh-unmatched. Better still, the brand has even taken a head-first dive into future-facing manufacturing processes, incorporating recycled and environmentally-certified materials into a large portion of their offerings. Bellroy is a name to remember, to be certain.
Founded: 2009
Headquartered: Melbourne, AUS
Specialty: Wallets & Bags
Codeofbell
Urban living poses some unique challenges, especially for commuters with a flair for everyday carry and streetwear. Gear needs to be lightweight, secure, and efficient without sacrificing quality and style. Thankfully, that's an intersection that Codeofbell has mastered with their exceptional collection of soft goods. The brand's catalog of sling bags is limited to just nine offerings in total, but each and every one is masterfully crafted from top-tier materials and boasts tremendously useful features from tip to tail. If you want a masterclass on the potential of streetwear sensibilities in innovative EDC gear, this is a brand to embrace.
Founded: 2017
Headquartered: Los Angeles, CA
Specialty: Sling Bags
Craighill
There is beauty in simplicity, or at least that's true of Craighill's everyday carry gear. Founded by designer Hunter Craighill in 2015, this Brooklyn-based brand specializes in straightforward elegance and genuine usefulness across its entire catalog — from precision-machined, all-metal keyrings to cleverly crafted desktop oddities. Truly, this brand's offerings run the gamut of EDC and EDC-adjacent uses (like valet trays), and each and every product they have crafted is outstanding. If you're a fan of well-considered minimalism with just the right amount of industrial design mixed in, you can't go wrong with Craighill.
Founded: 2015
Headquartered: Brooklyn, NY
Specialty: Minimalism
Dango
It doesn't happen often, but there have been brands that emerge who have managed to create their own category of gear with stupendous results. We'd probably put Dango amongst them, as their tactical, minimalist, multipurpose wallets were a revelation in the everyday carry industry when the company was founded back in 2015. Since then, they've continued to prove the value and versatility of their ever-expanding suite of offerings, managing to stay fresh and at the top of their game — even as imitators rise and fall around them. Better still, while their wallets (and other accessories) would be stupendous regardless of their origins, Dango is proud to say that their offerings are all handmade on US soil.
Founded: 2015
Headquartered: Santa Clara, CA
Specialty: Wallets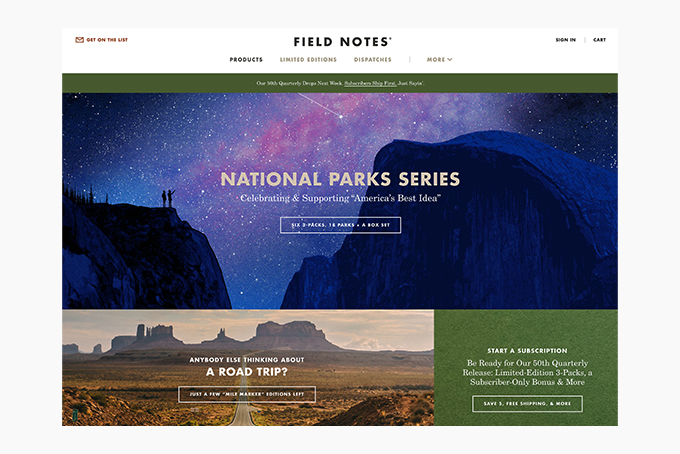 Field Notes
How does a brand that primarily makes pocket notebooks deserve to have a spot on this list? If you're asking that question, you're probably just not familiar with Field Notes and its intrepid founder Aaron Draplin. For starters, Field Notes' pocket notebooks are perhaps the most stupendously designed in the world — thanks largely to Draplin's unrivaled creative talent. But this brand has managed to stay relevant and at the top of the food chain by consistently putting out innovative, limited-edition offerings. That includes things like the brand's Winter 2020 pocket notebooks, of which every single one has a completely unique cover, or its Clandestine edition from 2018, which included a 3-part history of cryptography and a "Cipher Wheel." Like we said, if you're questioning the deservedness of Field Notes' place on this list, you just don't know any better.
Founded: 2007
Headquartered: Chicago, IL
Specialty: Pocket Notebooks
Hardgraft
Though perhaps not extremely common, as EDC is a function-first concept, there are luxury brands on the market — and some of them are quite exceptional. Hardgraft is one such brand. But what really makes this high-end brand special is how they've managed to use their materials as the primary showpiece of all their offerings, especially in regards to the brand's premium leathers and felts — which combine wonderfully. Obviously, Hardgraft's suite of gear is aimed more at those with deep pockets, but — if you can afford it — you will not be disappointed whether you're getting a camera strap, phone case, sneakers, or anything else.
Founded: 2007
Headquartered: Monaco
Specialty: Leather Goods
Inventery
If the pen is mightier than the sword, then Inventery's offerings are the scribe's equivalent to Arthur's Excalibur. And while that might be a bit of hyperbole, there's also plenty of merit to the metaphor, as Inventery has truly mastered the art of turning classic writing utensils into gawk-worthy minimalist masterpieces of industrial materials — like stainless steel, brass, etc. It's worth noting that, while this EDC brand specializes in pens, that's far from all they have to offer. Additionally, they make a suite of accessories that include leather card holders, notebooks, and even a mouse pad — all made with the same attention to detail and slick minimalism.
Founded: 2017
Headquartered: Pasadena, CA
Specialty: Pens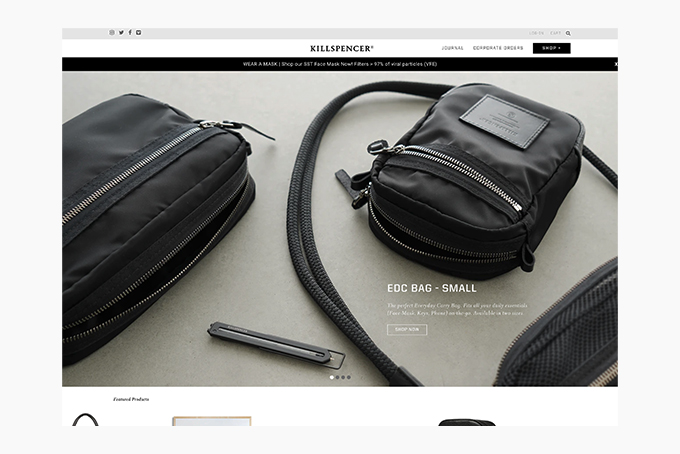 Killspencer
From a monetary standpoint, Killspencer is not a brand for the faint of heart — all of their gear comes at quite a premium. Of course, there's good reason for that: their quality from inception to execution is absolutely top-notch and their style is unmistakable. Like Hardgraft, this is another brand that likes to let its materials do a lot of the heavy lifting. In fact, they're so obsessed with the natural appearance of their high-end leather that they try to keep it as natural as possible by the time it reaches you, the consumer (which is more difficult than it sounds). If you like upscale leather goods (and some other off-the-beaten-path accessories), Killspencer could end up a favorite.
Founded: 2009
Headquartered: Los Angeles, CA
Specialty: Bags & Accessories
The James Brand
Though they're not nearly as much of an unknown as they used to be (a credit to all the things they're doing remarkably well), The James Brand is still very much an everyday carry brand that deserves recognition, as well as a measure of hard-earned accolades. Specializing in bladed tools — but also having expanded into multi-tools, keychains and accessories, writing utensils, and more — TJB has crafted something so many brands struggle to cultivate: an enviable minimalist design language that highlights the beauty and quality of their products and materials. Truly, we cannot sing the praises of this particular EDC paradise enough, and we are eagerly looking forward to what the future brings.
Founded: 2012
Headquartered: Portland, OR
Specialty: Knives & Tools
Maxx & Unicorn
By and large, there are three gear categories that Maxx & Unicorn specializes in: keyrings, wallets, and valet trays. And, honestly, we find it impossible to say which of the three this brand does best — truly, they're all spectacular. If we had to come up with an analog, we might say that Maxx & Unicorn is kind of like a food truck concept in that they only do a few things, but they do them extremely well — so much so that, if they were an actual food truck, they'd probably always have a line down the block. Luckily for us, however, they've got a much more manageable online shop where you can buy any and all of their goods.
Founded: 2007
Headquartered: Bayport, NY
Specialty: Upscale Minimalism
Muyshondt
While flashlights don't have quite the same fanbase and pedigree of watches, it wouldn't be completely outside the realm of reasonableness to say that Muyshondt is to flashlights what Rolex (or even Patek Philippe) is to watches. And, like Rolex, that means a lot more than just hype. You see, Muyshondt makes some of the most exceptionally-designed and -constructed EDC portable torches ever envisioned. Better still, each subsequent release has been more beautiful and impressive than the last. It'll cost you a pretty penny to get even an entry-level offering from this brand, but it is definitely worth it for anyone who knows the value therein.
Founded: 2006
Headquartered: Austin, TX
Specialty: Flashlights
Orbitkey
For a long time, the best way to keep your keys handy was by slapping them haphazardly onto a simple keyring, perhaps with a leather fob or something similar. But brands like Orbitkey and their key-organizing offerings have truly changed the landscape for the better. If you're tired of your keys jingling around in a lump at the bottom of your pocket, this brand is one to keep a close eye on, as they can eliminate that issue entirely. It doesn't hurt, either, that they've won Red Dot Design Awards and that they've also expanded into a few other key-organizer-adjacent categories, like keychain carabiners, desk organizers, and more.
Founded: 2013
Headquartered: Melbourne, AUS
Specialty: Key Organizers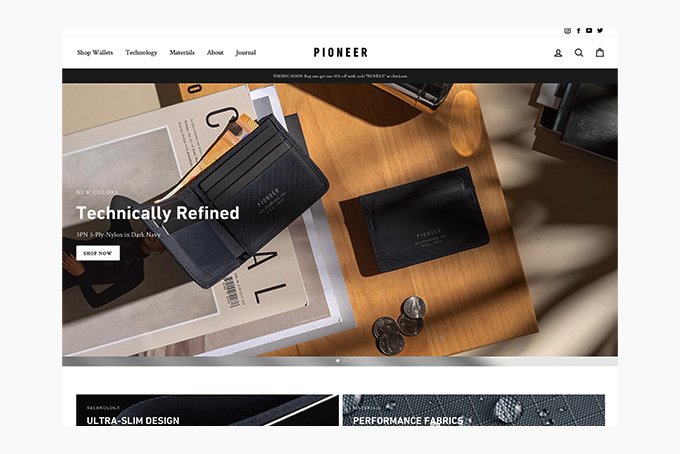 Pioneer Carry
Innovation is one of the major hallmarks of an everyday carry brand worth recognition, and the folks at Pioneer Carry have delivered that in spades. Helmed by founder and creative director Henry Lefens, who has worked with major brands including Levi's and Black Diamond, this brand was founded on the idea that bulky, traditional leather wallets don't really make that much sense for the modern world/man. So they spent a decade creating a proprietary fabric, called 10XD, and a technology called FutureForm — combining to create wallets that are stronger than steel (by weight), designed to conform to your lifestyle, practically indestructible and even waterproof, and so much more. Whether you want a slimmed-down cardholder or a high-tech spin on a traditional bifold, Pioneer Carry has you covered.
Founded: 2016
Headquartered: Chicago, IL
Specialty: Wallets
Prometheus Lights
Well-built, everyday carry-worthy flashlights are, sadly, not as common as you might think. Yes, the internet is swamped with flashlights, but those that you could be proud to carry are in short supply. Perhaps that's why we love Prometheus Lights so much. This brand, and its exceptional Foursevens sub-brand, offer a bevy of portable lighting solutions of all matter of style, material, output, etc. And every single one is great in its own way. But here's where things get really great: Prometheus Lights is also home to Scout Leather Co, offering a collection of alternative EDC goods, making Prometheus Lights kind of a one-stop EDC shop.
Founded: 2011
Headquartered: Mountain View, CA
Specialty: Flashlights
Recycled Firefighter
Humanity makes a lot of waste, but we're always trying to figure out ways to reduce that impact on the environment — and some sustainable brands have cornered some pretty interesting means of making that happen. Recycled Firefighter is one such brand. Started by an actual firefighter, this brand makes a series of wallets and bags made from recycled canvas. In regards to their wallets, the first category created by the brand, they're actually made from genuine decommissioned firehose fabric — which makes them insanely durable and long-lasting. That makeup also means that each and every offering is unique, as their appearance is determined by the available recycled fabric. If you have an appreciation for sustainability, interesting materials, and stand-out design, go no further.
Founded: 2014
Headquartered: Louisville, KY
Specialty: Wallets & Bags
Tactica
The multi-tool category is a difficult and dangerous one to get into, especially with giants like Leatherman and Victorinox setting the pace. But it's not impossible to sneak in under the radar and create something unique and innovative, as is the case with Tactica. Across seven products (for now), Tactica offers a suite of unique purpose-driven multi-tools styled a bit like keychain carabiners, albeit with a good deal more usefulness as mobile all-in-one tools. Better still, many of those offerings are specialized — including a standard EDC-friendly offering, one made for cyclists, a credit card-sized tool perfect for minimalists, and one made for the great outdoors. For multi-tools that stand apart from the crowded gallery, turn to Tactica.
Founded: 2016
Headquartered: Melbourne, AUS
Specialty: Multi-Tools
Tanner Goods
There's something to be said for the elegance found in simplicity, especially when high-quality materials are there to steal the show. Or at least that seems to be the idea behind Tanner Goods and the brand's exceptionally deep and uniquely beautiful everyday carry catalog. Offering a wide variety of item types that range from wallets to crossbody bags and everything in-between, Tanner Goods doesn't reinvent the wheel. Rather, they've taken the metaphorical concept of a wheel, refined it, polished it, masterfully re-crafted it, and presented it to the masses as something greater than it ever was to begin with. Refinement is the name of the game, and Tanner Goods has undoubtedly mastered it.
Founded: 2006
Headquartered: Portland, OR
Specialty: Wallets & Bags
Trayvax
A wallet is a wallet is a wallet, unless it's a Trayvax. Then it's a minimalist powerhouse built to protect and transport your most sensitive financial information and means. In fact, that's the tenet that this brand was built upon: to craft a wallet that's tough enough to withstand the world's harshest conditions and offer the most utility of any on the market anywhere. Truth be told, they've actually managed to achieve that goal a few times over and they've even moved into other gear categories, including keychains, bets, and more. Perhaps best of all, they make everything right here in the USA.
Founded: 2013
Headquartered: Bellingham, WA
Specialty: Wallets
WESN
Some of the best ideas can also be the simplest, as is the case with WESN. In the brand's own words, they never "[had] any grand ideas of starting a 'knife brand.'" Rather, they simply wanted to craft "products that we, ourselves would want to own." What that led to was the creation of a catalog of beautifully designed folding blades that mesh modern, minimalist sensibilities with traditional aspects in a manner that few other brands have managed to master. Hell, even WESN's supplementary accessories are exceptional in their execution from tip to tail. This is a brand to watch as they continue to develop their suite of must-have offerings.
Founded: 2016
Headquartered: Detroit, MI
Specialty: Knives