Initially discovered in the late 1700s though not industrially or commercially produced or processed until the early 1930s, titanium has become one of the most commonly-utilized constructions in the everyday carry space — and for good reason. Offering ample strength while being remarkably lightweight, titanium has also been used to craft some of our absolute favorite EDC items — the latest and greatest of which we'll be shining a light on below in this hand-picked guide to the best titanium essentials for everyday carry. Alongside our picks for the best titanium construction everyday carry kit, we'll also be exploring just what exactly it is that makes titanium so unique and special, as well as what factors to consider when shopping.
The Best Titanium EDC Essentials
Best Keyring

Handgrey Knox Titanium Keyring

Best QR Keychain

TEC Accessories Python-QR Titanium Quick Release

Best Flashlight

RovyVon Aurora A4 Pro

Best Flask

Vargo Titanium Funnel Flask

Best EDC Pen

Tactile Turn Side Click Pen

Best Bit Driver

Big Idea Design Bit Bar

Best Carabiner

The James Brand The Mehlville

Best Wallet

The Ridge Wallet

Best Multi-Tool

Leatherman Charge+ TTi

Best Sunglasses

Ray-Ban RB8125 Aviator Titanium

Best Knife

Benchmade 748 Narrows

Best Tech

Apple iPhone 15 Pro Max

Best Watch

Tudor Pelagos 39
Atomic Number 22
What Exactly Makes Titanium So Special?
There are a myriad of factors that make titanium so special, from how it's made to the characteristics and properties that it possesses. Up to 100 times more expensive than common steels, titanium is exceedingly rare and notoriously difficult to extract from the earth, as well as insanely difficult to refine, and wildly hard turn into ingots thanks to its ultra-high melting point. Because of the alloy's hardness, it's also harder to work with or machine. These areas collectively result in titanium being substantially more expensive to both purchase and work with.
Despite its often exorbitant cost, titanium is still widely used in the EDC space, as everyday carry enthusiasts are willing to pay a premium for its next-level properties and characteristics. Non-toxic and hypoallergenic, titanium is incredibly resistant to corrosion and chemicals. The alloy also offers super low thermal expansion, making it ideal for products that call for components that are incredibly small and require insanely tight tolerances. And, while not scratch proof by any means, the natural oxidization of the alloy enables it to do a stellar job of hiding nicks, scratches, and scuffs — an area that can be furthered via a tumbled or stone-washed finish.
While the above traits no doubt play a major role in making titanium so popular in the EDC space, the alloy's biggest selling point is undoubtedly its strength-to-weight ratio, which is the best of any metal in the world. Though it's very lightweight, titanium offers impressive levels of strength. Used in everything from the horological world to the aerospace industry, this top-shelf material is twice as strong as aluminum and is 45% lighter than steel while being just as strong. Add all of this characteristics together and it quickly becomes abundantly clear why titanium is so commonly-used to construct pieces of everyday carry gear.
Titanium Traits
What Should I Look For When Shopping For Titanium EDC Gear?
Because titanium EDC gear encompasses so many different product types, it can be difficult to know what to look for when shopping for these items. There are, however, a handful of traits that apply to practically every piece of titanium everyday carry kit — the most important of which we'll be breaking down directly below.
Materials: Not all titanium is created equal, with the quality and composition of the alloy varying from grade to grade. And while even the most low-end, low-grade titanium alloys still offer some pretty remarkable properties, we still recommend looking into the specific type/grade of titanium that's being used. Because both the quality and price of titanium can differ so drastically, we'd urge anyone to look into this area when shopping in this space. It's also worth noting that, in most cases, if a manufacturer doesn't cite the specific type of titanium being used, you can probably assume that it's a lower-grade alloy – not unlike knives with un-cited blade steel constructions.
Finish: In addition to the grade of titanium being used, we also recommend exploring how the allow has been finished. This includes everything from finishes that are brushed to sand-blasted to tumbled to stonewashed, just to name a few. Additionally, there are also titanium construction EDC items that have been fortified via some type of coating or treatment such as a PVD (physical vapor deposition) coating, Cerakote finish, powder-coating, or DLC (diamond-like carbon) coating.
Secondary Constructions: Some everyday carry items are crafted entirely from titanium, though it's still common to see EDC gear with titanium primary constructions that are supplemented with other materials such as aluminum or stainless steel. While not quite as pivotal as an item's primary construction, secondary materials are definitely worth factoring into your decision when shopping.
Price & Value: Titanium doesn't come cheap, nor do the products that are constructed from it. Having said that, some pieces of titanium EDC gear offer markedly better bang for your buck than others. As such, we recommend reviewing both an item's price, along with the level of value that it offers when shopping.
Build Quality: It isn't just the materials used to make a product that determine its quality, but also how well those materials have been manufactured and pieced together. It can be difficult to get a sense of an item's build quality and fit and finish simply from looking at images of it online, though the smaller, more boutique brands in the everyday carry space tend to exhibit much greater craftsmanship and overall build quality compared to their competitors mass-producing their respective wares.
Versatility: With titanium everyday carry gear generally being expensive, it's always a plus when one of these items offers ample versatility, as this generally increases said items utility and value — factors that make this another crucial area to take into account when shopping in this space. 
Handgrey Knox Titanium Keyring
Why It Made The Cut
A 10-sided lateral-split keyring that's made from grade 5 titanium. 
Best Keyring: For something so ubiquitous, it's strange that more people haven't tried to improve upon the admittedly clunky design of most keyrings. Thankfully, more people don't have to because Handgrey's Knox you see here is damn near perfect with its titanium construction, pain-free split-ring design (much easier to get your keys on and off without a fuss), angular exterior, and ultralight weight.
Construction: Grade 5 Titanium
Diameter: 1.12″
Weight: 0.07oz
TEC Accessories Python-QR Titanium Quick Release
Why It Made The Cut
A super sturdy & ultra-compact titanium keychain w/ a cleverly-designed quick-release mechanism. 
Best QR Keychain: If you've got a collection of keychain accessories that would be easier to use if they weren't attached to the rest of your keys, then the TEC Accessories Python-QR quick-release keychain is perfect for you. It's made in the USA from ultra-tough, ultralight titanium and boasts no unnecessary moving parts — yet it's still super easy to use and it's remarkably secure (meaning it won't detach by accident). As far as quick-release keychains are concerned, this one is tough to beat — especially at this price.
Construction: Grade 5 Titanium
Length: 1.22"
Weight: 0.155oz
RovyVon Aurora A4 Pro
Why It Made The Cut
A small but mighty keychain light with a titanium body & up to 650 lumens on tap. 
Best Flashlight: The RovyVon Aurora A4 Pro is a USB-C-rechargeable keychain flashlight with a compact size and generous number of lumens on tap. Running off of a 330-mAh battery, the Aurora A4 Pro is constructed around a heavily-weather-resistant grade 5 titanium body. Additionally, despite it size, the Aurora A4 Pro puts out up to 650 lumens and packs a throw of 360'. This titanium flashlight is also available through RovyVon with optional blue or green Tritium vial inserts.
Length: 2.38"
Body: Grade 5 Titanium
Max Lumen Output: 650
Vargo Titanium Funnel Flask
Why It Made The Cut
An 8oz titanium-bodied funnel flask that lends itself to both EDC and outdoor use. 
Best Flask: While you probably wouldn't want to carry one around every single day, a flask is definitely something that should be in every man's arsenal for those times when they're appropriate — like weddings, parties, camping trips, etc. However, most flasks aren't exactly friendly to on-the-go fill-ups. This titanium one from Vargo, however, comes with all the hallmarks of a great vessel — a leak-proof screw-top, 8oz capacity, and near-indestructible food-safe titanium construction — but it also has a handy integrated silicon funnel to ensure you don't spill a drop of your favorite spirit when you're filling up.
Construction: Grade 2 Titanium
Capacity: 8oz
Weight: 3.70oz
Tactile Turn Side Click Pen
Why It Made The Cut
A titanium EDC-specific writing instrument that's been precision-machined by a boutique brand in Texas. 
Best EDC Pen: No matter how digital the world becomes, a pen will always be a useful tool to those who truly understand its value. That's made all the better when your EDC writing utensil of choice is the Tactile Turn Standard Side Click Pen, which is built from titanium here in the USA, compatible with Pilot G2 refill cartridges, and protected by a lifetime warranty. If you're a believer that the pen is mightier than the sword, this one might be a must-have.
Construction: Titanium
Length: 5.80"
Weight: 1.2oz
Big Idea Design Bit Bar
Why It Made The Cut
A TSA-compliant EDC bit driver with a titanium body, a 60mm extension, & 8 included bits. 
Best Bit Driver: For the most part, screwdriver sets aren't exactly carry-friendly — which is a shame because drivers are so useful for so many DIY fixes in the home, on the road, and elsewhere. Thankfully, the geniuses at Big Idea Design saw the potential and imbued it into their Bit Bar Titanium EDC Screwdriver. This clever kit is pocketable, comes with onboard storage for its eight included hex driver bits, is fully TSA-compliant, and is tough as nails.
Construction: Grade 5 Titanium
Included Bits: 8
The James Brand The Mehlville
Why It Made The Cut
A titanium carabiner with a spring-loaded dual-gate design & an integrated bottle-opener. 
Best Carabiner: A handy and handsome alternative to a traditional keychain that keeps your keys and keychain accessories secure and easily-accessible, The James Brand's Mehlville Carabiner is available now in full titanium — making it lighter and tougher than ever before. This everyday-carry-biner still boasts all its other spectacular traits, as well — like a spring-loaded gate, key-capturing dual-compartment design, and integrated bottle opener.
Construction: Grade 5 Titanium
Dimensions: 3.125″ L x 1.625″ W
Weight: 0.6oz
The Ridge Wallet
Why It Made The Cut
A minimalistic RFID-blocking EDC wallet with a burnt titanium construction & room for up to a dozen cards. 
Best Wallet: To revolutionize a classic, traditional, ubiquitous piece of everyday carry gear is a pretty tremendous feat. However, that's just what The Ridge has done with their exceptionally-slim series of minimalist wallets. And while they're available in a number of materials and colorways, one of our favorites is this magnificent Burnt Titanium version — which still holds up to 12 cards, offers RFID-blocking tech, and has an attached cash strap.
Construction: Grade 2 Titanium
RFID Blocking: Yes
Card Capacity: 1 to 12
Weight: 2.5oz
Leatherman Charge+ TTi
Why It Made The Cut
A 19-function multi-tool with an S30V blade, titanium body, & 25-year warranty.
 Best Multi-Tool: One of the best multi-tools that Leatherman has ever made, the Charge+ features a whopping 19 built-in tools that cover just about any DIY fixes you could possibly make — including additions like pliers, a knife blade, saw, wire cutters, a bit driver, and so much more. This special-edition version also happens to come with a titanium handle for a bit more desirability and durability. Not to mention, as is the case with all Leatherman tools, it comes with an included 25-year guarantee.
Body Construction: Titanium
Blade Steel: CPM S30V
Tools & Functions: 19
Weight: 8.89oz
Ray-Ban RB8125 Aviator Titanium
Why It Made The Cut
A classic pair of aviator shades produced with frames made from lightweight yet rugged titanium. 
Best Sunglasses: Few sunglasses are as iconic as Ray-Ban's Aviators. They're so widely loved and embedded into popular culture, in fact, that there are literally thousands of imitation knock-offs available on the market. Still, nothing beats the original — that is, unless the brand themselves were to make those classic sunglasses out of titanium. And, wouldn't you know, that's exactly what Ray-Ban has done.
Frame Construction: Titanium
Hinge-To-Hinge: 137.5mm
Benchmade 748 Narrows
Why It Made The Cut
A super-premium & ultra-pocketable USA-made folding knife with a titanium handle & M390 blade. 
Best Knife: Utilizing an insanely thin design that's made possible through the use of an all-titanium handle construction, the Benchmade 748 Narrows is an incredible feat in engineering, as well as a wildly impressive everyday carry knife with a handle that clocks in at only 0.28" thick, making this folder 33% thinner than Benchmade's already-svelte Bugout knife. Equipped with version of the AXIS lock that was reconfigured to fit into this ultra-compact knife, the 748's grade 5 titanium handle comes mated to a 3.43" drop point blade composed of equally premium Böhler M390 blade steel.
Blade Steel: Böhler M390
Handle Material: Grade 5 Titanium
Blade Length: 3.43"
Total Length: 8.02"
Lock Type: AXIS Lock
Apple iPhone 15 Pro Max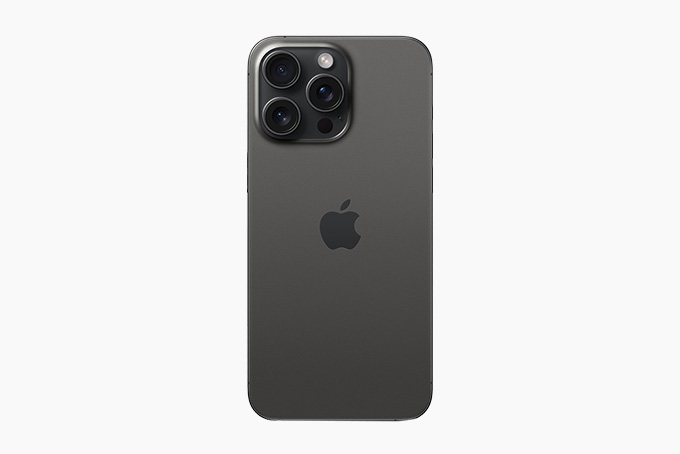 Why It Made The Cut
A 15th-generation smartphone with a grade 5 titanium body & cutting-edge tech, performance, & capabilities. 
Best Tech: Boasting a lightweight yet rugged body made from grade 5 titanium and offered in four color options, the Apple iPhone 15 Pro Max isn't just the tech giant's latest and greatest smartphone, it's a bonafide technological achievement. Equipped with Apple's new state-of-the-art 64-bit ARM-based A17 Pro system on a chip, the Pro Max-spec gen-15 features a six-core Pro Class GPU, a 6.7" Super Retina XDR display, a 48-MP main camera, and up to 1 TB of storage. The phone also comes loaded with a new Roadside Assistance, Emergency SOS, Crash Detection functions all carried out via satellite, plus up to 20-times faster file transfers and a massive battery that offers a whopping 29 hours of video playback on a single charge.
Display: 6.7" Super Retina XDR
Body: Grade 5 Titanium
Main Camera: 48MP
Max Storage: 1TB
Weight: 7.81oz
Tudor Pelagos 39
Why It Made The Cut
A vintage-inspired, Swiss-made, all-titanium diver that makes for an exceptional GADA watch. 
Best Watch: Crafted around a 39mm all-titanium case that's capped off with a rotating titanium bezel and mated to a staggered three-link titanium bracelet, the Tudor Pelagos 39 is a stunning vintage-inspired dive watch that boasts a level of build quality, attention to detail, and fit and finish that can only be described as world-class. Waterproof down to 200 meters, the Pelagos 39 is powered by an automatic Caliber MT5400 movement armed with a 70-hour power reserve. With its more compact sizing, clean appearance, lightweight construction, all-day comfort, and jettisoning of features non-vital for EDC, Tudor's Pelagos 39 makes for an exceptional everyday watch.
Check out our in-depth Tudor Pelagos 39 review here.
Case Size: 39mm
Case Material: Grade 2 Titanium
Movement Type: Automatic
Water Resistance: 200m
Bracelet: Titanium
The Best Copper EDC Essentials
Want to check out another selection of stellar EDC options crafted from another unique material? Then be sure to head over to our guide to the best copper EDC essentials for a curated list of patina-ready everyday carry options.