No matter how digital our world becomes, there will always be room for the written word — especially when technology fails us. That's not to say we're going to regress into post-apocalyptic tribal warfare, but rather that knowing how to write is a valuable art and can sometimes be more convenient and reliable than, say, trying to jot down notes on your phone. As such, we're huge proponents of carrying a pen along with the rest of your everyday carry.
However, like all pieces of EDC gear, the pen you choose is going to be very personal to your own style, preferences, and even how much space you have to spare. As such, there's not a single pen that works perfectly for everyone. That being said, there are definitely a few options available on the market that stand out from the crowd. And it's our opinion that this list of the best everyday carry pens has one that can fit just about anyone's needs perfectly — regardless of budget, tastes, etc.
The Best Pens For Everyday Carry
Best Affordable EDC Pen

Zebra F-701

Best Old-School Pen

Parker Jotter Ballpoint

Best Fountain Pen

Lamy Safari Fountain Pen

Best Space Pen

Fisher Space Bullet Pen

Best Tactical Pen

Rick Hinderer Investigator Pen

Best Click Pen

The James Brand The Burwell

Best Adjustable Pen

Big Idea Design Titanium Pocket Pro Pen

Best Titanium Pen

Machine Era Field Pen Click

Best Bolt-Action Pen

Tactile Turn Bolt Action Pen

Best Desk/Office Pen

Grovemade Pen

Best Fidget Pen

Refyne EP1 Full Size Pen + PS1 Stand
Everyday Carry Writing Requisites
The Main Areas To Consider When Shopping For An EDC Pen
With the first ballpoint pen being patented all the way back in 1888, there's a very decent likelihood that you're familiar with basic pen designs. With that said, there are a few finer points that are crucial to consider when shopping around for a new everyday carry pen. Below, we'll briefly touch on the most pivotal areas to think about before making your purchase.
Video Guide: Best EDC Pens
Want to take an even deeper dive into our favorite EDC writing instruments? Then be sure to checkout our 4K video guide to the best everyday carry pens for a more in-depth look at the product space's best of the best.
Size: Most modern pens tend to span somewhere between 5" and 6" in length. Everyday carry pens, however, are designed to be more pocketable, and as such are often more compact — a fact that's lead to EDC pens being produced in a wider array of sizes. The longer, full-sized EDC pens on the market tend to be offer better balance and more grip space, though aren't as pocketable as their smaller counterparts. What's more, some of our favorite EDC pens are also offered in multiple sizes — in terms of length, as well as diameter at times.
Materials: One of the biggest areas that separate high-end EDC pens from cheaper models on the market is the materials used to craft the pen. Pretty much all of our favorite everyday carry pens feature all-metal constructions, though these items can be machined from everything from brass to stainless steel to copper to titanium. There are even some super-high-end EDC pens that feature zirconium barrel constructions.
Deployment Method: This area refers to the means in which a pen's ballpoint ink tip is deployed. In the EDC pen space, this can consist of everything from top click pens to side click pens to bolt action pens to traditional wrist-off or slide-off caps.
Ink Refills: Unlike regular plastic pens, everyday carry writing instruments are almost always designed to offer a lifetime of use. As such, the ability to refill a pen's ink cartridge is absolutely crucial. While the reality is that it's exceedingly easy to order just about any type of refill cartridge these days, it's still worth looking into what type of cartridge a given EDC pen accepts. It's also worth noting that some models are capable of accommodating multiple ink refill cartridges and types.
Supplementary Uses/Features: Though every EDC pen's primary purpose is to be used as a writing instrument, some models on the market also boast additional features. This includes everything from bottle openers and integrated pry bars to built-in glass breakers and striking tips for self-defense use.
Selection & Testing Process
How & Why We Got Hands-On With These Particular Everyday Carry Pens
As the EDC space has grown more popular over the last decade, the market has been inundated with an ever-increasing number of EDC writing instrument options. In a bid to seek out the best pens currently available, we began our search by first compiling a list of traits and qualities that we would use to guide our search, factoring-in elements such as materials, design and functionality, build quality and craftsmanship, size and weight, ink cartridge refill compatibility, and deployment method. Using these traits, we were then able to generate a shortlist of models that we suspected may stand as some of the best that money can buy.
Factors such as design and material selection play monumental roles in determining an EDC pen's overall quality, though to gain a complete sense of any writing instrument's performance and user experience, one has to actually get hands-on with the thing and use it. So, that's precisely what we did. After generating our initial shortlist, we then proceeded to test out each of these EDC items for an extended period, living with them and using them on a day-to-day basis for several weeks. This hands-on testing portion of our process would ultimately allow us to further narrow down our original picks to the best of the best.
Zebra F-701
Pros
Offers unbeatable bang for your buck
Features stainless steel construction
Barrel boasts knurled grip pattern
Sold w/ included all-metal refill
Cons
Lacks performance & quality of pricier pens
Best Affordable EDC Pen: You don't have to opt for a plastic disposable writing utensil if you don't have a ton of money to spend. In fact, there are some folks who would suggest, despite its low price, the Zebra F-701 is one of the best pens ever manufactured.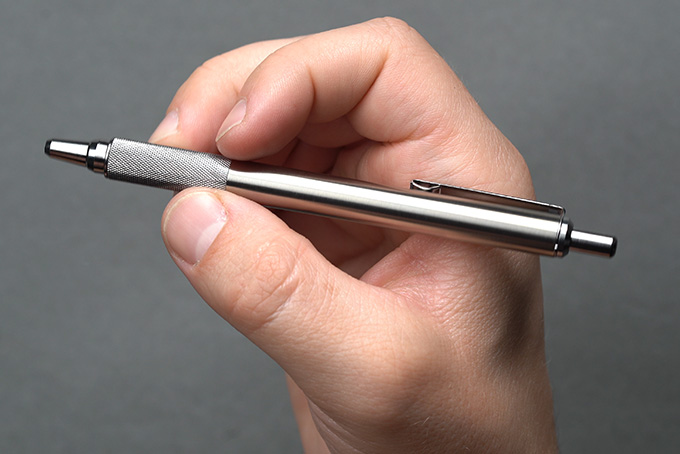 It's crafted from stainless steel (both inside and out), has a handy and convenient clicker mechanism and pocket clip, and won't even come close to breaking the bank if it needs to be replaced. Dollar for dollar, it really is hard to beat the F-701.
Material: Stainless Steel
Ink: Zebra F-Series
Deployment: Clicker
Length: 5.23"
Weight: 1.12oz
Parker Jotter Ballpoint
Pros
Iconic design unchanged after nearly 70 years
Equipped with Parker's signature arrow pocket clip
Features chrome trim
Great fit & finish for the price
Also offered as mechanical pencil
Cons
Smooth barrel finish mitigates grip
Best Old-School Pen: First released in 1954, the Parker Jotter is an iconic writing instrument that's remained in production for nearly 70 years. Originally debuting with a nylon barrel, the Jotter now features a stainless steel body with a click-top mechanism.
The pen also comes loaded with a modern QUINKflow ballpoint refill and Parker's signature arrow-shaped pocket clip. Parker also sells the Jotter in a wide number of different variants including the Jotter XL, Jotter Core, Jotter Luxury, and even a mechanical pencil version of the Jotter.
Material: Stainless Steel
Ink: QUINKflow
Deployment: Click Top
Length: 5.0″
Weight: 0.52oz
Lamy Safari Fountain Pen
Pros
Features fully blacked-out matte finish
Equipped w/ black-coated steel nib
Compatible w/ Z24 cartridge converter
Great for calligraphy
Cons
Plastic body much weaker than alloy barrels
Cartridge converter sold separately
Best Fountain Pen: Calligraphy is undoubtedly verging on the edge of becoming a lost art, but there are those who still partake in this remarkable skill. If you fall into that category and you're looking for a budget-friendly fountain pen to get the job done on the daily, the Lamy Safari fountain pen you see here is the perfect option.
It's built from durable and lightweight ABS plastic, has a click-on cap with a handy wire pocket clip, and comes with a black-finished steel nib. The effortless flowing writing that this pen allows for is another massive part of what makes it so special — and that's before even mentioning its stellar bang for your buck.
Material: ABS Plastic
Ink: Lamy T10, Z24
Deployment: Click-On Cap
Length: 5.65″
Weight: 0.52oz
Fisher Space Bullet Pen
Pros
Utilizes tech used by NASA
Ultra-compact pocketable design
Offered in wide array of finishes (including Cerakote versions)
Capable of writing upside-down, in zero gravity, underwater, & at temps up to 250°F
Cons
Small barrel lacks ergonomics
Best Space Pen: Although it's not the original Fisher offering, it could be said that the Bullet is the best all-around EDC pen this legendary company has ever produced. Not only does it contain the pressurized ink cartridge that was made famous for its treks into space — not to mention it can write upside-down, in outer space, or underwater.
Additionally, it's also made from sturdy solid brass, comes in a variety of colorways, measures just 3.75″ when closed but opens into a perfectly-balanced full-sized pen, and it comes with an unconditional lifetime guarantee. This USA-made modern marvel is even on permanent display at NYC's MoMA.
Material: Brass
Ink: Fisher Pressurized Cartridge
Deployment: Click-On Cap
Length: 3.77″ (or 5.35″ Open)
Weight: 0.53oz
Rick Hinderer Investigator Pen
Pros
Made in America in small batches
Offers stellar grip
Penned & made by legendary knife designer
Doubles as self-defense striking weapon
Cons
Can be difficult to find in stock in more premium versions
Best Tactical Pen: Rick Hinderer is a bonafide legend in the knife industry that's revered for his tactically-inspired, highly-functional blades. So, it frankly comes as no surprise that Hinderer is also responsible for some equally stellar EDC pens like the Rick Hinderer Investigator Pen. Made in America in a small machine shop, the Investigator Pen features a CNC'd body with ring-style grip patterns modeled after self-defense Kubatons.
Between this machined grip pattern and its pointed end, the Investigator is an exceptionally effective tactical striking weapon — as well as one of the best everyday carry writing instruments currently on the market. And, while's hard to go wrong with the stainless steel version, Hinderer also makes this tactical pen model in a variety of more premium constructions including titanium.
Material: Stainless Steel
Ink: Space Pen Refills
Deployment: Cap
Length: 4.25"
Weight: 1.8oz
The James Brand The Burwell
Pros
Features TJB's usual sleek, minimalist design language
Wonderfully balanced
Machined pattern offers excellent grip
Super fidget-friendly spring-loaded clicker mechanism
Best Click Pen: Marking the Portland EDC purveyor's second click pen — after its Benton model from 2016 — The James Brand's The Burwell is a finely-crafted writing instrument that's precision-machined from 303 stainless steel. In typical TJB fashion, the Burwell sports a sleek minimalistic design language that's complemented via a dot-style machined grip pattern.
Currently offered in black, bare alloy, or rose gold finishes, this EDC pen accepts Parker G2-style refills which are deployed via a spring-loaded click actuator. Spanning 5.4" overall, this pen also tips the scales at just 1.2oz. With a matching 303 stainless steel pocket clip and a narrow 0.34" diameter, this pen is both highly pocketable and highly-conducive to EDC. In fact, it was engineered from the ground up specifically to lend itself to everyday carry use.
Material: 303 Stainless Steel
Ink: Parker G2
Deployment: Clicker
Length: 5.4"
Weight: 1.2oz
Big Idea Design Titanium Pocket Pro Pen
Pros
Features all-titanium barrel & pocket clip construction
Barrel auto-adjusts to accept ink refills of varying length
Compatible with 80+ different ink refills
Machined pattern offers excellent grip
Cons
Fairly wide diameter (0.45") for an EDC pen
Best Adjustable Pen: For some folks, versatility is the name of the game when it comes to everyday carry. And if you fall into that category, especially in regards to money-saving measures, then you might be interested in the Big Idea Design Titanium Pocket Pro Pen.
Crafted from solid titanium, this twist-operated writing utensil is perfectly suited to pocket carry, but also boasts one major leg-up on the competition: it's compatible with over 80 different ink refills and can automatically adjust to suit whichever one you're keen on using. So if you've got a bunch of refills sitting around or you want to toy around with which ink cartridges work best for your purposes, don't pass this pen up.
Material: Titanium
Ink: Compatible With 80+ Refills
Deployment: Twist
Length: 4.11″ to 4.65″
Weight: 0.6oz (empty)
Machine Era Field Pen Click
Pros
Perfectly centered & balanced
Equipped with unique grip pattern
Body crafted from top-shelf grade 5 titanium
Ultra-tight tip tolerance boasts zero play
Has Japan-made ink, German-made mechanism, & USA-made clip
Cons
Can be difficult to find in stock
Best Titanium Pen: Another take on the firm's best-selling writing utensil, this version of the Machine Era Field Pen Click boasts a few noteworthy differences that help set it apart from its comrades. For starters, this one comes with a precision-machined grade 5 titanium body with a fidget-friendly top-click mechanism and a grip-bolstering grooved pattern.
It doesn't end there, however, as it also boasts a matching titanium pocket clip, plus is compatible with Parker style refills. Just to add to its excellence, it was also assembled in the USA, it's superbly balanced, and it measures up at under 5″ — making it perfect for everyday carry. In addition to producing a twist-deployment version of this pen, Machine Era also makes a brass construction version of the click variant seen here.
Material: Titanium Or Brass
Ink: Schmidt Easyflow
Deployment: Clicker
Length: 4.9"
Weight: 1oz or 1.5oz
Tactile Turn Bolt Action Pen
Pros
Outstanding build quartz & fit & finish
Features fidget-friendly bolt-action mechanism
USA-made & protected by lifetime warranty
Offers in 3 sizes & 4 materials
Available w/ Timascus bolt upgrade & custom engraving
Cons
Expensive price (though well worth it)
Best Bolt-Action Pen: Tactile Turn's Bolt Action Pen is most certainly one of the best offerings in the boutique EDC brand's catalog. Made in America and compatible with all Parker-style refills, Tactile Turn's bolt-action pen is machined in small batches in Texas. This pen is produced in Standard (5.6"), Short (5.1"), and Mini (4.4") variants.
What's more, Tactile Turn also offers this EDC pen in titanium, copper, bronze, or ultra-top-shelf zirconium constructions — as well as in an ever-growing number of limited edition versions. Backed by a lifetime warranty, this pen is also offered with an optional Timascus (titanium Damascus) bolt and available custom pocket clip engraving.
Material: Bronze, Copper, Titanium, or Zirconium
Ink: Parker Ballpoint
Deployment: Bolt-Action
Length: 1.3oz
Weight: 5.6″
Grovemade Pen
Pros
Individually made by hand in America
Stellar fit & Finish
Offered in multiple constructions & anodized color options
Pairs w/ Grovemade's solid aluminum & hardwood stand
Cons
Stand sold separately
Anodized colors only offered in aluminum construction
Best Desk/Office Pen: It took three years for Grovemade to perfect their Pen, but it's finally here. And it's here in abundance, with a trio of different material options including raw brass, black-finished stainless steel, and — the cream of the crop — titanium.
These beautiful writing utensils also come with and are compatible with high-quality Schmidt P8126 rollerball inserts, they boast a twist-operated tail deployment mechanism, and they can be paired with the brand's specially-made pen stand for desk usage. Manufactured entirely in the USA, Grovemade hasn't revolutionized the classic pen, but they've definitely improved upon it in many ways.
Material: Aluminum, Brass, Titanium
Ink: Schmidt P8126
Deployment: Twist
Length: 5.65″
Weight: 0.88oz
Refyne EP1 Full Size Pen + PS1 Stand
Pros
Super fidget-friendly
Offered in numerous constructions & finishes
Has unique V-shaped bolt track
Great craftsmanship & build quality
Stand offers unique floating spinning function
Best Fidget Pen: Backed by a lifetime warranty, the Refyne EP1 Full Size Pen + PS1 Stand is comprised of an EDC pen with a unique V-shaped bolt-action mechanism and a matching desk stand. Measuring around 4.5" in length, this pen is offered in a variety of constructions ranging from brass to stainless steel to copper to top-shelf titanium — the latter of which we tested in a polish finish.
Pieced together using custom Torx T6 hardware, this pen is compatible with most Parker G2 style refills and ships with a Schmidt easyFLOW 9000 M cartridge. Using a copper base and an aircraft-grade aluminum body, the stand features a cleverly-designed R188 cageless ball bearing system that allows it to accommodate the pen, and keep it floating and spinning in place for up to 3 minutes. Betweenits V-shaped bolt mechanism and spinning stand, this is by far the most fidget-friendly pen currently on the market.
Material: Titanium, Stainless Steel, Copper, Or Brass
Ink: Schmidt easyFLOW 9000 M
Deployment: Bolt-Action
Length: 4.53"
Weight: 2.65oz
The Best Mechanical Pencils For Everyday Use
Prefer a writing instrument that affords its user the ability to erase? Then be sure to check out our guide to the best mechanical pencils for a curated list of hardwearing lead-fed writing tools that are perfect for EDC.