While wearing a wristwatch in today's world is often more of a fashion choice than a necessary means by which to gauge the passing of time, we still believe every man should own at least one — if not more. And there is a myriad of reasons as to why: they're quick in a pinch, they can bring an outfit or your everyday carry gear together, and they give a positive impression of preparedness and togetherness to the people who surround you.
Of course, getting a decent timekeeper used to be difficult, if you didn't have very deep pockets. Fortunately, technology has given horologists the ability to manufacture and sell solid watches for a wide range of budgets. In fact, it's possible to wrap a respectable wristwatch around your arm for less than it would cost you to stock your kitchen for one week. All you need to know is where to look. Of course, this is a great place to start because we've rounded up the absolute best watches you can get for $300 or less.
The Best Watches Under $300
Best Modern Reissue

Timex World Time 1972 Reissue 39mm

Best Everyday Watch

Citizen Garrison

Best Japanese Watch

Seiko 5 Sports SRPE63

Best Field Watch

Bulova Hack

Best GMT

Timex Q Timex GMT

Best Chronograph

Dan Henry 1962 Racing Chronograph

Best Dress Watch

Orient Bambino V.7

Best Digital Watch

G-SHOCK Move DWH5600-1
The Most Important Factors To Consider
There's no shortage of factors one can take into account when buying any watch, however, when shopping in the sub-$300 space, there are a few areas that are absolutely crucial to consider — the most important of which we've broken down directly below.
Video Guide: Best Watches under $300
If you're interested in taking a deeper dive into our top sub-$300 timepiece picks, then be sure to head over to our 4K video guide to the
best watches under $300 for an in-depth look at each of our favorite five bill buys.
Watch Type: We recommend beginning your search by first figuring out what type of watch you want. When shopping at the sub-$300 price point, it's typically best to opt for the more simply styles of watches, as you can normally get a much nicer field watch at this price point than you can a chronograph, as the latter variety of watches involves more components and a more complete design and therefor can't be produced to the same level of quality as a more simplistic timepiece. With that said, if you're willing to make some concessions or sacrifices, you can get just about any time of watch you want with $300 — obviously excluding true luxury watches and tourbillions and the like.
Value: At the sub-$300 price point, value should be another monumentally important area to consider. Ultimately there is no one single area to keep an eye out for when considering value, as it's ore about the level of bang for your buck offered by the watch as a whole, with traits and characteristics such as materials, build quality, and movement all playing key roles in determining a watch's level of value. Because they're producing watches on a more boutique, small batch scale and don't have yet the prestige of luxury watch brands, most micro brands deliver timepieces that offer pretty exceptional value.
Case: As the element that actually constitutes the watch itself, it's hard to overstate the importance of a watch's case. When looking at this aspect of a watch, you'll want to consider a case's design, materials, and dimensions, such as width, lug size, lug-to-lug, and case thickness. There are also important secondary case elements such as a watch's case-back, bezel, and crown, that should also be reviewed when looking at a watch's case. Lastly, a watch's case will also determine its water resistance rating — another important area to take into account when shopping for any watch. 
Dial: Much of a watch's character and personality is owed to its dial layout. A watch's dial will also play a massive role in how easy it is to read. As a result, the dial is another crucial area to consider when shopping. When looking at this element you'll want to explore the dial's color, finish or material, hour markers and indices, hand-set, and its numerals and their typography. It's also worth checking on more minor dial-related details such as any kind of backlighting or lume that's present, or if the dial has any additional features or functions such as a date window, any sub-dials, or a fourth GMT hand.
Movement: The vast majority of budget-focused timepieces utilize quartz movements, and while these are still commonly found in sub-$300 watches, the three-bill mark does start opening the door to quiet a few watches that feature automatic or mechanical movements — i.e. the types of movements found in more premium watches. At this price, you won't see any watches with any wildly innovative movements or super robust power reserve figures, but there are nonetheless plenty of fantastic sub-$300 watches that are powered by well-made reputable movements. When delving into a watch's movement, you'll want to look at the movement type, the number of total components, the number of jewels, the movement's beat rate, and its power reserve. Who makes the movement is also of pretty major importance.
Bracelet Or Band: Assuming the watch has a fairly standard lug size, finding replacement straps, bands, or bracelets for pretty much any watch is remarkably easy. Having said that, pretty much all watches are also designed as a cohesive whole that very much includes the band or bracelet that the case has been paired with. As a result, this is another area that's worth factoring into your purchase. It's also worth noting that quite a few watches are offered with multiple band or bracelet options, and some references even ship with multiple bands, bracelets, or straps.
Details & Finish: A watch's build quality and construction can widely vary from model to model, making this another surprisingly important area to take into account when shopping. When reviewing this area, you'll want to focus on the watch's surface finishes, the consistency of any brushing or polishing, how well elements like dial markers have been laid, and how well or squarely everything lines up.
Selection & Testing Process
How & Why We Got Hands-On With These Particular Sub-$300 Watches
Over the last few years alone, the watch market has seen a massive influx in interest, especially amongst millennials and gen-Zs. As a result, the market has been inundated with an ever-growing number of watches from all across the spectrum, with both budget timepieces and super-premium luxury watches both spiking in popularity. And while this gives us more options to pick from than ever before in our lifetime, it's also made it a bit harder to hone in on the latest and greatest reference — no matter what price point you're shopping at. In a bid to uncover the best this space and price have to offer, we first created a criteria for how we would be selecting watches to generate our initial list of what we suspected to be the best currently available. This included looking at each watch's manufacturer, overall design, size, material selection, band or bracelet, fit and finish, and movement. Each watch's price and level of value was also heavily factored into our decision. Using these traits as guiding forces in our search, we landed on an initial list of timepieces that we felt may be worthy of a spot on this list.
You can learn a decent amount about a watch from reading about its specs and looking at detailed photos of it online, though it isn't until you actually dawn it on wrist that you start to get a more complete sense of the overall user experience. And it's for this reason that we then proceeded to get our hands on demo units of every watch from our initial shortlist. Each timepiece was then put through its proverbial paces, tested on wrist through a variety of scenarios over the course of an extended period — a process that afforded us a markedly better sense of every watch's build quality, fit and finish, level of comfort, and how well it wears on-wrist. After this hands-on resting phase, when then used our firsthand experience and knowledge with each watch to start eliminating references until we had gotten down to our final list of what we discovered to be the best watches currently available for under $300.
Timex World Time 1972 Reissue 39mm
Pros
Faithful reissue of early 1970s Timex
Sports unmistakably retro appearance
Offers pseudo-GMT function
Based on Timex Model 42 platform
Ships with USA-made leather strap from the SB Foot Tanning Co.
Cons
Timezones not updated from 1970s
Best Modern Reissue: Rather than taking inspiration from a vintage time piece or paying homage to one, the Timex World Time 1972 Reissue 39mm is a wildly accurate reproduction of the American horologist's pseudo-GMT from the early '70s. Boasting a 39mm stainless steel case, this watch features an unmistakably retro dial design that's encompassed via a rotating bezel ring lined with various cities from across the globe. The purpose of this bezel is that it allows the user to line up the hour hand with whatever city they happen to be in, and voila.
Featuring a 41.5mm lug to lug and a thickness of 12mm, this Timex's case also houses an analog quartz movement with an easily swappable battery thanks to the implementation of a special battery compartment built into the case-back. And, while it is admittedly made in China, the World Time 1972 Reissue does ship with a leather strap sourced from the SB Foot Tanning Company in Red Wing, Minnesota — the same outfit that supplies Red Wing Boots with its leather.
Case Size: 39mm
Case Material: Stainless Steel
Movement: Quartz Analog
Citizen Garrison
Pros
Incredibly versatile
Uses Citizen's Eco-Drive movement
Ships w/ steel bracelet w/ fold-over clasp w/ push buttons
Also sold in full titanium version for $320
Best Everyday Watch: There admittedly aren't a ton of stellar GADA watch options on the market for below the $300 mark, though the Citizen Garrison is definitely an acceptation. Boasting stellar bang for your buck, the Garrison is pieced together around a 43mm silver-tone stainless steel case finished in a combination of brushed and polished surfaces. Mated to a matching three-link steel bracelet with a fold-over clasp with push buttons, the case also accommodates a simple military-inspired three-hand dial layout with a day and date window/function at 3 o'clock — all set beneath a scratch, shatter, and impact-resistant mineral glass crystal.
At the heart of the watch is one of Citizen's solar-powered Eco-Drive quartz movements, which never requires a battery swap. For only $320, Citizen also makes a titanium version of the Garrison that features a matching full-titanium bracelet — making for an even more attractive GADA watch. And, unlike fancier dress watches or more casual-looking military timepieces, it's easy to justify investing in an everyday watch, as the timepiece is practically guaranteed to get extensive use.
Case Size: 43mm
Case Material: Stainless Steel
Movement: Eco-Drive
Seiko 5 Sports SRPE63
Pros
Made in Japan
Outstanding build quality & fit & finish
Powered by in-house automatic movement
Also make for great GADA watch
Best Japanese Watch: Though it has a bit more of a casual appearance with some light field watch vibes, the Seiko 5 Sports SRPE63 is another terrific choice for everyday horology. Punching well above its weight, the 5 Sports SRPE63 comes loaded with a host of features and traits that are very rarely seen at watches of this price point. This includes a simple yet elegant 40mm stainless steel case that houses a Caliber 4R36 movement — a Japanese-made automatic item with 24 jewels and a 41-hour power reserve.
Fitted with an offset crown at 4 o'clock, the case also comes mated to a NATO strap that matches the watch's blue dial. Water resistant down to 100 meters, this entire watch tips the scales at just 2.64oz — furthering its conduciveness to everyday wearing. Alongside its impressive movement, a major part of what makes the Seiko 5 Sports SRPE63 so special is the fact that it boasts a level of fit and finish that's almost never seen on a watch for below the $700 mark.
Case Size: 40mm
Case Material: Stainless Steel
Movement: Automatic
Bulova Hack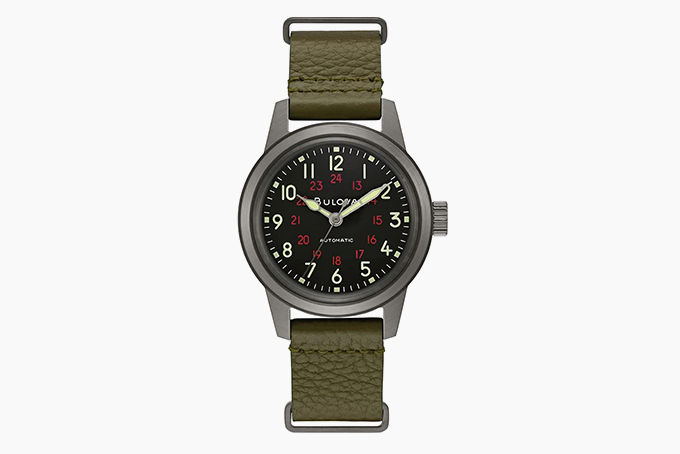 Pros
Pays homage to traditional military watches
Sports throwback dial design
Ships w/ green leather NATO-style strap
Features hacking seconds hand
Has luminous hand-set & dial markers
Cons
Poor water resistance rating
Best Field Watch: Part of the American brand's Military Collection, the Bulova Hack is a classically-styled field watch that's been bestowed with a few contemporary touches. For starters, the watch's 40mm case sports a traditional field watch design, though has been finished in a gunmetal-esque shade of dark gray before being mated to a NATO-style strap made from green leather — two details that massively alter and modernize the character and appearance of the watch.
Fortified beneath a double-domed sapphire crystal, this watch's dial features arabic numerals and a retro hand-set design, both of which have been hit with a coat of luminous paint. Keeping the whole thing ticking is a automatic movement with a hacking seconds hand. This watch also comes backed by a three-year warranty. It is, however, worth pointing out that one of the watch's water resistance rating is limited to only 30 meters.
Case Size: 38mm
Case Material: Stainless Steel
Movement: Automatic
Timex Q Timex GMT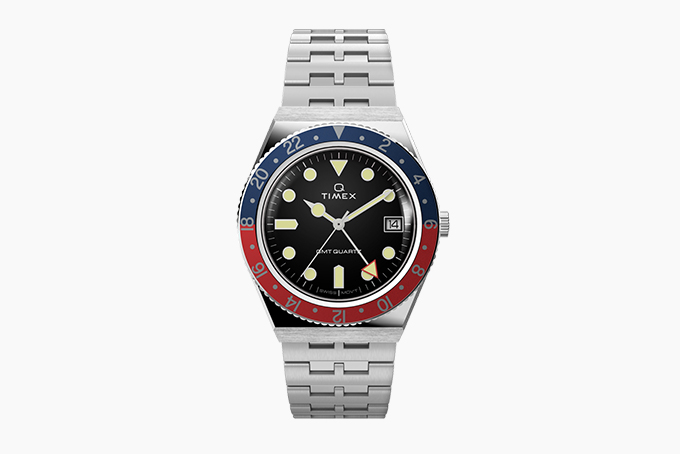 Pros
Great for travel
Powered by Swiss movement
Offers fantastic value
Features fourth-hand GMT function
Cons
Integrated-esque design makes it difficult to find replacement bracelets
Best GMT: Based on its 1970s range of watches of the same name, the Q Timex line was first reintroduced in 2019, and has quickly become one of the best selling families of watches that the American brand makes. Benefitting from a newer updated design with a revised dial and a new bracelet, the Timex Q Timex GMT features a Swiss-made analogue quartz GMT movement. This GMT sports a diver-esque appearance with a black dial that's contrasted via yellow, almost gilded hour markers and a four-item hand-set that's been hit with the same light yellow finish.
Bestowed with a mix of vertical and horizontal brushing across its top, the case also boasts a rotating bezel, a screw-down crown, and an attractive multi-link bracelet with an almost integrated design. And, while it does offer a bit ore functionality and an overall more upscale appearance, this four-hander also makes for a pretty solid GADA option. Plus, on top of the Pepsi bezel variant that we tested, Timex also produces a blacked-out version of the watch that comes juxtaposed via a white hand-set and hour markers.
Case Size: 38mm
Case Material: Stainless Steel
Movement: Quartz Analog
Dan Henry 1962 Racing Chronograph
Pros
Case made form premium 316L stainless steel
Affordable alternative to Omega Speedmaster
Has tachymeter bezel
Caseback sports embossed Maserati Tipo 60 Birdcage car
Best Chronograph: Pretty much everything about the Dan Henry 1962 Racing Chronograph would led you to believe that its MSRP is double or even triple its actual price. From its 39mm 316L stainless steel case, to its overall fit and finish, to its Japanese-made meca-quartz movement, to the Swiss Super LumiNova lume on the dial, this chronograph features a host of elements that are very seldom seen on a $300 watch.
Other noteworthy elements on the watch include a tachymeter bezel, twisted lugs, a double-domed K1 mineral glass with anti-reflective treatment, and a case-back that features an embossed illustration of a Maserati Tipo 60 Birdcage race car — the latter of which more tangibly ties this auto-themed watch to motorsport. This watch also makes for a pretty great affordable alternative to Omega Speedmaster. Lastly, Dan Henry also produces this watch in four different colorways, as well as with or without a date window between 4 and 5 o'clock.
Case Size: 39mm
Case Material: 316L Stainless Steel
Movement: Meca-Quartz
Orient Bambino V.7
Pros
Case features full polished finish
Offers upscale appearance of much pricier watches
Ships w/ leather strap w/ polished hardware
Has exhibition case back
Cons
Warranty limited to just 1 year
Poor water resistance rating
Best Dress Watch: Based on its elegant and upscale-looking design, fully-polished case, and premium, lined black leather strap, the Orient Bambino V.7 could easily pass for a watch costing five times what it really does — making for an exceptional dress watch choice at this price. The seventh of the eight generations of Bambino made by Orient, the V.7 features a minimalistic, circular case design with a fixed bezel, a retro-inspired knurled crown, and an exhibition case-back that leaves the Bambino V.7's Caliber F6724 automatic movement on full display.
This movement also gets a hacking seconds hand and a power reserve of up to 40 hours. It is worth pointing out that this watch not only has just 30 meters of water resistance, but it also boasts a push-pull crown — making us even more apprehensive to take the thing into water. Dollar for dollar, it really is hard to think of a better dress watch for anything even close to this price.
Case Size: 38.4mm
Case Material: Stainless Steel
Movement: Automatic
G-SHOCK Move DWH5600-1
Pros
Combines retro aesthetics w/ modern tech & functionality
Case & band made from a bio-based resin
Has multiple onboard sensors for health tracking
Insanely rugged
Cons
Price comes out to over $300 w/ tax & shipping
Best Digital: Despite its decidedly retro appearance, the G-SHOCK Move DWH5600-1 conceals an impressive wealth of features and functionality that extend well beyond mere time-keeping duties. In addition to numerous onboard alarms, the Move DWH5600-1 contains a built-in pedometer, a wrist-based heart rate measurement unit, a sleep tracker, smartphone connectivity, sleep tracking, and an activity data log with the ability to track up to 200 laps. Constructed around a shockproof bio-based resin case mated to a matching bio resin band, this G-SHOCK timepiece is best described as an active man's version of the 5600 Series.
Accurate to within 15+/- seconds per months thanks to a digital quartz movement, this watch also features 200 meters of water resistance and what's easily the best impact protection of any watch on this list — and by a substantial margin. Other amenities include a moon data, LED backlighting, a full auto calendar, a world time function with 38 preprogrammed cities, a battery level indicator, an airplane mode, built-in vibration alerts, a sunrise and sunset time display, four daily alarms, and a smart alarm, just to name some of this digital watch's laundry list of features.
Case Size: 44.5m
Case Material: Bio-Based Resin
Movement: Solar-Powered Quartz
The Best Men's Watches You Can Buy Under $500
With a budget of just a few hundred bucks more, you open the door to a much wider range of markedly more premium horological options — the latest and greatest of which we've rounded up for our hands-on review and guide to the best watches under $500.