There are only a handful of true icons in the watch industry; those timepieces that break through the enthusiast community and into the larger zeitgeist. And out of this select group of watches, arguably none are more significant than the Rolex Submariner. With countless imitations everywhere you look, the most recognizable silhouette in the dive watch genre has certainly left a major impact on the culture. But is the actual Submariner as good as the hype suggests?
To find out, we got hands-on with a Rolex Submariner — but not just any Sub. Given the difficulty associated with obtaining the newest model, unveiled in 2020, with its years-long waitlists and rumored customer gatekeeping, we decided to review a Submariner that was a bit more obtainable. Naturally, that led us to the previous generation; specifically, the reference 114060. In production from 2012 to 2020, the last 40mm Submariner is alarmingly similar to Rolex's latest iteration, so we strapped one on the wrist to find out if this watch is truly worthy of its icon status.
At A Glance
Submariner Specs
Case Size: 40mm
Lug to Lug: 48mm
Case Thickness: 12.5mm
Lug Width: 20mm
Case Material: Oystersteel
Water Resistance: 300m
Movement Type: Automatic
Power Reserve: 48 Hours
Movement: Rolex Calibre 3130
Lume: Chromalight
Crystal: Sapphire
Strap: Three-Link Oystersteel Oyster Bracelet
Video Review: Rolex Submariner
For an even better representation of what the watch is like in the metal, have a look at our more in-depth video review of the Rolex Submariner ref. 114060 on YouTube.
First Impressions
Familiar Feeling
There's one thing that pops into mind when getting the 114060 in hand: That's a Rolex Submariner, all right. The watch's design is so ubiquitous, so utterly recognizable, that it's hard to separate the mythos from the watch itself. But once you get past the fact that this is an actual Rolex Submariner and not one of the many homages or replicas you come across every day, it becomes evidently clear why the watch has become such a touchstone. Its design just works, almost too well. This is what a wristwatch should look like. The quality, it also must be said, is supremely evident in person. The watch glistens and gleams in all the right places while remaining subtle in others. It's not trying too hard. In fact, we're not sure it's trying at all. It just exudes class and cool, and it's hard not to be smitten with it.
The case of the 114060 is, well, interesting. While true this is the last 40mm Submariner (for now anyway), as the current references are all 41mm, it doesn't necessarily feel smaller or more compact. That's due to the "Maxi" case of this generation of Submariner. Characterized by noticeably thick, chunky lugs and beefy crown guards, the watch looks a bit like a Sub on steroids. It's heftier and bulkier than other Submariners, but not to an egregious point. Despite the rather thicc styling, the watch's relatively compact dimensions keep things from getting out of hand. Measurements of 40mm across, 48mm lug-to-lug, and just 12.5mm thick mean the "Maxi" Sub doesn't actually feel too maximalist at all.
The blockier styling does provide a bit more wrist presence than you may expect from a Sub, and when coupled with the polished Cerachrom bezel — itself adorned with engraved markings that have been filled with platinum PVD coating — you end up with a watch that offers a fair amount of flash (but not too much).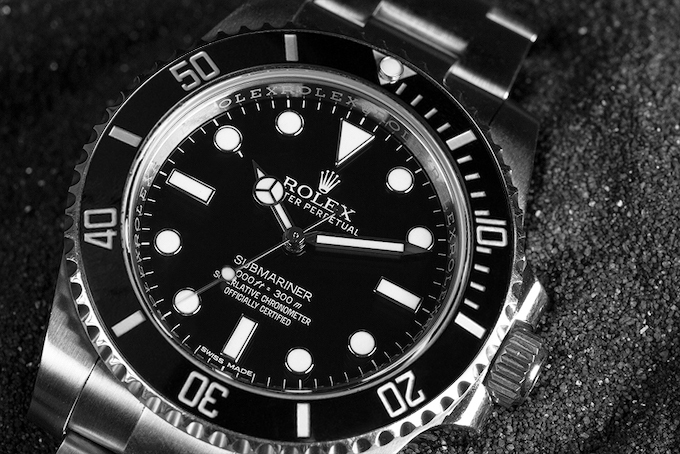 The Dial
Often Replicated...
Regardless of whatever changes Rolex makes to the case, if there's one thing about a Submariner that you can always count on being flawlessly executed, it's the dial. Arguably the most recognizable dial in the entire watch industry, it's seen here in its purest, no-date form. The endlessly-copied triangle at 12, bars at 3, 6, and 9, and dots for all of the other indices arrangement is mimicked so often because it's perfect. It's satisfyingly symmetrical and utterly easy to read. Aiding in this ability is the equally iconic "Mercedes" handset, and everything is brought to life with Rolex's own brilliant blue-glowing Chromalight lume. Granted, the four lines of text at 6 may be a little lengthy for some, and perhaps we'd prefer a bit less of it, but at this point, it's almost expected to see an extensive readout on a Rolex dial.
As you've surely noticed by now, everything about the Submariner is simple, instantly recognizable, and performs flawlessly. The bracelet is no different. Crafted from Oystersteel in the classic three-link Oyster style, it's the definitive sports watch bracelet. Brushed on top, polished on the sides, and nicely tapered, the substantial yet comfy bracelet culminates in a superb clasp that's outfitted with Rolex's industry-leading Glidelock system. Boasting a full ten points of micro-adjustments, the clasp makes it incredibly easy to dial in your perfect fit, and can easily adapt to your wrist's changing size throughout the day.
The Movement
It Just Works
As is the case with all modern Rolexes, the 114060 Sub is powered by an in-house caliber that's undergone the brand's trademark Superlative Chronometer certification. And, shocker of shocks, it's a tremendous engine. Robust and durable, protected from water and bumps, and highly accurate for a mechanical movement, the watch's Calibre 3130 movement leaves little to complain about. If we did have one gripe, though, it's that the power reserve of 48 hours is a bit underwhelming by today's standards, where dive watches routinely run for 72 hours or more. In this case, if you take the watch off after work on Friday and don't pick it up again until Monday morning, it will have died in the interim. That's not ideal, to be frank, but it isn't a dealbreaker, either (you can always take 30 seconds to wind it up on Saturday or Sunday afternoon).
On The Wrist
Surprisingly Svelte
Admittedly, our smaller-wristed testers — with wrists of 6.25" and 6.5", respectively — were a bit nervous about the chunky Maxi-cased Sub. But after sliding the watch on and dialing in the Glidelock clasp, all of those worries melted away. The 114060 wears, we're happy to report, like a Submariner. It hugs the wrist, it's not overpowering in the slightest, and its relatively slim build and short lugs keep the wide-bodied case in check. Overall, it's a joy to wear at any wrist size, and we didn't want to take it off once we had it strapped on.
Final Thoughts
No Substitute
So, does the Rolex Submariner live up to its icon status? Indubitably. From its bulletproof build quality to its luxurious finishing to its instantly recognizable form, the Rolex Submariner ref. 114060 proves that it is fully deserving of its place atop the pantheon of legendary watches. But is it worth the several thousand dollars over MSRP that it will cost you to get one on the secondhand market? Well, that isn't for us to decide, but the market has determined that value — not Rolex — and if it's truly a Submariner that you have your eye on, then there really is no substitute.
The 20 Best Dive Watches
As fantastic as the Submariner is, it's far from the only worthwhile dive watch on the market. To see the rest of our favorites, have a look at our guide to the 20 best dive watches out there for options from Omega, Blancpain, Tudor, and more.