Even if you're completely unaware of the concept of everyday carry, it's damn near certain that you participate in some way. After all, EDC is all about the gear you keep on your person every single day, and it includes things as seemingly innocuous and practically ubiquitous as wallets, watches, bags, pocket tools, and so much more. Whether you're a complete newbie to the concept or a seasoned veteran, there are always more things to learn and more gear to behold — opening up the possibility of the lifelong pursuit of that perfect loadout.
If that sounds like a juicy prospect and you're ready to take a deep dive, you're in luck because we've taken a comprehensive look at all the different EDC categories with the goal of offering some of the best picks in each category. Just keep in mind: this is only a small sample of the huge number of exceptional products that are available — intended to illustrate options across both budgets and styles — and your own loadout should be a personalized reflection of your daily life, personal tastes, functional needs, and more. Of course, you also can't go wrong with anything we've highlighted here in this curated guide to the very best pieces of everyday carry gear.
What Factors Should I Consider When Buying EDC Accessories?
Quality EDC Explained
Because the EDC sector is comprised of so many different product spaces, it can be a little tricky knowing exactly what to look for when shopping. There are, however, a handful of factors that should be taken into account across the board, no matter what type of everyday carry gear you're looking at — the most pivotal of which we'll be breaking down directly below.
Primary Construction: One factor that will always play a pivotal role in the overall quality and durability of any EDC item is its primary construction. For bags and carry solutions, this means the shell, though for knives and pens you'll want to review the body or housing construction, or material used to craft the handle. You'll also want to explore whether or not an item's primary construction has been further fortified via any type of treatments or coatings — such as PU or DWR coatings for soft goods and PVD or DLC-coatings for alloy construction items like knives, flashlights, or multi-tools.
Secondary Materials: While admittedly not as important as an everyday carry item's primary construction, you'll nonetheless want to keep an eye out for the secondary materials used to produce a piece of everyday carry kit. This includes elements such as an item's liner material, zippers, buckles, or hardware, pocket clip, etc.
Style & Appearance: While everyday carry gear is all about preparedness and utility, that doesn't mean aesthetics shouldn't also play a key role in guiding your decision-making process, as EDC items can range from vintage-inspired designs to unmistakably modern pieces of kit. Additionally, quite a few pieces of our favorite EDC gear is also offered in a variety of constructions and/or with several color or finish options.
Build Quality & Craftsmanship: It's not only the materials used to make a product that play a major role in its overall quality, but also the manner in which those materials have been pieced together. As a result, you'll definitely want to review the construction technique or techniques that were used to craft a piece of EDC gear. What's more, build quality and craftsmanship also play a tremendous role in distinguishing the more premium, boutique-made EDC items from their cheaper, often-mass-produced counterparts.
Price & Value: Because everyday carry gear needs to standup to the rigors and abuses that come with daily use, they're typically crafted from rugged materials using meticulous manufacturing processes — traits that seldom come cheap. As a result, you'll want to pay attention to the pricing of any piece of EDC gear, as some items afford much greater bang for your buck compared to others.
Versatility: Quite a few of today's best pieces of EDC gear offer an incredible amount of versatility, lending themselves to a wide variety of uses and applications. For this reason, versatility is another important factor to consider when shopping, especially because this area can also significantly bolster an item's overall value.
For business, pleasure, adventure, and more, it's always good to have some kind of gear hauler as a part of your everyday carry. While the format is ultimately going to be up to you, we've picked out a trio of our favorites below.
CodeofBell X-Pod II Sling Pack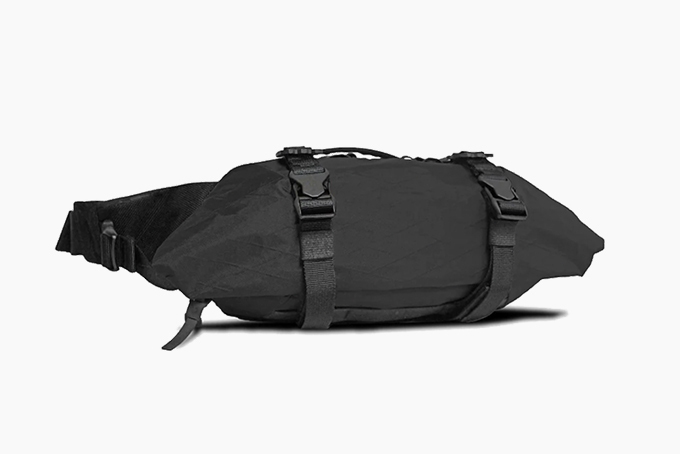 Why It Made The Cut
An ultra-rugged sailcloth sling pack that features high-end hardware & a capacity that expands to 7 liters. 
Best Sling Bag: One of the hands-down best sling bags perhaps ever envisioned, the Codeofbell X-Pod II is kind of like what would happen if an advanced alien race and/or a future civilization had invented the fanny pack. But it isn't science fiction; it's very real with its expandable 2.3-7L capacity, ultralight ECOPAK sailcloth front, self-locking magnetic buckle, a complement of organizational pockets (inside and out), and so much more. And, while the original version of this sling was already pretty fantastic, the second-gen model is even better.
Capacity: 2.3L (Expandable To 7L)
Shell Material: ECOPAK
Weight: 0.84LBs to 0.96LBs
Aer Gym Duffel 3
Why It Made The Cut
A CORDURA-construction hybrid carry solution designed to go from work to the gym. 
Best Hybrid Bag: If you're the type that goes from home, to work, to the gym, and back again — all in one trip — then the Aer Gym Duffel 2 is perfect for you. You see, this 24.1L duffel bag was designed to house all the gear you need for a full day of adventuring while keeping the different pieces separate, organized, and secure. That includes slots for tech (including a padded 16" laptop slot), a separate ventilated pocket for sneakers or dirty clothing, a quick-access slot for your EDC, and an ultra-rugged 700-denier CORDURA shell, just to name a few of its many features. This is less like a duffel bag and more like a basecamp you can carry with you.
Capacity: 24.1L
Shell Material: 700D CORDURA
Weight: 2.9LBs
GORUCK GR1
Why It Made The Cut
A legendary USA-made EDC backpack that's modeled after special forces medical rucks. 
Best EDC Backpack: Unequivocally representing one of the all-time best everyday carry packs ever made, the GORUCK GR1 is a wildly-rugged, USA-made backpack that features a design that was inspired by special forces medical rucks. Offered in 21-liter and 26-liter sizes, this bag is cut from 1,000-denier ballistic grade CORDURA and contains an absolutely bombproof laptop compartment, multiple rows of external MOLLE webbing, YKK zips with 550 Paracord pulls, and a 210-denier high-tenacity CORDURA back panel. This bag also comes backed by an unconditional forever warranty, practically guaranteeing a lifetime of use.
Check out our in-depth GORUCK GR1 backpack review here.
Primary Construction: 1,000D CORDURA
Volume: 21 Liters (or 26L)
Weight: 2.8LBs (or 3.1LBs)
Laptop Sleeve: 15" (or 16")
Flashlights
On-Demand Illumination
Whether trying to find your way after the sun has dipped beyond the horizon or just attempting to explore the dark corners under your desk for that pen you dropped, flashlights are tremendously useful. And the three below are some of the best available, bar none.
Prometheus Lights Beta Magnetic Flashlight
Why It Made The Cut
A downsized version of PL's legendary QRv2 model that gains automatic magnetic activation.
Best Keychain Flashlight: Ideal for keychain carry, the Prometheus Lights Beta is a stupendous, compact portable torch capable of outputting 40 lumens — more than enough for typical day-to-day tasks. What's better: this EDC keychain light also has a magnetic quick-release tail, so you can detach it from your keychain for easier usage when you need it. This flashlight proves there's always room for portable illumination.
Length: 2.70"
Body: Aluminum
Max Lumens: 40
Olight Warrior X Pro Tactical Flashlight
Why It Made The Cut
A tactical-specific flashlight that boasts a crown striking bezel & more than 2,000 lumens on tap. 
Best Tactical Flashlight: If you were hoping for something a bit more rugged, perhaps with some potential self-defense applications, you definitely can't go wrong with the Olight Warrior X Pro Tactical Flashlight. Not only does this formidable torch boast a sturdy anodized aluminum construction with a toothed bezel perfect for blunt strikes, but it also outputs up to a whopping 2,100 lumens — enough to blind potential assailants to the point that you might never actually need to use the striker bezel.
Length: 5.87"
Body: Aluminum
Max Lumens: 2,100
Muyshondt Beagle Titanium Flashlight
Why It Made The Cut
An ultra-premium 435-lumen EDC torch with titanium construction monocoque housing. 
Best EDC Flashlight: Muyshondt makes some of the most exceptional premium everyday carry flashlights ever imagined, and their Beagle is just one of the many superb options. This particular edition is made from solid titanium — making it lightweight and extremely formidable — and offers a range of 1-435 lumens across five different intensities. Furthermore, it's worth noting that the brand themselves calls this their "most electromechanically sophisticated electric torch," which is saying quite a lot.
Length: N/A
Body: Titanium
Max Lumens: 435
Even if you only have your house and car keys, you still need a means of carrying them around and keeping them organized. And these keychains, carabiners, keyrings, etc. will manage that brilliantly.
Handgrey Knox Titanium Keyring
Why It Made The Cut
A premium, titanium take on a keyring with a unique decagonal shape.
Best Keyring: Proof that even the smallest, most ubiquitous pieces of gear still have room to be improved upon, the Handgrey Knox Titanium Keyring is a vast upgrade from standard keyrings. Not only is it made from ultralight, ultra-durable titanium, but it also has a new split-ring design that makes putting on and taking off keys and accessories much simpler without being any less secure.
Construction: Grade 5 Titanium
Diameter: 1.12″
Weight: 0.07oz
Capacity: N/A
Orbitkey Key Organizer
Why It Made The Cut
A sleek EDC key organizer with a seven-key capacity that's offered with a variety of shell materials. 
Best Key Organizer: For their beauty and simplicity, Orbitkey's key organizers are some of the most spectacular keychain organizers around. And while you truly can't go wrong with anyone, this one is extra special — for it's made from an eco-friendly, sustainable cactus leather that looks, feels, and performs just like animal leather. It also holds up to seven keys, has a key fob attachment point, and has an integrated locking system.
Construction: Top Grain Cowhide Leather & 316L Stainless Steel
Length: 3.37″
Weight: N/A
Capacity: 2 to 7 Keys
The James Brand The Mehlville Carabiner
Why It Made The Cut
An EDC-specific titanium construction carabiner with an ultra-secure spring-loaded dual-gate design. 
Best EDC Carabiner: A modernized, minimalist take on the classic keychain carabiner, The James Brand hit a home run with their Mehlvillve. Not only does this beautiful piece of everyday carry have a stunning appearance, rock-solid grade 5 titanium construction, and secure key-capturing spring-loaded dual-compartment design, but it also has the subtle and handy addition of an integrated bottle opener. This dual-gated "everyday carry-biner" is also offered in brass or stainless steel constructions.
Construction: Titanium (Or Brass Or Stainless Steel)
Length: 3.125″
Weight: 0.97oz
Capacity: N/A
One of the staples of the everyday carry industry, we're firm believers that everyone should carry a knife as a part of their EDC loadout. And you definitely can't go wrong with the trio of options we have for you below.
Buck Knives 110 Folding Hunter
Why It Made The Cut
An iconic American-made pocket knife with a tried-and-true design dating back to 1964. 
Best Vintage-Style Knife: One of the most iconic pocket knives ever made, you can never go wrong with a classic like the Buck Knives 110 Folding Hunter. It comes with a reliable, easy-to-maintain 420HC clip point blade alongside a sturdy back lock and gorgeous ebony wood handle scales mated to brass bolsters. Perhaps best of all, it's made in the USA and comes slapped with the brand's forever warranty.
Blade Steel: 420
Handle Material: Ebony & Brass
Blade Length: 3.75"
Total Length: 8.625″
Lock Type: Lockback
The James Brand The Carter Knife
Why It Made The Cut
An ambidextrous-locking everyday carry folder with a sleek fashion-forward design. 
Best Modern Knife: According to The James Brand, the Carter is the brand's most advanced everyday carry knife — and they would know. Even without that claim, it's a spectacular folder all-around, marked by a versatile high-end VG-10 steel drop point blade, Micarta handle scales that are gorgeous and grippy, and an ambidextrous slide lock that's handy and secure. And, like so many of TJB's offerings, it can be purchased with upgrades including (but not limited to) a partially-serrated blade, Damascus steel, and numerous different color combinations. This knife is also now offered in an even larger XL-spec spanning 8.0" overall.
Blade Steel: VG-10
Handle Material: G-10 Or Micarta
Blade Length: 2.80"
Total Length: 6.50"
Lock Type: Slide Lock
Chris Reeve Knives Sebenza 31 Knife
Why It Made The Cut
A meticulously-crafted, USA-made titanium frame-locking folder that's widely considered to be the EDC grail knife. 
Best Grail Knife: Those in the know are already abundantly aware that the Chris Reeve Sebenza has practically single-handedly set the pace for the rest of the everyday carry knifemaking industry, and it's with good reason. This is the very definition of a grail-level piece of EDC marked by ultra-tough titanium handle scales, the Chris Reeve Integral Lock (a legendary component in itself), and a wildly versatile high-end drop point blade. Yes, this is a knife, but it's also a work of functional art that never ceases to impress. Due to this grail knife's extremely high-demand, it tends to sell out extremely fast, though is routinely restocked both on the CRK website and on various online retailers like Knife Center and Blade HQ.
Check out our in-depth Chris Reeve Knives Sebenza 31 Knife review here.
Blade Steel: CPM S45VN Or CPM MagnaCut
Handle Material: Titanium
Blade Length: 2.99" Or 3.61"
Total Length: 6.98" Or 8.40"
Lock Type: Framelock
Even if you're only mildly interested in DIY projects and quick fixes, a multi-tool can be indispensable in a pinch. That goes double if you pick one of the three options we have for you in the following section.
Tactica Gear M.100 Multi-Tool
Why It Made The Cut
A compact TSA-compliant multi-tool containing a whopping 17 functions. 
Best Compact Multi-Tool: While it looks a bit like a keychain carabiner, the Tactica M.100 is actually a fully-fledged 17-in-1 multi-tool ideal for discreet, compact carry. On top of its extremely pocket-friendly design, it's also fully-TSA-compliant, was made with an exterior material picked specifically so as to not damage tech (namely smartphone displays), and it has 420 stainless steel tools and a matching core. For a uniquely useful reimagining of the multi-tool category, go no further than Tactica.
Number Of Tools/Functions: 17
Closed Length: 3.0"
Blade Steel: 420
Victorinox Spartan PS Swiss Army Knife
Why It Made The Cut
A classic ultra-pocketable SAK that features a dozen integrated tools & functions & a unique blacked-out finish. 
Best EDC SAK: Let's be honest: multi-tools as we know them today likely wouldn't exist if it wasn't for the classic Swiss Army Knife. And, wouldn't you know it, SAKs are still some of the best around. We're particularly fond of the Victorinox Spartan PS Swiss Army Knife you see here, which benefits from 12 built-in functions including a knife blade, corkscrew, can and bottle openers, and so much more. But what makes this one special is that the tools have a polispectral coating, which makes their appearance change depending on the angle of the light glinting off of them.
Number Of Tools/Functions: 12
Closed Length: 3.60"
Blade Steel: Chromium Oxide-Treated Stainless Steel
Leatherman Wave+ Multi-Tool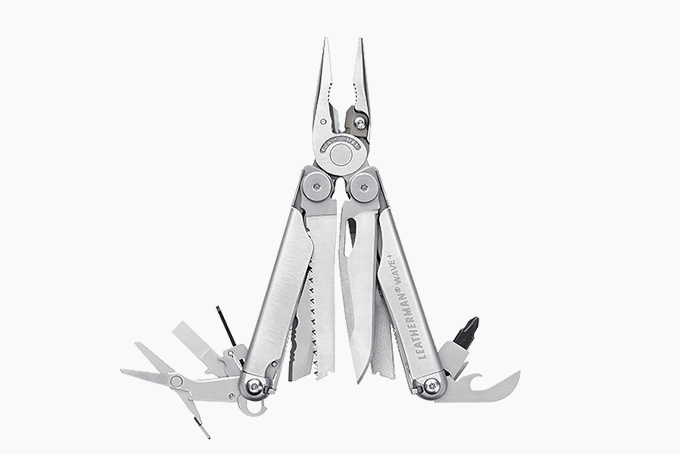 Why It Made The Cut
A venerable pocketable powerhouse of a multi-tool containing a generous 18 functions in a 4.0" package. 
Best EDC Multi-Tool: If Victorinox created the multi-tool category with Swiss Army Knives, then Leatherman perfected it with offerings like the Wave+. Designed to fold down compact enough to stash in your pocket, this stainless steel butterfly-opening multi-tool houses a whopping 18+ built-in functions including pliers, multiple blades, drivers, and so much more. This portable toolbox is the kind of EDC device you buy once and then use for the rest of your life.
Number Of Tools/Functions: 18
Closed Length: 4.0"
Blade Steel: 420HC
Notebooks
Scribe Essentials
The written word is a dying art, but it's still tremendously useful for keeping track of important information like phone numbers, million-dollar ideas, and more. Of course, you could also just use the following notebooks to doodle and pass the time.
Field Notes Pocket Notebooks
Why It Made The Cut
An everyday carry-specific trio of notebooks from the mind of design legend Aaron Draplin. 
Best EDC Notebooks: Aaron Draplin, the mastermind behind Field Notes is one of the greatest designers of our time, and his exceptional skill is on full display across the entirety of this pocket notebook brand. And while Field Notes offers a bevy of traditional USA-made notebooks, the real value proposition therein comes in the form of the rarer, special edition releases — like the Snowy Evening winter notebooks, of which every single unit, even those packaged together, has a completely unique cover.
Size: 3.5″ x 5.5″
Pages: 48
Ezra Arthur Small Notebook
Why It Made The Cut
A more premium & upscale take on a standard everyday carry notebook with a Horween leather cover. 
Best Premium Notebooks: For those that want something that's a little more refined than a disposable notebook, there's the Ezra Arthur Small Notebook you see here. Inside, you'll find a simple arrangement of blank pages for all your scribbling, scrawling, and doodling needs — which can be refilled and even come with a lined guide. But it's the outside of this notebook, crafted from high-end Horween leather in numerous colorways, that's the real star of the show.
Size: 5.45″ x 3.75″
Pages: 128
Bellroy Work Folio A5
Why It Made The Cut
A leather notebook (or tablet) folio that contains storage for up to hall a dozen cards. 
Best Notebook Folio: For those who need something a bit more large-scale and professional, like those that work in legal professions, you can't go wrong with Bellroy's elegant Work Folio A5. Designed to fit standard A5 notebooks — like those made by Moleskine — this notebook boasts a stunning zippered environmentally-certified leather exterior, which also hides a series of pockets for all your notebook accessories and everyday carry gear (there's even a tablet pouch and cable storage).
Size: 9.05" x 6.69"
Pages: N/A
When your technology inevitably betrays you, especially by running out of battery, you'll be happy that you've still kept a writing utensil in your everyday carry. Even if you do prefer to go primarily digital, being able to scrawl down notes on the fly is still extremely valuable.
Fisher Bullet Space Pen
Why It Made The Cut
A legendary writing instrument capable of scrawling upside-down or underwater. 
Best Mini EDC Pen: The Fisher Space Pen Bullet is so influential and revolutionary that it's actually a part of the NYC Museum of Modern Art's permanent collection. And while that accolade is certainly special, you might be more interested in the fact that this ultra-compact writing utensil can function upside-down, underwater, and even in zero gravity — using the same tech as the pens NASA sends into space.
Construction: Brass, Stainless Steel, Or Aluminum
Length: 3.77" Closed (or 5.35" Open)
Deployment: Click-On Cap
The James Brand The Burwell Pen
Why It Made The Cut
A 303 stainless steel EDC click pen with a special machined grip pattern & spring-loaded click actuator. 
Best Click Pen: Produced in black, bare metal, or rose gold finishes, The James Brand The Burwell is an EDC-specific click pen with a 303 stainless steel body housing a replacable G2-style ink cartridge. Bestowed with a unique machined grip pattern, the pen also features a heat-treated 174 PH stainless steel pocket clip and a fidget-friendly spring-loaded click actuator. Weighing in at just 1.2oz, this pen also pairs perfectly with TJB's also newly-released The Gatecliff notebook cover and organizer.
Construction: 303 Stainless Steel
Length: 5.4"
Deployment: Top Click
Tactile Turn Bolt Action Pen
Why It Made The Cut
A top-shelf bolt-action everyday carry pen that's precision-machined in Texas. 
Best Bolt-Action Pen: Machined in Texas and backed by a lifetime warranty, the Tactile Turn Bolt Action Pen is one of the all-time greatest everyday carry writing instruments, with a simple but beautiful minimalist designs that's been brought to life using expert craftsmanship and a variety of high-end barrel constructions including copper, bronze, titanium, and zirconium. Sold in Mini (4.4"), Short (5.1"), or Regular (5.6") sizes, this stellar EDC pen is also offered with custom engraving as well as an optional Timascus pocket clip.
Construction: Titanium (Or Copper, Bronze, Or Zirconium)
Length: 4.40", 5.10" , Or 5.60"
Deployment: Bolt Action
At the end of the day, you're going to want to have a place to put all your precious everyday carry gear. And that's exactly what the following section is meant to help you manage, while still looking good in the process.
Craighill Nocturn Catch
Why It Made The Cut
A simple yet elegant catch-all tray offered in a variety of high-end constructions. 
Best Minimalist Tray: Remarkably elegant in its appearance, Craighill's Nocturn Catch is so gorgeous that you might not want to sully it by placing your EDC loadout into it at the end of the day. But we promise this all-hardwood EDC valet tray, which also happens to be made in the USA, is just begging to be used for that exact purpose. Better still, if you don't like the maple version above, it also comes in a darker walnut.
Material(s): Walnut, Maple, Or Marble
Dimensions: 7.5″ x 11"
Dango Side Tray
Why It Made The Cut
A rugged, USA-made, EDC-specific, multi-compartment valet tray precision-machined from anodized aluminum. 
Best USA-Made Tray: For those that prefer a bit of industrial design to their gear — even when it comes to valet trays — we submit to you the Dango Side Tray. This storage solution is crafted from precision-machined aluminum, has removable DTEX pads to keep your everyday carry gear safe and secure, and has a cut-out for your charging cables. Oh yeah, did we mention that it was made in the USA? Because it was.
Material(s): Aluminum& DTEX
Dimensions: 7.2" x 8.3"
KILLSPENCER Valet Tray
Why It Made The Cut
A super premium, leather-bound-take on a standard everyday carry valet tray. 
Best Premium Valet Tray: Admittedly, the Killspencer Valet Tray comes at a bit of a premium. But that doesn't mean it isn't worth the money. In fact, those with a flair for the beauty and character of leather will certainly feel drawn to this offering — which is especially true when you consider that the brand tried to keep the leather as natural and unmarred as possible, even leaving some blemishes, markings, and the like — giving this tray quite a bit of character on top of its stellar construction.
Material(s): Full-Grain Leather
Dimensions: 8.75" x 5.5"
Wallets
Card & Currency Carriers
Probably the most ubiquitous piece of everyday carry, every single person on this planet needs some means of transporting their currency. And you can do no wrong with any of the following wallets and the accompanying brands.
Pioneer Molecule Cardholder 2.0
Why It Made The Cut
A super rugged yet minimalistic card-holder crafted from a proprietary construction that's 10-times stronger than steel. 
Best Card-Holder: With such a ubiquitous category, it's really hard for any brand to stand out from the crowd. However, when it comes to wallets, Pioneer Carry has made some really impressive, progressive strides — including developing a synthetic fabric that's 10x stronger than steel by weight and inventing a technology called FutureForm that allows your wallet to conform to usage over time. If you want to buy a wallet and then never have to worry about buying another one again, check out Pioneer Carry.
Category: Card Holder
Material(s): 10XD
Card Capacity: 6
Bellroy Apex Slim Sleeve Wallet
Why It Made The Cut
A pre-molded leather wallet cut from eco-friendly cowhide sourced from the Netherlands. 
Best Bifold: Bellroy makes a lot of really exceptional everyday carry gear, but their bread and butter might just be their collection of absolutely stupendous wallets — which manage to toe the line between traditional styling and materials and modern minimalist constructions. The Aussie outfit's Apex Slim Sleeve wallet puts a modern spin on the segment with a pre-molded leather construction, RFID protection, and room for up to 8 cards.
Category: Bifold
Material(s): Environmentally-Certified Leather
Card Capacity: 8
The Ridge Wallet
Why It Made The Cut
The original minimalist alloy-construction everyday carry wallet. 
Best Minimalist Wallet: As we know it, The Ridge pretty much single-handedly created the minimalist wallet movement. — or at least they're responsible for the most impactful early-entry wallet in the category. As it turns out, that original design is still one of the best available — and that doesn't look to be changing anytime soon. Regardless of which version you pick, all of these wallets can carry up to 12 cards, cash, and have built-in RFID-blocking technology.
Category: Card Holder
Material(s): Aluminum, Carbon Fiber, Forged Carbon Fiber, Mopane Wood, Or Titanium
Card Capacity: 12
Once a near-necessity, watches have become a touch more fashion than function — but they're still very much a staple of the everyday carry industry and can be hugely useful in the right hands. The following is just a small sample of the wonders to be found in the world of horology.
Q Timex GMT Reissue
Why It Made The Cut
A revised take on a modern GMT reissue that offers unbeatable bang for your buck. 
Best Budget Watch: You absolutely do not have to spend an arm and a leg in order to get a handsome, reliable timepiece. That's perhaps exemplified by the newly-updated Timex Q Reissue watch you see before you here with its quartz movement, stainless steel case with an integrated bracelet, INDIGLO lume markings, and signature Pepsi bezel. It doesn't hurt that this is also a faithful, modern recreation of a watch from 1979, giving it the retro factor. Best of all, it's priced at below $300.
Case Size: 38mm
Case Construction: Stainless Steel
Water Resistance: 50M
Movement: Quartz GMT
RZE Valour 38
Why It Made The Cut
A rugged yet lightweight 38mm titanium field watch offering exception value. 
Best Mid-Tier Watch: Punching well above its weight, the RZE Valour 38 is a military-inspired field watch design that's been brought to life using an UltraHex-coated titanium case housing an SII NH38A automatic movement. Measuring just 11mm thick and sporting a compact 45mm lug-to-lug, this watch also boasts the overall fit and finish of timepieces costing ten-times as much, ultimately giving this field watch some of the very best bang for your buck.
Case Size: 38mm
Case Construction: Titanium
Water Resistance: 100m
Movement: Automatic
Rolex Submariner Dive Watch
Why It Made The Cut
A super iconic Swiss-made luxury diver that's widely considered to be a grail watch. 
Best Grail Watch: The Rolex Submariner might actually be the most iconic watch of all time, and that's reason enough to consider adding it to your everyday carry rotation. Of course, it's all the details together that have really help it stand out and earn its many accolades, including a precise Swiss automatic movement, 300m water resistance rating, case crafted from the brand's signature Oystersteel, and chronometer certification.
Check out our in-depth Rolex Submariner review here.
Case Size: 40mm
Case Construction: Oystersteel
Water Resistance: 300m
Movement: Automatic
The Top Everyday Carry Brands You Should Know
The above is only a tiny fraction of the huge number of exceptional pieces of everyday carry gear available on the market. If you want to become more acquainted with the industry, we suggest you take a deep dive into our comprehensive guide of EDC brands you should know.