In the vast world of watches, it has traditionally been the big brands that have gotten the lion's share of the attention. Whether it's budget-minded corporations like Seiko, Citizen, and Timex or luxury brands like Rolex, Omega, and Patek Philippe, it is generally the companies with big marketing budgets, massive resources, and sizable workforces that have dominated the industry. But over the past several years, that has begun to change. An increasing number of small, independent watch "microbrands" have proliferated over the past decade, to the point where many are now offering compelling and legitimate (and sometimes even superior) options to the big brands. And these companies are the watch microbrands that you should know in 2023.
These days, there are hundreds of watch microbands. And frankly, a lot of them are not worth your time. These are the so-called "Kickstarter brands" — fly-by-night operations that sell generic watch designs from a Chinese factory on crowdfunding sites while claiming to "revolutionize the watch industry" by "cutting out the middleman" and selling directly to the consumer. Those aren't the microbrands we're talking about, and these types of companies give the term microbrand a bad name. So to help you better understand the type of watchmaker we are talking about, let's first give our definition of what a microbrand is.
The Best Watch Microbrands Breakdown

What Is A Microbrand?
Microbrand has become a bit of a controversial term in watchdom, and some of the brands in this guide may even bristle at being referred to as one. That's due to its association with the scrupulous aforementioned Kickstarter brands that have sullied the term. But the true definition of microbrand, as we see it, has several facets to it. First and foremost, a boutique watch brand has to be small when it comes to both personnel and output. Many have just one or two employees, most often passionate watch enthusiasts themselves, who work with various manufacturers around the world to produce their products. Microbrands are also known for producing small numbers of watches, often released in batches that can sell out quickly. This small scale is what separates microbrands from the broader "independent brands" term. Heritage Swiss luxury watchmaker Oris is an independent brand, but there is nothing micro about them.
Microbrands are also on the affordable side, as once you get into spectacularly high price brackets — think F.P. Journe and Greubel Forsey — then the term "boutique brand" is more appropriate, as it implies a higher price point. Microbrands also lack traditional marketing methods, opting instead to get the word out through social media, word of mouth, and enthusiast-targeted small trade shows like Worn & Wound's Windup Watch Fair. Finally, microbrand is a 21st-century term, and microbrands are thoroughly 21st-century companies. Not only does that mean that they must have been founded in this millennium, but they also are tech-savvy by nature, mostly selling their watches directly to consumers through their websites.
anOrdain
why it made the cut
anOrdain uses a lost art to fuse its glass to metal, yielding an impressive range of dress watches.
One thing that's great about microbrands is that, due to their size, they are able to offer highly specialized watches that may be of especially high interest to a small minority of the watch community. One such brand that's a great example of this is anOrdain. Founded in 2015 and based in Glasgow, Scotland, where the brand's team of ten designs and manufactures their watches, anOrdain's specialty is their Grand Feu enamel dials. Enameling is a painstaking and difficult-to-master practice that involves fusing glass to metal at extremely high temperatures, and anOrdain is helping to revive this lost art with their head-turning watches.
Year Founded: 2015
Location: Glasgow, Scotland
Style: Dress
Popular Models: Model 1, Model 2
Price Range: $2,400 to $4,000
Hero Watch: Medium Model 1
Astor+Banks
why it made the cut
Chicago-based Astor+Banks makes high-quality sports watches at reasonable prices and a classic design language.
Based in Chicago and founded by watch enthusiast and U.S. Military veteran Andrew Perez, Astor+Banks has really come into their own over the last couple of years. The brand makes sports watches that are mainly aimed at the enthusiast market, with high build qualities and accessible price points. Current offerings include the Sea Ranger, a unique and attractive diver/field watch hybrid, and the Fortitude, an everyday watch with a vertically-brushed bezel and highly symmetrical dial layout. All Astor+Banks watches undergo their final assembly at the company's Chicago workshop.
Year Founded: 2012
Location: Chicago, Illinois
Style: Diver, Field Watch
Popular Models: Sea Ranger, Fortitude
Price Range: $650 to $850
Hero Watch: Fortitude Lite
Autodromo
why it made the cut
Autodromo makes some of the best racing-inspired timepieces in the world, along with accessories like gloves.
Autodromo is another brand that caters to a specialized segment, but they do so in a more roundabout and completely different way. The New York-based brand was founded by designer and automotive enthusiast Bradley Price in 2011 as an automotive-themed, design-forward lifestyle brand. And while Autodromo makes products like driving gloves and sunglasses, their core business is watches. With Price's keen eye for design, Autodromo makes subtly automotive-inspired watches that look like nothing else on the market, such as the '80s rally-inspired Group B.
Year Founded: 2011
Location: New York
Style: Sport, Racing-Inspired, Chronograph
Popular Models: Group C, Vallelunga Automatic
Price Range: $475 to $775
Hero Watch: Vallelunga Automatic
Baltic
why it made the cut
Baltic makes some of the most evocative vintage-style divers in the game.
One major theme that has emerged in recent years among not only microbrands, but the watch industry as a whole, is vintage-style watches. It seems that every brand is looking to mid-century styles to find influence for their current designs, but few — if any — brands do this better than Baltic. Founded in Paris in 2017 by Etienne Malec as a sort of tribute to his late father's passion for watch collecting, Baltic creates original vintage-inspired designs like their popular Aquascaphe diver and GMT.
Year Founded: 2017
Location: Paris, France
Style: Vintage-inspired, GMT, Diver
Popular Models: Aquascaphe, Bicompax, HMS
Price Range: $360 to $1,600
Hero Watch: Aquascaphe GMT
BOLDR
why it made the cut
BOLDR takes the field watch category and imbues its own trademark ethos, and at affordable prices.
While Singapore-based BOLDR Supply Co. was just founded in 2015, you'd never know it from looking at their slick and professional website. The brand has a large roster of products for a microbrand and a strong identity as a maker of rugged and durable outdoor watches and gear. Their designs are bold, often big, and plenty original with sharp angles galore. BOLDR designs watches that are made to be used and can handle being abused, and they currently offer five distinct lines: Expedition, Odyssey, Venture, Voyage, and Safari.
Year Founded: 2015
Location: Singapore
Style: Field, Outdoor
Popular Models: Venture, Expedition
Price Range: $149 to $699
Hero Watch: Expedition II Eiger
Brew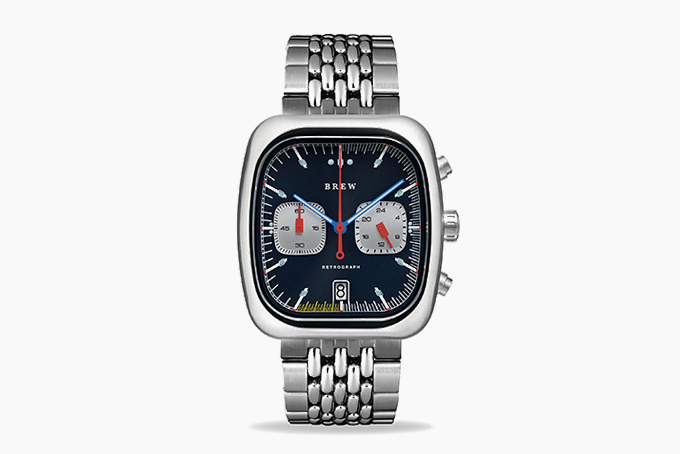 why it made the cut
Brew has one of the most assertive design languages in the industry, offering affordable retro-style watches that punch way above their price tags.
When you look at a brand like Autodromo, it just makes sense. After all, cars and watches have a lot of crossover when it comes to their enthusiast communities. But Brew's connection to the world of watches is a bit more abstract. Founded by designer Jonathan Ferrer in 2015, New York City-based Brew takes its inspiration from coffee. And, actually, it's not as weird as it sounds. Ferrer uses his uncanny sense of good design to take stylistic inspiration from industrial coffee machines, while conceptually, the brand's ethos is savoring small moments in time, as one does on a coffee break.
Year Founded: 2015
Location: New York
Style: Sport, Chronograph
Popular Models: Metric, Retrograph
Price Range: $375 to $475
Hero Watch: Retrograph Technicolor
Dan Henry
why it made the cut
Dan Henry's range spans all the way back to the 1930s in inspiration, naming each of its models after the year it takes after.
Even before founding his eponymous microbrand in 2016, Brazilian watch collector Dan Henry was a pretty big deal in the watch industry. His collection and knowledge of vintage watches — as expressed on his online database, timeline.watch — is one of the most impressive in the world, and Henry has transferred his vast expertise on vintage watches to his own series of watches based on amalgams of styles from his collection. While most worthwhile microbrand watches live in the $500 to $2,000 realm, Dan Henry's offerings skew far more affordable, topping out at $350.
Year Founded: 2016
Location: Brazil
Style: Vintage-Inspired, Sport, Chronograph, Diver
Popular Models: 1939, 1962, 1970
Price Range: $200 to $350
Hero Watch: 1970 Automatic Diver
Farer
why it made the cut
Farer's knack for color and affordable retro style earns it a spot on our list.
Of all of the brands on this list, Farer probably looks the least like what we picture for a microbrand watch company. Their watches all carry the elusive "Swiss Made" label, their beautiful website and social media accounts put many Swiss luxury brands to shame, and they have strong brand recognition for their ability to incorporate color on their watches in interesting and unexpected ways. But the six-year-old UK-based brand certainly qualifies as a micro, with a team of fewer than 10 employees and their sub-$2,000 watches only being available through their aforementioned website.
Year Founded: 2015
Location: Great Britain
Style: Sport, Diver, GMT
Popular Models: Tonneau Automatic, Chrono-Sport, World Timer Automatic
Price Range: $995 to $1,995
Hero Watch: World Timer Automatic
Halios
why it made the cut
One of the oldest microbrands, Halios can go toe-to-toe with far more expensive brands, selling out quickly with each release.
Vancouver-based Halios has been around in the microbrand game longer than most, having been born on online forums in 2009. As much of a one-man operation as a brand can be, Halios is the brainchild and passion project of watch enthusiast Jason Lim, who handles seemingly every aspect of the business on his own. Sometimes referred to as the "Rolex of microbrands," Halios earned this reputation in a couple of ways. First, their watches are of outstanding quality and can go toe-to-toe with far more expensive pieces. And secondly, they're very hard to get. New watches sell out in seconds and often sell for higher than MSRP on the secondhand market, with the exclusivity further adding to the popularity of modern classic designs like the Seaforth and Fairwind.
Year Founded: 2009
Location: Vancouver, Canada
Style: Diver, Everyday, Sport
Popular Models: Fairwind, Seaforth IV, Universa
Price Range: $735 to $775
Hero Watch: Fairwind
Haven
why it made the cut
Indiana-based Haven has become a fan favorite for its '70s-inspired chronographs and business transparency.
One of the newer brands on this list, Haven just launched their first watch — the Chilton — in 2019 after founder Weston Cutter decided it'd be fun to try and build his own vintage-style watch after seeing the prices skyrocket for the real deal. The result was a '70s-inspired chronograph that quickly became a fan favorite and turned Cutter into a watchmaker. The brand assembles their watches in the Midwest from components sourced from around the world, and they're very transparent about their business model. Haven is certainly a brand to watch, as they're just getting started.
Year Founded: 2019
Location: Indiana
Style: Chronograph, Everyday
Popular Models: The Chilton, The Lomax
Price Range: $1,800 to $2,000
Hero Watch: The Chilton
Lorier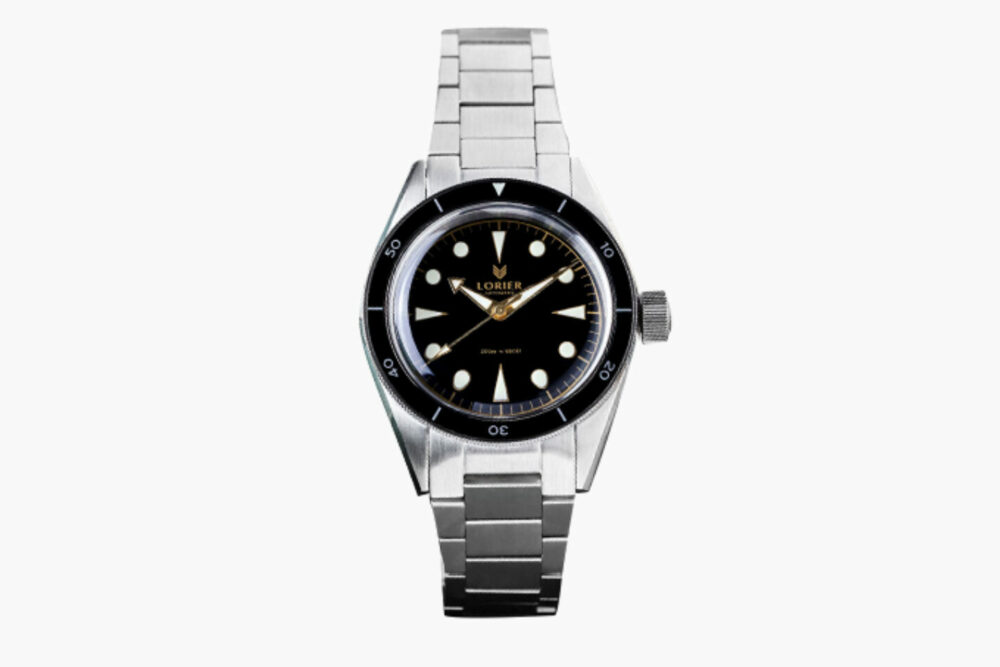 why it made the cut
Lorier makes some of the finest mid-century-inspired pilot and dive watches, microbrand or otherwise.
Lorier is another microbrand that has turned to vintage watches for inspiration — in more ways than one. Founded in 2018 by husband and wife team Lorenzo and Lauren Ortega, NYC-based Lorier has quickly become one of the most popular and well-regarded brands in the space. Their designs draw clear inspiration from '50s and '60s sports watches without being carbon copies, but what makes them even more interesting is the way they're built. Lorier uses vintage touches like plexiglass crystals to make watches that not only look vintage but feel like a new watch would have felt like in the mid-century.
Year Founded: 2018
Location: New York
Style: Diver, Vintage-Inspired, Pilot, Chronograph
Popular Models: Neptune, Hyperion
Price Range: $500 to $600
Hero Watch: Neptune
MING
why it made the cut
In a class all its own, MING has become one of the most coveted watch brands for their unique designs and award-winning horology.
Moving into the higher-end side of microbrands, we have MING. Based in Malaysia, MING is a six-person "horological collective" founded by photographer and designer Ming Thein. Since debuting in 2017, the brand has garnered some impressive accolades for their distinct and horologically significant watches, picking up multiple awards at the prestigious Grand Prix D'Horlogerie De Genève. MING watches are renowned for their originality and attention to detail, and even though their watches sometimes cost five figures, they're aimed at enthusiasts and always sell out almost immediately upon release.
Year Founded: 2017
Location: Malaysia
Style: Dress, Luxury
Popular Models: 17.09, 37.05
Price Range: $2,600 to $33,000
Hero Watch: 17.09 BLUE
Mk II
why it made the cut
Around for over two decades, Mk II specializes in homae watches for the likes of Rolex and Omega.
Mk II (pronounced "mark two") is one of the OGs of microbrands. The brand began as one of the first makers of third-party watch parts over two decades ago before evolving into a watchmaker themselves. Based in Pennsylvania, Mk II is largely known for their high-quality homage watches, with their Benchcrafted designs being modern interpretations of long-extinct Rolex and Omega references. But even if homage watches aren't your bag, Mk II has some beautiful original designs as well in their Japan-made Ready to Wear line.
Year Founded: 2002
Location: Pennsylvania
Style: Field, Sport, Diver
Popular Models: Cruxible, Stingray II
Price Range: $649 to $940
Hero Watch: Cruxible
Monta
why it made the cut
A legit luxury watchmaker, Monta infuses its pieces with some real quality and high-end details.
If you own a Rolex, or even if you're a fan of Rolex, you're probably familiar with Everest Bands, maker of high-end rubber straps for Rolexes. Well, the guys behind Everest — Michael DiMartini and David Barnes — founded Monta watches in 2016, with Justin Kraudel becoming co-owner in 2017. Based in St. Louis, Monta is a legitimate luxury watch brand, and it competes as such. All of their models are Swiss-made sports watches that feature high-end details like rhodium-plated diamond-cut hands and quick-adjust bracelet clasps, yet every watch they sell still goes for less than $2,500.
Year Founded: 2016
Location: St. Louis, Missouri
Style: Sport, Diver, GMT
Popular Models: Skyquest, Ocean King
Price Range: $1,700 to $2,400
Hero Watch: Skyquest 24-Hour
Nodus
why it made the cut
Started by childhood friends in LA, Nodus specializes in versatile and well-made tool watches with unique and original designs.
Nodus is based in Los Angeles and was founded by childhood friends Wesley Kwok and Cullen Chen, who took their shared passion for watches and decided to make a business out of it in 2017. It turned out that was the right decision, as Nodus has experienced impressive growth and gained a loyal following in the few years since. The brand specializes in crafting versatile and well-made tool watches with unique and original designs, and they've always got eyes and ears on the community to see what enthusiasts want. Notably, all of Nodus's watches undergo their final assembly right in L.A.
Year Founded: 2017
Location: Los Angeles, California
Style: Field, Sport, Diver
Popular Models: Sector Field, Sector Deep
Price Range: $450 to $600
Hero Watch: Sector Field
Norqain
why it made the cut
One of the few microbrands based in Switzerland, Norqain has some pedigree from Breitling and features its own in-house movements.
Like Monta, Norqain is competing against the big-time Swiss brands as much as they are against other micros — probably even more so. They're actually based in Switzerland, a rarity for a microbrand, and they have got some real industry heft behind them, with one of the co-owners coming from the family who owned Breitling for 40 years. The brand has wasted little time since their founding in 2018 in making their mark on the industry thanks to trademark design flourishes like their customizable Norqain Plate and Norqain-patterned dials. The brand also impressively has its own in-house movement manufacture thanks to a partnership with Kenissi, the same manufacturer behind Tudor's movements.
Year Founded: 2018
Location: Switzerland
Style: Sport, Diver, Skeleton
Popular Models: Independence, Adventure, Neverest
Price Range: $2,400 to $6,000
Hero Watch: Adventure Sport
Oak & Oscar
why it made the cut
Oak & Oscar's small team makes some big watches while partnering with local American brands for many of their releases.
Oak & Oscar is another microbrand that competes at a higher price point. Founded in Chicago in 2015 by Chase Fancher (eponymous Oscar is Fancher's dog), who left an unfulfilling corporate job to strike out on his own. And while Oak & Oscar has a tiny team, you'd never know it by looking at the brand's overall impact on their community. Oak & Oscar partners with local American brands as often as possible when producing their watches, while the more technical aspects of production take place in Switzerland. Their designs — like the Humboldt and Jackson Big Eye — are highly contemporary and original.
Year Founded: 2015
Location: Chicago, Illinois
Style: Sport, GMT, Diver
Popular Models: Humbold GMT, Jackson Big Eye
Price Range: $1,500 to $3,100
Hero Watch: Humbolt GMT
Orion
why it made the cut
Founded by a watchmaker Nick Harris, Orion is a great mid-level brand with superior build quality and rugged durability.
Microbrands are typically founded by enthusiasts, often coming from backgrounds in design or business. But Pennsylvania-based Orion was founded by a legitimate watchmaker named Nick Harris. OK, technically Harris was still earning his SAWTA certificate when he founded the brand (he actually used the brand's profits to fund his education), but the point is that Orion watches are the real deal. The current collection consists of the Hellcat and Calamity, two sports watches with superior build quality, attractive designs, and rugged durability.
Year Founded: 2015
Location: Pennsylvania
Style: Sport, Dress, Diver
Popular Models: Hellcat, Calamity
Price Range: $700 to $1,600
Hero Watch: Hellcat Burgundy
Pelton
why it made the cut
One of the only to make their own cases and bracelets, Pelton is a true made-in-the-USA brand with luxury quality.
While there are many American-based brands on this list, Pelton is arguably the most American. Most microbrands leave the manufacturing of their watches to overseas partners, as there simply isn't the manufacturing presence in the USA to do it stateside. But not Pelton. Founded in 2016 by Deni Mesanovic and based in Detroit, Pelton actually manufactures their own cases and bracelets (they're the only company doing the latter in the U.S.), with Mesanovic personally assembling and hand-finishing every watch to a luxury level.
Year Founded: 2016
Location: Detroit, Michigan
Style: Sport, Dress
Popular Models: Perseus, Sector
Price Range: $1,500 to $3,000
Hero Watch: Perseus
Raven
why it made the cut
Since 2008, Raven has been paying homage to vintage divers while making its own sought-after tool watches.
Like Halios and MkII, Raven is a brand that has been around since before the term microbrand even existed. Born on online watch forums and founded by enthusiast Steve Laughlin in 2008, Raven started out making homage dive watches before delving into their own more original designs. These days, the Kansas-based brand designs and produces some of the most acclaimed and sought-after tool watches in the business, with models like the Trekker and Endeavour II giving enthusiasts exactly what they want.
Year Founded: 2008
Location: Kansas
Style: Sport, Dive, Field
Popular Models: Trekker, Endeavour II
Price Range: $580 to $700
Hero Watch: Endeavour II
RZE
why it made the cut
Only around since 2020, RZE exclusively makes titanium timepieces while bolstering their hardness.
RZE is the newest brand on this list, having launched their first watch in February 2020 — just a few weeks before COVID-19 effectively shut down the world. Despite the bad luck timing, the brand has thrived, having already grown to feature a robust catalog of three well-received models. Their success shouldn't be too surprising, as founder and airline pilot Travis Tan was one of the original co-founders of BOLDR before leaving to found this brand. Singapore-based RZE only makes titanium watches and, quite remarkably, they have found a solution for titanium's main drawback — its scratchability — by coating their watches in a proprietary coating called ULTRAHex that provides exceptional hardness.
Year Founded: 2020
Location: Singapore
Style: Sport, Dive, Field
Popular Models: Ascentus GMT, Valour 38
Price Range: $300 to $550
Hero Watch: Ascentus GMT
Straton
why it made the cut
One of the most prolific microbrands, Straton boasts some serious auto-inspired timepieces with unique color schemes.
One of the more prolific brands on this list in terms of their output, Straton was founded in 2015 by Kyle Schut, a South African living in Switzerland. Schut's passions are classic cars, auto racing, and watches, so he decided to combine them all into one brand: Straton. The company manufactures vintage-inspired automotive-themed watches, mostly racing chronographs, but does so in funky and colorful ways that set them apart from the crowd. And with many of their watches available with the choice of affordable meca-quartz movements or pricey Swiss-made mechanical engines, Straton offers something for every budget.
Year Founded: 2015
Location: Switzerland
Style: Racing-Inspired, Chronograph
Popular Models: Syncro, Speciale, Curve Chrono, Classic
Price Range: $300 to $500
Hero Watch: Syncro
Traska
why it made the cut
Founded on the idea of making vintage-style divers that could hold up to wear and tear, Traska focuses on color and understated designs.
Founder Jon Mack was on vacation in Vietnam when he accidentally ruined his beloved vintage Bulova diver. It was then that the young enthusiast got the idea to create vintage-style watches that could hold up to modern wear, and he founded Florida-based Traska in 2018. Granted, it's not exactly an unfamiliar origin story when it comes to microbrands, but Traska's watches are certainly unfamiliar. By mixing modern and unexpected colors — like mint green — with classically inspired designs, Traska has created something entirely new and interesting.
Year Founded: 2018
Location: Florida
Style: Sport, Dive, Dress
Popular Models: Freediver, Commuter
Price Range: ~$600
Hero Watch: Freediver
Unimatic
why it made the cut
Honing in its unique minimalist aesthetic, Unimatic has risen the ranks to become perhaps the most famous microbrand in the world.
One of the few microbrands to break out from the enthusiast community and find attention in the mainstream style space is Italy-based Unimatic. Founded in 2015 by product designers and friends Giovanni Moro and Simone Nunziato, Unimatic has become renowned for their unique minimalist interpretations of tool watch designs. Their watches are instantly recognizable, with monochromatic styling and layouts that eschew ornamentation and favor functionality above all else. Their team remains small and they still make their watches in small batches in their Milan workshop, but Unimatic has definitely blown up in recent years and has nearly shed the microbrand label.
Year Founded: 2015
Location: Milan, Italy
Style: Sport, Dive, Field, Minimalist
Popular Models: UC1, UC2, UC4
Price Range: $400 to $600
Hero Watch: UC1
Zelos
why it made the cut
Experimenting around with materials and shapes, Zelos specializes in dive watches with chunky cases.
Last but not least, we have Zelos. This Singapore-based brand is the work of founder and designer Elshan Tang, who may be the hardest-working man in the industry. Since the brand's founding in 2014, Zelos has released several new designs every year, and it's not like these are off-the-shelf watches — Zelos puts out some pretty imaginative stuff. Known for their chunky bronze dive watches (Zelos helped popularize the metal's use in watches), Zelos has pioneered the use of several unique materials, including meteorite, titanium Damascus, and ZircTi.
Year Founded: 2014
Location: Singapore
Style: Sport, Dive
Popular Models: Starfighter, Great White, Hammerhead
Price Range: $430 to $1,800
Hero Watch: Hammerhead V3
The Best German Watch Brands
If you're looking for more brand discovery in the watch world, head over to our guide to the best German watch brands you should know.