If you're only going to add one type of watch to your wardrobe, there's a pretty good argument to be made for diver timepieces. Not only are there a huge variety of options, plenty of which fit just about anyone's personal style, but most of them can also take quite a bit of punishment out in the field. Best of all, there are plenty that can be had for even the strictest of budgets.
You don't have to be a millionaire, celebrity, athlete, influencer, or whatever else to get a quality timepiece nowadays. In fact, you don't even have to search very hard to find one that's within your means. To prove that point, we've rounded up twelve of our favorite ocean-going timepieces on this list of the best dive watches that can be bought for $1,000 or less.
Orient Mako XL Dive Watch
A hefty 44.5mm version of one of Orient's best, most popular designs, the Mako XL is an impressively beautiful diver timepiece for a remarkably low price point. And better still, it's inexpensiveness — which would usually indicate a compromise in the form of a quartz movement — accompanies an automatic, self-winding mechanism that keeps it ticking. It also has a day/date window, a rotating dive timer bezel, a shielded crown, and a handsome matching stainless steel link band. Better still, if this vibrant green isn't your style, it's available in a number of other colorways.
Size: 44.5mm
Case Material: Stainless Steel
Movement: Automatic
Citizen Eco-Drive Promaster Diver Watch
One of the best Japanese watchmaking brands on the market today, Citizen actually offers quite a few dive watches — most of which are under the $1,000 price point. However, we're particularly fond of the Eco-Drive Promaster you see here. Not only does it have one of the most distinctive bezels of any watch in its category, but it also has a solar-powered movement that never needs a battery swap, a sturdy silicone strap, a water-resistance rating good for depths of up to 300m, and more. For budget-friendly divers, this one is an exceptional value.
Size: 48mm
Case Material: Stainless Steel
Movement: Solar
MWC Kampfschwimmer Military Dive Watch
Don't let MWC's pricing fool you; the Kampfschwimmer Military Dive Watch you see here is only budget-friendly in regards to how much it will cost you. The quality and craftsmanship of this timepiece tell a very different story. Built for use by police and military personnel in cold and extreme environments, this is one of the toughest dive watches around. It's crafted from PVD-coated stainless steel, has a 24-jewel automatic movement, boasts a hacking function, has both 12- and 24-hour dial markings for the militarily-inclined, and comes with a NATO nylon strap. And yes, the whole thing was built to mil-spec standards.
Size: 45mm
Case Material: PVD-Coated Stainless Steel
Movement: Automatic
Seiko Prospex PADI 'Arnie' Solar Dive Watch
Lovingly dubbed the 'Arnie,' as this very model of the watch was worn by Arnold Schwarzenegger in both Predator and Commando, this re-issue boasts all the same styling with some updated modern technology. It also boasts a solar-powered movement that can store up to 10 months of energy, a silicone-wrapped case that's just a touch more resistant to shock, an iconic 'Pepsi' dive timer bezel, a sturdy silicone strap, and a full-auto calendar that's accurate all the way until December 31st, 2100. We're not going to tell you that wearing this watch will turn you into the Governator, but it's a step in that direction.
Size: 47.8mm
Case Material: Silicone-Wrapped Stainless Steel
Movement: Solar
Hamilton Khaki Navy Scuba Dive Watch
Although the Field Watch version of Hamilton's Khaki watch is definitely the brand's most popular, it's definitely not the only one out there. In fact, they've got a diving-friendly Khaki Navy Scuba watch, as well. This particular edition of it comes with an automatic 25-jewel Swiss movement good for a power reserve of 80 hours, a blue-on-black dial with a matching dive timer bezel (known as a 'Batman' bezel), a shielded crown, a stainless steel case, a silicone strap, and more.
Size: 40mm
Case Material: Stainless Steel
Movement: Automatic
Tissot Seastar 1000 Dive Watch
If your style trends in the direction of monochrome and/or all-black gear, then the budget-friendly dive watch for you might just be Tissot's Seastar 1000. While it doesn't only come in all black, this particular edition boasts a blacked-out PVD coating on its stainless steel case. It's also equipped with a Swiss-made automatic movement with an 80-hour power reserve, screw-down crown, 300m water-resistance rating, and a sturdy rubber strap.
Size: 43mm
Case Material: PVD-Coated Stainless Steel
Movement: Automatic
Unimatic U3-F Dive Watch
Unimatic has a pretty great habit of crafting gorgeous, minimalist timepieces that are also exceptionally functional — which is exactly the case with their U3-F diver you see before you. Built with professional diving in mind, this Italian-made ocean-going timepiece houses a Seiko-sourced automatic movement, a mono-directional dive timer bezel, a sturdy stainless steel case with built-in shock resistance, Super LumiNova markings, a hacking function, a shielded crown, and an in-house heavy-duty nylon strap. Unfortunately, Unimatic also does limited runs of their watches, so this 600-piece offering won't be around forever.
Size: 40mm
Case Material: Stainless Steel
Movement: Automatic
Luminox Scott Cassell Deep Dive Watch
Luminox makes a lot of really exceptional dive watches. In fact, they've crafted timepieces for Iceland's Search and Rescue teams, as well as the U.S. Navy SEALs. However, their lineup of Deep Dive watches made in conjunction with Scott Cassell — the American explorer, underwater filmmaker, and counter-terrorism operative — are some of their absolute best. This particular one boasts a CARBONOX heavy duty case, a fully-shielded screw-down crown, luminous dial markings and hands, and a 500m water-resistance rating. The only downside it has (if you could call it that), is a quartz movement that requires periodic battery replacements.
Size: 45mm
Case Material: CARBONOX
Movement: Quartz
Longines HydroConquest Dive Watch
For the most part, Longines' offerings fall over the $1,000 mark. However, you can still get their exceptional HydroConquest dive watch for well under that price point. And, yes, it's still a fully-loaded timepiece worthy of the Longines name. It's waterproof to 300 meters, has a stainless steel case with a matching link band, boasts a screw-down crown and Swiss-made quartz movement, and a dive timer bezel surrounding its sapphire crystal. It's not particularly flashy, but that's a part of what we like about it.
Size: 44mm
Case Material: Stainless Steel
Movement: Quartz
Victorinox I.N.O.X. Professional Titanium Diver Watch
Though it's a fairly deep collection, Victorinox's I.N.O.X. lineup has elicited some of the long-standing gear brand's best watches. And that's been nothing, if not punctuated by the inclusion of this titanium edition of their Professional Diver. Complete with a dive timer bezel with a unique geometry not seen anywhere else on this list, this quartz timepiece is dive certified and capable of going to depths of 660 feet, it has a shockproof housing, it comes with a paracord band, and it is remarkably durable on top of being handsome.
Size: 45mm
Case Material: Titanium
Movement: Quartz
Alpina Seastrong Diver Watch
One of the more distinctive-looking diver timepieces on the market, if only for its practically all-over colorway — Alpina's Seastrong Diver also happens to be one of the most capable you can get for under a grand. It comes with a Swiss-made automatic movement housed inside a titanium PVD-coated stainless steel case, which pairs beautifully with its scratch-resistant sapphire crystal, dive timer bezel, luminous markings, subtle date window, and leather strap.
Size: 44mm
Case Material: Titanium PVD-Coated Stainless Steel
Movement: Automatic
Casio G-SHOCK Master of G Frogman Watch
Although G-SHOCK's diving offerings can't quite go as deep as many of the non-digital watches on our list, this list still wouldn't be complete without at least one of their fabled Master of G divers — namely, the Frogman. Imbued with everything you'd expect out of one of the brand's famed offerings — atomic timekeeping, unrivaled shock resistance, a unique resin case, and more — this watch also boasts a unique dive measuring and record-keeping onboard kit. It can even warn you if you're ascending to the surface too quickly, and that's more than can be said for its analog watch counterparts.
Size: 59.2mm
Case Material: Stainless Steel & Resin
Movement: Solar
The 20 Best Dive Watches For Men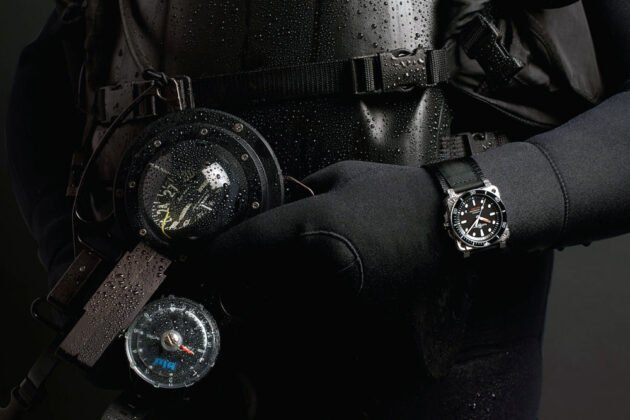 If you're not limited by a strict budget, you'll find a much more comprehensive range of options on our list of the best dive watches for men.