After more than a year-and-a-half of global pandemic lockdown, the world is finally starting to open back up again. While COVID-19 is still with us, and likely always will be, the vaccines have drastically reduced the number of cases, and people are more ready to travel than perhaps ever before. But in order to travel, one needs certain accoutrements. A suitcase is essential, a passport sure comes in handy, and comfy travel clothes are a must. And then there's the GMT travel watch. You may think that you don't need a watch while on vacation. After all, your phone tells the time, right? But you'd be wrong, as the best GMT watches are indispensable travel partners.
Yes, your phone tells you the time, but does it tell you the local time as well as the time at home at a glance? Didn't think so. A GMT watch will do this, offering you the time in two places at once with a quick look at your wrist. Not only that, but the best GMT travel watches will also complement any outfit you have on and act as a companion that accompanies you on all your excursions, making memories alongside you. Are we being just a bit romantic about GMT watches? Maybe, but once you know the history of the GMT watch, it's hard not to wax poetic about them.
The GMT's High-Flying History
Come Fly With Me
GMT watches often conjure images of mid-century jetsetters and playboy pilots — think Leonardo DiCaprio in Catch Me If You Can and you'll be on the right track. That's because the watches were born in that era for those types of customers. Back in the early 1950s, long-haul intercontinental flights were becoming more and more common. Pan Am, the largest airline of the day, put out a request to watch companies to develop a watch that could track two timezones simultaneously so pilots could monitor the time at both their destination and origin. Two companies answered the call. The first was Glycine, which unveiled the Airman in 1953. That watch kept time on a 24-hour scale, with a rotating 24-hour bezel for tracking a second timezone. The next year, Rolex introduced the GMT Master. It kept time on a standard 12-hour scale but incorporated a fourth hand that made its way around the dial once every 24 hours. A rotating 24-hour bezel was employed here as well, allowing the wearer to track a second timezone on the fourth hand while still reading their current time on a 12-hour scale. Rolex's design took off like a rocket, and other manufacturers began producing their own GMT watches based on the Rolex template. The age of the GMT watch had begun.
The Truth About True GMTs
Truth Or Unfair
When researching GMT watches, you may have come across the term "True GMT" and wondered what it meant. In 1983, Rolex made GMT history again. The brand introduced the GMT Master II, a new version of their travel watch icon with a handy new feature. The movement in the GMT Master II allows you to independently adjust the hour hand without stopping the seconds hand or disturbing the other hands. That means that, if your GMT hand is set to your home time, all you have to do when traveling is pop your hour hand over to quickly set your new local time. It's a faster and more convenient way to set your watch for travel, and some watch enthusiasts consider it to be the only "true" GMT there is. That's, of course, nonsense — there were GMT watches for nearly 30 years before this type of movement existed — but GMTs with this type of movement, also called a "flyer" GMT, are slightly better for travel.
The other type of (more common) GMT is the "office" or "caller" GMT. Instead of having an independently adjustable hour hand, these GMTs have independently adjustable GMT hands. This is far more convenient if you want to track a second timezone while you're at home — as someone in a west coast office may do if they have east coast colleagues — but it isn't the most convenient arrangement when traveling. Having said that, we're talking about a minute or less in the difference it takes to set your local time on a "true" vs "office" GMT, so really any GMT watch will work just fine when traveling.
Best GMT Watches For Travel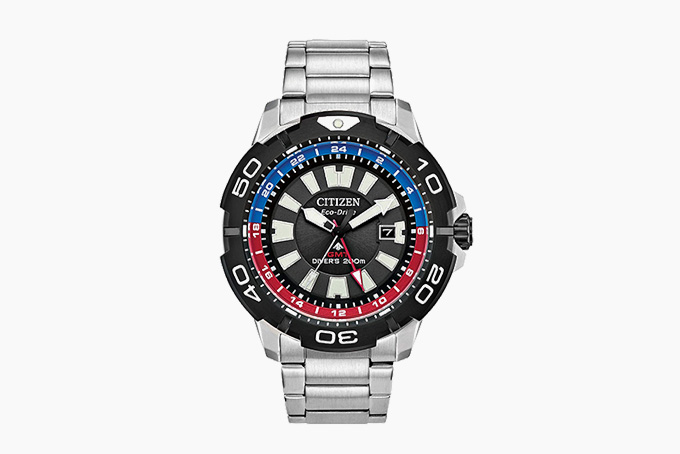 Citizen Promaster GMT
If you're going on a more adventurous trip, then you may not want to have a very expensive watch on your wrist while doing so. In that case, you should take a look at this Citizen. A tough beast of a watch, this is a true diver in addition to being a GMT as it offers 200m water-resistance as well as a dive-time bezel. There's also a 24-hour inner bezel in the classic Pepsi colorway which is tracked by a solar-powered Eco-Drive "true" GMT movement.
Case Size: 44mm
Water Resistance: 200m
Movement: Solar Quartz "True" GMT
Luminox Bear Grylls Survival AIR Series
Need something even tougher? Then turn to Luminox. The rugged Swiss-made brand is a favorite of militaries the world over, and this particular watch was made in collaboration with famed survivalist Bear Grylls. It features Luminox's proprietary light and tough CARBONOX material for the bezel, Luminox illumination that glows for up to 25 years, and 200m water resistance. It also eschews metropolitan cities on its world-time bezel in favor of global Special Forces locations.
Case Size: 45mm
Water Resistance: 200m
Movement: Quartz "Office" GMT
Lorier Hyperion
The very first Rolex GMT Master in the 1950s was the ref. 6542. It originally came with a lumed red and blue "Pepsi" bezel made of a plastic predecessor called bakelite. But concerns over the brittle bakelite cracking and exposing the radioactive tritium lume below caused Rolex to switch to aluminum bezel inserts after just a few years. These days, original bakelite bezel 6542s regularly sell for six figures, but you can get the same vintage feel for far less with this stunning microbrand GMT. The fast-selling Hyperion uses plexiglass for its lumed Pepsi bezel insert and domed crystal, offering serious retro vibes to go with its traffic-stopping looks.
Case Size: 39mm
Water Resistance: 100m
Movement: Automatic "Office" GMT
Glycine Airman DC4 GMT
The Glycine Airman barely beat out the Rolex GMT Master as the first-ever watch to track two timezones simultaneously. But due to its lack of a fourth hand, the Airman is not technically considered a GMT watch. Glycine still makes a faithful version of the original Airman, but they also offer this GMT version for anyone who isn't interested in reading their local time on a 24-hour scale. This offers the same basic look as the OG Airman, along with all of the history and pedigree that comes with it.
Case Size: 42mm
Water Resistance: 200m
Movement: Automatic "Office" GMT
Certina DS Action GMT
It was just a couple of years ago when only Rolex and a small handful of other luxury brands offered mechanical "true" GMTs. But recently, the rest of the industry has begun to catch up, and you can now get an automatic "true" GMT for under a grand. This Certina boasts such a movement, along with 200m water resistance, a sapphire crystal, and a superb 80 hours of power reserve — an especially awesome feature if you plan on bringing along more than one watch on your journeys.
Case Size: 43mm
Water Resistance: 200m
Movement: Automatic "True" GMT
Baltic Aquascaphe GMT
One of the most acclaimed microbrand GMTs around the $1,000 mark is this effort from Paris-based Baltic. Introduced in 2020 — literally on the same day that their aesthetically similar friendly rival Lorier introduced the Hyperion — this watch is a GMT version of the brand's uber-popular Aquascaphe dive watch. You're getting the same attractive dial and bubbly sapphire crystal, but the dive bezel has been swapped for a bi-color sapphire one that rotates 24 clicks in both directions and is available in some seriously fun color combinations.
Case Size: 39mm
Water Resistance: 100m
Movement: Automatic "Office" GMT
Mido Ocean Star GMT
Like Certina, Mido is a member of the Swatch Group. That means the brands have access to some of the same movements, such as the ETA Powermatic 80 GMT caliber that's found in the Certina above and this Mido diver. So this watch is a true GMT with an 80-hour power reserve, but that's not all. It's also a luxury diver with 200m water resistance, a shiny ceramic bezel, and expert finishing throughout.
Case Size: 44mm
Water Resistance: 200m
Movement: Automatic "True" GMT
Longines Conquest V.H.P. GMT
Longines may be one of the oldest Swiss watch manufacturers in existence — the brand was founded in 1832 — but they remain on the cutting edge of the industry. Mostly known for their mechanical watches, Longines has not abandoned quartz technology, and this quartz GMT is rather impressive. Accurate to within a bonkers five seconds per year, the V.H.P. GMT has a "smart crown" that can automatically switch between your home and travel times with the push of a button, as well as a "flash setting" feature that utilizes a tiny sensor in the "12" index to read the flash from your phone to automatically adjust your local time when you arrive in a new destination.
Case Size: 43mm
Water Resistance: 50m
Movement: Quartz "True" GMT
Farer Lander GMT
British microbrand Farer has been in existence for less than five years, but in that time they've already established a reputation for their bold and unique use of color. And nowhere is that more evident than on their flagship GMT watch. The Lander's sea-green sunray dial sparks more online debate about its true color than "The Dress," but whether you think the dial is green or blue, we can all agree that it's gorgeous. A box sapphire crystal, lumed Arabic numeral indices, and colorful hands only add to this stunner's considerable charm.
Case Size: 39.5mm
Water Resistance: 100m
Movement: Automatic "Office" GMT
Hamilton Khaki Aviation Converter Auto GMT
Hamilton is yet another member of the Swatch Group, which means — you guessed it — this watch's movement is a "true" GMT with an 80-hour power reserve. But it's not a standard GMT watch, nor is it a diver. This is a bonafide pilot's watch, with the functionality to boot. Like the famous Breitling Navitimer chronograph watch, this Hammy features a slide rule bezel that can be used to make useful calculations related to speed and distance. But even if you're not a pilot, the slide rule bezel also functions as a pretty handy travel tool, as it can be used to quickly convert currency.
Case Size: 44mm
Water Resistance: 100m
Movement: Automatic "True" GMT
Zodiac Sea Wolf GMT 'Crystal' Topper Edition
Zodiac was one of the first brands to jump on board the GMT train in the early 1960s, transforming their Sea Wolf diver into the Aerospace GMT. These days, the Swiss watchmaker is still making a GMT version of the Sea Wolf — though they've unfortunately dropped the Aerospace name — and various attractive color combinations exist. The most fetching in our eyes is this silver dial Pepsi collaboration with retailer Topper Jewelers. Affectionately known as the "Crystal Pepsi," this limited edition is a recreation of an Aerospace reference from the '60s.
Case Size: 40mm
Water Resistance: 200m
Movement: Automatic "Office" GMT
Monta Skyquest
American-owned, Swiss-made Monta is one of the most highly-regarded microbrands in the business, and this is arguably their best watch. The finishing is comparable to watches that cost twice as much, the fully-articulating bracelet features a quick-adjust clasp, the bezel is made of scratch-resistant ceramic, the water resistance is an impressive 304m, the hands are diamond-cut and rhodium-plated, and the GMT hand sports a quirky and ingenious bend that allows it to clear the applied indices while reaching to the outer edges of the dial.
Case Size: 40mm
Water Resistance: 304m
Movement: Automatic "Office" GMT
Oris Aquis Carysfort Reef Limited Edition
Oris's Aquis is arguably the best diver available at its price point, so it stands to reason that a GMT version would be similarly impressive. And it is. This version, in particular, boasts a mesmerizing sunburst blue dial that's perfectly complemented by orange accents — a combo that really pops if you opt for the available orange rubber strap. And since the watch features both an inner 24-hour ring and a rotating 24-hour ceramic bezel, it's easy to track three timezones simultaneously — if you're into that sort of thing.
Case Size: 43.5mm
Water Resistance: 300m
Movement: Automatic "Office" GMT
Grand Seiko SBGN003
The first watch to feature a GMT version of Grand Seiko's lauded 9F High-Accuracy Quartz movement — arguably the best quartz movement in the world — this may be the ultimate "grab and go" travel watch. Accuracy is conservatively rated to within 10 seconds per year (1 second per year anecdotes are not unheard of), the finishing is easily the best you can get for the price thanks to Grand Seiko's famed distortion-free Zaratsu polishing, and the handmade, fully-decorated, thermocompensated movement is a "true" GMT. Plus, it's got looks for days.
Case Size: 39mm
Water Resistance: 100m
Movement: Quartz "True" GMT
Ball Roadmaster Pilot GMT
Never one to sit on their laurels, Ball is constantly innovating. Not long ago, the formerly-American/now-Swiss brand released the world's first automatic GMT watch with a day/date complication. Now, they're at it again with a new automatic GMT chronometer that uses pushers on the side of the case to independently move the local hour hand forward and backward. There's also a quickset date function, making this by far the most convenient mechanical GMT within a galaxy of this price point. Oh, and it's also a titanium watch with a lumed ceramic bezel, 300m water resistance, and Ball's trademark tritium gas tube illumination.
Case Size: 40mm
Water Resistance: 300m
Movement: Automatic "True" GMT
Bell & Ross BR V2-93 GMT
Bell & Ross is mostly known for helping to herald in the "big watch" era of the past two decades with their massive square-shaped pilot's instrument watches. But the brand also offers vintage-style watches, and they're incredibly stunning. This GMT may be the best of the bunch, as it combines bold pilot's watch styling with an old-school anodized aluminum bicolor 24-hour bezel insert. The watch's decorated ETA-based movement is visible through the sapphire caseback beneath a fun mid-century motif of a plane circling the globe.
Case Size: 41mm
Water Resistance: 100m
Movement: Automatic "Office" GMT
Tudor Black Bay GMT
As the more affordable sister brand to Rolex, Tudor has long had the reputation of offering Rolex quality and style for less eye-watering prices. And that's never been more true than with this modern classic. Based on the brand's popular vintage-inspired Black Bay diver, this GMT boasts a bi-directional bezel with a beautiful aluminum Pepsi insert, a subtly textured matte black dial, and an in-house automatic movement with a "true" GMT function. It's the closest one can get to a Rolex GMT — vintage or modern — without coming close to approaching the five-figure mark.
Case Size: 41mm
Water Resistance: 200m
Movement: Automatic "True" GMT
Omega Seamaster Planet Ocean GMT
Unlike chief rival Rolex, fellow luxury brand Omega doesn't have one standard GMT model in their lineup that stands on its own. Instead, the Bienne-based brand offers GMT variations of a number of its models, but none have developed as strong a following as this Planet Ocean GMT. Unofficially dubbed the "cookies and cream," this is the ultimate sports travel watch for anyone looking for something with a lot of wrist presence. From its highly-polished black and white ceramic bezel to its whopping 600m water resistance to its Master Chronometer "true" GMT movement with a 15,000-gauss magnetic resistance, everything about this PO is over the top — in a good way.
Case Size: 43.5mm
Water Resistance: 600m
Movement: Automatic "True" GMT
Rolex GMT Master II
You knew this was coming. The descendent of the original GMT watch, the GMT Master II remains the most lusted-after GMT in the world. The waitlist to purchase a new stainless steel Pepsi bezel variant is years long, and they routinely sell for more than double the retail price on the secondhand market. But the watch commands such demand for a reason. It's unspeakably gorgeous, with an iconic design that few watches in the world can match. It's also robust, dependable, and luxurious, and there's not a person alive who wouldn't want one of these on their wrist while traveling the globe.
Case Size: 40mm
Water Resistance: 100m
Movement: Automatic "True" GMT
Patek Philippe Aquanaut Travel Time
As you've no doubt noticed, every GMT on this list uses a 24-hour scale to track a second timezone. But not this Patek. Its fourth hand operates on a 12-hour scale rather than a 24-hour one, with day/night indicators for "home" and "local" time so you can keep your AM/PM straight, making this is a great GMT if you don't like math. More robust than most Pateks, the Aquanaut is made of stainless steel, comes on a polymer strap that resists damage from UV rays and saltwater, and offers 120m water resistance. In other words, you can actually travel with this nearly $40,000 watch without being terrified of destroying it (hypothetically).
Case Size: 40.8mm
Water Resistance: 120m
Movement: Automatic "True" GMT
The Best Pepsi Bezel Watches You Can Buy
The "Pepsi" colorway is iconic, having made its debut on the very first Rolex GMT Master in 1954. It also serves a purpose on a GMT watch, with the red representing the daylight hours and the blue depicting the nighttime. Check out guide to the best Pepsi bezel watches to learn more.