Once one becomes interested in watches, there are a handful of brands with which one will quickly become familiar. Seiko is the budget-priced gateway brand for many collectors, Rolex is the ubiquitous luxury brand owned by anyone with serious money whether they're into watches or not, and Patek Philippe is the height of prestige and tradition. Then there's Omega, whose combination of sportiness, luxury, and history is unmatched. The second best-selling Swiss brand after Rolex, Omega is less expensive than its chief rival, but it's still very pricey. So if you're looking for some more affordable alternatives to Omega watches, then read on.
For this guide, we have selected five of Omega's most iconic watches and sought out three more affordable alternatives for each of them. The Omega watches are all priced between $5,000 and $7,000 — a significant amount of money for most people to spend on a watch. Our alternatives, by contrast, are much more palatable. Each grouping sees one watch under $500, one under $1,000, and one under $2,000, giving you a range of budgets from which to choose how to get your Omega fix for less. So take a look below to see our picks for the best affordable alternatives to Omega watches.
What Makes Omega Special
Omega Is The Alpha
In the world of watches, there is almost nothing that Omega has not accomplished. The brand traces its origins all the way back to 1848 and moved to their current home of Biel/Bienne, Switzerland in 1885. In the 1930s, they began to establish themselves as one of the world's top watch brands, setting precision records in all six trials at the Geneva Observatory in 1931 and launching the world's first commercially available dive watch in 1932. 1932 was also the year that Omega became the timekeeper at the Olympic Games, a relationship that continues to this day.
In the mid-twentieth century, Omega continued to set themselves apart. First launched in 1952, the Constellation boasted such a reputation for luxury and precision that it was colloquially referred to simply as "The Swiss Watch." In 1957, the brand increased its sport watch bona fides by introducing the Speedmaster Professional and Seamaster 300 diver. The Speedy would go on to cement its place in history by becoming the first watch worn on the moon in 1969, while members of the Seamaster diver family would become the official watches of James Bond beginning in the '90s.
Even today, Omega continues to innovate. They are the only brand offering movements with co-axial escapements — an innovation that replaces the traditional Swiss lever escapement with one that suffers from less friction and therefore has longer service intervals. They also collaborated with the Swiss Federal Institute of Metrology METAS on the stringent Master Chronometer certification that puts Omega watches through an unprecedented barrage of tests; including ones to make sure they can resist magnetism up to an absurd 15,000 gauss. It seems there's nothing Omega can't do, which explains why they cost so much money. And while we do think they're worth what they charge, we know that they're out of reach for many people. So here are some alternatives.
The Omega
Omega Seamaster Diver 300M
When you think of Omega, odds are that you picture either the Speedmaster or this watch. Since 1995, Omega has been the preferred watch brand of James Bond. It was the three-generations-ago version of this flagship diver that kicked off the affair with Pierce Brosnan in Goldeneye, an affair that continues in 2021 with a special titanium version of the watch on the wrist of Daniel Craig in No Time to Die. Today, the Diver 300M remains a core piece of Omega's lineup, and it's arguably better than ever with its laser-engraved ceramic wave dial and its Master Chronometer co-axial movement.
The Alternatives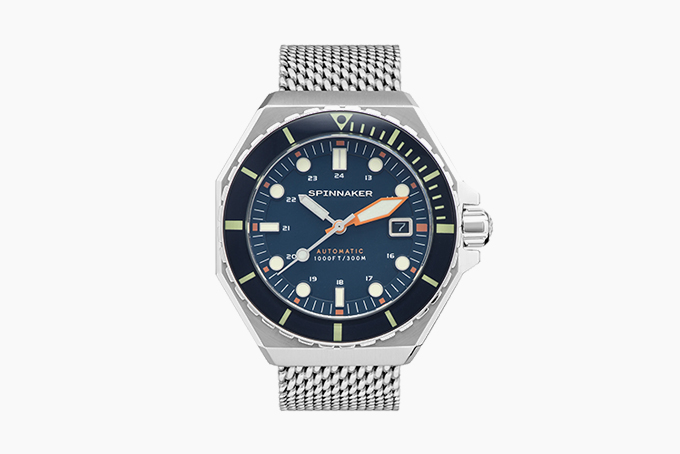 Spinnaker Dumas
With its sword hands and "11 at 12" indices layout, this diver from Hong Kong-based microbrand Spinnaker bears a strong resemblance to the Seamaster at first glance. But this is no ripoff. With its sharp-edged, octagonal, tonneau-shaped case, hooded lugs, stainless steel mesh bracelet, and orange accents, the watch almost looks like a cross between the Seamaster and another Omega diver, the radically-designed Ploprof. And with an anti-reflective sapphire crystal, 300m water resistance, and a robust Seiko movement, you can expect the Dumas to perform as great as it looks.
Christopher Ward C60 Trident Pro 600
People love to refer to Christopher Ward's latest and greatest incarnation of their flagship diver as an affordable Seamaster alternative, and it's very easy to see why. With luxury-level finishing on its "light-catcher" case, a fully-lumed & polished ceramic bezel, blingy multifaceted indices on a glossy lacquered dial, and 600m water resistance, this sporty Swiss-made timepiece offers some serious bang-for-buck. And unlike the Seamaster, which is currently only available in a large 42mm case size, the Trident comes in 38, 40, and 42mm variants, allowing you to find your perfect fit.
Mido Ocean Star Diver 600
Like Omega, fellow Swiss heritage brand Mido is also owned by the Swatch Group conglomerate these days. It sits in a lower position in the company's hierarchy of brands than does Omega, but that doesn't mean you should expect subpar quality. Far from it. The Ocean Star is Mido's flagship diver, and it's an extremely aggressive offering at the price point. The watch is a true professional diver with 600m water resistance, a helium release valve, and a fully-lumed ceramic bezel, and its COSC-certified chronometer movement is fortified with an anti-magnetic silicon hairspring.
The Omega
Omega Seamaster Aqua Terra
When the Seamaster line was first introduced by Omega in 1948, it wasn't a professional dive watch, it was a water-resistant dress watch. In 2002, Omega brought some class back to the Seamaster line with the Aqua Terra. An instant success and a modern classic, today's Aqua Terra ranks as Omega's greatest "GADA" (go anywhere, do anything) watch. With gorgeous sporty looks that can easily be dressed up or down, 150m water resistance, multiple case sizes and color options, and Master Chronometer coaxial movements, the Aqua Terra works perfectly in practically every situation.
The Alternatives
Seiko Presage Cocktail Time
Seiko introduced the original Cocktail Time several years ago, and it was such a runaway success that it spawned an entire line in the brand's higher-end Presage division. All Cocktail Times, like the green-dialed beauty seen here, feature trademark showstopper dials that were inspired by, you guessed it, various cocktails. Like the Aqua Terra, these watches are dressy enough for formal situations and sporty enough to be casual, and they also boast Seiko's renowned solid build quality.
Tissot Gentleman Powermatic 80 Silicium
Made by fellow Swatch Group member Tissot, the Gentleman frequently gets compared to Rolex's Oyster Perpetual thanks to its similar styling, but the watch also makes a great alternative to the Aqua Terra (this makes sense as the OP and AT are natural rivals). With a 40mm case, 100m water resistance, and luxury styling that's both sporty and dressy, the Gentleman could work as the only watch for a lot of people. And once you add in the Powermatic 80 movement with its 80 hours of power reserve and silicon hairspring, the watch really becomes a no-brainer.
Formex Essence 39
While it isn't quite as dressy as the Aqua Terra, this new smaller version of the popular Essence still makes for an admirable budget alternative. The watch's horizontally-engraved dial is similar to the famous "teak" dial of the Aqua Terra, and the Sellita SW200-1 movement is a COSC-certified chronometer. Like all Essence watches, it also boasts highly impressive finishing that competes well above its price point, as well as Formex's patented Case Suspension and Micro-Adjustment Systems.
The Omega
Omega Seamaster 300
A very different watch from the similarly-named diver at the beginning of this guide, this is modeled after Omega's first professional dive watch from 1957 that changed the course of the Seamaster line. Recently refreshed for 2021, the Seamaster 300 might just be the hottest vintage-style dive watch on the market thanks to its trademark broad arrow hand and lollipop seconds hand, its sandwich-style dial with creamy vintage lume, and its fully-lumed oxalic anodized aluminum bezel that's twice as hard as typical aluminum.
The Alternatives
Lorier Neptune
The Neptune was the first watch released by cult-favorite microbrand Lorier back in 2018, and the brand has struggled to keep it on their shelves ever since. Now in its third generation, the Neptune has been perfected as the ideal modern interpretation of a vintage dive watch. Stylistically inspired in part by the original Seamster 300, the Neptune oozes mid-century cool with a large domed plexiglass crystal, oversized crown, arrow handset, thin aluminum coin edge bezel, available gilt dial, and brushed flat link bracelet.
Certina DS PH200M
Like Omega — and Mido, and Tissot — Certina is owned by Swatch Group. And, as such, it also boasts some of the best manufacturing prowess in the industry. The 130-plus-year-old brand operated in relative obscurity to American collectors for many years, but since returning to U.S. shores in 2021 it's seeing a spike in renewed interest. Leading the way for Certina's resurgence is this spectacular vintage diver reissue of a Certina diver from the '60s. With sword hands, gilt accents, a polished case, and a unique domed, engraved ceramic bezel, this one's got style in spades.
Rado Captain Cook
Yet another Swatch Group member (last one, we promise), Rado sits just one rung below Omega in the brand's hierarchy. Omega is considered part of the "Prestige and Luxury" range, Rado is in the "High" range, and Certina, Mido, and Tissot occupy the "Middle" range. This means that you're getting a true high-end experience from Rado, and nowhere in their range is that more evident than on their flagship vintage-style diver. A reissue of their 1962 diver of the same name, the Captain Cook boasts style quirks like a concave ceramic bezel, oversized arrow hour hand, and rotating anchor on the dial that have made it a brand-defining release.
The Omega
Omega Speedmaster Moonwatch Professional
Watches just don't get any more iconic than this. The first watch worn on the moon during the Apollo 11 mission in 1969, the Speedmaster Professional is Omega's main claim to fame and their flagship model. The world's most famous chronograph was refreshed in 2021 with some vintage styling cues, a more luxurious feel, and, for the first time, a Master Chronometer co-axial movement. But with those upgrades, the price of the Speedy has also increased, and this grail watch may now be out of reach for many. Luckily, we have some other ideas.
The Alternatives
Dan Henry 1962
Watch connoisseur Dan Henry has one of the most impressive collections of vintage watches in the world, and he used his extensive knowledge on the subject to spawn his eponymous budget-minded microbrand. The 1962 is modeled after a number of racing chronographs from its titular year, including the Speedmaster, which was created for motorsports more than a decade before it landed on the lunar surface. The 1962 has familiar styling without being too derivative, and its Seiko meca-quartz movement combines the feel and smooth sweep of a mechanical chronograph with the accuracy and affordability of quartz timekeeping.
Bulova Lunar Pilot
Look familiar? There's a reason why this Bulova chronograph looks so much like a Speedmaster. Back in the days of the Apollo moon missions, several watch brands — not just Omega — made watches for NASA in the hopes of seeing space, but it was the Speedy that NASA ultimately chose for its missions. Bulova was one of these companies, and their prototype lunar chronograph ultimately was worn on the moon during 1971's Apollo 15 mission by astronaut David Scott after the crystal broke on his Speedmaster. How's that for bragging rights? This Precisionist quartz chronograph is Bulova's modern reinterpretation of that historically significant watch.
Farer Moritz
Of the three alternatives we're suggesting, this piece from British microbrand Farer definitely looks the least like a Speedy. But there are other similarities. For one, it's our only alternative that is a Swiss-made hand-wound chronograph like the Speedy — a rarity at this price point. And it still has a black dial with clean styling, meaning the overall wearability and experience will be similar to the Omega. But because it's a Farer, there's also an added sense of fun and an injection of whimsical color, both of which make the Moritz a great choice for someone who wants something with a little more originality.
The Omega
Omega Constellation
Before the Seamaster and Speedmaster lines conquered Omega, the Constellation was the brand's flagship product. Back in the 1950s and '60s, a Connie was one of the best luxury watches one could buy, as they were renowned for both their accuracy and beautiful styling. But in the 1980s, in an effort to keep up with the times, the Connie underwent a drastic change, going from an elegant dress watch to an integrated bracelet design known as the Manhattan. A lot of people despise Manhattan Connies, and the line lost a lot of its luster because of it. But the Constellation was recently refreshed with a more modern look and, naturally, Master Chronometer co-axial movements, and it's now one of Omega's hottest watches once again.
The Alternatives
Citizen Super Titanium Armor
A new release from Citizen, this three-hander has a very similar case shape to the Constellation as well as an on-trend integrated bracelet design. Powered by Citizen's proprietary Eco-Drive solar technology that runs on any light source, the Armor is crafted from another one of the Japanese brand's technical innovations: Super Titanium. This special alloy eliminates the biggest negative of traditional titanium — its softness — with a treatment that makes it 5 times harder to scratch than stainless steel while being 40% lighter.
Autodromo Group B Series 2
Even with its recent sporty refresh, the Constellation is still a fairly dressy number thanks to its Roman numeral bezel. So if you're looking for a similarly-styled watch that's a full-on sport watch, then you should give the Group B serious consideration. Automotive-themed brand Autodromo based the watch on the hardcore Group B racing series of the 1980s, with a high-contrast dial that recalls tachymeters of the era and bi-metallic construction of titanium and stainless steel. The bracelet looks integrated but it actually has ingeniously hidden traditional lugs, meaning you can swap it out for any strap of your choice that fits.
Frederique Constant Highlife Automatic COSC
If you're really looking to get as close to the Connie as you can in looks, quality, and feel without spending a ton of money, then this FC was made just for you. An integrated leather strap (a stainless steel bracelet is also available), textured dial, similar case shape, classy styling, and a COSC-certified chronometer movement are all par for the course with the Highlife. And, like the modern Constellation, the Highlife is a recently refreshed version of an outdated watch that is fast becoming one of the most prestigious watches in its category.
The 24 Best Affordable Alternatives To Iconic Luxury Watches
Omega is just one of many worthwhile high-end watch brands on the market and, somewhat surprisingly, they're actually on the more affordable side compared to some of the competition. So if you're pining for watches from heavy-hitter brands like Rolex, Patek Philippe, and Audemars Piguet but can't justify the cost, then have a gander at our guide to the best affordable alternatives to iconic luxury watches.