There's no denying the utility that wearing a smartwatch brings to our day to day routines, between their support for wrist-based push notifications and their ability to track our level of activity. However, the futuristic aesthetic isn't for everyone — least of all those traditionalists who are still hung up on the idea of embracing quartz over mechanical movements. Thankfully, a number of brands have had the wherewithal to design watches that marry classic style with modern tech, effectively giving you the best of both worlds without the eyesore that comes with a large LCD screen.
But as much as some added connectivity increases a watch's capabilities, it also complicates things for you as the buyer. That's because you can't limit your considerations to case materials and dial designs — you also have to take into account features like battery life and built-in sport modes. To make matters worse — smartphone support is likely to vary significantly from model to model, with some allowing you to do little more than adjust the time and others enabling in-depth data transfer. Needless to say — it can be quite daunting to choose the best hybrid smartwatch for your needs. Below we've broken the process down for you, with a brief introduction to what hybrids are, followed by some important things to keep in mind as well as our own recommendations given what's currently on the market.  So read on to see what we've picked for the 10 best hybrid smartwatches.
What Is A Hybrid Smartwatch?
Combining Old With New
Any timepiece that combines an analog dial with some sort of in-built app-connected capabilities can be considered a hybrid smartwatch. Although each individual offering is likely to vary in its level of smart integration, it needs to — at the very least — bring something other than time to the table. That's because nowadays, even the most basic hybrids can track metrics like step count and activity goals. And while more advanced models will offer even greater functionality — such as heart rate measurement and sleep monitoring — in principle they're very much the same. That is — apart from a small secondary display and some barebones button or crown operation, a hybrid should otherwise look and act like any regular ole wristwatch. For the vast majority of what's on the market, the "smart" side will be controlled via your phone.
Key Features To Keep In Mind
21st-Century Innovation
Connectivity: When it comes to buying the best hybrid smartwatch for your needs, you should first consider how much added functionality you require. For instance, if you're only after a barebones step counter, almost anything will do — it's pretty much standard across the board. But for those who are looking for a more detailed readout of their daily activity, it's best to limit the potential choices to those that offer features like GPS mapping, caloric consumption, and sport modes. And that's not all — some hybrids will even support smart notifications, giving you text message readouts and event reminders in real-time. Ultimately, there's a world of hybrid smartwatches out there, and you can have very little connectivity or quite a lot.
Battery Life: Like their fully-connected counterparts, many hybrid smartwatches will eventually need to be recharged. The good news is that they're considerably longer-lasting, with the most battery-hungry amongst them still boasting a solid week-long runtime. It's worth noting that given the diversity of the market, some hybrid smartwatches will need their battery replaced at the end of its life — it has a finite power supply. That being said, these such offerings tend to be more basic in their smart support, meaning they'll keep ticking for months or even years at a time. If you're someone who has a hard time keeping your devices charged, the latter option will likely be better for your needs — even with its various compromises.
Water Resistance: Most standard smartwatches are intended for active use, meaning that they're typically built with a good dose of element-proofing and a soft silicone band. However, with hybrids, you'll find everything from dress watches to divers, making it a bit of a mixed bag when it comes to their water-resistance. Many lower-priced or leather-banded options will only come rated to about 50 meters deep — a figure that really means they're not safe for much other than everyday splashes. But let's face it. You wouldn't want to ruin that croc skin strap by submerging it in water anyway. On the other hand, there are some hybrid smartwatches that offer a water-resistance of 100 meters or more. These tend to be your sportier in style, be they cheap daily drivers or braceleted chronographs.
Timex iQ+ Move
As the watch manufacturer for the masses, it should come as no surprise that Timex earned its way onto our list as the budget buy. Sure, the iQ+ Move doesn't come with quite the same functionality as more expensive models, but you can't beat it for the price. That's because it offers both activity and sleep tracking, with a small sub-dial dedicated to gauging your step count for the day. And that's not all — it also comes with Timex's Indiglo lume, customizable alarms, and Perfect Date, a feature that automatically syncs time zones, daylight savings, and short months with your phone to keep you on the right track.
Case Size: 41mm
Battery Life: 1 Years
Water Resistance: 50 meters
Withings Steel HR Sport
When it debuted back in 2014, the Withings was one of the first-ever hybrid smartwatch manufacturers to hit the market — a true game-changer. To this day, their Steel HR Sport remains one of the best options for running, with a long list of tracked metrics that includes heart rate monitoring, distance traveled, calories burned, and even a fitness level assessment based on a VO2 max estimation. What's more, it comes with a set of dedicated sport settings, meaning that it can and will automatically detect when you're going for a run or a swim. Paired with an intuitive app to track your progress, it makes for an option that can't be beaten.
Case Size: 40mm
Battery Life: 2 weeks
Water Resistance: 50 meters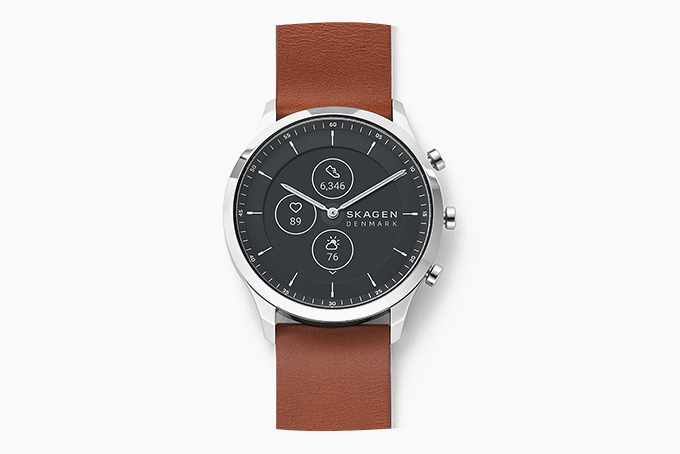 Skagen Jorn Hybrid Smartwatch HR
Based on the analog quartz offering of the same name, Skagen's Jorn Hybrid HR is a watch that marries an impressive two-week battery life with an easy-to-read e-ink display. In practice, it features support for a solid amount of smart functionality, such as individualized workout modes, heart rate readouts, smartphone notifications, and music controls. But the best part is that because the Jorn allows you to customize your dial design, you can mix and match different widgets depending on what data you'd like to display.
Case Size: 42mm
Battery Life: 2+ weeks
Water Resistance: 30 meters
G-Shock GGB100-1A
If you're after one of the absolute toughest hybrid smartwatches (or any watch for that matter) available today, look no further than G-Shock's GGB100-1A. Thanks to its carbon resin case, metal button pipes, and filter seal, it's resistant to shocks, mud, and water up to 200 meters deep. And because of its dual back casing — a combination of a stainless steel panel back and an overlaid glass-embedded resin cover — it's also protected against damage and deformation. Add to that in-app data recording, smartphone connectivity, as well as sensors for compass direction, altitude, temperature, and step count, and you have a hybrid that's as tough as it is intelligent.
Case Size: 55.4mm
Battery Life: 2 years
Water Resistance:
Garmin vívomove Luxe
Garmin has long served as the standard-bearer for the smartwatch segment, so it goes without saying that they'd put together a high-quality hybrid. The vívomove Luxe is a case in point, with a stylish polished stainless steel housing, a domed sapphire lens crystal, and a pair of AMOLED color displays. And unlike the other offerings we've included on our list, the vívomove Luxe also comes with a touchscreen, meaning it's incredibly easy to operate from your either phone or your wrist. When you consider that it offers support for a wide range of functionalities — from contactless payments to chronograph timekeeping to Connect app syncing — it's pretty easy to see why Garmin has the industry on lock.
Case Size: 42mm
Battery Life: 5 days
Water Resistance: 50 meters
Kronaby Apex 43mm
Since 2015, Swedish-based Kronaby has been making hybrid smartwatches that are equal parts stylish fashion accessories and wearable tech innovation. For instance, their Apex 43mm comes with a handsome stainless steel 316L case and link bracelet, a matte black dial, as well as some white hands and markings complete with Super-Luminova lume. And while it may look like any traditional timepiece, inside it contains a Kronaby's connected movement BT003. In practice, this means that get convenient control of your smartphone through its crown and pair of pushers, with a built-in camera remote, music control, phone finder, and Geo-Tagger being just some of the many functions it offers.
Case Size: 43mm
Battery Life: 2 years
Water Resistance: 100 meters
Alpina Seastrong Horological Smartwatch
Although Swiss watchmaking as a whole has been hesitant to embrace smart connectivity, Alpina is one brand that's taken to it with gusto. Suffice to say — the results are promising. This hybridized version of their Seastrong diver boasts an MMT-282-1 caliber, an addition that gives you everything from get-active alerts and sleep cycle alarms to world timekeeping and cloud storage backup. And when it comes to the design itself, Alpina has used a combination of glass fiber and stainless steel for the case, with a scratch-resistant crystal, luminous blue dial, and a matching rubber strap.
Case Size: 44mm
Battery Life: 4+ years
Water Resistance: 100 meters
Mondaine No.1 Bold Hybrid Smartwatch
For those who want a classic-looking daily driver that's chock full of technical proficiency, Mondaine's No.1 Bold Hybrid Smartwatch makes for a pretty compelling pick. That's because it comes with a Connected Quartz MOMT285-2 movement, enabling all of its functions at the push of a button. So, in addition to dynamic coaching, world time, and mobile notifications, it also has a motion activity and sleep tracker. Housed in a 43mm brushed stainless steel case, it's complemented by a simple dial and a brown leather strap — a true example of well-executed minimalist design.
Case Size: 43mm
Battery Life: 2 years
Water Resistance: 30 meters
Frederique Constant Smartwatch Vitality
At first glance, the Smartwatch Vitality could be confused for any of Frederique Constant's analog offerings, what with its 42mm stainless steel case and complimenting bracelet, Roman-indexed navy dial, and polished hands. However, dig a little deeper and you'll find that it's quite the capable hybrid. Along with a convenient digital display and intuitive crown control, the Smartwatch Vitality also offers integrated heart rate monitoring and real-time weather readouts. Top it all off with far-reaching in-app connectivity, and the result is a smartwatch that's ready to make a believer out of any anti-tech traditionalist.
Case Size: 42mm
Battery Life: 7 days
Water Resistance: 50 meters
Breitling Exospace B55
Rounding out our list is the Exospace B55, Breitling's first-ever connected chronograph. And while it may be a new direction for the Swiss-based brand, that's not to say the watch is any less of a complete package. On the contrary — courtesy of its in-house Breitling calibre B55 movement, the Exospace provides a suite of smart features, including notifications for emails, texts, calls, and appointments, as well as loggable chronograph splits, a countdown system with vibrating alarms, and automatic world time adjustment. And the rest, as they say, is business as usual for Breitling, with a 46mm titanium case, an accurate SuperQuartz movement, and a soft rubber strap.
Case Size: 46mm
Battery Life: 2 months
Water Resistance: 100 meters
The 40 Best Men's Watches For Any Budget
While we're happy to embrace the added functionality of smartwatches, we do recognize that traditional timepieces hold a certain charm. If you find yourself waxing nostalgic, be sure to check out our guide to the best men's watches for any budget.