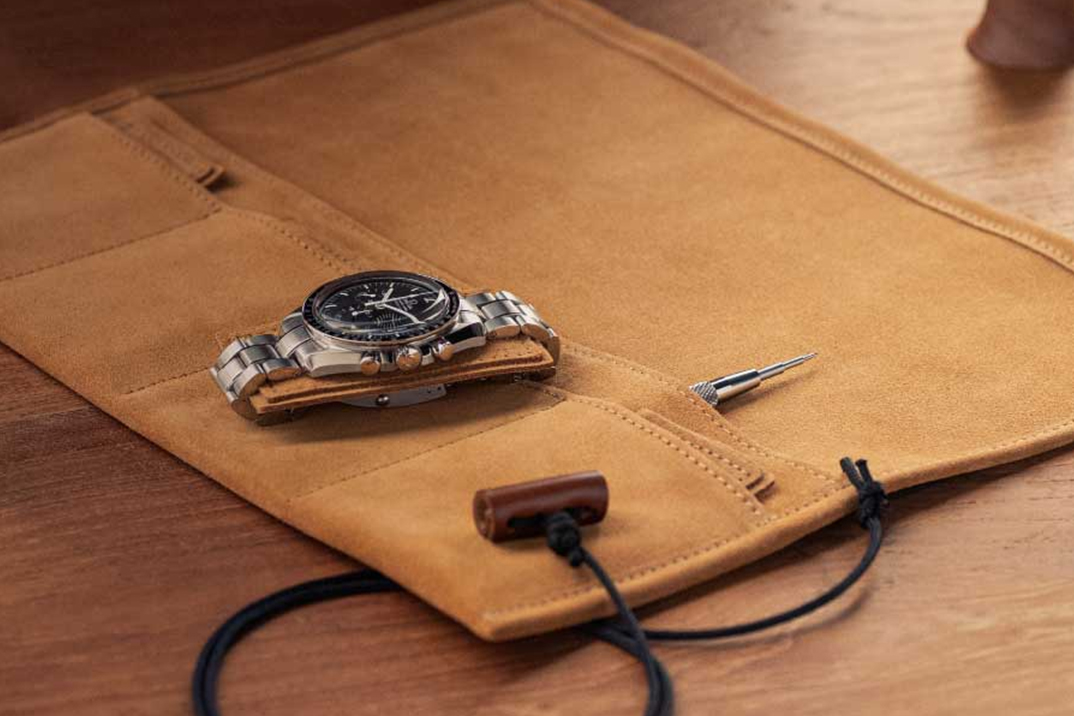 The best way to break something you love is by traveling with it. Whether you're doing something as simple as heading to work or going out on a long vacation – the likelihood of things breaking or getting lost on the way goes way up.
For watch enthusiasts, one of the best ways to protect timepieces from being scratched or broken is by throwing them in a travel watch roll or case. These simple canvas or leather rolls and boxes provide solid organization as well as protection from scratches on the crystal or dings on the case. But more than just satisfying a utilitarian need, these units are often crafted finely enough to be worthy of appreciation in their own right. Whether you're a budding watch collector who only aspires to have enough watches to justify a traveling case, or a seasoned vet looking for something new to throw in their carry-on – we're positive our list of the best travel watch rolls will satisfy.
Best Watch Rolls & Cases
Best Budget Case

WATCHPOD Travel Watch Case

Best Budget Roll

Convoy Tan Watch Roll

Best for Longer Trips

Crown & Buckle OD Canvas Watch Roll

Best for Home-and-Away

Mark and Graham Travel Leather Watch Holder

Most Rugged

NANUK 910 10-Watch Case

Best Overall Case

Hexagon Watch Tube

Best High-End Pouch

Shinola Travel Watch Case

Best Upgrade Case

Wolf Roadster Watch Roll
Watch Rolls Vs. Watch Cases
Cases: While watch cases take up more room and tend to be heavier than rolls, they also serve to protect your watches much better. Often made from sturdier materials, these units will be better if you're afraid of your timepieces getting crushed, and some of them even offer water- and dust-proof properties. Consider going with a case if you travel with more expensive or fragile watches.
Rolls: Watch rolls won't be optimal for more rugged travel adventures, but they do offer a compact alternative to cases, able to accommodate several pieces without taking up nearly as much space. Likewise, they're often more stylish and classy, made with attractive materials.
Hybrids: There are also roll-type cases that are meant to be compact, usually cylindrical, and don't require the watches to lie flat. However, these can also be a bit pricier.
What to Look For
Material: If you're storing your roll or case inside of a backpack or bag, you'll likely want to look for both interior and exterior materials that will hold up to repeated drops. Hard-shelled cases are optimal if you're worried about another bag crushing yours. As for watch rolls, which have the potential of being more stylish and lightweight than their counterparts, you're options will likely be either leather or canvas. Make sure you either sandwich these between piles of clothing or keep them on your person where you can make sure it doesn't get crushed. As for interior materials, they will almost always be something soft like suede or satin.
Capacity: Most people only wear a couple of different timepieces per trip. However, you may want to have some options, especially if you're not sure what type of outings you'll embark upon in your new destination. If you're planning on wearing a watch at all times, remember that you can add 1 to the roll or case's capacity.
Watch Size: If you're a fan of wider or thicker watches, make sure the roll or case you're purchasing can accommodate those girthy timepieces. Certain units can handle just about any size watch, but others cap out much lower.
WATCHPOD Travel Watch Case
Pros
Crush-proof
Incredibly durable exterior
Holds wide range of watch sizes
Cons
Would be nice if they made a smaller size too
Best Budget Case: Just because you're a wristwatch enthusiast doesn't mean the watches in your actual collection are worth thousands of dollars. If you're more Casio than Cartier, you should opt for the WATCHPOD Travel Case, a budget-friendly zippered pouch that will work perfectly when stowing your alternate timepiece in your carry-on. Not particular with its form, the case holds any watch up to 50mm, including smartwatches, inside of its crush-proof ballistic 1,680D nylon exterior. If you're wanting to test out the idea of a travel watch case, this one's for you.
Material: Ballistic 1,680D nylon
Capacity: 1 watch
Dimensions: 5″ x 5″ x 2″
Convoy Tan Watch Roll
Pros
Looks really classy
Has a bonus pocket for extra straps and tools
Suede is waterproof
Best Budget Roll: Talk about class. Convoy's Tan Watch Roll is designed to hold four timepieces at once inside its attractive Italian suede fabric. Measuring in at 12" by 10" unrolled, this roll provides a soft, protective barrier for each watch individually, with a much larger pocket spanning behind all of them for keeping extra straps and/or tools. Wrapped up and fastened with a braided cord tether and vegetable-tanned Buttero leather toggle, the pouch is also designed to patina over time as it gets handled more and exposed to the sun.
Material: Italian suede fabric
Capacity: 4 watches + extra straps/tools
Dimensions: 12″ x 10″ (unrolled)
Crown & Buckle OD Canvas Watch Roll
Pros
Holds a lot of watches
Beautiful color
Very rugged and lightweight
Cons
We wish there were more color options
Best for Longer Trips: If you're the type of person who never likes wearing the same watch twice in one week, then Crown & Buckle has the perfect option for you, and without weighing you down in the process. In terms of watch rolls, this OD Canvas option is about as rugged as you'll find, and lightweight considering it holds 6 timepieces at once. Known for its leather rolls, Crown & Buckle has crafted this unit out of OD green-colored nylon that's been lined with a tan microsuede on the interior and fastened with a classic hook-and-loop closure. Even the brand will admit that there's nothing extraordinarily groundbreaking about this watch roll, but at around $100, you can't beat it.
Material: Nylon canvas
Capacity: 6 watches
Dimensions: 15.25″ x 5.75″ (unrolled)
Mark and Graham Travel Leather Watch Holder
Pros
Looks really nice
Scratch-resistant velour lining
Displays nicely as well
Several color and size options as well
Best for Home-and-Away: The last thing you want to do after purchasing your brand-new watch case for home is buy an entirely new case for travel. That's where Mark and Graham's Travel Watch Holder comes in. Also available for 2 or 8 watches, although they don't display as well, this beautiful 4-watch box will look great on your credenza with its genuine leather exterior but will also keep your timepieces in great shape in your suitcase, with scratch-resistant velour lining and leather dividers. There are also several color options available, each with contrasting stitching around the box's edges.
Material: Genuine leather
Capacity: 4 watches
Dimensions: 7.75″ x 6″ x 3.5″
NANUK 910 10-Watch Case
Pros
Virtually indestructible
Waterproof and dust-proof
Backed by lifetime warranty
TSA-approved locks
Cons
Most people don't need to travel with 10+ watches
Some slots are a bit narrow for wider watches
Most Rugged: You won't typically be traveling with 10 timepieces, but the NANUK 910 case is so resilient that you could actually use it as a protective housing at home as well. With an IP67 rating against dust and water, making it virtually indestructible (and backed with a lifetime warranty), the 910 is constructed using the brand's proprietary mil-spec NK-7 resin and closed with its PowerClaw latching system. The interior foam is a Cross-Linked Polyethylene (XLPE), which also keeps your watches padded inside. What's more, the case's locks consist of two metal eyelets that are TSA-approved so you can securely bring your watches on any flight.
Material: Mil-spec resin
Capacity: 10 watches
Dimensions: 14.3″ x 11.1″ x 4.7″
Hexagon Watch Tube
Pros
Combines compactness of a roll with durability of a case
Available in four colorways
Good for displaying too
Pillows can be removed one at a time
Roll-proof shape
Best Overall Case: The benefits of a watch case can often outweigh its cons, but with the Hexagon Watch Tube, you can have your cake and eat it too. Pairing the compactness of a watch roll with the durability of a case, it fits up to three timepieces inside of its attractive nylon housing — available in one of four colorways — that snaps closed. On the inside, the watches don't rest flat, like they're required to be able to do in order to fit inside of a roll. Rather, you place them around microsuede pillows that can be removed one at a time. If that's not enough, the hexagonal shape makes it optimal for resting on your countertop because it won't roll off.
Material: Nylon
Capacity: 3 watches
Dimensions: 8.5″ x 3.25″ x 3.5″
Shinola Travel Watch Case
Pros
Super compact
High-quality leather exterior
Zippered closure really reliable
Cons
Only fits flat-lay watches under 47mm
Pricey for what you get
Best High-End Pouch: For the past decade, Shinola has imbued each and every one of its timepieces with the spirit of American heritage. Resurrecting the name of a fallen shoe polish brand, the Detroit-based firm is now one of the premier watchmakers on U.S. soil. Its Travel Watch Case follows suit, encasing two timepieces inside the zippered pouch, which is made from Vachetta leather on the outside and lined with soft suede on the inside. The brand, of course, recommends its own watches to go inside, but you can fit just about any flat-laying pieces up to 47mm in diameter.
Material: Vachetta leather
Capacity: 2 watches
Dimensions: 6.5″ x 3.75″ x 1.5″
Wolf Roadster Watch Roll
Pros
Beautiful luxury car-inspired design
Has secret compartment for smaller jewelry
Keeps watches really well protected
Best Upgrade Case: When it comes to watch winders and other forms of watch storage, Wolf is the de facto king of the space, but for good reason. When you focus so obsessively on one goal, you're going to beat out the competition almost every time. Housing three watches at a time, the Roadster Watch Roll is just one of many from the brand but is the best bet in terms of style and function. Paying homage to British luxury cars, the roll-case hybrid sports a pebble vegan leather exterior and diamond satin lining on the inside. Each timepiece is paired with one of the brand's patented Watch Guards. And if you enjoy traveling with more than just watches, the secret, patent-pending jewelry capsule can fit rings, cufflinks, and other smaller objects.
Material: Pebble vegan leather
Capacity: 3 watches + rings and small jewelry
Dimensions: 8″ x 3.25″ x 3.25″
The Best Watch Winders
Hate needing to reset your watch every time you work it back into your rotation? Well, check out our guide to the best watch winders to keep those timepieces ticking.