As we've transitioned into the modern day, a number of life's simple pleasures have become more mundane — thanks, in large part, to the innovation brought about by technology. While a large portion of the world's leading industries have been affected by the industrial and technological revolutions, there are a handful of areas that have retained their nostalgic roots — with one of the most admirable being horology.
The study of time (and the instruments surrounding it) has maintained a steady stature over the past century, and although the industry has seen the widespread implementation of precise machinery, innovative mechanical components, and newly adopted styles, there are areas of the wristwear world that remain unchanged. From time-tested movements, case constructions, and domed sapphire crystals, all the way to one of the watch's smallest aspects, the band, each specific component bears the brunt of daily wear — so, it's only right to want the highest quality peripherals you can get. When it comes to wristwear's most "secure" adornment, the world's most influential adventurers, connoisseurs, and aficionados have turned to the customizable rubber strap — an article that can often be overlooked, but never undervalued. Below, we'll outline some of the most prolific rubber offerings the industry has to offer, from synthetic products all the way to the world's most supple, natural variants. So strap in and prepare for a crash course regarding the most personalizable, customizable aspect of your favorite wrist accessory.
Otto Frei Swiss Tropic
Otto Frei's Swiss Tropic is another viable, capable rubber strap, hailing from none other the company's California-based workshop. While its 20mm buckle size and 22mm lug maintain a consistent size throughout, there are a variety of offerings that are sure to fit your needs — and thanks to a 2 ¾ inch buckle end, 4 ¾ inch tongue end, and a functional range of 3 ¾ inches to 6 ¾ inches, it's safe to say that the Swiss Tropic comprises everything you could ever want out of a multipurpose silicone rubber watch strap.
Barton Bands Elite
Barton Bands' Elite strap is a quick release variant that has garnered attention within the watch community due to its premium textured top. It features a durable 316L stainless steel buckle that won't bend, warp, or break, as well as a 2mm taper from the head (where the watch sits) to the lower end of the silicone peripheral. A substantial 70A durometer, high-tensile silicone makes up the primary portion of the strap, while an integrated quick release spring bar allows for quick, hassle-free swaps between different styles, types, and colors, without the need for tools. Better yet, each individual strap comes with two included lengths to ensure an adequate fit, every single time.
Nodus Tropic Rubber
Nodus' Tropic Rubber strap takes notes from some of the industry's high-end offerings, providing the style and durability of upper echelon builds but at an affordable price point. And, like many of the offerings on this list, the company puts an emphasis on the heritage of the Tropic strap, as a whole — integrating a lightly-scented rubber without any lint (or dust) attracting silicones, and a durable silhouette that can resist water, heat, oil, and other external inhibitors — all while retaining a vintage style to augment your most prized wristwear. As an added bonus, Nodus' flagship strap is comprised of NBR rubber, a comfortable, soft material that will never leave your wrist feeling over-encumbered during wear.
ZULUDIVER Vintage Tropic
ZULUDIVER's Vintage Tropic straps are a perfect example of purposeful wristwear accessories, bringing a number of vital characteristics like UV protection, environmental resistances, and tailored function into the realm of everyday wear. The company's Vintage strap was inspired by the original Swiss Tropical rubber that adorned many of the most prolific dive watches from the 1960s (and '70s), eventually transitioning from the realm of outdoor wear to that of the luxury timepiece realm. From renowned watch manufacturers like Blancpain and Tudor, all the way the pinnacle of Swiss craftsmanship, Rolex, these high-quality NBR rubber bands have been designed to provide the utmost quality, protection, and poise in regards to your prized wristwear. Better yet — ZULUDIVER's Vintage Tropic boasts significant salt-water and ultraviolet resistance, making it an avid choice for everything from luxury wear, all the way to technical diving.
Uncle Seiko Tropic Strap
There's nothing like an attractive, affordable watch strap that can still cover all the bases of its more expensive counterparts, and Uncle Seiko's Tropic Strap certainly "overachieves" in a number of ways. Influenced by the standards set forth by many of the prominent diver's watches throughout the 1960s and '70s, these 19, 20, and 22mm straps successfully integrate the period's iconic style, while focusing on the needs of modern watches. They're built to last, and thanks to legions of satisfied consumers, the brand has become a mainstay within the affordable watchstrap community.
Joseph Bonnie Tropic
Joseph Bonnie's Tropic band has been developed to fill the hypoallergenic niche found within the rubber-adorned watch realm, bringing an attractive silhouette and world-class resistances to the table, while providing all of the positives associated with a traditional offering. The band focuses on its commitment to the classic style, offering a variety of different colorways (including black, blue, and khaki), and an omnipresent heritage that honors the most prolific dive watches of the '60s and '70s. Bonnie's Tropic boasts a number of iconic characteristics, from typical circular perforations and a durable, stainless steel buckle, all the way to an Easy-Bar system that lets you swap styles, colors, and sizes with ease, and comfortable, flexible construction, courtesy of hypoallergenic silicone. To further the strap's legitimacy, the Tropic is resistant to salt-water — so you won't have to think twice about wearing it for your next surf trip.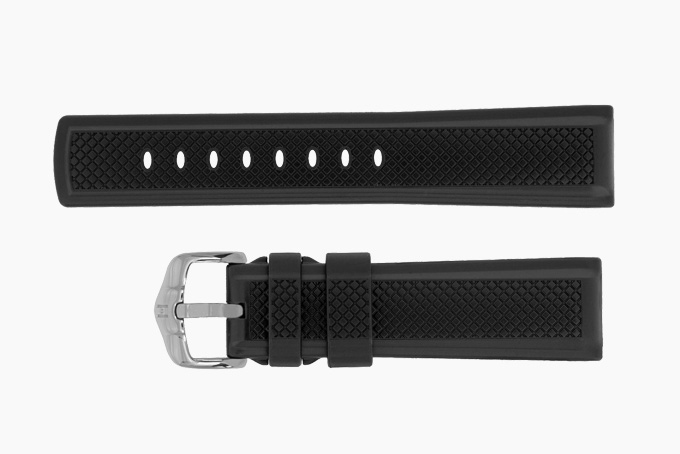 Hirsch ACCENT
Hirsch's ACCENT strap is an adventure-oriented peripheral that's focused on both longevity and dependability. It sports a handful of interesting traits, from "peerless" water-resistance and an intricate lattice texture that sets it apart from the competition, all the way to tear-proof properties and an optional quick release deployment clasp that lets you swap out styles, colors, and lengths with ease. Each strap is hand-made using premium Caoutchouc, a natural rubber that's comfortable, durable, and soft, giving the wearer peace-of-mind when joining the ACCENT with his favorite wristwear. This unique adornment was built to withstand anything, and, as per the company's own mission statement, it's been tailored to fulfill all of the needs of any avid adventurer — making it a discernable choice for those who like to spend their lives "on the edge."
Shinola 24MM
You might recognize Detroit, Michigan's Shinola as one of our favorite watchmakers, so, the natural assumption would be that the company's 24mm rubber watch strap is of the best that the industry has to offer. Just like the rest of the brand's high-quality offerings, the 24mm black rubber strap doesn't disappoint, bringing the manufacturer's exact specifications, durability, and comfort to the forefront. Shinola's American-made rubber uses a nitrile base, which has quickly become the industry standard for high-end watch straps thanks to its resistance to oil, sweat, chemicals, heat, and cold. Better yet, a significant portion of the R&D surrounding the 24mm has gone into wearability and comfort, ensuring an adequate fit that won't leave you itching to remove your favorite watch after a long day.
ISOfrane 1968
ISOfrane's 1968 is yet another high-end offering that fulfills the niche of hypoallergenic bands, bringing a top-of-the-line fit and feel that forgoes the use of silicone. The company's heritage traces back all the way to the 1960s, the golden age of the dive watch, where ISOfrane's rubber straps were used on a variety of the period's most prevalent offerings, from Omega, Tissot, and Aquastar, all the way to brands like Squale and Scubapro. All-original ventilation bars and slots pay respect to the brand's storied platforms, while newly adopted materials and synthetic compounds brought over from the automotive industry provide a durable, protective composition. Even the various buckle styles are forged and hand-finished, giving a nod to ISOfrane's renowned quality.
Everest Curved End Rubber
Everest's renowned straps are the pinnacle of the rubber peripheral world, boasting a precision fit that's custom tailored to the industry's high-end watch models. The Curved End rubber strap, in particular, has been developed to fit the exact specifications set forth by the legendary Swiss watch company, Rolex, for use on their most prominent variants. Seven customized colors comprise Everest's expansive rubber strap offerings, from black, blue, orange, and green, all the way to grey, red, and white — giving you the perfect opportunity to express yourself, no matter the occasion. But it doesn't end there — the company's top-of-the-line offerings are also UV-, dust-, water-, and chemical-resistant, courtesy of Everest's proprietary precision vulcanized Swiss rubber, which boasts the title of "highest quality rubber in the world." You'll never have to worry about a comfortable fit ever again, thanks to the brand's notoriously soft products, and for those who are a bit more "sensitive" to rubber, rest assured — the Curved End is also hypoallergenic.
15 Best Dive Watches Under $2,000
Now that you've become acquainted with some of the best utilitarian straps the luxury and dive watch industries have to offer, head over to our guide on the best dive watches under $2,000 to see the iconic platform in action.