There is an almost limitless number of watch complications available for collectors and casual-wearers to consider adding to their wrists, from the simple date to the romantic moonphase to the complex perpetual calendar. But none have quite the pull or the popularity of the chronograph. Chronograph watches have been consistently lauded for the better part of the last century, and several chronograph models remain some of the most sought-after pieces on the market today. But what are the best chronograph watches?
For this guide, we'll be taking a look at 20 of the best chronographs available today. Our list covers a wide range of chronographs, from a sub-$100 quartz beater to a $205,000 precious metal expression of haute horology and everything in between. You'll see offerings from heavy-hitters like Rolex, Omega, and Breitling, while also possibly discovering some new brands in the process. But one thing all of these watches have in common is that they are all fantastic examples of one of the most useful watch complications. So take a look below to discover the 20 best chronograph watches you can buy.
What Is A Chronograph?
And Why You Should Get One
First things first, we need to explain what a chronograph is. To put it simply, it's a stopwatch that's housed within your watch. Most chronographs have two pushers — one to start and stop the timer, and another to reset it — along with subdials/registers to measure the elapsed minutes and, often, hours. Once the "start" pusher is pressed, the chronograph seconds hand is activated and tracks the seconds up to one minute. At that point, the minutes register records that minute as the seconds hand continues tracking time, continuing until the minutes and hours registers have reached their fill. So why would you need such a thing?
Well, for a couple of reasons. First, chronographs are pretty useful. Whether you're doing laundry, cooking, or logging rest time between sets in a workout, you'd be surprised at how often you'll find yourself needing to time something. Secondly, and there's really no elegant way to put this, chronographs are just cool. They have historically been used extensively in the fields of motorsports, aviation, and even space exploration, and many celebrity style icons — like the two "Kings of Cool," Paul Newman and Steve McQueen — are remembered for their signature chronograph watches. So isn't it time you got one too?
A Word About Movements
What's Under The Hood
A watch's movement is essentially its engine. It's what makes the watch run, what keeps the time, and, in this case, it's what operates the chronograph. Here are the four types you'll see on this list.
Quartz: The most-inexpensive type of watch movement is the quartz movement. Quartz movements require batteries to power an oscillating electronic circuit that is regulated by a quartz crystal. They are very low-maintenance and cheap to obtain and repair, but are more accurate than most mechanical watches. But despite their accuracy and convenience, quartz movements are generally less popular among watch aficionados due to their lack of craftsmanship and build quality, as well as less-tangible factors like the history and romance of mechanical watches.
Meca-Quartz: A fairly new type of movement that has proliferated in recent years are these so-called "hybrid" movements. They use a regular quartz movement for the timekeeping, but it's stacked with a mechanical chronograph module. This gives the seconds hand a mechanical-type sweep that is missing from most (but not all) quartz chronographs, as well as a more tactile feel for the pushers and at least some feeling of having an actual gear-filled machine on your wrist. Offered by a growing number of manufacturers, most meca-quartz watches on the market use movements from Seiko's VK line.
Manual-Wind: One of the two types of mechanical movements, manual-wind or hand-wind movements must be wound in order to continue running. Turning the crown of a manual-wind watch winds up the mainspring, which then drives power through a series of gears to the escapement, which oscillates at a set frequency to slowly release that power and keep consistent time. Once that power runs out, the watch will stop, which is why manual-wind watches must be wound continuously to run — usually, every couple of days, depending on the power reserve of the movement.
Automatic: The other type of mechanical watch movement is automatic. It functions exactly the same way as a manual-wind but with one key difference. Fitted to the back of a movement is a weighted rotor that is also capable of winding the mainspring. The rotor will spin easily when the watch is moved, so as long as you're wearing your automatic watch, it won't stop running. Like manual-wind movements, automatics also have power reserves that will keep the watch running for a couple of days without being worn or wound.
Types Of Chronographs
From Simple Stopwatches To Haute Horology
Simple: The most basic chronograph, and the one you'll see most commonly, is a simple chronograph. This is a chronograph with two pushers, usually at the two and four o'clock positions. The top pusher typically activates the chronograph when pressed once, and stops it when pressed again while it's running. Pressing the bottom pusher then resets the chronograph, as well as any registers that were tracking it.
Monopusher: A fairly uncommon type of chronograph is the monopusher. These movements require some clever engineering, as they utilize a single pusher — which is sometimes even housed within the crown — that starts, stops, and resets the chronograph, offering a non-descript and less-cluttered chronograph design.
Flyback: Another rare type of chronograph is the flyback. In normal chronographs, pressing the reset pusher while the chronograph is running will either do nothing or mess up your movement. But on a flyback chronograph, pressing the reset pusher while the chronograph is running will cause the seconds hand to "fly back" to zero and instantly start counting again. This complication is useful for timing consecutive intervals, like say, laps around a race track.
Rattrapante: The most complicated and rarest type of chronograph is the rattrapante, or split-seconds chronograph. This type of movement houses two chronograph seconds hands, stacked one on top of the other. While the chronograph is running, pressing a pusher (its location varies depending on the model) causes one of these seconds hands to "split" away, marking whatever time you wanted to record. Meanwhile, the other seconds hand continues its journey unabated, tracking the elapsed time. When you're done, press your pusher again and your split seconds hand will instantly catch up to its twin, where it will continue its discrete sweep until called on again.
Timex Weekender Chronograph
Every watch collection needs a beater watch — something you can throw on while doing chores, working on your car, or anything else that may end up causing harm to the watch. Timex, the American heritage brand that takes a licking and keeps on ticking, has a catalog full of beaters, and one of their most classic designs is the Weekender. In its chronograph form, the Timex Weekender is an easy-wearing, good-looking, and perfectly-capable watch that you will never have to baby.
Case Size: 40mm
Movement: Quartz
Chronograph Type: Simple
Seiko SNA411P1 "Flightmaster"
Nicknamed the Flightmaster, this complicated pilot's chrono from Seiko has a loyal and passionate following. Despite its low price tag, this quartz watch manages to pack in a ton of features, as you may have guessed by the very busy dial and bezel. In addition to the smooth-sweeping chronograph, the Flightmaster features a slide rule bezel for basic flight calculations, a date complication, and an alarm function. And with its screw-down pushers and crown, the watch even boasts a very unexpected diver-like 200m water resistance.
Case Size: 42mm
Movement: Quartz
Chronograph Type: Simple
Seagull 1963
One downside of mechanical chronographs is they tend to be very costly, with prices typically starting around $2,000. The exception is the Chinese-made ST19 manual-wind movement, an aesthetically-pleasing column wheel chronograph that's effectively a clone of the Swiss Venus 175 movement from the 1940s. Seagull, the manufacturer of the ST19, has a reputation for saving the best examples of the movement for its own line of watches, and that's exactly what you get in the Seagull 1963, along with some vintage good looks inspired by the ST-19-powered watches worn by mid-century Chinese pilots.
Case Size: 38mm
Movement: Manual-Wind
Chronograph Type: Simple
Yema Rallygraf
Mario Andretti is considered one of the greatest racecar drivers of all time and is the only person to win the Daytona 500, the Formula One World Championship, and the Indy 500. And when Andretti won the latter in 1969, he did so with a Yema Rallye on his wrist. This modern Yema is a modern meca-quartz reinterpretation of that watch, with outstanding vintage motorsports-inspired styling and — unlike the almost-limitless number of meca-quartz retro racing chronograph microbrands on the market — some actual automotive heritage behind it.
Case Size: 39mm
Movement: Meca-Quartz
Chronograph Type: Simple
Citizen Promaster Tsuno Chronograph Racer
A longtime favorite of vintage watch collectors is Citizen's "Bullhead" chronographs from the 1970s, so named for the fact that their two pushers are located on the top of the case rather than on the side, resembling horns. This is Citizen's modern reimagining of the Bullhead, and while it's no longer powered by an automatic movement like the original, its hand-assembled, solar-powered Eco-Drive quartz movement still features a smooth-sweeping chronograph hand while also adding the functionality of an alarm and a handy power reserve indicator.
Case Size: 45mm
Movement: Quartz
Chronograph Type: Simple
Farer Bernina
When Farer designs a watch, you can be sure it won't look like anything else on the market. The brand has quickly become known for its creative use of color, and the manual-wind Bernina chronograph may be the best expression of Farer's design ethos yet. With a cream dial and white ceramic bezel paired with red and blue hands and accents, the Bernina sounds weird but looks amazing, and really stands out in a crowd. It's also the official timing watch for the Bernina Gran Turismo, providing a nice motorsports link to what is fast becoming a modern classic.
Case Size: 41mm
Movement: Manual-Wind
Chronograph Type: Simple
Hamilton Intra-Matic Chronograph H
The automatic version of the Intra-Matic Chronograph was already arguably the best chrono available at the $2K mark, and now Hamilton has sweetened the pot by outfitting the watch with an exclusive new manual-wind movement, Cailber H-51, which boasts an extended 60-hour power reserve. The watch maintains the same good looks inspired by Hamilton's 1968 A & B Chronographs, but adds a few stylistic tweaks, including a generously domed sapphire crystal that gives off an extra air of vintage charm.
Case Size: 40mm
Movement: Manual-Wind
Chronograph Type: Simple
Sinn 103
German watchmaker Sinn pretty much does one thing: it make extremely capable and high-quality tool watches. The 103 pilot's chronograph is one of the brand's most iconic models, with its classic black and white looks, Arabic indices, and syringe hands offering retro-yet-timeless style. Beating away inside is an automatic movement based on the well-worn and reliable Valjoux 7750, with its trademark left-hand register layout. The Sinn also mixes up the formula with features not often seen on a chrono, including a day-date complication, 60-minute timing bezel, and 200m water resistance.
Case Size: 41mm
Movement: Automatic
Chronograph Type: Simple
Longines Master Collection L2.673.4.78.3
While a chronograph is one of the better-known watch complications, it's far from the only one. The trouble is, as the number of complications on a mechanical watch rises, so does the price. But that's not the case with this Longines, which features a chronograph, triple-date calendar, 24-hour indicator, and a moonphase for far less than expected. Sure, there are a handful of other brands offering this same Valjoux 7751-based movement, but none have figured out how to put it in a watch that's nearly as classy and attractive as this one from one of the most legendary Swiss brands.
Case Size: 40mm
Movement: Automatic
Chronograph Type: Simple
Frederique Constant Flyback Chronograph
Flyback chronographs are traditionally relegated to the realm of haute horology, often being found in watches that cost five or six-figures. But upstart Frederique Constant has a habit of making complicated in-house movements at insanely low prices (comparatively speaking), and that's what we've got here. Housing the company's own FC-760 Caliber movement, this watch is likely the most-affordable in-house flyback chronograph on the market. It also has great finishing and Patek-like good looks, with a gorgeous midnight blue dial that provides seemingly endless depth.
Case Size: 42mm
Movement: Automatic
Chronograph Type: Flyback
Tudor Heritage Chrono
Tudor is the rebellious kid brother of Rolex, and as a result, it gets to dress up in all kinds of crazy ways that its stuffy sibling would never even dream of. Case in point: this colorful stunner that's based on Tudor's racing chronographs from the wild and wacky '70s. That decade was full of experimental and flamboyant wrist-worn race timers, and Tudor is bringing the look back with the funky and fun Heritage. The watch features a rotating 12-hour bezel rather than a tachymeter, a practical feature that allows the wearer to track two timezones simultaneously.
Case Size: 42mm
Movement: Automatic
Chronograph Type: Simple
Montblanc 1858 Monopusher Chronograph
Although Montblanc has been crafting luxury goods for 115 years, they've only been making watches for a little over 20. But in that time they've quickly figured out what they're doing, as this impressive piece shows. The company develops in-house movements through its Minerva subsidiary, and this watch — whose looks were inspired by Minerva's early-twentieth-century exploratory offerings — has a Montblanc-exclusive monopusher movement, giving the watch full chronograph capability without cramping its subdued vintage styling.
Case Size: 42mm
Movement: Automatic
Chronograph Type: Monopusher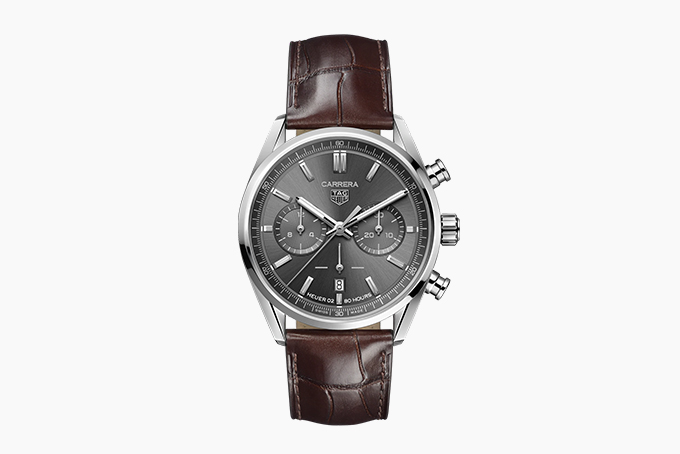 TAG Heuer Carrera
Few if any companies can claim as many iconic chronograph models as TAG Heuer, with the Monaco, Autavia, and Carrera all having cemented vintage Heuer as a force in 1960s and 1970s motorsports culture. But the Carrera stands above the rest as the most versatile and, arguably, attractive of the bunch. In many ways, it's the prototypical auto racing chronograph with its piston-style pushers, tricompax layout, and stick hands, and it's guaranteed to always look good — regardless of whatever you happen to be driving while wearing it.
Case Size: 42mm
Movement: Automatic
Chronograph Type: Simple
Omega Speedmaster Moonwatch Professional
When you heard the word "chronograph," there's a good chance that this is what you see in your mind's eye. The Speedy is easily the world's most-iconic chronograph, if not its most-iconic watch outright, thanks in large part to its having been worn on the moon during the initial Apollo 11 mission. But that's not all it has going for it. The Speedy is produced by Omega, one of the most prestigious watchmakers in the world. It has simple and versatile styling that goes with literally everything. And the newest iteration houses a brand-new movement that's gone through Omega's highly-stringent METAS Master Chronometer certification process.
Case Size: 42mm
Movement: Manual-Wind
Chronograph Type: Simple
IWC Portugieser Chronograph
As one of the leading luxury Swiss watchmakers, IWC churns out a number of recognizable and coveted pieces. But the Portugieser is arguably their most identifiable line, with a 1930s marine-inspired design that hasn't changed much in nearly a century. The chronograph version sports a two-register layout in a unique and recognizable 12/6 arrangement, which lends a pleasing symmetry to the spacious dial. Everything about this watch just screams "classy," and it works equally well with a suit as it does on the open water.
Case Size: 41mm
Movement: Automatic
Chronograph Type: Simple
Breitling Navitimer
If you're into pilot's chronographs, then this right here is as good as it gets. The Navitimer debuted back in 1953, and, pretty much ever since then, it has been recognized as the pilot's chronograph. From the three-register layout to its trademark busy dial to that toothy slide rule bezel, everything about the Navitimer suggests that it needs to be paired with some aviator sunglasses and a leather flight jacket at 30,000 feet. It's still a looker at sea level, too, with a reputation as one of the most robust and iconic sports watches in the world.
Case Size: 43mm
Movement: Automatic
Chronograph Type: Simple
Zenith Defy El Primero 21
Depending on whom you ask, Zenith may or may not have invented the automatic chronograph with the original El Primero movement in 1969 (there's some debate over which of the handful of competing companies' movements was actually the first). But there's little debate about who's making the best automatic chrono movements today. This thoroughly-modern Defy model houses the latest version of the venerated El Primero, the El Primero 21, with a chronograph capable of tracking down to an astonishing 1/100th of a second. You may never need to use it, but you'll be awfully glad it's there just the same.
Case Size: 44mm
Movement: Automatic
Chronograph Type: Simple (with 1/100th Second-Counter)
Rolex Cosmograph Daytona
After the Speedmaster, this has to be the world's most iconic chronograph. From its legendary association with Paul Newman to its current market-busting exclusivity, the Daytona now finds itself perched at the top of Rolex's illustrious lineup. That wasn't always the case, but the world has finally come around to this modestly-sized and extremely-handsome racing chronograph, prizing its thick, engraved, ceramic tachymeter bezel, its unique subdial-surrounds, and that perfect curved "DAYTONA" print in red above the active seconds counter. It is sublime.
Case Size: 40mm
Movement: Automatic
Chronograph Type: Simple
A. Lange & Sohne Triple Split
There are many who would suggest that Lange is the greatest manufacturer of mechanical movements on the planet today, and it would be difficult to argue with them. The German watchmaker is simply operating on another level, as exhibited by this remarkable timepiece. The Triple Split is the world's only triple-rattrapante chronograph, meaning that not only are you able to split the chronograph seconds hands for timing multiple events, but you can also split the chronograph minutes and hours hands, too. This is essentially three split-seconds chronograph modules operating within a single movement, which is, in a word, ridiculous.
Case Size: 43.2mm
Movement: Manual-Wind
Chronograph Type: Triple-Rattrapante Flyback
Patek Philippe Perpetual Calendar Chronograph 5270P
Since their introduction in the 1940s, Patek's line of perpetual calendar chronographs has been considered the pinnacle of watchmaking. Combining two of the "big three" complications in a single watch remains exceedingly difficult eight decades later, which is why so few watchmakers offer them even today. The latest iteration in Patek's most-legendary line is the 5270, which is especially tempting in the 5270P execution with its platinum case, exquisite salmon dial, and blackened gold indices. If you've got 200 grand to spend on a watch, you might as well get the best.
Case Size: 41mm
Movement: Manual-Wind
Chronograph Type: Simple (with Perpetual Calendar)
The 24 Best Vintage-Style Dive Watches
If you're building a watch collection, you're going to need more than a chronograph. One piece that you'll definitely want to pick up is a dive watch — arguably the most essential watch style there is. But you shouldn't settle for just any dive watch. Instead, you should go for a classic look by checking out our guide to the best vintage-style dive watches on the market today.