For many watch enthusiasts, their collections begin and end with the mechanical. Whether hand-wound or automatic, the vast majority of watches that collectors and aficionados drool over are powered by nothing more than a collection of gears and springs. Because of this, quartz watches tend to get overlooked by many in the watch community. That's a shame because a great number of battery-powered timepieces are fully deserving of your attention — and we've laid out our favorites this guide to the best quartz watches currently on the market.
Although they lack the centuries-long history and romance of mechanical watches, quartz watches are still worthy of a spot in your collection — and on your wrist. For one, they're considerably more accurate than mechanical watches, with the best examples only being off a few seconds per year. The top-of-the-line mechanical watches, meanwhile, will deviate a couple of seconds a day. Quartz watches also require less maintenance, typically only needing a battery change every few years, and are generally more durable and not as easily damaged. This "grab and go," "set it and forget it" convenience of quartz watches is certainly their main draw, and their general thinness and affordability only serve to sweeten the pot. But rather than continuing to sing the praises of quartz watches, we'd rather just show you the best examples that you can go out and buy right now.
Timex Q Timex Reissue
Although Timex has resurrected its mechanical watch business in recent years, the American heritage brand is still largely working within the battery-operated realm. Leading the charge on that front is the Q Timex Reissue, a wildly popular reimagining of a 1979 Timex that has reinvigorated the brand and injected a large dose of coolness into its lineup. A wide range of variations of the Q exist, and they're so ridiculously affordable that you might as well pick up a few of them.
Case Size: 38mm
Case Thickness: 11.5mm
Water Resistance: 50m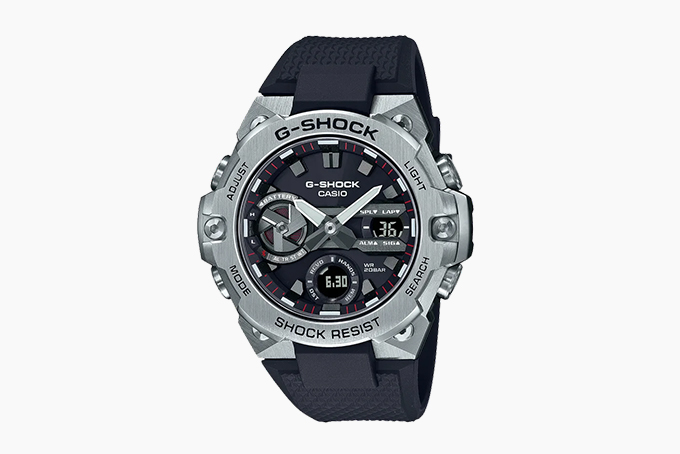 G-SHOCK GSTB400
No list of the best quartz watches would be complete without a G-SHOCK. The Casio offshoot is known for crafting some of the most rugged watches in existence, and a surprising number of watch enthusiasts have at least one G-SHOCK kicking around in their collection. For our money, the GSTB400 line offers perhaps the brand's best combination of trademark toughness and stylish elegance. It's the thinnest G-STEEL series watch the brand has ever produced, yet it's still loaded with all of the goodies we've come to expect, like a world timer and Bluetooth connectivity.
Case Size: 46.6mm × 49.6mm
Case Thickness: 12.9mm
Water Resistance: 200m
Dan Henry 1972 Maverick Chronograph
Brazilian watch collector extraordinaire Dan Henry is the brains behind his eponymous microbrand that boasts a catalog of vintage-style pieces that are inspired by his own world-class collection. Perhaps the brand's most daring and interesting piece is the 1972. Based on watches from the same year, it not only boasts identifiable half-century-old styling, but it houses a unique alarm chronograph movement; the type of which that's almost never seen in modern analog quartz watches (or mechanical ones, for that matter).
Case Size: 41mm
Case Thickness: 12.7mm
Water Resistance: 50m
Citizen Promaster Diver Super Titanium
Proprietors of Eco-Drive technology, quartz movements that are powered by any light and almost never need a battery replacement, Citizen is another brand whose inclusion on this list was a no-brainer. The vast majority of Citizen's catalog is powered by Eco-Drive, ranging from budget timepieces to expensive luxury examples. Our choice is near the lower end of the price spectrum, but it shouldn't be underestimated. The Promaster is a legendary dive watch line from the Japanese brand, and this classically-styled version of the watch is crafted from Citizen's proprietary and nearly-scratchproof Super Titanium material.
Case Size: 44mm
Case Thickness: 12mm
Water Resistance: 200m
Tissot PRX
While Tissot's subsequent release of the Powermatic 80-powered version of this watch may have stolen a bit of its thunder, the OG PRX remains one of the best bargains in the industry. For less than $400 you're getting a retro-styled integrated bracelet sports watch with incredible finishing, 100m water resistance, a very on-trend look, and all from a brand in Tissot that boasts a ton of actual Swiss watchmaking heritage. Even mechanical watch snobs would be tempted to add one of these to their collections.
Case Size: 40mm
Case Thickness: 10.4mm
Water Resistance: 100m
Brew Metric
Arguably the most popular quartz-centric microbrand out there, Brew is the brainchild and passion project of industrial designer Jonathan Ferrer, who pens each of the marque's showstopping watches. The Metric is one of Ferrer's funkier designs, with a cushion case, an asymmetrical chronograph layout, a nicely-finished integrated bracelet, and a number of fun retro colorways. Another quirk, and a signature of the coffee culture-inspired brand, are the special markings on the chapter ring that are designed to help you time the perfect espresso shot.
Case Size: 36mm x 41.5mm
Case Thickness: 10.75mm
Water Resistance: 50m
Bulova Lunar Pilot
Every watch enthusiast knows that Omega's Speedmaster Professional was the first watch to be worn on the moon. But what you may not know is that it wasn't the only watch to make the trek to the lunar surface. During 1971's Apollo 15 moon landing, a Bulova prototype chronograph was worn on the moon, and this is the brand's modern recreation of that watch. While the original was mechanical, Bulova utilizes its high-tech 262 kHz quartz chronograph caliber in the redux; an impressive movement that boasts a smooth sweep and accuracy to within seconds per year.
Case Size: 45mm
Case Thickness: 13.5mm
Water Resistance: 50m
Luminox Original Navy SEAL Evo 3001 Blackout
For nearly 30 years now, Luminox has been associated with one of the world's toughest and most revered military forces: the U.S. Navy SEALs. In 1994, the brand developed the first Navy SEAL watch with the military outfit, and this blacked-out version is a modern interpretation of that groundbreaking original piece. Equipped with 200m water resistance, a lightweight CARBONOX case and bezel, and Luminox always-on light technology that lasts up to 25 years, this watch is ready for any mission.
Case Size: 43mm
Case Thickness: 13mm
Water Resistance: 200m
Seiko Prospex "Arnie"
Moving from a watch associated with real-life soldiers to one whose claim to fame rests with an on-screen one, Seiko's "Arnie" is no less impressive. The modern reissue of the '80s quartz Seiko that Arnold Schwarzenegger strapped to his sizable wrist while shooting up the jungles of Predator and Commando, the updated Arnie maintains the original's iconic ana-digi display but adds a solar-powered movement to the mix, making this example even better suited to jungle warfare (or, you know, a weekend camping trip).
Case Size: 47.8mm
Case Thickness: 15mm
Water Resistance: 200m
Victorinox I.N.O.X.
A modern icon from the makers of the Swiss Army Knife, the I.N.O.X. is arguably the toughest Swiss watch there is. This watch is notoriously the survivor of 130 "extreme endurance homologation tests" performed by the brand, so you can be sure that it will certainly live through whatever punishment you plan on subjugating it to. The I.N.O.X. is built like a tank… actually, it's built tougher than a tank, considering one of those aforementioned tests was being driven over by a 64-ton tank and living to tell the tale, or rather, the time.
Case Size: 43mm
Case Thickness: 14mm
Water Resistance: 200m
Junghans Max Bill Quartz
As the old adage goes: if it ain't broke, don't fix it. That saying very much applies to Junghans' Max Bill, a dress watch whose appearance has barely changed since it first debuted 60 years ago. Named after its eponymous designer and considered a quintessential symbol of the Bauhaus design movement, the Max Bill is a staple in the German watchmaker's collection and is available in automatic, hand-winding, chronograph, and even solar-powered versions. But the most affordable is this simple time-and-date quartz model that measures in at a scant 7.9mm thick.
Case Size: 38mm
Case Thickness: 7.9mm
Water Resistance: Splash Resistant
Farer Elvington
While Farer got its start in making quartz watches, the British microbrand has largely left batteries in the dust as it's shifted to concentrate on watches with mechanical movements. The only battery-powered watches remaining in the Farer catalog are its quartet of retro-colored quartz chronographs (including the '70s-inspired Elvington), and thank goodness for that. The watches are believed to be the only ones on the market to utilize the ETA 251.294 FK movement, a unique chronograph that boasts split-second and flyback functionality along with ETA's exclusive Powerdrive technology that improves hand movement control for better precision.
Case Size: 39.5mm
Case Thickness: 11mm
Water Resistance: 50m
Hamilton PSR
While we have an unabashed preference for analog watches, the history of quartz watches cannot be told without discussing digital displays. While digital watches have long been amongst the most affordable in the industry, they originally were considered a luxury novelty. The very first to market was the Hamilton Pulsar, which was first unveiled in 1970 and soon found its way to the wrists of everyone from Keith Richards to James Bond. 50 years later, Hamilton brought the Pulsar back in the form of the PSR, featuring an upgraded OLED display.
Case Size: 40.8mm x 34.7mm
Case Thickness: 13.3mm
Water Resistance: 100m
Marathon MSAR
While enthusiasts often prefer mechanical watches due to the craftsmanship and intricacies of their movements, those very same traits tend to make such timepieces poor choices for rough-and-tumble action. It's no wonder, then, that military types will typically reach for a quartz watch, as the comparative lack of moving parts and delicate springs makes them a far more durable choice. And one watch that's been on more soldiers' wrists than perhaps any other is Marathon's iconic mid-sized diver, which is built to U.S. Government specifications and issued to our troops overseas.
Case Size: 36mm
Case Thickness: 12mm
Water Resistance: 300m
TAG Heuer Formula 1
Much of TAG Heuer's lineup, particularly the triumphant trio of the Monaco, Carrera, and Autavia, are actually holdovers from Heuer before the watchmaker was purchased by TAG in the '80s, creating the current company. But the Formula 1, which first made its debut the year after the merger, is 100% a TAG Heuer original. The modern icon is considerably more luxurious than the plasticky Formula 1s of the '80s were, and the current quartz-powered timepieces make for great everyday watches with sporty styling, versatile sizing, a robust build, and clear motorsports-derived heritage.
Case Size: 41mm
Case Thickness: 11.65mm
Water Resistance: 200m
Longines Conquest V.H.P. GMT
As one of the oldest extant Swiss watchmakers, Longines' bread and butter is unsurprisingly playing up its vast heritage through vintage reissues and mechanical movements. But the Winged Hourglass brand also produces some thrilling modern watches, and none get the blood pumping more than the Conquest V.H.P. GMT. Not only is the watch's Very High Precision movement one of the world's most precise, boasting accuracy within five seconds per year, but it also utilizes an exclusive app-based GMT function that allows you to quickly and easily set the time to a new time zone while traveling using the flash from your phone.
Case Size: 41mm
Case Thickness: 12.5mm
Water Resistance: 50m
Cartier Tank Must
If you're looking to nab one of the most iconic watch designs in history for a reasonable sum of money, then this iteration of Cartier's legendary Tank just may be your best bet. Designed more than a century ago to resemble a WWI-era tank from above, the rectangular dress watch is a timeless design from one of the most noteworthy names in the world of luxury goods. The Must boasts all of the usual Tank hallmarks, including the spinel-set crown, the immediately recognizable silhouette, and the large Roman numeral indices, but it keeps costs reasonable by utilizing a long-lasting high-autonomy quartz caliber under the hood.
Case Size: 33.7mm x 25.5mm
Case Thickness: 6.6mm
Water Resistance: 30m
Omega Aqua Terra Quartz
In the realm of automatic watches, Omega's vaunted Aqua Terra is arguably the best GADA — that is, Go Anywhere, Do Anything — watch out there thanks to its versatile styling that toes the line between dressy and sporty and its solid 150m water resistance. But, truth be told, the quartz version may be an even better choice. That's because its movement is naturally less fussy and more robust than its mainspring-powered siblings, and while its styling may be a generation-and-a-half behind the automatic version, it still works wonderfully in all situations.
Case Size: 38.5mm
Case Thickness: 12mm
Water Resistance: 150m
Grand Seiko SBGV245
Judging by its prevalence on Instagram and how hard it is to acquire one more than two years after its release, it's safe to say that Grand Seiko's SBGV245 (and its black dial brother, the SBGV243) is the consensus "coolest" quartz watch on the market. One of the sportiest offerings from the Japanese luxury brand — it comes on a canvas strap, for Pete's sake — the watch boasts a sharply-angled and even more sharply-finished case that's unique in Grand Seiko's catalog. From the angular lugs to the bold vertically-brushed dial to the sparkling indices, this watch's finishing truly needs to be seen in the flesh to be appreciated. And naturally, since it's a Grand Seiko, you're getting an incredibly precise, craft-made 9F caliber movement that will probably only need to be adjusted twice a year for DST.
Case Size: 40mm
Case Thickness: 11.8mm
Water Resistance: 200m
Breitling Aerospace EVO
There are few quartz-only watches that have truly reached iconic status, but the Aerospace is certainly among them. Not only that, but it soars above them (both literally and figuratively). The innovative pilot's watch was first introduced in 1985, and its ana-digi display and impressive array of functions quickly made it a staple in Breitling's catalog. The modern EVO version maintains the original's '80s looks and its signature boatload of complications — chronograph, dual time, countdown timer, and more are all displayed on the dual digital displays. But it also adds some contemporary upgrades, including a titanium case and bracelet, a sapphire crystal with AR coating on both sides, and a chronometer-certified Breitling SuperQuartz movement that's thermocompensated and accurate to within 10 seconds per year.
Case Size: 43mm
Case Thickness: 10.8mm
Water Resistance: 100m
The Best Solar-Powered Watches
If having to change the battery every two to five years on a quartz watch still seems a bit too inconvenient for your liking, then perhaps you could have a look at solar watches, which hardly ever require battery replacements. We've rounded up the best of them right here.