When it comes to gear of any type, everyday carry or otherwise, the bag category is one of the most ubiquitous. After all, most humans need a means of transporting items from one place to another — be that your mobile technology, school books, food, supplies, or whatever else. And there's no denying the usefulness of a traditional backpack therein. In fact, backpacks are probably one of the most commonly available pieces of EDC gear, second perhaps only to wallets.
That can be both good and bad news. It's good news in the sense that — no matter your lifestyle, preferences, desires, and budget — there's a perfect backpack out there somewhere for you. It's bad news in the sense that the sheer number of options can be exceedingly overwhelming, to the point that you might not know where to start. Well, we did the heavy lifting for you in that regard, so strap in and have a gander at our list of the best EDC backpacks for men. Whether you're a city slicker with a flair for technology or a mountain man hoofing it from cabin to campfire, you'll find the ideal everyday backpack for your daily life here.
The Best EDC Backpack Breakdown
Best Student Pack

Bellroy Classic Backpack

Best Minimalist Pack

Aer City Pack

Best Weatherproof Pack

Black Ember Citadel R2

Editor's Pick

Evergoods Civic Panel Loader 24L V2

Best Photography Pack

Peak Design Everyday Backpack

Best Small-Batch Backpack

The Brown Buffalo ConcealPack 21L

Best Cycling/Commuter Pack

Mission Workshop The Rhake VX Backpack
What Makes A Good EDC Backpack?
Needing to withstand the stresses and rigors of daily use while safely accommodating all of your gear and tech essentials, everyday carry backpacks need to tick a number of boxes that regular packs don't. As such, it can be a little tricky knowing what to look for when shopping. Well aware of this reality, however, we've pieced together this condensed buyer's guide on the main things to look for when buying an EDC pack.
Video Review: The Best EDC Backpacks
Perhaps you're more of a visual learner? We've got you covered with our in-depth best EDC backpack video review.
Overall Design: EDC backpacks come in all manner of different forms, from zip-ups to roll-tops to everything in between. This makes it absolutely essential to review the general design and layout of any bag you're considering. In fact, designs and layouts can play a major role in what makes a bag special or unique — as evidenced by models like the GORUCK GR1 and Mission Workshop Rhake.
Size: EDC bags should be just big enough to comfortably accommodate all of your daily essentials, without being overly large or bulky. Unlike larger travel backpacks, EDC-specific backpacks tend to offer around 15 to 25 liters of internal storage space, though there are obviously outliers that are slightly bigger or smaller — as well as certain EDC packs that are available in multiple sizes. And while they aren't as common in the EDC segment, there are also some packs that are expandable.
Primary Materials: On top of its design, the single factor that plays the biggest role in determining a bag's overall quality is undoubtedly the materials used to construct it — the most important of which is the pack's shell construction (or primary material). Considering the fact they need to withstand the rigors of daily use, EDC bags tend to be crafted from hardwearing constructions like ballistic-grade nylon or waxed canvas, though there are also bags made from proprietary materials like CORDURA and Dyneema. It's also worth checking into whether or not a bag's shell material has been bestowed with any type of fortifying treatment such as a PU or DWR coating or finish.
Secondary Materials: While admittedly not quite as crucial as a bag's shell construction, secondary materials do also play a role in deterring a bag's overall quality. This includes elements such as a backpack's shoulder straps, back pad, grab handles, and liner material, just to name a few.
Hardware & Trim: Practically every EDC bag on the market will sport at least some hardware or trim elements. Because these items can massively vary in terms of quality and performance, it's also essential to review an EDC bag's hardware and trim. This includes buckles and fasteners, as well as zipper tracks. Trim can also include logo patches and labels.
Organizational Amenities: As backpacks that are designed to hold all of your daily gear and essentials, an EDC backpack's organizational amenities are also of extreme importance. This not only includes the number of different pockets, but also if each pocket or cavity contains any internal pockets, slips, loops, or other elements for organizing and storing contents. What's more, you'll also want to examine each model's laptop accommodation, checking if the laptop pocket is padded or suspended, and what size notebooks it can fit.
Weatherproofing: One way in which EDC packs are definitely not created equal in is their ability to stand up to the elements. A backpack's ability to withstand rain and snow largely boils down to the shell material, if that material has any type of fortifying treatment and the type of zipper tracks or closure that's being utilized.
Selection & Testing Process
How & Why We Got Hands-On With These Particular Field Watches
As an organization, HCONSUMPTION possesses a major proclivity for and expertise in a wide range of subjects, from architecture to style to tech. With that said, our greatest passions are undoubtedly in motorsport and everyday carry. Being intimately familiar with the EDC carry solution segment, we're readily aware of the key players in the EDC bag space, allowing us to begin our search by first looking into the latest and greatest offerings from our go-to brands, before diving into supplementary research in order to ensure we didn't overlook any crucial picks.
While we definitely took the reputation of each brand into account, our selections much more heavily relied on factors such as size and shape, primary and secondary materials, trim and hardware, build quality, and overall design. Additionally, we also factored style and aesthetics into the equation when making our selections. This only comprises the first half of our in-house evaluation, as after making a calculated and informed hypothesis of what we expected to be the best EDC bags on the market, we then began the hands-on field-testing portion of our overall process.
Unlike duffels and travel bags that can more easily be understood after being used only a few times, to fully wrap your head around and understand an EDC-specific pack, you really do need to extensively use these bags on a daily basis for an extended period. Ample real-world experience with each EDC backpack has enabled us to glean critical firsthand information on each bag that goes beyond the spec sheet, keying us into each model's comfort, fit and finish, build quality, durability, and the efficacy and practicality of each design — along with whether their features are genuinely useful and practical or are merely superfluous.
Thanks to the benefit of time, we've now had over a year to get hands-on with each of these everyday backpacks since penning our previous best EDC backpacks guide, which has afforded us an unparalleled overall sense of each bag's quality and performance — as well as how it stacks up against the competition. This also provided a much better sense of each model's durability and long-term performance.
The Best
Our Picks For The Finest Packs
GORUCK GR1
Pros
Flat-lay-opening design inspired by Spec-Ops medical packs
Unparalleled mil-spec durability & build quality
Made in America & protected by lifetime warranty
Also offered in heritage waxed canvas & X-Pac VX-21 shell versions
Cons
Doesn't feature waist & sternum straps
Harness system lacks support
Toughest Pack: In spite of the fact that the GORUCK GR1 has been around for a while, it continues to be one of the best backpacks ever imagined — regardless of the purpose. And our list of the best everyday carry backpacks simply would not be complete without acknowledging this outstanding carry solution. Along with its military-inspired styling and construction, including MOLLE webbing and a ballistic nylon exterior, this backpack also has a signature bombproof (literally) laptop sleeve, a removable frame sheet, plenty of organization, and more. Plus, it's TSA compliant, making it great for travel, and made in the USA.
Check out our in-depth review of the GORUCK GR1 21L Backpack here.
Capacity: 21L or 26L
Exterior Material: 1000D Cordura Ballistic Nylon or 500D Cordura Ballistic Nylon
Laptop Sleeve: 16″
Bellroy Classic Backpack
Pros
Updated version of already immensely popular pack
Sleek minimalist design
Sustainably manufactured from eco-friendly materials
Shell material is water-resistant & derived from recycled content
Cons
Shell material lacks durability compared to other bags on this list
Limited organizational amenities
Best Student Pack: For a refined spin on the classic book bag, you absolutely cannot go wrong with the Bellroy Classic Backpack. It features a middle-of-the-road 20L capacity — perfect for the average collection of work gear — alongside other impressive additions like a recycled polyester weave construction (go sustainability), a laptop pocket, a soft-lined, water-resistant top pocket, and a built-in key leash for quick access while on the go. Oh, and it's entirely TSA compliant — should you want to take it traveling. Bellroy also sells this pack in a plethora of different color options, as well as in a more top-shelf Premium Edition variant.
Capacity: 16L, 20L, or 24L
Exterior Material: Recycled Polyester
Laptop Sleeve: 16″
Aer City Pack
Pros
Ultra-rugged pack engineered from ground up for EDC
Equipped w/ top-shelf hardware & custom t
Makes for a great travel backpack
Also offered in X-Pac VX-42 shell version
Cons
Poorly-designed luggage handle pass-through (though not a problem for EDC use)
Best Minimalist Pack: San Francisco-based baggage specialist Aer is known for its characteristically minimalist backpacks, but the brand outdid even itself with the launch of the City Pack. While it's a touch smaller than some of our other options at just 14L, it's packed to the gills with organizational provisions. What's more, the City Pack comes with some pretty handy features, including a built-in AirTag pocket and a soft-lined top pocket, as well as a contoured back panel and an integrated luggage pass-through.
Check out our in-depth review of the Aer City Pack here.
Capacity: 14L
Exterior Material: 1680D Cordura Ballistic Nylon
Laptop Sleeve: 16″
Black Ember Citadel R2
Pros
Shell composed of 100% waterproof 800D 3-layer Microhex textile
Equipped w/ ultra-premium trim & hardware
Features fully-blacked-out finish
Can house laptops up to 15"
Compatible w/ wide array of available add-ons
Cons
Unique but strange exterior water bottle holder design
Best Weatherproof Pack: These days, most backpacks are built with at least some degree of weather resistance; it's pretty much expected at this point. Never content to sit amongst the pack, however, Black Ember designed the Citadel R2 to be IPX6 waterproof, pairing a unique RF-welded construction with some YKK AquaGuard zippers and Microhex 800D three-layer membrane fabric. And they didn't stop there; the straps are highly modular — adjustable top and bottom — while the inside boasts some of the best organization that we've seen on a bag of this size. The company also sells a wide range of optional add-ons that are compatible with the Citadel R2.
Check out our in-depth review of the Black Ember Citadel R2 Backpack here.
Capacity: 25L
Exterior Material: MICROHEX 800D
Laptop Sleeve: 15″
Evergoods Civic Panel Loader 24L V2
Pros
Made in small batches by boutique brand
Crafted from a custom-developed shell material
High-end hardware & details
Can house laptops up to 17″
Cons
Can be difficult to buy in between drops
Expensive
Editor's Pick: After proving their mettle at GORUCK and Patagonia, Jack Barly and Kevin Dee decided it was high time that they start a backpack project of their own: Evergoods. Out of their combined experience arrive top-quality bags like the CPL24, a super-streamlined everyday city option filled with features galore. Carry-on compliant, it sports an asymmetrical laptop holder, Zote foam shoulder straps, and an internal harness system — amongst many other unique offerings. Honestly, the pack has so much going on, that the only way to truly appreciate its design is to get it in your hands (or on your back).
Check out our in-depth review of the Evergoods Civic Panel Loader 24 Backpack here.
Capacity: 24L
Exterior Material: 500D High Tenacity Nylon
Laptop Sleeve: 17″
Peak Design Everyday Backpack
Pros
Award-winning EDC-specific photographers pack
Super clever & intuitive layout
Sustainably manufactured from eco-friendly materials
Super modular internal organizer system
Sold in 4 color options & in 20L or 30L sizes
Cons
Not ideal for non-photographers
Best Photography Pack: Peak Design's Everyday Backpack has roped in numerous accolades in its time, including a Carryology award for the Best Active Backpack — which is certainly something genuine everyday carry enthusiasts will find appealing. Of course, even if it had never been entered into contention, this structured, beautifully-considered, and well-organized backpack would still be a tremendous find. That goes double if you're interested in photography, as its internal divider system lends itself excellently to photo gear. Of course, you could also use it for anything else, including travel, office tech — really, the list is too long to fit here.
Capacity: 20L or 30L
Exterior Material: DWR-Impregnated, Recycled 400D Nylon Canvas
Laptop Sleeve: 13″-15″
The Brown Buffalo ConcealPack 21L
Pros
Latest gen design benefits from ample public feedback
Made in small batches by boutique brand
Manufactured in California
Can be upgraded w/ host of available organizers, inserts, & add-ons
Cons
Expensive
Can be difficult to buy in between drops
Best Small-Batch Backpack: Douglas Davidson (the man behind The Brown Buffalo) is an absolute legend in the backpack space, so we just had to include one of his bags in our roundup. In the case of the ConcealPack pictured here, you're getting a tough 1050D Ballistic Nylon shell, a Dimension-Polyant VX25 and VX21 fabric interior, and ample amounts of velcro to customize your carry. Designed to keep everything safely within its confines, the ConcealPack offers a masterclass in what backpacks can be. Best of all, this bag is crafted in small batches as the company's California headquarters.
Check out our in-depth review of The Brown Buffalo ConcealPack 21L here.
Capacity: 21L
Exterior Material: 1050D Cordura Ballistic Nylon
Laptop Sleeve: 15″
Mission Workshop The Rhake VX Backpack
Pros
Super (& super premium) unique roll-top bag design
Tremendously weatherproof
Ultra-high-end construction & hardware
Absolutely stellar organizational amenities
Can store a laptop & tablet (or 2 laptops)
Cons
Very expensive price
HT 500D Nylon version doesn't come standard w/ Cobra buckles
Best Cycling/Commuter Pack: Cyclists and commuters can sometimes have a rough go of things while in transit from one place to another, but those journeys are much more manageable if you utilize the unrivaled Mission Workshop Rhake backpack as your go-to carry solution. It's cleverly designed with organization for your laptop computer, iPad, phone, chargers, keys, sunglasses, water bottle, and more. And it's entirely weatherproof to ensure that everything you stash inside of it stays safe and dry, regardless of what the conditions are like outside. In addition to an available Cobra buckle upgrade, Mission Workshop also produces an even more high-end X-Pac VX-21 construction version that comes standard with FIDLOCK front buckles.
Check out our in-depth review of the Mission Workshop Rhake backpack here.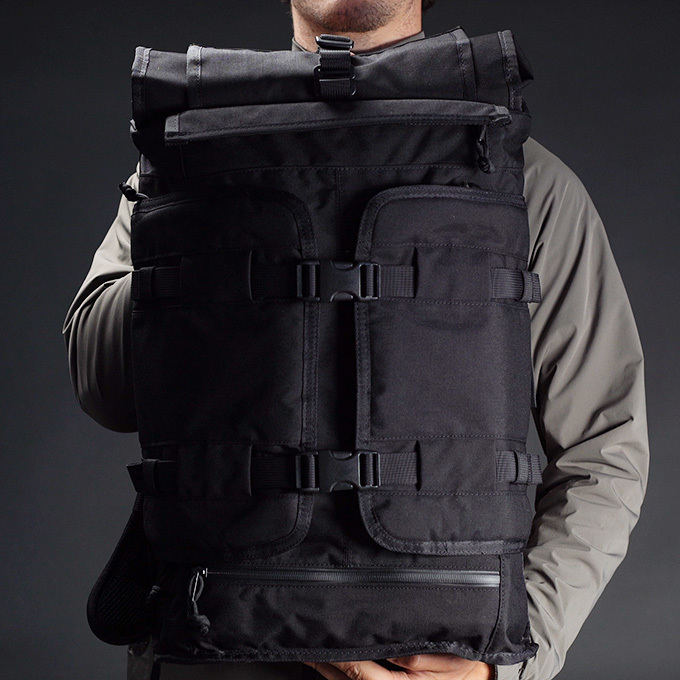 Capacity: 22L
Exterior Material: HT500 Nylon (or VX-21)
Laptop Sleeve: 17″
The Rest
Supplementary EDC Pack Picks
Topo Designs Rover Pack Tech
Topo's Rover Pack is already one of our favorite backpacks, but when the brand released the Tech edition, we knew we were in for an EDC treat. It still has all the hallmarks of the original — including its flip-top closure, compression straps, and rectangular silhouette — but now it's crafted from 1000D nylon, comes with an externally accessible laptop sleeve, features weatherproof zippers, and even has attachment points at the front for modular additions (like a bike light, carabiner clip, etc.). And you have your pick of four handsome colorways, too.
Capacity: 24.3L
Exterior Material: 1000D Nylon
Laptop Sleeve: 15″
Incase ICON Slim Backpack
The Incase ICON is one of the best bags around, especially when it comes to short-form travel. However, for everyday usage, we actually prefer the pared-down Slim version, as you see here. It boasts many of the same features, but in a more svelte 16L capacity that's a bit more conducive to day-to-day life. That includes things like a polyester-based Woolenex exterior (which is naturally weather-resistant), a fully-padded and faux-fur-lined laptop sleeve and separate glasses pocket, and plenty of unique organizational compartments accessible both inside and out.
Capacity: 14.5L
Exterior Material: Polyester
Laptop Sleeve: 16″
Mystery Ranch Urban Assault Pack
Proof positive that tactical features can be beautifully integrated into more everyday carry-friendly gear, Mystery Ranch's Urban Assault Pack looks like it belongs in the city but has features you might likelier find in a battlefield-born bag. For starters, it comes with a rugged Cordura nylon exterior — imbuing it with a measure of weatherproofing, as well as puncture and slash resistance. It also has a plastic frame sheet to give it structure, a full-opening triple-zip main compartment (ideal for speedy access, as well as compartmental organization), and more. Of course, it also has city-friendly additions, like water bottle and laptop pockets, too.
Capacity: 24L
Exterior Material: 500D Cordura Ballistic Nylon
Laptop Sleeve: 15″
Arktype Dashpack II
For many folks, a loadout of everyday carry gear and work supplies need not eclipse the high-liter mark — making a bag like the Arktype Dashpack II (with its compact 15L capacity) a much better option than much of its competition. Small, however, does not mean sacrificing quality or toughness. You see, this USA-made backpack is built from sturdy DWR-coated 1680D ballistic nylon, putting it in the same vein as some of the best tactical bags around and giving it a wide variety of resistances and durabilities. It also boasts a stellar internal organizational system that's even tech-friendly, with both a dedicated laptop pocket and a tablet sleeve. And those are just some of the many, many excellent features.
Capacity: 15L
Exterior Material: 1680D DWR Ballistic Nylon
Laptop Sleeve: 15″
Tom Bihn Synapse 19 Backpack
Versatility is the name of the game when it comes to the Tom Bihn Synapse 19 Backpack. And we mean that as literally as we can, because the brand built this backpack to be used in the city, office, trails, commuting, and everywhere in-between. And while it comes standard with much of the features you'd expect from a backpack of this nature, it also boasts some of the most customizable options of any on our list — including over a dozen different color combinations, two different exterior materials, and two optional organizational inclusions. But what really makes this bag stand apart is that it comes with a lifetime warranty.
Capacity: 19L
Exterior Material: 525D Ballistic Nylon or 400D Halcyon
Laptop Sleeve: Up to 13″ (Optional)
Filson Dryden Ballistic Nylon Backpack
If you're the type to appreciate heritage styling, but you still want a bag with modern sensibilities, you definitely can't go wrong with the Filson Dryden Ballistic Nylon Backpack you see here. It might look like something to have been passed down for multiple generations, but it's actually made from super-durable state-of-the-art Cordura ballistic nylon (as the name suggests). Furthermore, it comes with a padded 15″ laptop pocket (accessible from outside), top-grain leather accents and zipper pulls, and a padded back and straps for all-day comfort.
Capacity: 25.5L
Exterior Material: 1000D Cordura Ballistic Nylon
Laptop Sleeve: 15″
KILLSPENCER Utility Backpack
If you're a fan of traditionally-styled bookbags, like those made by JanSport and Herschel, but your pockets are a good deal deeper than necessary, you can have all that same styling in a much more elevated package with the Killspencer Utility Backpack. Made in the USA from premium Italian leather and nylon (and accented with 4,000lb test mil-spec webbing), this pack also has a handy internal organizational scheme — including a padded, externally-accessible laptop pocket capable of holding up to a 15″ MacBook Pro.
Capacity: 21.3L
Exterior Material: Italian Leather & Nylon
Laptop Sleeve: 15″
The Best Sling Bags for EDC
While these backpacks make the perfect choice for a dependable daily companion, sometimes you just need something a bit more compact. In that case, it's worth taking a look at our guide to the best sling bags on the market.