Regardless of what part of the world you hail from, currency is always something you'll need to keep on hand — at least in some form or another. It's one of the most universal necessities. And, as a result, so are wallets — which probably explains why there are literally thousands of options available on the market at any given time. In the modern era, however, monetary systems have largely begun to shift away from physical currency and have started embracing digital versions — which started with the widespread usage of credit cards.
Nowadays, most people can get by with a wallet that holds just a few cards and some cash — perhaps even less. And so the methods we choose to carry our increasingly pared-down forms of currency have also begun to become more and more pared-down themselves. Practically gone are the days of thick, trifold wallets with their unnecessary bulk — and bifolds aren't too far behind. Whether you're no stranger to slimmed-down EDC or you're looking to finally make the shift, you'll find your next cash and card carrier on our list of the best minimalist wallets for men.
The Best Minimalist Wallets Rundown
Best Budget Option

Supr Slim Wallet

Best Technical Option

Pioneer Molecule Cardholder

Best Quick-Access

Ekster Parlement Wallet

Best Bifold Alternative

Distil Union Wally Bifold 5.0

Best Organization

Bellroy Flip Case

Best Metal Option

The Ridge Wallet

Best Tracker

NOMAD Card Wallet Plus
Minimalistic Wallet Shopping 101
The Main Areas To Consider When Purchasing A Minimalist Wallet
Being spartan in nature, minimalistic wallets are fairly straight forward, however, the reality is that not all of these wallets are created equal — far from it in fact. Below, we'll briefly outline the most important areas that separate quality minimalistic EDC wallets from their inferior counterparts.
Video Guide: Best Minimalist EDC Wallets
While wallets may seem pretty straightforward, pictures still only tell part of the story. Check out our YouTube channel to see an in-depth video breakdown of our favorite minimalist wallets.
Materials: True to almost any EDC item, the materials used to construct a minimalist wallet will play an enormous role in its overall quality — as will the construction technique(s) used to craft it. When reviewing this area, you'll want to consider the shell and/or frame material, as well as secondary constructions such as the material used for a wallet's liner, closure, or hardware.
Card Access or Deployment: Having the ability to easily remove a card from a wallet is another area that separates today's best EDC wallets from their lesser counterparts. As such, many of today's latest and greatest EDC wallets — minimalist items included — feature cutouts or pull-tabs to easily remove cards. There are also wallets with unique built-in card deployment mechanisms.
RFID Protection: In the modern world practically everything has gone wireless — including credit card theft. RFID protection prevents nearby thieves from digitally stealing your credit and debut card info. This has become an increasingly common amenity as credit card and identity theft have become more and more common.
Size & Layout: Minimalist-style wallets tend to be roughly the shape and size of a credit card, though there are definitely outliers in this space that sport their own unique shapes and profiles. Likewise, this segment also includes everything from cardholders to bi-folds to tactical wallets, making it worth exploring the variety of available types and layouts before making your selection.
Card & Cash Capacity: Another area that will play a major role in how a minimalist wallet performs is the number of cards they can carry. Additionally, despite paper currency becoming less and less common, numerous minimalist wallets also come loaded with space for carrying cash — though it often comes at the expense of losing space for cards.
Style & Color: Just like with everyday carry backpacks, minimalist men's EDC wallets come in a huge variety of styles and colors, from ultra-modern designs to unmistakably old-school items. This coupled with a wide selection of available colors makes this another important area to review.
Selection & Testing Process
How & Why We Got Hands-On With These Particular Minimalist Wallets
It's fair to say that HCONSUMPTION's staffers possess a bit of an obsession for all things everyday carry. As such, we keep our fingers on the pulse of the various segments that comprise the space, from backpacks to knives to watches to wallets. As such, we already collectively had ample personal hands-on experience with a great many of the wallets that would be comprising this list, though we still made sure to look to the classic long-loved staples, as well as at the latest releases from our favorite EDC accessory and carry solution companies in order to ensure any crucial picks didn't slip through the cracks. Just like when we were first attracted to them, these wallets were selected by us for this list based on their design and layout, materials and build quality, and use of novel, innovative, or otherwise clever features or systems.
Once completing our selections for the wallets that would constitute this buyer's guide, we then set about putting them to use, day in and day out for the last few months, with each wallet going through a rotation with HIC's in-house team. This enabled us to get a solid grasp on how well each wallet's materials and construction quality held up over time, and how quickly and well they broke in. More importantly, it allowed us to live with each wallet and glean a stellar sense of its real-world day-to-day performance; how easily it slips in and out of the pocket; how difficult or easy it is to access or remove cards; and how any novel features or systems function in practice.
The Best
Choice-Cut Cardholders
Supr Slim Wallet
Pros
Unique flexible elastic design
More than enough room for daily card essentials w/ 8-card capacity
Offered in variety of color combo options
Ultra-thin & pocketable at only 3mm thick
Cons
Would benefit from more rugged materials
Best Budget Option: If you're looking for an ultra-minimalist wallet on the low end of the price spectrum, you'd be hard-pressed to find a better option than our budget pick: the Supr Slim Wallet. At just under $20 bucks a pop, it's easily one of the most affordable card carriers on the market.
Not only that, but the Supr is also hands-down one of the lowest-profile wallets you can buy today. It's made from an accommodating, flexible elastic, and it comes with enough capacity for anything between 1-8 cards. Otherwise, however, it's refreshingly fuss-free.
Card Capacity: 8
Material(s): Elastic
Pioneer Molecule Cardholder
Pros
Made from rugged yet lightweight 10XD construction that's 10-times stronger than steel
Weighs less than 1oz
Is 100% waterproof
Boasts sleek matte finish & minimal branding
Is legitimately made for a lifetime of daily use
Cons
Very stiff before being broken in
Best Technical Option: The sum of more than a decade's worth of R&D, the Molecule is made from a state-of-the-art 10XD Ripstop fabric. Soft to the touch (not unlike cloth) and yet some ten times stronger than steel, it's a wallet that'll last you a lifetime and feel good all the while.
And here's the thing: because it's ultralight (just 28g), water-repellent, and machine washable, it's incredibly easy to care for. Holding some 4-6 cards (and, in some cases, even more), it even comes with an integrated main top slot for folding away some bills. Less a card carrier than it is a lifetime companion, the Molecule is a wallet that can't be beat when it comes to technical prowess.
Card Capacity: 6
Material(s): 10XD Ripstop
Ekster Parlement Wallet
Pros
Made from environmentally-certified leather wrapped around aluminum frame
Has unique push-button fanning card deployment mechanism
Offers RFID-blocking
Can be upgraded w/ onboard GPS tracker
Sold in 11 different leather color options
Cons
Rectangular shape can be awkward in back pockets
Tracker not included/costs extra
Best Quick-Access: If there's one common theme amongst most minimalist wallets, it's that once you've stuffed your cards and cash inside, it's not exactly easy to try and retrieve them again. The folks at Ekster are an exception to the rule, as they've managed to remedy that problem with the Parliament. At first glance, the Parliament appears to be a simple cardholder. With just a single fold-out flap and an elasticated cash retainer, it proves quite a handsome piece. Inside, however, it features an ultra-handy ejection mechanism, integrated RFID protection, and an optional built-in tracker (for just a bit extra).
And that's not all; along with its feature-full functionality, the Parliament also comes with a pretty respectable storage capacity. Holding some 4-6 cards in the built-in aluminum cardholder and as many as 12 in the wallet total (plus folded bills in the cash strap), it's a spacious little wallet that'll carry pretty much anything you could ever need.
Card Capacity: 12
Material(s): Leather & Aluminum
Distil Union Wally Bifold 5.0
Pros
Ultra-streamlined 5th-generation design
Features unique Pull-Tab card access system w/ MagLock card pockets
Color-coded pull tabs makes accessing cards a breeze
High-quality materials & fit & finish
Cons
RFID-blocking version costs extra (albeit only $6 more)
Best Bifold Alternative: If you haven't had your hands on one of Distil Union's wallets before, we should point out that the fifth version of their Wally Bifold brings a couple of notable updates. Along with being slimmer in profile and deeper in pockets, it also comes with MagLock for maximum security, as well as a custom money clip that's machined from a single piece of stainless steel.
And remember, the Wally Bifold was already a pretty capable cardholder, stitched from rich full-grain leather and built with two handy interior slots for instant access to IDs and other important carry. With storage for as many as 14 cards (plus up to 30 folded bills) as well as some convenient color-coded pull-tabs and squeeze-to-open functionality, it's easily the most spacious wallet in our roundup. It's best to think of the Wally as a bifold made for the modern-day, as it combines everything we love about the classic style (spacious storage, security, etc.) in a compact, pocket-friendly package.
Card Capacity: 14
Material(s): Leather
Bellroy Flip Case
Pros
Made from polymer & eco-friendly leather
Ultra-secure & compact molded hardshell design
Features dual magnetic trapdoors & quick-access priority card section
Offers RFID protection
Boasts unmistakably premium feel & appearance
Cons
Warranty limited to 3 years
Best Organization: As is to be expected of Bellroy's top-notch EDC accessories, the Flip Case sports a design that's as clean as they come. Made from premium eco-tanned leather, it features a classy molded hardshell design that's only made better by its durable polymer liner. Along with providing some built-in RFID protection, its outer shaping and interior dividers help to keep your cards safe and your cash crispy.
Inside, the Flip Case features some pretty handy organizational provisions. On one side, it packs away two of your most-used cards for quick access. The other side, however, proves far more spacious, storing a further 5 cards (whilst also providing a nifty divider should you want to swap out one in favor of some folded bills). Understated, intuitive, and as cutting edge as you'll find, it's a wallet that's perfect for the urban minimalist who wants to streamline their carry.
Card Capacity:7
Material(s): Leather & Polymer
The Ridge Wallet
Pros
Offers RFID-protected room for up to a dozen cards
Sold in wide variety of top-shelf materials & finishes
Wallet comes paired w/ money clip, cash strap, or both
Can be personalized/decorated w/ optional custom image
Backed by lifetime warranty
Cons
Can be uncomfortable to sit on in back pocket for long periods
Screws/hardware in frame require occasional tightening
Best Metal Option: The Ridge Wallet is a name that needs no introduction, as this ultra-slim metal offering pretty much revolutionized the minimalist cash and card carrier movement. Still relevant today, it's easily amongst the finest options available on the market. For one, the styling is unmistakable; instantly recognizable as a Ridge original.
Comprised of a pair of 6061 aluminum plates (or titanium, or even carbon, if they're more your speed), a cash strap, and an alloy money retainer, it's sleek and understated, yet highly functional too. What's more, the wallet boasts a generous 12-card max capacity, and Ridge gives you the option to customize your carry. That is to say – if you're after all-out security, there's an elastic strap that snugly wraps around your cash. If that's not your thing, however, Ridge also offers a money clip that makes for something a bit more traditional.
Card Capacity: 12
Material(s): 6061 Aluminum, Carbon Fiber, or Titanium
NOMAD Card Wallet Plus
Pros
Crafted around thermoform-shaped Horween leather shell
Forms unique patina over time w/ regular use
Designed specifically for EDC use
Equipped w/ microfiber-lined card pockets
Has 15-card internal capacity & single exterior quick-access pocket
Offered in other colors & in card carrier and bifold versions
Best Tracker: Just because you're after a wallet that's minimalist in form factor doesn't mean you have to compromise on versatility or function. Case in point: the Nomad Card Wallet Plus, a unique folder that – when combined with the brand's AirTag Card – makes for a potent one-two punch in pocketable security. The wallet itself comes crafted from Nomad's proprietary thermoformed Horween leather, meaning it molds to your cards and develops its own distinct patina over time.
Offering a spacious 16-card maximum capacity, it features an external quick access pocket for IDs and other frequently used carry. And when it comes to the Card for AirTag, you're essentially getting a credit card-shaped AirTag holder that allows you to track your wallet with the help of the Find My App. Made with a polycarbonate frame and a soft-touch TPU surface, it makes installation simple whilst also keeping the tracker incredibly secure.
Card Capacity: 16
Material(s): Horween Leather
The Rest
Other Options To Consider
Trayvax Armored Summit Wallet
Trayvax makes some of the most sought-after, military-inspired, tactical wallets around. So when we tell you that the Summit is perhaps the brand's best-selling offering, you should understand how significant that is. But even without the numbers to back it up, this wallet's specs are impressive. They include a melonite-finished steel armor plate, a seven-card and five-bill capacity, a 65-year warranty, a USA-made construction, and built-in RFID protection. Hell, this thing is even TSA-compliant and made in the USA.
Card Capacity: 1-4
Material(s): Brass, Leather, Steel
Armatus EDC Wallet
For those with a taste for the military and tactical, the Armatus Vita might just be the slim wallet you're looking for. As its name suggests, this minimalist cash and card carrier is constructed from mil-spec Kydex — making it ultralight, waterproof, and practically indestructible in day-to-day usage. Furthermore, it's available in seven different colorways, fits eight cards and cash, has a secure snap-button closure, and was made right here in the USA. This wallet proves that minimalism and durability can actually go hand-in-hand.
Card Capacity: 8
Material(s): Kydex
Spine Wallet
If you could look up the definition of "ultra-minimalist wallet" in the dictionary, you might also see a photo of Spine's metal wallet you see here. After all, this slim cash and card carrier is made up of just two parts: a metal plate (constructed from your choice of brass, copper, or titanium) and an elastic band to hold your cash and cards. Oh yeah, and that little cutout doubles as a thumb hole — to deploy your cards — and also a bottle opener — for cracking open a cold beer or two. The brand even offers Damascus versions in titanium and copper, laser engraving (perfect for bachelor parties), and more.
Card Capacity: 10
Material(s): Brass, Copper, Titanium
Recycled Firefighter The Sergeant Slim Wallet
Famous for building their minimalist wallets from genuine decommissioned fire hoses, Recycled Firefighter is a name that should come as no surprise to hear in the conversation about the best slim wallets around. And while they do actually offer bifolds and other pieces of gear, we're partial to the Sergeant — which is sleek enough to fit in your front pocket and can still hold up to 8 cards (and cash in the included elastic strap). Furthermore, the brand was started by an actual firefighter and all these wallets are made in the USA.
Card Capacity: 8
Material(s): Recycled Firehose, Nylon
Corkor Front Pocket Wallet
Crafted entirely from natural cork, the Corkor slim wallet you see here is completely vegan, sustainable, and might just be the lightest cash and card carrier around. It also benefits from two compartments — a front-accessible sleeve for your most-used card(s) and a center pocket for cash and other less-used cards (which also has a quick-access pull tab for easier deployment). It's even available in five different, handsome colorways, so you can match it to the rest of your everyday carry gear without incident.
Card Capacity: 10
Material(s): Cork
WP Standard the Picker's Wallet
Ignoring the guitar pick slot, the WP Standard Picker's Wallet might still make this list, as it boasts a heritage-level leather construction, tough nylon threads to hold it together, a trio of card pockets and a larger cash slot, and an ID viewing window. Of course, if you are a guitar player, the pick slot is a massive added bonus that will ensure you're always ready to play at a moment's notice — and that you won't mysteriously lose said pick in the depths of your wallet's cash pocket or by accidentally dropping it when retrieving said wallet.
Card Capacity: 3+
Material(s): Leather
TGT Wallet
Anyone who claims there isn't beauty in simplicity hasn't seen the slim wallets made by TGT. For the most part, these wallets are constructed the same: a lambskin leather pouch with an integrated elastic band. However, they are available in a wide variety of colors and there's even a Deluxe version that has an additional front pocket for extra cards and/or cash. Better still, each wallet weighs less than an ounce — by a fairly wide margin — and is handmade in the USA. But one of the biggest value propositions therein is that this company offers its wallets in more than 15 different varieties (closer to 30 if you separate the standard and Deluxe options).
Card Capacity: 5-6
Material(s): Lambskin & Elastic
Ezra Arthur No. 1 Front Wallet
Ezra Arthur is well-known for its dedication to creating heritage carry goods with as little bulk and waste as possible, which pares perfectly into the brand's most minimalist cash and card carrier, the No. 1 Front Wallet. Crafted from a single piece of top-grain leather and bound only with stitching (meaning there's no glue or rubber), this USA-handcrafted slim wallet boasts just a single pocket roomy enough for a few cards and some cash. And that's all there is to it. For extreme minimalism in a classic package, this wallet is top-notch.
Card Capacity: 8
Material(s): Leather
Rogue Industries Front Pocket Wallet
If you're absolutely dedicated to the idea of getting your hands on a bifold, but you'd like it to be as slim and front pocket-friendly as possible, there's still an option for you in the Rogue Industries Front Pocket Wallet. What distinguishes this wallet from more traditional bi-folds is two specific things: the design was crafted specifically around the typical shape of pants' front pockets and it was made as slim as the brand could manage with the materials they had chosen to utilize. Furthermore, if you appreciate semi-exotic materials, these wallets can also be made from either moose or bison leather, which adds to its overall story and value.
Card Capacity: 6
Material(s): Leather
Tanner Goods Journeyman Cardholder Wallet
If you were to take a traditional bifold and pare it down to just a single, front pocket-friendly panel, it might look pretty much exactly like the Tanner Goods Journeyman Cardholder Wallet. This slim cash and card carrier is available in six exceedingly handsome colors, constructed from high-quality tooling leather, has four card slots and a roomy central pocket, and it can fit in your front pocket even when fully loaded with cash and cards.
Card Capacity: 4+
Material(s): Leather
Hardgraft Push Card Case
Hardgraft's elegant design language and dedication to simple, high-quality materials have made their Push Card Case the perfect addition to our list of the best minimalist wallets. Made to hold five cards and some bills, it has a front quick-access pouch for your most-used cards and/or cash alongside a secondary central pocket, which pairs with the dual push slots at the bottom for easier access to whatever's inside. Of all the minimalist wallets on our list, this is the one that proves there is still room for innovation, even when including a few of the base requirements for a "standard" wallet.
Card Capacity: 5
Material(s): Leather
Anson Calder Card Wallet
Nearing the end of our list is this high-quality cardholder from Anson Calder. Though it measures a mere 1/8″ thick, its three expansive pockets allow for a comfortable 12-card carrying capacity. Moreover, it sports a set of patented cut-outs on each side of the body, making it quick and easy to fan out your cards for transactions. When you consider that it's made from a luxurious French calfskin leather — complete with hand-burnished edges and all — the result is a wallet that goes big on detail whilst staying small in form factor.
Card Capacity: 12
Material(s): Leather
KILLSPENCER Card Holder 2.0
The second iteration of Killspencer's Cardholder, the 2.0 version improves upon the original in a number of ways. This go-around, it has three storage slots — one on each side for cards and a third central slot for bills and/or more cards — and it was made in the USA from beautiful, premium, full-grain leather that's been made specifically to show off its natural beauty — which will only get better the more you use it (AKA it will acquire a patina unique to your usage). It's simple and straightforward, but that's exactly what we like about it.
Card Capacity: 2+
Material(s): Leather
The Best Everyday Backpacks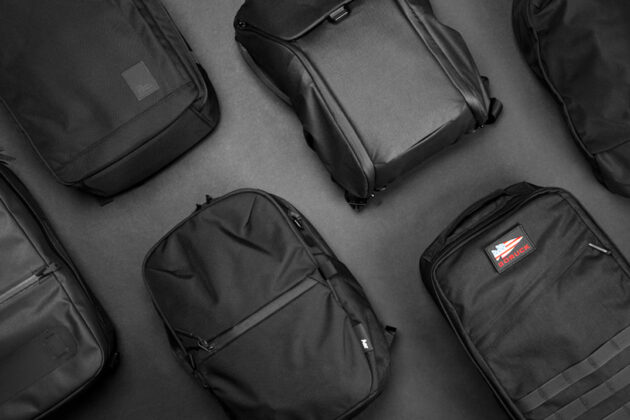 Now that you've got the streamlined wallet, you might be interested in a new everyday pack as well.Dive into our hands-on review of the best EDC backpacks to see our favorites.