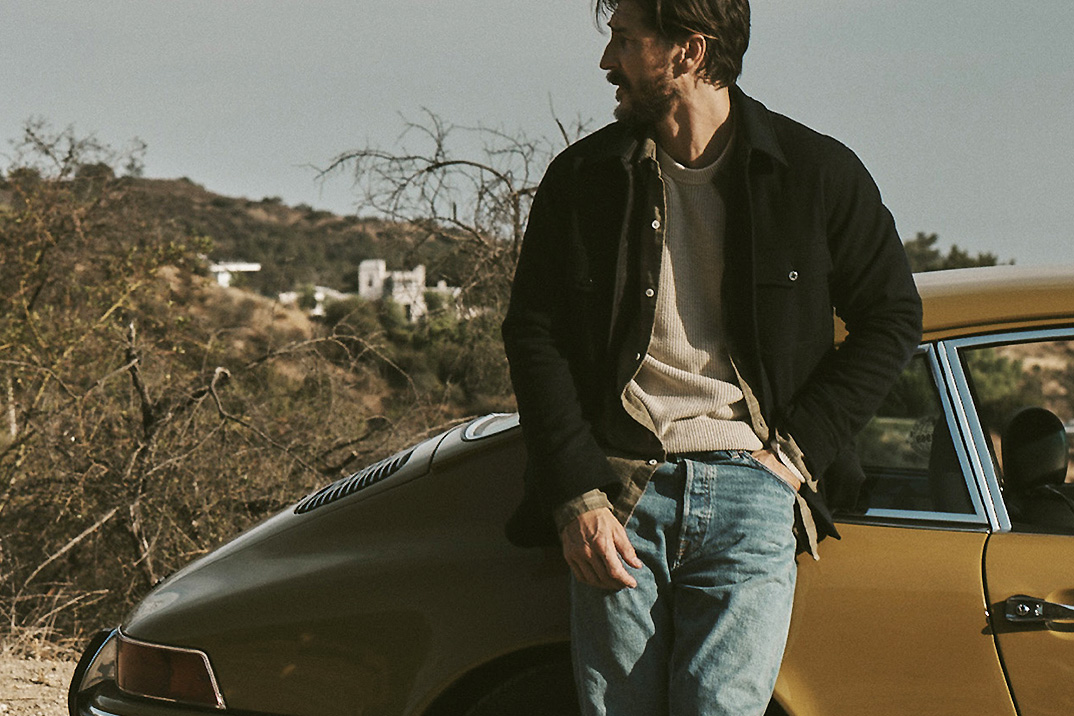 Call it what you will – protectionism, nationalism, or even a kind of precious sentimentality; all we know is that we love American-made goods. From where we stand as consumers, it simply feels better knowing that the folks in charge of running a company and designing their clothes are also directly connected to the process of building those products.
Unfortunately, not a whole lot of clothing companies operate this way. Simply put, it's just easier for big brands to outsource the production of clothing to countries with a lower cost of labor and a better manufacturing infrastructure. And honestly – we get it. It sucks that this is the way the global economy works, but it's not necessarily something we'd hold against any brand. That being said, we do feel like it's necessary to shine a light on some of the great stuff being done by the few men's clothing brands that still make their goods here in the States. So if you're curious about the best American-made clothing brands, look no further.
Best USA-Made Clothing Brands Breakdown

why American-made matters
The stereotypes of American consumerism aside, we're known for crafting some of the most high-quality gear and apparel in the market. It's partially what this country was founded upon in the first place, local artisans, blacksmiths, cobblers, and distillers working with what they had to build regionally-specific goods as a means to accomplish their version of the American dream. The longevity of these brands also testifies to the notion that, for the most part, quality goods built in the USA will always have a place in the homes of those who live both here and abroad.
our selection process
The diversity of brands that fit this description is as vast and unique as the American population itself. From boardshorts built for surfers of all styles to work boots; outdoor gear to pocket knives; and even sunglasses or odes to America's pastime, these are the brands that speak to us as Americans. For these reasons, we felt it pertinent to feature some of the American-made brands that stand out in our minds – highlighting them in the process. And for this guide, we're focusing on labels that make either all of their products or most of their products here in the States. At the very least, every brand included has roots in America and is making a concerted effort to handle the majority of its manufacturing State-side.
American Giant
Why They Made the Cut
This SF-based company offers high-quality basics at affordable prices, valuing accessibility and durability above all else.
Simply put, labor is more expensive here in the U.S. As a result – many of the picks you'll find on this list tend to trend towards the pricier end of the spectrum. For some folks, that isn't a big deal – but for others, high prices can lock them out of the market. Thankfully, there are brands out there, like American Giant, that are offering quality apparel at an affordable price. Located in San Francisco, the clothing company has set itself apart due to its ability to offer quality-made men's basics for a reasonable price. Shorts, outerwear, great tees – you name it, they've got it.
Founder: Baynard Winthrop
Year Founded: 2011
Location: San Francisco, CA
Known For: Men's and women's essentials
American Trench
Why They Made the Cut
With retro redesigns of classic American apparel, American Trench not only crafts quality goods, but takes great pride in American manufacturing.
American Trench crafts retro and modern American apparel that's designed to last and look good on everyone. The company also takes great care to highlight American manufacturing and the importance of taking pride in American-made products. They're based in Philadelphia, and after perfecting the trench coat, they continue to make high-quality apparel that's always manufactured here in the States, by people who take pride in their work.
Founder: Jacob Hurwitz
Year Founded: 2012
Location: Philadelphia, PA
Known For: Essentials, retro clothing, accessories
Billykirk
Why They Made the Cut
Since the late '90s, Billykirk has been perfecting leather goods that are always made in USA.
With an eye for design and an ode to the past, Billykirk began back in 1999 as a direct result of what founders Chris and Kirk Bray believed was a necessary means to counteract the inferior "fast fashion" items that were gaining popularity. Here, they decided – and still do – to work with the finest materials to produce some of the most high-quality leather goods around. Ranging from bags to belts to valet trays and dopp kits, it's all here and all premium.
Founders: Chris and Kirk Bray
Year Founded: 1999
Location: Jersey City, NJ
Known For: Leather, bags, wallets, accessories
Birdwell Beach Britches
Why They Made the Cut
As one of the classic surf brands, Birdwell Beach Britches is a legendary US label that makes surf gear, with a high-quality Made in USA collection.
Back in 1961, Carrie Birdwell Mann decided to take a leap of faith and transform her home into a sewing room in Southern California – effectively launching Birdwell Beach Britches. Interestingly enough, Birdwell became one of the first businesses specializing in surfwear, and her living room was one of the first surf shops. Today, they continue on in this regard offering everything from boardshorts to jackets to towels and hats – all under the Birdwell name and all surf-centric.
Founder: Carrie Birdwell Mann
Year Founded: 1961
Location: Santa Ana, CA
Known For: Board shorts, surf gear, accessories
Bradley Mountain
Why They Made the Cut
From humble beginnings in a garage, Bradley Mountain has become an eclectic label that hosts a variety of rugged apparel, accessories, and bags.
Garage-built from the ground up, Bradley Mountain started as a one-man operation building one item at a time. Their owner, Tyler Axtell, was a self-taught individual who decided to take matters into his own hands in developing products he wanted for himself but wasn't available on the market. Today, their collection consists of everything from premium bags to totes to dopp kits and various apothecaries.
Founder: Tyler Axtell
Year Founded: 2012
Location: Coluimbia, TN
Known For: Bags, camping gear, essentials, home accessories
Buck mason
Why They Made the Cut
Blending Southern California style with classic Americana, Buck Mason does the basics right, and only uses high-quality materials in the process.
What started as a small collaboration in Venice Beach back in 2013 has since turned into one of the more respectable men's apparel brands out there – known mostly for their high-quality basic menswear. As a brand, Buck Mason owns up to the multi-season ethos, in which each piece of clothing is outfitted to work well with any season and last for years to come. A few months ago, Buck Mason bought an abandoned factory in Pennsylvania as part of their mission to increase American manufacturing, which means they're serious about the values they espouse (and are actively working to make them a reality).
Founders: Sasha Koehn and Erik Allen Ford
Year Founded: 2013
Location: Venice Beach, CA
Known For: Essentials, retro-inspired clothing, leather, denim
Ebbetts Field Flannels
Why They Made the Cut
This is a classic sports gear brand that creates vintage-inspired jerseys, ball caps, and other apparel.
As fans of America's pastime, the never-ending search for an original wool baseball uniform led founder Jerry Cohen to discover a warehouse full of authentic baseball flannels dating from the '40s. The rest, well, is history. Today Ebbets Field – named for the Brooklyn Dodgers stadium that once stood in Flatbush – continues to bring quality baseball flannels to the contemporary public. From hats to jackets to knitwear and sweatshirts, it's all here for diehard fans.
Founder: Jerry Cohen
Year Founded: 1988
Location: Seattle, WA
Known For: Sports gear, baseball caps, jerseys
Freenote Cloth
Why They Made the Cut
Based out of San Juan Capistrano, Freenote Cloth embodies the same rancho aesthetic that their hometown has retained since its founding.
Based out of San Juan Capistrano in Southern California, Freenote Cloth believes in the importance of two things: the hardware used to manufacture quality goods and the fabric itself. It's why, since the very beginning, Freenote founders and brothers Matt and Andrew Brodrick worked to keep their production stateside. From denim to jackets to woven and knits, they're your one-stop shop for refined and unassuming casual clothing.
Founders: Matt and Andrew Brodrick
Year Founded: 2013
Location: San Juan Capistrano,CA
Known For: Denim, menswear, basics
Gitman Bros.
Why They Made the Cut
Gitman Bros. craft formal shirts and clothing with care, and is one of the few shirt makers that handles production entirely in the States.
There was a period in time when just about any item of clothing was expected to last a long, long time. Gitman Bros. was started in an attempt to continue that tradition of building out quality formal wear that will outlast its peers, and has roots dating back to the early 20th century. They've been successful in accomplishing this, in part, because they are sure to use American tailors and sewers. When every piece of clothing is 'only a few hands removed' from the original maker – that is just the type of quality you get.
Founder: Max Gitman
Year Founded: 1978
Location: Ashland, PA
Known For: Formal clothing, oxford shirts, ties
Grown and Sewn
Why They Made the Cut
Grown and Sewn not only crafts essentials with care, but collaborates with peers (like Ebbets) that share a similar philosophy and passion for American goods.
Robert Wesley Magness built his career the old-fashioned way; from the ground up. His first position in the men's fashion world was working at Ralph Lauren's shipping and receiving department in Texas. Eventually, he found himself living in New York, working as the Design Director at Polo Ralph Lauren. After a decade-plus at the company, he decided to start his own menswear label dedicated to building quality men's clothing crafted in the U.S.
Founder: Rob Magness
Year Founded: 2009
Location: New York, NY
Known For: Essentials, denim, accessories, hats
Imogene and willie
Why They Made the Cut
With a little know-how and southern resilience, Imogene and Willie grew into the respected duo of denim they are today – making quality jeans, shirts, and accessories for both men and women.
While most brands will trace their heritage back to the year they began, imogene and willie peg the start of their business to a pool party when they met in the 6th grade. The friendship they founded would endure decades, distance, and failed businesses. It wasn't until 2009 that they started imogene and willie, a brand that expresses a love for the textures, sounds, and smells of Texas. While they specialize in denim, the brand boasts classic tees, denim jackets, and more – all built in the States.
Founders: Carrie and Matt Eddmenson
Year Founded: 2009
Location: Nashville, TN
Known For: Jeans, denim, accessories
iron and resin
Why They Made the Cut
With one foot proudly in both the world of surfing and the other firmly planted motorcycle culture – Iron and Resin is a near-perfect embodiment of California's free-spirited attitude.
As the brainchild of a handful of California surfers and motorcycle enthusiasts, Iron & Resin prides itself as a product of a "one-off" culture – building apparel and gear outfitted specifically for petrol heads and surfers alike. From vintage-inspired riding jackets and gloves to stylish t-shirts with a relaxed fit, Iron & Resin is all about quality, not quantity – where gear should be tried and true while lasting for years to come.
Founder: Thom Hill
Year Founded: 2012
Location: Ventura, CA
Known For: Essentials, outdoor wear, moto gear, surfing gear, camping gear
Left Field NYC
Why They Made the Cut
Left Field NYC got started in a small Brooklyn apartment, and while they're much bigger now, the company still values organic growth, durable apparel, and unique style all the same.
If you are looking for solid, American-made denim – then Left Field NYC is well worth your consideration. The New York-based brand embraces an old-time west aesthetic while putting a serious emphasis on quality, tried and tested gear. Christian McCann had nothing but a dream, a credit card, and a Jeep, and in the late '90s, he started crafting the best denim he could. Built right here in the States, they're ideal for everyday wear.
Founder: Christian McCann
Year Founded: 1998
Location: New York, NY
Known For: Denim, western wear, menswear
Los Angeles Apparel
Why They Made the Cut
While the basics from Los Angeles Apparel are undoubtedly high-quality, the brand's commitment to sustainability, American jobs, and vertically-integrated manufacturing is even more impressive.
Los Angeles Apparel is one of the largest apparel manufacturers in the US, and they take great pride in crafting high-quality basics in a sustainable way. LAA owns the entirety of its manufacturing process, sources material from domestic farmers, and is committed to creating fair-paying jobs for Americans. Los Angeles Apparel truly embodies what American-made should mean, with a sustainable business model to boot.
Founder: Dov Charney
Year Founded: 2016
Location: Los Angeles, CA
Known For: Men's and women's essentials
Mission Workshop
Why They Made the Cut
When it comes to rugged packs, Mission Workshop is ahead of the game, with a majority of the construction happening in California.
Mission Workshop crafts rugged backpacks, bags, and technical apparel that are always designed in San Francisco, CA. The majority of the label's bags and apparel are made in California, Colorado, and New York, and occasionally in other factories around the world. So if you're looking for some rugged weatherproof gear, Mission Workshop has you covered.
Founders: Mark Falvai and Bart Kyzar
Year Founded: 2009
Location: San Francisco, CA
Known For: Backpacks, bags, technical apparel, accessories
Randolph Engineering
Why They Made the Cut
Since the '70s, Randolph Engineering has been making sunglasses that live up to military standards.
Founded by a former navigator in the Royal Air Force back in 1972, Jan Waszkiewicz and Stanley Zaleski set out to build a better pair of sunglasses – a pair that would stand up to military standards. That dream, in fact, came to fruition in 1982 when they won a contract to produce the standard, uniform-issue military-spec aviator sunglasses for the U.S. Air Force. Yeah, these guys are the real deal.
Founders: Jan Waszkiewicz and Stanley Zalesk
Year Founded: 1972
Location: Randolph, MA
Known For: Sunglasses
Red Wing Shoes
Why They Made the Cut
As one of the oldest shoe manufacturers in the States, Red Wing Shoes is a legendary label that crafts both work boots and footwear that ooze Americana.
Over a century ago, Red Wing began building multipurpose footwear for the industrial workers of the time. From here, founder Charles Beckman grew the Red Wing, Minnesota factory into something that's become synonymous with Americana. To this day, these work boots are provided to workers in more than 100 countries – made with leather from their very own S.B. Foot Tannery.
Founder: Charles Beckman
Year Founded: 1905
Location: Red Wing, MN
Known For: Work boots, footwear
Schott NYC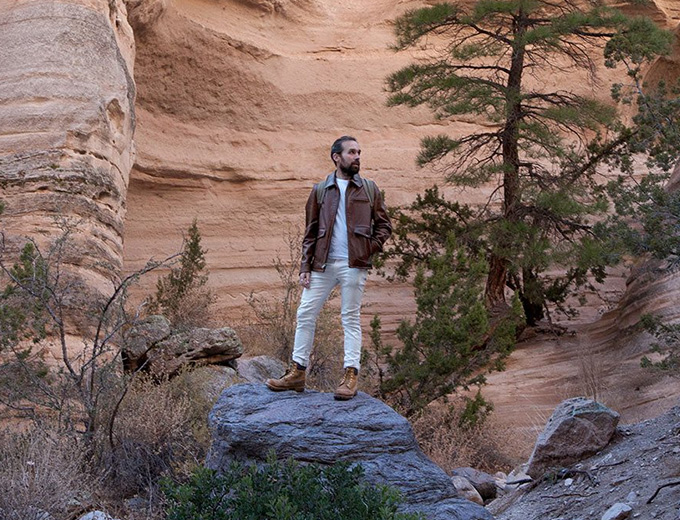 Why They Made the Cut
Schott NYC was started in 1913 by two brothers making raincoats in their basement, making this a true example of the American dream.
Since 1913, Schott NYC has embodied the American spirit with leather jackets, raincoats, and other classic menswear. The label has had a long history in our culture as well, with one of the brothers designing a shirt for the Air Force during WW2, and a notable presence in the punk scene of the '70s and '80s. Today, Schott NYC is still owned and run by the Schott family, and they still manufacture most of their clothing in the United States.
Founders: Irving and Jack Schott
Year Founded: 1913
Location: New Jersey
Known For: Leather, jackets, accessories
White's Boots
Why They Made the Cut
The footwear from White's Boots has been made by hand since 1853 in Spokane, Washington, offering durable work boots for working men for 160 years.
Since they first opened shop back in 1853, White's Boots has continued to manufacture quality workwear for rugged outdoor lifestyles and working men. These boots worked alongside those who built our roads and constructed our cities, and to this day, the brand remains a well-respected manufacturer of dependable work boots for the modern man.
Founders: Otto White family
Year Founded: 1853
Location: Spokane, WA
Known For: Work boots, footwear, accessories
Woolrich
Why They Made the Cut
As one of the oldest outdoor clothing brands ever, Woolrich still offers high-quality American-made products.
This brand is so old it literally predates the buffalo-check shirt. Founded in 1830 in Plum Run, Pennsylvania, Woolwich has made a name for themselves by making quality cold-weather wear. While not all of their clothing is still made in the U.S., they have a dedicated section of their shop where you can pick up their American-made products.
Founder: John Rich
Year Founded: 1830
Location: Woolrich, PA
Known For: Outdoor clothing, hats, shoes, accessories
American Made Denim Brands You Should Know
If you're looking for more USA-made clothing brands that should be on your radar, then be sure to check out our guide to the best American made denim brands on the market.