There's no denying that a major part of everyday carry is style — even if it's not amongst the direst of factors. We'd never blame anyone for taking styling into consideration when picking out EDC gear, even if that means sacrificing or compromising with other features, formats, etc. After all, a fully-kitted, hardcore mil-spec piece of gear might be able to get the job done, but that often comes at the expense of subtlety, simplicity, and manageability. And that can be a deal-breaker for plenty of folks, especially those that prefer a better balance between style and substance.
The issue denoted above is abundantly clear in the world of backpacks. Take the Triple Aught Design FAST Pack EDC, for instance; it's an absolutely superb backpack, but it is aggressive in its appearance, complex in its format (giving it a relatively steep learning curve), and highly catered to those with a taste for battlefield-ready tactical gear. And it definitely isn't for everyone. Luckily, if you prefer much more pared-down styling and features — perhaps with urban-friendly functionality in mind — there is no shortage of options out there. In fact, we've rounded up a bevy of offerings below that we believe to be the 25 best minimalist backpacks available right now.
The Best Minimalist Backpacks
Best Value Pick

Tom Bihn Daylight Backpack

Best Lightweight Pick

HEIMPLANET Monolith Minimal Rucksack

Best Overall Pick

Wexley Stem Daypack

Best All-Weather Pick

Rains Book Daypack

Editor's Pick

Aer Day Pack 2

Best Eco-Friendly Pick

Bellroy Transit Workpack

Best Outdoor Pick

Arc'Teryx Granville 16

Best Ultra-Rugged Pick

Huckberry X GORUCK GR1 Slick Backpack

Best Designer/Luxury Pick

KILLSPENCER Utility Special Ops Backpack

Best Super Premium Pick

Arc'Teryx Nomin Pack
Minimalist Pack Must-Haves
The Most Important Areas To Consider When Buying A Minimalist Backpack
Despite being a minimalist product space, there are still a handful of finer points that are crucial to be aware of when shopping for one — the most crucial of which we'll be highlighting directly below in this mini guide to what to consider when buying a minimalist backpack.
Primary Construction: As the element that comprises the vast majority of the backpack, the primary material used to construct a bag's shell plays the single biggest role in deterring its overall quality more so than any other area. Common materials in this space are typically hardwearing, and range from everything from nylon to waxed canvas to proprietary constructions like CORDURA and Dyneema. Additionally, on top of the material used, you'll also want to review the construction technique(s) used to piece that material together, as this too plays a major role in a bag's overall quality and durability.
Secondary Materials: While a bag's shell material is of more importance, it's nonetheless worth exploring a backpack's secondary constructions, such as the material used for a pack's liner or bottom reinforcement.
Hardware: Another important area to review when buying a minimalist backpack is the type of hardware being used, as this includes elements such as a bag's buckles, fasteners, and zipper tracks — items that play a major role in the backpack's overall user experience.
Weatherproofing: Yet another imperative factor to take into account when buying a backpack is its ability to stand up to the elements — an area that's primarily owed to a bag's shell material and hardware. What's more, it's become increasingly common to see already hardwearing shell constructions further fortified via special weatherized coatings or treatments such as DWR finishes and PU coatings.
Size: Unlike everyday carry or travel backpacks that tend to come in a more uniform size, minimalist packs can hugely vary in size and shape. The two metrics to review here are a bag's dimensions (in terms of length, width, and height) and internal volume — the latter of which is typically shown in liters.
Style: Though it's purely subjective and boils down to personal preference, the style and appearance of a minimalist pack is another area worth exploring, as this type of spartan carry solution is produced in an enormous variety of different aesthetics that, despite all being of the minimalist variety, can range from unmistakably modern designs to tried-and-true old-school classics.
Tom Bihn Daylight Backpack
Pros
Outstanding materials & build quality
Offers stellar bang for your buck
Produced in over a dozen color & pattern options
Packable & also great for travel
Cons
Back panel devoid of padding
Best Value Pick: As a brand, Tom Bihn has a few things going for it that are scarce elsewhere. For starters, almost all of their bags come with some measure of customization, usually regarding the external materials. They also offer a wider array of colors across their catalog than just about anywhere else. And all of their packs come with a lifetime guarantee. That's true, too, for the Daylight minimalist backpack you see here. Best of all, regardless of which configuration you go with, this is a bag that will serve you brilliantly day-in and day-out.
Exterior: 2×2 Ballistic Nylon or 400D Halcyon/420D Ripstop Nylon
Capacity: 17L
Laptop Sleeve: 13"
HEIMPLANET Monolith Minimal Rucksack
Pros
Weighs approximately 1lb
Superb fit & finish
Is MOLLE compatible
CORDURA shell & PU-coated zippers afford great weather resistance
Cons
Top grab handle feels cheap compared to rest of premium bag
Best Lightweight Pick: As you can probably gather from its name, HEIMPLANET's Monolith Minimal Rucksack was made specifically with minimalism in mind — and it was executed brilliantly therein. It has an 18L capacity — perfect for day-to-day usage or short-form travel — along with an ultralight, super-tough, weatherproof CORDURA nylon exterior, complete with PU-coated YKK zippers. And while the outside is as pared-down as possible, the inside still has plenty of organizational options — including a 15″ laptop compartment and MOLLE compatibility. The brand even sells its own modules you can stash inside for even more organization and versatility.
Exterior: 500D CORDURA Nylon
Capacity: 18L
Laptop Sleeve: 15″
Wexley Stem Daypack
Pros
Super rugged, streamlined CORDURA backpack
Stellar organizational features
Padded & suspended laptop pocket fits 16" MacBook Pro notebooks
Has hidden RFID-protected pocket
Equipped w/ thermo-formed honeycomb EVA foam back panel
Uses Duraflex hardware, MGlock magnetic buckles, & weatherproof YKK zippers / Hypalon pulls
Cons
Not as rugged as available X-Pac X50 version
Best Overall Pick: Just because a brand has a big name, that doesn't mean they make good gear. Similarly, brands you might not immediately recognize shouldn't put them out of contention. If the latter were the case, we might not have had the pleasure of taking a closer look at the exceptional Wexley Stem Daypack. With its sleek CORDURA nylon exterior, 17L capacity, YKK zippers, and Duraflex hardware, this bag doesn't exactly reinvent the wheel. But it doesn't have to because it has refined said wheel into something much more artful — so to speak.
Exterior: 1,000D CORDURA
Capacity: 17L
Laptop Sleeve: 16"
Rains Book Daypack
Pros
Uses Rains' signature aesthetic & PU-coated poly construction
Has ultra-sleek matte exterior finish
Offers outstanding weatherproofing
Cons
Warranty limited to only 2 years (doesn't point to lifetime of use)
Best All-Weather Pick: The Rains Book Daypack is a sleek, modern, and minimalistic take on a school-style book bag that features both Rain's hallmark look, as well as the brand's signature waterproof PU-coated poly fabric construction — the latter of which affords it a water column pressure rating of 8,000mm. Equipped with a curved top, sharp base, and large front zip pocket, this backpack offers 10.8 liters of internal storage space that includes a padded laptop sleeve that can accommodate notebooks of up to 15". Padded backstraps, a top grab handle, and weatherproof coated zippers round out this minimalistic masterpiece. Offered in five color options, the Rains Book Daypack also comes backed by a multi-year warranty.
Exterior: PU-Coated Polyester
Capacity: 10.8L
Laptop Sleeve: 15"
Aer Day Pack 2
Pros
Award-winning 2nd-gen pack engineered specifically for work/commuting
Features super rugged, super-high-denier shell construction
Minimalist exterior conceals wealth of internal organizational features
Great build quality & fit & finish
Cons
Face of pack scratches easily
Editor's Pick: Were you to put all of Aer's offerings on a wheel and spin it, literally anything it landed on would be worth your time and money. But if it's a minimalist backpack you seek, we'd urge you toward the Day Pack 2 — which is even minimalist in its name. This gorgeous bag features a sleek exterior crafted from Cordura nylon (complete with a PU-coated front to keep your tech extra-safe), a 14.8L capacity that's better for those that like to keep things pared down, a padded pouch suited to 15″ laptops, and more. Use this pack for a day and you'll want to keep using it for the rest of your life.
Exterior: 1680D CORDURA & Carbonate Polyurethane-Coated 840D
Capacity: 14.8L
Laptop Sleeve: 16"
Bellroy Transit Workpack
Pros
Sustainably manufactured from recycled eco-friendly materials
Full-zip clamshell opening provides unobstructed access to interior contents
Has soft-lined sunglasses pouch located outside of bag's crush zone
Features super-comfortable contoured, breathable back panel
Cons
Shell material not as rugged as other packs on this list
Best Eco-Friendly Pick: You can't go wrong with anything made by Bellroy, to put it bluntly. But if you're searching for a minimalist backpack, you may want to have a gander at the brand's Transit Workpack. As its name suggests, this sleek and eco-friendly bag was designed specifically with city-going commuters and office workers in mind, so it has plenty of internal organization for all your EDC, tech (including your laptop with a 16" compartment), and adjacent accessories. Of course, it also still has a sleek exterior, an exceptional material construction, and it looks professional enough to lug in and out of meetings.
Exterior: 100% Recycled Weatherproof Woven Fabric
Capacity: 20L
Laptop Sleeve: 16"
Arc'Teryx Granville 16
Pros
Cut from Arc's super premium Advanced Composite Construction
Weighs only 1.6lbs
Features Arc's typical top-shelf construction & quality
Rugged, lightweight nature & great weatherproofing make it stellar for hiking/outdoor use
Cons
Laptop storage consists of stretch mesh sleeve inside main compartment
Best Outdoor Pick: Anyone familiar with the outdoor and backpack industries will not be surprised to see highly-reputed Canadian technical brand Arc'teryx on our list — they might not even be shocked that we picked the Granville, as it has garnered a reputation as one of the best minimalist bags around, bar none. Of course, you don't have to have a familiarity with this 16L, weatherproof, laptop-toting pack in order to see just how good it is. To determine that, all you have to do is have a gander at it.
Exterior: FC0-DWR-Finished AC² (Advanced Composite Construction) Nylon
Capacity: 16L
Laptop Sleeve: 15"
Huckberry X GORUCK GR1 Slick Backpack
Pros
Limited edition version of cult favorite bag
Flat-lay-opening design inspired by Spec-Ops medical packs
Unparalleled mil-spec durability & build quality
Strength-tested at over 400 pounds
Made in America & backed by lifetime warranty
Cons
Expensive price
Doesn't feature waist & sternum straps
Best Ultra-Rugged Pick: Put simply: GORUCK's GR1 is one of the best backpacks ever created, period. And while it likely would have made this list anyhow, this exclusive Slick-spec variant born out of a collaboration with Huckberry definitely fits best with the minimalist theme. And it was managed beautifully: the brands simply removed the external MOLLE webbing, resulting in a far sleeker exterior without sacrificing any of the pack's other top-notch features. For those wondering, yes: it still comes with its legendary bombproof laptop compartment. But if you want one, you'll want to snatch it up quickly; these packs don't stay in stock for long.
Exterior: 1,000D CORDURA
Capacity: 21L
Laptop Sleeve: 17"
KILLSPENCER Utility Special Ops Backpack
Pros
Made by hand in America
Classic book bag silhouette brought to life using premium materials & construction
Features externally-accessible zippered & foam-padded laptop compartment
Uses black-finished Swiss-made Riri zippers
Offered w/ optional monogram
Cons
Heavy at 3lbs
Suede elements collect dust, dirt, etc
Very expensive price
Best Designer/Luxury Pick: While most minimalist backpacks — and backpacks in general — tend to be crafted from pliable synthetic materials like nylon and polyester, that's just not Killspencer's style (although they do offer some nylon bags). Rather, they've taken their Utility Special Ops Backpack and crafted it from the material that has helped to set this brand apart: full-grain leather. Crafted with the imperfections of leather and, thus, uniqueness in mind, this backpack is equal parts a useful everyday carry gear hauler and a show-piece you'll want to put on full display. Yes, it's expensive; yes, it is absolutely worth the money.
Exterior: Full-Grain Leather & Suede
Capacity: 15.23L
Laptop Sleeve: 16″
Arc'Teryx Nomin Pack
Pros
Designed using spare-no-expense approach
Made in Canada
Features Arc's typical top-shelf construction & quality
Fully waterproof w/ taped-seam construction & WaterTight zippers
Equipped w/ low-profile laminated shoulder straps w/ hidden adjustment system
Best Super Premium Pick: While the entry price is obviously exceptionally high for the Veilance Nomin Pack, this bag is worth every single penny. In fact, this backpack is largely credited for setting the gold standard when it comes to ultra-minimalist carry solutions. That starts with its weight: an absurdly low 33 ounces in total. That factor alone, plus its pedigree, should be enough for most. But if it isn't, the bag is also waterproof (with taped seams and WaterTight zippers), has a low-profile silhouette, can safely hold a 15″ laptop, and comes in two muted colorways. If you can afford it, you're not going to find a better minimalist backpack.
Exterior: AC2 Plain Weave Nylon Urethane Laminate
Capacity: 26L
Laptop Sleeve: 15″
The Best EDC Backpacks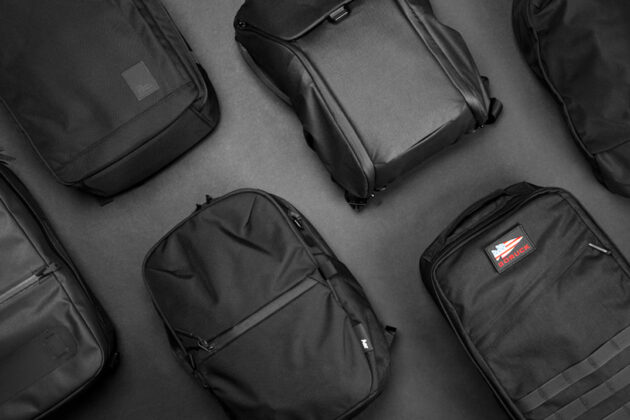 Interested in checking out some carry solution options that are a bit more feature-laden? Then be sure to head over to our guide to the best everyday carry backpacks for a look at our extensive hands-on review of the latest and greatest EDC-specific bags on the market.