Out of everything we carry, nothing goes missing more often than our keys. And yet, most of us continue to cart our keys around on the same worn-out ring, cramming them into our pockets and crossing our fingers that they'll stay where they are. Invariably, they'll get left on a table, between couch cushions, or in the car, leading to frantic foraging and unnecessary anxiety. It's pretty irrational really — at least when you consider the abundance of key organizers on the market today.
After all, there's no better way to level up your carry than by keeping your keys together in an organizer. Sleek, streamlined, and super easy to slip into your pockets, these compact caddies are a game-changer when it comes to staying on top of your essentials. The thing is, though, for such a simple accessory, it's surprisingly difficult to discern a buy from a bust. With this in mind, we've rounded up the five best EDC key organizers on the market today, starting off with our top six and finishing things out with some equally worthwhile (if a bit more niche) alternatives.
The Best Key Organizer Rundown
Best Budget Pick

KeySmart Compact

Best Metal Organizer

KeyBar Key Organizer

Best Leather Organizer

OrbitKey 2.0

Best Key Cover

Bellroy Key Cover Plus

Best Organizer Tool

Quiet Carry The Shorty Key Organizer

Best GPS/Tech Organizer

KeySmart Max
Streamlined Carrying
What's The Purpose & Benefit Of Carrying & Using An EDC Key Organizer?
Everyday carry key organizers provide a number of unique benefits and advantages over using a traditional keyring or keychain. For starters, they offer a much neater, streamlined means of both carrying and deploying your keys — while also preventing your keys from poking you in the leg through your pants, or making annoying jingling sounds. Key organizers also have the added benefit of allowing your keys to much more easily slip in and out of your pocket or pack. What's more, several of our favorite key organizers also feature supplementary features such as built-in flashlights or GPS trackers. When you add all of this up, it becomes blatantly clear why key organizers have become so popular amongst EDC enthusiasts over the last few years.
Key Organizer Qualities 101
What To Look For When Shopping For An EDC Key Organizer
Though they are fairly straight forward as products, there are stilll a few areas one should be privy to when buying an EDC key organizer. Knowing this first-hand, we've pieced together this condensed guide to the key aspects to take into account when buying a key organizer for everyday carry.
Design: Despite the fact they all serve the same purpose, can organizers can be designed or laid out in several different ways, from slide-out key models to wallet-style units that fold open to reveal their keys.
Materials: Just like with practically any piece of EDC gear, the materials used to construct a key organizer will play a major role in its overall durability and performance. The constructions utilized in this space can vary from everything from alloys to leather.
Number Of Keys: Another major area to consider when buying an EDC key organizer is how many keys each model is capable of accommodating, as different models can hugely vary in this regard. What's more, pretty much every key organizer will accept common house keys, but some models can also accommodate larger, more oddly-shaped keys such as older car keys.
Supplementary Features: Though their main job is to carry and organize your keys, some EDC key organizers come loaded with supplementary features or functions that afford them additional levels of utility. This can include everything from built-in flashlights to bottle openers to blades to even integrated GPS trackers.
Selection & Testing Process
How & Why We Got Hands-On With These Particular EDC Key Organizers
The process was used to test and review our selection for the best key organizers was fairly straight forward. We began by compiling a list of what we expected to be the best models on the market, looking to each unit's design, material selection, and features in order to generate an initial shortlist. Once making our picks, we then proceeded to get hands-on with every model on our list in order to obtain a real-world sense of how these key organizers actually function in practice. This meant discovering not only how easy they are not only to use, but also how easy or difficult it was to add or remove one or more keys from the organizer. Additionally, we also paid close attention to how well each model held up over the course of our testing, and whether or not any of them showed any major signs of early wear and tear that point to a lack of longevity. After extensively getting hands-on with each organizer, when then proceeded to generate our final list of the best of the best.
The Best
Our Top ECC Key Organizer Picks
KeySmart Compact
Pros
Offered in aluminum, leather, titanium, & woven & forged carbon fiber constructions
Holds up to 14 keys
Offers great value
Super easy to add or remove keys
Can be upgraded w/ add-ons such as a knife blade & bottle opener
Cons
Keys mounted at both ends results in them getting in each other's way
Best Budget Pick: An uncluttered keychain doesn't have to come at the expense of an empty wallet. Just take this organizer from key organizer OG KeySmart, for instance. Originally launched in 2013, the Compact is an affordable little organizer that avoids unnecessary tricks and gimmicks in favor of a price-conscious, purpose-built package.
It comprises two laser-engraved aluminum plates and a pair of expandable screw posts, meaning assembly is intuitive, and on-the-fly adjustments are incredibly simple. It might not have the edge on some of our other picks when it comes to things like all-out capacity and integrated toolsets, but it does at least give you the option to fit helpful add-ons like bottle openers and pocket knives.
Max Key Capacity: 14
Material(s): Aluminum, Leather, Titanium, Forged Carbon Fiber, Woven Carbon Fiber
KeyBar Key Organizer
Pros
Ultra-simple yet ultra-rugged minimalist key organizer
Made in America
Can house up to 28 keys
Sold in choice of aluminum, brass, G-10, copper, or titanium constructions
Ships w/ included keyring & pocket clip
Cons
Becomes very bulk when carrying more than 5 keys
Best Metal Organizer: If you're looking for something a bit more robust, however, you can't go wrong with this burly organizer from KeyBar. Easily one of the most bulletproof key caddies on the market, it features an American-made, aircraft-grade aluminum construction and a set of high-quality stainless steel hardware.
What's more, it's a highly accommodating unit that packs pretty much everything you could ever need. The standard included screws hold up to 12 keys, whereas the extension screws allow for an impressive 28-key capacity. In other words, you're more likely to run out of doors to open than you are to fill this expansive organizer.
Max Key Capacity: 28
Material(s): Aluminum, Brass, Copper, G10, Titanium
OrbitKey 2.0
Pros
Comes w/ D-ring attachment
Equipped w/ all 316L stainless steel fasteners & hardware
Benefits from use of proprietary locking mechanism
Sold in huge variety of materials & colors
Is compatible w/ many car keys
Best Leather Organizer: KeySmart may have created the key organizer category, but the folks at OrbitKey proved just how refined the end product could be. That is to say, the brand really paved the way for the minimalist leather alternative to the traditional screw-together clip. Available in top-grain hide, Saffiano, Crazy Horse, and even Desserto Cactus leather, the OrbitKey 2.0 is abounding with options that'll complement your personal look.
Much more than a piece of minimalist eye candy, however, this handsome organizer is also able to withstand the constant abuse of being carried. Held together using some tough 316L stainless steel fasteners, it's guaranteed to keep your keys safe and secure.
Max Key Capacity: 7
Material(s): Leather, Silicone
Bellroy Key Cover Plus
Pros
Sustainably manufactured from eco-friendly materials
Boasts top-notch fit & finish
Features a magnetic closure
Leather loop allows for key fob or keychain attachment
Cons
Only holds 4 keys maximum
Best Key Cover: Australia-based Bellroy is one of our favorite EDC brands around, so it should come as no surprise that they've earned a spot in our best organizers roundup. Slim in build and smart in function, the Key Cover Plus is perfect for those who are after a handsome key caddy that's heaped with modern refinement. It comes with a classy full-grain leather build, magnetic closures, and elasticated attachment points, making installation toolless and operation super simple.
And here's the thing: because it comes in two different configurations — a "Regular" and a "Plus" — you can size your organizer according to your requirements. The former is pretty spartan (only packing away some two to four keys), but the latter doubles its capacity, maxing out at a respectable eight.
Max Key Capacity: 8
Material(s): Leather
Quiet Carry The Shorty Key Organizer
Pros
Super clean minimalist design
Scales machined from Grade 5 titanium
Mated together w/ 416 stainless steel hardware
Features removable 1.70" AUS-8 blade or multi-tool
Ships w/ included keyring & pocket clip
Cons
Requires tool to add or remove keys
Best Organizer Tool: Sure, many of our key organizers are compatible with bottle openers, pry bars, and other essential EDC tools, but this pick from Quiet Carry brings its own integrated blade along for the ride. Constructed from a hard-wearing 6AL 4V Titanium, it features a set of 416 Stainless Steel fasteners and an AUS8 knife or multi-tool.
As far as carrying capacity is concerned, the Shorty can store anywhere from three to five keys with the addition of some extension posts. However, when you consider that it comes with a built-in frame-lock and weighs in at a svelte 1.6oz, the limited carrying capacity is a compromise that's well worth it.
Max Key Capacity: 5
Material(s): Titanium
KeySmart Max
Pros
Has built-in Tile GPS tracker
Equipped w/ integrated LED flashlight
Super easy to add or remove keys
Benefits from RecoverID & Lifetime Loss Protection
Can be upgraded w/ available add-ons
Best GPS/Tech Organizer: Though we already touched on KeySmart in this guide once before, we had to include another one of their offerings, as the brand truly dominates the organizer industry. For its latest release, KeySmart threw in everything and the kitchen sink to give you one of the most capable key organizers money can buy. Even in its capacity as a keychain, the Max excels, storing up to 14 keys between its two fastening screws. But that's not all; the KeySmart Max does much more than organize your essentials.
Thanks to its Tile tracking technology, it also allows you to keep tabs on your keys (or even your phone) should they go missing. Better still, KeySmart gave the Max a 150-foot Bluetooth range, up to 60 days of battery life, and a 2x louder ringtone. As if all that wasn't enough, though, KeySmart even fitted the Max with a built-in LED flashlight along with a multi-tool that works as both a bottle opener and a flathead screwdriver.
Max Key Capacity: 14
Material(s): Plastic
The Rest
Runner-Up EDC Key Organizers Worth Considering
Slughaus Micro
San Francisco-based Slughaus makes some of the most minimalist EDC gear on the market today, and their 'MICRO' organizer is certainly no exception. As the world's smallest key tool ever made, it's lighter than a quarter and tiny enough to fit on the tip of your finger. Even still, the MICRO can hold up to 10 standard keys — and that's without needing to purchase any extensions or adapters. Should you be after more storage capacity, however, you can always expand the MICRO with one of Slughaus' handy included spacers. Oh, and not forgetting the importance of function, the MICRO even comes with an ultra-compact removable multi-tool that allows for convenient fob attachment (while also doubling as a prybar), a bottle opener, and a box cutter. When you consider that it requires no tools to assemble, the result is a key organizer that's small in size but enormous in impact.
Max Key Capacity: 10
Material(s): Aluminum
Cineik K-Addict
If you're the type of person with an overwhelming amount of carry on your keychain, Cineik's K-Addict is the organizer for you. Able to handle anything from a single key to more than 50, it comes with a precision CNC-machined construction and a set of 18-8 stainless steel hardware. Beyond offering a clean, no-nonsense design, this also means that it's made to full military spec and is resistant to rust, corrosion, and even scratching. Cineik includes a build kit with every organizer, but the K-Addict has the benefit of being compatible with practically any 8-32 size screw. In other words, whether you happen to lose your hardware or you're looking to customize your organizer for your carry, the K-Addict proves quite the piece of hassle-free carry indeed.
Max Key Capacity: 50
Material(s): Aluminum, Titanium
Ekster Key Holder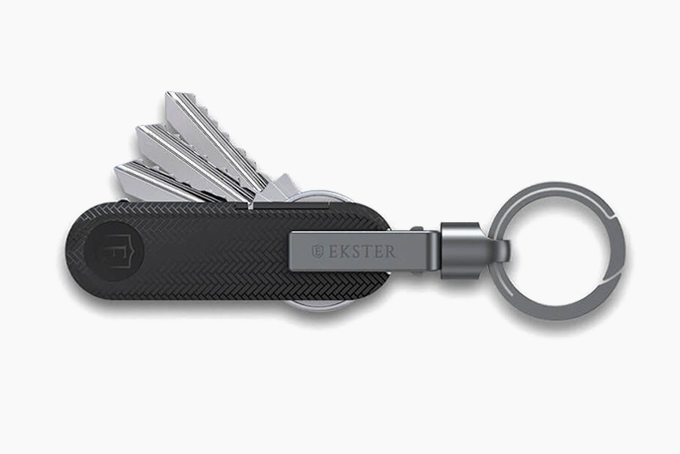 Ekster first made a name for itself with its nifty smart wallets, but the brand has been quick to innovate within other areas of the EDC space. Just take this compact key organizer, for instance. Crafted from space-grade 6063-T5 aluminum, it's a super-slim package that comes with room for up to 8 keys. Moreover, it features a removable magnetic keyring for attaching fobs, lanyards, and other larger accessories, making one-handed access a breeze. The best part, though, is that it's compatible with Ekster's Chipolo-powered tracker tool. Built with worldwide coverage, voice activation, remote phone control, and even an LED light, it's a powerful little unit that pairs peace of mind with added utility.
Max Key Capacity: 8
Material(s): 6063-T5 Aluminum
Keybiner
While all key organizers are designed to declutter your pockets, there are few that do the job as well as this capable caddy from KeyBiner. That's because, along with outright removing your keyring from your pockets, the KeyBiner also includes a few built-in tools to help you out in a pinch. Within the main gate, there's a convenient bottle opener, and elsewhere you'll find a couple of screwdrivers, various hex wrenches, and even a pry bar and a file. Nevertheless, it holds anywhere from 1-14 keys thanks to its assorted screw sizes. Clip it to your belt or hook it on your backpack — the KeyBiner is an organizer whose versatility can't be beaten.
Max Key Capacity: 14
Material(s): Aluminum
KeyPort Pivot 2.0 Essential Bundle
KeyPort likens its Pivot 2.0 to the Swiss Army Knife of keychain organizers, and it's understandable when you see all that it has to offer. For starters, carrying capacity is pretty respectable, as it can house as many as eight keys depending upon what type of tool inserts you're using. What's more, KeyPort offers a wide selection of smart accessories, including a USB flash drive, a MOCA 10-in-1 multi-tool, and a Pocket Flare keychain flashlight, among others. Machined with a tough alloy chassis (Grade 5 titanium, 420 stainless steel, or 6061 aircraft aluminum), it's made only better by a complimentary 2-year subscription to KeyPort's lost and found service. If you're looking for a more affordable alternative to the above KeySmart Max, the Pivot 2.0 could be just what you need.
Max Key Capacity: 8
Material(s): Aluminum, Stainless Steel, Titanium
Left Field Design Keyclip 6
One of the best ways to stay on top of your everyday carry is to minimize the amount of stuff you have in your pockets. Left Field Design's KeyClip 6 does precisely that, combining a money clip, a multi-tool holder, and a key organizer all into one compact package. Because it allows for any number of different carry configurations — as a cardholder, a cash stash, or a USB wrangler — you'll never run out of ways in which you can optimize your pockets for efficiency. Top it off with a robust 301 stainless steel construction and you've got an organizer that could fit into practically any EDC enthusiast's loadout.
Max Key Capacity: 6
Material(s): 301 Stainless Steel, Carbon Fiber
The Best Quick-Release Keychains for EDC
Prefer using a more traditional key ring for your everyday carry? Then be sure to check out our guide to the best quick-release keychains for EDC for a curated selection of the latest and greatest models on the market.