Since the introduction of Suzuki's game-changing GSX-R750 in the 1980s, the modern sportbike market has witnessed a steady stream of increasingly competent, high-performance motorcycles capable of delivering lightning-fast lap times and going toe-to-toe with, if not outright besting the speed, acceleration, and cornering abilities of the world's most elite hypercars. And while most high-performance superbikes carry MSRPs that exceed that of your average sedan, the used market presents a much more accessible alternative to buying new off of the showroom floor.
With modern sportbikes having now existed for more than three-and-a-half decades, there's an enormous number of available makes, models, and model years to choose from, and though this provides buyers with a near-endless choice of bikes, it can also make purchasing a secondhand scoot a rather intimidating experience. The truth of the matter is that pretty much all modern sportbikes afford pretty great performance, however, there are a handful of models that stand above the rest, offering the best riding characteristics, spec sheets, running gear, and technology, relative to their used price. And it's this group of two-wheelers that we'll be focusing on today to bring you this guide to the best used superbikes and sportbikes for the money.
Studying The Spec Sheets
What Areas To Consider When Shopping For A Used Superbike
Shopping for a secondhand superbike isn't all that different from buying any other genre of motorcycle, though there are a few areas that are worth investing extra attention into when browsing this segment. Below, we'll touch on the seven most crucial elements to take into account when in the market for a used supersport.
Additional Costs: When purchasing a secondhand motorcycle, you'll need to create a budget that factors in far more than just the mere cost of the used bike itself. Alongside DMV registration and fees and insurance, you'll also need to set aside money for a quality helmet and all the necessary safety gear, and the bags and other moto accessories you'll need. We'd also advise new riders to set aside money for taking an MSF safety course or for spending a day with a qualified instructor at the track to properly learn the fundamentals in a safe, closed, and controlled environment.
Aftermarket Part Availability: Even in their bone stock forms, every machine on this list is a thoroughly capable track weapon and canyon carver. Having said that, more so than any other genre of two-wheeler, supersports and superbikes can be made even more potent through the addition of upgraded parts. If you plan on upgrading your bike — or building a full-on track day machine — then you'll want to explore the availability of the aftermarket parts that exist for whatever model you're considering.
Engine Size, Type, & Power: The high-performance speed and acceleration capabilities of sportbikes are directly owed to their engines, and for this reason, a bike's powertrain is one of the most crucial aspects to consider when shopping. You'll want to examine the engine's number of cylinders and configuration, displacement, cooling, and fuel delivery systems, and whether or not they have any modern electronic elements such as multiple fuel maps or adjustable engine braking. It's also worth delving into how much horsepower and torque an engine produces.
Reliability: One very obvious downside to purchasing a motorcycle used is the deteriorated reliability factor, as the simple wear and tear that comes from riding overtime will eventually start impacting a bike's health. The good news is that most modern motorcycles are largely very reliable, so long as they've been maintained properly. One surefire way to feel out if a bike has been properly cared for is to ask the owner for maintenance records and invoices and the like. When buying used it's also worth looking into whether there have there been any factory recalls on the specific make, model, and year that you're considering, and if so has the recalled part been replaced on the example you're looking at.
Running Costs: Second and thirdhand sportbikes can be snagged at massive discounts over their original MSRP, however, while a used exotic two-wheeler may be relatively cheap to purchase, the same can't be said for their running costs. In addition to paying high insurance rates (especially for newer riders), used superbikes and supersports can also be expensive to buy parts for and have worked on by mechanics. Be sure to do your homework and look into the average running costs of a motorcycle before pulling the trigger on your purchase.
Running Gear: Because sportbikes have such powerful engines and are largely engineered to be competitive on the track, manufacturers tend to outfit these performance-focused models with high-end running gear. Componentry such as the suspension and brakes are more than worth exploring when shopping, however, sportbikes are often modified and upgraded, so it's not uncommon to see used examples kitted out with aftermarket equipment.
Technology & Rider Aids: Over the last decade motorcycles have been outfitted with a growing number of fancy electronically-regulated rider aids and assists to help keep the ever-growing power output of today's sportbikes in check. This includes features such as ride-by-wire throttles, ABS, traction control, slide control, wheelie control, adjustable engine braking, multiple fuel maps, and launch control, just to name a few.
Superbike Speak
Key Terms To Understand When Buying A Sportbike
If you haven't spent much time around superbikes or motorcycles in general, there are a handful of terms that are likely to appear quite a bit on manufacturers' websites and in brochures that may be confusing. To help you fully wrap your head around some of the available genres and features prevalent in the sportbike sector, we've generated this condensed list of key terms.
ABS: Standing for "Anti-Lock Brakes," this feature allows a rider to apply maximum brake pressure without ever locking up and skidding. This system works via a sensor that detects wheel speed, and then automatically decreases brake pressure if sensing the wheels are locking up. As numerous studies have shown, ABS-equipped models hugely decrease the chances of an accident by as much as almost 40%.
Clip-Ons: This term refers to the type of handlebars used on the vast majority of sportbikes. Rather than being a single-piece item like regular handlebars, clip-ons consist of two short individual bars that clip onto the fork uppers. While uncomfortable on the back, the low position at which clip-ons are mounted results in the rider being in a tucked-in, hunched-forward, race-ready riding position.
Curb Weight: In an effort to make their bikes look as svelte as possible, manufacturers often list/advertise a model's "Dry Weight" which is how much a given motorcycle weighs without any fluids, oil, or fuel. A Curb Weight, on the other hand, denotes how much a bike weighs fully-topped off with fluids and fuel — aka in fully operational form and ready to ride. Curb weights are typically around 15% heavier than a model's listed dry weight.
Fairing: A fairing is a piece of race-derived bodywork that covers the nose, belly, and most of the engine and mid-section of a motorcycle. These multi-piece items provide a major aerodynamic advantage, hugely mitigating drag and allowing for better fuel efficiency and higher top speeds. It is worth noting that fairings are particularly prone to damage if a bike tips over or is dropped, and are often fairly expensive to replace.
Homologation Special: In order to qualify for competition in production-based racing series like the World Superbike Championship. moto manufacturers are required to build a minimum number (usually just a few hundred) of what are called "homologation specials." These are spare-no-expense, race-spec versions of the company's flagship superbikes and are essentially full-on track weapons with headlights, indicators, and a license plate tacked on.
i4: There are other engine configurations utilized in the superbike and supersport sectors, the majority of full-size (600 and 1,000cc) race replica sportbikes are powered by inline-four-cylinder power plants. These high-revving four-bangers are often denoted or referred to simply as "i4s" or "i4 models."
MotoGP & WSBK: Manufacturers routinely advertise features on their sportbikes as being MotoGP and/or WSBK-derived. These names refer to the two highest levels of professional motorcycle racing, with MotoGP being the absolute pinnacle with the world's best riders competing on ridiculously state-of-the-art prototype race bikes on the best race tracks on the planet, while WSBK — or "World Superbike" — is an elite level championship series that campaigns production-based homologation special motorbikes — not unlike Formula One and NASCAR only on two wheels.
Rearsets: Rear-sets are components that are comprised of the footpegs, brake/shift levers, and the accompanying brackets that hold them together. Often adjustable, rear-sets are mounted higher up, thereby making for a more aggressive riding position and affording more ground clearance and lean angle. Additionally, rear-sets are typically knurled, allowing them to offer better grip and provide a more stable base to plant your feet on when moving around or leaning off of the bike.
Supersport: This style of a sportbike is engineered primarily for use on the track, though production versions have been slightly watered down to make for more conducive road bikes. Typically the term "Supersport" refers to fully-faired models as large as 750cc's, though most commonly between 250 and 600cc's. This class is essentially no different from superbikes, albeit with slightly smaller displacement engines.
Superbike: Larger in displacement than 600 and 750cc supersport models, superbike motorcycles are approximately 1,000cc (or slightly larger) sportbikes and are typically the flagship offering of their respective manufacturers. As such, these bikes tend to feature the most advanced technology, mechanics, and amenities, as well as the most aggressively-designed bodywork. Superbikes are also commonly referred to as "Literbikes" due to their one-liter engine displacement.
TC: Short for "Traction Control," TC is an electronic system that measures wheel-speed rotation in order to detect wheel-spin in the event that the rear tire loses grip under acceleration, thereby hugely mitigating the likelihood of both high-side and low-side crashes.
Biting Off More Than You Can Chew
Why New Riders & High-Performance Superbikes DO NOT Mix
While motorcycles are objectively dangerous, we'd argue that bikes — especially sport and superbikes – get an unfairly bad wrap, as far too often, new, inexperienced riders begin their motorcycling careers aboard models that are too big and too powerful for their skill and experience level. In the same way that it would be an atrocious idea to learn how to drive behind the wheel of a Lamborghini, it's just as ill-advised to commence your two-wheeled career on a full-size sportbike — and that very much includes 600cc i4 models.
Just because you can afford a used 200mph race replica superbike, doesn't mean you should buy one. Even with the benefit of traction control and ABS, 600-1,000cc supersports are still incredibly sensitive, unforgiving machines that leave very little room for error. What's more, learning to ride on a bike that's too powerful will hinder your ability to learn and progress as a rider, as where a smaller, more manageable motorcycle lets you focus on fundamentals like body positioning and throttle control instead of spending your time in the saddle trying to keep the thing in check.
Secondhand Stallions
The Best Used Superbikes For The Price
Now that you're privy as to what to keep an eye out for when shopping, let's turn our attention to our picks for more than a dozen of the best used superbikes currently available at dealerships and online.
Disclaimer: All used motorcycle prices shown reflect Kelley Blue Book values for "Good" condition examples for typical listing prices showing average mileage based on the model year. These figures are often slightly higher than the asking prices shown in classified ads.
1999 Honda CBR600 F4
The CBR600 F4 is a bonafide track-derived supersport that can also be had for next to nothing. It may look a little long in the tooth aesthetically, though underneath its dated bodywork is a thoroughly modern chassis and inline-four engine that allow the F4 to fire off 3.1 second 0-60mph runs and clock a top speed exceeding 155mph. As far as accessibly-priced supersports, you'd be hard-pressed to find a better bike, dollar-for-dollar, than the F4.
Engine: Liquid-Cooled 599cc Inline-Four
Power: 110HP & 49.5FT-LBS
Top Speed: 159MPH
New Price: $7,899
Used Price: $2,600
Origin: Japan
1998 Honda VFR800
Considering its typical asking price on the used market, Big Red's VFR800 is unquestionably one of the best bargains out there. For around $2.5K, you can get a liquid-cooled V4-engined Japanese motorcycle with a full set of bodywork and a single-sided swingarm that's genuinely good for everything from track days to commuting to long-distance touring. This exotic and wildly-affordable sport-tourer also features distinctive side-mounted radiators and a comfortable, upright riding position that still allows for spirited cornering.
Engine: Liquid-Cooled 782cc 90° V4
Power: 108HP & 61FT-LBS
Top Speed: 143.5MPH
New Price: $9,500
Used Price: $3,065
Origin: Japan
2012 Kawasaki Ninja 300
Thanks to the popularity and success of the Ninja 400, Kawasaki's already affordable, older Ninja 300 and Ninja 250 models are now available for little more than a song and a dance. For new riders looking for a manageable bike to cut their supersport teeth on, the Ninja 300 is a stellar choice with its surprising potent twin engine. What's more, on top of there being an absolutely enormous volume of aftermarket parts and upgrades available for the little Ninjas, there are also a decent number of race leagues that campaign the learner-friendly Kawasakis.
Engine: Liquid-Cooled 296cc Parallel-Twin
Power: 39HP & 17.5FT-LBS
Top Speed: 119MPH
New Price: $4,799
Used Price: $3,195
Origin: Japan
1996 Suzuki GSX-R750
Though it may look a little dated to some, for those that appreciate the style of '80s and '90s era endurance racers, the 1996 era Gixxer 750 is a stellar bike with an old-school appearance and a modern inline-four engine wrapped in a new-for-1996 GP-inspired twin-spar alloy frame. Commonly referred to as the "SRAD," the 1996 GSX-R750 also sported Suzuki's then cutting-edge "Suzuki Ram Air Direct" intake system. This pre-millennium Gixxer is also a stellar candidate for an affordable track day build.
Engine: Liquid-Cooled 749cc Inline Four
Power: 128HP & 59.3FT-LBS
Top Speed: 172MPH
New Price: $8,999
Used Price: $3,110
Origin: Japan
2017 KTM RC390
KTM's RC390 offers a bit more power and displacement from your average quarter-liter supersport, thereby allowing riders more time to learn and progress before outgrowing the bike. And while you can't go wrong with any model year RC390, the 2017 version received several key updates including redesigned bodywork, a slipper clutch, a race-style gear-shift light, and adjustable rear-sets that together make for a better-performing machine both on the streets or down at the local race track. If you only plan on tracking your RC390, you may want to consider trying to find a turnkey competition-spec variant previously used in MotoAmerica's RC Cup, which originally sold for $10,000.
Engine: Liquid-Cooled 373cc Single-Cylinder
Power: 44HP & 25.8FT-LBS
Top Speed: 111MPH
New Price: $5,499
Used Price: $4,095
Origin: Austria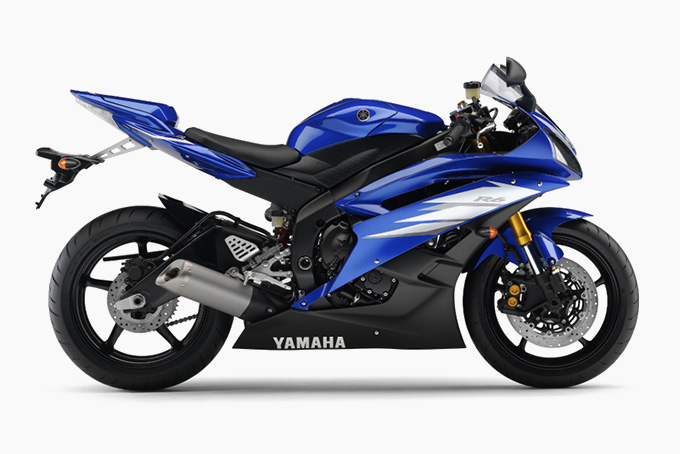 2006 Yamaha YZF-R6
In 2006, Yamaha fully overhauled the R6 and it has been relatively unchanged ever since — save for the addition of newly redesigned bodywork in 2016 and the addition of some electronic rider aids the same year. The engine and chassis are virtually untouched and are about as close to perfection as it gets. And while it doesn't make for as comfortable or practical of a daily commuter or street bike as the GSX-R600 or CBR600RR, the YZF is unequivocally the most potent 600cc i4 track weapon in its class — as demonstrated by the slew of WSSP titles achieved in the saddle of an R6.
Engine: Liquid-Cooled 599.4cc Inline-Four
Power: 127HP & 49FT-LBS
Top Speed: 159MPH
New Price: $8,299
Used Price: $4,585
Origin: Japan
2006 Triumph Daytona 675
While i4 race replicas deliver a ridiculously thrilling ride, they aren't all that conducive to street riding as the majority of the engine's power is extracted near its rev ceiling. And while they don't offer the fastest top speeds, inline-triples like Triumph's Daytona 675 afford markedly more torque from much lower in the powerband, resulting in a hooligan bike that's been dressed in full bodywork. In addition to the wildly-punchy triple, the 675's aluminum construction beam twin-spar chassis and razor-sharp suspension setup make the British-built supersport an immensely popular track day bike.
Engine: Liquid-Cooled 675cc Inline-Triple
Power: 125HP & 53FT-LBS
Top Speed: 155MPH
New Price: $8,999
Used Price: $4,685
Origin: England
2006 Kawasaki Ninja ZX-6R
In 2007 Kawasaki switched back to the competition regulation 599cc version of the ZX-6R, which makes the 2006 model year variant the one to get if shopping for an aughts era Ninja. The 2006 version also got upgrades to its already superb suspension package, plus a race-style back torque limiter, radial-mount four-pot calipers biting semi-floating 300mm petal-style rotors, an LCD display, and a GP-style under-tail exhaust. The 2005/2006-gen Zed-Ex 6 also resembles its 1,000cc sibling more so than any other production version of the bike thus far.
Engine: Liquid-Cooled 636cc Inline-Four
Power: 130HP & 51FT-LBS
Top Speed: 159MPH
New Price: $8,699
Used Price: $4,785
Origin: Japan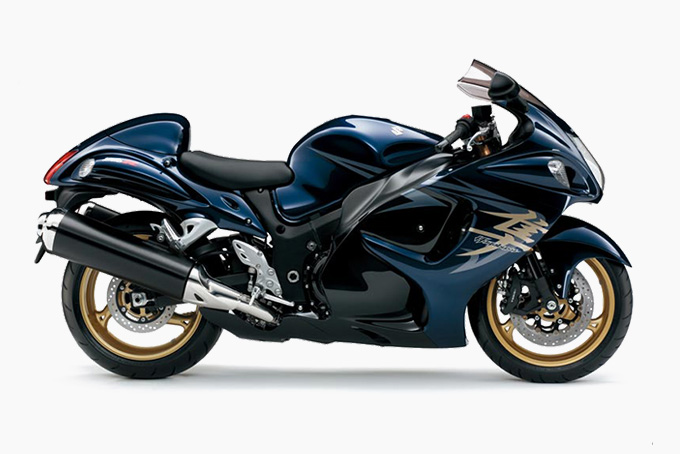 2008 Suzuki GSX-R1300 Hayabusa
Born out of the 1990s motorcycle speed wars, the Suzuki Hayabusa is a legendary bike first unleashed in 1999, before receiving a major model overhaul in 2008. For this reason, we recommend opting for the '08 model year of the 'Busa, as it offers the mechanical and engineering benefits of the newer generation and boasts its updated bodywork design while being available at the lowest price of any second-gen Gixxer 1300. The recent release of Suzuki's even newer, more high-tech generation of the Blackbird eater will likely drive older example's prices down even further, too.
Engine: Liquid-Cooled 1,340cc Inline-Four
Power: 197HP & 97.8FT-LBS
Top Speed: 186MPH
New Price: $14,799
Used Price: $6,800
Origin: Japan
2009 Aprilia RSV4-R
In 2009 Aprilia replaced its V-Twin-powered RSV 1000 superbike with an all-new flagship model in the form of the RSV4. Alongside the base models, the Italian brand also produced a top-shelf homologation special R-spec — which won the WSBK championship in 2010. For a used price of under $10K, the RSV4-R gets you a staggering array of ultra-premium running gear with an anodized aluminum swing-arm and frame with adjustable geometry, a slipper clutch, Aprilia's MotoGP-derived ride-by-wire system, a Magnetti Marelli ECU, Brembo monobloc radial brakes with steel-braided lines, inverted fork, a mono-shock, and steering damper from Ohlins, forged aluminum wheels, and numerous carbon fiber bits.
Engine: Liquid-Cooled 999.6cc 65° V-4
Power: 180HP & 85FT-LBS
Top Speed: 178MPH
New Price: $20,999
Used Price: $6,865
Origin: Italy
2011 Kawasaki Ninja ZX-10R
Kawasaki's ZX-10R superbike was treated to a major model update for the 2011 year, and though it took Team Green a couple of years to iron out the kinks in its factory race program, the 1,000cc Ninja would eventually become the most competitive superbike in recent history, winning the WSBK title in 2013, before repeating the feat in 2015, and every season since. The Zed-Ex 10's immense on-track success is owed to a completely redesigned engine that's equipped with the Japanese brand's thoroughly modern suite of electronic rider aids, a 43mm Showa Big Piston Fork, an advanced frame design, gravity-cast three-spoke wheels, and Tokico radial-mount quad-piston calipers paired with 310mm petal discs.
Engine: Liquid-Cooled 998cc Inline-Four
Power: 176.7HP & 82.6FT-LBS
Top Speed: 208MPH
New Price: $13,799
Used Price: $7,260
Origin: Japan
2014 Ducati 899 Panigale
The 899 is the most affordable version of Ducati's current bodywork style and still comes with a myriad of still cutting-edge technology and thoroughly high-end componentry, and unmistakably Italian, exotic-looking bodywork. Aside from the smaller displacement and the use of a dual-sided swing-arm, the 899 packs the same premium array of features found on its 1199 counterpart including Ducati's ultra-advanced die-cast aluminum monocoque frame and airbox design, a 43mm Showa Big Piston Fork, a Sachs mono-shock, radial-mount four-piston Brembo Monobloc M4 32 calipers biting twin 320mm discs, and whopping service intervals of 15,000 miles.
Engine: Liquid-Cooled 898cc 90° L-Twin
Power: 148HP & 73FT-LBS
Top Speed: 161MPH
New Price: $14,995
Used Price: $9,085
Origin: Italy
2012 BMW S 1000 RR
BMW hugely raised the bar in the superbike class with the debut of the German brand's S 1000 RR, gifting riders with the most advanced electronics and rider aid systems the world had ever seen. In 2012, however, the Double R was treated to a surprisingly substantial model update with an even more refined electronics package with improved throttle response across its four power modes (Race, Rain, Sport, and Slick), and BMW Motorrad Race ABS and Dynamic Traction Control. Instead of BMW's signature boxer engine, this Ola Stenegard-designed superbike is kicked along by a liter-sized, German-engineered, water-cooled inline-four.
Engine: Liquid-Cooled 999cc Inline-Four
Power: 193HP & 83FT-LBS
Top Speed: 188MPH
New Price: $15,050
Used Price: $9,705
Origin: Germany
2016 Yamaha YZF-R1S
For a brief time, Yamaha produced a more affordable, but still thoroughly high-performance S-spec version of its current generation of the R1 which had just slightly heavier engine internals but was otherwise identical in almost every other regard. Now that a few years have passed, the Tuning Fork Company's MotoGP-derived, Crossplane-crank-equipped R1-S can be had for even lower prices. This means you still get Yamaha's full suite of race electronics and rider assists, high-end suspension and braking components, and a modern-looking set of bodywork that takes ample inspiration from the YZR-M1 premier class race bike.
Engine: Liquid-Cooled 998cc Inline-Four
Power: 200HP & 83FT-LBS
Top Speed: 186MPH
New Price: $14,990
Used Price: $10,500
Origin: Japan
The 15 Best New Motorcycles Under $5,000
Prefer buying new but still don't want to break the bank? Then be sure to head on over to our guide to the best new motorcycles under $,5000 for more than a dozen new rider-friendly, entry-level moto options. So, whether you fancy a V-Twin cruiser, an aggressive naked bike, or a rugged dual sport, this list has got you covered.