Supercars are incredible works of technological achievement. They are the exemplification of automotive engineering not just as a means of transportation, but as an art. Poured over by their designers, manufacturing teams, and – eventually – their owners, they are absolute marvels of the mechanical. Hypercars, however, are in another world entirely. They're sort of like the vehicle equivalent of cranking everything up to 11 – performance, styling, luxury, price… You get the picture. They're all taken to the nth degree.
But, even amongst the elite of the elite, there are still some that are better than others. And while that might seem a lot like comparing diamonds to other slightly more perfect diamonds, the fact remains. So, without further ado, we've gathered together this list of the world's best hypercars. So, if you've got an absurdly large amount of spending cash, the following automobiles are available now (or will be soon) for purchase. If you don't, they're still really nice to look at.
Aston Martin Valkyrie
Usually, when a highly lauded car brand and an F1 racing team get together, it's to produce precious few track cars for an upcoming race season. And that's not entirely dissimilar to what happened when Aston Martin and the Red Bull Racing teamed up to create the Valkyrie. The difference: while they've got their track versions, they're also creating a limited run of street-legal versions that will be available for sale. This gorgeous vehicle, which is named after the winged female warriors of Norse myth, will feature a Rimac-built Kinetic Energy Recovery System, is said to have an unheard of 1:1 power-to-weight ratio, will be made almost entirely out of carbon fiber, and will retail for somewhere in the $3 million range.
Engine: Naturally Aspirated Cosworth 6.5-liter V12
Horsepower: ~1,000 HP
Highlights: All Carbon Fiber Structure, 1:1 Power To Weight Ratio
Bugatti Chiron
When Buggati's Veyron was originally released in 2005, it changed the automotive industry forever. Hell, it basically created the hypercar category. So you can imagine the pressure the brand probably felt when it came time to conjure up a successor. The Chiron is what they came up with. Using an 8-liter quad-turbocharged W16 engine just like the Veyron, this vehicle was equipped with a few notable upgrades – including direct injection and larger, better turbos. The result is a car that can go from 0-62 in less than 2.5 seconds, hits 124 in less than 6.5, and makes it all the way up to 186 in less than 13.6 – quicker than the Veyron. And that's especially impressive when you consider that the Chiron is actually heavier than its older counterpart. But, that also comes with a price hike to the tune of $2.65 million.
Engine: Quad-Turbocharged 8-Liter W16
Horsepower: 1,500 HP
Torque: 1,180 Ft-Lbs
Top Speed: Electronically Limited @ 261 MPH
Ferrari LaFerrari
When a brand is so confident in their hypercar that they name it after the brand itself, you should be expecting something extremely special. And that's exactly what we have in Ferrari's LaFerrari. This gorgeous vehicle is unlike anything the legendary prancing horse brand has released before, thanks in part to the combination of a 6262cc V12 engine and a 120kW electric motor. That's right – this hypercar is a hybrid. And what's really special about the introduction of that updated technology is that it isn't relegated to just their top-end model. No, the brand plans on having it trickle down into all their models, making their vehicles a good deal more environmentally friendly than they would be otherwise. You'll have to pay over $1.4 million to get one, but you'll end up with what can be called one of the brand's most definitive vehicles.
Engine: 6262CC V12 + 120kW Electric Motor
Horsepower: 949 HP
Torque: 663 Ft-Lbs
Top Speed: >217 MPH
Acceleration: 0-124 In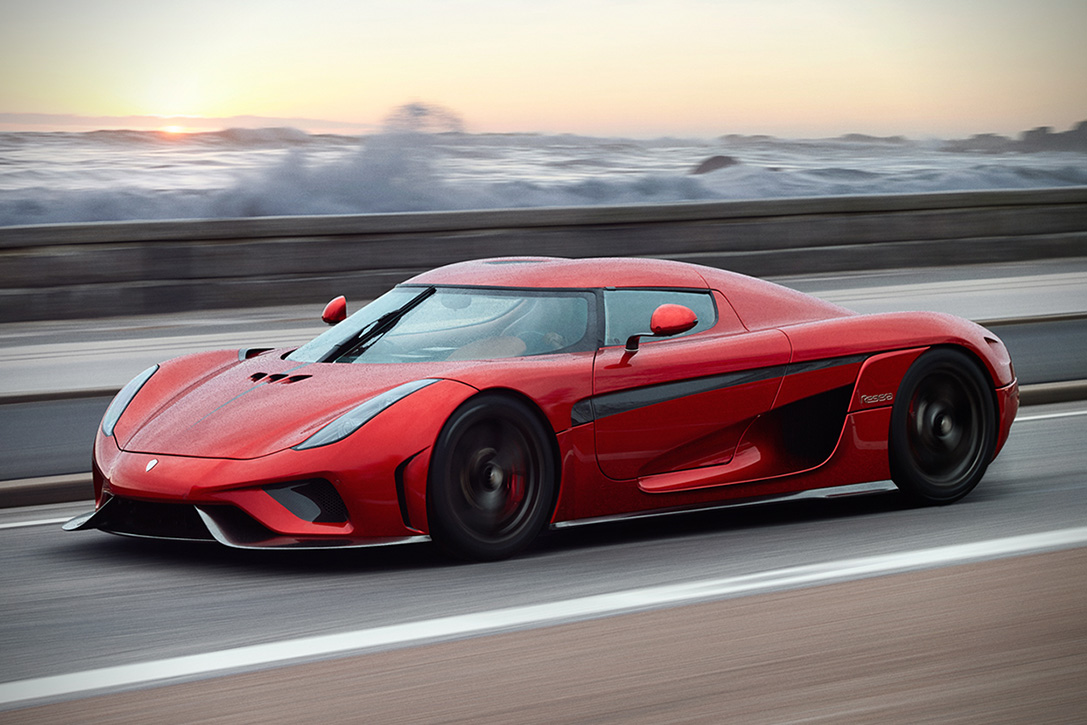 Koenigsegg Regera
While Koenigsegg prefers to call it a "megacar," the Regera (which is Swedish for "to reign") is intended to be a luxury alternative to the brand's otherwise race-style cars. But don't let the fact that they classed-up the interior fool you – this car still moves like it belongs on a track, thanks to its combination of a twin-turbocharged V8 engine and three (that's right, three) onboard electric motors. And don't let the fact that this hypercar is fitted with a V8 instead of a V12 deter you, either, because it's still incredibly quick and agile. In fact, we couldn't even tell you its top speed, since they had to electronically limit it to 255 mph. What we can say is this: the Koenigsegg Regera houses a 5.0-liter engine, which means that it offers up 220 horsepower per liter just from the gas engine itself. And if you spend the $1.9 million it costs to get one, you'll also get to enjoy its memory foam seats, 4G and Wi-Fi connectivity, Apple CarPlay, and more.
Engine: 5.0-Liter Twin Turbo V8 + 3 Electric Motors
Horsepower: >1,500 HP
Torque: >1,475 Ft-Lbs
Top Speed: Electronically Limited @ 255 MPH
Acceleration: 0-62 In 2.7 Seconds
Lamborghini Aventador
While Lamborghini's Aventador may not have some of the insane performance figures as some of the other cars on this list, its combination of luxury, engineering, and overall style still garner it a spot amongst the best of the best hypercars. It hosts a Multi Point Injection V12 engine – which offers a maximum speed of 217 mph, up to 740 horsepower, and 507 ft-lbs of torque – which is pretty much the same from car to car, but the brand offers an entire host of customization options. That means, if you spend the comparably low $399,500 starting price to get one, you can be sure that you're getting a vehicle that's truly unique to you and you alone – barring random chance, of course.
Engine: 6.5-L 60° V12
Horsepower: 740 HP
Torque: 507 Ft-Lbs
Top Speed: 217 MPH
Acceleration: 0-62 In 2.9 Seconds
McLaren P1
McLaren's F1 was, undoubtedly, one of the best cars ever to have graced this planet. So it was a pretty tall order when the time came to offer up a follow-up to it. Luckily, the geniuses in the brand's design department were more than up to the task, giving us the wonder that is the P1. How does it compare, you ask? Well, the F1 hit 0-62 in 3.2 seconds. But the P1 can do it in 2.8. By the time the F1 hits the 100 mph mark, the P1 is already well on its way to 124 mph. And, finally, the F1 will finish a quarter-mile drag in 11.1 seconds – whereas the P1 does it in just 9.8. Even more amazing, the P1 can actually do 34 miles to the gallon, as well. It's not often you can find an incredibly well designed (for lack of a better word) race car that also is economical on gas. Well done, McLaren. Oh, and this one retails for around $1.5 million.
Engine: 3.8-litre Twin-Turbo V8 + 132kW Electric Motor
Horsepower: 904 HP
Torque: 664 Ft-Lbs
Top Speed: Electronically Limited @ 217 MPH
Acceleration: 0-62 In 2.8 Seconds
Pagani Huayra
It was the Zonda that put Pagani on the map. That car, of course, is now over 15-years-old and – while still an unbelievable marvel of automotive excellence – just can't compare to the new and upgraded tech of the brand's present vehicle, the Huayra. For starters, this new model features a specially made lightweight Mercedes-AMG twin-turbo 700 horsepower engine which, for reference, garnered it the fastest lap time around the Top Gear track up until June of last year. But that's not the only thing that makes this car special. No, its grace and beauty are a credit to its creator – Horacio Pagani – who obsessed over every single one of the vehicle's 4,000+ components so as to create his vision of the perfect car. It came with a base price of just over $900,000 – but since it sold out you can count on spending more if you want to take it off a collector's hands. Or, you could wait for the upcoming release of the Roadster version.
Engine: Mercedes AMG M158 Twin-Turbo V12
Horsepower: 700 HP
Torque: ~738 Ft-Lbs
Top Speed: ~238 MPH
Porsche 918 Spyder
Looking like a hybrid of the brand's classic sports car silhouette and some kind of intergalactic science-fiction starship, the Porsche 918 Spyder is a sight to behold. Thankfully, it's not just looks. This car has got some monstrous numbers beneath the hood, as well. That starts with a naturally aspirated 4.6 litre V8 engine – giving it 887 horsepower and 944 foot-pounds of torque. And it doesn't stop there. The 918 Spyder also offers some interesting technology behind it. The onboard computer can actually read the driving terrain and choose the mode that best suits the situation, allowing the driver to stay focused on the road. It's kind of like having your own version of KITT, only you don't have to hear it talk all the time. Of course, you can also choose between the driving modes yourself, if that's more your speed. This hybrid hypercar retailed at a starting price of $845,000, but you can probably expect to pay more for the next run.
Engine: Naturally Aspirated 4.6-litre V8 + 2 Electric Motors
Horsepower: 887 HP
Torque: 944 Ft-Lbs
Top Speed: ~210 MPH
Hypercars Vs. Supercars
Not quite sure how to differentiate these cars from their counterparts? Here's how to tell the difference between hypercars and supercars.