Commuting to and from work is often an annoying albeit necessary part of the daily grind. However, with their ability to weave through traffic and split lanes (in locales where the practice is legal), motorcycles not only represent a markedly more efficient and substantially more affordable alternative to commuting by car, but bikes also have the unique ability to inject some fun and excitement into one's daily routine.
While the truth is that almost any modern production motorcycle will make for an acceptable commuter, there does exist a range of bikes that are perfect for getting to and from work and around town in general — the latest and greatest of which we'll be highlighting today in this guide to the best urban motorcycles for city commuting. In addition to shining a light on the best city bikes, we'll also be exploring what makes for an ideal commuter bike, what factors to consider when shopping, and how to find the model that's right for you.
Best Urban Motorcycle for City Commuting
Best Entry-Level Pick

Kawasaki Z400

Best Urban Cruiser

Honda Rebel 500

Best Urban Supermoto

Suzuki DR-Z400SM

Best Overall Pick

Ducati Hypermotard 950 SP
Capable Commuter Qualities
The Main Factors That Make For A Good Urban Motorcycle
A quality commuter bike requires motorcycles to pull off a bit of a balancing act. Below, we'll delve into six of the most important factors that make a motorcycle conducive to city riding and commuting.
Reliability: A good commuter motorcycle isn't fussy and doesn't require frequent servicing in order to get you from A to B. To get a better read on this area, we'd recommend checking out forums and message boards, as these will typically give a real-world sense of a motorcycle's overall reliability. We'd also recommend keeping an eye out for models with extended service intervals, as quite a few bikes only require maintenance after 10,000 or more miles.
Riding Position: Being able to get a clear view of traffic and the road around you is an absolute must when it comes to urban and commuter bikes. As such, almost all of today's best commuter models feature an upright riding position that's comfortable and affords the rider an unobstructed view of the road. It is worth noting that aftermarket seats, foot controls, and handlebars can all easily be purchased and installed to alter any bike's riding position.
Size: With city bikes, less really is more. While your first instinct may be to opt for a fast or powerful model, the reality is that the smaller, more nimble and lightweight bikes tend to offer markedly better performance in urban areas. This agile performance is primarily owed to a given model's curb weight and wheelbase.
Safety Tech: Modern electronic assists such as wheelie control, slide control, anti-lock brakes, and traction control can hugely bolster a rider's safety while out on the road. This becomes even more important when that rider is commuting daily. A great many of today's bikes also possess multiple power modes, which often include dedicated rain modes (which reduce power) that make riding in a downpour markedly safer.
A Lack Of Bodywork: Though a full fairing makes a motorcycle more aerodynamic, this quality really isn't necessary for commuting. In fact, most riders actually view bodywork as being a negative when it comes to city motorcycles, as commuters have a greater chance of being dropped or knocked over when parked — opening the bike up to substantial damage when wearing a full suite of bodywork. For these reasons, naked bikes tend to be a better choice.
Style: Whether it's clothing, cars, or backpacks, practically every product made for use in major metropolitan areas has been designed with its appearance in mind — with urban motorcycles being far from an exception. While we wouldn't recommend purchasing a commuter bike solely on the strength of its appearance, there's nothing wrong with letting your aesthetic taste play a role in your purchase. And, regardless of what kind of bike you fancy, practically every genre of scoot includes solid commuter options, from sportbikes to enduros to cruiser motorcycles.
Acquiring A Two-Wheeled Commuter
How To Find The City Motorcycle That's Right For You
When one knows what traits to look for, it's really not all that hard to find a solid commuter bike. Finding the right motorcycle for your personal wants and needs, however, can be a different story — especially for the uninitiated. So, with this in mind, we've broken down four crucial areas to help find the model that's best for you.
Intended Riding Application(s): Finding a proper city bike means buying a machine that will be capable of competently taking on your commute. As such, if the majority of your trip to and from work is spent on the freeway, you'll likely want a larger, more powerful machine with a long wheelbase that will be comfortable and stable at freeway speeds. On the flip side of the coin, if the majority of your commute takes place on city streets, a more nimble, lightweight machine will almost certainly be your best bet.
Storage: For a great many professions, one can easily fit everything needed for the workday inside a riding backpack. If you don't fall into this category, however, you'll probably want to look for a bike that either comes equipped with storage straight from the factory, or a model that can easily be upgraded with hard or soft panniers and/or a top case.
Supplementary Uses: Even if the primary reason you're purchasing this motorcycle is for commuting, that doesn't mean that it can't also be utilized for secondary uses on nights and weekends. For those interested in tackling some twisties or hitting the occasional track day, a supersport or naked superbike will likely be a great choice, whereas a rider with off-road ambitions will probably be best served by a dual-sport model.
Two-Up-Ability: Certain motorcycles lend themselves to two-up use (i.e. riding with a passenger) much better than others. For this reason, if you plan on regularly commuting with a pillion, we'd recommend opting for a machine that can comfortably accommodate a passenger. For more insight in this area, be sure to check out our guide to the best motorcycles for carrying passengers.
Metropolitan Mobility
The Traits To Look For When Shopping For A Quality Commuter Bike
While there is a decent amount of overlap with other modern genres of motorcycle, there are some finer points that are pivotal to consider when shopping. Below, we'll briefly touch on the half dozen most important areas to consider before making your purchase.
Engine: As the heart and soul of any motorcycle, the engine is obviously of utmost importance. Because raw power tends to take a backseat to maneuverability, you don't want to simply opt for the largest or most powerful engine available. In fact, we'd recommend going with as small of a machine as possible — albeit one that can still safely keep up with the speed of traffic along every portion of your commute. Small displacement (sub-500cc) models with single and twin-cylinder engines typically make for some of the best commuter bikes.
Power: Though a small displacement mill will usually be sufficient for commuting, it's still important to look into how much power each model makes in order to ensure you'll have enough oomph to keep up with traffic and safely and comfortably commute. When reviewing this area you'll want to look into horsepower and torque figures coupled with a bike's weight. It also never hurts to look at a model's 0-60mph time or top speed for a more objective sense of how its power figures translate to real-world performance.
Weight: An ideal commuter bike needs to be nimble, flickable, and agile. As such, lightweight motorcycles typically make for the best choices, as these machines are substantially easier to control at lower speeds — unlike their heavier touring-focused counterparts.
Running Gear: While a bike's speed, acceleration, and power are primarily owed to its engine — and gearing, along with several other factors — a scoot's handling and braking capabilities are owed to the machine's componentry (or running gear). Not only does this one area play a major role in a motorcycle's overall performance, but these components also play a major role in a bike's MSRP, with models that boast more top-shelf componentry usually costing substantially more.
Tech: Having a tech-laden bike can hugely elevate the two-wheeled commuting experience, allowing riders to take real-time GPS directions, receive calls, and listen to music. However, when one commutes on a motorcycle on a daily basis, they open themselves up to a greater statistical likelihood of getting in an accident — a fact that makes a modern suite of safety tech extremely important, as features like traction control and lean-angle-sensitive ABS can be literal lifesavers, especially for novice riders.
Range: While most tanks will provide enough range to easily get to and from work, it's still annoying to have to constantly stop at the pump. For this reason, you'll likely want to explore a given model's range — which can be determined by multiplying the size of its tank by how many miles-per-gallon it gets. A model's autonomy is even more important when dealing with fully-electric motorcycles, though practically every two-wheeled EV manufacturer cites range figures — albeit typically generous ones.
The Best
Top Metropolitan Moto Picks
Kawasaki Z400
Pros
Approachable & new rider-friendly but allows for ample growth
Is both freeway & 2-up-capable
Powered by parallel-twin engine
Offers great value & is cheap to run/maintain
Comes w/ ABS, LED lighting, & slipper clutch as standard
Does 0-60 in 4.3 seconds (quicker than a Porsche Macan Turbo)
Cons
Doesn't have USD fork
Ugly stock exhaust
Not offered in KRT Edition or RR version (unlike Ninja 400)
Best Entry-Level Pick: The Kawasaki Z400 is a nimble, naked version of Team Green's full-faired Ninja 400 supersport. The motorcycle features distinctive streetfighter styling with a low seat height and an upright riding position. On top of a short wheelbase, the bike also sports a slipper clutch and antilock brakes — features that have traditionally been reserved for more high-end models.
Engine: Liquid-Cooled 399cc Parallel-Twin
Power: 45HP & 28FT-LBs
Curb Weight: 363.8LBs
Wheelbase: 53.9"
MSRP: $5,399
HONDA REBEL 500
Pros
Urban-focused modern cruiser motorcycle
Great platform for customization
Half-liter engine size is approachable but allows rider's skills to grow
Has low learner-friendly seat height
Also offered in larger & smaller 300cc & 1,100cc versions
Cons
Would benefit from inverted fork
Foot controls quickly feel cramped when touring
Best Urban Cruiser: The Honda Rebel 500 is a modern cruiser motorcycle engineered specifically for use in urban environments, with its 58.7" wheelbase and curb weight of only 408lbs. ABS brakes, all LED lighting, and an ultra-low seat height all come standard on the half-liter Rebel. Honda also offers the Rebel in a smaller 300cc version as well as a larger 1100cc variant.
Engine: Liquid-Cooled 471cc Parallel-Twin
Power: 46HP & 30FT-LBs
Curb Weight: 408LBs

Wheelbase: 58.7"
MSRP: $6,449
Suzuki DR-Z400SM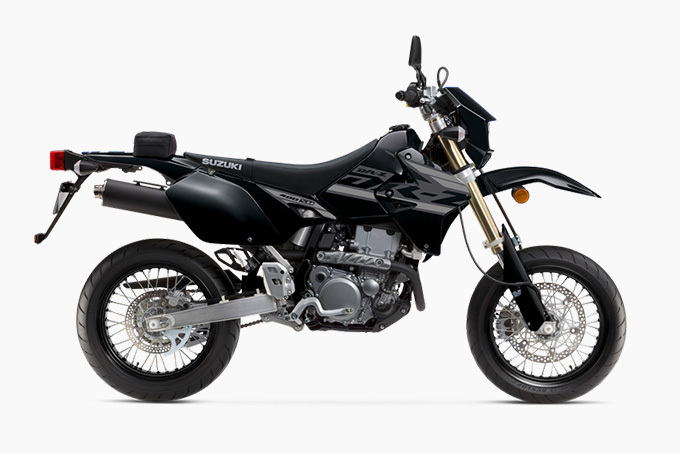 Pros
Bulletproof supermoto-spec of a legendary enduro model
Has learner-friendly engine that still allows for ample rider growt
Currently offered in stealthy blacked-out livery
Enormous aftermarket part availability
Can easily be modified for off-roading
Cons
Design has gone unchanged for years
Poor stock suspension
Ugly stock exhaust
Best Urban Supermoto: First introduced in 2000 before being unveiled as a supermoto model in 2005, Suzuki's DR-Z400SM is a street-legal SuMo model that sees a popular dual-sport bike bestowed with tighter suspension, an inverted fork, larger brakes, and sportbike-style wheels and tires. Because this model has been around for so long, there are an enormous number of aftermarket upgrades currently available for it.
Engine: Liquid-Cooled 398cc Single-Cylinder
Power: 39HP & 29FT-LBs
Curb Weight: 322LBs

Wheelbase: 57.48"
MSRP: $7,899
ZERO FXE
Pros
Super sleek, custom-inspired appearance
Can receive over-the-air software/firmware updates
Super agile & nimble
Has gobs of torque on tap
Great build quality & fit & finish
Cons
Expensive price
Base platform hasn't been updated in 5+ years
Best Urban EV: Modeled after a one-off build from San Francisco-based design firm and customs outfit Huge Moto, the Zero FXE is a purpose-built entry-level electric motorcycle made specifically for use in the city. Weighing just 298lbs at the curb, this futuristic take on a supermoto bike boasts a top speed of 85mph and a battery that can receive a 95% charge in as little as 1.3 hours (or 9.2 hours using a standard charger) and affords a 100-mile city range and 60-miles of autonomy on the freeway (or 75-combined).
Engine: Radial Flux Interior Permanent Magnet Brushless Motor
Power: 46HP & 78FT-LBs
Curb Weight: 298LBs
Wheelbase: 56"
MSRP: $12,995
DUCATI HYPERMOTARD 950 SP
Pros
Ultra-high-performance sportbike-supermoto hybrid
One of the most fun experiences offered on 2-wheels
Equipped w/ ultra-premium components & cutting-edge electronics package
Also makes for an amazing track day motorcycle
Wears paint job based on Ducati's MotoGP racer's livery
Lightning-fast acceleration & razor-sharp cornering make it a stellar urban commuter bike
Cons
Expensive price
SP-spec comes at $3,700 premium over base model
Performance can inspire license-jeopardizing riding/behavior
Best Overall Pick: Designed by Pierre Terblanche, Ducati's Hypermotard is a unique model that combines elements from superbikes and supermotos to create the ultimate hooligan machine. The Hypermotard offers gobs of power and insanely sharp performance. The top-of-the-line SP-spec Hypermotard also gains Ducati traction and wheelie control, multiple ride models, Marchesini forged wheels, Tapered aluminum handlebars, numerous carbon fiber elements, and upgraded suspension.
Engine: Liquid-Cooled 937cc L-Twin
Power: 114HP & 71FT-LBs
Curb Weight: 440LBs
Wheelbase: 58.8"
MSRP: $18,695
The Rest
City Scoot Runner-Ups
Husqvarna Svartpilen 401
Based on the same engine and chassis platform as KTM's 390 series, Husqvarna's Svartpilen 401 is an ultra-stylish and thoroughly modern scrambler model that's perfect for urban riding duties thanks to its increased suspension travel, skid plate, upright riding position, and knobby tires. Husky also produces a cafe racer version of this same model with the Vitpilen 401.
Engine: Liquid-Cooled 373cc Single-Cylinder
Power: 43HP & 27.3FT-LBs
Dry Weight: 335LBs
Wheelbase: 53.4"
MSRP: $5,649
SUZUKI SV650
A bonafide cult classic of a motorcycle, Suzuki's SV650 is a bonafide do-it-all machine that can be had new for a shockingly affordable price. In constant production since 1999, the SV650 is capable of everything from commuting to touring to track days — and with the right tires, can even tackle some light off-roading. There are also a ton of available upgrades and bolt-on kits available for this model.
Engine: Liquid-Cooled 645cc V-Twin
Power: 69.3HP & 44.2FT-LBs

Curb Weight: 437LBs
Wheelbase: 56.9"
MSRP: $7,399
DUCATI MONSTER 937
The beneficiary of a recent major model overhaul, the latest Ducati Monster (937) boasts a myriad of significant changes including a now non-circular headlight, integrated indicators, a Panigale-inspired tail section, a dual-silencer exhaust setup, and fiberglass-reinforced polymer subframe — all pieced together around an all-new superbike-style aluminum twin-spar chassis (rather than the Monster's traditional trellis frame. The latest Monster 937 also weighs in at just 416lbs soaking wet, making it the lightest Monster yet (at least at this engine size).
Engine: Liquid-Cooled 937cc L-Twin
Power: 111HP & 69FT-LBs
Curb Weight: 414LBs
Wheelbase: 58"
MSRP: $15,595
The Best New Motorcycles Under $10,000
Looking for a new bike while on a budget? Then be sure to check out our guide to the best new motorcycles under $10,000 for a handpicked list of the latest and greatest sub-five-figure scoots to hit the market.