As you are no doubt aware, we're all about well-designed, thoughtfully engineered, masterfully crafted gear across the entire gamut from old-school-inspired camping tents to the latest and greatest in gaming technology and everything in-between. And while there is a lot that goes into making all the things we love possible, a big portion of the credit is certainly due to innovations in materials and technology.
You might be vaguely aware of some of the technologies and materials that make your equipment what it is. You probably understand that GORE-TEX makes things more water-resistant or that ballistic nylon is used by the military. But that's just the tip of the iceberg. With the interest of helping you become even more acquainted with some of the properties that make your tools, apparel, equipment, etc. great, we've put together the following guide outlining the 30 gear materials and technologies that everyone should know.
10XD
A proprietary synthetic fabric belonging to EDC brand Pioneer Carry, 10XD is a pretty magnificent achievement. Not only does this fabric flex like cloth and have a distinct, handsome appearance, but it has some other pretty spectacular features. For starters, it's completely waterproof and extremely lightweight — making it perfect for everyday carry applications — but it also happens to be roughly ten times stronger than steel by weight, meaning it is remarkably tough and durable, too. Pioneer carry does utilize other synthetics in the creation of their gear, but this one is special, even amongst its impressive brethren.
The Gear You See Here: Truly, everything Pioneer Carry makes is pretty great, and you can find a lot of their wallets crafted with 10XD, but we're partial to the Molecule Cardholder for its ultra-minimalist format that allows for unencumbered front-pocket carry while still having enough room for all your cards, some cash, and maybe even a few coins or a key (for emergencies).
37.5
There are a lot of technologies out there designed to keep your body warm. There is also, perhaps, an equal number of those made to keep you cool. But 37.5 is special in that it was created to, bafflingly, do both at the same time. Named for the human body's ideal core temperature (37.5-degrees Celcius), this patented tech is an impressive performance-oriented addition utilized by some of the world's best active apparel companies — including names like Carhartt, adidas, Salomon, and even the U.S. Army. And what might be the coolest part of the story is that the technology was actually based on the moisture-wicking, temperature-stabilizing properties of volcanic sand — discovered by Dr. Gregory Haggquist, a Ph.D. photo-physical chemist and inventor, all the way back in 1992.
The Gear You See Here: As you might expect, 37.5 works best when it comes to athletic apparel, like the Mack Weldon Stratus Active Shorts you see here. Along with their sweat-wicking, stay-comfy tech, they're also imbued with anti-odor silver fibers, they boast laser-cut ventilation, and they look spectacular.
Aerogel
There have been a lot of extremely impressive developments in material technology over the last few decades — ranging from things as seemingly mundane as sweat-wicking workout apparel to things as obscenely advanced as aerogel. This jaw-dropping material — which is an ultralight, low-density, thermal-insulating miracle — was actually first invented back in 1931. However, it really came to prominence when NASA started using it in spacefaring gear and experimentation. Since then, it has trickled down into other industries, including the outdoor space, where it is used in varying types of gear to numerous ends (weight-saving, insulation, etc.).
The Gear You See Here: Oros has built their brand around the use of aerogel (and other technologies) in their athletic and outdoor apparel. In fact, their Orion Parka you see here is equipped with the brand's aerogel-based SOLARCORE technology, which keeps your body consistently warm and can "make 30°F and -30°F feel exactly the same." And it certainly doesn't hurt that it looks great, too.
Bio-Acetate
Traditionally, acetate is crafted with chemical compounds, resulting in a plastic-like material that's durable, lightweight, non-metallic, and can be made in just about any color and/or pattern you can imagine. Sadly, the manufacturing processes used to create it and the material itself can be pretty damaging to the environment (standard acetate does not decompose at a reasonable rate). However, brands have started using cellulose-based alternatives to create bio-acetate, which boasts all the same properties that make standard acetate so great but is more environmentally friendly (no petrochemicals) and actually decomposes much more quickly (somewhere between 18 months to 10 years, as opposed to hundreds of years for standard plastics). It's not the end-all-be-all solution, but it's a step in the right direction.
The Gear You See Here: Known best for their watches, Shinola actually offers a much wider range of gear and tech than people probably know. And they've just recently expanded with their first foray into the realm of eyewear, marked here by their Rambler sunglasses, which are crafted using bio-acetate for the frames. The brand also offers two other lens shapes, a few different colorways for each, and they even boast two regular glasses options (without the tinted lenses) so you can pop your own prescriptions inside them.
BOA
When it comes to active apparel, footwear, and more, there is a wide variety of fitment systems out there — some with which you're likely familiar, like zippers, laces, buttons, etc. However, if you want a system that's lightning-quick, reliable, and just plain cool, you may want to check out something equipped with a BOA system. Utilizing ultra-strong cables and dials, this precision-built performance fitment system will ensure whatever piece of gear you're using will stay secure for as long as you need it to and will be easy and quick to take off when you're done — and then easy and quick to put back on when you need it again.
The Gear You See Here: One of the best examples of the usefulness, security, and convenience of a BOA system is its use in athletic footwear, like the adidas Terrex Agravic trail running shoes you see here. Along with the state-of-the-art fitment system, they're also lightweight, have grippy all-terrain outsoles mated to Boost midsoles, and feature a cozy sock liner for all-day comfort.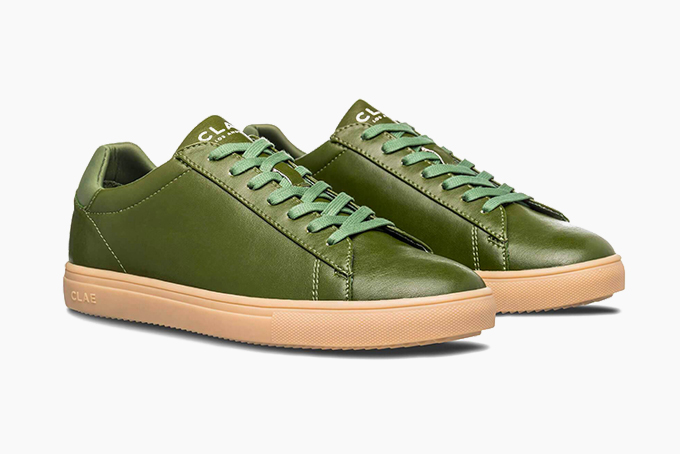 Cactus/Mushroom Leather
Despite its desirable appearance and status as a heritage option, leather is actually quite resource-hungry as a material — requiring the slaughter of animals, the use of dangerous chemicals in the tanning process, and even a massive chunk of farmland and clean water (gotta raise those animals first). And while there have been a few strides towards making leather more environmentally friendly, there are also numerous eco-friendly alternatives popping up — some of which boast many of the same properties that make leather so great without all the downsides. The two big ones are cactus leather and mushroom leather, which both look and feel extremely similar to animal leather and can be made with comparable durability and longevity. There's reason to believe that these developments will, in the near future, largely usurp leather's throne and become the new standard.
The Gear You See Here: Made in collaboration with cactus leather tannery DESSERTO, Clae actually offers a trio of vegan-certified cactus leather sneakers that look spectacular. Along with their uppers, they also boast natural rubber outsoles, a molded EVA foam footbed, recycled laces, and more.
Carbon Fiber
Carbon fiber is no big secret and, along with being used in the gear world, has been a sought-after material utilized in the automotive and aerospace industries for decades upon decades. However, it is still impressive and useful enough to have rightfully earned recognition on our list. For reference, this non-metallic material can be made as much as five times stronger than steel by weight and twice as stiff. And its natural properties can be enhanced by manufacturing processes, which include classic basketweave (the checkerboard appearance we're all so familiar with), shredded, and forged varieties. Carbon fiber is one of those materials that wonderfully blends functionality and usefulness with an instantly recognizable appearance, and it can even be made in colors other than black (if you're into that sort of thing).
The Gear You See Here: As far as everyday carry goes, carbon fiber can be found in everything from wallets to keychains to knives — the latter of which we're concerned with today. You see, Zero Tolerance's Sinkevich-designed 0450CF is a high-end EDC folder with an S35VN steel blade mated to, of course, carbon fiber handle scales. It's handsome, durable, useful, etc.
Ceramic
You might recognize ceramic as something used to make pots and/or the material found in fancy cookware, and that would be both correct and reasonable. But ceramic is also so much more. In fact, this non-metallic material — which is corrosion-resistant, ultra-hard, and brittle — is used in everything from watchmaking to aerospace manufacturing and everything in-between. In regards to gear, it's the former of that spectrum that interests us. Ceramic watches are obscenely lightweight and remarkably tough, but they can also get very expensive very quickly. Still, for those that understand and appreciate the impressiveness of this mineral-based material, ceramic gear is worth the investment.
The Gear You See Here: It's nothing if not appropriate for Bell & Ross to have used ceramic to construct the case of their BR 03-92 watch you see here, as it is the brand's unique take on a pilot watch. Along with its impressive case, it also features an automatic movement, Super-LumiNova markings and hands, a heavy-duty black leather strap, and more.
COBRA Quick-Release
Manufactured by AustriAlpin, COBRA quick-release buckles are trusted and utilized by some of the top military specialists and tacticians in the world. And what makes them special is their unique combination of incredibly toughness and security mated to a remarkably speedy deployment system that's as easy to attach as it is to detach, yet stays securely fastened when clipped — to the point that you could literally skydive with these buckles on your harness and land safely and unharmed. But what's really exciting in the world of gear is how this tech has trickled down to outdoor and EDC offerings.
The Gear You See Here: While the Bedouin Balian pack you see here might not really qualify as mil-spec or tactical, it does come equipped with a COBRA buckle for ease of use and speediness. Designed in collaboration with Carryology, it also features a Dyneema exterior, YKK Aquaguard zippers, seatbelt-style nylon webbing straps, and a 4.5L capacity.
Cordura/Ballistic Nylon
While there are some nuanced differences between Cordura and ballistic nylon, the general idea between the two has a lot of overlap and, as such, we're combining them as one selection for this guide. To clarify, Cordura is actually a brand of nylon made by Koch Industries whereas ballistic nylon is a more generalized term for nylon that's made rugged enough to meet mil-spec standards for durability and resistance and was originally developed for use in battlefield gear, like flak jackets. In either case, these nylons (of any variety) are both naturally weatherproof, abrasion- and puncture-resistant, and lightweight.
The Gear You See Here: Boasting a 500D Cordura exterior, the Mystery Ranch Urban Assault Pack is plenty rugged and weatherproof for all your day-to-day adventures — even those that take you a bit off the beaten path. It also has a quick-access triple zip main compartment, plenty of internal organization, water-resistant zippers, and an 18L capacity.
Durable Water Repellent
Colloquially known as DWR, Durable Water Repellent is actually a type of coating that can be applied to other fabrics and materials. Typically, DWR coatings are fluoropolymer-based and are often used in conjunction with other technologies, like waterproof membranes ala GORE-TEX — however, they can be used on their own to lesser effect. What they offer is increased weatherproofing by imbuing the exterior of a piece of gear or garment with hydrophobic properties. Sadly, DWR coatings to wear off over time, especially when constantly exposed to the elements and sunlight, but they can be reapplied for like-new performance.
The Gear You See Here: A really superb everyday carry backpack for those that want a compact carry option with some tactical sensibilities, the Arktype Dashpack Mark II has a manageable 15L capacity, modular external webbing, 550 paracord zipper pulls, a 15″ padded internal laptop compartment, a 1680D ballistic nylon exterior, and (of course) a DWR coating.
Dyneema
Of all the materials and technologies on this list, Dyneema might be the most exciting and buzz-worthy of them in this particular moment in time. But the synthetic fabric's development actually goes all the way back to 1963 and was created by accident. Today, this material is touted as the "world's strongest fabric" and can be made as much as 15x stronger than steel by weight. It's also incredibly lightweight, pliable, and waterproof. That makes it an excellent candidate for usage in everyday carry gear like wallets, bags, and even apparel (especially the outdoor variety). There are even hiking boots, motorcycle helmets, ultralight backpacking tents, and more made from Dyneema.
The Gear You See Here: DSPTCH, through the release of the Ridgepack before you, just embarked on a new journey — altering the brand's overall design focus and style. And, if the minimalism of this bag is indicative of that larger journey, we're all in for a big treat. Along with its pared-down Dyneema exterior, it also features an 18L capacity, has a dedicated internal 16″ laptop pocket, and was made entirely in the USA.
Fidlock
Named for the independent company that owns and developed the technology back in 2007, Fidlock is actually a range of proprietary magnetic buckle systems that offer a unique blend of security and convenience — which makes this an ideal technology for both the outdoor gear and everyday carry industries. Though they come in numerous different formats, the technological base for the entire catalog is relatively the same across the board: durable, secure, mechanical locking mechanisms that stay fastened when you need them to but can be quickly and easily separated in the moment and reattached just as quickly and easily. From bikes to bags and everything in-between, Fidlock buckles can take a good piece of gear and turn it into a great one.
The Gear You See Here: Proof positive of the versatility of Fidlock technology, DSPTCH has actually applied it to this handsome Apple Watch strap. Not only does it make for a safe, secure, and convenient alternative to traditional watch straps, but it also benefits from durable nylon webbing for long-lasting toughness and good looks.
FUTURELIGHT
The basic concepts behind The North Face's proprietary FUTURELIGHT fabric are not new in and of themselves. However, the way they've combined technologies is very interesting and impressive. An alternative to GORE-TEX, not only is this fabric ultralight — comprised of just three layers — but it is simultaneously completely waterproof and also air-permeable. This means it will keep you bone-dry, even in a deluge, but won't suffocate your body or make you uncomfortably warm in the process. And while the nano-fiber structure itself is quite impressive, it also makes for quite a lot of versatility, as it can be applied to just about anything that would normally be made from regular old nylon or polyester.
The Gear You See Here: As mentioned, FUTURELIGHT fabric can be found across a litany of gear options — including gloves, jackets, and more. But we're particularly fond of the Assault 3 camping tent you see here. Weighing just 6 lbs 13 oz and with enough room for three inside, this roomy tent is highly resistant to just about any kind of inclement weather you can throw at it, especially when it comes to rain and snow.
GORE-TEX
Definitely one of the best-known technologies on our list, GORE-TEX is a kind of outdoor gear darling that has very quickly become a part of the streetwear industry, as well. Like FUTURELIGHT — albeit with a much stronger reputation and decades more development and usage — GORE-TEX is a waterproofing technology that can be found in the form of weatherproof membranes that are breathable without allowing water to permeate. And it is a wildly versatile technology at that, found in jackets, footwear, shirts, shorts, pants, tents, and anything else that can be built from fabric. While that's only scratching the surface, most people with a baseline understanding of outdoor gear probably have some measure of familiarity already.
The Gear You See Here: Though they started as a ski company, Solomon has become a longtime staple of everything outdoors. Case in point, they offer these spectacular technical hiking boots that are supportive, grippy, lightweight, and — thanks to the inclusion of a GORE-TEX membrane — completely waterproof, making them a great candidate for all-year wear.
Graphene
If we had to compare graphene to any of the other materials on this list, we'd probably go with carbon fiber. In fact, graphene (named after graphite) is actually an allotrope (AKA a different physical form) of carbon — arranged as a single layer of atoms arranged in a honeycomb lattice. What that means to you is that graphene can be turned into a supermaterial that's stronger than steel and thinner than paper. Like Dyneema, it is highly sought-after and rare, making things crafted from the substance a bit more expensive than their lesser counterparts. Graphene also has a lot of properties that make it ideal for usage in the tech sector, as it is highly conductive and photovoltaic.
The Gear You See Here: Don't let its pared-down appearance fool you, Proof's Graphene Down Jacket is anything but mundane. This zip-up is extremely lightweight, thermo-regulating, boasts a DWR coating for enhanced water resistance, and is stuffed with lightweight packable down.
Kevlar
Chances are, you've already heard of Kevlar before — likely for its use in bulletproof vests and other tactical gear. But you might not know what makes this substance so impressive. Owned by DuPont and developed in the late-60s and early-70s by American chemist Stephanie Kwolek and her team, Kevlar was actually created to act as an alternative to petroleum used in the creation of tires. It ended up being stronger and more abrasion-resistant than nylon — making it ideal for use in things like body armor, as it was lightweight but also ultra-tough. Now it can be found still used in tactical equipment but has also made its way into motorcycle and outdoor gear, amongst many other applications.
The Gear You See Here: Thanks to the fact that the uppers are made using Kevlar, the Unico Hiker from Naglev is about as tough as you could ask for out of your hiking footwear. But it also has the benefit of being extremely lightweight — comparable to the weight of trail running sneakers — meaning you can take on some of the most challenging adventures in a speedy fashion without ever worrying about whether your boots can take the punishment.
Lifa Infinity (Pro)
While technologies like GORE-TEX are pretty impressive and often sought-after, they aren't without downsides — especially in regards to environmental impact. Well, the folks at Helly Hansen, famous for their exceptional ocean-going and outdoor-ready apparel, are hoping to change that with their Lifa Infinity tech. While pieces of apparel imbued with this technology are water-repellant and breathable, just like GORE-TEX, this fabric doesn't call for the use of harmful chemicals, making it a far more sustainable and eco-friendly alternative. Better still, Helly Hansen also claims that its weatherproofing doesn't fail over time, meaning you'll not have to re-up with a chemical spray or something to that effect.
The Gear You See Here: If you want the kind of shell jacket that's going to keep you bone dry in every possible weather situation, you can't go wrong with the Helly Hansen Odin 9 Worlds Infinity Shell Jacket you see here. And while the eco-friendly Lifa Infinity tech imbued into it is certainly a massive reason it's so good, it also has a litany of other features ranging from "gear locker" pockets to integrated RECCO Advanced Rescue System tech.
Merino Wool
While you might know that merino is a type of wool, you might not be aware that it comes from a specific sub-species of sheep specifically bearing the same name. Of course, the natural fabric's origin isn't really what makes it special. Rather, it's the material's properties that help it stand apart. You see, when spun into a fabric, merino wool is soft, stretchy, moisture-wicking, thermo-regulating, hypoallergenic, and even naturally anti-odor. That makes it an exceptional material for use in athletic apparel, ranging from hiking socks to gym shirts and everything in-between.
The Gear You See Here: Smartwool has smartly (no pun intended) built their brand on the usage of merino wool. And it seems to be working, as they're one of the best go-to brands for a huge number of pieces of active apparel. Case in point: these PhD Outdoor Light Mini Socks, which are cushy, comfortable, and perfect for long days on your feet, especially if hiking is in order.
PET
Short for polyethylene terephthalate, PET is the world's most common thermoplastic polymer resin. In short, it's plastic. And while we probably don't need to explain to folks what plastic is, we do need to explain why it has made our list. You see, there's been a growing movement, especially in the outdoor industry, where brands are taking waste plastic — the kind that would have just ended up in a landfill or floating out in the ocean for thousands of years — and repurposing it into recycled goods. And they're making much more than just bottles and straws; some brands have figured out how to upcycle this material into footwear, backpacks, and even apparel. It's not the most ideal long-term solution as the plastic still exists and will eventually become waste, but it's better than single-use waste.
The Gear You See Here: You wouldn't know it at a glance, but these boots from Palladium are actually built with a woven fabric derived from PET material. And while that means they're both lightweight and waterproof, they're also vegan and cruelty-free.
Polartec
Although Polartec fleece looks a lot like, say, the coat of an animal, it's actually derived from synthetic materials. While that means it is entirely cruelty-free, it also means it boasts some other special features that help set it apart from alternative natural materials. For starters, it is hydrophobic — meaning water will bead off of it — and absorbs less than 1% of water when exposed. It's also remarkably lightweight without sacrificing warmth. And, as an added bonus, a lot of it today is being made sustainably, typically by recycling existing fleece or even manufacturing it out of PET plastics, like single-use water bottles.
The Gear You See Here: A strong alternative to traditional fleece, the REI Co-op Hyperaxis Fleece Jacket 2.0 looks fantastic, will keep you warm and dry even in inclement weather, and it even has built-in four-way stretch and breathability for all-day comfort. Best of all, it was crafted with environmentally-conscious bluesign-approved materials.
Polycarbonate
Like PET, polycarbonate is also a thermoplastic polymer, although it has some noteworthy differences. For starters, it can be made extremely tough, but it is also transparent naturally. As such, this is the material of choice for those looking to craft bulletproof glass. However, it can also be thermoformed, molded, and worked into a variety of shapes and, therefore, made to serve a wide variety of purposes. In the world of gear, we've seen polycarbonate used in knife handles, wallets, safety equipment (like helmets and goggles), and even luggage.
The Gear You See Here: Tumi utilizing polycarbonate in its luggage is no big news. However, the new lineup of 19 Degree luggage is actually made using a whopping 90% recycled materials. That means, along with getting your hands on handsome, unique, and utterly indestructible baggage, you're also doing the environment a favor.
Polyurethane
At the risk of sounding repetitive, polyurethane — like polycarbonate and PET — is actually plastic-based, meaning it is derived from petroleum. Like its aforementioned brethren, it also has its own special properties. Polyurethane actually starts as a liquid, but it can be applied to surfaces and on fabrics, at which point it solidifies into a coating that — when properly applied — will make that surface or fabric waterproof. This can be seen in things like winter apparel, bags (most waterproof duffels are PU-coated), and so much more.
The Gear You See Here: Aer's Tech Pack 2 is perfectly suited to hauling around your laptop, tablet, cables, batteries, and all your everyday carry gear you could possibly need on a daily basis. It also benefits from a PU-coated front and YKK Aquaguard zippers — for a little extra weatherproofing — along with a serviceable 17L capacity.
PrimaLoft
As far as natural materials go, goose down is a pretty tough one to beat. It's relatively lightweight, can keep you warm in some of the coldest environments, and more. But, to get it, you have to raise and kill geese — and that process is, by many, considered cruel and can make for very expensive gear (it takes a lot of resources to raise geese). As a cruelty-free alternative, there's PrimaLoft, a synthetic microfiber insulation that was actually developed for the United States Army in the 1980s. While it certainly has its own issues (it isn't exactly biodegradable, whereas goose down is), it can perform well under the same conditions as down, it is more water-resistant and can keep you warm even when wet, and it is a good deal cheaper.
The Gear You See Here: A reinterpretation of the classic mummy-style sleeping bag, Nemo's Forte 20 Sleeping Bag was designed to keep you just as warm, while giving you a bit more room inside to roll around — making it ideal for side-sleepers. It's also stuffed with synthetic PrimaLoft down, 80% of which is recycled, and is good for temperatures as low as 20-degrees Fahrenheit.
Ripstop
Like plastic, nylon comes in many forms, shapes, and sizes. Ripstop is one of its varieties that, as its name suggests, is especially adept at resisting tears. It's also incredibly lightweight, often soft to the touch, and can be made into any color on the spectrum. One of its first uses was in parachutes, as it was strong enough to slow a falling body but light enough to comfortably haul around. Now, it can be found in all measure of gear — from hammocks to backpacks (usually in the form of a liner) to apparel and everything in-between. To be clear, ripstop fabric doesn't have to be nylon-based (there are polyester ripstop fabrics, for instance) but it usually is.
The Gear You See Here: Not only are lululemon's Bowline shorts made from durable and lightweight ripstop, but the brand has actually imbued them with some stretch — making them even more breathable and comfortable for all-day wear. And that's pretty handy since these are athletic shorts — although you could definitely wear them for some backyard lounging, too.
Terravantium
There are a lot of very impressive knife steels available on the market in this day and age. So when we say that Terravantium, a proprietary steel utilized by Terrain 365, is special, we want you to understand just how special it really is. Terravantium is dendritic cobalt super-alloy that's 100% corrosion-proof, non-magnetic, requires no heat treating, and holds an edge better than just about any other steel alloy currently on the market. It won't even take on blemishes over time — that's how pristine it stays, even over long periods of hard usage. That means it is a superb metal for everyday carry, outdoor adventure, and even seafaring knives and tools.
The Gear You See Here: While Terrain 365 uses this knife steel in all of their offerings, we're quite partial to the Mako Flipper-AT you see here for its EDC-friendly format. Along with that impressive harpoon-style blade, it also boasts a frame lock titanium handle, ceramic bearings, a ceramic detent, and a tip-up deep carry pocket clip.
Thinsulate
Owned and developed by 3M all the way back in 1979, Thinsulate holds the throne as the "original thin, light and warm synthetic insulation." The idea was to create an insulation that boasted the kind of heat-retention technology suitable for icy-cold winter temperatures but was also lightweight and, as the name suggests, thin — making it less bulky than its contemporary technologies without sacrificing on performance. Nowadays, it's still amongst the best and there are even multiple sub-types — including versions that are flame-resistant, water-resistant, featherless, stretchy, odor-resistant, and more.
The Gear You See Here: One of the best applications of 3M's Thinsulate is in gloves, like these ones offered by Black Diamond. These Arc Gloves were actually designed for motocross usage, but they're warm enough for any winter activity and even boast external waterproofing and leather-reinforced palms and fingers.
Titanium
Like carbon fiber, titanium is no big secret. In fact, it's become damn near commonplace, to the point that we might even call it a household material. Of course, it's also still incredibly impressive when put into proper use. Classically, that means aerospace and naval manufacturing — the Lockheed Martin F22 Raptor fighter jet boasts titanium in 42% of its alloys and submarines have widely had titanium in their construction. But, in the modern-day, it can be found in vehicles of all types, everyday carry gear (knives and wallets, usually), and more. And it has become so widespread largely because it boasts the same strength as steel but with as much as a 45% drop in overall weight.
The Gear You See Here: As mentioned, titanium has made its way into any number of pieces of everyday carry gear. But one of our favorite applications is in The Ridge wallet, which can hold up to 12 cards and a wad of cash, has built-in RFID-blocking technology, and is offered in numerous colorways (the above is the "burnt" titanium option).
X-Pac
Apparently, there are some folks out there that think Dyneema and X-Pac are two names for the same material. And while they do share some similarities, they are very different from one another. X-Pac, for instance, is actually a laminate comprised of several layers — usually nylon, polyester, and taffeta — and is imbued with water-repellent technologies. It's also owned and distributed by Dimension-Polyant, whereas Dyneema is owned by Royal DSM. X-Pac is also not quite as durable as Dyneema, but it is a better overall product for use in things like sails, as it is strong enough to retain its own shaps when force is applied to it but it is also ultralight, which is why X-Pac is the standard fabric used by top sailing teams around the world.
The Gear You See Here: X-Pac is used in all manner of gear, especially in the world of everyday carry. But one of the best applications therein can be found in the Code of Bell X-Pod Sling Pack, which just happens to be one of the best, quickest, most lightweight sling bags on the market. Along with its tough, smart-looking exterior, it also boasts plenty of internal storage space and can even expand to carry more when you need to on the fly.
Yulex
Neoprene, the material traditionally used in wetsuits, is pretty impressive in its durability and its ability to use your own body heat to keep you warm, even in near-freezing waters. But it is also a synthetic that can be pretty damaging to the environment both in its manufacturing process and once it's been disposed of. There is an eco-friendly alternative, however, in Yulex — which boasts the same heat-retention in a natural, more environmentally-conscious package that's far better for the planet. In fact, the Yulex used by Patagonia is actually FSC certified by the Rainforest Alliance.
The Gear You See Here: Patagonia actually offers a full range of Yulex-based wetsuits — from full-body hooded offerings down to standalone booties and tops. But we're partial to this version, which is good for temperatures between 55°–60° F, has plenty of stretch for a natural range of motion, and is Fair Trade sewn.
20 Sustainable Gear Brands You Should Know
There is currently a growing movement of brands in the gear world trying to make their products and overall impact on the planet a bit more eco-friendly. If that's something that sounds of interest to you and you're looking to stock up on some outstanding equipment, you'll want to check out our list of the best sustainable gear brands.