Motorcycles lack the protective benefits of an automobile's shell, airbags, and crumple zones, and, as such, expose the rider to far more danger. Add to that the fact that piloting a motorcycle is a markedly more active and involved experience than driving a car, and you can quickly start to see why it's so important to start one's riding career on an appropriately sized, entry-level machine. And while this segment was once limited to only a handful of models (looking at you, original Honda Rebel and Kawi Ninja 250), the entry-level motorcycle class currently boasts more options than any previous time in the history of motorcycling.
Despite the abundant number of choices, it can still be intimidating to purchase a new type of vehicle for the first time, and this very much extends to the two-wheeled realm. So, with this in mind, we've thoroughly scoured the entry-level moto market to deliver this guide to the best beginner motorcycles. In addition to counting down our picks for the most learner-friendly models, we'll also be exploring what to consider when shopping as well as how to find the right bike for you, and why it's so crucial to start your riding career on a learner-friendly model. So without further adieu, let's get into it.
New Rider Realities
Why Starting Small When Riding Is The Way To Go
When compared to small-displacement, entry-level models, full-size motorcycles are markedly more difficult to control, with ultra-sensitive controls that allow for a minimal margin of error. Not only are bigger bikes less forgiving and more difficult to ride, but they also impede a new rider's ability to learn, grow, and progress as a rider, as too much effort and energy is spent on keeping the bike in check, rather than focusing on the primary fundamentals of riding like vision and body positioning. By starting on an appropriate model relative to your skin and experience level, you give yourself now only the best chance of growing as a rider, but you also minimize the likelihood of an easily avoidable wreck.
If you look at motorcycle crash statistics, the vast majority of wrecks involve riders within their first six months on the road, that are piloting machines that are objectively too large relative to their skin level, commencing their careers on full-size cruisers or cutting-edge superbikes. To frame things in a more digestible manner, think of it like this; you probably wouldn't advise a new driver to learn the basics behind the wheel of a Lamborghini or Hellcat-engined muscle car, and a new rider starting on a full-size motorcycle (or even a 600cc i4) is an equally atrocious, and even more dangerous idea. We'd urge any new rider to hone their skills on an entry-level machine before stepping up to a larger bike at a later date.
Selecting A Steed
How To Find The Motorcycle That's Right For You
With so many different genres of motorcycle constituting today's entry-level class, it can be tricky even knowing where to begin your search, however, there are a few crucial tools to help you narrow down your search considerably. The first thing you should ask yourself is "what is my intended use?" as this largely dictates the style of motorcycle that will be most appropriate for your wants and needs. If you solely plan on using your bike for urban commuting, you'll likely want a gas-efficient (or electric) model that's nimble and maneuverable, though if you plan on doing some off-road riding, then a dual-sport or adventure motorcycle may be an ideal choice.
Entry-Level Motos 101
The Main Factors To Consider When Buying A Beginner Motorcycle
There are admittedly dozens of specs and areas one can pore over when shopping for a motorcycle, though for new riders buying their first bike, there are really only about half a dozen key areas you need to focus on. Below, we'll be touching on the most important aspects to factor into your purchase.
Engine: As the heart of every motorcycle, a bike's engine should be one of the first things you look at when buying a new model. For new riders, we would recommend limiting your choices to models with a displacement of 500ccs or less, and engine configurations with no more than two cylinders. It's also worth noting that, while entry-level models are admittedly smaller than their full-sized two-wheeled counterparts, many of the leading models offer enough power to competently tackle freeway riding, with 300-400cc's increasingly becoming the entry-level standard — a major bump up from the quarter-liter bikes that once dominated this class.
Running Gear: While a motorcycle's speed and acceleration are primarily determined by its engine, its cornering and stopping duties are owed to its running gear, i.e. the chassis, suspension, and brakes. These components do perform the same functions, though they can hugely vary in terms of quality and performance. And, while high-end running gear was once reserved for large-displacement, high-dollar motorcycles, premium componentry has increasingly found its way onto entry-level bikes.
Technology: Another phenomenon that's appeared on entry-level models in recent years is high-tech amenities and rider aids. This includes features such as smartphone and Bluetooth connectivity, lean-angle-sensitive ABS, and multiple ride modes. These features do come at a financial premium, but add a significant amount of convenience to the mix.
Speed: Determined by a motorcycle's power output and weight (or power-to-weight ratio), how fast a particular motorcycle is will determine what riding applications are possible. Models capable of speeds exceeding 70mph open the door to a myriad of riding applications such as freeway use or long-range touring. By referencing a bike's top speed, you should get a decent sense of what riding applications it is conducive to (and which it isn't).
Price: Today's entry-level motorcycle market boasts some incredibly competitive pricing, with $5,000 being enough to acquire the majority of learner-friendly models. With that said, some bikes offer much more bang for your buck than others. For this reason, it's important to explore exactly what a given model's MSRP gets you, as the value being offered can vary greatly. Low-mile used motorcycles are also a great way of saving a few bucks.
Manufacturer: Far more than just the badges on the tank, the company behind a given motorcycle model will play an enormous role in a machine's overall reliability and performance. It doesn't end there, however, as buying from a larger, more reputable marque — which is almost always more expensive – also comes with access to more replacement OEM and aftermarket parts, plus a more robust dealer network. Some company's bikes also retain their value much better than others — another area well worth looking into, especially if you plan on selling your first bike to upgrade to a larger model later on down the road.
Weight: The more a motorcycle weighs, the more difficult it will be to control. Smaller bikes not only pack more lightweight engines, but their lack of weight means they can also get away with using a lighter frame, suspension setup, and whilst, amongst other components. With motorcycles, weight begets more weight, with bigger bikes needing bigger brakes and whatnot. For these reasons, it's important to opt for a lightweight motorcycle, as this will be the most conducive to progressing as a rider.
Adventure Bikes
Unlimited Exploration
One of today's fastest-growing segments, adventure motorcycles are durable machines that are engineered to handle both on and off-road use. Unlike dual-sports, however, ADV models tend to be more touring friendly, with their front fairings and attachments for luggage. A lot of riders simply like the aesthetic of ADV bikes, as well, whether or not they actually plan on traveling off-road.
The Best Beginner Motorcycles in 2022
Royal Enfield Himalayan
While most modern adventure bikes are fairly cutting-edge machines that boast high-end componentry, Royal Enfield's Himalayan model represents a back-to-basics approach to ADV moto design, with a simple half-duplex split cradle frame housing a primitive but bulletproof 411cc SOHC thumper. In addition to being offered in an enormous slew of liveries — that includes two-tone and camo paint options — this model also boasts a few unexpected goodies like switchable dual-channel ABS and Royal Enfield's new Tripper GPS navigation system.
Engine: Air-Cooled 411cc Single-Cylinder
Power: 24.3HP & 23.6FT-LBS
Top Speed: 80MPH
Weight: 438LBS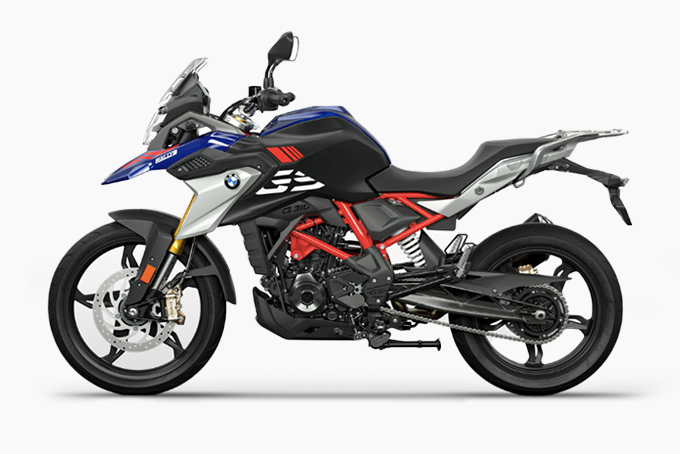 BMW G 310 GS
In 1980 BMW debuted what is widely considered to be the first-ever modern adventure bike with the mighty R80 GS. In the four decades that have followed, the German brand's Gelände-Straße models have become some of the most popular adventure models on earth, though more recently in an effort to attract new riders, the Bavarian brand has unleashed a small-displacement version of the GS with the baby 313cc moto, which wonderfully captures the appearance of its big-bore sibling in a learner-friendly package that's still capable of both touring and light off-roading.
Engine: Liquid-Cooled 313cc Single-Cylinder
Power: 34HP & 20FT-LBS
Top Speed: 88MPH
Weight: 386LBS
KTM 390 Adventure
Not long after the introduction of KTM's RC 390 and Duke 390, the riders began clamoring for the Ready To Race brand to produce an adventure model built around the company's proven 390 (373cc) platform — ultimately resulting in the recently released 390 Adventure. Borrowing technology from the most successful Dakar Rally factory race team of all time, the 390 ADV does cost a bit more than its competitors, though it offers genuine off-road capabilities with its long-travel suspension and crash protection.
Engine: Liquid-Cooled 373.2cc Single-Cylinder
Power: 44HP & 27.3FT-LBS
Top Speed: 93MPH
Weight: 379LBS
Cruisers
Classic American Style
We tend to think of big-bore Harley's and Indians when the word "cruiser" is uttered, though the reality is the popularity of the class — especially in North America — has given way to a growing number of learner-friendly cruiser bikes that retain the distinctive look of these sleds while coming in new rider-appropriate packages.
Cleveland Cyclewerks Heist
Taking ample inspiration from the custom motorcycle space, the Cleveland Cyclewerks Heist is a stylish entry-level cruiser that's assembled in America using a Chinese-made air-cooled engine. This allows the boutique brand to deliver a genuinely unique and attractive-looking motorcycle at an incredibly affordable price. This model also happens to make for an absolutely stellar candidate for further customization.
Engine: Air-Cooled 229cc Single-Cylinder
Power: 15.4HP & 11.8FT-LBS
Top Speed: 70MPH
Weight: 291LBS
Yamaha V-Star 250
Yamaha's V-Star 250 is a wildly authentic small-bore cruiser that not only boasts the appearance of a full-sized sled but also packs a genuine V-Twin engine — a configuration that's almost never seen on sub-half-liter models. This Japanese motorcycle's 78-miles per gallon fuel economy and more than 80mph top speed also mean the V-Star is just as conducive to touring as it is around-town commuting. This is also a solid choice for shorter riders, as well as new bikers that want to be able to carry a passenger.
Engine: Air-cooled 249cc V-Twin
Power: 21HP & 15.2FT-LBS
Top Speed: 85MPH
Weight: 324LBS
Honda Rebel 500
First introduced in the mid-1980s, the Honda Rebel has long been a go-to option for new riders, though in recent years as the entry-level segment has spiked in popularity, Big Red was prompted to unveil a new generation of Rebel with the 300 and 500cc (and 1,078cc) versions. The half-liter variant of this nimble, and urban-friendly sport cruiser is still small enough for new riders while being more freeway-friendly and offering more room for growth than its smaller-displacement sibling.
Engine: Liquid-Cooled 471cc Parallel-Twin
Power: 40HP & 30FT-LBS
Top Speed: 95MPH
Weight: 408LBS
Dual-Sports
On & Off-Road Riding
As this segment's name implies, dual-sports are intended for both on and off-road use. These lightweight machines are essentially just dirt bikes that have been bestowed with a headlight, license plate, and indicators. And, as rugged machines that you don't really have to worry about dropping, these machines are a great choice for both city and country-dwellers, alike.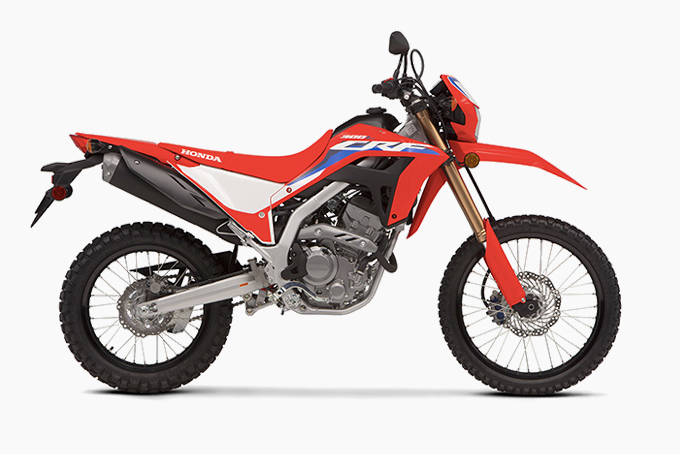 Honda CRF300L
Honda's CRF lineup — which is compliant with California's stringent new Green Sticker regulations — is one of the best-selling and most popular off-road product ranges of all time, so it's frankly unsurprising that Honda's road-legal dual-sport version of the 300cc (286cc) CRF is equally sought-after thanks to a potent engine, razor-sharp handling, immense reliability, and rugged build quality. Plus, its roughly 300lb curb weight and more than 10" of suspension travel front and aft make the CRF300L just as competent in the dirt as it is on the street.
Engine: Liquid-Cooled 286cc Single-Cylinder
Power: 27.3HP & 19.6FT-LBS
Top Speed: 75MPH+
Weight: 309LBS
Kawasaki KLX 300SM
If you like the look, feel, and performance of a dirt bike or dual-sport but spend the majority of your time street riding, then Kawasaki's newly released supermoto model is a stellar choice, as it affords the same punchy engine and thrills as its on/off-road counterpart while sporting a smaller road-focused wheel-set shod in sticky rubber that allows for markedly deeper lean angles. This model also gives customers the option of swapping out the stock hoops for larger wheels shod in knobby tires, should you want to go off-road.
Engine: Liquid-Cooled 292cc Single-Cylinder
Power: 33HP & 21FT-LBS
Top Speed: 80MPH
Weight: 304.3LBS
Nakeds
Stripped Down Sportbikes
Another segment that's rapidly growing in popularity, naked motorcycles offer much of the performance of a sportbike in a more user-friendly package with an upright riding position and a lack of bodywork. This class is a fantastic choice for those looking for a fun ride who still want something practical.
KTM Duke 200
Though the two boast very similar curb weights, KTM's Duke 200 is an even more lightweight and manageable entry-level sport naked moto, retaining the 373cc variant's top-shelf WP suspension, slipper clutch, and advanced frame while still being capable of freeway duties with a top speed just shy of 90mph. The baby Duke also boasts the sharp and striking KISKA-designed bodywork present on the 390 — an angular design inspired by the full-sized Duke 890 and 1290 models.
Engine: Liquid-cooled 199.5cc Single-Cylinder
Power: 25.5HP & 14.25FT-LBS
Top Speed: 88MPH
Weight: 331LBS
Honda CB300R
This is the smallest member of Honda's Neo-Sports Cafe range, the CB300R is a sub-$5,000 learner-friendly model that's equipped with a surprisingly high-end array of features and components including full LED lighting, an inverted fork, anti-lock brakes, and blacked-out hardware throughout. In terms of performance, the CB300R is an incredibly competent machine, with planted, confidence-inspiring handling and a top speed exceeding 90mph.
Engine: Liquid-Cooled 286cc Single-Cylinder
Power: 27.5HP & 20.3FT-LBS
Top Speed: 92MPH
Weight: 317LBS
Husqvarna Vitpilen 401
The Husqvarna Vitpilen 401 is an ultra-sleek and modern interpretation of a cafe racer built around the same tried-and-true 373cc engine and chassis platform as the KTM 390 ADV (and 390 Duke). As such it boasts a top-of-the-line chromium-molybdenum steel trellis frame mated to high-end WP suspension with a 43mm inverted front-end, gold-anodized 17" wheels, forged aluminum triples, LED lighting all around, and hydraulic Bosch two-channel-equipped ByBre brakes.
Engine: Liquid-Cooled 373cc Single-Cylinder
Power: 44HP & 27.3FT-LBS
Top Speed: 105MPH+
Weight: 335LBS
Sportbikes
Speed On Wheels
Entry-level sportbikes — or "supersports" — represent the pinnacle of two-wheeled performance in the entry-level class, affording the greatest speed and acceleration, the best braking, and the greatest lean angle of any new rider-friendly genre. Whether you're looking for a peppy commuter, a weekend canyon carver, or a track day machine, these affordable thrill rides are a great choice.
Kawasaki Ninja 400
Team Green's Ninja 400 is quite possibly the best buy in its class, with a $5,000 MSRP that gets you a liquid-cooled 399cc twin-cylinder engine wrapped in an advanced and lightweight trellis frame and fitted with a slipper clutch, Uni-Trak rear suspension, ABS, 310mm semi-floating petal rotors, and twin LED headlights. The bump in displacement also enables the Ninja 400 — which is available in a limited KRT (Kawasaki Racing Team) edition that's cloaked in a replica race livery from Kawasaki's World Superbike-dominating factory team.
Engine: Liquid-Cooled 399cc Parallel-Twin
Power: 45HP & 28FT-LBS
Top Speed: 105MPH+
Weight: 366LBS
Yamaha YZF-R3
The Yamaha YZF-R3 is a surprisingly versatile supersport model that's capable of taking on both commuting and track day duties. Boasting a top speed in the triple digits, the R3 features bodywork that's inspired by the Tuning Fork Company's YZR-M1 MotoGP racer, and a liquid-cooled parallel-twin that's new rider-friendly, while still allowing for plenty of growth. The immense popularity of this model has also resulted in an enormous amount of available aftermarket upgrades.
Engine: Liquid-Cooled 321cc Parallel-Twin
Power: 42HP & 21.8FT-LBS
Top Speed: 117MPH
Weight: 375LBS
Aprilia RS125
Of all entry-level supersport models currently on the market, none of them manage to replicate the look of their respective manufacturer's flagship (liter-sized) superbikes better than the RS125. What's more, this Italian-built eighth-liter moto is also unequivocally one of, if not the most high-performance SS bike in its class, boasting a chassis, power plant, and a slew of componentry that are all derived from Aprilia's wildly successful Grand Prix racing program.
Engine: Liquid-Cooled 124.2cc Single-Cylinder
Power: 14.75HP & 8.26FT-LBS
Top Speed: 70MPH+
Weight: 317LBS
The 12 Best Small Displacement Motorcycles
Want to check out an additional selection of learner-friendly models? Well, our guide to the best small-displacement motorcycles contains a dozen diminutive-engined motos that jive wonderfully with novice riders.