Shortly after the turn of the millennium, two things happened that would forever alter the course of motorcycle history. In 2001, Triumph would rerelease its iconic Bonneville model, just a few years before Ducati pulled the cover off of its Sport Classic — a Pierre Terblanche-designed bike modeled after the Italian firm's 1973 750 Sport that boasted modern performance, safety standards, emissions, and reliability in a decidedly vintage-styled package. Ducati Motor's idea to combine contemporary powertrains and running gear with unmistakably old-school aesthetics would ultimately serve as the basic formula that today's entire modern retro segment is based on.
Fast forward approximately two decades to the present day, and the modern-retro sector is now one of the most popular classes in all of the two-wheeled realm, with yesteryear-inspired offerings now being produced by the vast majority of major motorcycle manufacturers — and accounting for a substantial portion of overall sales. With so many marques all vying for a piece of the old-school-inspired pie, the market has become increasingly oversaturated with bikes, and while this gives buyers a plethora of options to choose from, it's also made it somewhat difficult to sort through the endless sea of offerings to find which model is right for you. With this in mind, we've thoroughly broken down the segment, delving into what qualities characterize this type of bike and what to look for when shopping, as well as our picks for the best retro-style motorcycles currently available in showrooms.
Old-School Cool Explained
Defining A Modern-Retro-Style Motorcycle
As its name suggests, modern-retro motorcycles are contemporary production models that are styled after vintage machines, while possessing modern-day engines, frames, and componentry. Offering what a great many riders consider to be the best of both worlds, these motorcycles afford nostalgia-inducing looks backed by thoroughly modern performance and amenities, including modern electronics packages and rider aids. This means getting to cruise the streets with a vintage-style bike, without having to worry about the shortcomings of drum brakes, finicky carbs, and antiquated wire wheels. The lion's share of modern retro bikes also takes visual inspiration from models of the 1960s and 1970s, though there are outliers that are modeled after 1980s machines, as well as prewar-era motorcycles.
The amalgamation of old-school aesthetics and modern powertrains and tech is ultimately what defines a modern-retro, and separates it from other "retro-retro" models like the Royal Enfield Bullet or Yamaha SR400 — machines that are basically just retro bikes that have remained in production, largely unchanged for many years, versus modern motorcycles with modern performance capabilities that are dressed up to look like vintage scoots. And, while there are some vintage styles such as scramblers or cafe racers that are particularly popular in the modern-retro space, modern-retros are available in practically every genre of motorcycle, from tiny-bore minibikes to full-sized cruisers.
Old Meets New
What Factors To Take Into Account When Looking At Retro Style Motorcycles
With contemporary machines intentionally done up to look like motorcycles of decade's past, the process of buying a modern-retro can be a fairly unique experience, albeit one that's much more in line with buying a regular new motorcycle than it is purchasing an actual vintage bike. Below, we'll briefly touch on half a dozen of the most pivotal areas to consider when shopping for a retro-style motorcycle.
Genre: As previously touched on above, modern-retros come in just about every genre of motorcycle under the sun. As such, your hunt for a retro style bike should start with figuring out which regular genre of motorcycle is most conducive to your particular wants and needs before then exploring the different modern-retro bikes that are available within said genre and then proceeding from there.
Engine: Whether of the modern, vintage, or modern-retro variety, the engine is the heart of every motorcycle and as such plays an incredibly pivotal role in its overall performance and riding characteristics. Because they come in so many different genres and styles, modern retros are powered by everything from small displacement singlesretro to the largest engines some manufacturers have ever produced, meaning no matter your skill or experience level, there will be something out there for everyone. And. just like when dealing with any other type or class of motorcycle, it's always imperative to opt for a machine that's appropriate for your skill level in terms of size, weight, and power output.
Components: While the engine is largely responsible for how a bike accelerates and delivers power, a machine's cornering and stopping are owed to its bevy of componentry, namely the suspension and brakes. Not unlike the frames that motorcycles are constructed around, suspension and braking components can wildly vary in quality on production models, and, as a result, it's immensely important to review this area when looking at bikes modern, retro, or otherwise.
Base Platform: Though quite a few new retro-style bikes are designed as novel models from the ground up, there are also a significant number of bikes that are basically just restyled, retro-ized versions of existing offerings that see manufacturers adorn machines in their respective lineups with vintage-themed bodywork and aesthetic bits. One surefire means of acquiring a top-notch modern-retro is to research popular proven models that are available in retro versions, such as Yamaha's XSR900, Kawasaki's Z900RS, or MV Agusta's Superveloce 800.
Technology: Easily one of the coolest aspects of retro-style bikes is that they offer a distinctly and readily identifiable vintage appearance while often concealing many if not all of the motorcycle world's latest technological bells and whistles. Everything from TFT displays with Bluetooth and app connectivity and GPS guidance to lean-angle-sensitive antilock brake systems to traction control to adjustable fuel maps can be found on some of the latest modern retros. These amenities do admittedly come at a financial premium, though are nonetheless a pivotal perk and selling point of the more premium modern retros.
Style: Quite literally the only element distinguishing regular new production models from modern retros is appearance. So, once you've determined the appropriate genre(s) for your needs, it's well worth your time to explore the diverse array of styles that are available within that segment. And, in addition to many of these machines being offered in a wide array of liveries, a decent number of manufacturers also offer extensive catalogs full of upgraded parts and accessories to customize and personalize these already highly stylized motorcycles.
The Best Of Both Worlds
The 15 Best Retro Style Motorcycles
Now that you're all caught up on the basic history of the segment, what defines these machines, and what to consider when shopping for one, let's jump into our choices for the outright best modern-retro models currently in production.
The Best Retro-Style Motorcycles of 2022
Honda Monkey
First created as a theme park ride in 1961 at the Tama Tech amusement park — which was owned by a Honda subsidiary — the original Honda Monkey (or "Z50") first entered production in its native Japanese market in 1964, a few years before hitting American shores and exploding in popularity. In late 2018, Big Red revived a new version of the iconic Z50, increasing its proportions to make it more adult rider-friendly and swapping out the original 50cc mill for the same air-cooled quarter-liter lump found in Honda's small-displacement Honda Grom minibike.
Style: Mini Bike
Engine: Air-Cooled 124.9cc Single-Cylinder
Power: 9.7hp & 7.75ft-lbs
Curb Weight: 231.5LBS
Royal Enfield Continental GT650
Loosely inspired by Royal Enfield's Continental GT 250 machine from the 1950s and '60s, the Continental GT 650 is a modern machine that absolutely nails the old-school cafe racer aesthetic, with a humped cafe tail, headlight cowl, and a knee-dented tank, all in a classic British parallel-twin-powered package. Despite its accessible sub-$6,000 MSRP, the GT 650 still boasts some impressive performance capabilities and hardware, with a Harris Performance-developed frame that's been paired with ABS-linked Brembo brakes, and gas-charged piggy-back rear shocks.
Style: Cafe Racer
Engine: Air & Oil-Cooled 648cc Parallel-Twin
Power: 47HP & 38.35FT-LBS
Curb Weight: 557LBS
Kawasaki W800
Kawasaki's W800 is essentially a Japanese-made clone of a classic British parallel-twin standard, taking inspiration from Team Green's W Series lineup from the mid-'60s through mid-'70s — a range that itself was based on the UK's vertical-twins of the day. Looking like a more authentic recreation of a British twin than even the existing Triumph Bonneville range, the W800 not only perfectly hits the retro nail on the head, but also does so while offering the bulletproof reliability that Japanese bikes are famously known for.
Style: Standard
Engine: Air-Cooled 773cc Parellel-Twin
Power: 51HP & 46.4FT-LBS
Curb Weight: 496.1LBS
Yamaha XSR900
Successor to the Tuning Fork Company's FZ8, the MT-09 is an immensely popular commuter bike, offering more than solid performance at an incredibly affordable price. So, needless to say, Yamaha was already at a tremendous advantage when designing its XSR900, as the retro-style naked is built around the mid-sized MT's chassis and CP3 engine platform. On top of also taking visual inspiration from the modern custom motorcycle scene, the XSR900 was also designed to lend itself to further modifications, accommodating a wide array of aftermarket parts and even full bolt-on kits. This model is also available in a smaller, parallel-twin-powered XSR700 version (that's also based on the MT-07).
Style: Neo-Retro Standard
Engine: Liquid-Cooled 847cc Inline-Three
Power: 115HP & 65FT-LBS
Curb Weight: 430LBS
Ducati Scrambler Icon
Ducati first introduced its original Scrambler range in 1962, so when the iconic Italian brand was looking to release a modern-retro line in the mid-2010s, the company turned to the '60s era scrambler for inspiration. Now accounting for more than a quarter of Ducati Motor's overall global sales, the Scrambler range features a wide array of variants including desert sled (i.e. scrambler) and cafe racer versions, though the classically-styled "base" model in the range is the retro-themed Scrambler Icon seen here. Wonderfully epitomizing the modern retro class, this machine sports an attractive old-school appearance and thoroughly modern componentry and tech.
Style: Neo-Retro Standard
Engine: Air-Cooled 803cc L-Twin
Power: 73HP & 49FT-LBS
Curb Weight: 417LBS
Kawasaki Z900RS
Just like Yamaha did with the MT-09 and XSR, Kawasaki has taken one of its best-selling models, the Z900, and given it the bonafide retro treatment, dressing up the 948cc inline-four naked with vintage-themed bodywork based on that of Kawasaki's 1970s Z H1 (aka "The Widowmaker"). Even more so than the Ducati directly above, the Z900RS — which is also offered in a cafe-spec — boasts an old-school appearance that conceals an ultra-capable, retro-clad sport naked, making this an excellent choice for riders who are interested in retro style but don't want to sacrifice on performance.
Style: Neo-Retro Standard
Engine: Liquid-Cooled 948cc Inline-Four
Power: 111HP & 72.3FT-LBS
Curb Weight: 474LBS
Triumph Bonneville T120
The Triumph Bonneville is admittedly something of the archetypal modern retro model, as this machine's revival is what kickstarted the flourishing segment that now existing today. One of roughly a dozen classic retro models currently offered by the Hinckley firm, the T120 does a superb job of capturing the yesteryear appearance while still offering modern safety and reliability standards as well as a host of modern tech, including ride-by-wire throttle and multiple ride modes, ABS brakes, a torque-assist clutch, USB charging ports, and LED lighting with daytime running lights, just to name a few.
Style: Standard
Engine: Liquid-Cooled 1,200cc Parellel-Twin
Power: 79HP & 77.4FT-LBS
Curb Weight: 520LBS
Suzuki Katana
While the vast majority of modern retros are styled after '50s-, '60s-, and '70s-era bikes, Suzuki has opted to take things in a different direction with the revival of its mighty Katana, introducing a modernized version of the 1980s icon that combines the highly distinctive wedge-shaped fairing design with the thoroughly modern and sporty performance prowess of its naked four-banger platform. In addition to the idiosyncratic bodywork, the new Katana also gets a bevy of seriously top-shelf running gear — including floating Brembo Monobloc calipers and KYB suspension — and components borrowed from Suzuki's GSX-R1000 flagship superbike.
Style: Neo-Retro Sportbike
Engine: Liquid-Cooled 999cc Inline-Four
Power: 140HP & 80FT-LBS
Curb Weight: 474LBS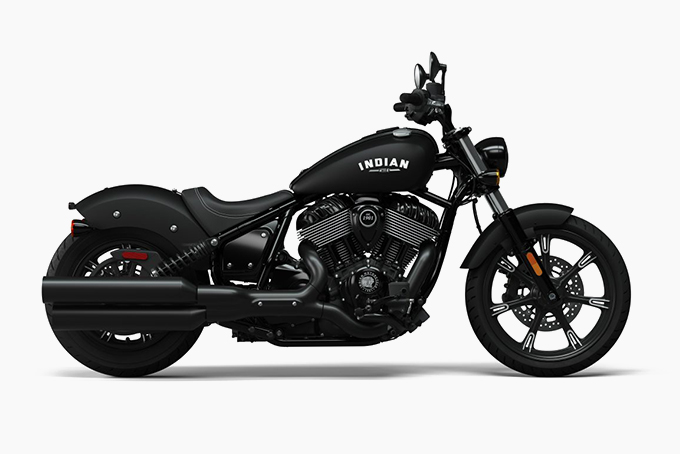 Indian Chief
Indian, rolled out the very first version of its now-iconic Chief model back in 1921. And with this year marking the Polaris-owned outfit's 100th anniversary, America's oldest motorcycle manufacturer opted to mark the occasion by debuting an all-new version of the Chief, delivering a big-bore cruiser that authentically emulates the brand's prewar-era machines while subtly concealing a modern liquid-cooled Thunderstroke 111 engine and a premium array of tech including a full suite of LED lighting, a keyless ignition, cruise control, and a trio of switchable ride modes. The Chief is also offered in three different specs, the regular Chief, the Darkhorse (seen above), and the Limited.
Style: Retro Cruiser
Engine: Liquid-Cooled 1,811cc V-Twin
Power: 74.2HP & 108FT-LBS
Curb Weight: 670LBS
Triumph Scrambler 1200 XE
For years Triumph has been offered Street Scrambler versions of its Bonneville bikes with high-mounted exhausts, brush guards, and skid-plates, though this was always more of a style exercise than a genuine attempt at creating a truly off-road-capable motorcycle. However, with the dual-sport and adventure motorcycle markets heating up, Triumph opted to create an old-school-looking modern retro with high-performance dirt-going capabilities, giving way to the plainly-named Scrambler 1200. The XE-spec represents the top-of-the-line variant with upgraded suspension and components, though the British marque also made a limited run of James Bond and Steve McQueen edition Scrambler 1200s.
Style: Scrambler
Engine: Liquid-Cooled 1,200cc Parellel-Twin
Power: 89HP & 81.1FT-LBS
Curb Weight: 452LBS
BMW R18
While BMW's R9T range is largely inspired by models from the '60s, '70s, and '80s, the Bavarian brand opted to turn the clock back quite a bit further when seeking inspiration for its all-new cruiser model, the R18. Styled after BMW's 1930s era R5 model — along with influence from a few other depression-era bikes — the R18 is powered by the largest displacement boxer engine BMW Motorrad has ever produced, with the more-than-750lb machine being kicked along by an enormous 1.8L mill. BMW also offers a "Classic" version of the R18, along with a host of optional accessories to make it your own.
Style: Retro Cruiser
Engine: Air & Oil-Cooled 1,802cc Boxer Twin
Power: 91HP & 116FT-LBS
Curb Weight: 761LBS
MV Agusta Super Veloce 800
Though race-style bodywork is by no means a recent invention, the vast majority of performance-focused modern-retros tend to be naked bikes. And, on top of the truly exhilarating performance achieved through building the bike around the Italian firm's existing F3 800 supersport platform, this is a huge part of what makes the Superveloce 800 so noteworthy, is that it's styled after a fully-faired race bike from MV's golden era of GP racing. One of the most striking takes on a modern retro, this machine is backed by an insanely potent inline-three engine, ultra-sharp running gear, and a robust electronics suite.
Style: Neo-Retro Cafe Racer / Supersport
Engine: Liquid-Cooled 798cc Inline-Three
Power: 147HP & 72.1FT-LBS
Curb Weight: 381LBS
Harley-Davidson Electra Glide Revival
Instead of creating a new model that takes influence from one of the Harley-Davidson Motor Co's vintage offerings, for the first bike in H-D's new Icons Collection, the Milwaukee-based marque opted to painstakingly visually recreate its Electra Glide model from 1965, resulting in a highly authentic replica that's backed by Harley's host of modern running gear and one of the American brand's newer powertrains. From the antique fairing to the huge fenders to the tractor-style saddle, every detail on this machine is spot on, right down to the white-wall-tired wire-spoke wheels and chrome-accented triton livery.
Style: Antique Cruiser Replica
Engine: Air-Cooled 1,868cc V-Twin
Power: 97HP & 118FT-LBS
Curb Weight: 862LBS
The Best Scrambler Motorcycles You Can Buy
Interested in checking out a further array of retro-inspired production models currently available on showroom floors? Then be sure to cruise on over to our guide to the best scrambler motorcycles for more vintage-style on and off-road runners.