Whether amateur or pro or racing on dirt or the tarmac, most of the world's motorsport competitions are held on dedicated, purpose-built tracks that are calculated and constructed to be conducive to racing. The use of run-off areas following turns and air fences help to mitigate the danger and risk factors associated with motorsport competition. Despite purpose-built circuits existing all over the world, there's still a decent number of races that, for one reason or another, are held on regular public roads that are temporarily closed off and transformed into impromptu competition venues.
Held on what is referred to as "street circuits," (not to be confused with dedicated road race-style race tracks), this style of competition adds another level of intensity and excitement to an already exhilarating spectator sport. Without the safety and insurance afforded by safety barriers and gravel traps, competitors are exposed to a markedly greater risk of serious injury, with these tracks often proving little to no margin for error. And with today's increasingly safety-obsessed world, these hair-raising races are sadly more and more becoming a thing of the past, so we thought we'd take some time out to pay these races and their competitors their proper dues, and count down the greatest motorsport road races on earth.
A Road To Potential Disaster
Why Race On Closed-Off Street Circuits?
To fully understand racing on cordoned-off public roads, it helps to look back at the history and early days of motorsport. In the early 1900s when the automobile and motorcycle were rapidly evolving technologically alongside a simultaneous rise in popularity amongst consumers, racing became a popular pastime, as well as an effective means for manufacturers to promote their respective models.
Dedicated race tracks date back nearly as far as motor vehicles themselves, though early tracks were usually built to accommodate slow, underpowered machines, plus most of these tracks were designed with horrendous safety standards and were recognized as being incredibly hazardous only a decade or two after their construction. The world's best tracks at this time were relatively few in number and were expensive to utilize.
These factors made using public roads a fairly sensible choice of venue for racers in a lot of regions. The roads already existed and simply needed to be cordoned off. And, while it obviously resulted in some hassle for locals, these races were typically seen as a positive for the towns hosting them as they brought with them a sea of racers, their teams, and swarms of spectators, and the economic boost that came with them. In addition to landing spots on the calendar of some of the world's most elite racing series of the day, the success of some of these events prompted other companies, towns, and/or promoters to organize local races as a means of bolstering tourism or to market businesses or locations.
Racing On A Razor's Edge
What Exactly Makes Racing On Street Circuits So Special?
While a circuit's location might not seem like it would play a huge role in shaping its character, there's a myriad of interconnected elements that place these events in a league of their own.
The first and most obvious of these is the danger factor. These races are held on public roads, complete with lamp posts, curbs, gutters, potholes, road racks, trees, buildings, and other immovable objects that one wouldn't want to collide with at race speeds. And while safety pads and hay bales are used whenever possible, the distinct lack of gravel traps and run-off areas often means miscalculations or errors that would normally result in minor wrecks on dedicated race tracks can sadly be life-threatening on street circuits.
Not only do these circuits present a higher risk of injury, but when injuries do occur, they don't possess the built-in medical response systems of dedicated, purpose-built tracks. This means it can sometimes can emergency medical response teams much longer to reach an accident victim, especially on the longer courses set in more remote locales.
Because many of these events are much deadlier than your average on-track race, more and more high-profile race series are removing street circuits from than annual calendars. And as big-name leagues pull out of these impromptu circuits, so too do many of the deep-pocketed sponsors and the money they provide.
This ultimately means that the brave men and women putting their lives on the line at these races genuinely aren't doing it for the prize money—as the reality is there really isn't much compared to other race events—and participate on account of their passion, love for the sport, and for the honor, prestige, and glory that comes with winning. This makes for an immensely unique grid of competitors and helps to distinguish street circuit racing from other more mainstream motorsport series. There's also a deep sense of pride and tradition tied to these public road race events that are seldom matched by on-track affairs.
An Unlikely Locale
The Beauty Of Racing In Exotic & Unexpected Settings
Most of the time when we watch racing, we see cars or motorcycles competing on perfectly manicured tracks with stripe-lined corners, shadowed by grandstands packed with spectators and sponsor billboards, all on an equally-well groomed, purpose-built property. Competition on street circuits takes the same level of racing and injects it into exotic locations, with driving zipping through the streets of historic ancient towns, or tearing through the neon-lit metropolis of a modern downtown city. These locations make for a livelier and more engaging viewing experience, and often times the location of the track itself can even add to the danger and excitement, whether that be from an immovable brick wall alongside a turn, to an entire course being set on a high-altitude mountain.
24 Hours Of Le Mans
While the 24 Hours of Le Mans is mostly held on a closed-course, purpose-built race track, sections of the circuit are comprised of public roads and, between that and the fact this French endurance event is arguably the most iconic motorsport event on earth, Le Mans earns itself a spot in this list. In modern times the Circuit de la Sarthe has been reigned in, with the Mulsanne straight boasting a 3.72-mile-long uninterrupted straightaway before receiving a chicane. The track's high-speeds and overall unruly nature give it a comparable feel to most full-on street circuit competitions, as well.
The track itself offers an interesting combination of more technical, low-speed turns and long sweeping corners, made all the more interesting by several lengthy straights followed by hairpins or chicanes. Another incredibly noteworthy aspect of the Circuit de la Sarthe is that racers circle the track with a wide-open throttle for more than 80% of its 8.46-mile length, putting an ungodly amount of stress on both driver and machine and ultimately making it something of the perfect staging grounds for the world's most elite endurance races.
Track: Circuit de la Sarthe
Location: Sarthe, France
First Race: 1923
Length: 8.46 miles
Turns: 38
Azerbaijan Grand Prix
Mankind has been occupying the territory of the city that we today identity as Baku since the Stone Age, and as such the multi-millennia-old capital of Azerbaijan is brimming with ancient buildings and landmarks that are lined with an amalgamation of old and contemporary roads. So, to see the modern pinnacle of automotive mechanics and technology unleashed on the historic streets of Baku in the form of an F1 race makes for a wildly unique experience. The Baku City Circuit was routed to highlight the city's ancient cites, first appearing on the Formula One calendar in 2017 after previously hosting the Euro GP Championship, and instantly becoming a spectator favorite.
Longer than most other street circuits set in major metropolitan areas at 3.73 miles, the Baku City Circuit deviates from the over-use of 90-degree corners and chicanes often comprising street circuits, with 14 of its 20 turns being more rounded, sweeping corners of both the high and low-speed varieties. Additionally, the Baku City Circuit also offers substantially higher speeds than other impromptu street circuits, with Hermann Tilke—the circuit's architect and designer—engineering the layout to allow for speeds exceeding 200mph.
Track: Baku City Circuit
Location: Baku, Azerbaijan
First Race: 2017
Length: 3.73 miles
Turns: 20
Isle Of Man TT
Unequivocally the most famous motorcycle race of all time, the Isle of Man TT (or "Tourist Trophy") is an immensely unique annual competition, originally gaining popularity thanks to the island's lack of speed limits (which hasn't changed today). Because of the narrow width of the roads, racers compete against the clock in a number of different race classes, the most elite and prestigious of which is the Senior TT. On top of being a race event, the TT is more of a pilgrimage to a moto mecca of sorts, attracting two-wheeled enthusiasts the world over for a week of racing and a celebration of all things motorcycle.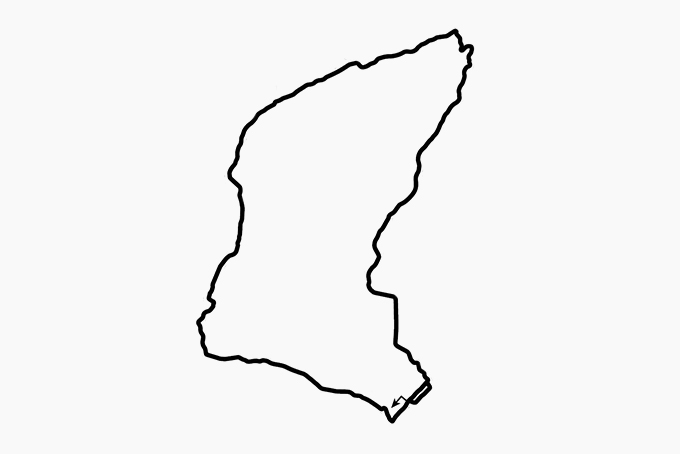 At 37.73 miles in length, the Mountain Course is nearly three times longer than the famous Nürburgring Nordschleife circuit. This not only means that riders have to memorize more than 200 turns—many of which look remarkably similar—but they have to do so without any margin for error whatsoever. To date, the Snaefell Mountain Course has claimed more than 150 lives, making it one of, if not the deadliest organized motorsport event in existence.
Track: Snaefell Mountain Course
Location: Isle of Man (Irish Sea)
First Race: 1907
Length: 37.73 miles
Turns: 219
Long Beach Grand Prix
The Long Beach Grand Prix was originally inspired by the Monaco Grand Prix and envisioned as a similar event set in sunny Southern California. The Long Beach City Circuit started out hosting the United States Grand Prix West (back when the USA GP East was held at Watkins Glen International), the race's proximity to Hollywood managed to attract a host of celebrities and big-name sponsors alike.
The actual circuit itself is entirely held on cordoned-off public roads that surround the Long Beach Convention Center and continue through the city's port before circling back to the starting line. Despite its sub-two-mile length, the circuit actually made for some pretty stellar wheel-to-wheel racing action, with sections that allowed for higher speeds and ample opportunities for overtaking.
Track: Long Beach Circuit
Location: Long Beach, California
First Race: 1975
Length: 1.968 miles
Turns: 11
Macau Grand Prix
Imagine if the Isle of Man was held in a bustling downtown city in China, and you've pretty much got the Macau Grand Prix. Alongside its fairly bonkers setting, this race also stands out from others due to the fact the Macau Grand Prix allows both cars and motorcycles to compete (albeit not at the same time). The nearly four miles that make up the circuit includes more than its fair share of elevation changes and takes competitors through a myriad of different districts and parts of Macau.
The Guia Circuit is undoubtedly one of the more interesting street circuits, with a series of freeways, on and off-ramps, city streets, and down-town stretches constituting the unforgiving 3.8 miles of track. Not unlike the Circuit de la Sarthe, the Guia Circuit features a number of high-speed sections paired with some ridiculously technical areas. The track's immensely technical nature also favors skill over raw power, meaning drivers of slower machines can still best competitors in faster rides purely based on driving abilities.
Track: Guia Circuit
Location: Macau, China
First Race: 1954
Length: 3.8 miles
Turns: 19
Monaco Grand Prix
Held each year on the final weekend of May, the Monaco Grand Prix is an elite Formula One event located in the glitzy city-state on the French Riviera. In addition to a top-notch full race weekend, the world-class hotels, restaurants, boutiques, and gaming establishments have transformed the GP into a global high-society event, comparable to the Kentucky Derby. Along with the Indianapolis 500 and the 24 Hours of Le Mans, the Monaco Grand Prix also represents one-third of the so-called "Triple Crown Of Motorsport."
The winding course campaigned by modern F1 cars and the exotic locale can make this race feel like something out of a Bond movie. Tunnels, major changes in elevation, narrow streets, and a plethora of tight, technical corners make the Circuit de Monaco a true driver's course. The course was fabulously summed up by Brazilian driver, Nelson Piquet who said competing on the circuit was "like riding a bicycle around your living room."
Track: Circuit de Monaco
Location: Monica, French Riviera
First Race: 1929
Length: 2.074 miles
Turns: 19
Northwest 200
Though not quite as well-known as the TT, the Northwest 200 (or "NW200") is a Northern Irish road racing event run on a circuit that's completely made up of public country roads. Ireland's largest outdoor sporting event, the NW200 draws in around 150,000 spectators each year, and with top speeds that break the 200mph barrier and an average course speed of approximately 120mph, this Irish Road Race is one of the fastest two-wheeled races in the world (even faster than MotoGP, despite using production-based bikes).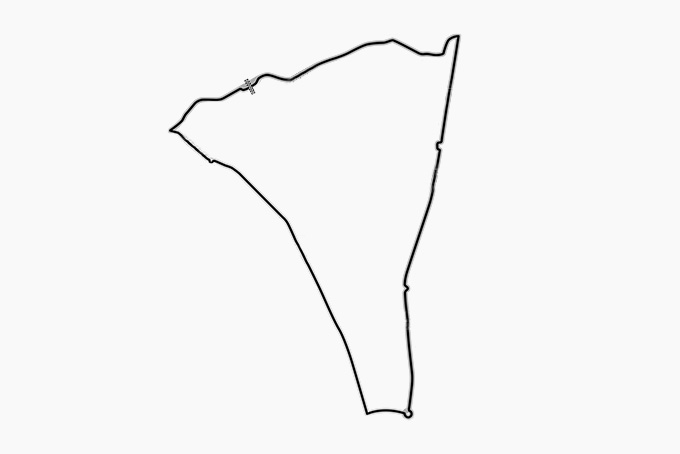 Unofficially known as "The Triangle," Coleraine Circuit is an almost nine-mile loop connecting the villages and towns of Portstewart, Coleraine, and Portrush. The track is shorter than the Snaefell Mountain Course, though is lined with the same curbs, brick walls, lamp posts, and other immovable objects—that many racers refer to as "the furniture"—that make the TT so deadly, and so exhilarating to watch. There are several short, low-speed turns, but the majority of the 8.97-mile street circuit is made up of ultra-fast, sweeping gradual turns, many of which are taken with a wide-open throttle.
Track: Coleraine (aka "The Triangle")
Location: Portstewart, Coleraine, and Portrush, Northern Ireland
First Race: 1929
Length: 8.97 miles
Turns: 22
Pikes Peak International Hillclimb
The Pikes Peak International Hill Climb is an utterly bonkers American motorsport event held each year in Colorado. Like with the TT, the dozens of turns at Pikes Peak look incredibly similar, making this already dangerous course all the more sketchy. To date, this event has claimed the lives of seven competitors across the myriad of different vehicle classes the race permits. On top of the unique locale where this event is held, PPIHC is made all the more arduous by its 2.67-mile-high elevation, which deprives engines of proper fuel-air mixtures and deprives drivers of oxygen.
Racing against the clock, competitors line up at a starting line with a 4,720ft elevation before making their way through 156 winding turns before reaching the finish line at the mountain's 14,115ft summit. The course was originally completely unpaved, though little by little the dirt sections were replaced with tarmac until 2011 when the whole course was paved over. Despite the danger factor, Pikes Peak has become something of a go-to proving ground for some of today's biggest manufacturers to show off their latest and greatest production and prototype machines.
Track: Pikes Peak Road Course
Location: Cascade, Colorado
First Race: 1916
Length: 12.42 miles
Turns: 156
Singapore Grand Prix
The Singapore Grand Prix genuinely looks like something out of a racing video game or futuristic movie, with the event seeing Formula One cars careening through a modern coastal metropolis in Southeast Asia. The fact this event is held at night under more than 1,000 floodlights helps to further highlight the urban nature of this race's location.
The circuit itself was originally penned by Hermann Tilke, before an American engineering firm stepped in to deliver a modified version of Tilke's design. The 3.146-mile course runs through the downtown district of Singapore's Marina Bay and along its coast before looping back around to the starting line. The host of different increasing and decreasing radius corners, coupled with long, slightly sweeping straightaways makes for an interesting combination of turns ranging from 50mph all the way up to 200mph in speed. There are also a few chicanes tossed in the mix for good measure.
Track: Marina Bay Street Circuit
Location: Singapore, Southeast Asia
First Race: 1966
Length: 3.146 miles
Turns: 23
Ulster Grand Prix
Located roughly 20-minutes southwest of Belfast, the Ulster Grand Prix is another hardcore superbike race held on a circuit that's comprised of cordoned-off public roads. Unlike many of the perfectly manicured street circuits that host Formula One races, the Ulster GP's 7.4-mile circuit is littered with tar snakes, potholes, and other elements riders don't normally have to negotiate at race speeds. As one might expect, this event has claimed the lives of numerous competitors over the years, including in recent times.
Just like with the TT and the NW200, the track sees riders use a wide-open throttle for the lion's share of its 25 corners. To give you an idea, the highest average speed record on the course currently stands at just shy of 135mph. At these speeds, it's also common to see riders leave the ground when riding over small hills. Pretty much all of the most legendary TT riders also got their start in road racing on courses like the NW200 and Ulster GP.
Track: Dundrod Circuit
Location: Lisburn, Northern Ireland
First Race: 1922
Length: 7.4 miles
Turns: 25