Shopping for a watch can be a pretty difficult endeavor. Whether you're buying your first watch or your fiftieth, you're going to go through many of the same considerations. What style are you looking for? Do you want a quartz or a mechanical? How will you be using the watch? In other words, is this a beater? An everyday watch? Is it only for special occasions? And finally, arguably the most important question to ask yourself: What kind of budget are you working with?
Knowing that the gargantuan task of finding the perfect watch can sometimes seem impossible, we've done all of the legwork for you in putting together this guide to the 30 best men's watches for any budget. Working with ten different price categories ranging from under a hundred bucks to just south of $50K, we've sought out the best watches for you to consider adding to your wrist. So whether you want a diver or a chronograph, a quartz or an automatic, a Timex or a Rolex — you get the idea — you're likely to find what you're looking for in the below guide to the best watches for men.
Under $100
Getting Started
Casio Duro
Kicking things off is Casio's popular quartz-powered diver. Coming in with an MSRP that's well under $100 and frequently available for under $50 on sale, this is really a no-risk proposition. It has an impressive 200m water resistance, surprisingly good bezel action, and classic good looks that recall the icons of the space.
Case Size: 44mm
Water Resistance: 200m
Movement: Quartz
Swatch Clearly Gent
Swatch is a resurgent brand thanks to its MoonSwatch collaboration with Omega. And while the MoonSwatch is definitely cool, it's rather expensive for what it is and is difficult to get. So we recommend sticking with the Clearly Gent instead. Based on a classic '80s Swatch, this throwback piece is all kinds of fun without being too serious.
Case Size: 34mm
Water Resistance: 30m
Movement: Quartz
G-SHOCK GA-2100
Ask most watch enthusiasts what their favorite beater watch is in their collection and most will point you toward some kind of G-SHOCK. One of the brand's most popular styles is the GA-2100 — nicknamed the "CasiOak" due to its AP Royal Oak-like octagonal case shape. The affordable piece has all of the functionality and ruggedness you'd expect from a G-SHOCK while upping the style quotient considerably.
Case Size: 48.5mm × 45.4mm
Water Resistance: 200m
Movement: Quartz
Orient Kamasu
For many watch enthusiasts, a diver from Orient is their gateway drug to the world of automatic watches. The Japanese brand makes durable and good-looking watches powered by in-house automatic movements, and the Kamasu may be the best of them. Sharp styling, a sapphire crystal, and 200m water resistance all make this watch especially tempting at this low price.
Case Size: 41.8mm
Water Resistance: 200m
Movement: Automatic
Timex Q Timex GMT
The original modern reissue of 1979's Q Timex was already a smash hit for Timex following its debut in 2019, but now the brand that "takes a licking and keeps on ticking" has upped the ante with the hot new GMT version. A natural complication for the Pepsi-bezeled Q, the quartz-powered travel watch retains the 38mm hooded-lug case of its predecessor but adds an improved bracelet and applied indices in addition to the new Swiss-made movement.
Case Size: 38mm
Water Resistance: 50m
Movement: Quartz GMT
Marathon GPQ
If you're in the market for something a bit more rugged, then you can't go wrong with Marathon. A favorite among U.S. service members, Marathon's General Purpose Quartz is just what it sounds like: a quartz-powered watch meant to go through the wringer with you. Built to military specifications and designed for paratroopers, the watch features a lightweight high-impact fibershell case and self-powered Tritium gas tube lume.
Case Size: 34mm
Water Resistance: 30m
Movement: Quartz
Seiko 5 Sports SKX GMT
Seiko surprised the market by unveiling what's sure to be the watch of the summer this year when it released this sporty GMT. Boasting intentional stylistic cues from the iconic (and discontinued) SKX diver, this bargain-priced automatic GMT comes in three pitch-perfect colorways, all of which feature a cyclops date window, a bi-color bezel, and a Jubilee bracelet.
Case Size: 42.5mm
Water Resistance: 100m
Movement: Automatic GMT
Hamilton Khaki Field Mechanical 38
It's not often that you'll be able to find a true watch icon for under 500 bucks, but that's exactly what the Hamilton Khaki Field Mechanical is. A direct descendant of the original Khaki Field of the 1960s — itself an evolution of Hamilton's WWII field watches — this moderately-sized hand-cranker remains the standard by which all other field watches are measured.
Case Size: 38mm
Water Resistance: 50m
Movement: Manual Wind
Lorier Neptune
While the bulk of the brands you'll find in this guide are tried and true watchmakers, the industry is also filled with small independent microbrands that offer tremendous value and are able to give enthusiasts exactly what they want. One of the best is Lorier. Run by a husband and wife team in New York, the brand's flagship Neptune is one of the best vintage-style divers on the market, even featuring a plexiglass crystal for added authenticity. Keep your eyes peeled later this summer, as Lorier will be launching the Neptune's improved fourth generation.
Case Size: 39mm
Water Resistance: 200m
Movement: Automatic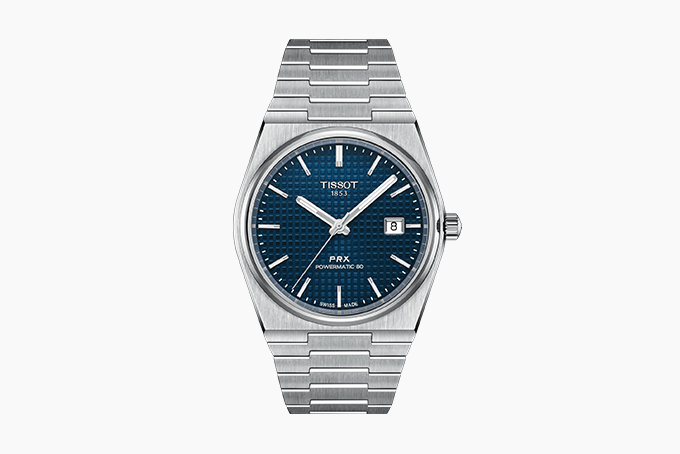 Tissot PRX Powermatic 80
It's tough to think of a watch that has energized a brand as much as the PRX has for Tissot. The integrated bracelet sports watch — a reinterpretation of a late-'70s Tissot of the same name — has become the 169-year-old brand's most recognizable watch. Offering excellent finishing, an 80-hour automatic movement, and Gérald Genta-like looks, the PRX is extremely tough to beat at this price.
Case Size: 40mm
Water Resistance: 100m
Movement: Automatic
Christopher Ward C63 Sealander Automatic
As the first watch brand to exclusively sell its timepieces directly to consumers online, Christopher Ward was a pioneer in the microbrand space when it launched in 2005. These days, it's moved far beyond the label and competes with luxury brands that cost far more money. Its Sealander is CW's attempt at making the perfect everyday sports watch for under a grand, and with a 39mm case, 150m water resistance, and versatile looks, we'd say they've done it.
Case Size: 39mm
Water Resistance: 150m
Movement: Automatic
Certina DS PH200M
Retro dive watches are all the rage right now, but they can sometimes get a little redundant. That's definitely not the case with this Certina. Directly inspired by Certina's original DS PH200M from 1968, the new incarnation keeps the timeless design but modernizes the materials. The watch features a generously domed sapphire crystal, a unique etched and domed ceramic bezel, and a silky stainless steel mesh bracelet.
Case Size: 42.8mm
Water Resistance: 200m
Movement: Automatic
Under $2,000
Enthusiast Territory
Sinn 104
Long a favorite among the watch forums community, Sinn's 104 is tough to define. Classified as a pilot's watch, you'd be forgiven for thinking it was a diver thanks to its styling, its sizing, and its impressive 200m water resistance. But regardless of what type of box you want to put it in, the fact remains that the 104 is a rugged tool watch that looks outstanding, works in any situation, and is built to last.
Case Size: 41mm
Water Resistance: 200m
Movement: Automatic
NOMOS Club Campus 38
Joining Sinn in representing what German watchmakers are capable of is NOMOS. The Glashütte-based brand makes some of the best Bauhaus-inspired dress watches around, but it's the brand's Club Campus line that excites us the most. Designed to be an entry point to quality watchmaking for new collectors, the Club Campus is equal parts sporty and dressy, with plenty of gorgeous details that you can only appreciate once you have the watch in hand.
Case Size: 38.5mm
Water Resistance: 100m
Movement: Manual Wind
Doxa Sub 300T
Most dive watches these days aren't really being taken very far underwater — they're popular because people like the style. But if you want a dive watch that puts functionality before aesthetics, then Doxa is where it's at. The iconic dive watchmaker's Sub 300T is one of the most capable divers you can get, with a whopping 1,500m water resistance, a high-vis "Professional" orange dial, and a patented bezel with an integrated no-decompression dive time calculator.
Case Size: 42.5mm
Water Resistance: 1,500m
Movement: Automatic
Under $3,000
The Big Leagues
Oris Aquis Date Relief "Cherry"
The fact that Oris has remained steadfastly independent while the vast majority of its Swiss competition has fallen under the corporate umbrella of one luxury conglomerate or another is a testament to the brand's daring nature; as is this take on its popular Aquis diver line. Pairing a unique and eye-catching relief bezel with a striking Cherry Red dial, this is far from your average dive watch, and it's these types of risks that make us love Oris so much.
Case Size: 41.5mm
Water Resistance: 300m
Movement: Automatic
Longines Spirit Zulu Time
One of the best releases of the year by any watch brand is Longines' pitch-perfect GMT version of its ever-expanding and increasingly-popular Spirit line of pilot's watches. The watch does just about everything we want a travel watch to do. Independently-adjustable local hour hand? Check. Original and attractive design? Check. Symmetrical date placement, vacation-ready water resistance, COSC certification? Check, check, check. Longines has been on a roll lately, but this is just ridiculously good.
Case Size: 42mm
Water Resistance: 100m
Movement: Automatic GMT
Rado Captain Cook High-Tech Ceramic Diver
Speaking of brands that know when to double down when they've got a hit on their hands, we have Rado. Not long ago, the brand was mainly known for its unique ceramic dress watches. Interesting pieces, but not the type of thing to set enthusiasts' hearts aflutter. Enter the Captain Cook diver. A reissue of an obscure and short-lived '60s diver from the brand, the modern Captain Cook reinvigorated Rado and has since seen countless iterations. The latest is this ceramic version that combines the two main sides of the brand's business to great effect.
Case Size: 43mm
Water Resistance: 300m
Movement: Automatic
Under $5,000
Heirloom Pieces
Tudor Black Bay 58
As the more affordable sister brand to Rolex, Tudor is the backup choice for many watch enthusiasts. But truth be told, this brand doesn't deserve to play second fiddle to any brand — not even Rolex. Its Black Bay 58 is one of the best divers on the market bar none, combining classic tool watch ruggedness with luxury detailing and knockout vintage-inspired looks that are about as versatile as it gets.
Case Size: 39mm
Water Resistance: 200m
Movement: Automatic
IWC Pilot's Watch Mark XVIII "Le Petit Prince"
IWC has many iconic lines in its catalog, but the Schaffhausen-based brand is best known for its simply-named "Pilot's Watch." Available in a number of different case sizes, colors, and configurations, we're big fans of this simple and moderately-sized reference that takes inspiration from the classic French children's book The Little Prince with its gorgeous blue sunburst dial. It's a strange collab, but a successful one, judging by the plethora of popular "Le Petit Prince" models IWC has offered over the past decade.
Case Size: 40mm
Water Resistance: 60m
Movement: Automatic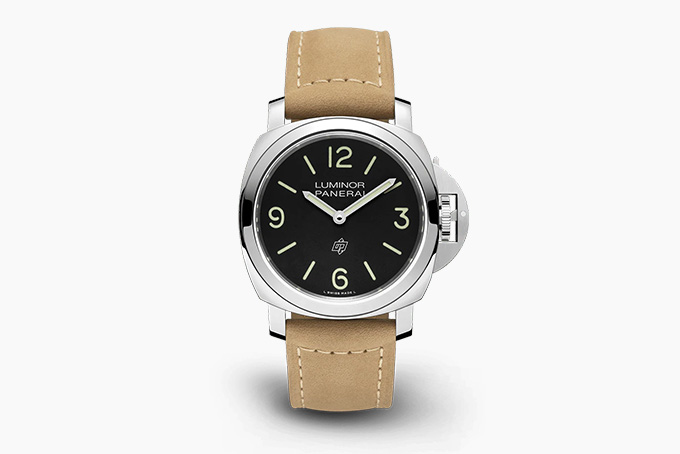 Panerai Luminor Base Logo
If it's wrist presence that you're after, there's simply no beating Panerai. A little-known Italian watchmaker for most of its history, the brand's oversized cushion-cased timepieces reached a larger audience thanks to their popularity with Sylvester Stallone and Arnold Schwarzenegger beginning in the late '90s. Now, Panerai plays in the high-end sandbox with other major luxury brands, and this watch — the simplest version of its flagship Luminor line — is perhaps the easiest way to gain entry to the "Paneristi."
Case Size: 44mm
Water Resistance: 100m
Movement: Manual Wind
Omega Speedmaster Professional
If historical significance is important to you when it comes to watches, then there's no beating the Speedy. Colloquially known as the "Moonwatch," the Speedmaster Professional famously became the first watch worn on the moon during the Apollo 11 mission in 1969. Since that time, it's been widely associated with space travel and has been cleared for flight missions by NASA for going on 60 years. But even if you don't care about all that, the Omega Speedmaster still features one of the most aesthetically-pleasing and perfect dial designs in history.
Case Size: 42mm
Water Resistance: 50m
Movement: Manual Wind Chronograph
Rolex Submariner
Perhaps the only watch in the world more iconic and recognizable than the Speedmaster is this. The dive watch by which all others are measured, the Submariner is not only the quintessential Rolex but the quintessential wristwatch. It is the dream watch of countless watch enthusiasts and casual fans alike, and will forever be the epitome of cool. Plus, at the end of the day, it's just a great watch, with a bulletproof movement, a design that goes with everything, and legit dive watch utility.
Case Size: 41mm
Water Resistance: 300m
Movement: Automatic
Grand Seiko SLGA009 "White Birch"
Despite what you may have heard, the Swiss do not have a total monopoly over the luxury watch market. Keeping them in check from the east is Grand Seiko, the high-end offshoot of Japanese giant Seiko. Grand Seiko is known for a few things that it does better than anyone else: its impeccable hand-finishing, its beautiful and intricate nature-inspired dials, and its exclusive hybrid Spring Drive movements that combine mechanical craftsmanship with quartz accuracy. This modern icon, a follow-up to the Hi-Beat Mechanical SLGH005 that was inspired by the white birch forests outside the brand's studio, combines all three.
Case Size: 40mm
Water Resistance: 100m
Movement: Spring Drive Automatic
Under $20,000
Serious Luxury
Breitling Navitimer Cosmonaute
Breitling's standard Navitimer is already one of the most iconic and recognizable watches in existence, but throw in a story about an early astronaut and some extra features and you're really cooking with gas. This new Navitimer is a reissue of the legendary Cosmonaute, a special 24-hour chronograph that Breitling custom-made for astronaut Scott Carpenter in 1962 that subsequently became the first Swiss watch worn in space. The new version adds some notable improvements, namely a platinum bezel, a glareproof sapphire crystal, and a modern movement with 70 hours of power on tap.
Case Size: 41mm
Water Resistance: 30m
Movement: Manual Wind Chronograph
Zenith Defy 21 Ultraviolet
As you've unquestionably noticed by the number of reissues and vintage-inspired watches in this guide, retro watches remain en vogue. But if you're looking for something more modern, then Zenith may be the brand for you. Known as the master of automatic chronograph movements since debuting the first El Primero movement in 1969, the brand is still innovating in the space. Powered by the El Primero 21 movement, this titanium watch with the violet-accented openworked dial belongs to the only chronograph line on the market that can measure down to 1/100th of a second.
Case Size: 44mm
Water Resistance: 100m
Movement: Automatic 1/100th of a Second Chronograph
Blancpain Fifty Fathoms
The Rolex Submariner gets a lot of attention for being the world's definitive dive watch, but it wasn't the first. Beating it to market by several months was Blancpain's Fifty Fathoms, and if you ask the world's oldest extant watchmaker, they'll tell you that the Fifty Fathoms is still besting the Sub today. With a case and bracelet crafted from titanium, a fully-lumed domed sapphire bezel insert, and a beautifully decorated movement that will last an entire work week without needing to be topped off, the OG diver may still be the one to beat.
Case Size: 45mm
Water Resistance: 300m
Movement: Automatic
Under $50,000
Haute Horlogerie
Jaeger-LeCoultre Master Ultra Thin Perpetual Calendar
A perpetual calendar is arguably the king of watch complications, as the ability for a machine composed only of springs and gears to autonomously keep track of the day, week, and month for your entire life — accounting even for leap years — is mind-blowing, to put it lightly. It's no wonder, then, that mechanical perpetual calendars frequently reach six figures, but not this one from JLC. The watchmaker's watchmaker offers not only one of the most affordable perpetual calendars on the market but also one of the best-looking and thinnest, coming in at just a hair over 9mm.
Case Size: 39mm
Water Resistance: 50m
Movement: Automatic Perpetual Calendar and Moonphase
Audemars Piguet Royal Oak "Jumbo" Extra-Thin
Arguably securing the bronze to the Submariner's gold and Speedmaster's silver in the race to be the most iconic watch of all time, AP's Royal Oak is credited with creating the whole idea of the stainless steel luxury sports watch. Gérald Genta's original design kicked off the now-ubiquitous integrated bracelet style in 1972, and today this 50th-anniversary version of the icon continues the tradition with all of the style and prestige that the watch has accumulated over the past five decades.
Case Size: 39mm
Water Resistance: 50m
Movement: Automatic
Patek Philippe Aquanaut Travel Time
While everyone these days is obsessed with another classic Genta design, the Nautilus, we actually think the Aquanaut is the superior of Patek's two steel sports watch lines. Its design is sleeker, more modern, and sportier, and its relative lack of hype makes it a little more of a hidden gem (just a little, prices are rising fast). And once you add in Patek's innovative Travel Time complication that uses four hands, two windows, and 12-hour timekeeping, you've got what we consider the coolest sports watch offered by Patek… and maybe anyone else, for that matter.
Case Size: 40.8mm
Water Resistance: 120m
Movement: Automatic Travel Time
The 20 Best Dive Watches
Dive watches are far and away the most popular style of men's watch, and while we included several in this all-encompassing roundup, you'll find plenty more in our comprehensive guide (and accompanying video) to the best dive watches on the market.