The Pepsi-bezeled GMT Master from Rolex has always been a popular watch. The balance of red and blue surrounding the dial lends the perfect amount of whimsy and charm to what is in many ways the ultimate sports watch. So in 2018 when Rolex reintroduced a stainless steel Pepsi GMT Master II for the first time in 11 years, the market predictably exploded. For the past few years, the watch world has come down with Pepsi fever, and there are numerous attractive red & blue bezel watches on the market that aren't Rolex. But what are the best Pepsi bezel watches?
For this guide, we've looked at the current landscape of Watchdom to come up with the best Pepsi bezel watches on the market today. Our picks cover all price points, from sub-$200 beater watches all the way up to the granddaddy of them all, the Rolex 126710BLRO. In between, you'll find GMTs and dive watches from Swiss and Japanese heavy hitters, along with a few surprises. So grab a soft drink (Coke is not OK) and have a look below at our guide to the best Pepsi bezel watches.
Best Pepsi Bezel Watches
Seiko Special Edition Prospex SRPE99

Citizen Promaster Aqualand

Ball Roadmaster Marine GMT

Omega Seamaster Planet Ocean "Pyeongchang 2018" Limited Edition
What is a Pepsi bezel?
As you may have guessed, Pepsi bezel watches don't actually have anything to do with cola — that's just an affectionate nickname given to the color scheme since it happens to mimic the look of one of the world's most famous brands. The true reason for the red and blue bezel is actually more practical (and cooler). As the Jet Age took off, so to speak, in the early 1950s, long-haul international flights were becoming more commonplace. So Pan Am approached Rolex about creating a watch for their pilots that could display two different timezones simultaneously during such flights. Rolex responded with the original GMT Master in 1955.
The watch was the first to feature a fourth hand combined with a 24-hour rotating bezel. To set the second timezone, one needed only to rotate the bezel to line up the appropriate hour (usually Greenwich Mean Time, hence the GMT moniker) with the fourth hand. In doing so, Rolex created a new kind of travel watch that essentially remains the industry standard today, though future iterations would add independently-adjustable hour or GMT hands, as well (depending on the manufacturer). As for the Pepsi colors, the reason is simple. The red on the lower half of the bezel represents the sun of the daylight hours, roughly 6 a.m. to 6 p.m, while the blue on the top half signifies the dark of night, 6 p.m. to 6 a.m.
Orient Mako II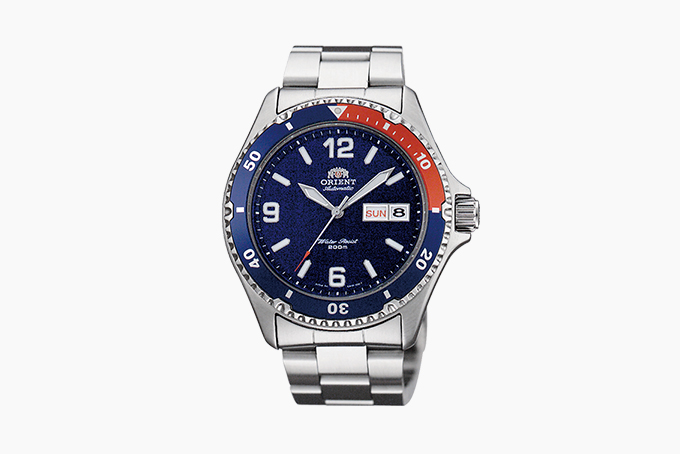 why it made the cut
Orient's Mako II is affordable and offers a unique take on the red and blue bezel with a dive bezel.
Not all Pepsi bezel watches are GMTs. A fair number of dive watches also employ the color scheme, usually by way of a blue bezel with red coloring from the 0 to 15 or 20 min hash marks. Seiko is especially known for popularizing this look (more on that later), but fellow Japanese watchmaker Orient also employs it on their ever-popular budget diver. The Mako II is an all-time favorite with 200m water resistance and a hacking/hand-winding in-house automatic movement. It provides a ton of bang for the buck and looks especially snazzy in this Pepsi colorway.
Case Size: 41.5mm
Movement: Automatic
Water Resistance: 200m
Timex Q Timex Reissue
why it made the cut
This retro-styled quartz watch from Timex reissues the brand's 1979 model at an affordable price.
One of the most popular and unexpected releases to debut in our current age of Pepsimania was this throwback quartz from Timex. The watch was a smash hit when it debuted in 2019, with stocks selling out immediately during its first few runs and trading for around twice the retail cost on the secondhand market. The hype has since died down, but this remains one cool watch. A reissue of one of Timex's first quartz models from 1979, the watch's bidirectional rotating bezel allows you to track a second timezone on a 12-hour scale without the use of a fourth hand, while the hooded lugs, domed acrylic crystal, and woven steel bracelet offer loads of retro charm.
Case Size: 38mm
Movement: Quartz
Water Resistance: 50m
Seiko Special Edition Prospex SRPE99
why it made the cut
A solid substitute for Seiko's discontinued SKX, this Prospex diver sports its forerunner's dial configuration, 4 o'clock crown, but adds a turtle-style case.
The Seiko SKX009 is an icon of Seiko's lineage, so much so that it's simply referred to as "The Pepsi Diver." But Seiko discontinued the watch, along with the rest of the SKX line, in 2019. While that fact remains a bummer, the silver lining is that Seiko offers plenty of other Pepsi bezel divers to help make up for the SKX009's absence. Among the closest modern approximations to the icon is this member of Seiko's Prospex line. Made to honor its long-time partnership with the Professional Association of Diving Instructors (PADI), the SRPE99 watch maintains the bezel, handset, day-date window, 4 o'clock crown, and 200m water resistance of its predecessor, but features a blue dial (instead of black), an upgraded movement, and a turtle-style case.
Case Size: 45mm
Movement: Automatic
Water Resistance: 200m
Citizen Promaster Aqualand
why it made the cut
Citizen's Promaster Aqualand is a fan-favorite with a ton of dive-specific features and iconic Eco-Drive solar charging.
Speaking of the now-extinct Seiko SKX watch, Citizen's Promaster sports a similar style as its once-contemporary and is still very much on the market. A fan-favorite in its own right, the Promaster is a highly capable diver in its own right. However, the Aqualand iteration takes that up a few notches. While retaining the standard 200m of water resistance, this ISO-compliant timepiece sports a rapid depth memory feature, a rapid ascent alarm, an auto-start dive mode, and a power reserve indicator. Not to mention, the watch, like other Promasters, is powered by Citizen's legendary Eco-Drive system that gives you battery power with any light source.
Case Size: 46mm
Movement: Eco-Drive solar
Water Resistance: 200m
Lorier Hyperion
why it made the cut
Lorier's beautiful Hyperion draws inspiration from the very first GMT made from Rolex while adding character all its own.
Lorier is an American microbrand that has a very specific design language inspired by mid-century watches. So when it was time to make a GMT after producing a pair of retro divers and a chronograph, the company decided to go all the way back to the beginning, drawing inspiration from the very first GMT: Rolex ref. 6542. The first examples of that watch had a radium-lumed plastic Bakelite bezel, which Lorier has approximated here with a hesalite bezel infilled with (non-radioactive) Super-LumiNova. But despite the inspiration, this is no homage watch, as the Hyperion has a style and character all its own.
Case Size: 39mm
Movement: Automatic
Water Resistance: 100m
TAG Heuer Aquaracer GMT
why it made the cut
TAG's ultra-cool Aquaracer harkens back to its '60s-era Autavia with 300m of water resistance and a horizontally-streaked dial pattern.
TAG Heuer has been making Pepsi bezel watches for decades, including one of the coolest watches ever made: the Heuer Autavia GMT Chronograph ref. 2446C from the late '60s. These days, the popular Swiss brand is still repping team soda with this GMT version of their Aquaracer dive watch. The watch keeps the 300m water resistance and horizontally-streaked dial of the regular Aquaracer, but adds the Calibre 7 automatic GMT movement with an independently adjustable fourth hand, making for a versatile vacation watch.
Case Size: 43mm
Movement: Automatic
Water Resistance: 300m
Ball Roadmaster Marine GMT
why it made the cut
This titanium watch from Ball was the first mechanical GMT movement with a day/date complication upon debuting in 2019.
One would think there weren't many ways to innovate a mechanical watch movement these days, given that the technology has been around since the 1700s. But Ball found a way in 2019, creating the first mechanical GMT movement to feature a day/date complication. With the ability to display the day of the week and the month, plus track up to three timezones, the Roadmaster Marine GMT makes for an especially attractive travel watch at its price point — and that's before factoring in the titanium case, tritium gas tube lumination, and best of all, the lumed ceramic Pepsi bezel.
Case Size: 40mm
Movement: Automatic
Water Resistance: 200m
Tudor Black Bay GMT
why it made the cut
Tudor gives a Pepsi bezel to its iconic Black Bay diver with some retro-inspired design cues.
Rolex wasn't the only brand to release a Pepsi bezel GMT in 2018. In fact, they weren't even the same to do so from their own company. Sister brand Tudor launched the Black Bay GMT on the same day as the new GMT Master II, and it started quite the buzz on its own. Compared to its Cerachrom-bezeled, jubilee-braceleted cousin, the Tudor is much more retro and tool-ish than the modern Rolex. In many ways, the watch is closer in spirit to the original GMT Master than the BLRO, thanks to its box crystal, aluminum bezel, and unguarded big crown. But it's still modern where it counts, with an in-house COSC-certified movement featuring an independently adjustable hour hand.
Read our full Tudor Black Bay GMT review here.
Case Size: 41mm
Movement: Automatic
Water Resistance: 200m
Omega Seamaster Planet Ocean "Pyeongchang 2018" Limited Edition
why it made the cut
Honoring its status as official timekeeper of the Olympics, this blue and red Planet Ocean extends the color scheme to its sporty nylon/rubber strap.
Omega has never pursued the Pepsi bezel style too heavily, perhaps for fear of being accused of ripping off their chief rival, Rolex. But Omega has sporadically released a few watches with red and blue color schemes, usually in connection with the brand's longtime status as the official timekeeper of the Olympic Games. And that's what we have here, a limited edition of the Planet Ocean with a Pepsi bezel that was made for the 2018 Winter Games in Pyeongchang, South Korea. This version of the premium diver takes the Pepsi color scheme and runs with it, throwing in a blue dial with red accents and a blue and red nylon/rubber strap to complement the bezel. We suppose a blue & red case would've been asking too much.
Case Size: 43.5mm
Movement: Automatic
Water Resistance: 600m
Rolex GMT Master II
why it made the cut
A must-have for any Pepsi bezel list, this Rolex GMT Master II has reached grail status, coveted by collectors all over.
Obviously, no list of Pepsi bezel watches is complete without the one that started it all. The modern-day GMT Master II in stainless steel is one of the most sought-after watches in the world, with mythically long waitlists and secondhand market prices approaching $20,000. It's the most expensive steel Rolex Pepsi ever, but if you're looking for something even more over-the-top, Rolex also makes two more Pepsi bezel GMT Master IIs: one in white gold with a blue dial for $38,250, and another white gold variant with a meteorite dial for $39,900. Both watches are extreme luxury products that are a far cry from the useful tools that helped Pan Am pilots circle the globe 65 years ago, but they prove the Pepsi bezel is nothing if not versatile.
Case Size: 40mm
Movement: Automatic
Water Resistance: 100m
The Best Green Dial Watches to Buy
Like Pepsi bezels, green-dial watches became all the rage a couple of years back. Head over to our dedicated guide to explore the best green-dial watches.