As rugged, wrist-worn tools, watches have a long history of accompanying adventurers and trailblazers to some of the most unforgiving places on the planet. Over the decades, watches have joined explorers on expeditions to the top of Mount Everest, to the bottom of the Marianas Trench, and to both poles, but perhaps the greatest test for a watch comes when they leave the planet entirely. A number of watches have been worn by astronauts in outer space — dozens, if not hundreds — and we wanted to give them their due by rounding up the best of them.
For this guide, we've taken a look at the history of space exploration, wherein nearly every mission has involved a watch in some way. Some of these watches — most notably, the Omega Speedmaster Moonwatch — largely base their entire identity around their out-of-this-world experience, while others are more obscure. We've compiled together the ten space watches that we believe are the most significant in the history of cosmic exploration, and we've also included where you can buy them or their modern equivalents. But first, here's a little history on watches in space.
A Journey Of Time & Space
Watches In The Final Frontier
The first watch worn in space may not have even been worn by a human. A Soviet-made POBEDA 34-K wristwatch was, allegedly, strapped to the leg of a Russian dog named Chernushka during his journey on Sputnik 9 in March of 1961. The first human in space was Yuri Gagarin, a Soviet cosmonaut who completed one orbit around the Earth aboard the Vostok 1 capsule on April 12, 1961. And while Gagarin did wear a watch — likely a Russian-made Sturmanskie — no one knows for sure what was strapped to his wrist. So for the first confirmed, human-worn outer space timepiece, we must head to the United States and the late, great John Glenn. Glenn didn't wear a traditional watch that told the time. Instead, he wore a Heuer 2915A stopwatch, mounted on a strap, when he became the first American to reach Earth's orbit on February 20, 1962. The first time a proper wristwatch was worn by an American astronaut occurred just a few months later on May 24, 1962, when Scott Carpenter wore a 24-hour custom Breitling Navitimer.
None of these watches were rigorously tested for outer space use, let alone designed for it. But in 1964, NASA put out the call to a handful of wristwatch manufacturers looking for wrist-worn chronographs. Omega submitted its then-new Speedmaster Professional, part of a line of motorsports watches that debuted in 1957, alongside chronographs from Rolex, Hamilton, and Longines. Only Omega's managed to pass all of the space agency's rigorous trials, earning NASA's official designation of being "flight-qualified for all manned space missions." Following that, it flew with NASA astronauts beginning in 1965 with the Gemini program and became the first watch worn on the moon when Buzz Aldrin set foot on the lunar surface during the Apollo 11 mission on July 21, 1969. It continues to be the watch most-associated with space exploration, and you'll find it below alongside nine other astronaut favorites.
Seiko 6139-6005 "Pogue"
With its golden dial and Pepsi bezel, Seiko's '70s chronograph is one of the funkiest to ever leave Earth's atmosphere. NASA astronaut William Pogue personally owned one of these watches, and he trusted it so much that he took it with him — without NASA approval — as part of the 3-man crew aboard the Skylab 4 mission in 1973. Pogue spent 84 days with the Seiko on the mission and allegedly had to use it for some timing duties after the crystal popped off of his Speedmaster. The 6139 became the first automatic chronograph in space thanks to Pogue, and in the decades since the watch has unofficially adopted his name as its own.
Glycine Airman
Even without its journeys to space, the Glycine Airman would still be one of the most notable aviator watches in history. In the early 1950s, Pan-Am put out a call to watchmakers in search of a timepiece that could track two time zones at once. Two brands came through. Rolex, with the GMT-Master in 1954 (more on that later), and Glycine a year earlier with the Airman, the first-ever watch to track a second time zone on a rotating 24-hour bezel. Naturally popular with pilots, the Airman was a favorite of test pilot and eventual astronaut Charles (Pete) Conrad, who wore his Glycine during both the Gemini 5 mission in August 1965 and the Gemini 11 mission in September 1966.
Bulova Accutron Astronaut
Prior to NASA's desire for chronographs and the rise of the Omega Speedmaster, it certainly looked like Bulova's aptly-named Accutron Astronaut was going to be the space watch du jour. Bulova's Accutron watches were some of the first electronic watches in the world, and they forwent a traditional balance wheel in favor of a faster-oscillating and more accurate tuning fork escapement. The watch's unique movement naturally made it more resistant to the high G-forces and extreme temperatures experienced during spaceflight, and U.S. Government agencies took notice. In the early 1960s, Accutron Astronaut watches were given to test pilots of both the U.S. Air Force's X-15 rocket plane — whose pilots flew high enough to qualify for their astronaut wings — and the CIA's famed A-12 spy plane, the first aircraft to reach Mach 3. Subsequently, all Mercury 7 astronauts were issued the Accutron watches, and early astronauts Gordon Cooper, John Young, and Virgil "Gus" Grissom all wore them on missions, with Grissom having borrowed his from astronaut Wally Schirra during training for the Gemini 3 mission in 1965.
Fortis Cosmonauts Chronograph
While Omega's Speedmaster has long been officially sanctioned for space missions by NASA, it has never been designated as the agency's official space watch. In fact, there's only one "official space watch" in the world, and it's the Fortis Cosmonauts Chronograph. This Swiss-made tool watch cleared all tests by Russia's space agency ROSKOSMOS over the course of 6 months, and in 1994 was awarded an exclusive 25-year contract as the agency's official space watch. In the ensuing quarter-century, it logged countless hours on the space stations Mir and ISS. Fortis' contract with ROSKOSMOS ended in 2019 (probably for the best, as no company wants to be associated with Russia at the moment), but the brand has continued its space-faring ways. Fortis has partnerships with the Austrian Space Forum and the Swedish Space Corporation and is the official timekeeper of the upcoming AMADEE Mars Missions. Fortis also released a new Stratoliner Chronograph in 2022 that houses its WERK 17 caliber, the first watch movement ever tested in outer space.
Sinn 140
German watchmaker Sinn is renowned for making some of the most rugged tool watches in existence, so naturally, the brand's timepieces have been a favorite among astronauts for years. While a few different Sinn models have been to space, the most widely associated with the final frontier is the Sinn 140 — colloquially referred to by the brand as its "Space Chronograph." German physicist and astronaut Reinhard Furrer wore his personal 140 S during the D1 Spacelab Mission in 1985, where he was able to observe how weightlessness affected the watch's automatic movement. Notably, this mission was the last successful flight of the Space Shuttle Challenger prior to its tragic destruction in January 1986.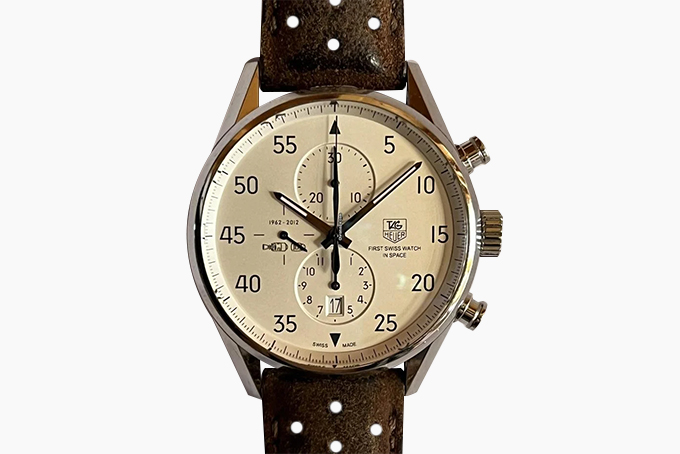 TAG Heuer Carrera Calibre 1887 SpaceX
In 2012, to commemorate the 50th anniversary of John Glenn becoming the first American in outer space, TAG Heuer teamed up with SpaceX to create a limited-edition chronograph that was inspired by the Heuer stopwatch that Glenn had with him on his historical journey. The watch made for a wearable and fairly accurate recreation of the first Swiss watch worn in space, but it wasn't just an homage. This piece managed to make some history of its own, too, as it was tested on board SpaceX's Dragon capsule, which became the first commercial spacecraft to ever visit the ISS in May 2012.
Omega Speedmaster X-33
In the 1990s, Omega set out to design a more modern Speedmaster that would accompany manned missions to Mars. The Swiss watchmaker spent five years developing the watch with astronauts from around the world, and in 1998 released the original X-33. The quartz-powered watch featured a titanium case, a kevlar strap, and an LCD display, and was loaded with astronaut-desired functions, like extra-strong lighting and elapsed time measurements for missions up to 1,000 days. Designed to be used while wearing astronaut gloves, the watch was worn on dozens of Space Shuttle and space station missions, but proved to be a flop with consumers and was discontinued. However, in 2014, Omega brought back the X-33 as the new Skywalker X-33. Sporting an arguably more palatable appearance and a movement developed, tested, and qualified by the European Space Agency, the new X-33 has proven to have greater staying power than the original. And, like its predecessor, it's been a major hit with astronauts and flies on many, if not most, modern missions.
Omega Speedmaster Professional
By far the most famous space watch there is, Omega's Speedmaster actually journeyed to the great beyond prior to the existence of the version that would come to be known as the Moonwatch. NASA astronaut Wally Schirra wore his personal Speedmaster ref. CK 2998 on board the Sigma 7 craft during the Mercury-Atlas 8 mission on October 3, 1962. It would be just two years later that another Speedmaster reference would be deemed suitable for manned space flights by NASA — ref. 105.003, later known as the "Ed White" after the astronaut who wore it during the first American spacewalk in 1965 — and five years after that when the Speedy would leave its mark on the surface of the moon. Speedmaster Professionals, also referred to as Moonwatches, have been on the wrists of astronauts for all six manned moon landings of the Apollo program, leaving no doubt that the watch is deserving of its moniker. The Speedmaster also played an important role during the harrowing Apollo 13 mission in 1970. That mission did not make it to the moon after an explosion occurred on the service module, and the crew had to shut down the ship's system to conserve power just to make it home. Without digital timing instruments, the astronauts famously used their Speedmasters to manually time the 14-second engine burns to successfully splash down back on Earth and avoid total disaster. While we don't have an official registry to go off of, Omega's flagship watch has almost certainly been worn more in space more than any other watch.
Breitling Navitimer Cosmonaute
As we mentioned up top, the first confirmed wristwatch worn by a person in outer space was Breitling's custom-made "Cosmonaute" Navitimer, which Scott Carpenter wore during his Mercury-Atlas 7 mission in 1962. Built by Breitling to Carpenter's specific requests, the Cosmonaute received a 24-hour dial for distinguishing daytime and nighttime hours, a simplified slide rule bezel, and a wider bezel for easy operation with gloves. Carpenter's Breitling performed admirably in space, but was ruined by water damage after the astronaut splashed down in the Atlantic. In 2022, Breitling released a 362-piece limited-edition reissue of the Cosmonaute, faithfully recreating the look and functionality of the original chronograph but adding modern and luxurious upgrades like a platinum bezel and sapphire display caseback.
Rolex GMT-Master 1675
Rolex has never been an officially-sanctioned watch for any space missions, but it has historically been very popular with astronauts, with no Rolex model being more associated with space exploration than the GMT-Master — particularly ref. 1675, which was in production from 1959 to 1980. These second-generation GMT-Masters were especially prevalent during the Apollo moon missions — not surprising, given that it was arguably the best pilot's watch of its day — with astronauts Jack Swiger from Apollo 13, Edgar Mitchell and Stuart Roosa from Apollo 14, and Ronald Evans from Apollo 17 all having worn their Rolex Pepsis on their most famous missions. There are even rumors that Swiger actually used his Rolex, not his Speedmaster, to time Apollo 13's critical engine burns. While those rumors are largely believed to be just that — rumors — there is much better evidence that a Rolex GMT-Master has made it to the lunar surface, with at least Evans' 1675 having made the trip after he gave it to fellow space explorers Gene Cernan and Harrison Schmitt when they descended to the moon while he continued to orbit in the command module.
The 20 Best Dive Watches
Have an adventure in mind that's a bit closer to home? Then be sure to check out our roundup of the 20 best dive watches on the market, which includes our in-depth video where we go deep on our five favorites.