If there is one thing today's watch industry loves, it's a good fad. Over the past three or four years alone, we've seen seemingly every brand and enthusiast become obsessed with Pepsi bezels, then integrated bracelets, and then green dials. Then, at the tail-end of 2021, everyone suddenly came down with Tiffany Blue dial fever. The chief cause of this illness was, naturally, the official collaboration between Tiffany & Co. and Patek Philippe that resulted in the Tiffany Blue-dialed 5711 Nautilus.
Perhaps the most hyped watch ever released, the Tiffany Patek Nautilus is all kinds of unobtainable. With just 170 examples produced, only VIPs have been able to get their hands on them, with Jay-Z, Lebron James, and Leonardo DiCaprio all known to have added one to their collections. In fact, the only "regular" person to get one did so by purchasing the lone example that was available to the public through a Phillips auction — and he paid $6.5 million for it. So given that the vast majority of us will never even see one of these watches in the metal, we've come up with ten affordable alternatives to the Tiffany Blue Patek Philippe Nautilus.
The Inspiration
Unless You're Jay-Z, Move Along
Patek Philippe Nautilus Ref. 5711/1A-018
Well, here it is, one of the most sought-after, hotly-debated, and — it deserves to be said — best-looking watches ever made. Created to honor the 170-year relationship between Patek and Tiffany, this stunner was destined to be special. But throw in the fact that it's also apparently the last-ever iteration of the uber-popular ref. 5711 Nautilus to ever be produced, and you have a perfect storm of hype that can't be matched. But we're going to try anyway.
Case Size: 40mm
Water Resistance: 120m
Movement: Automatic
The Alternatives
Get The Look For Less
RZE Endeavour Azure Blue
A Tiffany Blue dial for under $500? Well, no, not technically, but this fetching "Azure Blue" option from RZE will work just fine. A limited-edition version of the Singaporean microbrand's flagship diver, the Azure Endeavour boasts the same tough and lightweight titanium case and bracelet that RZE is known for. Coated in the brand's proprietary ULTRAHex coating, the watch is eight times harder to scratch than stainless steel.
Case Size: 40mm
Water Resistance: 200m
Movement: Automatic
Halios Universa Pastel Blue
One thing you'll quickly discover about this list is that the hype for watches with light blue dials extends far beyond the lofty heights of Patek's collab with Tiffany. Case in point: this versatile hand-cranker from top-tier microbrand, Halios. To be fair, the Vancouver watchmaker was putting out pastel blue watches before it was cool (see the Seaforth from a few years back), but the Universa's take on the form has seen a whole new level of popularity for the brand, with used examples sometimes selling for over $1,000.
Case Size: 38mm
Water Resistance: 100m
Movement: Hand-Wound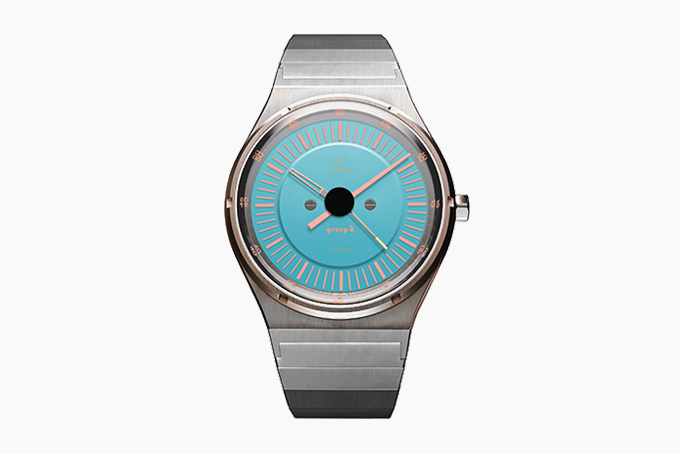 Autodromo Group B Corsica Blue
Another hyped microbrand watch that always sells out fast when in stock and goes for above MSRP on the secondhand market, the Miami Vice-reminiscent Corsica Blue remains the best rendition of Autodromo's '80s Group B racing-inspired watch. Sporting a light blue dial with daring pink hands and indices, a faux integrated bracelet, and a bimetal case of stainless steel and titanium, the Group B is highly original, breathtakingly attractive, and undeniably cool.
Case Size: 39.5mm
Water Resistance: 50m
Movement: Automatic
Seiko SRPE49J1
Ever since Seiko came out with its original "Cocktail Time" watches in 2010, the Japanese brand has continuously gone to the well (or rather, the bar) of alcoholic drinks for inspiration when penning new designs. One of the best we've seen is the "Frozen Margarita" from Seiko's higher-end Presage line. With a mesmerizing dial pattern that gives off some Grand Seiko vibes, along with a classy Milanese mesh bracelet and a refreshingly conservative case size of 38.5mm, this may be the only Margarita we don't prefer on the rocks.
Case Size: 38.5mm
Water Resistance: 50m
Movement: Automatic
Doxa Sub 600T Aquamarine
Doxa may be best known for its "Professional" orange dials, but the legendary dive watchmaker certainly knows its way around other bright colors, too. Its Aquamarine color is especially fetching, and one of the closest dupes you'll find to Tiffany's trademarked hue. And while the color is available on a handful of Doxa models, we like it best on the 600T, as the unorthodox diver's sharply-finished case and integrated bracelet put it more in line with the Nautilus.
Case Size: 40mm
Water Resistance: 600m
Movement: Automatic
Stowa Prodiver Mauritius Limited
Stowa is a storied German watchmaker, mainly known for being one of the original five manufacturers of Flieger pilot's watches. But the brand is capable of a lot more than traditional aviation watches, and this limited-edition of its Prodiver is one of the most out-there designs to ever leave Stowa's workshop. With a dial sporting the beautiful ocean-blue shade of Pantone 304 and just 100 examples produced, this summer-ready diver is technically rarer than the Tiffany Nautilus. But unlike the Patek, you can still buy one new (as of this writing).
Case Size: 42mm
Water Resistance: 100m
Movement: Automatic
Kurono 青磁:Seiji
The red-hot Japanese microbrand originally only planned to sell this limited-edition watch to the admittedly underserved women's market when it dropped last year, but an immediate outcry from the male-dominated enthusiast community caused Kurono to reverse course. Take a look around Instagram today and it would appear that mostly dudes ended up snagging the few of these beauties that were made available, and if you're looking to pick one up secondhand, expect to pay up to three times MSRP — whether you're buying from a guy or a girl.
Case Size: 37mm
Water Resistance: 30m
Movement: Automatic
Oris Divers Sixty-Five Cotton Candy
If the rest of these baby blue bombshells aren't bold enough for you, then allow us to introduce this whimsical number from Oris. Part of the "Cotton Candy" trio of bronze divers from the independent Swiss brand's popular Divers Sixty-Five line, this watch sports an unabashedly
flamboyant sky blue dial along with a bronze case and rare bronze bracelet. It's a wild mashup that sounds insane on paper, but looks surprisingly good in the flesh. It's not for everyone, granted, but Oris' Cotton Candy diver makes for an undeniably great conversation piece.
Case Size: 38mm
Water Resistance: 100m
Movement: Automatic
Tiffany & Co. Atlas
We've gone over a lot of Tiffany-adjacent blue dials in this guide, but none match the exact shade of the iconic New York jeweler. That's because the "Tiffany Blue" color — also known as Pantone 1837 — is trademarked and only usable to Tiffany & Co. and its licensed partners (like Patek). So if it's really a true Tiffany Blue dial you're after and you don't have millions lying around for the Patek, then you're better off going straight to the source. While Tiffany isn't exactly known for its timepieces, its collection of watches is plenty respectable, as the Atlas boasts Swiss-made construction, a slim profile, and an official Tiffany Blue dial that even boasts a color-matched date wheel.
Case Size: 37.5mm
Water Resistance: 50m
Movement: Quartz
Rolex Oyster Perpetual Turquoise
Look, we know what you're thinking: this is not an affordable watch. With an MSRP hovering around six grand and secondhand examples sometimes selling for over $40K (yes, really), this Turquoise dial version of the OP is one of the hottest watches in Rolex's catalog. And considering that nearly every steel model in Rolex's catalog is absolutely on fire at the moment, that's saying something. But keep in mind, compared to the multi-million dollar price of the Patek, this watch is a downright bargain. Gorgeous styling, exceptional quality, and the Crown on the dial — this is a watch that is totally deserving of its considerable hype.
Case Size: 36mm, 41mm
Water Resistance: 100m
Movement: Automatic
The 12 Best Affordable Alternatives to the Audemars Piguet Royal Oak
Pining after a different expensive Gérald Genta-designed sports watch from one of Swiss watchmaking's Holy Trinity? Have no fear, we've got 12 affordable alternatives to the Audemars Piguet Royal Oak right here.