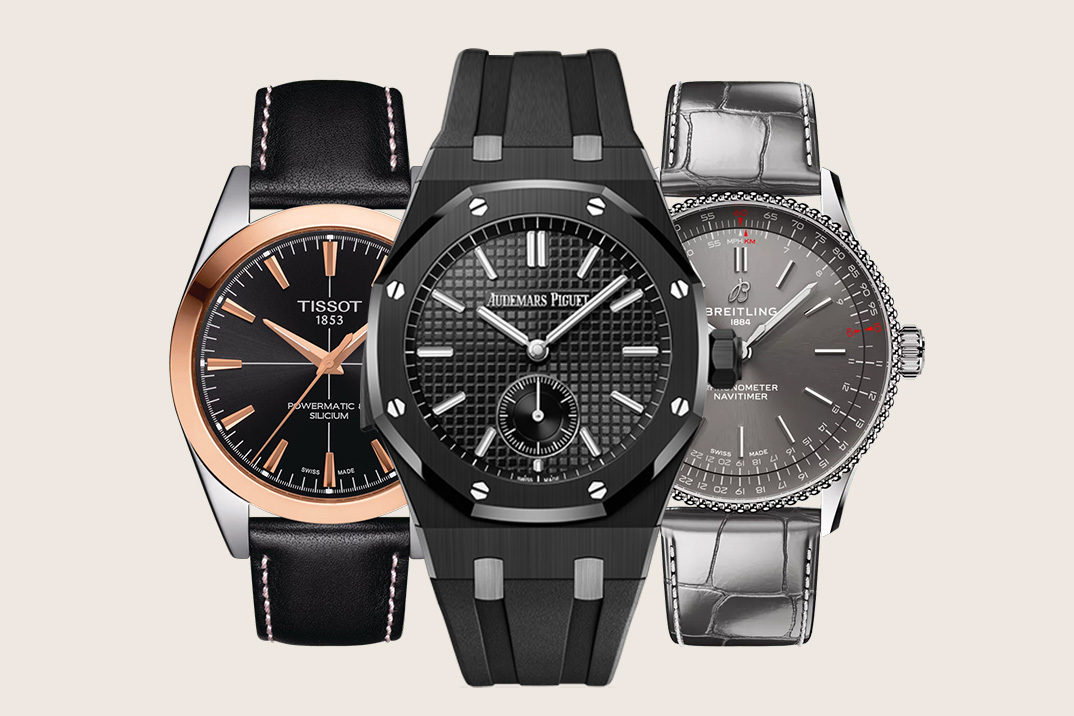 Few men's accessories are as useful and telling as a good wristwatch. Not only are they a great way to keep track of the time without having to rudely pull out your smartphone, but they can often do a good deal more — like function as a dive timer or help you calculate velocity — and are a superbly fashionable addition to any wardrobe.
And while you can find watches from around the world that are handsome, handy, and reliable, few watchmakers stand up to the same rigorous standards and remarkable craftsmanship of those made in Switzerland. Along with political neutrality, chocolate, and the Swiss Army Knife, the small European country is beloved around the globe for its watches. In fact, they've set the benchmark time and time again for the rest of the industry. If you're looking for a superb wearable timepiece you can count on for potential generations, you'll find it here on our list of the best Swiss watch brands you should know.
Best Swiss Watch Brands

Why Are Swiss Watches So Great?
Switzerland is certainly home to a very large portion of the world's watchmaking, but why is this so? Well, before the advent of the wristwatch in the early 20th century, the watch industry was still alive and well in the form of pocket watches. By the 19th century, however, the country had become so well known because of its methods of production. Essentially, different regions specialized in mastering different components, and the smaller shops that made specific components then shipped them to a central factory for assembly.
The colder Swiss winters allowed people to stay indoors and perfect skills necessary for horology. And as brands began to emerge, they soon evolved to producing everything in-house. By the time the wristwatch showed up, quality and mechanical mastery were already well set, becoming the standard by which the rest of the world followed.
Swiss Watch Parent Companies
The rise of the parent company in the watch world can be solely credited to the Quartz Crisis in the '70s and '80s, when quartz watch movements, which were cheaper, longer lasting, and more accurate, were set to demolish the traditional mechanical watch industry. A lot of Swiss brands didn't make it through (about 1,000), but lots of them got saved by bigger conglomerates –– most notably, ASUAG/SSIH, which is today known as the Swatch Group. The idea to put these watchmakers under one roof helped them cut costs by allowing them to now share resources and R&D. While not all watch brands operate under a parent company today, most of them do. The biggest names, aside from Swatch, are Richemont and LVMH. We've listed the parent company for each below.
Audemars Piguet
Why It Made the Cut
AP's Royal Oak is enough to make it on any list, since the octagonal timepiece helped popularize the integrated sports watch and is still one of the most coveted in the world.
Named after founders Edward Auguste Piguet and Jules Louis Audemars, Audemars Piguet has become renowned in the watch community for its fine craftsmanship and top-tier mechanical horology. While debuting in 1875, AP has experienced a new level of success in the past couple of decades with its Royal Oak models, which have transcended the watch world and into rap culture and pop culture in general. Iconic for its octagonal bezels, integrated bracelets, tapisserie dials, and beautiful renditions, the Royal Oak is considered the first luxury sports watch and one of the most coveted timepieces in the world.
Year Founded: 1875
Location: Geneva, Switzerland
Style: Dress, Sport
Popular Models: Royal Oak, Royal Oak Offshore, Code 11.59
Price Range: $34,000 to $200,000+
Hero Watch: Royal Oak Minute Repeater Supersonnerie
Parent Company: None
Baume & Mercier
Why It Made the Cut
Around since 1830, B&M is a heritage brand that continued its prominence being the first competition for the Royal Oak in the '70s.
Debuting all the way back in 1830, Baume & Mercier is one of the oldest Swiss brands around, even though it didn't expand into international business until the 1920s. These days, the firm is largely known for its octagonal Riviera, which debuted after Audemars Piguet's Royal Oak in 1972, inspired by the same design ethos — integrated bracelet and everything. There are a lot of affordable Royal Oak alternatives but B&M has arguably the best. In fact, the brand offers many models at accessible price points and even has some quartz pieces.
Year Founded: 1830
Location: Geneva, Switzerland
Style: Luxury, Sport, Dress
Popular Models: Riviera, Clifton, Hampton
Price Range: $1,500 to $28,000
Hero Watch: Riviera Automatic
Parent Company: Richemont
Bell & Ross
Why It Made the Cut
Bell & Ross is one of the newer luxury brands, making the list for its distinct and already-iconic design ethos.
There are a lot of really great pilot watches on the market. But most of them look like, well, watches. Bell & Ross, founded in 1992 by two lifelong friends, took their inspiration a bit more literally in the creation of their memorable watches. Rather than making them look like every other watch that had come out up to that point, they opted instead to make their versions look like the instrument gauges you might see inside an aircraft. And in doing so, they created some of the most iconic watches of all time, such as the BR-05 and BR-03. Today, there are literally dozens of different sub-variants of varying types, materials, colorways, and more, all operating, more or less, under the same design language. These include things like traditional chronographs, simple day/date watches, and even an F1-inspired option with a tachymeter bezel. While headquartered in France, the watches from Bell & Ross are manufactured in Switzerland.
Year Founded: 1992
Location: Paris, France
Style: Aviation, Sport, Chronograph
Popular Models: BR 03, BR X5, BR 05
Price Range: $2,000 to $34,000
Hero Watch: BR 03
Parent Company: None
Blancpain
Why It Made the Cut
Around since 1735, Blancpain is the oldest watchmaker in the world, continuing to raise the bar with its legendary Fifty Fathoms Diver.
If you thought Baume & Mercier was old, take a look at Blancpain, which was founded almost 100 years beforehand in 1735. The oldest watch brand on the planet, Blancpain hasn't lost a step, or its identity, churning out fabulous timepieces and impressive movements year after year. Its flagship piece is the Fifty Fathoms Diver, which the brand claims is the very first dive watch. Released in 1953, right around the beginning of the recreational diving boom, Fifty Fathoms was originally produced back in 1953 in collaboration with the French Navy's combat swimmers and was the watch of choice for fabled oceanographer Jacques Cousteau.
Year Founded: 1735
Location: Paudex/Le Brassus, Switzerland
Style: Diver, Chronograph
Popular Models: Fifty Fathoms, Air Command
Price Range: $4,500 to $124,000+
Hero Watch: Fifty Fathoms Automatique
Parent Company: Swatch Group
Breitling
Why It Made the Cut
Specializing in aviation instruments, Breitling is a favorite among astonauts and pilots alike, while its divers have boasted some 3,000m underwater.
Founded at the tail end of the 19th century, like so many other Swiss luxury brands, Breitling has the style and cool factor of many newer names in the horological space. Still, its most popular model made its debut in 1952, and has become arguably the most recognizable pilot's watch in history. Popularizing the circular slide rule bezel and 24-hour dial, the Navitimer was a favorite of NASA astronauts, especially Scott Carpenter. Breitling has some other fantastic models as well, such as the Avenger and Superocean divers, which have achieved staggering underwater depths of 2,000m and 3,000m.
Year Founded: 1884
Location: Grenchen, Switzerland
Style: Pilot, Dive, Chronograph
Popular Models: Navitimer, Top Time, Superocean, Avenger
Price Range: $3,500 to $26,000
Hero Watch: Navitimer
Parent Company: Partners Group
Girard Perregaux
Why It Made the Cut
Blending old school with the new rather well, Girard-Perregaux has been around since 1791 and gets by on its Vintage 1945 and Laureato models.
Another important 18th-century watchmaker is Girard Perregaux, which was founded in 1791 and has continued to blend vintage styling with modern aesthetics quite well. Known for being one of the first brands to produce everything in-house — where before the Swiss industry was known for pockets of specialization — as well as the first to make a visible tourbillon on a watch, GP is largely known today for its Laureato, which was another Royal Oak copycat that's been made since 1975, albeit one that's very beautiful and respectable.
Year Founded: 1791
Location: La Chaux-de-Fonds, Switzerland
Style: Sport, Chronograph, Dress
Popular Models: Laureato, Vintage 1945
Price Range: $15,000 to $100,000
Hero Watch: Laureato
Parent Company: Sowind Group
Hublot
Why It Made the Cut
Hublot makes some outlandish sports watches with braggadocio designs, always decidedly modern in aesthetic.
Not even sort of as old as most of its competitors, Hublot was founded in Switzerland in 1980, during an age of pop culture's revolution and where looking to the future was trendy and fun. As such, the brand has always imbued its models with wild concepts and braggadocio designs, pushing the envelope of aesthetics, materials, and mechanics, with complicated and costly movements, typically displayed through a skeleton dial. Hublot's most significant models are its Big Band and Classic Fusion.
Year Founded: 1980
Location: Nyon, Switzerland
Style: Sport
Popular Models: Big Bang, Classic Fusion
Price Range: $6,500 to $500,000+
Hero Watch: Big Bang Original Steel Ceramic
Parent Company: LVMH
Jaeger-LeCoultre
Why It Made the Cut
Jaeger-LeCoultre is known, if nothing else, for its reversible Art Deco-inspired Reverso dress watch.
Since 1833, Jaeger-LeCoultre has somehow managed to crank out over 1,000 unique movements, with an eye on innovation that rivals few. While there's the bi-level Duoplan and the world's smallest Caliber 101, it's impossible, however, to discuss Jaeger-LeCoultre without mentioning the Reverso, which is nothing shy of legendary and is still a staple icon of the men's style industry. It all dates back to the 1930s when, at that time, British Army troops were still stationed in India, one of Britain's now-former colonies. The officers of the British Army wanted to be able to play polo but didn't have watches that were tough enough to survive the rigorous sport, as the crystals would become scratched and/or broken. So JL came up with the ingenious idea of creating a watch that could simply turn around when it needed to be protected, and thus the Reverso was born.
Year Founded: 1833
Location: Vaud, Switzerland
Style: Dress, Sport
Popular Models: Reverso, Master Grande Tradition
Price Range: $7,000 to $60,000
Hero Watch: Reverso Tribute
Parent Company: Richemont
Longines
Why It Made the Cut
Longines' prowess as a prolific pilot watch brand earns it a spot on this list, while its HydroConquest is one of the most popular divers in the game.
These days, Longines is recognized as one of the most prolific brands in the world when it comes to pilot's watches. The Swiss firm, whose history dates back to 1832, has been producing top-tier wristwatches for over a century. Represented now with a winged hourglass logo, it was the first to come out with a watch that could handle more than one time zone and continued to become one of the forerunners of the GMT. Aside from its pilot's range, Longines also excels at dive watches with its flagship HydroConquest. Likewise, you can often grab timepieces from the brand for under a grand.
Year Founded: 1832
Location: Saint-Imie, Switzerland
Style: Dress, Pilot, Dive
Popular Models: HydroConquest, Spirit
Price Range: $900 to $5,000
Hero Watch: HydroConquest GMT
Parent Company: Swatch Group
Omega
Why It Made the Cut
Legendary for its popularity among pop culture figures, Omega still has a super versatile range and even donned the wrists of the first astronauts on the Moon.
Aside from Rolex, Omega may be the most revered watch brand in the world. Beloved by figures both historical and fictional — we're talking Buzz Armstrong to J.F.K. to James Bond — the Swiss icon dates back to 1848 when it operated as a firm that exclusively assembled pocket watches before pivoting to making its own models in 1894. The models were called Omega watches, which became its own brand in 1903. Its most legendary models belong to the Speedmaster and Seamaster lines but you can find some incredible timepieces from Omega in the chronograph and GMT categories as well.
Year Founded: 1848
Location: Biel/Bienne, Switzerland
Style: Sport, Dive, Chronograph, GMT
Popular Models: Seamaster, Speedmaster
Price Range: $4,000 to $100,0300
Hero Watch: Speedmaster '57
Parent Company: Swatch Group
Oris
Why It Made the Cut
Oris specializes in straightforward dress watches with defined aesthetics, but its Big Crown pilot watches made them legendary during WWII.
If you're looking for beautiful dress-oriented watches, check out Oris' extensive lineup, which also highlights the ProPilot X pilot's watches and the Aquis divers. Not necessarily a household name like its other 100-plus-year-old contemporaries, Oris has maintained a steady prominence with its sporty and minimalist aesthetics. The company was launched in 1904 by two friends, who got the name from a nearby brook. During World War II, the luxury brand's Big Crown timepieces were a favorite with fighter pilots for their easy and quick adjustment capability.
Year Founded: 1904
Location: Hölstein, Switzerland
Style: Dress, Pilot, Dive
Popular Models: ProPilot X, Aquis, Big Crown
Price Range: $2,000 to $8,000
Hero Watch: ProPilot X
Parent Company: None
Patek Philippe
Why It Made the Cut
One of the Holy Trinity members, Patek Philippe pioneered keyless winding watches and has made some of the most prestigious pieces in history.
One of the brands synonymous with the luxury style of watches, Patek Philippe has been doing its thing since 1851. Pioneering the keyless winding mechanism, the Swiss firm is also one of the three Holy Trinity brands (along with AP and Vacheron Constantin) and is most known for its Calatrava and Nautilus watches, as well as its Grand Complications collection of perpetual calendars, moonphases, etc. Patek has long been a favorite among the rich and famous, including royalty and celebrities, from Albert Einstein to Drake.
Year Founded: 1851
Location: Geneva, Switzerland
Style: Dress, Dive
Popular Models: Calatrava, Nautilus, Grand Complications
Price Range: $21,000 to $500,000
Hero Watch: Calatrava
Parent Company: Stern Family
Piaget
Why It Made the Cut
Known for its ultra-thin movements, Piaget makes very garish watches, but still has its Polo line to hang its hat on.
Like several heritage brands, Piaget began as a manufacturer of parts for other watchmakers. It was founded in 1874 but quickly shifted to making its own models as soon as those other watchmakers no longer needed to outsource parts. Known for its record-breakingly thin Altiplano movements, Piaget has made a name for itself with its knack for garish, experimental, and expensive timepieces. However, the Polo line is a much more accessible option from the brand, and it's no surprise it's their most popular.
Year Founded: 1874
Location: Geneva, Switzerland
Style: Dive, Dress, Luxury
Popular Models: Polo, Altiplano
Price Range: $5,000 to $80,000
Hero Watch: Polo Date Watch
Parent Company: Richemont
Rolex
Why It Made the Cut
For some, Rolex is synonymous with luxury watchmaking, and with its blend of accessibility and style, it's no wonder why.
Rolex has, time and time again, released horological icons that tower above the competition — including everything from its Submariner dive watches to simple day/date timekeepers to the legendary racing-inspired Daytona, and so much more. Becoming the paradigm of luxury watches since their founding in 1905, and without needing to do anything loud and outlandish, Rolex has also set the stage for watchmaking on the technical side as well, coming out with the first GMT, the first waterproof timepiece, and the first to sport an automatic date window. Any list of luxury or Swiss watches isn't complete without Rolex.
Year Founded: 1905
Location: Geneva, Switzerland
Style: Sport, Dive, Chronograph
Popular Models: Submariner, Sky-Dweller, Daytona
Price Range: $6,000 to $70,000
Hero Watch: Submariner
Parent Company: Hans Wilsdorf Foundation
TAG Heuer
Why It Made the Cut
Focused on racing-inspired timepieces, TAG Heuer's place in the auto world is second to none.
While nearly synonymous these days with luxurious racing chronographs, TAG Heuer has a rather impressive history, both on and off the track. An obvious favorite among auto enthusiasts, the Swiss brand, which dates back to 1860, also has some prowess in the aviation category, with the first-ever "time of trip" function and prominent usage amongst Luftwaffe pilots, and has even tried its hand at making smartwatches. Of course, the car-related timepieces are the watchmaker's calling card for a reason. Who can resist the appeal of a Carrera or square-shaped Monaco?
Year Founded: 1860
Location: La Chaux-de-Fonds, Switzerland
Style: Racing-Inspired, Chronograph
Popular Models: Carrera, Formula 1, Monaco
Price Range: $3,000 to $24,000
Hero Watch: Monaco
Parent Company: LVMH
Tissot
Why It Made the Cut
Proof that not every Swiss brand has to be in the luxury category, offering fantastic models in the $1,000-and-under range.
Tissot is proof that not every Swiss watchmaker has to be a luxury brand. Founded in 1853, the Le Locle-based firm has continued to put out amazing timepieces with high perceived luxury, yet at accessible prices. Today you'll see the Tissot name on billboards and TV screens, but the company's popularity was intact even back in the 19th century, preceding wristwatches in general. It was the first to mass-produce a pocket watch, and also lead the way with the first pocket watch with dual time zones and anti-magnetism. It's now known for its PRX, Gentleman, and Heritage 1938 models, along with its Powermatic 80 movement.
Year Founded: 1853
Location: Le Locle, Switzerland
Style: Sport, Dive, Dress, Everyday
Popular Models: PRX, Gentleman, Heritage 1938
Price Range: $400 to $1,000
Hero Watch: Tissot Gentleman
Parent Company: Swatch Group
Tudor
Why It Made the Cut
An offshoot of Rolex, Tudor specializes in incredible vintage-style divers like the Black Bay and Pelagos.
Much younger than many of its luxury watch brethren, Tudor didn't begin until 1954 when Rolex — its parent company — decided to open up a more affordable subsidiary. Nevertheless, Tudor's prowess as a watchmaker has transcended any asterisk you may attach to it. A household name in the watch world, the Swiss brand has made waves in recent years with its Black Bay and Pelagos dive watches, focusing on performance, luxury appeal, and a dash of vintage charm.
Year Founded: 1954
Location: Geneva, Switzerland
Style: Sport, Dive, Chronograph
Popular Models: Black Bay, Pelagos
Price Range: $3,000 to $6,000
Hero Watch: Black Bay 54
Parent Company: Hans Wilsdorf Foundation
Vacheron Constantin
Why It Made the Cut
Popular among high society, VC watches specialize in intricate complications built into their luxurious pieces.
The last of the 18th-century watchmakers on this list, Vacheron Constantin is a force to be reckoned with. Not only does it produce perhaps the most expensive watches, on average, of any established luxury brand, but its notoriety has earned it a spot on the wrists of some of the most important people of the last century, including royalty, popes, and presidents. The Geneva-based firm may host a handful of grail-worthy timepieces but its Patrimony is undoubtedly its most talked about. Inspired by the brand's offerings from the 1950s, these watches are deliberate in their lack of accouterments and trappings, opting instead to showcase all the best parts of the brand's history and everything they've learned in that time.
Year Founded: 1755
Location: Geneva, Switzerland
Style: Dress, Sport, Luxury
Popular Models: Patrimony, Overseas
Price Range: $12,000 to $100,000+
Hero Watch: Patrimony Retrograde Day-Date
Parent Company: Richemont
Victorinox
Why It Made the Cut
The same brand that's been making the official Swiss Army Knife for over 100 years, Victorinox specializes in superb and rugged field watches.
Victorinox, the same brand that has been building the official Swiss Army Knife for more than a century, has a long and storied history of making excellent watches. Since 1989, the brand has been making timepieces in Switzerland and has become known for its rugged tool and field watches, such as the I.N.O.X., known for its paracord bracelets (though other variants are available), and Journey 1884 line, which is inspired by the activity of hiking. Unlike other Swiss brands, Victorinox doesn't need to focus on luxury and relishes in the art of crafting superb and stylish adventure pieces.
Year Founded: 1884
Location: Ibach, Canton of Schwyz, Switzerland
Style: Field, Dive, Pilot
Popular Models: INOX, Journey 1884, AirBoss
Price Range: $375 to $2,600
Hero Watch: Victorinox INOX Professional Diver
Parent Company: Victorinox Foundation (90%), Carl and Elise Elsener-Gut Foundation (10%)
Zenith
Why It Made the Cut
The first brand to have manufacture watches, Zenith is now most notable for its precision and futuristic-looking skeleton watches.
Created in 1865, Zenith has won over 2,000 chronometry prizes for their superbly reliable watchmaking prowess. Yet, here in the United States, they're a relatively unknown brand for one simple fact: they were overshadowed by a separate, unrelated technology brand of the same name. That being said, any true horological fan can tell you that they're a brand to be respected and admired, especially after Jean-Claude Biver — the Swiss watchmaking industry's closest analog to Steve Jobs — took the helm. Today, they've become a bit more well-known — which is likely thanks to their DEFY and Pilot Big Date watches, specifically in skeleton iterations.
Year Founded: 1865
Location: Le Locle, Switzerland
Style: Sport, Chronograph, Skeleton, Pilot
Popular Models: Defy, Pilot Big Date,
Price Range: $12,000 to $134,000
Hero Watch: Defy 21 Skeleton
Parent Company: LVMH
The Best Non-Swiss Watch Brands You Should Know
If you're already well-versed in the world of Swiss watches and want to expand your horizons, head over to our guide to the best non-Swiss watch brands.