Watch styles ebb and flow. In the '70s and '80s, integrated bracelet sports watches were all the rage. Then they were persona non grata for several decades, and now they're hot as can be again. Dive watches, on the other hand, have remained consistently popular since they first appeared in the 1950s. But as dive watches have grown more and more modern, there's been a real desire among watch collectors to get back to the basics of dive watch designs that were popular in the mid-twentieth century. And as a result, we've been in the middle of a massive vintage-style dive watch boom over the past few years. But what are the best vintage-style dive watches?
We've scoured the internet to come up with two dozen watches that perfectly capture the vintage dive watch look of the '50s and '60s but in a modern package that avoids the headaches and maintenance that come with owning a real vintage timepiece. Some of these watches are reissues from legacy watchmakers digging through their archives, while others are romanticized modern-day reimaginings of vintage styles from upstart brands. What they all have in common is a love and respect for the dive watches of yesteryear. So take a look below to see our picks for the best vintage-style dive watches on the market today.
What Is A Dive Watch?
The style of watch that we think of as a dive watch first came about in 1953 with the introduction of the Blancpain Fifty Fathoms and Zodiac Sea Wolf, followed by the Rolex Submariner the following year. While submergible watches had existed since the '30s, these were the first purpose-built dive watches, with high (for the time) water resistance, large luminous indexes, and uni-directional bezels for timing dives. Today, these are still the hallmarks of the dive watch. A unidirectional dive time bezel is a must, as are high-contrast dials and hands with great lume. Modern dive watches also have greater water resistance — typically at least 200m — as well as a screw-down crown, which aids in the watches' water resistance.
What Makes A Dive Watch Vintage-Styled?
Box or Domed Crystals: Modern divers, like most other modern watches, favor flat sapphire for their crystals. But vintage divers had much larger and more prominent crystals that were either in a raised flat-top box style or domed like a big bubble. Vintage-style dive watches like to recreate these crystal styles, sometimes in period-appropriate acrylic, but more often in scratch-resistant sapphire.
Thin Bezels: Another hallmark of modern dive watches is their wide, usually flat bezels that are often crafted in ceramic with prominent markings. Vintage dive watches had narrow aluminum or domed acrylic/bakelite bezels with smaller markings. These bezel styles also appear in vintage-style dive watches, but like the crystals, they are also sometimes updated with modern materials like ceramic or sapphire.
Smaller or Unique Cases: It is rare to find a modern dive watch that is below 40mm, but they were the norm in the mid-century. Some vintage-style dive watches stay true to the past by making cases that are 36-39mm, but just as many size up the cases above 40mm to suit modern expectations. Dive watch cases were also a lot less standardized in the past, with cushion cases, dual-crown super compressor cases, and bare-bones skindiver cases appearing as often as more traditionally-styled cases.
Flamboyant Styling: Although many modern divers can be flashy, they mostly remain conservative in their coloring and styling. That was not the case in the mid-century, when bright colors, funky numerals, and other bizarre design cues ruled the day. Thankfully, the fun is being reinjected into the dive watch segment thanks to vintage-style divers.
"Fauxtina": Perhaps the most controversial styling cue you'll find in vintage-style divers is lume that is designed to look aged. Rather than appearing bright white or slightly green-tinged like fresh Super-LumiNova, "Fauxtina" shows up as yellow or orange in daylight, giving it a faux patinaed look — hence the name. A lot of vintage-style divers use this type of lume that replicates the look of aged radium or tritium lume, but not all watch collectors are fans of the practice.
Crown Shenanigans: Modern divers almost always have a conservatively-sized crown protected on either side by crown guards. But back in the day, dive watch crowns were another area where brands could show off. Sometimes they'd go with a huge crown, often there would be no crown guards, and some watches used a two crown system — one for winding and setting the time, and another for adjusting an inner-rotating bezel. These old crown styles are now finding newfound popularity thanks to vintage-style dive watches.
Dan Henry 1970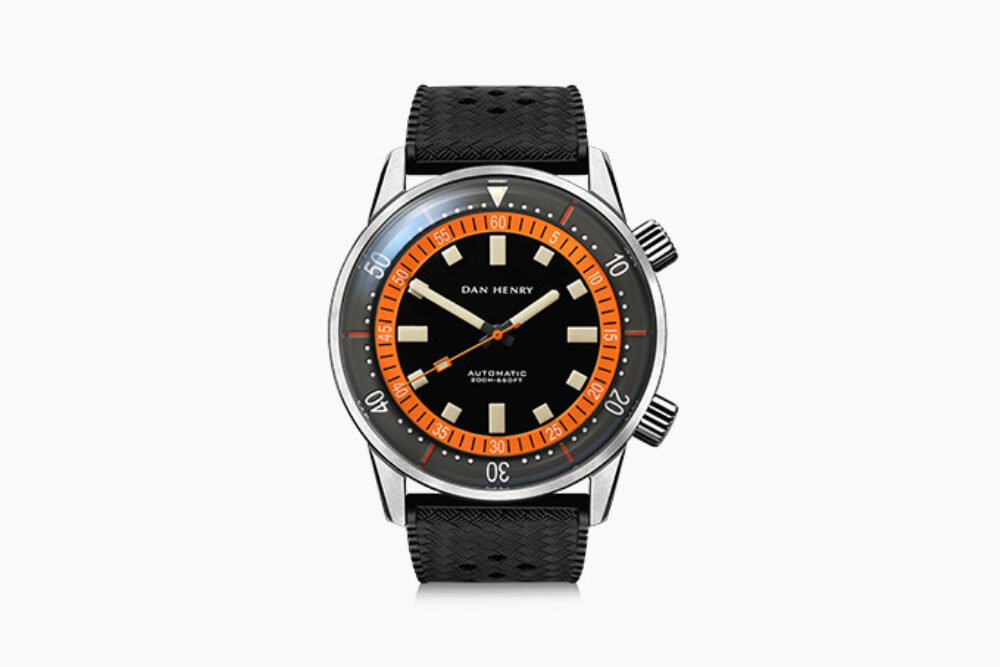 Why It Made the Cut
Dan Henry's watches are each inspired by a different year in watch history, with this 1970 model sporting a compression-style look.
The entire product line of renowned watch collector Dan Henry's eponymous brand was inspired by vintage pieces from his own collection, but none were done more tastefully than this diver. Based on the look of watches from around — you guessed it — 1970, this automatic diver boasts dual cross-hatched crowns for a supercompressor look, comes on a retro tropic-style rubber strap, and is available in several funky colors.
Case Size: 40mm or 44mm
Water Resistance: 200m
Movement: Automatic
Spinnaker Fleuss
Why It Made the Cut
Another high-spec watch at a low price point from Spinnaker, the Fleuss has standouts in its domed bezel and bulky case.
The budget-focused microbrand Spinnaker consistently puts out high-spec watches at a low price point, and their vintage-style diver is no different. With a design that recalls the very first true dive watch, the Blancpain Fifty-Fathoms, the Fleuss stands out thanks to its domed acrylic bezel and bold Arabic numerals, while its oversized 43mm case ensures that no one will mistake this beast for an actual vintage watch.
Case Size: 43mm
Water Resistance: 150m
Movement: Automatic
Orient King Diver
Why It Made the Cut
Among the most popular budget divers today is this King Diver from Orient, with a unique dial and 200m of water resistance.
Japanese watchmaker Orient makes some of the most popular modern budget divers around, but they know how to kick it old school, too. The King Diver is a faithful reissue of 1965's Weekly Auto Orient King Diver, even carrying over the original's idiosyncratic dial text and day display. Upgrades have been applied where needed, though, as the reissue features a modern lume, 200m of water resistance, and Orient's in-house Cal. F6922 automatic movement.
Case Size: 43.8mm
Water Resistance: 200m
Movement: Automatic
Lorier Neptune
Why It Made the Cut
Lorier makes some of the best-looking affordable watches on the planet, as is the case with this classy diver.
A relative newcomer on the microbrand scene, NYC-based Lorier has quickly established a signature design language that's seen across their entire line of watches. And this, their original model, is what set the tone. By using vintage Omegas, Rolexes, and Tudors as inspiration, Lorier crafted a unique design that became an instant classic. With a generously-domed acrylic crystal, thin aluminum bezel, and arrow hands, the Neptune looks like it dove right out of the '60s.
Case Size: 39mm
Water Resistance: 200m
Movement: Automatic
Baltic Aquascaphe
Why It Made the Cut
From a brand that specializes in vintage-inspired watches, the Baltic Aquascaphe is a handsome diver with an accessibly sized case.
Another newer microbrand that wasted no time in finding their niche as purveyors of vintage-inspired watches is Baltic. The French watchmaker's Aquascaphe has been an enormous hit, with its good looks seeming to charm everyone who lays eyes on it. A domed sapphire crystal and bezel add a modern twist to its vintage style, as does the sandwich dial featuring old radium lume. Even the case size of 39mm is appropriate for the time period.
Case Size: 39mm
Water Resistance: 200m
Movement: Automatic
Bulova Devil Diver
Why It Made the Cut
One of the leaders in water resistance when it came out in the '60s, the Devil Diver gets a reissue for the modern era, but with some serious vintage charm.
As a brand that's been around since 1875, Bulova has its fair share of iconic models in its archives. And one of the most favored is the colloquially-named Devil Diver of the 1960s, which sported a mischievous "666 feet" on the dial, bragging about its at-the-time industry-leading depth-rating. This new modern reissue of that watch in bright orange keeps all of the main style cues of the popular original — including, of course, the mark of the beast.
Case Size: 41mm
Water Resistance: 200m
Movement: Automatic
Alsta Nautoscaph Superautomatic
Why It Made the Cut
Made famous on the arm of Richard Dreyfuss in Jaws, this square-cased watch from a little-known brand sports a unique porous bracelet to boot.
Hollywood is popular for turning a number of watches iconic, and while some maintain their importance — like James Bond and his Omega Seamaster — others fade with the sands of time. This Alsta was one such watch. Seen on the wrist of Richard Dreyfuss in Jaws, the watch subsequently became largely forgotten. But now it's back with a faithful (but upgraded) reissue that's limited to just 1,975 pieces in honor of the year Jaws was released.
Case Size: 38mm
Water Resistance: 300m
Movement: Automatic
Christopher Ward C65 Super Compressor
Why It Made the Cut
CW made the first new super compressor watch in five decades with this decidedly vintage-looking C65 model.
Back in the mid-twentieth century, one of the most popular diver styles was the super compressor, which utilized a specially-engineered spring in the caseback that increased the watch's water-resistance the further it dove as the pressure around it increased (to a point). For this watch, Christopher Ward has reverse-engineered a new super compressor case for what they claim is the first new working super compressor watch in 50 years. Now that's a real commitment to vintage style.
Case Size: 41mm
Water Resistance: 150m
Movement: Automatic
Certina DS PH200M
Why It Made the Cut
Despite not being as well known Stateside, Certina earns a spot on this list with a diver featuring an unusual bezel and 80-hour movement.
Certina is a Swiss brand with loads of history, but they can be pretty hard to come across in the U.S. That's a shame, especially when it comes to this vintage-style diver. Combining retro style cues with the latest tech, this Certina has a highly-unusual — but gorgeous — domed ceramic bezel, an AR-treated sapphire crystal, and a Powermatic 80 automatic movement with an 80-hour power reserve and the brand's own magnetism-resistant Nivachron balance spring.
Case Size: 42.8mm
Water Resistance: 200m
Movement: Automatic
Yema Superman Heritage
Why It Made the Cut
Yema has been making a big push in recent years, in part thanks to this retro reissue diver with a unique bezel locking system.
Yema is a French watchmaker who churned out a number of iconic sports watches in the mid-twentieth century before falling on hard times during the quartz crisis of the 1970s and '80s like so many others. But now they're back with a vengeance, and their Superman diver reissue is one of the most exciting new divers to come out in years. This reissue retains the quirky features of the original, like Yema's exclusive bezel locking system, while adding pretty much everything you'd expect from a modern diver.
Case Size: 39mm
Water Resistance: 300m
Movement: Automatic
Squale Sub-39
Why It Made the Cut
Squale's Sub-39 recalls the '60s and '70s cases that it used to make for heavy hitters of that era.
There aren't many watch brands out there that can boast a more significant history with diving than Squale. The small, family-owned Swiss brand made professional dive watch cases for a number of other brands in the '60s and '70s, including heavy-hitters Doxa and Blancpain. These days, Squale only makes watches for their own brand, but the Sub-39 recalls those old models. Aesthetically, it's an exact replica of a '60s Squale, with only the crystal, lume, and case size getting a modern update.
Case Size: 40mm
Water Resistance: 300m
Movement: Automatic
Zodiac Super Sea Wolf
Why It Made the Cut
Zodiac's color work is some of the best in the industry, as evident by this playful yet mature summer diver.
The historic Swiss brand Zodiac has gone all-in with vintage dive watch designs. In fact, they're one of the few legacy Swiss watchmakers that don't make a modern-style diver. But when your vintage-style diver looks as good as the Super Sea Wolf, there's no need. As the follow-up to the Sea Wolf, one of the very first divers ever released in the 1950s, the Super Sea Wolf has a storied history, one that's continued with this modern iteration featuring a domed mineral crystal bezel insert, chronometer certification, and a number of fun available colorways.
Case Size: 40mm
Water Resistance: 200m
Movement: Automatic
Alpina Seastrong Diver 300 Heritage
Why It Made the Cut
Alpina's dual-crowned Seastrong sports an old-school black and cream dial with an inner rotating bezel.
Alpina may be a brand that's more associated with mountaineering than diving, but they've been known to get below sea level when the situation calls for it. This watch is proof of that, as Alpina looked to their archives to come up with this '60s-based diver. Sporting a super compressor look with its dual crowns and inner-rotating bezel, this Seastrong looks pricier than it is with its beautiful vintage cream and black dial, box sapphire crystal, and 300m of water resistance.
Case Size: 42mm
Water Resistance: 300m
Movement: Automatic
Nivada Grenchen Chronomaster Aviator Sea Diver Automatic
Why It Made the Cut
Arguably the most faithful vintage reissue around, NG's Chronomaster blends diver and chronograph seamlessly.
Perhaps the most-faithful recreation of a vintage dive watch on the market today, recently-resurrected Nivada Grenchen's reissue of their 1960s Chronomaster looks indistinguishable from vintage models, right down to the 38mm case size. And the multi-use chronograph diver is as much of a novelty today as it was back then with its combined 12-hour/dive-time bezel, inner-tachymeter scale, and yachting scale subdial.
Case Size: 38mm
Water Resistance: 100m
Movement: Automatic Chronograph
Rado Captain Cook
Why It Made the Cut
Bumping up the size from the original, Rado's '60s-era flagship still packs a punch with its high-tech ceramic and color options.
Rado has been on a tear lately, rightfully putting their name where it belongs among the pantheon of Swiss luxury watchmakers. Leading the charge is this wildly-popular diver. Based on the original Captain Cook diver from 1962, the update keeps the original's vintage looks, albeit with a larger 42mm case size, while upgrading the bezel to the brand's signature high-tech ceramic and the crystal to anti-reflective sapphire. There are also plenty of other sizes, colors, and materials available, including a bronze version.
For a deeper dive, read our review of the Rado Captain Cook watch.
Case Size: 42mm
Water Resistance: 200m
Movement: Automatic
Oris Divers Sixty-Five
Why It Made the Cut
This indie Swiss brand has some special reissues of its 1965 diver, including this funky version with tiki-style numerals.
As one of the few independently-owned Swiss watch brands, Oris has to be more cautious than most with respect to the kinds of watches they put out. But they certainly made the right call a few years ago when they released this reissue of a 1965 Oris dive watch. Like the Rado above, this Divers Sixty-Five is available in about a million different variations — there's even a chronograph — but we're partial to the 40mm original with its toothy black skindiver bezel and oh-so-funky Arabic indices in vintage-colored lume.
Case Size: 40mm
Water Resistance: 100m
Movement: Automatic
Longines Legend Diver
Why It Made the Cut
At the lower end of the budget luxury spectrum, Longines gives us one of the most revered vintage style divers on the market.
One of the most historically-lauded Swiss watchmakers, Longines today finds themselves representing the mid-level luxury rung in the Swatch Group's brand ladder. But the brand's rich history means they have plenty of inspiration from which to draw, as is the case with this dual-crowned beauty. With its streamlined long lugs, lacquered dial, 300m water resistance, and impeccably-printed markers, it's quite the vintage-style bargain — even at a price point that's above two grand.
For a deeper dive, read our review of the Longines Legend Diver watch.
Case Size: 36mm
Water Resistance: 300m
Movement: Automatic
Doxa Sub 300
Why It Made the Cut
Doxa's Sub 300 has been a favorite of renowned explorers and adventurers for decades and deserves a permanent spot on any vintage diver list.
Doxa's status as a dive watch brand is nothing short of legendary, thanks largely to their revolutionary Sub 300. First released in 1967, the watch took publicly-available dive watches to new heights with its 300m water resistance, highly-visible orange dial, and world-first dual scale for depth and dive time unidirectional bezel. The modern version keeps many features of the original but updates them. The crystal is the same shape as the 1967 original, but now it's in sapphire. The lume has seen an upgrade to Super-LumiNova, and the automatic movement has been COSC-certified.
For a deeper dive, read our review of the Doxa Sub 300 watch.
Case Size: 42.5mm
Water Resistance: 300m
Movement: Automatic
Tudor Black Bay Fifty-Eight
Why It Made the Cut
Tudor's Black Bay is perhaps the closes approximation to a vintage Submariner you'll find.
Rolex doesn't make any vintage-style dive watches, unfortunately, but their junior brand makes a great one. The Tudor Black Bay Fifty-Eight is based on a Tudor diver from its eponymous year, and it's arguably the closest approximation to a vintage Submariner you can get in a new watch. The watch features a gilt dial, oversized crown, coin-edge bezel with a matte black aluminum insert, box sapphire crystal, and 39mm case size. This is vintage-styling done right.
For a deeper dive, read our review of the Tudor Black Bay Fifty-Eight watch.
Case Size: 39mm
Water Resistance: 200m
Movement: Automatic
Breitling Superocean Heritage
Why It Made the Cut
Known mostly for pilot's watches, Breitling knocks it out of the park with this assertive diver with more subtle vintage touches.
Breitling is far more renowned for their aeronautical watches like the Navitimer than for their dive watches, but this modernized reissue is changing all that. Using the original 1957 Breitling Superocean as a blueprint, the Superocean Heritage is a thoroughly-modern diver that adheres to a retro aesthetic. The bezel is polished ceramic, the crystal: cambered sapphire, and the movement is the in-house automatic chronometer caliber B20, but it still almost looks like it could have been designed in the '50s. Not bad for a "pilot's watch brand."
Case Size: 42mm
Water Resistance: 200m
Movement: Automatic
Seiko Prospex SLA037
Why It Made the Cut
From a brand with some of the most iconic watches ever, this Seiko Prospex commemorates its own history.
There are few, if any, watch brands that are capable of claiming the sheer number of iconic dive watch models as Seiko. In 2020, the Japanese giant released a trio of watches commemorating some of these icons, with the SLA037 paying homage to the first Seiko diver from 1965. A part of Seiko's premium Prospex line, the SLA037 apes the look of 1965's Seiko 62MAS 150m, but adds considerable upgrades like a box sapphire crystal, torch-like Lumibrite lume, and Seiko's in-house Caliber 8L55 automatic movement.
Case Size: 40mm
Water Resistance: 200m
Movement: Automatic
Glashütte Original SeaQ
Why It Made the Cut
This timepiece from the German favorite is based on the brand's first-ever diver from 1969.
Based in the watchmaking capital of Germany, Glashütte Original can trace its history back to 1845. As a result, it has plenty of experience with vintage dive watches, and its extensive back-catalog is where this beauty came from. The SeaQ is based on the first dive watch to come out of Glashütte in 1969, and it features the same case and finishing style. It's a luxury watch through-and-through, but it's also a surprisingly capable professional diver, meeting the strict DIN and ISO standards for dive watches.
Case Size: 39.5mm
Water Resistance: 200m
Movement: Automatic
Blancpain Fifty Fathoms Barakuda
Why It Made the Cut
The inventor of the modern dive watch still produces the same model today, including this Barakuda reissue, based on one used by the German Navy in the '60s.
Blancpain invented what we think of as a dive watch in 1953 with the Fifty Fathoms, and they still produce them to this day. This version is a modern reissue of the mythical Barakuda, a Fifty Fathoms model that was utilized by the German Navy in the 1960s. That watch's unique two-tone red and yellow indices have been recreated here, but since Blancpain is very much a haute horology brand now, the new version also houses the ultra-thin Caliber 1151 movement that features 210 components and a very healthy 100-hour power reserve.
Case Size: 40.3mm
Water Resistance: 300m
Movement: Automatic
Omega Seamaster 300
Why It Made the Cut
No vintage diver list is complete without this icon from Omega, which is still being produced today.
The Seamaster line is best-known for the modern Professional Diver 300m, thanks to its association with James Bond. But Seamasters have been around in multiple iterations since the 1940s, with the Seamaster 300 that debuted in 1957 being among the most beloved. This modern reissue of that watch is a true luxury timepiece, boasting a ceramic bezel with Liquidmetal dive scale, rhodium-plated hands, and Omega's fully-decorated Master Co-Axial calibre 8806 movement visible through the display caseback. Oh, and for good measure, Bond wore a limited edition version of this watch in Spectre.
For a deeper dive, read our review of the Omega Seamaster 300.
Case Size: 39mm
Water Resistance: 300m
Movement: Automatic
The Best Affordable Alternatives To Iconic Luxury Watches
Maybe you love the look of some of the luxury watches on this list but can't quite stomach the price. Such is the life of the forever-suffering watch collector. Luckily for you, we've put together a list featuring great and affordable watches that will scratch your itch for some of the most iconic watches of all time. So take a look at our guide to the best affordable alternatives to iconic luxury watches.