Within the modern watch community, steel is king. The hardest-to-get luxury watches in the world are all examples of stainless steel sport watches, from the Patek Philippe Nautilus and Audemars Piguet Royal Oak to the Rolex Daytona and GMT Master II. But in spite of steel's runaway popularity, there is still a place in a modern collection for gold watches. The best gold watches today are a diverse group, as the metal is no longer relegated to dress watches alone. If you want a gold diver, chronograph, or digital watch, you can get one. And if you pick one from our guide, it's bound to look great.
For our guide to the best gold watches for men, we looked at all sorts of gold-colored watches at various price points, shades, and material makeups. Some lean traditional, some are a little more out-there, and a few even reimagine classic models or platforms in a new material. But they all add a bit of flash and glamor to your wardrobe, whether they cost $189 or $79,000 (yes, we have watches at both of those price points). So take a look below at the best gold watches for men and take a break from steel.
How Gold Is Your Gold Watch
All That Glitters Isn't Gold
When you're looking at gold watches, one thing to note is that not all gold watches are created equal. There are several different levels of gold present in a gold-colored watch, and it can be confusing as to what you're really getting. So we've laid out the differences for you below.
Gold-Tone: This is terminology you'll see on lower-priced gold-colored watches, and it means the material either has no actual gold in its makeup or the amount of gold in it is lower than the threshold required to meet the criteria for other classifications like gold plated. Due to the lack of actual gold, these watches tend to be far more affordable.
Gold Plated: Traditional gold plating is rarely used in modern watches, but is frequently seen on vintage pieces. It consists of applying a microscopically thin layer of gold to a base metal (typically steel when done with watches), giving the appearance of gold without having to use much gold material. But due to its thinness and the softness of gold as a material, gold plating can scratch off quite easily, which is likely why it's rarely seen in watches today.
Gold PVD: Physical vapor deposition, or PVD, is a more modern process that has largely replaced gold plating in the watch industry. It's a highly technical procedure that involves vaporizing gold in a vacuum and bonding it with a base material, typically steel, at the atomic level. Because of how the gold is bonded to the base material, PVD coatings are much more durable than traditional gold plating, and they are far more difficult to scratch off.
Solid Gold: The most traditional gold watch material — and the only one worth considering for some purists — is solid gold. As you may have guessed, these are watch cases and/or bracelets that are crafted from solid gold with no base layer material. Generally, solid gold watches are found in an 18K alloy for added durability. They are more delicate than stainless steel watches and typically costs thousands of dollars more because, you know, gold is expensive.
Timex Q Timex Reissue "Root Beer"
Timex's popular retro quartz watch first debuted in a stainless steel Pepsi bezel colorway, and it became a smash hit for the company. Since then, the American heritage brand has issued several more iterations of the watch, but none more appealing than this rose gold-tone version. Reminiscent of Rolex's classic "Root Beer" GMT Master, this throwback quartz watch features a black and brown bicolor 12-hour bezel that's capable of tracking two timezones simultaneously.
Case Size: 38 mm
Movement: Quartz
Gold Type: Gold-Tone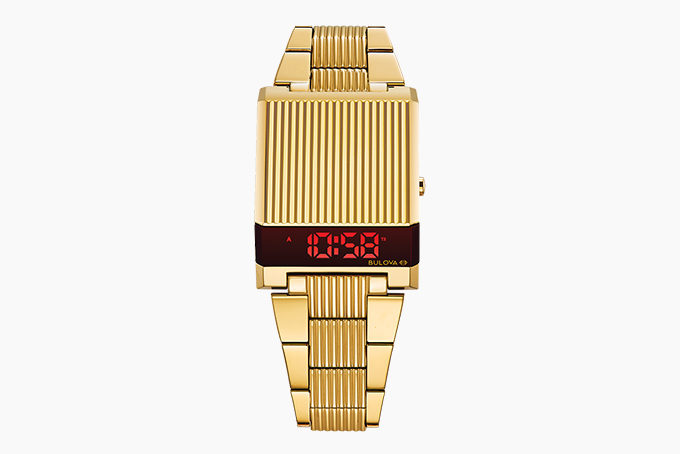 Bulova Computron
Debuting in 1976, Bulova's Computron was one of the first digital watches ever made. Recently reissued by the company, the watch's pairing of a slim red LED dial with a gold-tone wedge-shaped angular case is just as radical and retro-futuristic today as it was on the original 45 years ago. It's anything but traditional and certainly knows how to stand out in a crowd. If you're looking for something that's completely unique but also has bucket loads of history behind it, then the Computron may be for you.
Case Size: 31 mm
Movement: Quartz
Gold Type: Gold-Tone
Lorier Falcon Series II PVD Gold
Since debuting their first watch just three years ago, New York-based husband and wife-run microbrand Lorier has been on one killer hot streak. Every release from the brand has been a hit, to the point where their watches have become some of the hardest to get your hands on at the sub-$1,000 mark. That's also the case for the golden version of their "go anywhere, do anything" watch, the Falcon. At 36mm with arrow hands, a plexiglass crystal, and a beautifully brushed flat link bracelet, this is about the closest you can get to purchasing a brand-new vintage gold watch.
Case Size: 36 mm
Movement: Automatic
Gold Type: PVD
G-SHOCK Full Metal 5000 Gold
It wasn't so long ago when G-SHOCK was known exclusively for bulky black resin watches that were more suited to a Special Ops mission than a night on the town. But the brand is changing rapidly, and these days there are plenty of fashion-forward G-SHOCKs (don't worry, they still make the military watches, too). The most notable of the brand's new breed is their full metal line, which shines brightest — literally — when treated with the brand's gold ion plating.
Case Size: 49.3 mm x 43.2 mm
Movement: Quartz
Gold Type: PVD (Ion Plating)
Seiko Prospex "Alpinist" Gold
Seiko really knows how to get the most out of a good thing. The brand's Alpinist watch is an all-time favorite, with classic styling, robust specs, and mountaineering roots that stretch back several decades. So naturally, Seiko just can't seem to stop releasing new versions of it. One of the latest is this gilded stunner. The watch resembles the classic SARB017 reference with its sunburst green dial and gilt hands and indices, but it's even sharper thanks to the yellow gold PVD coating that's been applied to the case.
Case Size: 39.5 mm
Movement: Automatic
Gold Type: PVD
Zodiac Olympos
As this guide proves, gold watches are no longer relegated to the dress category only. There are gold sport watches and digital watches aplenty — heck, you've just seen five of them. But gold is still best at home on a dress watch, and Zodiac makes a fantastic one. A faithful reissue of the Olympos from the '60s, this modern Zodiac maintains the original's funky manta ray-shaped case and overdose of gold. A gold PVD case competes with the gold hands, gold indices, and polished gold cross-hair dial, making for one classy piece of retro bling.
Case Size: 37 mm
Movement: Automatic
Gold Type: PVD
Mido Ocean Star 200
Mido is one of the most underrated Swiss watchmakers, and naturally, their Ocean Star is one of the most underrated Swiss dive watches. That's especially true of this beautiful rose gold version. The watch combines an 80-hour automatic movement and 200m water resistance with a rose gold PVD treatment and a seriously high-quality, curved-end black rubber strap with a full rose gold PVD deployant clasp. It offers great looks that recall the $27,300 Rolex Yachtmaster in Everose Gold, but for less than 4% of the price.
Case Size: 42.5 mm
Movement: Automatic
Gold Type: PVD
Tissot Excellence Automatic 18K Gold
Tissot has been absolutely killing it in the value-for-dollar segment lately, especially among other Swiss brands where they have really separated themselves from the pack. And this watch might be the best example of that yet, as it's a Swiss-made, automatic watch from a heritage brand with a solid 18K gold case for under $3.5K. You read that right. Solid. Gold. At this price, that's unheard of. In addition to the precious metal bargain, you're also getting a wonderfully decorated ETA 2892 movement visible through the display caseback.
Case Size: 39.8 mm
Movement: Automatic
Gold Type: Solid 18K
Cartier Tank Solo
The Cartier Tank is one of the most classic dress watch designs of all time, and it really sings in gold. There are a number of different versions of the watch, including hand-wound solid gold versions, but the variant seen here keeps costs reasonable thanks to its quartz movement and a case that blends 18K rose gold with stainless steel. You're still getting the classic look that was favored by the likes of Gary Cooper and Clark Gable, but for less than you'd think.
Case Size: 34.8 mm x 27.4 mm
Movement: Quartz
Gold Type: Solid 18K with Stainless Steel Caseback
Tudor Black Bay Fifty-Eight 18K
If there's one thing that Tudor is known for doing, it's that no one knows what Tudor is going to do. Rolex's kid brother has a knack for coming out of left field with their watch releases, and that's exactly what the brand did at the 2021 Watches & Wonders show when they released this solid gold iteration of their popular Black Bay dive watch. Solid gold divers, while not unheard of, certainly aren't common — especially from a tool watch-centric brand like Tudor. But the BB works surprisingly well in yellow 18K, as the precious metal adds a heightened sense of luxury to the vintage-style diver and serves to remind collectors that Tudor is far more than Rolex Jr.
Case Size: 39 mm
Movement: Automatic
Gold Type: Solid 18K
Piaget Altiplano
Perhaps the most classic application of gold in a watch is in a simple, thin, solid gold dress watch, and that's what we have here from Piaget. No stranger to thin watches — the brand's 4.3 mm Altiplano Ultimate 910P briefly held the record as the world's thinnest automatic watch in 2018 — this example from Piaget is a scant 6.4mm, making for a seriously elegant wearer. It's also relentlessly traditional in its dress watch execution, with its stick hands and indices, lack of seconds hand, manual-wind movement, alligator strap, and, of course, its solid rose gold case.
Case Size: 38 mm
Movement: Manual-Wind
Gold Type: Solid 18K
Rolex Day-Date
Let's be honest, this is probably what you think of when you think of a gold watch. The stereotypical wristwear of movie mobsters, Wall Street wolves, world leaders, and septuagenarian yacht owners, the "President" has been the ultimate symbol of wealth and power for half a century thanks in part to the fact that it's only available in solid platinum or gold from Rolex's own foundry — no steel versions here. The watch's fluted bezel, rounded three-link bracelet, and day-date dial layout are all iconic, and it remains as much of a glitzy status symbol today as it ever was.
Case Size: 36 mm or 40 mm
Movement: Automatic
Gold Type: Solid 18K
Omega Speedmaster Moonwatch Professional Sedna Gold
The Speedy is perhaps the most iconic watch in existence, and naturally, Omega isn't shy about releasing new versions of it all the time. To kick off 2021, the brand overhauled its flagship Moonwatch Professional iteration, outfitting it with a METAS-certified Master Chronometer co-axial movement and several stylistic upgrades. They also issued this version of the new Moonwatch in their proprietary Sedna Gold material. A mix of gold, copper, and palladium that's named after one of the reddest objects in our solar system, Sedna makes for a fitting and luxurious vessel for the space-faring chronograph.
Case Size: 42 mm
Movement: Manual-Wind Chronograph
Gold Type: Solid 18K
Audemars Piguet Royal Oak Selfwinding
You may think it strange to see a Royal Oak on a list of the best gold watches. After all, the integrated bracelet sport watch's claim to fame is that it was the first-ever luxury watch to be crafted from stainless steel. But the Royal Oak has greatly expanded from its cold steel origins and is now available in a wide variety of materials, with none more striking than this black-dialed version in pink gold, ref. 15500OR.OO.1220OR.01. The combination just works with the AP's trademark finishing and bracelet, making this reference an increasingly popular modern status symbol among the jet set.
Case Size: 41 mm
Movement: Automatic
Gold Type: Solid 18K
Patek Philippe World Time 5231J
In the field of watch collecting, there is arguably no greater pièce de résistance one can obtain than a complicated Patek in solid gold. The most illustrious watchmaker makes a lot of desirable pieces that fit the bill, but our pick is this stunning world-timer. The automatic Caliber 240 HU provides the time in 24 time zones around the world and is absolutely dressed to the nines, but the real standout is the impeccably detailed, hand-finished, gold plated cloisonné enamel map of the world on the dial. Sure, it's not the easiest watch in the world to read. But if you can afford to add one of these to your collection, who cares what time it is?
Case Size: 38.5 mm
Movement: Automatic World Time
Gold Type: Solid 18K
The 15 Best Men's Dress Watches Under $1,000
Looking for an affordable dress watch but finding gold to be a bit too ostentatious? Fear not, we've got you covered. Just have a look at our guide to the best men's dress watches under $1,000 for 15 great modern dress watches that won't break the bank. Almost all of them are in stainless steel, giving you some more low-key options when you feel like classing up your look.