It's hard to imagine what modern watch styles would look like today were it not for the 20th century's obsession with war. The most iconic wristwatch styles, from the professional dive watch to the Flieger pilot's watch, were born from the need to help soldiers better execute their missions. And of all the military-inspired watch styles that exist, none is more associated with the armed forces than the field watch. The simple design has been a staple since WWII, but you certainly don't need to be a soldier to wear one these days.
Whether discussing the American troops' A-11 or the British "Dirty Dozen" WWW style, the field watches of WWII shared a black dial, highly-visible white Arabic numeral indices, and white hands. You'll find a bit more variety among today's modern field watches, but the original designs still remain popular. We've got plenty of options from both camps in our guide to the best field watches to buy.
The Best Field Watches
Best Solar Field Watch

Timex Expedition North Field Post Solar

Best Value Field Watch

Citizen Chandler

Best Rugged Field Watch

Marathon General Purpose Quartz

Best Modern Field Watch

Nodus Sector Field

Best Overall Field Watch

Hamilton Khaki Field Mechanical

Best Japanese Field Watch

Seiko Prospex SPB117

Best Modern Reissue

Timor Heritage Field WWW

Best Luxury Field Watch

Tudor Ranger
A Brief History Of Field Watches
Military operations require that events be carried out in a highly coordinated and perfectly timed fashion. As a result, military personnel become some of the first individuals to widely adopt the use of wristwatches. Like all military equipment and gear, it didn't take long for various fighting and military forces began tapping existing horological outfits to produce purpose-built military timepieces — a genre that we now know as the "field watch." The original field watches evolved from the trench watches of the First World War and were at least partly responsible for helping the allies achieve victory in 1945. And while modern military forces have since moved on to primarily utilizing tactical watches, smart watches, and ultra-tough G-SHOCK-style timepieces, there remains an immense appreciation — and demand — for vintage-inspired military field watches. 
This would ultimately usher in a new era in watchmaking, where companies strived to deliver ultra-rugged yet minimalistic watches meant specifically for use on the battlefield. This led to various horological breakthroughs, such as cases with markedly better impact and weather resistance, and even watches that could be more precisely synced up — an amenity that's now commonplace, known as "hacking." Field watches would also eventually take on a somewhat standardized dial layout, consisting of ultra-legible, wildly minimalistic faces that often features 24-hour (military time) scales. Another field watch hallmark that would develop over time as the type of band uses with these timepieces, which almost always consists of nylon or textile straps (instead of steel bracelets). 
Video Review: The Best Field Watches
Take a closer look at our top picks in this 4K video review of our favorite field watches for everyday wear.
Watch Shopping 101: What To Look For In A Good Field Watch
While not all that different from purchasing other styles of contemporary timepieces, there are a few areas that one should definitely be privy to when shopping for a new field watch. Below, we'll briefly touch on five of the most pivotal factors to think about before pulling the trigger on your purchase. 
Case: As the item that actually constitutes the watch itself, a timepiece's case is of extreme importance. When reviewing this area, there are a handful of metrics and areas one should consider, such as case dimensions (case width, lug size, lug-to-lug, thickness), waterproof rating, and the material used to construct it. It's also worth looking into more specific areas with the case such as its crown, case back, and bezel.
Movement: As the element that actually powers a watch and keeps the thing ticking, a watch's movement is also of extreme importance. Whether quartz, mechanical, or automatic, you'll want to review a movement's specs such as power reserve and accuracy. It's also worth exploring if a watch's movement is an off-the-shelf item (often from outfits like Sellita and ETA) or if it's been modified, or even developed completely in-house.
Dial Layout: Most field watches tend to sport a somewhat similar dial layout, though these items can still differ in a handful of ways. When looking at a field watch's dial, you'll want to consider its color and material, the hand-set, the indices, and whether it has a date window. It's also worth looking into the type of lume being used on a dial.
Bracelet Or Band: Despite the fact that a band or bracelet can almost always easily be swapped out, it's still worth looking into the type of bracelet or band that comes standard with a watch. In the field watch realm, the vast majority of references come fitted with a NATO band or some other type of textile strap.
Lineage & Historical Connection: There are plenty of modern field watches that take inspiration from WW2 timepieces. There are also modern field watches made by brands with long histories of supplying various fighting forces with timepieces. While this area doesn't actually change the watch itself, there is something special about a watch having a more tangible connection to the past.
Selection & Testing Process
How & Why We Got Hands-On With These Particular Field Watches
The guide was created by first recognizing the birth of the field watch we know and love today based on the mil-spec A-11 (US) and the Dirty Dozen (Europe) watches used during WWII by the Allied Forces. Then, for the last half, we examined their evolution by taking a look at field watches that utilize modern materials and engineering to breathe new life into the classic form (including one microbrand pick).
After meticulously choosing our selections, our team then spent the following weeks wearing and testing each watch, putting every single one through its paces in a variety of different settings and conditions, as well as doing some technical in-house research to get a better sense of elements such as a watch movement's accuracy or lume performance.
The Best
The Finest Field Watches On The Market
Timex Expedition North Field Post Solar
Best Solar Field Watch: Timex makes a bunch of great accessible field watches for under $100, and you really can't go wrong with any of them if you're looking for an affordable quartz-powered timekeeper with classic field watch looks. But if you want something from the brand that's a bit more premium, we recommend the North Field with its amalgamation of vintage and modern aesthetics, solar-powered movement, date window, and sapphire crystal. Offered in OD green and gunmetal (seen here) or fully blacked-out colorways, the Expedition North Field Post Solar also boasts a surprisingly solid build quality and overall fit and finish for a sub-$200 timepiece.
Case Size: 41mm
Water Resistance: 100m
Movement: Solar Quartz
Citizen Chandler
Best Value Field Watch: Could this BE any more of a field watch? Sorry, had to throw in a little Chandler from Friends joke. Kidding aside, this is one great little field watch. A compact size, handsome traditional layout, solid water resistance, and Citizen's ever-reliable Eco-Drive movement that's powered by any light all combine to make the Chandler an extremely popular budget field watch.
Case Size: 37mm
Water Resistance: 100m
Movement: Solar Quartz
Marathon General Purpose Quartz
Best Rugged Field Watch: As we discussed, field watches are heavily tied to wars of the past, but Marathon's watches are different in that they're actually used by the soldiers of today. Made in Switzerland, the General Purpose Quartz, or GPQ, is about as rugged as watches come. Designed for general infantry and built to government specifications, the GPQ features a minimalistic military-style dial with tritium hour markers and hand overlays housed in a lightweight, high-impact fibershell case that can take a beating.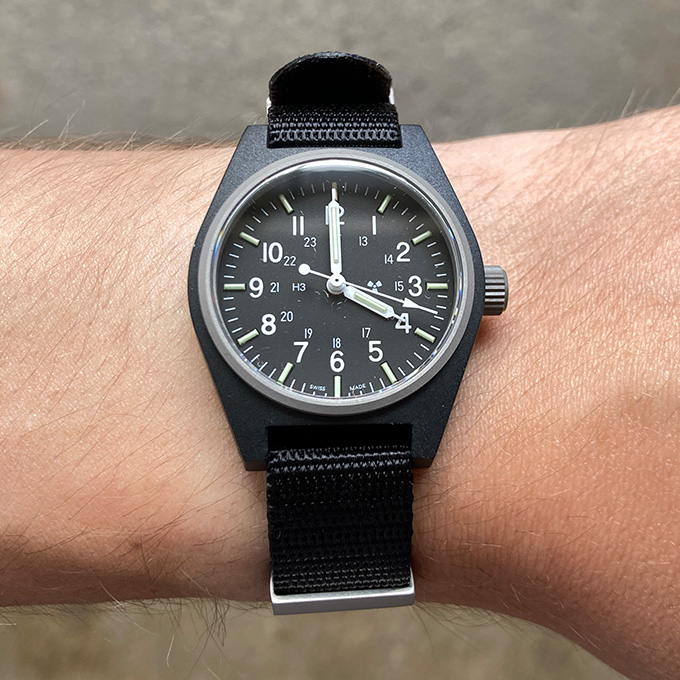 Case Size: 34mm
Water Resistance: 30m
Movement: Quartz
Nodus Sector Field
Best Modern Field Watch: L.A.-based microbrand Nodus certainly doesn't take the path of least resistance when it comes to its designs. The brand's watches routinely offer new takes on their respective forms, and the Sector Field is certainly no exception. Featuring an intricate sectored sandwich dial with a dizzying array of cutouts, colors, and textures, this is one unique field watch that you'll never tire of looking at. Taking a more contemporary approach as far as the Sector's visual design is concerned, this modern take on a field watch comes paired with a steel bracelet as standard and is offered in multiple color options.
Case Size: 38mm
Water Resistance: 100m
Movement: Automatic
Hamilton Khaki Field Mechanical
Best Overall Field Watch: As a pioneer of trench watches in the First World War and one of the original manufacturers of the A-11 in the sequel, there is simply no brand more associated with — or better at executing — the field watch than Hamilton. The formerly-American (now Swiss) brand's Khaki Field, particularly this hand-wound version, is considered the archetypal field watch and is a direct descendant of the A-11. It's the one to get if you're a field watch purist.
Check out our in-depth Hamilton Khaki Field Mechanical review here.
Case Size: 38mm
Water Resistance: 50m
Movement: Hand-Wound
Seiko Prospex SPB117
Best Japanese Field Watch: The Seiko Prospex SPB117 is an elegant but thoroughly tough field watch that features a 39.5mm stainless steel case housing a Caliber 6R35 movement with a 70-hour power reserve. Features on this watch include 200 meters of water resistance, LumiBrite-coated hands and indices, an exhibition case back, and a staggered three-link stainless steel bracelet — the latter of which makes this otherwise minimalistic field watch a surprisingly versatile timepiece.
Case Size: 39.5mm
Water Resistance: 200m
Movement: Automatic
Timor Heritage Field WWW
Best Modern Reissue: While the W10 certainly has its fans, there is no British military watch more revered than the "Dirty Dozen" watches of WWII. Timor was one of the twelve manufacturers of the highly sought-after originals that made the rugged timepieces to The Crown's specifications, and now the resurrected British (formerly Swiss) brand has brought back its greatest claim to fame. The new Swiss-made Timor WWW looks nearly identical to the original and was designed by a British Army veteran.
Case Size: 36.5mm
Water Resistance: 50m
Movement: Hand-Wound or Automatic
Tudor Ranger
Best Luxury Field Watch: As one would expect from the sister brand to Rolex, the Tudor Ranger is an ultra-premium interpretation of a military-style field watch that maintains a traditional minimalistic, utilitarian design while still unmistakably being a luxury watch through and through. Boasting a slew of design cues borrowed from the brand's historical archives, the Ranger Field Watch features a beautifully-designed and finished 39mm stainless steel case, a matching steel bracelet with Tudor's T-Fit safety catch, and an in-house-developed COSC-certified Calibre MT5402 self-winding mechanical movement with a bidirectional rotor system and a 70-hour power reserve.
For a deeper dive, read our Tudor Ranger watch review.
Case Size: 39mm
Water Resistance: 100m
Movement: Automatic
The Rest
Followup Field Watch Selections
Bertucci A-2S
Bertucci is pretty well-known for making affordable field watches (it's basically all they do), and they have a solid reputation in the space. Founded in 2003 with the goal of creating the ultimate field watch, Bertucci cranks out just about every variation on the form imaginable — even a field watch with a fully-lumed case — but it's tough to go wrong with the dependable stainless steel unibody-cased A-2S.
Case Size: 36mm
Water Resistance: 100m
Movement: Quartz
CWC British Military G10
It's no secret that mechanical watches are all the rage these days among enthusiasts, but British-based CWC is proud of its quartz heritage. An early adopter of quartz technology, CWC made the first-ever quartz watch that was issued to British Forces in 1980. The G10 is the brand's very faithful modern-day version of that now-40-year-old watch, and it's about as classic as a quartz-powered field watch can get.
Case Size: 36.5mm
Water Resistance: 50m
Movement: Quartz
Victorinox Swiss Army Heritage
This new release from the Swiss Army Knife-makers goes back to basics in handsome fashion. There's nothing groundbreaking going on here, but what you're getting is a very well-executed and crowd-pleasing field watch. Swiss-made construction, a set-it-and-forget-it quartz movement, a 40mm stainless steel case, and a traditional dial layout with a handy 6 o'clock date window all make for one tempting package.
Case Size: 40mm
Water Resistance: 100m
Movement: Quartz
BOLDR Venture Black Dawn
Moving on from traditional field watches to a few modern takes on the form, we have BOLDR. The Singaporean outdoor outfitter is well-known for its rugged timepieces, and the Venture is a staple in its catalog. This version, the Black Dawn, combines a black PVD-coated titanium case, a black NATO strap with blacked-out titanium hardware, and vintage-colored Japan Superlume to create a very contemporary military-inspired piece.
Case Size: 38mm
Water Resistance: 200m
Movement: Automatic
Unimatic UC2
Part of Unimatic's new permanent collection is the UC2, the Italian brand's minimalist take on a field watch. Granted, Unimatic's take on a field watch is basically a smaller, bezel-free version of its dive watch — this thing packs 300m water resistance — but it still meets all the criteria in our book. It's robust, easy to read, and offers nothing extraneous in its build. In other words, we'd take this into battle any day.
Case Size: 38.5mm
Water Resistance: 300m
Movement: Automatic
RZE Resolute
RZE hasn't even existed as a brand for two years yet, but it's already carved out a nice niche for itself thanks to its proprietary ULTRAHex-coated titanium cases used in all of its models that provide 8x the scratch resistance of stainless steel. The brand's first watch was the Resolute, a thoroughly modern field watch reinterpretation that looks sharp enough to function as a versatile everyday watch thanks to its well-thought-out dial and killer lume.
Case Size: 40.5mm
Water Resistance: 100m
Movement: Automatic
Benrus DTU-2A/P Field Watch
Speaking of classic American field watches, Benrus' DTU picked up the torch from Hamilton as American GIs' watch of choice in the 1960s (the civilian version also gained some notoriety on the wrist of Steve McQueen in Bullitt). The Vietnam War favorite, first issued in 1964, was recently brought back to life by the newly-resurrected brand, and the elevated modern version features a Swiss-made automatic movement, a bead-blasted 316L stainless steel case, and is assembled in the USA.
Case Size: 39.5mm
Water Resistance: 50m
Movement: Automatic
Luminox Atacama Field Automatic
Luminox is a modern watch brand, and as such, it makes very modern watches. The Atacama Field Automatic is the brand's new contemporary take on a field watch, and if anyone would know what modern soldiers want in a watch, it's Luminox. The official watchmaker for the Navy SEALs has outfitted the Atacama with 200m water resistance, an AR-coated sapphire crystal, and Luminox Light Technology that provides self-powered illumination for up to 25 years.
Case Size: 44mm
Water Resistance: 200m
Movement: Automatic
Christopher Ward C65 Sandhurst Series 2
If you prefer to keep things old school when it comes to your wristwear, then you'll appreciate this effort from Britain's Christopher Ward. This watch from the OG microbrand — which is a major brand these days — is a tribute to the classic Smiths W10 field watch from 1969. A Swiss-made chronometer with timeless vintage styling, the C65 Sandhurst Series 2 is the second-gen predecessor to the first CW watch to be authorized to carry the heraldic badge of the British Army.
Case Size: 38mm
Water Resistance: 150m
Movement: Automatic
Weiss Standard Issue Field Watch
At this point, it's fairly safe to describe Weiss' Standard Issue Field Watch as a modern classic. Largely handmade with a hand-polished surgical steel case and a hand-painted naval brass dial, the watch is powered by Weiss' Caliber 2130 mechanical movement, a heavily modified Soprod M100 that's been hand-assembled and hand-finished with full decoration. In other words, this isn't your average field watch, this is something special.
Case Size: 38mm
Water Resistance: 100m
Movement: Hand-Wound
Bremont Broadsword
Compared to other military-derived watch styles like divers and pilot's watches, true luxury versions of field watches are a rarity. In fact, Bremont's "Dirty Dozen"-inspired Broadsword may be the only one on the market that truly fits the definition. Created in partnership with the British Ministry of Defence and made in the UK, the Broadsword boasts a chronometer-certified Swiss-made movement, the typical "Dirty Dozen" three-hand layout, and custom mint Super-LumiNova on the hands and indices.
Case Size: 40mm
Water Resistance: 100m
Movement: Automatic
Rolex Explorer
Is the king of field watches even a field watch? Well, not technically. Rolex's classic mountain-climber is an "explorer's watch," but with a 36mm case, ridiculous lume, and a black time-only dial with white indices — including Arabics — the Explorer is frequently classified among field watches, and we're following suit here. Evolved from a watch that accompanied Sir Edmund Hillary and Tenzing Norgay to the summit of Mount Everest in 1953, Rolex's subtle icon has been on the wrist of innumerable adventurers in every decade since.
Case Size: 36mm
Water Resistance: 100m
Movement: Automatic
The Best Tactical Watches You Can Buy
Interested in checking out some modern takes on military timepieces? Then be sure to head over to our guide to the best tactical watches for a hand-selected list of ultra-tough combat-ready references.