For the vast majority of drivers out on the road, their vehicle will never be used as more than a means of transportation, a way to get from point A to point B with as little trouble as possible. And it's a shame, because such thinking does the automobile a great disservice, reducing it to a one-dimensional object that ignores the incredible innovation that's come about over the last century. Granted, there's no denying the convenience that cars provide, but they're good for much more than making a run to the grocery store.
After all, you don't need to have an eye for ludicrous horsepower outputs or cutting-edge traction control systems to appreciate a vehicle for all that it's worth. On the contrary, because of the immense diversity in today's marketplace, there are countless measures of automotive worth. For some, it could be the extra storage capacity required of a camping trip. For others, it might be the added engagement of a manual transmission. However you choose to spin it, know that there's a vehicle out there just waiting to stoke your four-wheeled excitement. With this in mind, we've rounded up 25 of the best cars for every type of enthusiast, be they interested in off-road capability, open-aired enjoyment, or something else entirely. Read on to find out what we've picked.
Pint-Sized Power
Hatchbacks
Hatchbacks are ideal for driving enthusiasts who value handling above all else. They might not have the edge when it comes to absolute power, but their compact chassis and tight suspension setups make them perfect for taking aggressive lines on twisty backroads.
2019 Abarth 500
Don't let the Abarth's small size and chic aesthetic fool you; in the right hands, it's a bonafide, road-going pocket rocket. Under the hood, it packs a rumbling turbocharged 1.4L four-cylinder that makes 160hp and 170lb-ft of torque. Though that might not sound like much on paper, it's more than enough for a sub-7 0-60mph time. And besides, this isn't a car intended for straight-line speed. Rather, with its five-speed manual, lowered suspension, and sonorous exhaust note, it'll have you grinning ear-to-ear through the turns.
Engine: Turbocharged 1.4L 4-Cylinder
Horsepower: 160hp
Torque: 170lb-ft
2021 Honda Civic Hatchback
Ever since Honda introduced this compact economy car in the early 70s, it's been a mainstay amongst the automotive community. And it's for good reason; with its affordable price point, sensible styling, and reliable build quality, the Civic can cater to all types of drivers. These days, the hatchback easily makes for one of the best enthusiast cars you can buy, as it's abounding with modern tech and the added storage capacity makes it quite practical. Though we'd love to have one in Type R guise, the Sport's 180hp turbo and six-speed manual are plenty exciting as well.
Engine: 1.5L 4-Cylinder, Turbocharged 2.0L 4-Cylinder
Horsepower: 150-180hp
Torque: 138-177lb-ft
2022 MINI Cooper S
MINI may be transitioning to an all-electric lineup in the coming years, but don't count the petrol-powered Cooper S out just yet. Between the responsive ride and the nimble handling, this is one car that never ceases to excite. Of course, over the years, it's grown considerably larger than the OG; however, this also means that it now comes with oodles of 21st-century amenities. In fact, given that it boasts a large 8.8″ touchscreen, a digital instrument cluster, and Active Driver Assist — whilst still offering a six-speed manual — the MINI is a hatch that can't be beaten.
Engine: Turbocharged 2.0L 4-Cylinder
Horsepower: 180hp
Torque: 206lb-ft
2022 Volkswagen GTI
Okay, let's face it: no list of enthusiast vehicles would be complete without a GTI — after all, it's the car that created the modern hot hatch movement. For 2022, Volkswagen has taken its genre-defining formula and added some extra kick, improving its output to 241hp and 273lb-ft of torque (a solid 13-horse and 15-pound-foot improvement). As such, the current model year isn't just a hero through the turns; it's also pretty spritely on the straights, springing to 60mph in just 5.1s. When you're looking for a daily that's as sensible as it is sporty, this is one option that's well worth a look.
Engine: Turbocharged 2.0L 4-Cylinder
Horsepower: 241hp
Torque: 273lb-ft
2021 Hyundai Veloster N
Though 2022 marks the extinction of most Veloster species, at least it'll live on under its high-performance N-badge. As the product of Hyundai's motorsport experience, it's a truly thrilling ride, with a manual transmission, adaptive dampers, as well as 275 horses and 260lb-ft of torque on tap. That said, because of its three driving modes, the Veloster N is surprisingly capable as a commuter, netting a respectable 22mpg in the city and nearly 30 on the highway. Oh, and if you're put off by the brand name, check your prejudices. Sure, it might not come with the pedigree of other options, but it makes for a strong contender in a segment otherwise dominated by veterans.
Engine: Turbocharged 2.0L 4-Cylinder
Horsepower: 275hp
Torque: 260lb-ft
Just because you're looking for a 4×4 doesn't necessarily mean that you have to go with an SUV. These days, there are plenty of off-road-ready trucks and crossovers that can cater to all kinds of different dirt junkies.
2021 Toyota Tacoma
Toyota's mid-size pickup commands a cult-like following amongst off-road enthusiasts, and it's easy to see why when you consider all that it has to offer. For starters, it comes backed by the brand's storied reliability, meaning it'll survive pretty much any apocalypse. What's more, the Tacoma is incredibly capable out of the box, offering the perfect balance of everyday utility and all-terrain competence. But the hallmark of the package has to be the impressive parts support, as there are countless different aftermarket offerings in addition to Toyota's own in-house TRD line.
Engine: 2.7L 4-Cylinder, 3.5L V6
Horsepower: 159-278hp
Torque: 180-265lb-ft
2021 Subaru Outback
Pairing the off-road prowess of an SUV with the day-to-day driving comfort of a conventional station wagon, the Subaru Outback has everything needed to inspire some serious wanderlust. While there's an optional turbocharged four-cylinder spec (a pretty quick one, at that), this isn't a vehicle that you buy for off-the-line performance. Rather, with its competent all-wheel-drive, spacious interior, and burly roof rack, the Outback is pretty much purpose-built for drivers who like to lead an active lifestyle. Oh, and should you need even more all-terrain ability, there's even a "Wilderness" model with skid plates and an impressive 9.5″ of ground clearance.
Engine: 2.5L 4-Cylinder, Turbocharged 2.4L 4-Cylinder
Horsepower: 182-260hp
Torque: 176-277lb-ft
2021 Jeep Wrangler
As one of America's definitive off-road icons, the Wrangler is a 4×4 that needs no introduction. Wildly popular with everyone who sits behind the wheel, Jeep's offering is — above all else — an ideal platform for customization. That is to say, with its two- and four-door configurations; soft- and hard-top roofs; and immense catalog of accessories, the Wrangler is an SUV that affords something for everyone. While we'd have it with the all-new 392 V8 (the fastest and most powerful engine in the model's history), it abounds with choices — including diesel, hybrid, and even a forthcoming electric option.
Engine: Turbo 2.0L 4-Cylinder, 3.0L V6 Diesel, PHEV, 6.4L V8
Horsepower: 260-470hp
Torque: 295-470lb-ft
2022 Ford Bronco
After countless pandemic-related delays, Ford is finally delivering (real) Broncos to dealerships for the first time since 1996. It's a return that's been met with immense enthusiasm from the public, as the SUV is living up to its name far better than expected. That's because, in addition to sporting some timeless retro-inspired styling, the new Bronco is also a surprisingly refined vehicle, boasting a suite of driver assistance technology, a modern infotainment system, and over-the-air updates. Not only that, but the Bronco has go-anywhere capability in spades, coming standard with independent front suspension and offering such upgrades as electronic locking diffs and beadlock-capable wheels.
Engine: Turbocharged 2.3L 4-Cylinder, Twin-Turbo 2.7L V6
Horsepower: 275-300hp
Torque: 315-325lb-ft
2021 Land Rover Defender
On the other hand, the new Defender is a vehicle that's had to fight for its favor, as Land Rover's discontinuation of its predecessor proved quite the automotive faux pas. Thankfully, it wasn't a decision made in vain — the updated British off-roader has turned out to be a worthy successor. In fact, with its well-equipped interior, comfortable on-road ride, and luxurious trim levels, the new Defender is, in many ways, a marked improvement over the 50's original. If you're looking for the best bang-for-your-buck, the base P300 model is a pretty standout performer. However, for those who have the extra cash, the 518hp supercharged V8 is sure to result in some thrilling driving experiences no matter the surface.
Engine: Turbocharged 2.0L 4-Cylinder, Turbocharged 3.0L 6-Cylinder, Supercharged 5.0L V8
Horsepower: 296-518hp
Torque: 295-461lb-ft
2021 GMC Sierra 1500 AT4
What the Sierra 1500 AT4 lacks in interior refinement, at least compared to some of its Ford and RAM-badged rivals, it more than makes up for in workhorse dependability. For instance, as part of its AT4 designation, it comes standard with a 2-inch lift kit, some X31 suspension, as well as an auto-locking rear differential and a two-speed Autotrac transfer case. In other words, it's pretty authoritative off-road, even despite its 5,140-pound curb weight. And that's not all; because of features like its six-position articulating tailgate, 2,233-pound payload, and 8,900-pound towing capacity, it's perfectly primed for drivers who like to play hard and work harder.
Engine: 3.0L 6-Cylinder Diesel, 4.3L V6 5.3L V8, 6.2L V8
Horsepower: 277-420hp
Torque: 383-460lb-ft
The Pinnacle Of Driving Pleasure
Coupes, 'Verts, And Sedans
Because of the overwhelming variety when it comes to coupes, convertibles, and sedans, we've picked six choice vehicles to give you a cross-section of what the market has to offer. Like hatchbacks, these are vehicles that are lauded for their thrilling driver-forward performance.
2021 Mazda MX-5
Over the course of its 30-year history, the Mazda MX-5 has served as the quintessential driver's car, combining a perfectly balanced ride with a spritely steering response. It's a recipe that holds true to this day, for even despite the addition of modern amenities like a touchscreen infotainment system and an optional folding hardtop, it continues to be one of the most fun vehicles you can buy, period. Of course, its small size and scant trunk space limit its practicality, but then again, this is a car you buy for ripping around curvy roads — not hauling your clubs to the golf course.
Engine: 2.0L 4-Cylinder
Horsepower: 181hp
Torque: 151lb-ft
2020 Toyota 86
It's not often that automakers opt to go in on a project together, so when they do (as Subaru and Toyota have here) it better be something special. Thankfully, the 86 is that and more, as the engaging short-throw manual and athletic handling mean that this is a car that can go toe-to-toe with some of the all-time greats. The lack of character in its Subaru-sourced 2.0L flat-four engine can be pretty noticeable at times, but it's still plenty quick at just a touch over 6.0s to 60mph. If you're on the fence between one of these and the open-aired Miata, consider your space and daily driving requirements; the couped 86 actually has a functional rear seat and some decent storage at the back.
Engine: 2.0L 4-Cylinder
Horsepower: 205hp
Torque: 156lb-ft
2021 Subaru WRX
Any time you see a WRX on the road, chances are pretty good that it won't be running all of its stock componentry. And it's not out of any lack of reliability — not hardly. Rather, this is a car that's ripe for modifying, be it a mere aesthetic upgrade or an all-out performance overhaul. Should you want to enjoy it as is, however, it'll prove plenty engaging, with a 268hp turbocharged flat-four, racy suspension, and a standard six-speed manual or optional continuously variable automatic transmission. Overall, there's a certain rawness to the Subie that hearkens back to its rally-ready origins.
Engine: Turbocharged 2.0L 4-Cylinder, Turbocharged 2.5L 4-Cylinder
Horsepower: 268-310hp
Torque: 258-290lb-ft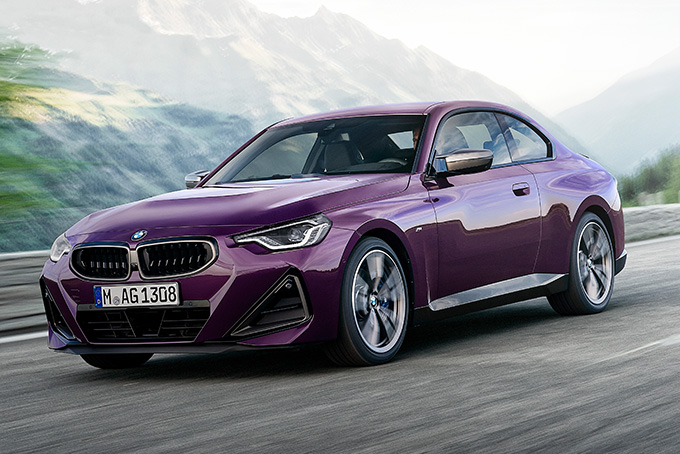 2022 BMW 2-Series
Though many BMWs have grown soft and sedate over the years, the 2-Series is one car that's actually managed to retain the German automaker's iconic driving qualities. Compact and compelling, it's best served with the turbocharged 3.0L inline-six, as the hefty 335 horses it provides allow you to squeeze out every ounce of chassis performance. Better still, the optional xDrive all-wheel-drive system keeps it cornering like it's on rails, providing quick, responsive steering and confident grip no matter when you need it.
Engine: Turbocharged 2.0L 4-Cylinder, Turbocharged 2.0L 6-Cylinder
Horsepower: 255-335hp
Torque: 295-369lb-ft
2021 Alfa Romeo Giulia
The Giulia is one of the cars that made Alfa great again, bringing it out of an early 2000's slump and finally re-establishing some market presence in the United States. And it's for good reason — the car is as true an enthusiast's vehicle as there ever was, lively at all times yet still plenty refined enough for daily driving. If you've got room in your budget, it's worth spending extra on upgrades like active suspension, a mechanical limited-slip rear diff, or even the 505hp twin-turbo V6 — they all go towards making an even more engaging experience.
Engine: Turbocharged, 2.0L 4-Cylinder, Twin-Turbo 2.9L V6
Horsepower: 280-505hp
Torque: 306-443lb-ft
2021 Porsche 718 Cayman
These days, the 911 is more super than it is a sports car when it comes to price, meaning it's fallen on the 718 to take up the mantle as Stuttgart's "affordable" driver-friendly ride. With its mid-engine layout and sharp cornering ability, this is a car that begs to be pushed to the limit. It's worth noting, however, that despite the plentiful power output across its various four-cylinder options, you'll be wanting for a more sonorous exhaust note. Put another way, go for the GTS or the GT4 if you can; their 394hp and 414hp six-cylinder engines have way more character.
Engine: Turbocharged 2.0L 4-Cylinder, Turbocharged, 2.5L 4-Cylinder, 4.0L 6-Cylinder
Horsepower: 300-414hp
Torque: 280-309lb-ft
Turning Wrenches
Project Car
Project cars are best for those enthusiasts who are happiest when they have a wrench in hand. If you've got a knack for tinkering, you'll enjoy bringing any one of these beauties back to its former road-going glory.
1980's Volvo 240
Older Volvos are ideal vehicles for project car enthusiasts and the 240 is certainly no exception. Cheap, widely available, and pretty intuitive for wrenching, they're made only better by their spacious engine bays and tank-like build quality. You can't go wrong when it comes to the stock power plant, but if you're looking for some cheap speed, it's worth checking out the many LS swaps populating the internet. Oh, and be sure to inspect the wiring harness — older years have a tendency to disintegrate.
Engine: 2.3L 4-Cylinder
Horsepower: 114hp
Torque: 136lb-ft
1970's MG MGB
It takes a special kind of masochist to undertake an MG project, but if you've got an eye for small roadsters, it doesn't get much better than an MGB. Because of their propensity to rust and their quintessentially British electrics, you should exercise caution when buying these much below $5,000. However, if you can find a clean example that's been properly kept up with, it's sure to reward you with miles of open-aired enjoyment. Thankfully, they're abounding with forum support, meaning it's more likely than not that someone will be able to help you with a fix.
Engine: 1.8L 4-Cylinder
Horsepower: 95hp
Torque: 110lb-ft
1970's Volkswagen Beetle
The best part about old-school Beetle projects is that you can take them in practically any direction. Slammed, lifted, or hot-rodded, they're cars where you really get to choose your own destiny. And because they're so plentiful, they've made for a thriving Volkswagen community, both in-person and online. Don't expect a stock Bug to win you over with its performance; the smaller 1200cc engine was made to be affordable — not fast. Parts are cheap, though, meaning you can mod them to your heart's content.
Engine: 1.0-2.0L 4-Cylinder
Horsepower: 20-70hp
Torque: 50-80lb-ft
1970's Chevy Blazer K5
If you've had your eye on a Blazer project, be sure to snatch one up soon — they're quickly appreciating in value as classic off-road enthusiasts see them for what they're worth. Assuming you can find one for a reasonable price, know that your efforts will be well-rewarded. Easy fixes, ample parts, and an enjoyable end result ensure that K5 Blazers are approachable projects for wrenchers of all experience levels. As is the case with most trucks from the Big Three, the rear window is a nightmare that might never end up working properly
Engine: 4.1L 6-Cylinder, 4.8L 6-Cylinder, 5.0L V8. 5.7L V8
Horsepower: 105-210hp
Torque: 185-300lb-ft
Straight-Line Speed
Modern Muscle
For all of their historical significance, muscle cars as we know them are a dying breed — especially with the push for electrification. If you're looking for loud exhaust soundtracks and cheap speed, one of these brutes could very well be what you need.
2021 Chevrolet Camaro
While most muscle offerings are pretty tiresome to through the turns, Chevrolet's current Camaro is much more than a one-trick pony car. Across the entire lineup, performance is pretty impressive, meaning that everything from the base four-cylinder and V6 up to the top-tier ZL1 is worth consideration. In fact, if you're working with a limited budget, we'd recommend speccing it with the 1LE track package. Between the improvements in suspension, the Recaro race seats, and the front and rear splitters, it makes for quite the marked upgrade.
Engine: Turbocharged 2.0L 4-Cylinder, 3.6L V6, 6.2L V8, Supercharged 6.2L V8
Horsepower: 275-650hp
Torque: 284-650lb-ft
2021 Ford Mustang
Since its inception way back in 1964, the Mustang has consistently been one of the best-selling vehicles of all time. That's because, whether you're a card-carrying muscle car enthusiast or merely someone who's looking for a sporty daily driver, the platform provides something for everyone. Although we're still mourning the loss of the GT350, we can take heart in knowing that the Blue Oval brought back the Mach 1 for the first time since 1969. With its retro-inspired styling, throaty 480hp 5.0L V8, and intelligent aerodynamic package, it's more than deserving of its right to wear the badge.
Engine: Turbocharged 2.3L 4-Cylinder, 5.0L V8, Supercharged 5.2L V8
Horsepower: 310-760hp
Torque: 350-625lb-ft
2021 Dodge Challenger
From its flat-fronted grille to its boxy trunk, the Dodge Challenger honors its historic aesthetics more than any modern-day muscle car on the market. And here's the thing — the resemblance is more than skin-deep. For even though it's not quite as precise as the Camaro or the Mustang when setting fast lap times, it's spacious, comfortable, and perfect for cruising. Point one of these puppies in a straight line, put your foot on the gas, and you'll enjoy the raucous sound of its throaty V8. When you're looking to enjoy the spirit of old-school muscle with some 21st-century reliability, this is the car for you.
Engine: 3.6L V6, 5.7L V8, Supercharged 6.2L V8, 6.4L V8
Horsepower: 303-807hp
Torque: 410-707lb-ft
2021 Dodge Charger
You won't find the same refinement or build quality in a Charger as you would in other more sensible sports sedans, but it has a clear edge when it comes to its cool factor. Of course, if you're looking for absolute practicality, the V6 and its optional all-wheel-drive system make for a pretty compelling combination. Left up to us, however, we'd go for one of the growling HEMI V8s, be it in R/T, Scat Pack, or SRT flavors. As an added bonus, there's an abundance of cool appearance packages, with stripes, wheels, and even satin roofs all available for your personal customization.
Engine: 3.6L V6, 5.7L V8, Supercharged 6.2L V8, 6.4L V8
Horsepower: 292-797hp
Torque: 260-707lb-ft
The 15 Best Affordable Used Sports Cars
While we've touched on a lot of great enthusiast vehicles here, they're far from all that the automotive industry has to offer. If you're looking for cheap, thrilling speed, be sure to check out our guide to the best affordable used sports cars.