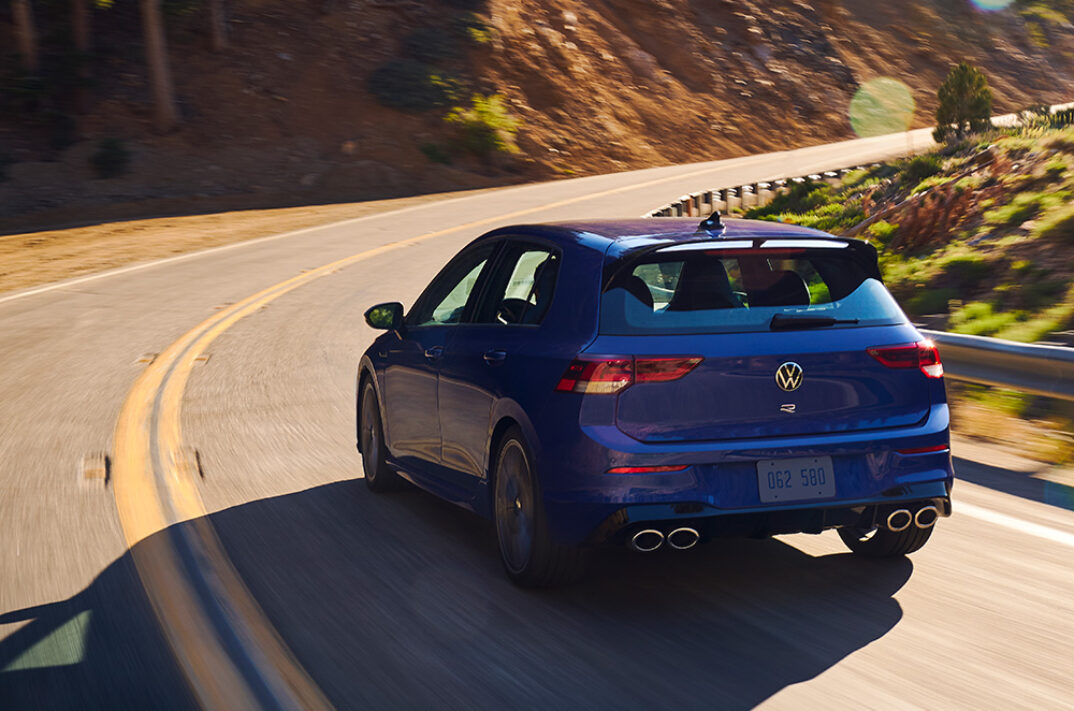 For the majority of drivers, cars simply represent a mode of transportation. As a result, a great many manufacturers produce economical, compact, and utilitarian vehicles made for getting from A to B. Unsatisfied with the performance of these commuters, a slew of pioneering gearheads began modifying and upgrading these models. This trend became so popular, that major marques began producing high-performance variants of these automotive offerings — giving way to what we know today as the "hot hatch."
Starting with the Simca 1100TI in 1973, these high-performance hatchbacks have only grown more popular over the last half-century, with dozens of new models slowly but steadily pushing the performance envelope in the space. With more interest in this segment than ever before, there is now an enormous number of options to pick from — the finest of which we've rounded up for this guide to the best performance hatchbacks to drive off the lot today.
What Exactly Is A Hot Hatch?
The Compact Commuter Car, Elevated
Short for "Hot Hatchback," a "Hot Hatch" is a high-performance model that's typically based on a no-frills commuter car that's of the hatchback variety. Also known as a "Performance Hatchback," these vehicles come loaded with markedly more powerful engines and sport upgraded suspension and brakes. Further separating hot hatch variants from their base model counterparts are unique sets of bodywork that often come equipped with an aero kit. What's more, hot hatches tend to also boast numerous race and track-focused/derived features such as race seats, flat-bottom steering wheels, short-throw shifters, and electronics packages that include multiple drive modes, many of which have a dedicated race, track, or drift setting.
Offering substantially better speed, power, and acceleration compared to their respective base models, performance hatchbacks are often developed by manufacturers' race teams and departments — more often than not benefitting from R&D that's trickled down from high-level motorsport competition. Another factor that makes hot hatches unique is their turnkey nature, as these vehicles come standard with a slew of top-shelf componentry and other common upgrades that are typically achieved through the addition of aftermarket items. If you were to buy a base model hatchback and throw five-figures worth of upgrades at it, it would likely end up looking fairly similar to its production hot hatch version.
Mazda Mazda3 Turbo 2.5 Hatchback
Winner of an IIHS Top Safety Pick+, the Mazda3 Turbo 2.5 is an affordable yet capable entry-level hot hatch that makes 47% more horsepower and 72% more torque than the base model Mazda3. Alongside its more potent 2.5-liter engine, this version of the car also comes with blacked-out alloy wheels, side mirrors, and tailpipes, plus Mazda offers the 3 with an available Premium Plus Package that includes a front air dam and a black spoiler. Despite its relatively low price, the Mazda3 Turbo 2.5 boasts a surprising amount of tech, coming with G-Vectoring Control Plus, i-Activ AWD, and Mazda's i-Activsense suite of safety features, all as standard.
Engine: Turbocharged 2.5L Inline-Four
Weight: 3,383LBs
Horsepower: 250HP
Torque: 320FT-LBs
Hyundai Veloster N
The high-performance N variant of Hyundai's already peppy Veloster, the Veloster N perfectly encapsulates the idea of a hot hatch. Kicked along by a turbocharged 2.0-liter four-banger, the Veloster N features an enormous slew of track-focused amenities such as an electronic limited-slip differential, a trio of suspension modes with different damping and stiffness settings, three steering modes, electronic stability control, race seats, a two-stage rear wing, a perforated leather sports steering wheel, a large-bore exhaust, N badging, 19" alloy wheels, and a unique livery with matching blue interior accents. Equipped with Hyundai's SmartSense suite of smart safety features, the Veloster N comes standard with a six-speed manual gearbox or an available paddle-shifted N eight-speed dual-clutch transmission.
Engine: Turbocharged 2.0L Inline-Four
Weight: 3,106LBs
Horsepower: 275HP
Torque: 260FT-LBs
Toyota GR Corolla
The latest addition to Toyota's line of Gazoo Racing-spec models, the GR Corolla is a true driver's car that comes loaded with features that have trickled down from the Japanese automaker's road and rally racing departments. Offered exclusively with a six-speed manual transmission, the GR Corolla boasts 18" 15-spoke cast wheels, multiple drive modes, a sport-tuned suspension package, GR-FOUR all-wheel drive, a hand-operated e-brake, a short-stroke shift lever, a GR leather-trimmed steering wheel, sports seats, a triple muffler exhaust setup, and an aero kit with a new front grille, rear diffuser, a functional front-bumper air intake and hood-bulge air outlets, and flared fenders. Powering the newly-unveiled hot hatch is Toyota's G16E-GTS engine — a turbocharged and inter-cooled 1.6-liter inline-three that's good for 300hp and 273ft-lbs of torque.
Engine: Turbocharged 1.6L Inline-Three
Weight: 3,150LBs
Horsepower: 300HP
Torque: 273FT-LBs
Volkswagen Golf R
First released in 1976, Volkswagen's Mk1 GTI wasn't the first production hot hatch, though it's undeniably one of the most popular and influential, with solid performance in an accessibly-priced package. And VW has continued this tradition through modern times with the release of its latest Golf-based performance hatchback, the Mk8 Golf R. Though it features a more refined and less spartan interior, the R-spec Golf is still a hot hatch through and through, with a 315-hp turbocharged 2.0-liter inline-four engine, a manual six-speed transmission, DCC Adaptive Chassis Control, and the brand's 4MOTION all-wheel drive — all coming as standard.
Engine: Turbocharged 2.0L Inline-Four
Weight: 3,417LBs
Horsepower: 315HP
Torque: 295FT-LBs
Seat Cupra Born
First unveiled in the Spring of 2021, the Seat CUPRA Born is a fully-electric hot hatch that's constructed atop Volkswagen's MEB platform — the same architecture used in the VW ID.3 and Audi Q4 e-tron. At the heart of the electric car is a 172-kW (231-hp) motor that allows it to achieve a 0-60mph time of 6.6 seconds — all while still delivering a range of 340 miles on a single charge. The CUPRA Born also features a flat-bottom steering wheel, race bucket seats trimmed in DINAMICA, special 20" aero wheels, and an e-Boost button/function.
Engine: 172kW Electric Motor
Weight: 3,765LBs
Horsepower: 231HP
Torque: 229FT-LBs
Mini John Cooper Works GP
Born out of decades of experience racing MINI Coopers, the MINI John Cooper Works GP is an ultra-high-performance version of the revived commuter car. At the heart of the JCW GP is a BMW-sourced 2.0-liter inline-four that's been given a turbocharger before being tuned to put down 301hp and 331ft-lbs of torque — figures made all the more impressive by the MINI's svelte 2,855-lb curb weight. On top of offering a 0-60mph time of 5.1 seconds, the latest JCW GP is also the fastest MINI of all time, with a top speed of 165mph. The car sports split-spoke four-arm wheels, oversized brake calipers, and a full aero kit with a front splitter, rear diffuser, functional hood scoop, flared fenders at all four corners, plus a two-stage rear wing.
Engine: Turbocharged 2.0L Inline-Four
Weight: 2,855LBs
Horsepower: 301HP
Torque: 331FT-LBs
Polestar 2 Long Range Dual Motor
Taking aim squarely at Tesla, the Polestar 2 Long Range Dual Motor is a state-of-the-art EV that offers an impressive mix of luxury and performance. Equipped with a 2,000-lb towing capacity, this version of the car is powered by a 300-kW (476-hp) dual-motor setup that allows for a 4.2-second 0-60mph time and an electronically limited top speed of 127mph. The Polestar 2 generates 487ft-lbs of instantly-available torque — all of which is sent to the ground via an advanced all-wheel drive system. The EV's battery also offers a 260-mile range and can receive a complete recharge in as little as 35 minutes.
Engine: 300kW Dual Electric Motors
Weight: 4,650LBs
Horsepower: 476HP
Torque: 487FT-LBs
Renault Mégane RS
Constructed around a Cup chassis with a Torsen limited-slip differential, the Renault Mégane RS is a high-performance hot hatch that's powered by the same turbocharged 1.8-liter inline-four that's used in the Alpine A110 — albeit with more horsepower than the Alpine. The car's roughly $50,000 MSRP also gets you Recaro Bucket seats trimmed in Alcantara, plus bi-material front brake discs, Brembo calipers, 4CONTROL four-wheel-steering, a customizable 10" TFT driver's display, and launch control — all as standard amenities. Unfortunately, the Mégane RS isn't available on U.S. shores.
Engine: Turbocharged 1.8L Inline-Four
Weight: 2,987LBs
Horsepower: 300HP
Torque: 310FT-LBs
Audi RS 3 Sportback
Despite its somewhat unassuming appearance, Audi's RS 3 packs some seriously impressive performance. Powered by a 2.5-liter five-cylinder engine, the RS 3 puts down 400hp and 369ft-lbs of torque — figures made all the more potent by the German-made hot hatch's sub-3,500-lb curb weight. While the RS 3's top speed is electronically limited to 155mph — which is still nothing to scoff at — it reaches that speed extremely quickly, with a 3.7-second 0-60mph time. Other highlights on the RS 3 include a motorsport-inspired driver's display, special badging, aero-kitted bodywork, and an RS sport exhaust system.
Engine: Turbocharged 2.5L Five-Cylinder
Weight: 3,461LBs
Horsepower: 400HP
Torque: 369FT-LBs
BMW M135i xDRIVE
Though the BMW M135i xDRIVE isn't the fastest or most powerful hot hatch, it does make for a practical daily driver while still boasting remarkably sharp handling — and enough oomph to experience thrills in the canyons or on the race track. Separating it from the regular 1 Series hatch is an M aero package with M-specific front and rear aprons, side skirts, an M rear spoiler, model-exclusive tailpipes, M Sport seats with M-colored seatbelts, an eight-speed Steptronic Sport transmission, and top-shelf M Sport suspension. BMW also offers the M135i xDRIVE with an optional M Performance Package.
Engine: Turbocharged 2.0L Inline-Four
Weight: 3,307LBs
Horsepower: 306HP
Torque: 332FT-LBs
Mercedes-AMG A 45 S
Touted as an "entry-level" AMG model, the A 45 S is a practical and daily-driveable hatchback with some objectively impressive performance capabilities. Thanks to a twin-scroll-turbocharged 2.0-liter inline-four that makes 416hp and 369ft-lbs of torque, the AMG A 45 S is capable of reaching 60mph from a complete standstill in just 3.8 seconds and offers a top speed of nearly 170mph — capabilities that are also no doubt owed to the AMG model's 4Matic all-wheel drive system and an eight-speed dual-clutch transmission. The Mercedes hot hatch also gets a full aero kit complete with a front splitter, side skirts, rear diffuser, and rear wing.
Engine: Turbocharged 2.0L Inline-Four
Weight: 3,417LBs
Horsepower: 416HP
Torque: 369FT-LBs
Ferrari GTC4Lusso
The Ferrari GTC4Lusso admittedly isn't what normally springs to mind when discussing a hot hatch, though the Italian supercar nonetheless does sport a body style that earns it a rightful place on this list. Representing a relatively rare four-seat Ferrari model, the GTC4Lusso is offered with the buyer's choice of either a 602-hp twin-turbocharged 3.9-liter V8 engine or an even more powerful 680-hp naturally-aspirated 6.3-liter V12. This allows for a top speed of over 200mph and a 0-60mph time of around 3.3 seconds. On top of seating for four, this luxurious grand touring car also features a 10.25″ HD touchscreen and sat-nav with 3D mapping capabilities.
Engine: Twin-Turbocharged 3.9-L V-8 or 6.3L V-12
Weight: 4,112LBs or 4,233LBs
Horsepower: 602HP or 680HP
Torque: 514FT-LBs or 561FT-LBs
Honorable Mentions
Popular Pre- & Post-Production Picks
Honda Civic Type R
One of the most powerful production cars for under $50,000, the Honda Civic Type R is another model that's worthy of your consideration if you're shopping for a hot hatch. And, while the current generation is already an extremely capable and well-appointed machine, Honda is currently poised to release an all-new generation of the Type R Civic that's expected to gain all-new bodywork, an all-new chassis, and an even more potent turbocharged engine platform. Pricing has yet to be revealed, though we anticipate an MSRP of around $40,000.
Engine: TBD
Weight: TBD
Horsepower: TBD
Torque: TBD
Ford Focus RS
Though it's no longer for sale, it simply feels wrong to generate a list of the best hot hatches without giving Ford's recently discontinued Focus RS some attention, as this WRC-derived hatchback not only offers remarkable performance capabilities but the car can also be found on the used market for around the $30,000 mark — or even cheaper for higher mileage specimens. Tipping the scales at under 3,500lbs, the Focus RS features a turbocharged 2.3-liter inline-four engine that puts down an even 350hp and 350ft-lbs of torque. The RS-spec Focus also gets an aero kit, race seats, and a rear wing.
Engine: Turbocharged 2.3L Inline-Four
Weight: 3,460LBs
Horsepower: 350HP
Torque: 350FT-LBs
The 15 Best Daily Driver Sports Cars
Looking for a sporty and practical everyday car but aren't sure if a hot hatch is the way to go? Then have a look at our guide to the 15 best daily driver sports cars you can drive off the lot for more grocery-getting thrill machines.