With the death knell sounding for gas-powered cars, soon the V8, long the symbol of American muscle and many great European sports cars, will disappear. Within a few short decades, electric cars will be all that exists as the combustion engine follows the horse-drawn carriage into the realm of irrelevance. GM, maker of the Corvette, has pledged to go all-electric by 2035 — the same year that California will ban the sale of new gas-powered automobiles. But before we say farewell to traditional engines, we need to give its most cherished variant, the V8, the sendoff it deserves. So to do that, we've compiled a list of the best V8 cars you can still buy new.
We all know the benefits of electric cars. They produce no harmful CO2 exhaust emissions, which means their widespread adaptation should help curb the disastrous effects of climate change. They also are better performers than gas engines, at least in terms of acceleration. Hybrid and electric cars have made sub-three-second 0-60 times commonplace, and they're in the process of doing the same for sub-two-second times. So while the future does indeed look bright, we're still going to miss the roar, the smell, and the pull of a good old-fashioned V8. So take a look below at the best new V8 cars you can still buy — before it's too late.
Eight Cylinder Origins
The V In V8 Stands For Very Storied History
It's hard to imagine the history of the automobile without V8s, and with good reason. After all, the iconic engine layout has been around for nearly as long as the car itself. The first V8 engine was invented by French engineer Léon Levavasseur, who patented his Antoinette engine in 1902. These original V8s were conceived for aircraft — which gives you an idea of the type of power they produced compared to other engines of the day. 1905 saw the first V8-powered car with the short-lived and aptly-named Rolls-Royce V8, while Cadillac was the first automaker to make wide use of the engine design with their L-Head V8 being introduced in 1914 across their lineup. But the biggest breakthrough for the V8's use in cars came from — who else — Henry Ford and his eponymous company, who introduced the world's first monobloc V8 engine in 1932, making the format more affordable and more efficient. After that, it was off to the races — both literally and figuratively — as V8 adoption became more widespread in consumer cars and motorsports alike.
The mid-century was when the V8 truly began to flourish both domestically and abroad. In the 1960s in America, the muscle car was born, and for a glorious decade or so carmakers subscribed to the mantra of "there's no replacement for displacement" as they continued to stuff larger and larger-capacity V8s into their cars in the name of more power. New domestic emissions laws stifled America's V8 love affair in the 1970s, but the infatuation continued overseas. Ferrari introduced their first mid-engined V8 in 1973 with the Dino 308 GT4, and would go on to perfect the format over the next several decades. Mercedes-Benz, BMW, and McLaren have also produced some incredible V8s over the years to compete with the historically significant and incredibly powerful engines from Ford, Chevy, and Chrysler — and all of the above are still doing so today. The V8's days may be numbered, but as you'll see from the list below, the engine is really living it up in its golden years.
Chevy Corvette
Ever since the first C1s began to roll out of Chevy lots in 1953, the Corvette has been the definitive American sports car. And since 1956, the iconic symbol of Americana has only been offered with a V8. For the 2020 model year, Chevy released the eighth-generation Corvette, debuting a mid-engine layout for the first time ever. Even in its base Stingray form, the new 'Vette can hit 60 mph in less than three seconds thanks to its center-situated V8, and one can only imagine what kind of face-melting performance will come from the Z06 and ZR1 renditions when they arrive in the next few years.
Engine: 6.2L V8
Horsepower: 496
Torque (lb.-ft.): 470
0-60 mph: 2.9 seconds
Ford Mustang Shelby GT500
Nipping at the heels of the Corvette for the title of the most iconic sports car in American history is, without question, the Mustang. In every year save for the Malaise Era-debut of the much-maligned Mustang II in 1974, the Mustang has been available with a V8. In recent years, the model's top-level trims have boasted insanely powerful engines, with the current rendition of the legendary Shelby GT500 putting out a bonkers 760 horsepower — in a Mustang. But the writing has been on the wall for the V8 Mustang ever since Ford introduced the all-electric crossover SUV Mustang Mach-E in 2019 — especially with the way Mach-Es have been flying out of showrooms.
Engine: Supercharged 5.2L V8
Horsepower: 760
Torque (lb.-ft.): 625
0-60 mph: 3.3 seconds
Jeep Wrangler Unlimited Rubicon 392
When we think of the Jeep Wrangler, we don't normally imagine tremendous speed and power. But that's exactly what the Rubicon 392 delivers. As you can probably guess from the name, this Rubicon packs a 392 HEMI V8 under its hood, blending the Wrangler's acclaimed off-road capabilities with some serious Mopar muscle. It's both the most powerful and the quickest Wrangler ever made, with horsepower and torque both clocking in at 470 and a 0-60 time of 4.5 seconds. No one needs a Wrangler with this kind of performance, but we sure would like one.
Engine: 6.4L V8
Horsepower: 470
Torque (lb.-ft.): 470
0-60 mph: 4.5 seconds
Dodge Challenger SRT Super Stock
Speaking of Mopar muscle, muscle cars don't get much more muscular than this. In fact, there has only been one production muscle car more powerful than this: the 2018 Dodge Demon, which was produced in limited numbers and made exactly one more horsepower than the Super Stock. The car is built for the drag strip, with its supercharged 6.2-liter HEMI high-output V8 putting out 807 horses and 707 lb.-ft. of torque, a wide-body configuration, and drag radials for all four tires coming standard. It's enough for the Super Stock to take down the quarter-mile in 10.5 seconds at 131 mph.
Engine: Supercharged 6.2L V8
Horsepower: 807
Torque (lb.-ft.): 707
0-60 mph: 3.25 seconds
Cadillac CT5-V Blackwing
For 15 years, the Cadillac CTS-V was America's entry in the luxury super sedan wars. With its Corvette Z06 engine and 200+ mph top speed, the last version of the lauded four-door went out of production after the 2019 model year. But all is not lost. The spirit of the CTS-V lives on in its successor, the CT5-V Blackwing. Packing a hand-built supercharged 6.2L V8 under its generous hood, this is the most powerful Caddy ever built, with 28 more horses and 29 more lb.-ft. of torque than the dearly departed CTS-V. And, naturally, it'll still take you over 200 mph.
Engine: Supercharged 6.2L V8
Horsepower: 668
Torque (lb.-ft.): 659
0-60 mph: 3.4 seconds
Lexus LC500
Lexus probably isn't one of the first brands that come to mind when you think of high-performing sports cars, but maybe they should be. After all, Toyota's luxury marque did produce one of the greatest supercars of all time in the LFA just a decade ago. And even though there's no supercar in Lexus's current lineup, there is one super car in the LC. The brand's flagship halo car is a drop-dead gorgeous coupe that combines refined luxury with aggressive styling and performance in a way that few brands can match. And powering it all is a naturally-aspirated 5.0L V8 that really knows how to sing.
Engine: 5.0L V8
Horsepower: 471
Torque (lb.-ft.): 398
0-60 mph: 4.4 seconds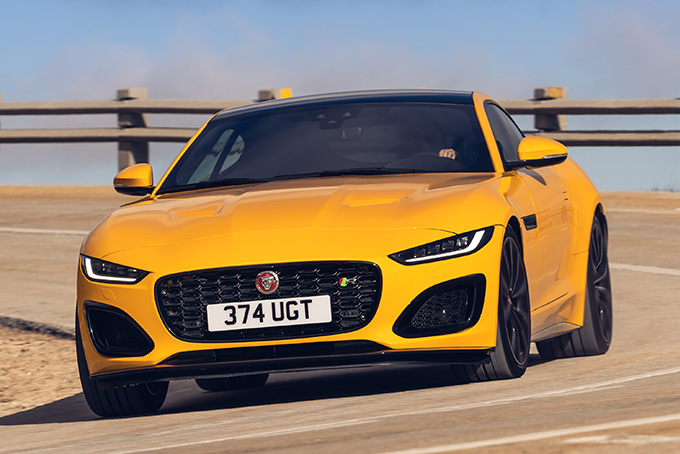 Jaguar F-Type R
Of all the major car brands, Jaguar has been the most aggressive in its electrification plans, with the British marque pledging to do away with all of its petrol cars by 2025. But before that time, their legendary gas guzzlers are going out in a blaze of glory. For 2021, Jag upgraded even the base model of their quick and handsome little grand tourer from a V6 to a V8, meaning the only F-Type you'll be able to buy from now until they're electric will be V8. And that's great news to anyone who's ever had the honor of listening to one of these cat's throaty roars — let alone anyone who's driven one.
Engine: Supercharged 5.0L V8
Horsepower: 575
Torque (lb.-ft.): 516
0-60 mph: 3.5 seconds
Audi RS7
The concept of a hot hatch is that they squeeze a lot out of a little. The genre's most notable cars such as the VW Golf GTI, Ford Focus ST, and Honda Civic Type R all use turbocharged four-cylinder engines to get their little five-door bodies up to speed. But not the RS7. This is a high-performance luxury hot hatch, so naturally, it's packing a twin-turbo 4.0L V8 that's good for 591 horsepower and 590 lb.-ft. of torque. That's good enough to blow the doors off of any other hot hatch you're likely to come across, along with plenty of supercars, too.
Engine: Twin-Turbo 4.0L V8
Horsepower: 591
Torque (lb.-ft.): 590
0-60 mph: 3.5 seconds
BMW M8 Competition Coupe
If BMW makes the ultimate driving machines, then their high-performance M division must make the ultimate ultimate driving machines. Case in point: the M8, arguably the most "M" car BMW has ever made. The fastest sprinter in the lauded German brand's lineup, this attractive coupe can hit 60 in three seconds flat. Its 617 horses make its engine the most powerful that's ever been fitted to a production BMW, and it's also bursting with next-level tech like Adaptive M Suspension and Active M Differential, adjustable M Sport Exhaust, and an Integrated Brake System that can be fine-tuned with the press of a button.
Engine: Twin-Turbo 4.4L V8
Horsepower: 617
Torque (lb.-ft.): 553
0-60 mph: 3.0 seconds
Aston Martin Vantage
The six-figure "entry-level" model from James Bond's favorite automaker might just be the best car that Aston makes. The Vantage may not have the raw power of the DBS, the gentlemanly presence of the DB11, or the insane performance of the Valkyrie, but what it does have is tough to beat, and that's its spirit of fun. Everything about this is a car suggests that it was made to be an absolute blast. It's beautiful in that typical Aston way, but with an added sporty aggressiveness that hints at its playful nature. It's quick and nimble around corners, but not so overpowered that you won't be able to control it. And it's the only V8 offered by Aston outside of their DBX SUV, offering all the performance you could ever need without the hardcore absurdity of a V12.
Engine: Twin-Turbo 4.0L V8
Horsepower: 503
Torque (lb.-ft.): 505
0-60 mph: 3.6 seconds
Porsche Cayenne Turbo GT
Porsche is known for making arguably the world's greatest six-cylinder engines. The German automaker has powered its legendary 911 series and most of its other sports cars with flat-six boxer engines for more than half a century. But the brand knows their way around a V8 too, as evidenced by the powerplant in their latest flagship SUV. The Cayenne Turbo GT houses the most powerful V8 Porsche has ever made, putting out 32 more horses than the V8 in the 918 Spyder hypercar (though, to be fair, the 918's V8 was naturally aspirated). With all of those ponies under the hood, the big Porsche is able to blast to 60 quicker than a current-gen 911 GT3.
Engine: Twin-Turbo 4.0L V8
Horsepower: 631
Torque (lb.-ft.): 626
0-60 mph: 3.1 seconds
Lamborghini Urus
Like Porsche, Lamborghini isn't known for their V8 engines. Unlike Porsche, however, that's because they historically play in the realm of V10s and V12s. But despite Lambo's "go big, or go home" philosophy, the brand outfitted their hot-selling SUV with a "modest" 4.0L twin-turbocharged V8, and everything worked out for the best. Having quickly displaced Mercedes AMG G63 as the SUV du jour for the jet set, the Urus combines Lamborghini's two trademarks of flamboyant Italian styling and serious performance to make it one of the best looking and fastest SUVs ever made.
Engine: Twin-Turbo 4.0L V8
Horsepower: 641
Torque (lb.-ft.): 627
0-62* mph: 3.6 seconds
Ferrari F8 Tributo
Despite the V8's history of powering American muscle cars, there are few who would argue that Ferrari makes the best V8 engines in the world. Known for their massive power output, smooth delivery, and the incredible music they make, Maranello-made V8s have powered a number of the most iconic Italian cars in history, and the F8 may soon be added to the list. As the brand's current mid-engined screamer, the F8 boasts the most powerful V8 Ferrari has ever made. The powerplant is so impressive, in fact, that the car's name — F8 Tributo — is literally an homage to the engine.
Engine: Twin-Turbo 3.9L V8
Horsepower: 710
Torque (lb.-ft.): 567
0-62* mph: 2.9 seconds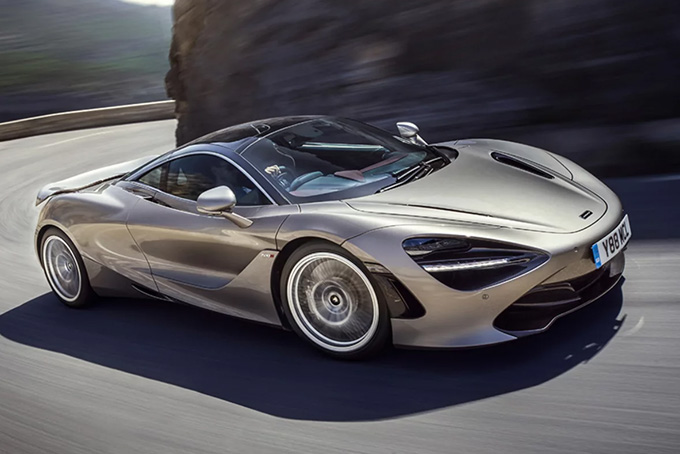 McLaren 720S
McLaren has no shortage of impressive V8-powered cars in their current lineup, from the incredible hybrid Speedtail hypercar to the luxurious GT to the ultralight and hardcore 765LT. But for our money (if we had $300,000), we'd go for the 720S. Like the Vantage at Aston Martin, it just makes for the best all-around package in a practical supercar — if such a thing exists. You're still getting ridiculous performance and show-stopping design without going over the top on either, and the 720S is arguably the best supercar that you can get for the money — especially if you want to venture outside the usual suspects of Porsche, Ferrari, and Lamborghini.
Engine: Twin-Turbo 4.0L V8
Horsepower: 710
Torque (lb.-ft.): 568
0-62* mph: 2.9 seconds
Mercedes-AMG GT Black Series
As the Mercedes equivalent to BMW's M division, AMG is known for cranking out an absurd amount of power from its German engines. Sitting at the top of AMG's current lineup and developed entirely in-house by the sub-brand is the venerated AMG GT sports car. With their neo-retro styling and intimidating engines, all AMG GTs are a good choice for thrill-seekers, but none are more thrilling than the Black Series. The top-spec version of the GT is the most powerful road car AMG has ever produced, with 720 horses under the hood growling to be unleashed at the slightest press of the accelerator. And when they are unleashed, look out.
Engine: Twin-Turbo 4.0L V8
Horsepower: 720
Torque (lb.-ft.): 590
0-62* mph: 3.2 seconds
The 15 Best Ferraris Of All Time
As we stated, Ferrari has produced some of the most incredible V8 engines known to man. To see the best of them, have a look at our guide to the best Ferraris ever made, where you'll see not only great V8s but plenty of V12s, a V6, and even a couple of hybrids.