With the death knell sounding for gas-powered cars, soon the V8, long the symbol of American muscle and many great European sports cars, will disappear. Within a few short decades, electric cars will be all that exists as the combustion engine follows the horse-drawn carriage into the realm of irrelevance. GM, maker of the Corvette, has pledged to go all-electric by 2035 — the same year that California will ban the sale of new gas-powered automobiles. But before we say farewell to traditional engines, we need to give its most cherished variant, the V8, the sendoff it deserves. So to do that, we've compiled a list of the best V8 cars you can still buy new.
We all know the benefits of electric cars. They produce no harmful CO2 exhaust emissions, which means their widespread adaptation should help curb the disastrous effects of climate change. They also are better performers than gas engines, at least in terms of acceleration. Hybrid and electric cars have made sub-three-second 0-60 times commonplace, and they're in the process of doing the same for sub-two-second times. So while the future does indeed look bright, we're still going to miss the roar, the smell, and the pull of a good old-fashioned V8. So take a look below at the best new V8 cars you can still buy — before it's too late.
The Best V8 Cars Breakdown
Ford Mustang Dark Horse Premium

Jeep Wrangler Rubicon 392

Dodge Challenger SRT Super Stock

Chevrolet Corvette E-Ray 3LZ Convertible

Audi RS 6 Avant performance

Aston Martin Vantage V8 Coupe

Lamborghini Urus Performante
Eight Cylinder Origins
The V In V8 Stands For Very Storied History
It's hard to imagine the history of the automobile without V8s, and with good reason. After all, the iconic engine layout has been around for nearly as long as the car itself. The first V8 engine was invented by French engineer Léon Levavasseur, who patented his Antoinette engine in 1902. These original V8s were conceived for aircraft — which gives you an idea of the type of power they produced compared to other engines of the day. 1905 saw the first V8-powered car with the short-lived and aptly-named Rolls-Royce V8, while Cadillac was the first automaker to make wide use of the engine design with their L-Head V8 being introduced in 1914 across their lineup. But the biggest breakthrough for the V8's use in cars came from — who else — Henry Ford and his eponymous company, who introduced the world's first monobloc V8 engine in 1932, making the format more affordable and more efficient. After that, it was off to the races — both literally and figuratively — as V8 adoption became more widespread in consumer cars and motorsports alike.
The mid-century was when the V8 truly began to flourish both domestically and abroad. In the 1960s in America, the muscle car was born, and for a glorious decade or so carmakers subscribed to the mantra of "there's no replacement for displacement" as they continued to stuff larger and larger-capacity V8s into their cars in the name of more power. New domestic emissions laws stifled America's V8 love affair in the 1970s, but the infatuation continued overseas. Ferrari introduced their first mid-engined V8 in 1973 with the Dino 308 GT4, and would go on to perfect the format over the next several decades. Mercedes-Benz, McLaren, and BMW have also produced some incredible V8s over the years to compete with the historically significant and incredibly powerful engines from Ford, Chevy, and Chrysler — and all of the above are still doing so today. With a growing number of forced induction trucks and hybrid pickup models, the V8's days are almost certainly numbered, but as you'll see from the list below, the engine is really living it up in its golden years.
V8 Advantages
The Strengths & Benefits Of V8-Powered Performance Vehicles
Though every engine configuration offers their own unique strengths and drawbacks, V8s possess a myriad of objective benefits that have made them increasingly popular choices for use in modern high-performance vehicles. Below, we'll briefly touch on some of the key advantages afforded by eight-cylinder engines in a V configuration.
More Cylinders: With more cylinders than their four and six-cylinder counterparts, V8 engines are often able to generate more power and deliver superior performance over four and six-bangers. And, while there are exceptions, most V8s tend to boast more displacement than inline-fours and V6s — thereby allowing for even greater power and performance.
More Power: More cylinders and more displacement also means that V8 engines can often deliver greater levels of horsepower and torque compared to powertrains with fewer cylinders — a fact that in-turn often allows for quicker acceleration off the line and higher top speeds (assuming the V8-powered models' weight doesn't get in the way).
Superior Towing & Hauling Abilities: Though the superior capabilities of modern V8-powered performance cars typically manifest in the vehicle's acceleration and top speed figures, this same power can also give V8 models markedly better towing and payload capacities compared to four and six-cylinder models.
Better Tuning Potential: With eight cylinders and ample displacement, modern V8 engines offer some pretty remarkable tuning potential — especially when fitted with a forced induction system or hybrid drive unit(s).
Smoother Operation: V8 engines are often incredibly smooth. Without going too far into the weeds, this is because engines that feature more cylinders boast longer intervals in-between each cylinder firing — a fact that ultimately results in a smoother-running engine.
Epic Exhaust Note: Splitting the difference between more common V6 mills and more exotic V10 lumps, V8 engines are renowned for their deep and throaty exhaust notes — whether we're talking modern twin-turbo V8 supercars or old-school V8 muscle cars.
Better Longevity: Due to their larger displacement, V8 engines don't typically have to work as hard as their smaller, four and six-cylinder counterparts, and are seldom being pushed quite as hard either. As a result, it's not uncommon to see V8 engines offer longer lifespans — marking yet another advantage offered by these eight-cylinder mills. 
Ford Mustang Dark Horse Premium
Why It Made The Cut
A range-topping retro-inspired 7th-gen Mustang featuring a 500-HP 4th-gen 5.0L Coyote V8. 
The Blue Oval's top-of-the-line trim level of its newly-debuted seventh-generation pony car, the Ford Mustang Dark Horse Premium is a modern muscle car with a retro-inspired appearance and contemporary performance capabilities. In addition to a newly-penned set of bodywork, the Dark Horse Premium-spec Mustang benefits from a MagneRide damping system, a performance spoiler, and an active-valve performance exhaust. What makes this modernized pony car model so special — and so capable — is what's found under its hood. In typical Ford fashion, this range-topping Mustang variant is kicked along by the brand's fourth-generation Coyote 5.0-liter V8 — a naturally-aspirated lump that's been mated to a six-speed manual gearbox with Rev Matching. Cranking out 500hp and 418ft-lbs of torque, the gen-4 Coyote engine ultimately allows the car to reach 60mph from a complete standstill in just 4.1 seconds (or as little as 3.7 seconds when equipped with the car's automatic transmission). The car rides on a set of 19" five-arm V-spoke wheels with a top-of-the-line Brembo braking system — rims that can be updated to optional 19" carbon fiber wheels.
Engine: 5.0L V8
Power: 500HP & 418FT-LBs
Weight: 3,949LBs
0-60MPH: 4.1 Seconds (or 3.7 W/ Auto Transmission)
MSRP: $63,265
Jeep Wrangler Rubicon 392
Why It Made The Cut
An off-road capable Wrangler with a 470-HP 6.4L V8 that affords it sportscar-like off-the-line acceleration. 
When we think of the Jeep Wrangler, we don't normally imagine tremendous speed and power. But that's exactly what the Rubicon 392 delivers. As you can probably guess from the name, this Rubicon packs a 392 HEMI V8 under its hood, blending the Wrangler's acclaimed off-road capabilities with some serious Mopar muscle. It's both the most powerful and the quickest Wrangler ever made, with horsepower and torque both clocking in at 470 and a 0-60 time of 4.5 seconds. No one needs a Wrangler with this kind of performance, but we sure would like one. On top of the fact that the Rubicon 392 was crowned as the Four Wheeler SUV Of The Year, it's also worth mentioning that this is by far the most off-road-capable model on this list, plus the absolutely enormous wealth of available aftermarket parts and accessories makes it incredibly easy to modify and personalize one of these super modular rigs.
Engine: 6.4L V8
Power: 470HP & 470FT-LBs
Weight: 6,100LBs
0-60MPH: 4.5 Seconds
MSRP: $90,590
Dodge Challenger SRT Super Stock
Why It Made The Cut
An 800+ HP street-legal drag racer that's one of, if not the very quickest & most powerful muscle car currently in production. 
Speaking of Mopar muscle, muscle cars don't get much more muscular than this. In fact, there has only been one production muscle car more powerful than this: the 2018 Dodge Demon, which was produced in limited numbers and made exactly one more horsepower than the Super Stock. Dodge's range-topping Challenger SRT Super Stock is essentially a full-on drag racer that manages to boast street-legal status. Adorned in a widebody kit and riding on drag radial tires, this modernized muscle car packs a supercharged 6.2-liter HEMI high-output V8 that puts down 807hp and 707ft-lbs of torque. These figures ultimately allow the vehicle to clock 10.5 second quarter miles runs at 131mph, reach 60mph from a standstill in 3.25 seconds, and achieve a top speed exceeding 200mph. What's more, these figures also make the Challenger SRT SS one of, if not the quickest, most powerful muscle car that money can currently buy.
Engine: Supercharged 6.2L V8
Power: 807HP & 707FT-LBs
Weight: 4,454LBs
0-60MPH: 3.25 Seconds
MSRP: $91,300
Lexus LC500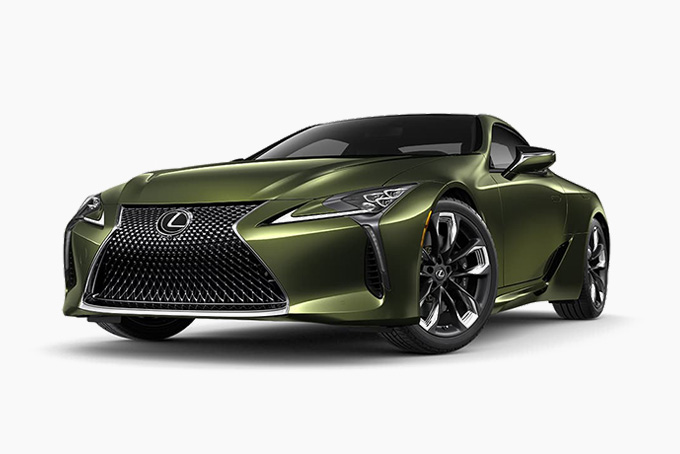 Why It Made The Cut
A Japanese-made spaceship on wheels that delivers a high-tech yet thoroughly spirited driving experience. 
Lexus probably isn't one of the first brands that come to mind when you think of high-performing sports cars, but maybe they should be. After all, Toyota's luxury marque did produce one of the greatest supercars of all time in the LFA just a decade ago. And even though there's no supercar in the famed Japanese marque's current lineup, the marque does boast a high-performance model that's largely derived from the legendary LFA in the form of the LC500. Appropriately described as a spaceship on wheels, this flagship coupe sports a sleek exterior with a massive front grille, a muscular rear end, and intakes set just ahead of the car's rear wheels. Inside, the vehicle's cabin is even more futuristic — and thoroughly laden with cutting-edge tech. Generating an ultra-deep and throaty exhaust note, the LC500's engine consists of a naturally-aspirated 5.0-liter V8 that comes bolted to a ten-speed electronically controlled Direct-Shift transmission with magnesium paddle shifters. Though not the fastest model on this list, the LC500 is no slouch, with the 471-hp coupe capable of delivering 4.4-second0-60mph runs and a respectable top speed of around 170mph.
Engine: 5.0L V8
Power: 471HP & 398FT-LBs
Weight: 4,340LBs
0-60MPH: 4.4 Seconds
MSRP: $99,050
Chevrolet Corvette E-Ray 3LZ Convertible
Why It Made The Cut
A range-topping, hybrid, mid-engined, drop-top Corvette with 655HP on tap & a hypercar-esque 2.5-second 0-60mph time. 
Coming on the heels of the American marque's first-ever mid-engined 'Vette, the all-new Chevrolet Corvette E-Ray is the first-ever hybrid version of the iconic model in its 70-year history. Based on the architecture of Chevy's existing eighth-gen Corvette, the Corvette E-Ray 3LZ Convertible represents the range-topping, drop-top version of the American supercar. Weighing in at 3,856lbs at the curb, the C8 3LZ Convertible is powered by a 495-hp 6.2-liter LT2 V8 that's been paired with an eight-speed dual-clutch transmission and a 120-kW (160-hp) permanent magnetic drive motor drawing from a 1.9 kWh lithium‑ion battery. Generating a collective 655hp and 595ft-lbs of torque, the E-Ray's hybrid V8 enables to to clock 10.5-second quarter mile runs, a respectable top speed around 180mph, and the ability to clock 0-60mph runs in just 2.5 seconds — a figure that places the mid-engined model on par with some of the world's most exotic and exclusive supercars and hypercars.
Engine: 6.2L Hybrid V8
Power: 655HP & 595FT-LBs
Weight: 3,856LBs
0-60MPH: 2.5 Seconds
MSRP: $122,850
Audi RS 6 Avant performance
Why It Made The Cut
A premium sport wagon offering a more practical alternative to other super-high-performance V8 models. 
Like most of the other entires on this list, the Audi RS 6 Avant performance affords incredible performance capabilities in the form of a 3.3-second 0-60mph time, a 155-mph top speed, and razor-sharp handling that comes courtesy of dynamic all-wheel steering and an RS-spec Dynamic Ride Control suspension setup with RS sport air units fore and aft. Powered by a 621-hp twin-turbocharged 4.0-liter V8 bolted to an eight-speed Tiptronic transmission, the RS 6 Avant performance stands apart from the crowd thanks to its more understated appearance and ample cargo space that generally make it a better daily driver, grocery getter, and family hauler. In total, this RS-spec wagon offers 20 cubic feet of real-estate with all seats in their normal configuration — or a whopping 59.3 cubic feet with the rear seats folded down and combined with the trunk's storage space. On top of several RS-exclusive wheel options, this high-performance sport wagon also features an aero kit, yet still manages to deliver a decidedly slippery drag coefficient of 0.36. It also gets blacked-out badging, and a myriad of special paint options — just a few additional elements that further separate it from Audi's normal A6 allroad quattro.
Engine: Twin-Turbo 4.0L V8
Power: 621HP & 627FT-LBs
Weight: 4,608LBs
0-60MPH: 3.3 Seconds
MSRP: $125,800
BMW M8 Competition Coupe
Why It Made The Cut
A more-than-600HP luxury two-door grand tourer built by the Bavarian brand's M Motorsport division. 
If BMW makes the ultimate driving machines, then their high-performance M division must make the ultimate ultimate driving machines. Case in point: the M8, arguably the most "M" car BMW has ever made. The fastest sprinter in the lauded German brand's lineup, this attractive coupe is brimming with next-level tech and track-bred M-specific components and amenities like Adaptive M Suspension, an Active M Differential, an adjustable M Sport Exhaust, and an M-spec Integrated six-piston Brake System that can be fine-tuned with the press of a button. Combining world-class luxury with world-class performance, the M8 Comp features BMW's twin-turbocharged S63 4.4-liter V8 engine that's been mated to an eight-speed Sport automatic transmission and tuned to make 617hp and just over 550ft-lbs of torque. These horsepower and torque figures result in a 0-60mph time of three seconds flat, and a top speed of 190mph.
Engine: Twin-Turbo 4.4L V8
Power: 617HP & 553FT-LBs
Weight: 4,295LBs
0-60MPH: 3 Seconds
MSRP: $138,800
Aston Martin Vantage V8 Coupe
Why It Made The Cut
A beautifully-designed "entry-level" V8-powered twin-turbo supercar from one of the world's most exclusive & revered car-makers. 
The six-figure "entry-level" model from James Bond's favorite automaker might just be the best car that Aston makes. The Vantage may not have the raw power of the DBS, the gentlemanly presence of the DB11, or the insane performance of the Valkyrie, but what it does have is tough to beat, and that's its spirit of fun. Everything about this is a car suggests that it was made to be an absolute blast. It's beautiful in that typical Aston way, but with an added sporty aggressiveness that hints at its playful nature. It's quick and nimble around corners, but not so overpowered that you won't be able to control it. And it's the only V8 offered by Aston outside of their DBX SUV, offering all the performance you could ever need without the hardcore absurdity of a V12. This takes the form of a 195-mph top speed and a 3.6-second 0-60mph time. Alongside its twin-turbocharged 4.0-liter V8, this ultra-premium model also massively benefits from the use of an Adaptive Damping System with Skyhook technology and multiple modes, plus dynamic stability control, positive torque control, dynamic torque vectoring, ZF eight-speed automatic transmission, an electronic "E-Diff" differential, an alloy torque tube with a carbon fiber propeller shaft, and a perfect 50:50 weight distribution.
Engine: Twin-Turbo 4.0L V8
Power: 503HP & 505FT-LBs
Weight: 3,714LBs
0-60MPH: 3.6 Seconds
MSRP: $146,986
Lamborghini Urus Performante
Why It Made The Cut
A super high-performance, track-bred version of Lamborghini's "Super SUV" that gets more aggressive looks & an exposed carbon aero kit. 
Like Porsche, Lamborghini isn't known for their V8 engines. Unlike Porsche, however, that's because they historically play in the realm of V10s and V12s. But despite Lambo's "go big, or go home" philosophy, the brand outfitted their hot-selling SUV with a "modest" twin-turbocharged 4.0-liter V8, and everything worked out for the best. Having quickly displaced Mercedes AMG G63 as the SUV du jour for the jet set, the Urus combines Lamborghini's two trademarks of flamboyant Italian styling and serious performance to make it one of the best looking and fastest SUVs ever made. And while the base model Urus is objectively a wildly impressive vehicle — and one worthy of being called a "Super SUV" — the Raging Bull offers its most performance-obsessed cliental with the even wilder Lamborghini Urus Performante. Sitting above the (base model) S-spec of the Super SUV, the Urus Performante receives a similar up-specced, track-focused series of upgrades found on models like the Huracan Performante such as a partially-exposed carbon fiber aero kit, massive 10-cylinder monoblock calipers chomping down on carbon-ceramic brake discs, and a new active chassis systems, a torque-vectoring system, and rear-wheel steering that have been calibrated to afford even higher levels of performance. Weighing less than the S-spec thanks to extensive use of carbon fiber, the Urus Performante features a 657-hp twin-turbocharged 4.0-liter V8 that delivers even-quicker 3.3-second 0-60mph runs and a top speed of 190mph.
Engine: Twin-Turbo 4.0L V8
Power: 657HP & 626.9FT-LBs
Weight: 4,740LBs
0-60MPH: 3.3 Seconds
MSRP: $265,970
Ferrari F8 Tributo
Why It Made The Cut
An ultra-high-performance Prancing Horse mid-engined supercar model that's literally named after its hand-crafted V8 engine. 
Despite the V8's history of powering American muscle cars, there are few who would argue that Ferrari makes the best V8 engines in the world. Known for their massive power output, smooth delivery, and the incredible music they make, Maranello-made V8s have powered a number of the most iconic Italian cars in history, and the F8 may soon be added to the list. As the brand's current mid-engined screamer, the F8 boasts the most powerful V8 Ferrari has ever made. The powerplant is so impressive, in fact, that the car's name — F8 Tributo — is literally an homage to the engine. In typical Prancing Horse fashion, the F8 Tributo's hand-built engine boasts remarkable power figures that ultimately afford the car exceptional performance capabilities that include a sub-three-second 0-60mph time and a top speed of just over 210mph. The F8 Tributo is also a simply stunning model that looks almost as good as it drives. Ferrari also now offers this model with optional exposed carbon fiber wheels.
Engine: Twin-Turbo 3.9L V8
Power: 710HP & 567FT-LBs
Weight: 3,164LBs
0-60MPH: 2.9 Seconds
MSRP: $280,000
The Best Manual Transmission Cars You Can Still Buy Right Now
Performance vehicles with finely-tuned V8 engines make for some incredibly fun rides, though if you're interested in a manual analog experience, then be sure to check out our guide to the best manual transmission cars you can still buy.