Let's take a quick jaunt back to the teenage years — you've just purchased your first car and have convinced yourself over and over again that you'll baby it until the day you die. Despite all the immaculate custom builds you've seen in magazines and television shows throughout your childhood, you're determined to keep your stock machine running flawlessly. You tell yourself that it would warrant a lot of mechanical knowledge to undertake a project of such stature — it would be ludicrous to believe that the world of customizable vehicles was well within your reach. We've all been there — but not for long. And as much as we'd like to admit that we've participated in this train of thought, it's surprisingly hard to keep a straight face while doing so.
If you're anything like us, you've been a tinkerer since day one, searching for the best affordable and accessible methods to make your vehicle of choice that much more powerful. A few jumps in handling and performance make a world of difference after you've amassed a variety of different upgrades, and if you've kept a close eye on the automotive community for a good portion of your life, you know that there are a slew of widely understood mods that you can utilize to improve upon your current platform. Below, we'll outline a number of the most prominent, downright simple, and affordable modifications to improve the performance of your car — so buckle up, let your foot off the clutch, and keep your eyes on the prize — it's time to bolt on some additional power.
Best Cheap Car Mods Breakdown
Pirelli P Zero All Season Tires

BBK Performance Throttle Body

EBC Yellowstuff Brake Pads

Carbotech Performance Brakes

Injen SP Series Cold Air Intake

DC Sports Upper Strut Bar

Autolite App104 Double Platinum
Must-have Mods
What Areas Should I Consider When Buying Beginner Car Mods & Upgrades?
Whenever upgrading any car, the goal should be to bolster performance in one or more areas. This includes bolstering a car's handling and cornering, improving its braking, or upgrading its power ore responsiveness. Fortunately, individual mods are available that are able to hugely improve these areas — though they don't always come cheap. Another major factor that should be taken into account when shopping is ease of installation, as certain systems and components are much easier to install compared to others. As such, we recommend considering both your performance objectives and use of installation before pulling the trigger on any purchases. There's also an enormous wealth of information that's readily available online to help guide you through this process, no matter what vehicle or mod you're considering.
Performance Tires
Punish The Pavement
Low quality, stock tires can be one of the biggest downfalls of a vehicle. Depending on their use, a brand new pair of custom tailored performance tires will boost your car or truck's handling exponentially, giving your ride tighter steering, improved road presence, and an aesthetic upgrade, to boot. As a primary example, performance and R-Comp tires are made using a softer compound than less expensive all-season offerings — but a soft tire on your daily commute car isn't the greatest idea due to deterioration in gas mileage, faster wear on the tread, and more money out of your pocket for a new set. Proportionally reducing sidewall height, increasing wheel diameter, and increasing width to ensure your wider tires keep the same diameter will help put more rubber on the pavement and increase drivability. It's a choice you're going to have to make, but rest assured that more expensive tires usually mean better construction, better performance, and more tactile response from your vehicle.
What It Takes
Tires are one of those things that you need tailored equipment in order to take care of — it's rather difficult to put them on a wheel without a specialized machine that's built to place the tire without damaging the surrounding area. A quick trip to any local tire/auto shop shouldn't take any more than a couple hours of your time.
Dunlop SP Sport Maxx GT
Why It Made The Cut
Super grippy tires that offer outstanding traction at the expense of a shorter lifespan. 
In a similar fashion to Continental's ExtremeContact Sport tire, Dunlop's SP Sport Maxx GT offering is catered toward sport car, sport coupe, and high-performance sedan drivers who are looking to get a bit more out of their vehicle. Designed to offer outstanding driver feedback and control, the SP Sport Maxx GT features refined carbon black tread compound technology that allows for asymmetrical tread design and larger blocks — keeping your vehicle in contact with the road for more precise handling. A hybrid jointless band is wrapped in Aramid to provide exceptional durability while reducing weight, alongside a rayon cord casing that was built to enhance high-speed capability.
Warranty: 42,000 Miles
Available Sizes: 19" to 21"
3PMSF: No
Pirelli P Zero All Season Tires
Why It Made The Cut
A high-performance all-season tire offering a combination of stellar grip and a 50K mile lifespan. 
he Pirelli P Zero All Season Tires aim to offer maximum performance across a wide range of conditions. Pirelli's latest ultra-performance model, these tires utilize a special variable control nylon belt construction paired with variable-sized treadblocks that afford excellent grip even in the wet. And while ultra-grippy tires typically don't offer the greatest longevity, the All Season Plus P Zeros are rated to deliver at least 50,000 miles of use per set. Produced in a slew of different sizes, these tires are also offered in an ELECT version made specifically for high-performance electric cars.
Warranty: 50,000 Miles
Available Sizes: 17" to 20"
3PMSF: No
Throttle Response
Feel The Power
If you've ever driven a car that responds to the slightest pressure on the accelerator, you know that the enthralling feelings of torque and speed are staples of the automotive world, and get the blood pumping. The key to this responsiveness is the stability of your throttle body and the components surrounding it. While throttle response is an important measure in whether a car is fun to drive or not, the ability of a car's engine to reciprocate should be one of your highest priorities. In older cars, a cable throttle creates a physical coupling between the throttle pedal and the throttle body on the engine, while newer platforms rely on specific tuning algorithms utilized within an electronic control unit (ECU). In vehicles that still contain a traditional throttle body, the wear and tear of time can cause the cable to become stretched, resulting in a need for adjustment. Thankfully, on most cars, this is easily corrected — all you need is some technical tools and a couple minutes of your time.
What It Takes
As we've stated above, you'll only need a pair of wrenches and a few spare minutes of time to adjust the throttle body's cable slack. Many guides online will show you exactly what you need to do, and if those don't explain things thoroughly, don't be afraid to refer to your vehicles owner's manual for in-depth instruction. If you have a modern vehicle that utilizes an ECU, it's even easier to fix your throttle response — again, you can refer to your car's manual to learn about the throttle response relearn procedure — and after that, you're good to go.
Accufab Throttle Body
Why It Made The Cut
A billet aluminum construction throttle body range that's seal and air Leak resistant up to 100 psi.
Accufab's upgraded throttle bodies feature a full body stainless steel shaft, a 3 position linkage arm with threaded ball stud, and Idle Air Control provisions that are seal and air Leak resistant up to 100 psi. A CNC machined, 6061-T6 billet aluminum offers exceptional build quality, upgrading your car's handling and responsiveness.
Construction: Machined 6061-T6 Aluminum Billet
Average Horsepower Increase: N/A
BBK Performance Throttle Body
Why It Made The Cut
A USA-made throttle body with a machined billet construction and 75mm bore. 
In the same light as Accufab's offering, BBK's upgraded throttle body utilizes a 75mm Throttle Body Bore that's been CNC machined from a durable aluminum casting. Featuring direct fit replacement and a higher airflow that creates quicker throttle response and better acceleration. Better yet, all of BBK's customized offerings are designed and Manufactured in the USA — so build quality won't suffer due to flawed mass production.
Construction: Machined 356 Aluminum Billet
Average Horsepower Increase: 8-14 For Forced Induction Engines Or 20+ For Naturally-Aspirated
Braking System
Stopping Power Reigns Supreme
One of the best and most affordable mods you can utilize to upgrade the performance and handling of your car is to transition toward a quality brake pad setup. Not only do a good set of brakes (and brake pads) reduce the stopping distance of a vehicle, they also help to eliminate fade in repeated hard braking situations that you encounter on a day-to-day basis. While an upgrade to a performance-oriented four-figure brake setup might be a little costly, it's ok to assume that a quick checkup and replacement of your vehicle's stock brake pads will offer you better performance at a much lower price point. Hands down, a quick and easy brake pad replacement is one of the simplest things you can do to upgrade performance.
What It Takes
If you have a tiny bit of mechanical knowledge, changing out your brake pads can be as simple as removing your wheel, undoing the caliper/frame holding your current brake pad, and inserting a new set. However, there might be some additional tooling that needs to be done based on the health of your current rotor, brake enclosure, or other components involving the wheel, so it's always a good idea to take the car into a shop if you don't have a good idea of what to do. Knowledge and labor aside, it should take no longer than a couple of hours to swap out the pads on all four wheels of your vehicle — and much less time if you have any experience.
EBC Yellowstuff Brake Pads
Why It Made The Cut
Street and track-ready brake pads using a special aramid fiber construction ini lieu of ceramic. 
EBC's Yellowstuff Brake Pads are a low-dust solution built for specifically for high-performance street and track use. UnlikeEBC's low-dust Redstuff pads (which are also pretty excellent) that use a ceramic pad construction, the brand's Yellowstuff variant utilizes an aramid fiber material that offers ample bite even when cold — and only gets better as they warm up. In addition to the pads' edge chamfers and shims that help to mitigate vibration noise and self-cleaning centerline slots that channel out dust, dirt, and other grime, the Yellowstuff pads also massively benefit from the use of EBC's Nucap NRS technology which forms a permanent bond with the friction material, ultimately resulting in quieter, longer-lasting brake pads, without sacrificing on performance.
Type: Street & Track Pads
Pad Material: Aramid Fiber
Carbotech Performance Brakes
Why It Made The Cut
High-performance brake pads utilizing advanced tech and a ceramic Kelvar pad construction. 
Much in the same vein as EBC's offerings, the Carbotech Performance Brake pad ecosystem will provide your vehicle with exceptional stopping power and improved wear-resistance. Carbotech's well-designed pads are "rotor friendly" and eliminate the locking and grabbing that plagues most modern vehicles during a hard braking situation. A high-torque brake compound that was engineered for autocross applications helps the pads retain a high fade resistance, as well as reproducible performance over a wide range of operating temperatures.
Type: Street & Track Pads
Pad Material: Ceramic Kevlar
Air Intake
Breathe In, Breathe Out
Chances are you've heard someone in your immediate group of friends say that an upgraded cold air intake (CAI) will net you some decent gains in the horsepower department. While this isn't entirely true, it's never a bad thing to help your car breath a little easier. While factory air intakes on most cars are designed to keep the engine clean and free-breathing in all conditions, an aftermarket air intake system will benefit your vehicle by opening up a path that lets cooler, ambient air into the engine, producing more power and prolonging engine life. This upgrade is relatively straight forward, and with a full transition to a new intake system, you should feel a minor increase in performance and response behind the wheel.
What It Takes
Installing a cold air intake is relatively straightforward — the difficulty comes with clearing a path for the new system in your engine bay. While we wouldn't recommend removing and reevaluating items within the bay if you're not mechanically adept, the process is rather simple in theory. Removing the airbox from your original system and attaching the new CAI will allow you to bypass the hefty foam filter box that came with your car. As with most items on this list, the CAI replacement is relatively affordable and requires little knowledge to achieve — but we still recommend taking your vehicle to a shop should you feel that the task is too overwhelming.
Injen SP Series Cold Air Intake
Why It Made The Cut
A dyno-proven CAI crafted from aerospace-grade aluminum billet.
Injen's SP Series CAI was engineered to optimize your vehicle's effective powerband and allows for better combustion through the induction of cooler air. These tailored, aerospace-grade T-6061 billet aluminum intakes force-feed rich oxygen into your engine's cylinders, improving combustion efficiency and corrosion resistance. They boast a clean and efficient design that's been dyno-proven to provide reliable gains in horsepower and responsiveness while on the road.
Average Horsepower Increase: N/A
Construction: T-6061 Aluminum Billet
Compatibility: Model Specific
K&N FIPK Cold Air Intake
Why It Made The Cut
A Fuel Injection Performance cold air intake kit with a rugged rotomolded HDPE construction. 
K&N is a well-known name within the air filtration and intake realm, and their FIPK (Fuel Injection Performance Kit) cold air intake is a great alternative to stock induction. The system is custom designed depending on the make and model of the vehicle, and features a Crosslink nylon intake tube that provides cooler air to your engine than a traditional metal tube found in most aftermarket offerings. While it varies depending on the vehicle and circumstantial inhibitors, the FIPK intake system boasts gains of up to 26 horsepower for certain platforms.
Average Horsepower Increase: 11
Construction: Rotomolded HDPE
Compatibility: Model Specific
The ECU is one of the most important aspects of your car — found in nearly every new model vehicle that's been released in the last two decades, the intelligent computer system helps to evaluate and regulate different operating systems within your automobile. Usually, these systems are implemented during the production process and arrive from the factory with preset parameters that control the fuel-air mixture in the engine, maximizing efficiency and power. The downside of these pre-programmed systems is that the manufacturer typically sets the ECU's parameters far and away from the engine's true capability as a safety precaution. A well-respected shop should be able to delve into your vehicle's system for a quick reprogram that can result in improved engine performance.
What It Takes
Aside from picking up a new ECU and diving headfirst into a painstaking process of replacing your current model, it's far easier to take your vehicle into a trusted tuning-oriented auto shop and speak to them about what it would take to reprogram your ECU. As with most upgraded products, this depends heavily on the make and model of your vehicle, as well as the parameters that have been set by the manufacturer to abide by the optimal operating range for your car. While this isn't a step that individuals outside of the car tuning community regularly pursue, it's entirely possible to "unlock" the ECU on your stock vehicle — but make sure to consult with an expert regarding the specific guidelines you should follow while doing so.
AEM Infinity 6 ECU
Why It Made The Cut
An affordable race-ready ECU offering incredible bang for your buck. 
The AEM Infinity 6 ECU was designed for the price-aware race track star, providing notable improvements such as high-performance airflow-based VE tuning for fuel injection control, Flex Fuel, knock control, ignition control, boost control, launch control, traction control, and engine protection facilities. These amenities help to simplify the tuning process and grant users advanced control over the vehicle's various systems, including fuel injection and ignition systems, resulting in personalized performance figures.
Maximum Cylinders: 8
Compatibility: Model Specific
Haltech Elite 2500 ECU
Why It Made The Cut
A programmable fuel-mapping unit compatible with everything from thumpers to V-12s. 
Haltech's Elite 2500 T allows users to personalize and fine-tune their vehicle into a well-performing machine — taking engine calibration to a whole new level. It features an environmentally sealed waterproof case alongside a drive by wire throttle control, intake and exhaust cam control, short-term and long-term map learning, and dual-channel knock control. The Haltech Elite also comes with the manufacturer's Elite Software Programmer (ESP), bringing users a higher level of functionality that supports cars that house anywhere from a single to a 12-cylinder engine.
Maximum Cylinders: 12
Compatibility: Model Specific
Exhaust System
An Audible Progression
Just like cold air intakes, exhaust systems are one of those mods that you never stop hearing about. While it's completely understandable to neglect the exhaust system on your current vehicle and dismiss an upgraded system entirely, it's worth noting that when a cold air intake is applied to a vehicle, it's a good idea to upgrade the current exhaust system, as well. Aside from the obvious resonance and sound enhancements that your vehicle will achieve through a new exhaust, it will allow your engine to run more efficiently. As a rule of thumb, vehicles usually report a 5% improvement in fuel economy following intake and exhaust upgrades — providing yet another minimal performance improvement that's relatively simple to achieve.
What It Takes
Exhaust upgrades can be split into two camps: fully realized systems that can be traced all the way up to the engine bay, and "bolt on" variants that serve no purpose other than aesthetic and audible improvements. While the bolt on systems do, in fact, create the illusion of a fully realized system, the vehicle's numerous "checkpoints" from the engine bay to the head of the exhaust will still be in play, meaning that any performance or gas mileage gains you're hoping to make will be negligible. In the long run, a fully realized system is the way to go, and in order to achieve this, you'll need to get your vehicle onto a set of blocks that will allow you to work underneath the car comfortably. If your chosen system utilizes a customized piping ecosystem that's tailored to your specific vehicle, it's as simple as tracing the old system, removing the exhaust at the head, and replacing it with the new aftermarket exhaust. Be warned, this process might involve some mechanically inclined skills such as welding proficiency, a general understanding of the way the system works, and a few other craftsman's traits. As with all the improvements we've recommended above — when in doubt, run your vehicle to the nearest auto or muffler shop that specializes in these sorts of things — a good mechanic will take anywhere from a few hours to a day to implement the new system, depending on the availability of parts.
Gibson Exhaust System
Why It Made The Cut
An American-made stainless performance exhaust made for a variety of different makes and models. 
Gibson's USA-made exhaust system provides dyno-proven increases in horsepower and torque and utilizes corrosion-resistant T304 stainless steel tips, SuperFlow straight-through mufflers, and hard-wearing 409L stainless steel for the ultimate in durable exhaust platforms. These systems are infamous for their resemblant tone to the throaty exhausts utilized in NASCAR and super truck applications, providing unrestricted airflow for those who are looking for a moderate increase in engine performance.
Construction: 409L & T304 Stainless Steel
Compatibility: Model Specific
MagnaFlow Exhaust System
Why It Made The Cut
A 409 stainless steel, full-exhaust system famous for its distinctive roar. 
MagnaFlow's numerous exhaust systems are built to acquire immediate horsepower and torque gains and feature a unique design that relieves back pressure, reduces engine heat, and improves exhaust scavenging for far greater efficiency. Built with a fast-flowing, restriction-free 409 stainless steel tubing, these systems feature a steel mesh core that ensures optimum temperature for exhaust movement, an acoustic-absorbing material that cuts down on unappealing audible notes, and overlapped welds that will keep your exhaust system in working condition for years to come.
Construction: 409 Stainless Steel
Compatibility: Model Specific
Bracing
Maintain Good Posture
Subframes are in-depth modifications of steel tubing and reinforcements that can be bolted or welded to the bottom of your chassis to increase rigidity — in turn, the handling and efficiency of your vehicles turning, sway, and movement are drastically increased. Alongside these notable improvements to the car's performance, these braces help to address the problem of body flex in high-stress applications such as tracking, drifting, high-torque launches, and various other racing-inspired mediums.
What It Takes
The science behind bracing is rather straightforward: reinforce the key points of your vehicle's subframe and body to improve performance and protect against a slew of tension-induced side effects. While it's easy for a mechanically inclined individual to bolt on/weld a variety of cross-body members, braces, and reinforcements onto the vehicle, there's no doubt that an expert who understands the design chemistry of the car would be the best to implement these measures. As a result, this enhancement is a little more time consuming, as many man-hours and labor fees will pile up depending on the amount (and complexity) of the reinforcement. Alongside these considerations, it's also worth noting that additional bracing will result in more weight — giving would-be recipients a value proposition regarding the current state of their vehicle. If you're looking for a way to reduce body flex and protect your vehicle's long-term health, bracing is the way to go — but be wary of the additional weight if you're worried about tracking/racing the car, after the fact.
DC Sports Upper Strut Bar
Why It Made The Cut
An affordable and easy-to-install upgrade to your car's stock framework. 
DC Sports has become a well-known name in the tuning industry, and their crossbody chassis braces have been featured on more customized vehicles than we can count. This dual bar strut brace is mounted in the front of your vehicle's engine bay and eliminates body flex from stressful driving. No modifications are required for implementation — and with a titanium-grey powder coat, this upper strut reinforcement will make your engine bay look a little more handsome than it did before.
Construction: Carbon Steel Or Stainless Steel
Compatibility: Model Specific
Stifflers Chassis Brace
Why It Made The Cut
A wide array of frame brace kits produced for different makes and models.
Stifflers' Chassis Brace provides vehicles with all the reinforcement that drivers are searching for, including more dependable control, a rigid frame presence, and full-length subframe connectors. The brace's powder coated black exterior ensures adequate protection from the elements and other unsavory things that the undercarriage of your vehicle is sure to endure, while top-of-the-line components give your chassis the longevity it craves.
Construction: Stainless Steel
Compatibility: Model Specific
https://www.densoproducts.com/denso-4504-pk20tt-platinum-tt-spark-plug
Spark plugs are one of the most affordable upgrades you can make to your vehicle, and while they don't improve overall performance in the way you'd expect from a high-end peripheral, it goes without saying that they're a vital part of your car's ecosystem. These power-laden plugs are an easy, affordable swap that can make all the difference when you're hoping to fire on all cylinders. After all, the better the quality of the spark, the better the combustion — and that means that your car's improved performance is sure to follow.
What It Takes
Upgrading the elements that ignite your engine's fuel-air mixture is almost deceptively easy. Everything you need to work on is fairly accessible, very few additional parts need to be removed, and it only requires a few basic and specialty tools that can all be purchased at any automotive store for very little. Alongside your vehicle's owner's manual, you'll need a spark plug socket, a wobble socket, a semi-flexible handle ratchet, and ideally a torque wrench. It also helps to have a spark plug boot puller tool to make this simple process even easier.
Denso PK20TT Platinum TT
Why It Made The Cut
An affordable twin-tip spark plug with platinum and titanium electrodes. 
Denso's PK20TT Platinum TT utilizes twin-tip technology that features an 11mm platinum center electrode and an 11mm titanium enhanced ground electrode that helps to improve your vehicle's fuel economy, provide better acceleration, and result in faster starts than most other single platinum plugs. They feature a purified alumina powder insulator that provides exceptional dielectric strength and thermal conductivity, giving the plugs above-average stability underneath the most stressful conditions.
Gap: 0.039″ (1.0mm)
Center Electrode: Platinum
Ground Electrode: Titanium
Longevity: 30,000 Miles
Autolite App104 Double Platinum
Why It Made The Cut
A high-end spark plug with a platinum-to-platinum firing mechanism.
Autolite's APP104 Double Platinum plugs feature a platinum-to-platinum firing mechanism which gets rid of gap erosion, reduces misfires, and allows the plug to achieve the highest level of durability. They work to optimize engine performance and provide a much higher fuel economy than stock plugs, alongside an OE design and full-platinum tips to promote reduced gap wear. A unique platinum ball welding process allows the plug to maintain a consistent point of contact for enhanced adhesion and prolonged durability.
Gap: 0.05" (1.3mm)
Center Electrode: Platinum
Ground Electrode: Platinum
Longevity: 100,000 Miles
Suspension System
A Well-Tuned Commute
Factory suspension is easily overlooked on most stock vehicles — after all, most consumers pass off the thought that their minimally-designed systems are built to accommodate a wide range of driving conditions and "meet the expectation" in all areas. This means that most suspension systems are not catered toward any specific thing and suffer throughout a wide range of applications that they weren't built for. If drivers are looking for a smooth, comfortable ride, stiffness and handling will often be negatively affected, and vice versa. To combat this, an improved aftermarket suspension system that's been custom-tailored to a specific driving style will remedy most adverse effects, but be sure to select a system that's most suitable for your needs.
What It Takes
Suspension systems are easy to understand on a foundational level, but with the introduction of more complex systems such as coilovers, full performance suspensions, and niche racing-spec offerings, it's become more commonplace to admit your vehicle to a specialist who undertakes suspension work on a professional level. While most mechanically inclined individuals can install a new adjustable coilover system within an afternoon (thanks to the help of a few good friends and some craft beers), it's recommended that you cut a full day out of your schedule (or up to 8 hours of your time) to install an independent system properly. Most suspension systems utilize a variety of components that must be fastened, compressed, and replaced, but require nothing outside of traditional automotive tools such as a torque wrench, sockets and adaptors, and a manual that outlines the steps to take for a complete installation.
KW Variant 3 Coilover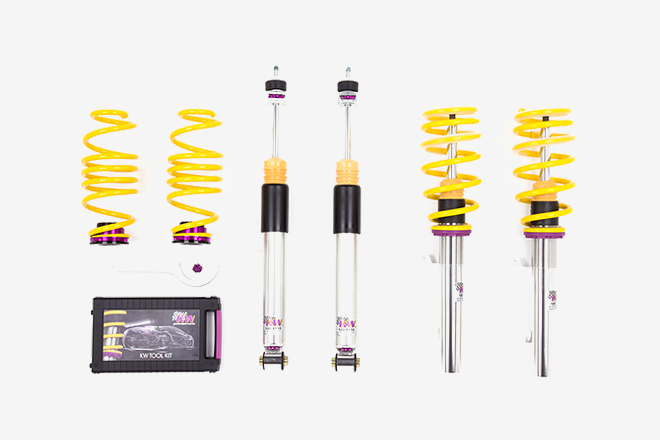 Why It Made The Cut
A race-bred, track-ready coil-over suspension package developed for use on the street.
KW's Variant 3 coilover provide drivers with a wide breadth of customizable suspension options, from customized lowering and enhanced rebound compensation, all the way to a composite spring seat and trapezoidal threading that ensure durable build quality under a variety of stresses. The Variant's dampener features "TVR-A" and "TVC-A" technology, allowing for adjustable rebound and compression to influence steering behavior, directional stability, and handling characteristics.
Adjustability: Rebound & Compression Damping
Compatibility: Model Specific
Bilstein EVO SE
Why It Made The Cut
A high-performance coil-over upgrade for sports cars with electronic suspension setups. 
Over the last few years, electronic suspension setups have become increasingly common on high-end sports cars. Recognizing this reality, the German suspension specialists at Bilstein have developed the state-of-the-art EVO SE street performance suspension package. Allowing the vehicle's ride height to be adjustable by up to 70mm, this electronic suspension upgrade uses a simple plug-and-play direct-fit installation process that makes adding them a breeze. In typical Bilstein fashion, these dampers deliver pheononmal handling and performance, having been extensively tested via both simulations and actual on-track testing.
Adjustability: Ride Height & Electronic Damping
Compatibility: Model Specific
Cutting Weight
Slimmed Down Silhouette
After countless hours looking at custom builds, tuned setups, and bespoke interiors, we're sure you've seen countless cars with stripped interiors and a single bucket seat. While that might be taking things a little too far for most conventional motorists, it's an undeniable fact that most race-oriented drivers want to shave as much weight as possible from their steel-steeds. That being said, there's a slew of plastic, metal, and composite parts throughout your vehicle that contribute to its overall weight. Getting rid of these is often the last resort when you're hoping to boost the performance of your vehicle.
What It Takes
Stripping the vehicle of unneeded weight is perhaps the most "destructive" option on the list — after careful consideration and a wide array of research, it's understandable that any additional seats, bulky plastics, floorboards, sound systems, and door panels can be tossed aside without any negative aspects regarding performance. All it takes is an afternoon of hard work, some common sockets, adaptors, screwdrivers, plastic-friendly pry tools from around the house, and a mindset of pure recklessness, and you'll find yourself a few pounds shy of your vehicle's original curb weight.
The Best Tuner-Friendly Cars Of All Time
Looking for a vehicle that lends itself to modifications and upgrades? Then be sure to check out our guide to the best tuner-friendly cars for a curated list of rides that are perfect for massaging.