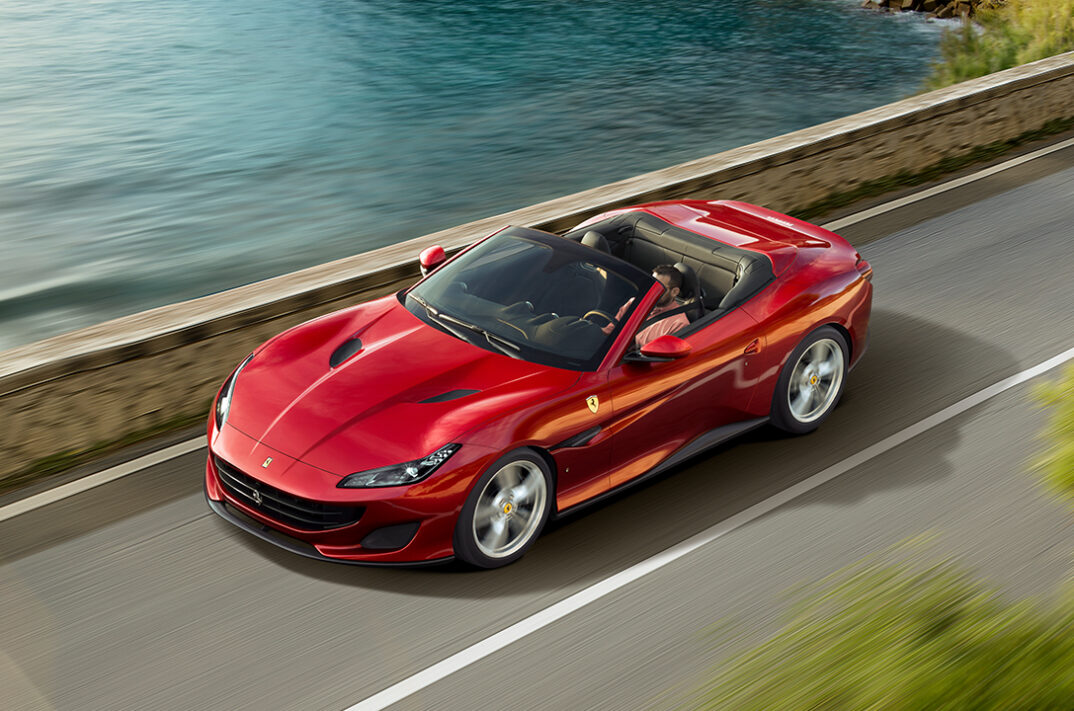 While we can appreciate winter driving for its uniqueness and inherent challenges, we greatly prefer the summer months when we can roll down the windows and let the wind blow through our hair. The warm weather just makes for a better, more connected driving experience. But if you really want to make the most of it, you're going to want to get something with a convertible top.
While not for everyone, convertible cars have been a staple of the automotive industry — especially amongst folks who live in coastal communities — for as long as cars have been a thing. In fact, many of the earliest cars were actually based on modified horse carriages and didn't even have tops. In a way, that means that convertibles are perhaps the oldest car sub-category in existence. Today, there are drop-tops in any number of styles from just about every major manufacturer presently in operation. Of course, some are better than others. We've rounded up the upper echelon of the bunch in the following 15-car collection. These are the best convertibles you can buy.
Jeep Wrangler
While not traditionally the type of vehicle that comes to mind when people think of "convertibles," the Jeep Wangler absolutely qualifies as one, because every single trim has a completely removable top. In fact, the doors are also removable and the windshield folds down — making this one of the best open-air SUVs of all time. On top of that, you also get all the benefits of an off-road 4×4. That includes all-wheel-drive, a high ground clearance, a rugged all-terrain suspension, a standard spare tire mounted on the rear, plenty of internal storage, and a whole lot more. And while the engine gets a respectable baseline horsepower rating of 270, it's also gotten an efficiency boost 35% better than previous iterations. That means this is a much more viable option for a daily driver than ever before. Jeep's Wrangler is a legendary SUV and it's also a killer convertible.
Horsepower: 270-285
Torque: 260-295
Ford Mustang GT Convertible
The Ford Mustang is legendary, as it almost single-handedly created the pony car vehicle class way back in 1962. And while the various hard top versions are certainly favorited across the automotive industry, they also offer versions of the car with a convertible top. That means you can blitz down the highway aboard an up to 460-horsepower 5.0L V8 steed with the sun shining down on your face and wind in your hair. Of course, the convertible version also gets all the other bits that make this a great car to begin with — including heated and cooled leather seats, smart app connectivity, detailed performance metrics accessible via the dash, optional Brembo brakes, selectable driving modes, and a good deal more. If you like drop-tops and pony cars, this is the best of both worlds.
Horsepower: 310-460
Torque: 320-420
Jaguar F-Type Convertible
Especially when you get into the higher-end trims, it is extremely clear that Jaguar's F-Type is one of the best sports cars currently on the road. As luck would have it, it's also one of the few offered in a convertible style at every trim level — which makes it an exceptional option for those seeking a drop top car. And that's to say nothing of the performance specs, which are a treat in themselves. For instance, the base-level trim gets 296 horsepower, while the high-end SVR trim gifts drivers a whopping 575 ponies. And while pure driving power is an enticing offer, the F-Type has another interesting value proposition: it's available in 4WD. That elevates it even further above other similar options, especially for those who know the value of an all-wheel-drive system in the colder parts of the year.
Horsepower: 296-575
Torque: 295-516
Porsche 911 Targa 4
For the better part of a century, the German automakers at Porsche have been building small, sporty performance vehicles that are beloved across every stretch of the automotive world. And while there are plenty of purists out there who will have you know they prefer hardtop versions, we're of the mind that their small style mates perfectly with a convertible top. What's even better about the Targa 4 and 4S is that Porsche has done away with the issue of putting an awkward plastic window with poor visibility a the back of the soft top, opting instead for a fixed glass rear windscreen. While that does mean less of the cab is open, it makes for a much more functional drive — especially if you're going to push these 911s to the limits of their 370-420-horsepower engines.
Horsepower: 370-420
Torque: 331-368
Mercedes-AMG GT Roadster
Mercedes-Benz actually offers quite a few drop-top options across their catalog of vehicles. But there's no denying the draw of their AMG performance in-house tuning division and the Mercedes-AMG GT Roadster. A gorgeously aggressive coupe, this soft-top convertible does 0-60 in only 3.9 seconds — courtesy of a 469-horsepower and 465 ft-lb of torque powerplant. Those numbers get boosted even further in the GT C edition — which has 550 ponies, 502 ft-lb of torque, and a 0-60 time of 3.6 seconds. Whichever of the two options you end up choosing, however, you'll also get loads of other standard features. That includes an 8.4″ touchscreen entertainment system, a beautifully-engineered body and frame designed specifically to save weight, and much much more.
Horsepower: 515-550
Torque: 465-502
Chevrolet Corvette ZR1 Convertible
When Chevrolet first announced the latest Corvette ZR1, it was accompanied by a caveat: it was to be the most expensive new Chevy ever made. But then they unveiled the convertible version, which promptly took that crown. Of course, that cost is as high as it is because this sleek supercar is loaded to the gills with superb performance figures and features. For starters, its monstrous 6.2L V8 supercharged engine is good for a whopping 755 horsepower and 715 foot-pounds of torque — giving it a top speed of 212 mph and a 0-60 time of 2.85 seconds, which is quick enough to send your eyeballs into the back of your skull. It also boats carbon fiber accents across the exterior (with a matching engine cover), comes with ceramic Brembo brakes, and it's equipped with Magnetic Selective Ride Control technology — which detects road conditions every millisecond to make on-the-spot adjustments. All told, this is the best Corvette ever made by any measure.
Horsepower: 755
Torque: 715
Maserati GranTurismo Convertible
Maserati's GranTurismo has a story that dates back more than 70 years — to 1947 when they released their A6 1500 GT Pininfarina. And their modern take is a direct descendant of that classic convertible, complete with Maserati's signature whale shark front grille opening. And while the exterior with its sleek lines and carbon fiber accents are certainly noteworthy, the star of the show is the racing-inspired V8 engine purring under the hood. That powerplant is good for a horsepower rating of 484 — perfect for hitting the highway at high speeds under the summer sun. When we say high speeds, it's important to note that this bad boy can do a whopping 177 miles per hour at full-throttle. Though we wouldn't suggest pushing the limit unless you're out on the racetrack.
Horsepower: 454
Torque: 384
BMW i8 Roadster
While there are a lot of excellent convertible cars on the road today, few of them are quite as unique as BMW's i8 Roadster. Not only does it have styling that looks like it came straight out of a sci-fi movie, but it houses one of the more unique power plants on the road. For reference, the i8 houses an in-house made 1.5-liter TwinPower Turbo 3-cylinder gas engine under the hood which works in conjunction with a plug-in AC Synchronous Electric Motor — making this a pure plug-in hybrid if there ever was one. What that means from a performance perspective is this bad boy can fully charge in just three hours, has a 0-60 time of 4.4 seconds (only 0.2 seconds slower than the hardtop), and has a combined horsepower rating of 369.
Horsepower: 369
Torque: 374
Audi R8 Spyder
It would be a bold claim to suggest that the Audi R8 is the best supercar on the road right now, but we'd definitely understand anyone who felt that way. After all, the sleek styling, Quattro all-wheel-drive system, two V10 engine options (which differ by 69bhp), and loads of other features make for a pretty incredible package. And it's helped by the fact that there's a drop-top Spyder trim, so you can let down your hair under blue skies if you so desire. Mate that to a 0-60 time of 3.5 seconds, a top speed of 198, and a surprisingly high 18 miles to the gallon and we're having a very hard time finding any faults in any version of the R8. It truly does put the "super" in "supercar."
Horsepower: 532-602
Torque: 398
Ferrari Portofino
Ferrari and their catalog of amazing automobiles are about as iconic as it gets in the car world. And while they've had a measure of drop-top options over the years, their hard-top Portofino convertible might just be the best they've ever produced. Named for the Italian town of the same name — the very place the car was officially unveiled — the Portofino is a magnificent grand tourer (a follow-up to the California) that hinges on a powerful 592 supercharged V8 engine under the hood (the same one from the famed GTC4Lusso sport wagon) and a weight-saving design. In fact, without sacrificing styling, performance, or comfort, the Italian marque managed to shave the weight down to 3,668 — an impressive 176 pounds less than its predecessor. While convertibles are definitely not for everyone, it's hard to imagine anyone turning down the chance to drive this one.
Horsepower: 592
Torque: 561
Bentley Continental GT Convertible
The new Continental GT was a revelation when Bentley first unveiled it — and the convertible version certainly stays true to that with unmistakeable Bentley styling, absurd levels of luxury accouterments, and a good measure of performance to tie it all together. Virtually the same in its design as its hardtop brethren, this soft-top convertible benefits from a low and wide stance, purposeful styling that helps seamlessly blend the interior and exterior when the top is down, a luxurious handcrafted cabin, and a minimum power output of 500 horsepower. That also means it can do 0-60 in 3.7 seconds and has a top speed of 207 mph. If you want a convertible that brilliantly blends luxury and sportiness, this might just be the one for you.
Horsepower: 500-700
Torque: 487-750
McLaren 600LT Spider
McLaren's 3.8-liter twin-turbo LT was built with the specific purpose of being exceedingly fast, light, and nimble. And they weren't about to compromise that just to add on a convertible top. So they didn't. In fact, according to the brand, they've only intensified their commitment to that end. Equipped with a hard top that can collapse into the body at the push of a button, this car is aggressively aerodynamic and insanely lightweight for a convertible. Equipped with a unique carbon fiber MonoCell II chassis that's so strong (despite its lightness) they didn't even have to tweak it for the drop-top version, this supercar can do 0-60 in a mind-boggling 2.8 seconds. And it's assisted by bespoke, track-focused Pirelli P ZERO Trofeo R tires — an unnecessary addition that helps to illustrate just how dedicated the British car brand is to making this car an exceptional vehicle from tip to tail.
Horsepower: 592
Torque: 457
Lamborghini Huracan Performante Spyder
There's nothing that can be said for the Lamborghini Huracan Performante Spyder that the car can't roar for itself with its absurdly-powerful 640-horsepower V10 powerplant. In fact, the drop-top version of this car is the most powerful of the entire Huracan family. And that makes it a very special vehicle. It also boasts a slew of new features — including Forged Composites material in its construction and the Raging Bull brand's new ALA (Lamborghini Active Aerodynamics) technology. Inside, drivers will also find that they can switch seamlessly between driving modes courtesy of the ANIMA (Adaptive Network Intelligence Management) selector system — an addition geared toward making getting behind the wheel of this vehicle a driving experience unlike any other. And that's really only the beginning.
Horsepower: 640
Torque: 443
Aston Martin Vanquish S Volante
While it's not a particularly British trait to be boastful, the folks at Aston Martin sure do have a lot to say about their Vanquish S Volante — and that pride should go a long way toward expressing to you just how impressive this car is. With a strong rigid frame, the entirety of the exterior of this car is made from aerospace-grade carbon fiber, giving it an impressive amount of rigidity without weighing it down. The marque also made sure to give the convertible version more power than the standard hardtop, making up for the heavier weight of the convertible mechanisms. All told, this version has 580 horsepower under the hood — a very quick sports car worthy of its legendary name.
Horsepower: 580
Torque: 465
Rolls-Royce Dawn
The pinnacle of luxury drop-tops, the Rolls-Royce Dawn is unparalleled even outside of the convertible category. Also called the Dawn Drophead Coupé, this magnificent vehicle has a jaw-dropping price, to be sure, but that comes along with some very impressive features that make the price tag seem almost too low. For starters, it houses a 563-horsepower V12 engine, which roars like a lion and gives it a 0-60 of 4.8 seconds. It also comes with the promise that the styling, especially when it comes to the interior, will be completely unique — as the brand makes each one completely bespoke with input from their individual customers. As another unique point, the Dawn also comes with an option for a cowling that transforms the four-seater into a two-seater seamlessly, as well as an all-black trim for a much more sinister appearance. There are a lot of arguments against this level of sheer indulgence — and we don't care about a single one of them.
Horsepower: 563
Torque: 605
10 Simple DIY Mods To Improve Your Car's Performance
While most folks are content with the specs their car comes with stock, there are others who try to juice every extra drop out they can. If you fall into the latter category, you'll want to check out our list of the best DIY mods to improve your car's performance.