These days, it's awfully hard to find a new car for under $20,000. Sure, they're out there, but what's available isn't terribly exciting. You're going to end up with an underpowered, economical eyesore that's "practical" and "smart." But you know what? It doesn't have to be this way. What if we told you that instead of spending you $20K on a boring new car, you could get a really sweet used sports car instead? You might ask us why we're speaking to you as if we're in a '90s action movie, but never mind that, because we've gathered up the 15 best affordable used sports cars that you can buy for under $20,000.
So, what is it, exactly, that constitutes a "sports car" in the context of this guide? For us, it's something with two doors, attractive styling, and performance-oriented parts and construction. Working within those parameters and our $20,000 budget, we've come up with a list that includes plenty of American muscle, a few Japanese legends, some German powerhouses, a British luxury GT, and even a Ferrari-powered Italian. Curious? We thought you might be, so have a look below at our guide to the best cheap used sports cars under $20,000.
Disclaimer: All used car prices shown reflect Kelley Blue Book values for "Good" condition cars purchased through a private seller and showing average mileage based on the model year.
1999 Mitsubishi 3000GT VR4
By far the cheapest option on our list — and the oldest — owning one of these will admittedly probably cause you a few headaches. But it will be worth it, as this is the forgotten member of the fab five Japanese supercars of the 1990s that also included the NSX, Supra, RX-7, and 300ZX. While maybe the least-heralded of the bunch, the 3000 GT was still an incredible car, filled with advanced technology like AWD and four-wheel steering to go along with its twin-turbocharged V6. The 1999 VR4 is also perhaps the best version to own, as it was the final and most radical iteration of the car, offering 320 ponies and an enormous "Combat Wing" rear spoiler.
Engine: Twin-Turbo 3.0L V6
Power: 320 Horsepower & 315 lb.-ft. of Torque
0-60: 4.8 Seconds
Price When New: $44,590+
2013 Jaguar XK
Jaguars are prohibitively expensive when new, but they are notorious for losing value — and quickly. The original owner's loss is your gain, however, as you can pick up a late-model iteration of the F-Type's predecessor for less than a quarter of what it cost brand new. The XK is a V8-powered mini grand tourer that boasts one of the finest-ever examples of Jag's eight-cylinder purr, with nearly 400 horses aching to escape from its 5.0L powerplant. It's also, lest you forget, a Jaguar, which means it's suitably appointed as a British luxury grand tourer should be.
Engine: 5.0L V8
Power: 385 Horsepower & 380 lb.-ft. of Torque
0-60: 5.2 Seconds
Price When New: $72,637+
2004 Chevy Corvette Z06
When you're talking Corvettes, there's always a sweet spot in price between "expensive because it's too old" and "expensive because it's too new," and that's where the C5 finds itself today. The fifth-generation 'Vettes are currently so affordable, in fact, that you can pick up a final-year model of the Z06 — the quickest-ever Corvette at the time of its release with 0-60 times just shy of 4 seconds — for under twenty grand. By 2004, Chevy was coaxing 405 ponies from the Z06's beastly LS6 5.7L V8 engine, and the car's performance still manages to impress today.
Engine: 5.7L V8
Power: 405 Horsepower & 405 lb.-ft. of Torque
0-60: 3.9 Seconds
Price When New: $52,185+
2014 Dodge Challenger SRT8
If it's pure American muscle you're after, then not even Corvette can match the Challenger in terms of raw power. Dodge has cranked out some ridiculously powerful monsters over the past few years, like the Hellcat and Demon, and the SRT8 isn't far behind. With a massive 392 HEMI V8 living under its intake-adorned hood, the SRT8 leads our list with 470 horsepower. This is a big car, and you're not going to be carving corners in it like some of the other options in this guide. But for pure straight-line thrills, this is about as good as it gets.
Engine: 6.4L V8
Power: 470 Horsepower & 470 lb.-ft. of Torque
0-60: 4.8 Seconds
Price When New: $44,195+
2016 Chevy Camaro LT
One of three in America's current stable of pony cars alongside the Challenger and the Ford Mustang, the Camaro sometimes gets lost in the shuffle with its more popular competitors — not to mention its big brother, the Corvette. But modern Camaros are still fast cars, and you can get a current-gen version for a lot less than you'd think. This five-year-old Chevy looks basically the same as the ones currently sitting unsold in Chevy's showrooms, and while you're not getting a 2016 V8 for this price, the LT's impressive V6 will make you forget all about eight cylinders thanks to its strong exhaust note and quick acceleration.
Engine: 3.6L V6
Power: 335 Horsepower & 284 lb.-ft. of Torque
0-60: 5.1 Seconds
Price When New: $28,200+
2007 Honda S2000
Why doesn't Honda make more sports cars? Just as the original NSX brought Ferrari to shame in the early '90s, the S2000 showed the Europeans what a roadster was truly capable of a decade later. The legendary ragtop, which was only ever offered with a manual transmission, was notable for a number of reasons. Its engine was pure magic, producing more horsepower-per-liter than any mass-produced naturally-aspirated car up to that point, with over 230 hp coming from a 2.0L inline-four engine in the original incarnation. Its handling, high revs, and smooth power delivery were all the cream of the crop, and picking up one of these now for under twenty-grand would be a very smart investment.
Engine: 2.2L I4
Power: 237 Horsepower & 162 lb.-ft. of Torque
0-60: 6.2 Seconds
Price When New: $34,845+
2014 Ford Mustang GT Coupe
The last member of our pony car/muscle car crew also happens to be the most legendary. The Mustang has been a symbol of American sports cars since 1964, and the cars of the last decade have been some of the best Ford's ever offered. By the final year of the fifth-gen 'Stang GT, you were looking at one solid all-around sports car — not just a pony car. Modern amenities and styling like LED headlights came standard, the handling was notably better than the competition, and its 5.0L Coyote V8 engine cranked out 420 ponies.
Engine: 5.0L V8
Power: 420 Horsepower & 390 lb.-ft. of Torque
0-60: 4.7 Seconds
Price When New: $31,500+
2013 Mercedes-Benz SLK55 AMG
Raise your hand if you thought you could get an AMG-powered Mercedes convertible that was produced in the last decade for under $20K. OK, there should be zero hands up. This is an insane car, and it can be had for an insane bargain. The 2013 SLK55 AMG is a folding hardtop convertible that can do 0 to 60 in 4.2 seconds. We realize that 0 to 60 times in the 2-3 second range have become common over the last few years, but 4.2 is still crazy quick. Especially for a mechanical hardtop roadster with loads of modern luxury amenities that will make you forget how absurdly fast this thing is.
Engine: 5.5L V8
Power: 415 Horsepower & 398 lb.-ft. of Torque
0-60: 4.2 Seconds
Price When New: $67,990+
2015 Audi TT Roadster
Did someone say convertible? Well, get used to it, because we've entered the drop-top portion of our guide. A longtime competitor to the SLK, the current generation of fellow German marque Audi's TT may lack the brutal power and track-ready performance of the AMG, but it makes up for it with its luxurious ride, smart and futuristic ergonomic interior, and sleek styling. And while it's more suited to cruising than bruising, the TT Roadster is still a sports car at the end of the day, with a turbocharged straight-four making over 200 horsepower, standard AWD, and a six-speed auto-manual dual-clutch transmission.
Engine: Turbocharged 2.0L I4
Power: 211 Horsepower & 258 lb.-ft. of Torque
0-60: 5.3 Seconds
Price When New: $40,350+
2017 MAZDA MX-5 Miata RF
The Miata is the best-selling roadster of all time, with Mazda selling over a million of the little two-seaters since the first one rolled out of the factory in 1989. And while Miatas have never been terribly fast, they have always been extremely fun. The current-gen version is the best ever, with the "Retractable Fastback" version being especially desirable thanks to its combination of hardtop styling and open-air capabilities. It's still the closest modern car you can get to a mid-century British roadster, but these days it's even knocking on the door of being a luxury car, too.
Engine: 2.0L I4
Power: 155 Horsepower & 148 lb.-ft. of Torque
0-60: 6.4 Seconds
Price When New: $32,390+
2013 BMW Z4 sDrive35is
Going back to the '90s James Bond car known as the Z3, BMW's Z roadsters have always displayed an admirable combination of luxury, styling, and performance — especially once the Z3 received 3.0L straight-six engines as an option. That tradition not only continued but was improved upon with the second-gen Z4, and you can pick up a very modern post-facelift version in the top-level trim within our intended price range. A luxury hardtop convertible, this Z cranks out 335 horses from its bulletproof and legendarily smooth turbocharged 3.0L inline-six engine.
Engine: Turbocharged 3.0L I6
Power: 335 Horsepower & 332 lb.-ft. of Torque
0-60: 4.5 Seconds
Price When New: $64,200+
2009 Porsche Cayman
Your eyes do not deceive you: you can get a fairly modern Porsche for less than the price of a new Corolla. Though the Cayman doesn't have a very long history — the first one debuted in 2005 — this coupe version of the Boxster (that also happens to be lighter, better-handling, and more powerful) is already a legendary sports car. You're getting exotic styling, a chassis that stays glued to the road, and iconic Porsche performance thanks to a mid-mounted 2.9-liter flat-six boxer engine making 265 hp and 221 lb.-ft. of torque. Now, doesn't that sound better than a sensible Toyota compact sedan?
Engine: 2.9L I6
Power: 265 Horsepower & 221 lb.-ft. of Torque
0-60: 5.1 Seconds
Price When New: $50,300+
2008 Maserati GranTurismo
In case Porsche isn't quite exotic enough for you, then how about a Ferrari? OK, you're not getting a Ferrari for under twenty-grand — like, ever — but you can get a Ferrari engine for that price. That's because the powerplant of this fellow Italian resident was co-developed with Ferrari back when the Prancing Horse still owned Maserati. The engine in question, the F136, is a V8 screamer that can also be found under the hoods of the Ferrari F430, California, and 458. The version you'll get in this Maserati is a 4.2L example that makes 405 horsepower along with some very beautiful music.
Engine: 4.2L V8
Power: 405 Horsepower & 339 lb.-ft. of Torque
0-60: 5.1 Seconds
Price When New: $114,650+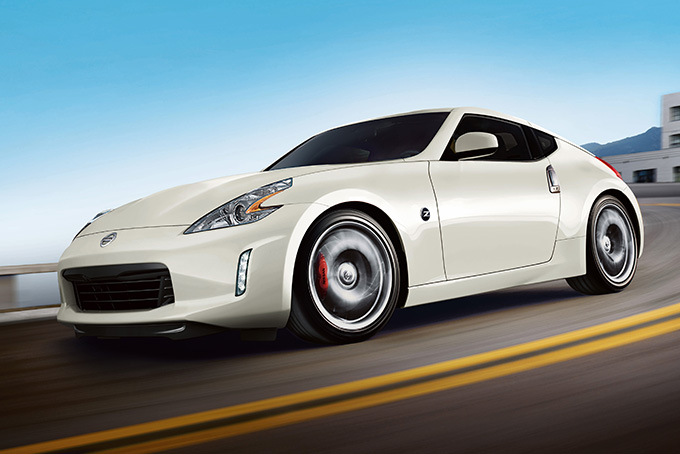 2016 Nissan 370Z
Nissan is unveiling their long-awaited seventh-generation Z Car in 2021, but until that day comes, the long-lived 370Z remains the current representative in the Japanese marque's iconic sports car line. That means that, for the time being, picking up a 2016 model is basically the same thing as buying the latest and greatest Z Car. And while the 370Z was already getting long in the tooth five years ago, it's still a great option for a sports car, with 0-60 times in the five-second range, a 332 hp 3.7L V6, and bucketloads of sporting heritage.
Engine: 3.7L V6
Power: 332 Horsepower & 270 lb.-ft. of Torque
0-60: 5.1 Seconds
Price When New: $29,990+
2018 Toyota 86
Considering that a new 2020 86 starts at over 27 grand, this is quite the bargain for a car that's just two years older. Attractive sports car styling, a 200+ hp four-cylinder engine, an available six-speed manual transmission, drift-ready handling, and a rear-wheel-drive layout make the 86 a decidedly fun and old-fashioned blast to drive — which is probably why they're such popular driver's cars. But they're also practical as a daily driver, with trademark Toyota dependability and decent fuel economy. And if you're not a fan of Toyota for some reason? Well, you can always pick up a practically identical Subaru BRZ for about the same price.
Engine: 2.0L I4
Power: 205 Horsepower & 156 lb.-ft. of Torque
0-60: 6.9 Seconds
Price When New: $27,000+
The 15 Best Affordable Used Luxury Cars
Are you at a point in your life where a luxury car sounds more appealing to you than a sports car? If so, we feel your pain, as luxury cars can be even more expensive than sports cars. So, as with their sporting brethren, we recommend buying used when looking for your plush cruiser. And there's no better place to begin your search than our guide to the best affordable used luxury cars.