We've heard it said a number of times that the best off-road vehicle is the one you own. Of course, in an ideal situation, you'll be able to get behind the wheel of your dream 4×4 and take it on some epic adventures. For us, a "dream 4×4" often means something with a bit of style — found abundantly in SUVs and trucks of the past but not so much with modern offerings.
That being said, picking out the best classic off-roader isn't as simple as going to a manufacturer's website and picking out an off-road-ready trim, as they're no longer in production in a traditional sense. As such, that means you'll have to do a bit of research to make sure the four-wheeler of your choice is capable of handling the trails you hope to embark upon. But that's why we're here. We've rounded up the world's best classic off-roaders of all time. Whether you're on the hunt for a retro SUV or you just want to learn a bit of history regarding the sport utility craze and the automotive industry, you'll find the answers here.
Chevrolet Blazer K5
1969-1972
Although Chevy was late to the 4×4 SUV party — having been beaten to the punch by the likes of Ford's Bronco, the International Harvester Scout, and Jeep Cherokee — the K5 was almost immediately a hit amongst off-roading fanatics. This is in part because it was only offered in a 4×4 configuration, meaning every trim level was made for all-terrain adventures, but also because it was the largest of the bunch — offering comfortable seating for up to five full-grown adults. Like much its competition, it also came with a removable hardtop that could turn it into an open-air vehicle with very little fuss, allowing drivers a bit more connectedness to the outdoors they were trying to enjoy. Though the first generation had a relatively short production span of just five years, it is still a huge favorite amongst classic car enthusiasts around the world.
Dodge Power Wagon First Series
1945-1950
One of the oldest civilian pickup trucks built specifically with off-road driving in mind, the Dodge Power Wagon is an all-terrain legend if there ever was one. Not only did it feature a ruggedized chassis that was built to handle sand, water, mud, snow, and more, but the First Series also came standard with its own front-end winch — meaning they could actually save themselves in the off chance that they ever got stuck. On top of its legendary off-road capabilities, the Power Wagon is also a direct descendant of the military trucks Dodge built during WWII to act as command vehicles, ambulances, and ordinance haulers. With 94 horsepower, they weren't speed demons, but they made up for it with an impressive (at the time) 195 foot-pounds of torque.
Ford Bronco First Generation
1965-1977
Few vehicles in the history of the automotive industry have had the staying power of the first generation Ford Bronco. With a production run that lasted twelve years, this 4×4 SUV is still in high demand today, with restored and beefed-up examples selling for hundreds of thousands of dollars depending on their condition. Of course, the Ford Bronco was also an immediate hit when it came out — despite the fact that the industry had already produced a number of similar vehicles. That list includes both the Chevy Blazer and the International Scout, amongst others. Fairly simple and straightforward, this 4×4 boasted full-time four-wheel-drive, an easy-to-remove fiberglass top for open-air driving, and a solid and reliable suspension system ideal for all-terrain driving. It's also worth noting that, while the initial release came only with a 105-horsepower engine, a much beefier 200-horsepower V8 option was introduced shortly thereafter.
Ford Ranger Second Generation
1993-1997
While the first generation Ford Ranger was certainly a noteworthy vehicle, it would be the second generation's far more svelte, individualized body redesign of 1992 that would vault this compact pickup into the realm of the legendary. It's not that the first generation was bad, per se, it just didn't really have its own identity — with styling that borrowed heavily from its larger F-100 and F-150 brethren. The second-gen Ranger was so successful, in fact, that it was rebadged and sold by Mazda (as the B-Series) as well as Ford. Remarkable for its overall reliability, this small workman's truck had a production run of over seven million units — a huge number by any measure. Although it is worth noting that, while the Ranger was offered with the option of 4WD, it also came in a cheaper and less-capable 2WD version. Still, when it comes to the off-road-ready version, the Ranger is still spoken about highly amongst those in the know to this day.
Based on the M998 Humvee — which was originally a strictly military-only vehicle — the Hummer H1 was one of the largest and most-capable stock off-road SUVs of its time. The first street-legal civilian version was also famously purchased by none other than the Terminator himself, Arnold Schwarzenegger. Over the course of its production, five different engines were included as stock options, none of which were smaller than a 5.7L V8 —  the other four options were all over the 6.0L mark. And while having some seriously burly powertrains definitely made these vehicles formidable on and off the road, they also had a number of other features that upped the ante even further. They include inherent stability (thank to their extremely wide stance), the ability to ford waters up to 30 inches deep, the ability to climb steps of up to 22 inches in height, and a good deal more. While production of these vehicles ceased in 2006 — making way for two widely-panned subsequent generations — many H1s are still road-worthy, including those being restored and updated by various aftermarket customizers.
International Harvester Scout 80
1960-1965
Widely considered one of the progenitors of the sport utility vehicle category, the International Harvester Scout was built specifically to rival the likes of Jeep's CJ lineup of 4x4s. And while it is often compared to Ford's Bronco, due largely to their similarly-boxy styling, the Scout actually predates the Bronco by a number of years. In fact, it went into development as far back as 1958, at which time the folks behind it claimed they wanted to create a motor vehicle that could completely replace horses. Of course, despite their utilitarian purpose, they were also imbued with quite a few creature comforts not found in their competitors — like sliding side windows, vacuum windshield wipers, and a comparably comfortable interior. While they were only produced for five years, they've seen a resurgence as of late, with many a customizer turning to this iconic American SUV as the base for their classic 4×4 restoration projects.
The first mass-produced civilian version of probably the most legendary American 4×4 vehicle of all time, the Willys Jeep CJ-2A was largely the same as its military counterparts — offering very little in the way of comforts with a heavy focus on capability, instead. Where they did differ, however, was in that the civilian version came with a rear tailgate, a side-mounted spare tire, and bigger, bulgier headlights. Still, the CJ-2A was built with utility in mind, especially for use in farming practices — meaning it came standard with only a driver's seat and driver's side view mirror but was offered with the option to upgrade it with passenger seating, a simple canvas top, and a good deal more. The legendary design language of the CJ-2A would go on to define much of Jeep's business, with styling cues borrowed from the CJ series that are used up to this day — especially in regards to the Wrangler SUV and all its permutations (including the new Gladiator pickup truck). About as no-fuss as they come, the CJ-2A would set the pace for utility trucks and off-roaders alike for years and years to come.
Jeep, in turning their mil-spec 4WD vehicles into civilian road-goers, found quite a bit of success. But, as time went by, they needed to keep their lineup fresh. So, in the early '60s, they introduced a pair of vehicles that were a bit closer to the luxury end of the spectrum than their spartan predecessors. Built on the same body-on-frame platform, these vehicles were called the Wagoneer and the Gladiator. The Gladiator differed from the Wagoneer in that it featured a pickup-style bed with a smaller cab, suitable for seating 1-3 people. Apart from that, the vehicles were largely the same. Originally, all Gladiator pickups came with standard four-wheel-drive. However, an RWD option was introduced shortly thereafter as a cost-saving option — though their production was later ceased due to poor sales. These vehicles were also the first of their kind in the industry to feature an automatic transmission and also came in a number of trims — mostly with different wheelbase lengths, but there were also options like trading in the standard pickup bed for a camper top. Jeep has recently announced a revival of the Gladiator name. It's worth noting, however, that this new version is actually based on the Wrangler, rather than the now-defunct Wagoneer.
After the success of their military-vehicles-turned-civilian-workhorses, Jeep looked to expand its range with offerings that were a bit more comfortable. That resulted in the production of their first luxury 4×4, the Wagoneer. Originally intended as a replacement for the Willys Jeep Station Wagon — another legendary offering in its own right — the Wagoneer was an improvement in many ways, especially in regards to off-road capabilities. This is because the Wagoneer, with its standard 4×4 drivetrain, had a significantly better standard ground clearance that paired beautifully with its burlier, up-to-date engine. When compared to other, similar offerings from around the car industry, the Wagoneer stood apart, as it offered much of the same capabilities, but was vastly superior in regards to passenger comforts. What's especially interesting about the Wagoneer is that, while its initial run was produced by Jeep, it was later built by American Motors and then swapped again to Chrysler — ending its long production run in the early 1990s.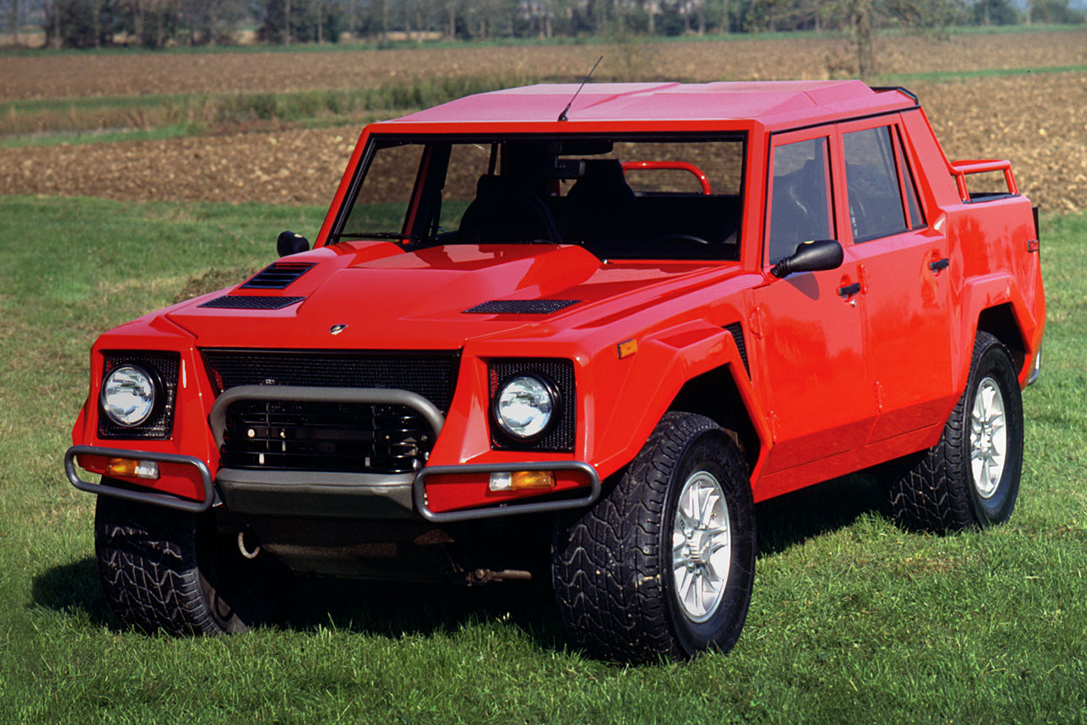 Lamborghini LM002
1986-1993
Clearly most well-known for building over-the-top luxury supercars, Lamborghini less-famously also created a line of military-ready SUVs. Based on two prototype vehicles called the LM001 and Cheetah, the LM002 was the first of these SUVs to actually go into production, starting in the late 1980s. Interestingly, despite its similar styling, the LM002 was actually a completely unique build that swapped its predecessor's rear-mounted V8 engine for a front-mounted V12 — the same one found in the Countach. Playfully dubbed the Rambo-Lambo, the LM002 — while featuring an all-wheel-drive system and a good amount of ground clearance for off-road activities — was a different beast entirely on the inside. You see, this was not a spartan 4×4 by any stretch, coming standard with a wide array of luxury features that ranged from high-end leather upholstery to a premium stereo and everything in between. The real kicker, however, was that (with a special order) this beastly luxury SUV could be equipped with a monstrous 7.2L marine V12 — the kind found in powerboats.
Land Rover Defender 110
1983-2015
Depending upon who you ask, there are two off-roaders that stand head-and-shoulders above the rest when it comes to how legendary they are: the Jeep CJ and the Land Rover Defender. Though they have seen similar applications throughout their production history, they also have vastly different individual stories. To clarify, the Defender name was applied to this vehicle class starting in 1983, but its history dates back a good deal further — to 1947 when the Series I Land Rover was first conceived in the aftermath of WWII. Made specifically to meet agricultural and utilitarian needs, the vehicle would see two subsequent generations (with a number of different trims) produced before the vehicle took on the Defender name. The first British 4×4 bearing the Defender name would be the 110 — named for the length of its wheelbase — boasting a more durable and off-road-friendly coil spring suspension not found in previous iterations. It was this generation that also saw more focus on interior comfort, putting the future of the company on a path toward luxury SUVs that brilliantly balanced comfort and capability. And, although production ceased in 2015, the Defender is set to see a return in the next year or so — a huge boon for fans of the range everywhere.
Mercedes-Benz G-Class 250GD 'Wolf'
1979-1994
Although the Mercedes-Benz G-Class SUV is a German automobile through and through, it came into existence at the behest of the Shah of Iran — a significant shareholder at the time. Originally designed for military use, the 250GD saw its first civilian version unveiled in 1979. It was so successful in that initial release, it was rebadged as a Peugot P4 for the French market — albeit with a Peugeot powerplant under the hood. Known colloquially and referred to lovingly as the "Wolf," the 250GD version of the 4×4 off-roader would quickly become one of the pillars of Mercedes-Benz's business, spawning an entire range of SUVs that are still produced to this day. In fact, the G-Class just recently saw a new redesign for the coming years. What's even more impressive is that, while the line was officially renamed the G-Class in 1994, the vehicles produced to this day are still very much in line with what Mercedes-Benz first set out to do with the original run of military 4x4s, granted with a good deal more luxury built-right-in. Of course, if you still want that retro flair, there are a number of customizers that specialize in renovating and revamping the 250GD for modern use.
Nissan Patrol Y60
1987-1997
Much to the chagrin of off-road enthusiasts and fans of Japanese automobiles, the Nissan Patrol wasn't available in the United States until 2016 — when it was rebadged and modified to be sold as the Armada, a version not exactly held in high-esteem compared to many of its historical brethren. In spite of its availability (or lack thereof), there's no arguing that the Y60 — sold from the late 1980s to the late 1990s — was likely the best to emerge from the line and remains a fan favorite to this day. This is due largely to the fact that the Nissan Patrol Y60 was the first in the range to be offered with a coil sprung suspension — a huge departure from versions that came before it. The Y60 was also fitted with sway bars at the front and back to increase stability, power steering for easier maneuvering, and upgraded brakes. Perhaps the most interesting tidbit of information about this particular model is that, from 1988 to 1994, it was sold in Australia as the Ford Maverick — not to be confused with the compact car of the same name that was sold in North America and Brazil in the 1970s.
Range Rover Classic
1970-1996
While Land Rover's first vehicles were utilitarian 4x4s used for agricultural and exploratory endeavors, by the 1960s there had been a burgeoning trend of manufacturers developing more city-friendly off-roaders that could function both as adventure vehicles and also daily drivers. Almost as a reactionary measure, the brand decided that it was time to produce their own. Thus, the Range Rover was born. Interestingly, while it was designed to be a more urban vehicle, it was still one of the most capable off-roaders of its time. In fact, compared to many modern SUVs (especially smaller crossovers and those with two-wheel-drive), the Range Rover Classic is still worlds apart. Initially, this SUV was only offered in a two-door version, but a four-door was introduced in 1981. The more family-friendly four-door eventually began to outsell the original two-door, leading to the discontinuing of the two-door version in 1994. Now, following the discontinuation of the Defender, the Range Rover Classic's descendants stand alone under the Land Rover umbrella. Although that's set to chance when the Defender is reintroduced for 2020. Still, the Range Rover is proof that a stylish, city-ready luxury SUV can also be plenty capable when it comes to off-road endeavors.
Suzuki Jimny SJ20
1977-1981
One of the smallest vehicle on our list, the Jimny — not to be confused with the inferior GMC Jimmy — was Suzuki's first global success story. Originally developed by the Hope Motor Company of Japan back in 1967, it was powered by a Mitsubishi two-stroke engine. While not very powerful, this compact 4×4 was still plenty capable. It's most noteworthy edition has to be the SJ20, however. Interestingly, the SJ20 is also the final version of the first generation Jimny and had a much more powerful four-stroke engine. "Powerful" is, of course, subjective in this case, as that engine was only capable of producing about 41 horsepower. Still, with the size of the Jimny taken into account, it was plenty enough to make for tons of fun both on and off the road. The SJ20 was also a significant improvement from its brethren in regards to comfort and it was the first-ever offered with actual metal doors. They even produced a compact pickup version called the Stockman for the Australian market. While it was retired in 1981, the SJ20 is still heralded as one of the best classic off-roaders ever built.
Toyota 4Runner Third Generation
1996-2002
Originally created as an SUV alternative version of Toyota's Hilux pickup truck, the 4Runner wouldn't take on a life of its own until a significant redesign for the 1996 production year. The 3rd generation 4Runner would boast a completely redesigned body, an all-new chassis (the same one found in the Land Cruiser Prado that evolved from the J70), and a number of luxury features that would help elevate the 4Runner out of the realm of simple utility and into something greater than it had ever been. The upgrades for this generation were extensive — including a longer wheelbase, more interior space (both for seating and storage), ABS, coil sprung all-around suspension, rack and pinion steering, and a good deal more. As the years went by, additional off-road upgrades would be introduced, making each subsequent year model a bit better than the previous. Long story short, it should come as no surprise that, even to this day, the third generation 4Runner is considered one of the best off-roaders ever built.
Toyota Land Cruiser FJ40
1960-1984
Known as the J40, FJ40, or simply Land Cruiser, this Toyota 4×4 is actually a Japanese-built version of the Willys Jeep used during WWII. And that makes a lot of sense if you look at their styling side-by-side. Of course, while the initial versions of Toyota's FJ40 were nearly identical to the Jeep CJ, they didn't stay that way for long. This is because the folks who were building it saw room for significant improvement. Widely considered the best Land Cruiser ever to be built — and with an insanely long production run of 24 years — the FJ40 was a body-on-frame SUV with slightly larger dimensions than the Jeep CJ and came with the option for a hard or soft top, gasoline or diesel power plants, low-range gearing for better torque response, and more. Within five years, global production would surpass 50,000 units and make the FJ40 Toyota's best-selling vehicle in the United States. In another three years, that number would jump to over 100,000. And the numbers would keep climbing and climbing. While production has since ceased, so many were built that finding ones still in driveable condition, either thanks to sound storage practices or restorations, is a fairly simple prospect.
Toyota Pickup Truck Third Generation
1978-1983
What would eventually come to be known as the Tacoma, Toyota didn't actually have a designation (at least in the United States) for their first pickup truck. Known simply as the Toyota Pickup or Toyota Truck, it wouldn't be until the third generation that U.S. markets would see a 4WD version — a mechanical addition that would alter the path of this pickup forever, allowing it to compete in off-road venues and making for one of the most legendary bedded vehicles in the entire automotive industry. For reference, the Toyota Pickup Truck — now the Tacoma — is known as the Hilux elsewhere around the world. If that name sounds familiar to you, it's probably because the Hilux is legendary for its reliability and durability. In fact, on Top Gear, they put one on the roof of a building and demolished it, let it be submerged in the ocean off the British coast, and it still started afterward with a turn of the key. We're not saying that the Toyota Pickup Truck is indestructible, but it's pretty damn close.