Crushing cross-country terrain in a well equipped 4×4 is a sensation everyone should have the opportunity to experience. Getting off the beaten path in an adventure vehicle is a freeing feeling that connects a driver to terra firma in a way rivaled by few aspects of life. Rolling off the lot in a vehicle that is qualified to rumble deep off the grid is easier than ever. With practically every major brand offering a truck or SUV dressed to destroy the dirt, there is a plethora of shapes and sizes that will satisfy city dwellers to hardened dirt bags. Even those with no off-highway understanding are able to hop head first into the four wheel drive lifestyle, with the only limit being the size of their wallet. This list includes our top choices of 4×4 off-road vehicles that can be purchased from your local dealership today and ripped down the trail tomorrow.
The Best Off-Road Trucks & SUVs
Most Affordable Pick

Chevrolet Colorado ZR2

Best Mid-Size Pick

Toyota Tacoma TRD Pro

Best Full-Size Pick

Ford F-150 Raptor

Best High-Performance Pick

RAM 1500 TRX

Best EV Pick

Rivian R1T Quad Motor

Best Upgradable Pick

Jeep Wrangler Rubicon 392

Most Off-Road-Capable Pick

Munro Vehicles M280

Best Upgrade Kit

Hennessey Bronco VelociRaptor 500

Best Luxury Pick

Mercedes-AMG G63 SUV
What Should I Look For When Shopping For An Off-Road Truck Or SUV?
Though there are admittedly dozens and dozens of factors that one can take into account when shopping for an off-road-ready pickup or sport utility vehicle, there exists a shortlist of elements that trump all others in terms of importance — pivotal factors that we'll be breaking down directly below in this mini guide on what to look for when shopping.
Powertrain: No one single factor impacts the overall performance and driving experience of a truck or SUV more than the powertrain — making this a wildly important factor to consider when shopping. When reviewing a truck or SUV's powertrain, you'll want to look at the engine's size, number of cylinders, layout, whether it uses any type of hybrid drive system, and whether it's naturally aspirated or features a forced induction system like a turbo or supercharger. You'll also want to review the type of transmission that comes mated to the engine. When looking at fully electric models, you'll want to consider the number of motors, the power rating of those motors, and the battery pack that said motor or motors draws from.
Power Figures: To provide a much better and more objective sense of a powertrain's potency and performance, manufacturers cite horsepower and torque figures. These figures don't only provide some insight into how the vehicle will generally perform, but it will also directly impact factors such as acceleration, top speed, and the vehicle's ability to climb a grade or tow objects behind it.
Go-Anywhere Capabilities: Another hugely important area to look at when buying an off-road-ready truck or SUV is the vehicle's go-anywhere and off-roading capabilities. This includes factors such as suspension travel, ground clearance, wading depths, and approach, break-over, and departure angles — all of which should be closely reviewed when shopping, as these metrics will directly correlate with the vehicle's ability to tackle obstacles and generally perform off-road.
Running Gear: A huge part of a pickup or SUV's off-roading abilities are directly owed to the type of suspension setup being utilized — making this another massively important area to consider when shopping.
Off-Road Elements: As vehicles — or at least trim levels — that are designed specifically for off-roading, a great many of today's latest and greatest turnkey go-anywhere machines come outfitted with a host of factory-installed off-roading bits such as snorkels, steel bumpers, winches, skid plates, and flared fenders, just to name a few.
Upgradability: While some models come outfitted with numerous off-road components, buyers do always have the option of opting to custom-select their own aftermarket upgrades. While aftermarket upgrades exist for just about every vehicle currently in production, it's worth pointing out that the newest generations and models will have far fewer aftermarket options compared to more longstanding models.
Seating & Storage: Just like when shopping for a regular pickup or sport utility vehicle, you'll always want to examine the number of seats in a vehicle, and the amount of storage space it offers, as these factors are massively important when it comes to storing overloading and camping gear needed for extended journeys into off-grid territory.
Towing & Hauling Capabilities: While a truck's towing and payload capacities are normally of monumental importance when looking at a pickup, this element matters substantially less when dealing with off-road-specific pickups or SUVs — that is unless you plan on hauling an off-road trailer or installing a camper shell, in which case this is definitely an area that should be closely reviewed.
Driving Characteristics: How an SUV or pickup truck actually handles and drives is another area that will play a monumental role in the vehicle's overall user experience. While it can be difficult to get a sense off this area simply from reading specs and looking at photos, the best way to review this area is to simply go to your local dealership and actually test drive any model that you're considering.
Chevrolet Colorado ZR2
Why It Made The Cut
A mid-size model offering a great mix of workhorse, go-anywhere capabilities, and bang for your buck. 
Most Affordable Pick: Being an all around performer can be tough in this segment as some off-road necessary modifications inevitably sacrifice ride quality or the vehicles practicality in some way. GM has been producing trucks for over a century, giving them wealth of experience in what makes a great rig, both on-road and off. The Chevrolet Colorado ZR2 is the complete package of an off-road 4×4 that can tackle any trail or terrain, while still being a top performer on the pavement. Being a ZR-spec model begets many great things for the Colorado, beginning with Multimatic Dynamic Suspensions Spool Valve shocks, technology that trickled down from the Corvette and Camaro.
It doesn't end there, however, — not even close — as the ZR2-spec Colorado also features a 3" factory-installed lift kit, 17" wheels that come wrapped in 33" all-terrain rubber, five selectable drive modes, off-road rocker protectors, recovery hooks, StabiliTrak electronic stability control, an Autotrac two-speed transfer case with push-button controls, a driver-selectable full-locking rear differential, hill descent control, and a respectable 10.7" of ground clearance. For those looking for an even-more-kitted out turnkey off-roader from Chevy, the company also makes the even more extreme Colorado ZR2 Bison, which gains an even more robust array of off-road elements. If you are looking for a 4×4 off-road ready vehicle that is going to perform as well as your daily driver as it does your weekend play toy, the Colorado ZR2 is the truck for you.
Engine: Turbocharged 2.7L Inline-Four
Power: 310HP & 430FT-LBs
Ground Clearance: 10.7"
MSRP: $46,800
Toyota Tacoma TRD Pro
Why It Made The Cut
An immensely-capable turnkey off-roader that benefits from a completely reworked overall for its latest generation. 
Best Mid-Size Pick: It's no secret that consumers love the Tacoma as the junior pickup from Toyota continues to outsell it's larger sibling the Tundra almost two-to-one. Toyotas have long been known for their great reliability and amazing ability to hold their value, but dirt lovers have long adored the Japanese offering for their awesome off-road abilities. The top tier off-highway ready Tacoma model is the TRD Pro, which sits a head above the other in the line as it is perched steadily on a factory-lifted coil-over-equipped FOX off-road suspension setup and off-road wheels shod in new, larger 33" all-terrain tires.
Toyota's new turbocharged hybrid iFORCE MAX engine keeps the entire thing moving, while front skid plates provide protection from debris on the trail. While on the trail, Toyota has you covered with a slew of proprietary features like Multi-terrain Select, Crawl Control, and Hill Start Assist Control, ensuring even the novice off-roader will make the most of their day in the dirt.
Engine: Turbocharged 2.4L Hybrid Inline-Four
Power: 326HP & 465FT-LBs
Ground Clearance: 11.0"
MSRP: $48,035 (2023 MY, 2024 MY MSRP TBD)
Ford F-150 Raptor
Why It Made The Cut
A legendary full-size turnkey off-roader widely viewed as the benchmark in the high-performance pickup space. 
Best Full-Size Pick: Considered the creator of the off-road ready production segment, the Ford F-150 Raptor may be the most well rounded truck on the list. Designed to embody the soul of a personally modified 4×4, the Raptor goes above and beyond adding a lift kit and larger tires. Starting with flared fenders both front and rear, the form of the Raptor is unmistakably poised to take on the rough stuff. Hefty FOX Dual Live Valve shocks offer massive amount of suspension travel while a foot of ground clearance ensures this Raptor-spec F-150 can traverse even the harshest trails.
Under the hood, this American-made model packs a twin-turbocharged 3.5-liter EcoBoost V6 engine that makes a generous 450hp and 510ft-lbs of torque. For those looking for a slightly more extreme option, Ford also produces an F-150 Raptor R that offers even more impressive go-anywhere capabilities. Having said that, the enormous popularity of the F-150 Raptor has ultimately given way to a tremendous number of available aftermarket upgrades for the already-capable turnkey off-roader.
Engine: Twin-Turbocharged 3.5L V6
Power: 450HP & 510FT-LBs
Ground Clearance: 12"
MSRP: $76,775 (2023 MY, 2024 MY MSRP TBD)
RAM 1500 TRX
Why It Made The Cut
A factory-lifted & supercharged "Supertruck" with incredible off-road capabilities & a plush & high-tech interior. 
Best High-Performance Pick: For years, Ford's F-150 Raptor was considered the benchmark in the high-performance production off-roader space, though RAM has recently taken aim at the Blue Oval with its own bar-raising 1500 TRX "Supertruck." The most powerful street legal production pickup in its class, the RAM 1500 TRX packs a supercharged 6.2-liter HEMI V8 making over 700hp and 650ft-lbs of torque — allowing to to clock 0-60mph runs in just 4.5 seconds. Offered exclusively in a crew cab setup with a 5.58' bed, the truck features 13" of front suspension travel and 14" in the rear, rides on bead-lock-capable wheels shod in 35" all-terrain tires, and features nearly a full foot of ground clearance.
Measuring 8" wider than the standard RAM 1500, there 1500 TRX also gets special embedded amber LED accent identification lights, Selec-Speed control, and factory-installed Bilstein Black Hawk shocks that monitor a myriad of vehicle sensors and feed the collected data through an advanced algorithm that automatically adapts to speed, throttle position, torque, braking and steering angle to constantly optimize the truck's ride. The interior of the truck comes loaded with a 12" digital instrument cluster, a 12" central touchscreen, a 19-speaker Harmon Kardon audio system, a Head-Up display, and a flat-bottom sport steering wheel with aluminum paddle shifters. The 1500 TRX is also offered with an enormous slew of available Mopar accessories.
Engine: Supercharged 6.2L V8
Power: 702HP & 650FT-LBs
Ground Clearance: 11.8"
MSRP: $85,700
Rivian R1T Quad Motor
Why It Made The Cut
A state-of-the-art fully-electric pickup powered by a wildly potent quad-motor EV powertrain. 
Best EV Pick: Combining massive power figures with a plethora of advanced tech and some wildly impressive go-anywhere capabilities, the Rivian R1T is a fully-electric model that's offered in an available quad-motor-spec that makes 835hp and allows for a 0-60mph time of 3 seconds flat. It's immense go-anywhere prowess comes from the truck's 3' wading depth, 14.9" of ground clearance, and approach, breaker, and departure angles of 35.5°, 26.4°, and 30°, respectively. Offering a range of 328 miles, the R1T's battery is also capable of gaining an extra 140 miles of autonomy after just 20 minutes of being plugged into a DC Fast Charger.
The fully-electric pickup also comes loaded with a bevy of drive modes such as soft sand, rock crawl, rally, drift, towing, sport, snow, all-terrain, and all-purpose. Equipped with more than 62 cubic feet of collective storage space, the R1T is also offered with numerous optional packages such as the Adventure package which includes amenities like an onboard air compressor and dual front tow hooks, while the optional All-Terrain package sports 20" all-terrain wheels and tires, a matching full-sized spare, and a reinforced underbody skid-plate.
Engine: Quad Electric Motors
Power: 835HP & 908FT-LBs
Ground Clearance: 14.9"
MSRP: $87,000
Jeep Wrangler Rubicon 392
Why It Made The Cut
A range-topping go-anywhere Wrangler variant kicked along by a 470-hp 392ci V8. 
Best Upgradable Pick: The Jeep Wrangler may be one of the most classic looks you can bring to the trail, and the Wrangler Rubicon 392 is a range-topping model variant that is fully equipped to crawl deep into the wilderness. Sitting on a factory lift kit, the Rubicon 392 also gains a Selec-Trac full-time transfer case, an optional WARN winch, massive 35" all-terrain tires, and a heavy-duty full-float rear axle that comes as standard.
Fed through a vented hood, this Wrangler variant is powered by a 6.4-liter — or 392ci — HEMI V8 that cranks out 740 horsepower and foot-pounds of torque, allowing the vehicle to achieve a 0-60mph time of 4.5 seconds. Another nifty feature of the Rubicon 392 is the electronic sway bar disconnect switch, allowing for superior wheel articulation on the trail. This model is also offered with an enormous number of factory accessories and upgrades — including multiple off-road packages from AEV — plus there's an abundance of aftermarket items for this model as well.
Engine: 6.4L V8
Power: 470HP & 470FT-LBs
Ground Clearance: 11.1"
MSRP: $90,590
Munro Vehicles M280
Why It Made The Cut
A military-inspired Scottish-built all-electric truck that ushers in a new standard for go-anywhere capabilities. 
Most Off-Road-Capable Pick: The only production vehicle currently being made in Scotland, the Munro Vehicles M Series is a cutting-edge fully-electric off-roader that boasts a military-inspired appearance and a wide range of configurable options. The more powerful of the Scottish startup's two available M Series models, the Munro M280 comes standard with a 7,716-pound tow rating, an 85kWh LFP battery system offering 195 miles of range per charge, and ABS, ESP, and traction control. Taking its name from its powertrain's kilowatt output, the vehicle is kicked along by a 280kW (375.5hp) axial-flux motor with permanent four-wheel-drive.
Setting a new standard in go-anywhere performance, the M280 boasts 18.89" of ground clearance, 2.6' wading depths, an 84° approach angle, a 148° break-over angle, and a 51° departure angle. Produced in a SUV or pickup configurations, the M280 is also being offered with a huge number of available factory options such as underbody protection, rock sliders, locking front and rear differentials, air suspension, and a tow kit, just to name a few. What's more, on top of coming in both LHD and RHD-specs, the M280 can also be configured with a plethora of different body color, paint finish, and interior upholstery options.
Engine: Permanent Magnet Axial Flux Motor
Power: 375.5HP & 516.3FT-LBs
Ground Clearance: 18.89"
MSRP: $110,757
Hennessey Bronco VelociRaptor 500
Why It Made The Cut
An exclusive upgraded kit for Ford's Bronco Raptor that increases power to an even 500 horses while retaining the donor's off-roading prowess. 
Best Upgrade Kit: With a High-Performance, Off-Road, Stability, Suspension system, 13.1" of ground clearance, well over a foot of suspension travel front and rear, and a potent 418-hp EcoBoost engine, the Ford Bronc Raptor is already an immensely capable vehicle in its stock form. Never satisfied with the status quo, the tuning-obsessed experts at Hennessey Performance Engineering has debuted an upgrade kit for the Raptor-spec Bronco known as the Hennessey Bronco VelociRaptor 500.
This kit includes a new engine management software upgrade, a high-flow filtration system, and an upgraded heat exchanger that collectively bolster the donor's 3.0-liter V6 up to 550ft-lbs of torque and an even 500hp — the latter figure of which gives this kit its name. Also included in this upgrade package is a set of 20" Hennessey wheels shod in 37" off-road tires, a full-sim spare, custom front and rear bumpers, and special HPE headrests, floormatts, and exterior badging.
Engine: Twin-Turbocharged 3.0L V6
Power: 500HP & 550FT-LBs
Ground Clearance: 13.1"
MSRP: $122,785 ($32,950 Kit + $89,835 Donor)
Mercedes-AMG G63 SUV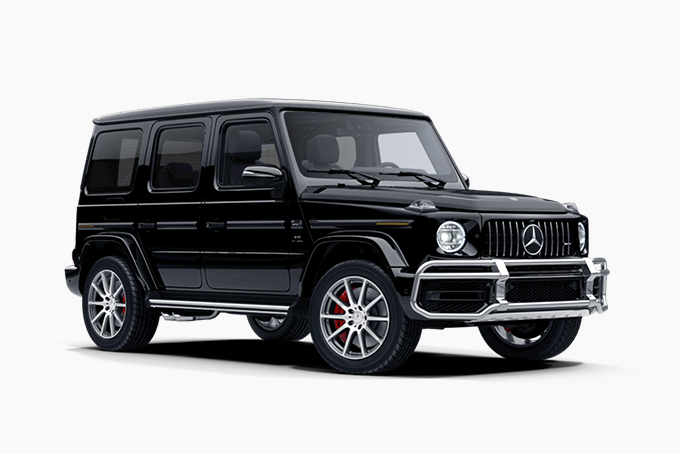 Why It Made The Cut
A rolling status symbol that combines world-class luxury with solid go-anywhere capabilities. 
Best Luxury Pick: Luxury and off-roading do not have to be mutually exclusive identities for a truck, and the Mercedes-AMG G63 SUV does a superb job of proving this. Steeped in military assault vehicle heritage, the G-Class models have been roaming off the beaten path for almost 40 years. Unsurprisingly to anyone remotely familiar with the German auto manufacturer, the AMG-Wagen spares no expense in delivering top quality off-road performance. This six-figure luxury off-roader comes standard with an independent double-wishbone suspension setup in front and a rear rigid axle with coil springs — both of which benefit from AMG RIDE CONTROL with adaptive damping.
Requiring a premium of only $3,050, the available AMG Trail Package further bolsters the G63's go-anywhere prowess with an off-road optimized AMG RIDE CONTROL suspension setup, along with 20" AMG twin-5-spoke wheels and rear mud-flaps. Alongside an unparalleled number of bespoke factory options courtesy of Mercedes' G manufaktur program, the G63 is made all the more noteworthy by the powertrain under its hood — a twin-turbocharged 4.0-liter V8 cranking out 577hp and 627ft-lbs of torque and offering up a 4.5-second 0-60mph time.
Engine: Twin-Turbocharged 4.0L V8
Power: 577HP & 627FT-LBs
Ground Clearance: 10.8"
MSRP: $179,000
Heavy-Duty: The Best Full-Size Pickup Trucks
Looking for a truck that's a bit more practical? Then be sure to checkout our guide to the best full-size pickup trucks for a hand-selected list of immensely capable vehicular workhorses.