In the automotive world, exceedingly few car designs possess as iconic of a status as Porsche's fabled 911, first rolling onto the scene in the mid-1960s before subsequently maintaining its legendary status with each new spec and iteration. Having been in production for nearly 60 years, Porsche's now-expansive 911 range is comprised of some of the most elite and sought-after sports cars in history, though amongst this crop of thoroughly coveted rides is a small handful of watershed models that, due to their performance, technology, or aesthetic design — or a combination of the three – manage to stand out from the rest of the already-prestigious 911 lineup.
Successor to the Ferry Porsche-designed 356, the 911 has long been offered in a wide variety of specifications — a tradition that continues through today with the Stuttgart firm currently producing more than a dozen model variants of the seventh generation 911 across several body styles and rear-mounted powertrains. Famously designed by Ferdinand Alexander "Butzi" Porsche — the son of Ferry Porsche and grandson of the German brand's founder Ferdinand Porsche — the original 911 (i.e. the 901) ultimately kicked off a long line of legendary model variants — the most iconic and noteworthy of which we'll be counting down today in this guide to the greatest Porsche 911s ever made.
Porsche 901
First unveiled at the 1963 Frankfurt Motor Show, the Porsche 901 — technically the first iteration of the 911, albeit under a different name — was the direct successor to the firm's earlier 356 model, though it undoubtedly represented a huge leap forward in terms of aesthetics and performance. Interestingly, the 901 is essentially the same car as its 911 successor, though after French marque Peugeot took issue with Porsche using three-digit numeric systems with a "0" in the middle for its cars' monickers, the German carmaker opted to change the "0" in the name to a "1," resulting in the legendary nameplate that we all know today.
Year Produced: 1963
Engine: 2.0-Liter Flat-Six
Horsepower: 130
Type: Production Model
Porsche 911 S
Debuting only a few short years after the 901, the 911 S marked Porsche's first-ever high-performance variant of the now-thoroughly-iconic 911 — a tradition that continues today with the Turbo S and GT3. Constructed around a tweaked, lightweight chassis, the 911 S packed an additional 30hp over the base model 911, thanks to the use of a 2.0L S-spec engine lifted directly from Porsche's factory race program. Unsurprisingly, these changes made the first-ever 911 S incredibly popular amongst club racers, while also helping to cement Porsche's status as a producer of world-class sportscars.
Year Produced: 1967
Engine: 2.0-Liter Flat-Six
Horsepower: 160
Type: Production Model
Porsche 911 3.0 RSR
Costing $22,500 in 1974 — just over $125,000 today when accounting for inflation — Porsche's 911 3.0 RSR was a heavily-upgraded, track-focused model based on the 911 chassis platform — similar to that of the previous year's Carrera RSR. Rather than modifying existing 911s at the factory, the 3.0 RSR was purpose-built by Porsche's race department for use on closed circuits, and as such featured an LM-spec braking system off Porsche's 917 racer, a widebody kit with markedly wider wheels secured via center-locking hubs, and a new, naturally-aspirated, air-cooled 3.0-liter flat-six engine that was good for more than 300hp.
Year Produced: 1974
Engine: 3.0-Liter Flax-Six
Horsepower: 315
Type: Homologation Special
Porsche 935
Winner of the 1979 running of the 24 Hours of Le Mans, the Porsche 935 is a factory-built race car developed for Group 5 competition. An evolved version of the existing Carrera RSR 2.1 turbo prototype, the 935 was powered by a then-state-of-the-art Type 935 twin-turbocharged flat-six engine that generated more than 700hp. The 935 would also later be piloted to victory at a host of other high-profile motorsport events including Daytona, Sebring, and the 1,000km of Nürburgring, and in fact was so dominant, that the FIA would later institute rule changes in order to give other competing factories a fighting chance against the mighty twin-turbocharged 935.
Year Produced: 1977
Engine: Twin-Turbocharged 3.0-Liter Flat-Six
Horsepower: 700
Type: Factory Race Car
Porsche 911 Turbo Flachbau (930)
In the mid-1970s, a trend would emerge from Porsche tuning shops and those campaigning 911s in competition in which the front-end of the car would be modified for better aerodynamics and performance, resulting in a distinctively wedge-shaped silhouette. After this mod grew in popularity, Porsche would eventually be inspired to debut a production version of the "Flat Nose" that was essentially a 911 930 Turbo that had been bestowed with an up-specced engine — that was good for 330hp — and a factory Flachbau body kit.
Year Produced: 1981
Engine: Turbocharged 3.3-Liter Flat-Six
Horsepower: 330
Type: 930 Turbo W/ Special Factory Body
Porsche 959
Originally intended as a rally racer in the no holds barred Group B competition era, Porsche's 959 technically isn't a 911 variant, though is still more than deserving of a spot on this list. Backed by a new sequential twin-turbocharged engine and an advanced multi-setting all-wheel-drive system, this Dakar-winning Porsche would later be homologated and made available for road use in the U.S. — albeit in very limited numbers — thanks in part to some lobbying from none other than Microsoft founders Paul Allen and Bill Gates. With a top speed of 197mph, the 959 was also the world's fastest production car upon its debut in 1986.
Year Produced: 1986
Engine: Twin-Turbocharged 2.8-Liter Flat-Six
Horsepower: 444
Type: Homologation Special
Porsche 911 Carrera 3.2 Club Sport
Limited to just 340 units across its entire three-year production run, Porsche's 911 Carrera 3.2 Club Sport was a high-performance 911 variant designed for racing and track-day enthusiasts that wanted a turnkey race weapon straight off the showroom floor. This meant doing away with creature comforts and any non-vital essentials such as a sunroof, A/C, power windows, and sound insulation — a collection of components that, once jettisoned, allowed the 3.2 Club Sport to shave more than 150lbs off of its curb weight. The Carrera 3.2 Club Sport is also fondly remembered for its unmistakably '80s-era bodywork and styling.
Year Produced: 1987
Engine: 3.2-Liter Flat-Six
Horsepower: 231
Type: Homologation Special
Porsche RUF CTR "Yellow Bird" (911 Carrera 3.2)
Short for "Group C, Turbo RUF" but better known simply as the "Yellowbird," RUF's CTR is a bonafide watershed supercar that absolutely blew away the competition when it first debuted — and for quite a few years after. Based on Porsche's 1987 911 Carrera 3.2, the Yellowbird features revised lightweight bodywork with custom polyurethane bumpers, an integrated roll-cage, race-grade braking and suspension packages, an in-house-designed transmission, and a highly-tuned, bored-out version of the 911's flat-six engine that sported a pair of turbochargers. Weighing just over 2,500lbs, the massively massaged and tuned engine afforded the CTR a 3.65-second 0-60mph time and an equally impressive top speed of 210mph — figures that are impressive by today's standards, but were genuinely mind-boggling in 1987.
Year Produced: 1987
Engine: Twin-Turbocharged 3.4-Liter Flat-Six
Horsepower: 469
Type: Ultra-Limited-Edition Tuner Model
Porsche 964 Carrera RS
With a 3.6L flat-six engine pumping out just 260hp, the 964 Carrera RS might not seem like the most impressive 911 on paper, however, the Porsche holds a special place in 911 history, standing as the first major model revision bestowed upon the 911 since its initial debut in the early 1960s. Benefitting from the development of components, technologies, and systems derived from Porsche's 2.7 and 3.0 RS and RSR models, the 964 Carrera RS was an up-specced 911 variant based on the 911 Carrera Cup factory race car. Other tweaks to the car included an asymmetrical limited-slip differential, a fully-gutted race interior, and a track-spec running gear package — all of which contributed to the 964 Carrera RS's impressive lap times.
Year Produced: 1992
Engine: 3.6-Liter Flat-Six
Horsepower: 260
Type: Production Model
Porsche 911 GT2 (993)
An immensely popular Porsche fan favorite with a sub-four-second 0-60mph time and a nearly 190mph top speed, the 993 GT2 is a '90s era homologation special that combined the best of what Porsche had to offer at the time. Based on the already fast 272-hp 993 Turbo, the 911 GT2 took the forced-induction flat-six engine from the 911 Turbo and stuffed it into the German brand's wide-body chassis, making this one of the most high-performance 911s from the air-cooled era. In total, only 57 units of this highly-coveted car were ever built, adding to its mythical status.
Year Produced: 1995
Engine: Twin-Turbocharged 3.6-Liter Flat-Six
Horsepower: 444
Type: Homologation Special
Porsche 911 GT1 Straßenversion
When Porsche set its sights on the FIA's GT1 Class, the Stuttgart firm called on Norbert Singer and Tony Hatter to design a new purpose-built sportscar prototype from the ground up — rather than modifying an existing production model. And while one could argue that this means the prototype isn't actually a 911, Porsche would eventually begin the homologation process — though in total only roughly 20 units would ever leave the factory — giving way to a handful of Straßenversion (German for "Street Version") specimens. Alongside its incredible performance capabilities, the GT1 Straßenversion is also unquestionably one of the most unique 911 designs of all time.
Year Produced: 1997
Engine: Twin-Turbocharged 3.2-Liter Flat-Six
Horsepower: 536
Type: Prototype
Porsche 911 GT3 RS (996)
Marking the first time Porsche would utilize the GT3 badge — initially breaking cover at the Geneva Motor Show in March of 1999 — this high-performance variant of the 911 may be close to 20 years old, but it still boasts some pretty remarkable performance capabilities… even by today's standards. This is thanks to the homologation special's 376-hp output, which translated to a 4.2-second 0-60-mph time and a roughly 190-mph top speed. With that said, the first-gen GT3 was engineered for far more than mere straight-line speed and also featured a cutting-edge array of componentry that allowed for super fast trips around the racing circuit.
Year Produced: 2003
Engine: 3.6-Liter Flat-Six
Horsepower: 376
Type: Homologation Special
Porsche 911 GT2 RS (997.2)
Touted as the "big brother to the GT3," the 911 GT2 RS may have left the factory a decade ago, but it still stands as one of the fastest and most high-performance stock 911 production models of all time with a nearly-700-hp twin-turbocharged 3.6L flat-six engine that allows for a 209-mph top speed and a lightning-fast 0-60-mph time of just 2.6 seconds. This rear-engined, rear-wheel-drive vehicle was also equipped with a seven-speed dual-clutch PDK transmission that assisted in sending the GT2 RS's more than 550ft-lbs of torque to the pavement.
Year Produced: 2011
Engine: Twin-Turbocharged 3.6-Liter Flat-Six
Horsepower: 690
Type: Homologation Special
Porsche 911 Speedster (991.2)
Paying homage to the original 356 "No. 1" Roadster from 1948, Porsche's current 911 Speedster first appeared as a two-seater prototype before later entering production as an open-top roadster. Based on the 911 GT3 while also taking lessons from the 2016 911 R, the Speedster shares much of its underlying components with the GT3, and as such is kicked along by the same naturally-aspirated 502-hp 4.0L flat-six. Priced at nearly $275,000, the 911 Speedster is produced on a limited-edition basis and will be restricted to just 1,948 units in total — with the production number being a nod to the year that the original 356 No. 1 was released.
Year Produced: 2019
Engine: 4.0-Liter Flat-Six
Horsepower: 502
Type: Limited-Edition Model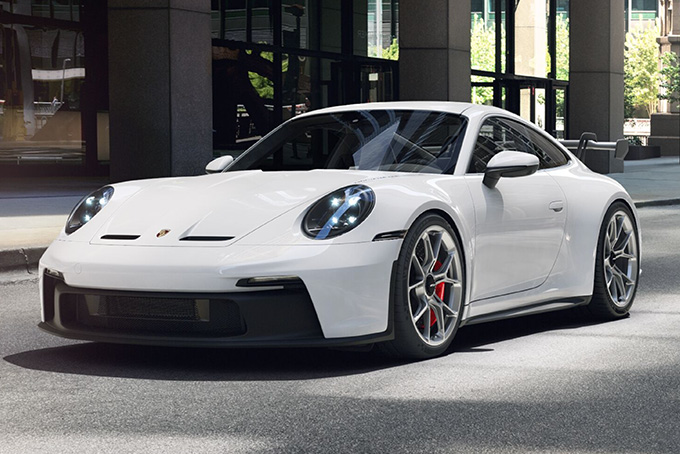 Porsche 911 GT3 (992)
Though admittedly not as powerful as Porsche's latest top-of-the-line 911 Turbo S, the 2022 911 GT3 represents Porsche's quickest turnkey model around a race track, thanks to a host of weight-saving measures and ultra-advanced chassis, suspension, and braking setups. Offered with an available touring package — as well as with a manual transmission — the newest 911 GT3 is capable of clocking 0-60-mph runs in just 3.2 seconds and can reach a top speed of 197mph. Elements such as a dual-central-exiting exhaust, a carbon fiber hood, and a swan-neck-mounted rear wing make it abundantly clear that this 911's natural environment is on the race track.
Year Produced: 2022
Engine: 4.0-Liter Flat-Six
Horsepower: 502
Type: Production Model
The 15 Best Lamborghinis Of All Time
Want to check out another all-time greatest models list from one of the world's most elite automakers? Then be sure to cruise over to our guide to the best Lamborghinis of all time for more than a dozen of the Italian supercar firm's all-time most iconic vehicles.